Honors Alumni Mentor Network
Honors Alumni Mentor Network
Connecting experience with ambition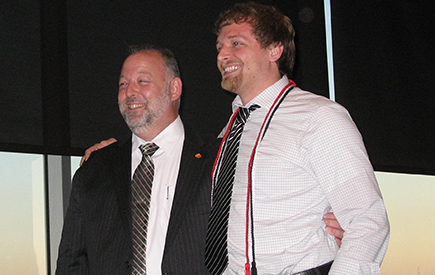 The Honors Alumni Mentor Network connects alumni to UIW Honors sophomores and juniors. Current students have the opportunity to be mentored by alumni based on similar academic and/or professional interests. UIW alumni come from a variety of professional fields and many go on to top medical, pharmacy and physical therapy schools, law schools, and MBA programs, as well as employment directly related to their career goals.
Our major goal is for mentors to share their wisdom and life skills to assist students in developing sound decision making and resiliency in their lives. Alumni mentors may provide advice to students on academic degree and career exploration, career and/or graduate school preparation, professional development and balancing school, career and outside interests. Read on for eligibility, commitment and application information for both alumni and current students interested in participating.
Eligibility
Mentors
All Honors alumni who have been graduated from UIW for at least two years are eligible to serve as alumni mentors.
Students
Honors students who are in their second or third year of studies are eligible to apply.
How Mentors Help
As a mentor, you will have the opportunity to help your student:
Visualize both their career path and different career options more clearly
Practice the skills needed to develop a large network of professional contacts
Prepare for the rigors and realities of the professional world
Expand their network of UIW advisors and enhance their undergraduate experience
Alumni Options
There is more than one way for alumni to share their experience with UIW Honors students
There is more than one way for alumni to share their experience with UIW Honors students:
Work with a single student
Work with a small group of students who share a professional interest
Serve as a consultant to a larger group of students such as a theme-based Honors Living Learning Community or group of students working on an initiative they are passionate about.
Have a student shadow you for a day (8 hours)Alumni Options
Alumni Responsibilities
Develop supportive relationships with your mentee by sharing information about your own successes, failures, career choices, and life experiences.
Help your mentee understand how the material they are learning in the classroom will apply to broader life and work experiences in the future.
Share your ideas, give advice, and be a resource of support.
Student Responsibilities
Initiate contact with their mentors within two weeks of their match.
Respect the mentor and take note of the constructive feedback being offered.
Listen to the mentor's advice and be actively engaged.
Offer ideas on activities you can do together and ask questions.
Time Commitment
Pairings of alumni with students will result in a monthly commitment of about one hour through the communication vehicle agreed upon by the pair.
If alumni choose to consult with a larger group, the monthly time commitment is twice per semester of about one to two hours. A one-time workshop could range from one hour (e.g., EDGE Leadership session) to two to three hours.
Application and Matching Process
Interested? Fill out an application! Mentors register here and students apply here. The cut-off date for pairing to start in the fall of 2018 will be accepted through April 30 from both alumni and students. We will then review the lists in order to make the best matches. We can accept rolling applications from there on.
Mentor/mentee matches are finalized after both parties have formally met or agreed on a relationship over the phone. The form "Mentor-Mentee Agreement" is completed by both parties, with a copy going to the Honors Director.
Every attempt is made to match all interested mentors with mentees, but everyone may not be matched each year.
Students are expected to make the initial contact with their mentors within two weeks of their match. Mentors and students are then asked to communicate at least once a month, and both will receive monthly emails with suggested discussion topics.
The length of the match is to your own discretion, but the Honors Program encourages two semesters.