Heritage Day Recognition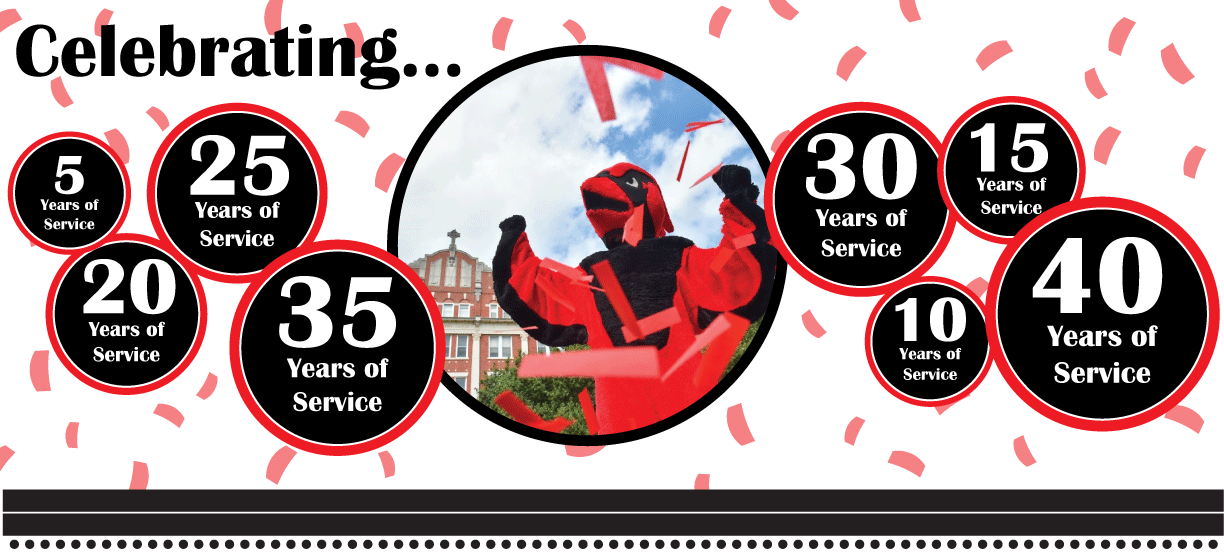 After careful consideration, and in light of the ongoing COVID-19 pandemic, the UIW Heritage Day Employee Celebration has been cancelled. While we know this is disappointing, we hope you understand this is a necessary step to help keep each other safe in these unprecedented times.
Although we are not able to gather in person to celebrate, we want to recognize members of our community celebrating service milestones. Below you will find a list of honorees for both 2020 and 2021.
Congratulation's honorees and thank you for you service and dedication to making a difference in the lives of our students and UIW community.
2020 Honorees
35 Years
Adela Gott
Sr. Walter Maher, CCVI
30 Years
Dr. Beth Senne-Duff
25 Years
Dr. Joseph Bonilla
Gerardo Garza
Dr. Bonnie McCormick
Rudy Oliva
20 Years
Kristen Dicianna
Dr. Scott Dittloff
Rodney Evans
Oscar Guerra
Albert Guerrero, Jr
Norma Gutierrez
Elizabeth Hernandez
Manuel Hernandez
Michael Hood
Priscilla Johnson
Angela Lawson
Benjamin McPherson, Jr
Dr. Julie Miller
Alberto Oliva
Martha Perez
Paul Peters
Erika Pompa
Dr. Cyndi Porter
Vincent Porter
Roland Sul
20 Years (continued)
Kathy Vargas
William Watkins
15 Years
Dr. Melinda Adams
Joe Cadena
Janine Chavez
Dr. Jeffrey Copeland
Rene Flores
Dr. Angelina Galvez-Kiser
Emilio Gonzales
Emeterio Gonzalez-Dimas
Dr. Glenn James
Dr. David Maize
Dr. Elda Martinez
Dr. Lisa McNary
Dr. Anita Mosley
Terence Peak
Cynthia Ramirez
Maj (Ret.) Cynthia Richardson
Dr. Derek Riedel
James Waller
10 Years
Dr. Adrienne Ambrose
Adrian Ayala
Kristine Benne
Mozelle Breeding
Dr. Rochelle Caroon-Santiago
Juliette Corona
Dell Davis
10 Years (continued)
Dr. Christopher Edelman
Dr. Sandra Fortenberry
Dr. Maria Fortepiani
Cynthia Franklin
Dr. Caroline Goulet
Dr. Stephanie Grote-Garcia
Maria Lopez
Dr. Erlinda Lopez-Rodriguez
Dr. Ryan Lunsford
Luis Macias
Vanessa Martinelli
Dr. Decima Nesser
Kelly Pittman
Daniel Potter
Francisco Sanchez
Dr. Patricia Sanchez-Diaz
Jessica Serbantes
Dr. Cathryn Studak
Christopher Tamez
Dr. Ana Vallor
Dr. Shishu Zhang
5 Years
Dr. Diana Allison
Gabrielle Alvarado
Dr. Gregg Anders
Dr. David Armstrong
Venessa Avant
Dr. Nathaniel Brown
Dr. Jennifer Browne
5 Years (continued)
Dr. Okan Caglayan
Yesenia Caloca
Adriana Canales
Crystal Carrisalez
Erin Cassity
Michael Diaz
Dr. Holly DiLeo
Leticia Escobedo
Andrew Fohn
Dr. Lucretia Fraga
Dr. Kathleen Goei
Ricardo Gonzalez
Juan Guerrero
Adriana Gutierrez
Dr. Sandra Guzman Foster
Stacey Henry
Paul Hernandez
Ana Hoff
Kimberly Hunt
Dr. Joan Labay Marquez
Douglas Leaman
Jingtian Li
Jaime Lopez
Jared Martinez
Alfredo Martinez-Ramirez
Christopher McCollum
Dr. William Miller
Cynthia Mora
Bart Morrison
Diana Munro
5 Years (continued)
Mimi Nguyen
Nalleli Nunez
Christine O'Donnell
Raymond Olvera
Dr. Jennifer Penn
Melissa Perez
Dr. Christopher Pierce
Amanda Pulido
Christina Rollison
Jerry Salazar
Eric Saldana
Michael Schneid
Christopher Shedrock
Karissa Smith
Emmie Soles
Daniel Stoddard
Christi Thompson
Dr. Kathleen Tilton
Araceli Tobin
Melissa Torres
Yvonne Torres
Maria Trevino
Teresa Velasquez
Dr. Cynthia Voyce
Dr. Rachel Walker
Dr. Karen Weis
Lionel Williams, II
Jessica Wilson
Kelly Wilson
Amada Zacarias-Guerra
2021 Honorees
40 Years
Lorraine Ewers
35 Years
Elaine Hernandez
Linda Wages
30 Years
John Newman
25 Years
Dorothy Mills
20 Years
Dr. Glenn Ambrose
Jose Arriaga
Michael Clayton
Miguel Cortinas
Brenda Dimas
Mary Gomez
Earl Harmsen
Rene Lopez
Sandra McMakin
Michael Mercer
Dr. Michael Moon
Dr. Neeta Singh
Dr. Nursen Zanca
15 Years
Cristen Alicea
Michael Castilleja
Dr. Julian Davis
Phillip Davis
Latrecia Davis-Johnson
Cynthia Escamilla
Dr. Shandra Esparza
Dr. Amanda Johnston
15 Years (continued)
Dr. Lila LaGrange
Marisol Martinez
Dr. Julie Nadeau
Dr. Lopita Nath
Brian Palmeri
Dr. Rochelle Ramirez
Dr. John Stankus
Dr. Kevin Vichcales
Dr. Amy Witte
10 Years
Mallory Angier
Marcos Calvillo
Dr. James Chapman
Dr. Russell Coates
Edward Conlee
Graciela DeJesus
Dr. Brian Foutch
Dr. Randall Griffiths
Dr. Georgen Guerrero
Jenny Hernandez
Dr. Joseph Labatt
Veronica Lawson
Rita Maltos
Homer Martinez
Melissa Martinez
Ryan Mitchell
Dr. Srihari Narayanan
Dr Osman Ozturgut
Elizabeth Poulter
10 Years (continued)
Amanda Rakowitz
Armando Rey, II
Dr. Scott Roberts
Shannon Root
Dr. Kevin Salfen
James Stiffler
Mary Teal
Annette Thompson
Michelle Turney
Gracie Zuniga
5 Years
Victor Aguilar
Brenda Aleman Benedetti
Dr. Sreedevi Ande
Robert Barclay, Jr
Dr. James Barnes
Dr. Rebekah Benitez
Dr. Rachell Booth
Jessica Bradley
Dr. Carol Browne
Dr. Marieke Burleson
Christopher Calk
Dr. Paulo Carvalho
Maria Castillo
Donnifier Celestine, Jr
Dr. Allison Cronin
Dr. Luella D'Amico
Monica Davila
Dr. Amy Diepenbrock
Rebecca Dillen
Dr. Trish Driskill
5 Years (continued)
Maryssa Farias
Alejandro Flores, III
Dr. Amanda Galan-Davila
Sylvia Garay-Martinez
Andrea Garcia
Tiffany Garcia
Vanessa Gutierrez
Kelli Hammonds
Dr. Blandine Helfrich
Dr. Arthur Hernandez
Dr. Mary Hogan
Caron Jameson
Karina Johnson
MaKailey Jonas
Dr. Wah-Kwan Ku
Juan Lopez
Vanessa Lopez
Dr. Daniel Lovasz
Helen Lutz
Dr. Trinidad Macias
Rossvel Marichalar
Dr. Leslie Martinez
Shelby McCollum
Nancy McLeod
Dr. Benjamin Miele
Melissa Molina
Sylvia Morin
Adam Mulder
Ivan Ortega
Alfredo Ortiz
Dr. Raelyn Ottenbreit
5 Years (continued)
David Pedraza
Daniel Perez
Dr. Hieu Phan, Jr
Dr. Joseph Pizzimenti
Samantha Ramos
Dr. Jakob Rinderknecht
Rosa Rodriguez
Dr. Roberto Saldivar
Daniel Sandoval
Francisco Saucedo
Dr. Gabriel Saxton-Ruiz
Neil Schroeder
Phil Scott, Jr
Victoria Shipley
Dr. Jenna Snoga
Blair Sohl
Jodie Stringer
Lenard Thomas
Emily Tucker
Michael Vargas, Jr
Rosemary Vasquez
Celia Velez
Dr. Earlanda Williams
Dr. Nekima Williams
Robert Wisely
Melinda Wright
Ashley Wysong
Joseph Ybarra
Megan York