Off-Campus Access To Library Resources
Off-Campus Access To Library Resources
Off-Campus Access
Access to many UIW Libraries databases, journals, and other electronic resources is limited to current UIW students, faculty, and staff. To access UIW-only resources or content from off-campus, users are asked to verify their UIW status by logging in to Cardinal Apps with their UIW username and password: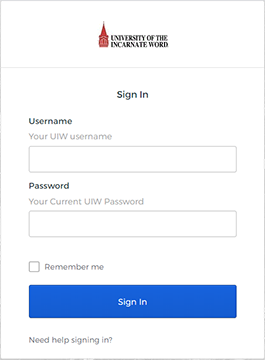 After logging in, valid UIW users have access to all UIW Libraries' electronic resources until the web browser session is closed. UIW Libraries electronic resources may be freely searched and accessed from on-campus computers or devices connected to the UIW network without logging in.
If you can log in to Cardinal Apps but cannot access the library's electronic resources, please contact the UIW Libraries Reference Desk at 210-829-3835, via chat, or by email at reference@uiwtx.edu.
For help with Cardinal Apps or computer technical issues, please contact the UIW Help Desk at 210-829-2721 or toll free at 866-614-5043. You may also email the Help Desk at helpdesk@uiwtx.edu.