Off-Campus Access To Library Resources
Off-Campus Access To Library Resources
Off-Campus Access
While accessing electronic resources via the library's webpages from off-campus, UIW students, staff and faculty will be prompted to enter UIW network credentials (see image below). Non-affiliated users may still use our search tool to locate resources, but will not be able to view them unless they come to campus and use a guest computer.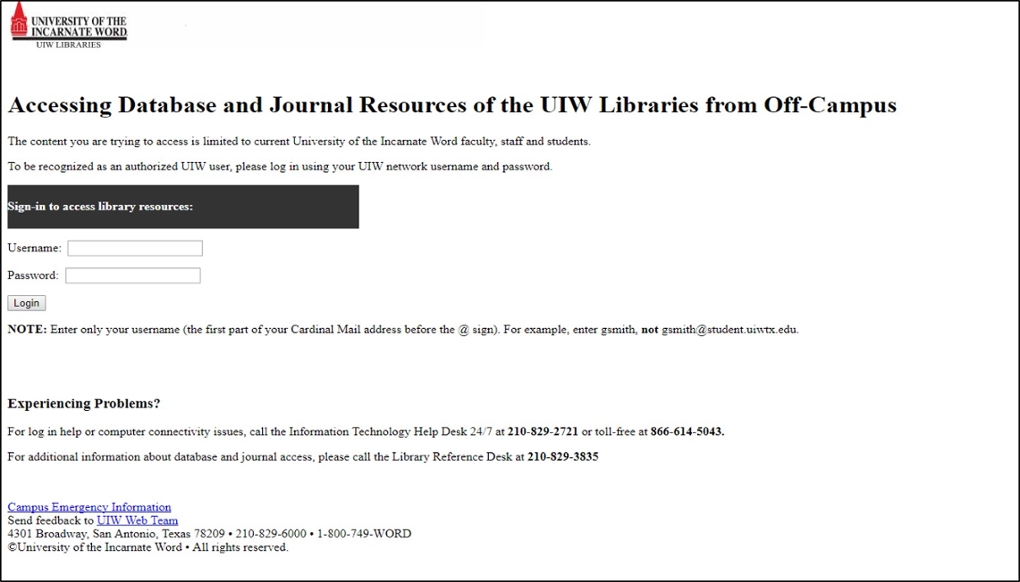 UIW has a single sign-on for all online functions. Use only the username before the @ sign, do not use @uiwtx.edu or @student.uiwtx.edu and your usual password.
If you are able to log into your UIW email, Cardinal Apps and BlackBoard, but unable to log into the library's databases to access resources, contact the Reference Desk at 210-829-3835 or email reference@uiwtx.edu.
We recommend using Firefox when accessing library databases.
Technical Support
If you have forgotten your UIW network username or password or experience other technical difficulties,call the UIW 24/7 Help Desk 210-829-2721 or toll free at 866-614-5043