Off-Campus Access to Library Resources
Off-Campus Access to Library Resources
Resources Access
While the UIW Libraries offer numerous freely available resources, access to many online journals, books, videos, and databases are limited for use to current UIW students, faculty, and staff.
To ensure successful access to UIW Libraries online resources, it is always recommended that you start at the UIW Libraries homepage and begin your search at the Search Collections section.
When linking to UIW-only resources from off-campus, you will be asked to verify that you are a current UIW user by logging in with your UIW username and password: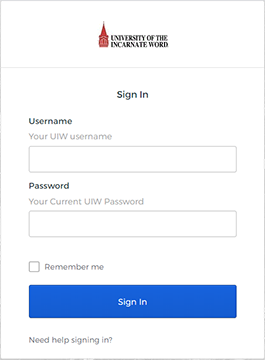 After logging in, you will have access to all UIW-only resources and other online content until your Web browser session is ended.
UIW Libraries online resources may be accessed after logging in to an on-campus computer or device connected to the UIW network without additional user verification.
Access Problems
If you are asked to enter a username and/or password to access resources through any screen other than the one above, please start your search over at the UIW Libraries Website.
If you can successfully log in to your UIW email, Blackboard, or other UIW apps, but cannot access UIW Libraries online resources, please contact the Reference Desk at 210-829-3835, via chat, or by email at reference@uiwtx.edu.
For help with UIW email, Blackboard, other UIW apps, or computer technical issues, please contact the UIW Help Desk at 210-829-2721 (toll free at 866-614-5043) or by sending an email to helpdesk@uiwtx.edu.