2012 Conference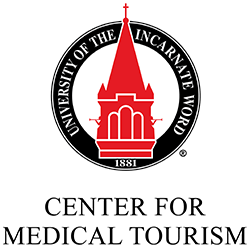 Final Schedule
Final Schedule
 
Day 1
Day 2
Day 3
Times
Monday the 13th
Sponsored by AP Nurse International
Tuesday the 14th
Sponsored by KHIDI
Wednesday the 15th
Sponsored by Mintz & Levin
8:30 AM
 
Breakfast
Breakfast
8:40 AM
8:50 AM
9:00 AM
Veramendi Room - #10 Keynote: Inbound Medical Tourism to the U.S., 
Dr. Johnson, Rush Univ.
Opening: Prof. Rodriguez, CMTR
Sponsored by BioMed SA
Veramendi Room - #24: (Invited) Reproductive Tourism: Global Trends, Middle Eastern Perspectives, 
Dr. Inhorn, Yale
Opening: Dr. Vichcales, UIW
Sponsored by The University of the Incarnate Word (UIW)- Graduate Studies Programs
9:10 AM
9:20 AM
9:30 AM
9:40 AM
9:50 AM
10:00 AM
10:10 AM
Networking Time/Break 
Sponsored by Global3
Break
10:20 AM
10:30 AM
Espada Room - #25: (Invited) Cross-Border Insurance and the Hydraulics of Health Reform, Prof. Cortez, SMU (Vequist)
Los Hidalgos Room - #26 - (CMTR GA Speaker), Tricare & Medical Tourism, Mr. Ipock & Maj. Bynes, CMTR & UIW (Galan)
10:40 AM
10:50 AM
Espada Room - #11 - (Panel) Dr. Johnson, Rush Univ., (Board Member) & Ms. Stevens, BioMed SA & Dr. Vequist, CMTR (Vequist)
Los Hidalgos Room - #12 - Medical Tourism Update from Korea- (Board Member) Mr. Bae, KHIDI (Polanco)
San Jose Room - #13 - (Sponsor Speaker) Medical Tourism in India, Ms. LaFargue & Ms. Hoger, iTransitions (Guiry)
11:00 AM
11:10 AM
11:20 AM
11:30 AM
11:40 AM
El Capistrano Room - #01 Board Meeting
Sponsored by iTransitions
Break
11:50 AM
Espada Room: Closing Remarks - Dr. Vequist, CMTR
Sponsored by The Health Collaborative
12:00 PM
Break
12:10 PM
Adjourn
12:20 PM
Veramendi Room (Lunch) - #14: Mr. Stackpole, Stackpole & Assoc.- Inbound Survey
Opening: Dr. Guiry, CMTR
Sponsored by Stackpole & Assoc.
 
12:30 PM
12:40 PM
12:50 PM
1:00 PM
1:10 PM
1:20 PM
Break
 
1:30 PM
1:40 PM
Espada Room - #15: An Analysis of Scope of Medical Tourism in the Kingdom of Saudi Arabia, Drs. Abdalelah S. & Rumaiya S., King Abdul Aziz Univ. (Guiry)
Los Hidalgos Room - #16: Med. Tour., Syphilis, and Hot Springs, Ark., 1890-1930, Mr. Bowen, Binghamton Univ. (Ipock)
San Jose Room - #17 - (Invited Speaker) Retirement Tourism in MENA, Mr. McCallum, Zayed Univ. (Vequist)
1:50 PM
 
2:00 PM
Set-up Break
2:10 PM
2:20 PM
Espada Room: Opening Comments- Dr. Vequist, CMTR
2:30 PM
Break
2:40 PM
Opening Session
Espada Room #02: Medical Tourism Projections, Mr. Rajan, Frost & Sullivan
Opening: Mr. Polanco, Transnational Advisors
Sponsored by Transnational Advisors
Break
2:50 PM
Espada Room - #18: Alaskans' Perspective of Seeking Health Care Internationally, Dr. Eissler, University of Hawaii (Guiry)
Los Hidalgos Room - #19: Study of Domestic Medical Tourism (DMT): Medicare, Drs. Zhang, Fike, Scott, & Raehl, UIW, UIW, UIW & Texas Tech Univ. (Ipock)
San Jose Room - #20: Managing Boutique Hospitals, Mr. Griffin, Consultant (Vequist)
 
3:00 PM
3:10 PM
International Business Law Class: (UIW Campus) - Prof. Cortez, SMU Law School
"International Medical Liability Issues"
GB 118
Faculty, Students and Community Invited
3:20 PM
3:30 PM
Break
3:40 PM
Espada Room - #03: PPACA & Medical Tourism, (Board Member) Mr. Polanco, Trans National (Vequist)
Los Hidalgos Room -#04: Bumrungrad International Hospital's Brand Personality: A Content Analysis, Dr. Guiry & Guanajuato, UIW (Guiry)
San Jose Room - #05: Medical Tourism Portal Destination Research , Mr. Bolatkale, UTSA (Ipock)
3:50 PM
Break
4:00 PM
Espada Room -#21: (Technology Panel) Technology and Medical Tourism- Dr. Burr, Prof. Porter, Prof. Roberts, & Dr. Craven, UIW, UIW, UIW, & UIW (Burr)
Los Hidalgos Room - #22: An Expectation Confirmation Theory Perspective of Medical Tourism, Drs. Chou, Kiser, & Lopez-Rodriguez, UIW, UIW, & UIW (Guiry)
San Jose Room - #23: Legal Developments In Medical Tourism, Mr. Galan, Valparaiso School of Law (Ipock)
4:10 PM
4:20 PM
 
4:30 PM
Break
4:40 PM
Espada Room - #06: Medical Technology & Medical Tourism, (Board Member) Dr. Gunn, Medtronic (Burr)
Los Hidalgos Room - #07: EU Cross Border Directive Update, (Board Member) Dr. Merkel, EU (Guiry)
San Jose Room - #08: Provider Shortages & Medical Tourism, (Board Member) Mr. Woomer, AP Nurse Intl. (Light)
4:50 PM
5:00 PM
Free Time
5:10 PM
5:20 PM
5:30 PM
Break
5:40 PM
5:50 PM
Veramendi Room (Dinner)- #09: A Study of Tourism Activities of Medical Tourists, (Conference Chair) 
Dr. Vequist, CMTR 
Opening: Ms. Artecona, UN/ECLAC
Sponsored by UN/ECLAC
6:00 PM
MHA Class: (UIW Campus) - Dr. Johnson, Rush University
"The Future of Healthcare: Global Trends Worth Watching"
Mabee Library Auditorium
Faculty, Students and Community Invited
6:10 PM
6:20 PM
6:30 PM
6:40 PM
6:50 PM
Conference Hotel: Omni La Mansion del Rio
112 College Street
San Antonio, Texas 78205
Phone: 210-518-1000, Fax: 210-226-0389
Conference Hotel Website Link
http://omnihotels.com/FindAHotel/SanAntonioLaMansionDelRio/MeetingFacilities/UIW2.aspx
*Discounted conference rates available*
Conference Chair:
David G. Vequist IV, Ph.D.
Founder/Director – CMTR
www.medicaltourismresearch.org
4301 Broadway, CPO #460
San Antonio, Texas 78209
Phone: +1 210 805-5825
Email:  vequist@uiwtx.edu
New Extended Date for Abstracts! December 15th, 2011 (see below)
Call for Papers (CFP)
3rd Annual Medical Tourism Research Conference
"The power of consumerism- 
patient choice & medical travel"
February 13-15, 2012 – San Antonio, Texas, U.S.A.
KeyNote Speaker: Dr. Tricia Johnson, Rush University
Dr. Johnson is the author of the recent book: The Future of Healthcare- Global Trends Worth Watching and is the Principle Investigator (PI) for the U.S. Department of Commerce's $500,000 grant to explore U.S. inbound medical travel.
The CMTR will be holding the 3rd Annual Medical Tourism Research Conference in San Antonio, Texas, U.S.A. on February 13th to 15th, 2012.
The CMTR examines business, clinical, economic, ethical, legal, marketing, operational, policy, social justice, and societal impacts of the Medical Tourism, Medical Travel, Dental Tourism, Health Tourism, Fertility Tourism, Transplant Tourism, and Retirement Tourism industries worldwide.
The conference is open to all interested stakeholders in this emerging global industry.
Abstracts requested by (new extended date): December 15th, 2011
Notification by: December 20th, 2011
If wanting to publish in an upcoming journal-
Papers required by: January 14th, 2012
Abstract Requirements
To submit abstracts go to: http://www.surveymonkey.com/s/CMTR_2012
Originality: All abstracts need to be original pieces of work owned and created by the author(s)
Language/Length: English/Approximately 1,500 words 
Abstract Required Sections: Purpose, Methodology, Background, Results, Conclusions, and Citations
Note: All abstracts will be peer reviewed by 3 researchers from leading institutions worldwide
**At least one author is expected to register for the conference by Dec. 30th, 2011**
Sponsorships Available
Please e-mail interest to: vequist@uiwtx.edu