Meet the WLC
Dr. Amanda Johnston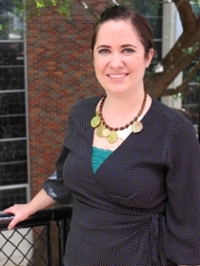 Director, Learning Support Services
Amanda holds a Ph.D. in English from Georgia State University, where she taught composition and world literature. She is a two-time alumna of UIW (B.A. and M.A. in English). She has worked in academic support full time at UIW since 2006 and has been director of the WLC since its inception in 2012. The best parts of her job involve learning from the tutors, creating a supportive environment in the center, collaborating with colleagues, and seeing students grow in and through writing.
Charlie Briggs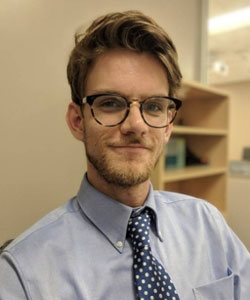 Program Leader, Writing and Learning Center
Charlie began working as a peer writing tutor at the WLC in August of 2014. He later graduated with his English degree and became one of the center's part-time professional writing tutors. Today, as Program Leader, he enjoys collaborating with the WLC team and exploring ways to improve undergraduate writing support. Recognizing the importance of strong writing skills, he cherishes seeing students grow more confident in their abilities as writers.
A traveler at heart, Charlie enjoys the thrill of exploring new places and meeting new people. In his free time, he can be found cheering for the Spurs and spending time with his girlfriend, Stephanie, and dog, Lunchbox.
Damian Gonzales
Writing Tutor
Major: Biology
Damian is a senior majoring in Biology and hopes to become a doctor of dental surgery. He was born and raised in San Antonio, Texas. When he is not studying, he reads books, such as The Art of War and The Prince. His favorite musicians are 2Pac, Metallica, and Mozart. Damian's end goal is to become a successful doctor who can give his family a big house in the country.
Jennifer Guzzi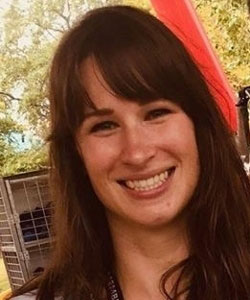 Writing Tutor
Major: Rehabilitative Sciences
Jennifer is from Dallas, Texas, and is currently a junior at UIW. She is a rehabilitative sciences major with a physician assistant core focus. Her dream is to work as a physician assistant, specializing in orthopedic medicine. She spent the last seven years in the Army working as a flight paramedic. She enjoys reading and helping people improve their writing styles.
Her hobbies include spending time watching movies with her husband and her three-legged cat, Kujo. She also enjoys traveling and floating down the river in the summer.
Tatyana Lewis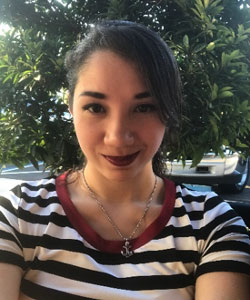 Office Assistant and History Tutor
Major: History
Minor: Secondary Education and Special Education
Tatyana is from San Marcos, Texas and is currently a junior at UIW. She is majoring in history and is minoring in secondary and special education in hopes of becoming a middle school history teacher. Her goal is to help break the stigma that history is boring and all about dates.
She is an Undergraduate Leader for the piccolo section of the Marching Cardinals in the fall and a member of the UIW Wind Ensemble in the spring. Throughout the school year, she competes in ballroom dancing competitions and participates in a modern dance class outside of school. On the weekends when she doesn't have a competition, game, or recital, she spends her free time doing acrobatics and studying. On long weekends and breaks, she enjoys spending her free time with her family and cat (Dani), as well as traveling across the country to visit her fiancé.
Nina Medrano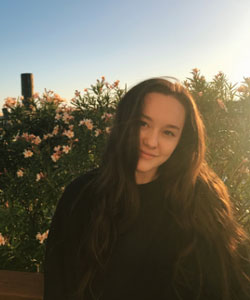 Writing Tutor
Major: English
Minor: International Business
Nina is a double major in English and Philosophy with a concentration in Women's and Gender Studies. Apart from writing, Nina enjoys exploring new intellectual insights and finds great pleasure in helping others achieve their writing goals.
In her free time, Nina enjoys painting, horseback riding, and attending concerts. She listens to music 24/7, recycles often, and never runs out of things to write about.