The Word E-News Archive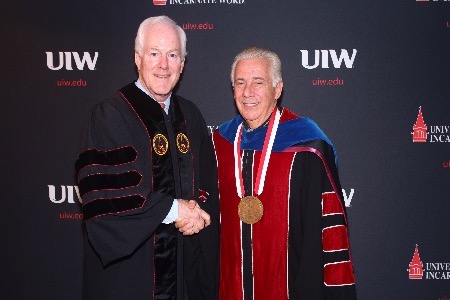 UIW was proud to commence its spring 2015 graduates on Friday, May 8 and Saturday, May 9. Pictured above from left to right is U.S. Senator John Cornyn, the undergraduate commencement speaker, and Dr. Lou Agnese, UIW president.
 
---

Mission

Our Lady's Chapel Services
All are welcome. 
Noon Mass, Monday – Friday
Sunday Mass at 10:30 a.m.
Liturgy of the Hours evening prayer at 4:30 p.m. every Wednesday
Sacrament of Reconciliation - 11:30 a.m. Fridays or by appointment with Fr. Tom Dymowski, O.SS.T. (210) 829-3131 or dymowski@uiwtx.edu.
---
Events
U.S. Senator John Cornyn's Commencement Speech
For those who were not able to attend this semester's undergraduate commencement exercises or if you want to watch the undergraduate commencement speech again, please follow this link to the President's Office page if you would like to view the video of the speech. 

2015 Corporate Cup
UIW will host the citywide San Antonio Sports Corporate Cup on Saturday, May 30 from 7 a.m. – 2 p.m. at the UIW Athletic Complex. Companies from all over San Antonio will compete in field day type activities for points and prizes. UIW is in the large company category against groups such as H-E-B, USAA, Rackspace and more. This year there is an online registration form to be a part of TEAM UIW. Visit http://uiw.edu/teamuiw/ to select which activities you would be interested in participating or sign-up to volunteer during tailgate. You will be notified which activities you will be competing in closer to the event by the Team UIW Corporate Cup Committee, as there are limited spots for each. Each UIW employee who participates will receive a free t-shirt! Families are encouraged to attend and support but are not eligible to participate EXCEPT for a 2k Healthy Walk. For more information, visit http://www.sanantoniosports.org/corporatecup/.


---
Department News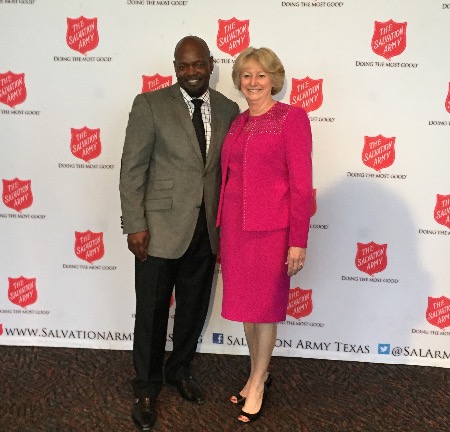 The Dreeben School of Education hosted the Salvation Army 2015 Annual Luncheon with Emmitt Smith on Tuesday, May 12.  Over 600 attendees were present to hear the keynote speaker and former Dallas Cowboy player, Emmitt Smith, talk about what the Salvation Army meant to him as a boy growing up.  Smith, one of the greatest to ever play the game of football, spoke to the audience about his experiences as quarterback for The Salvation Army Mini-Mites in Pensacola, Fla. at the age of eight and how those experiences changed him. Pictured above from left to right is Emmitt Smith with Dr. Denise Staudt, dean of the Dreeben School of Education.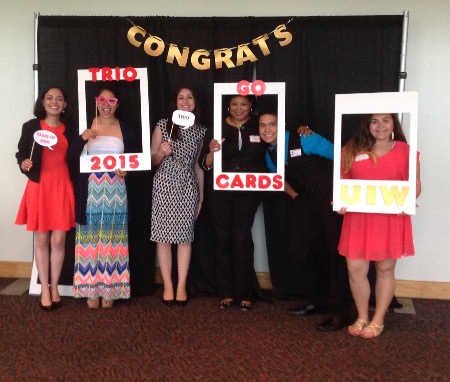 TRiO Student Support Services held its annual Achievement Awards Ceremony on Thursday, May 4 in the Rosenberg Sky Room. TRiO graduates, mentors, and Summer Bridge & Living Learning participants were honored. Family, friends and administrators attended this celebratory event. Pictured above with TRiO students are Alejandra De Hoyos,TRiO program counselor, Yesenia Caloca, program leader, and Wynette Keller, program director.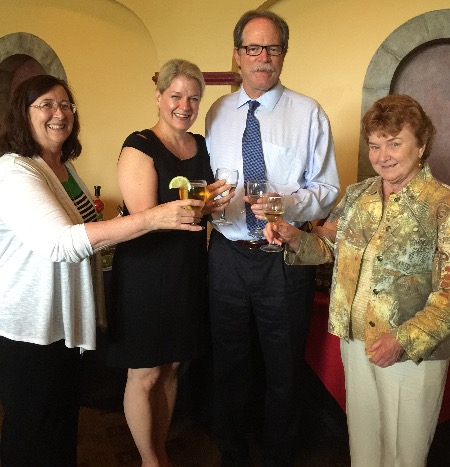 Pictured from left to right are Dr. Mary Hoke, dean of the Ila Faye Miller School of Nursing, Dr. Caroline Goulet, dean of the school of physical therapy, Dr. Forrest Aven, Jr., dean of the H-E-B School of Business and Administration, and Sr. Kathleen Coughlin, CCVI, vice president of institutional advancement toasting to the School of Physical Therapy's accreditation.

Fiscal Year End Procedures
We are approaching the end of another budget year. In order to close out the 2014/2015 fiscal year, we need your cooperation in the areas displayed in this memorandum. 

Everything I Never Showed You
The UIW Department of Art presents the 2015 Senior Capstone Exhibition titled Everything I Never Showed You through Tuesday, June 30 at the Rosenberg School of Optometry (9725 Datapoint Dr., San Antonio, TX 78229). Gallery hours are 10 a.m. – 5 p.m. Monday – Friday excluding UIW holidays. For more information, contact the UIW Art Department at (210) 829-3855 or sul@uiwtx.edu. 

The Feik School of Pharmacy Building Temporarily Closed
The Feik School of Pharmacy (FSOP) will be holding an all-school working retreat off-campus beginning Wednesday, May 20 through Friday, May 22.  The FSOP building will be locked down effective Tuesday, May 19 at 5 p.m. and will re-open for business on Tuesday, May 26following the Memorial Day holiday. For more information, contact FSOP at (210) 883-1020 or etter@uiwtx.edu.

Departments on the Move
Office of Admissions – The Office of Admissions is excited to announce their move to the ground floor of the Administration Building. All admissions staff will be moving through Friday, May 15. Admissions tours will continue to take place during this time, with all operations occurring out of the new site beginning Monday, May 18. If you have any questions, please call 210-829-6005.
Center for Veterans Affairs – The Center for Veterans Affairs is moving to the ground floor of the Administration Building, Room 79 (down the hall from Hortencia's Café). The office will be fully operational on Tuesday, May 26.  Until move-out, they will continue operations at Watson Enrollment Bldg., Room 224.  If you have any questions, please call 210-829-2705 or veterans@uiwtx.edu.
Office of Research and Graduate Studies & Office of Research Development – This office is moving to the Administration Building ground floor near the new Office of Admissions. The office will be fully operational on Monday, May 18. If there are any questions, call the Graduate Office at (210) 829-3157.
Office of Human Resources – The Office of Human Resources will be moving to the fourth floor of the Administration Building on Monday, May 18. If you have any questions, please call (210) 829-6019.
Office of Institutional Research – This office is moving to the third floor of the Administration Building on Wednesday, May 20. If you have any questions, please call Robin Logan at 210-829-3933.
---
Extended Academic Programs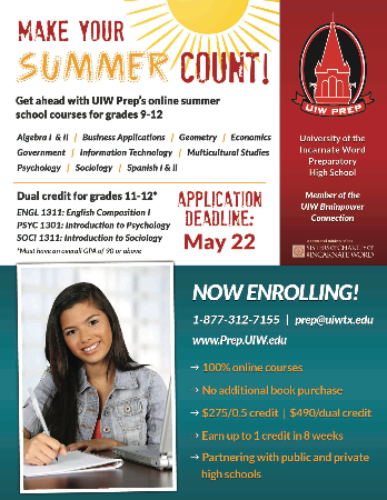 Full-Time Employees Receive Discount for UIW Prep
Are you looking for a summer school option that gives your student the flexibility of earning high school and/or college credit without going to a physical location? UIW Prep can help. We offer 100% online courses for acceleration and dual credit. Full-time employees receive $25 off regular courses. Dual credit courses are not eligible for discount. For more information, email prep@uiwtx.edu. The registration deadline for the Summer I session is Friday, May 22.
Session Dates
Summer I 2015 – June 1 – June 26
Summer II 2015 – June 29 – July 24
Dual Credit Summer 2015 – June 29 – August 21
---
ATHLETICS NEWS 
Cardinal Spotlight
UIW Baseball & Softball Season

The UIW Athletics Department invites the community to enjoy men's baseball and women's softball.  Games for May are listed below.
Men's Baseball for the Week:
May 15: Men's Baseball at Abilene Christian, 2 p.m.
May 16: Men's Baseball at Abilene Christian, 12 p.m.
For more information, please contact Kevin Lepore at (210) 805-3000 or lepore@uiwtx.edu. 
---
Community News
 
Ebadul Islam Dissertation Defense
Ph.D. candidate Ebadul Islam will host a public defense of his dissertation, "Cost Accounting in Bangladesh: Use, Value, Obstacles, and Education Needs," on Friday, May 15 at 1:30 p.m. in the Mabee Library Special Collections Room. Dr. Richard Gray is Mr. Islam's dissertation committee chair. For more information, contact Duncan Hayse at (210) 829-2759 or hayse@uiwtx.edu.

Artwork System Outage
Until Monday, May 18, the SMART online artwork approval system managed by Learfield Licensing Partners (formally SMA) will be shutdown to prepare for a larger transition into a new artwork approval system. EMPLOYEES DO NOT NEED TO TAKE ACTION. However, please know that if you are ordering anything with a trademark/logo on it during this period, the VENDOR/LICENSEE needs to email the artwork for approval to branding@uiwtx.edu as opposed to uploading the artwork. If you or the vendor/licensee you are using has questions, please contact Rick Smith at (210) 283-6448 or branding@uiwtx.edu.
---
EMPLOYEE HEALTH & WELLNESS
Health Tip
Start today the whole grain way. Choose foods with "100% whole wheat" or "100% whole grains" on the label. Or check the ingredient list to see if the word "whole" is before the first ingredient listed (for example, whole-wheat flour). If it is, it's whole grain.
---
Faculty Focus
Hosting of Candidates for Vice President for Information Resources
The final candidate for vice president of information resources, Lisa Bazley, is scheduled to meet with deans and faculty at 12:45 p.m. and the administrators and staff at 2 p.m. on May 15. These two sessions are open for anyone to attend, particularly those who have scheduling conflicts with their designated group's time.

Summer Training Call for Proposals
Faculty and staff are encouraged to submit a proposal for either of our two summer institutes at the UIW Campus. Proposals will be accepted now through Monday, May 25.
Flipped Classroom: Monday, Aug. 3 – Wednesday, Aug. 12; 8:30 a.m. – 12:30 p.m.; AD 417
This is your opportunity to learn and apply Flipped Classroom concepts using Blackboard and a variety of video creation tools. This week and a half seminar by the Department of Instructional Technology will show you how to apply collaborative tools and video editing applications to create instructional content that is interactive and engaging. Upon successful completion of the course, UIW faculty will receive a $500.00 technology stipend. Stipends are only available for full time UIW faculty. Adjunct faculty, IWHS/SACHS faculty, and UIW staff may participate but will not receive a stipend. The Blackboard Guru course is full. If you were unable to attend, but would still like to learn some advanced techniques for teaching, learning and collaboration, there are still a few seats available in the Flipped Classroom course.
Seating is limited. Participants will be selected by proposal. Email Terry Peak: tpeak@uiwtx.edu for details, or click http://bit.ly/UIWflip15 to submit your proposal.
---
High Schools


IWHS Highlights
Visit St. Anthony Catholic High School at www.sachs.org. 
Visit Incarnate Word High School at www.incarnatewordhs.org. 

Visit the UIW Prep website at https://my.uiw.edu/prep-closure/.


---
Miscellaneous

Our sympathies and prayers go to:

Christina Martinez (UIW Development Board) & family on the recent loss of her father, Vincent Diecedue III.
Dr. A. Robert Lamb (Former School of Business Faculty) & family on the recent loss of his brother, Roger Abraham Lamb.
Mary Paulette Schermerhorn Hawkins (BSN '91) on the recent loss of her mother, and Dr. Monica Anz-Cavazos (IWHS '91) on the recent loss of her grandmother, Mary Owens Hume Schermerhorn (BA '69, MA '77, Alumna of Distinction '91).
The University of the Incarnate Word provides reasonable accommodation with adequate notice. To request disability accommodation for events listed in this newsletter, visit www.uiw.edu/ada.