The Word E-News Archive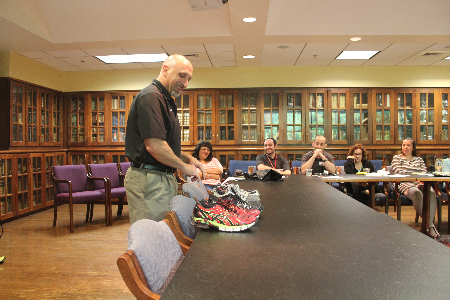 On Thursday, May 28, Scott LeBlanc, assistant director of athletic training facilities, spoke to UIW faculty and staff at the monthly Employee Wellness Lunch and Learn. LeBlanc lectured a course about the different types of shoes available for different types of fitness and recreation. The next lunch and learn is Wednesday, June 10 at 12 p.m. in the Mabee Library Special Collections Room and will be presented by guest speaker Brandon Ross, special projects manager at San Antonio Parks and Recreation. RSVP at empwellness@uiwtx.edu. 
 
---

Mission

Our Lady's Chapel Services
All are welcome. 
Noon Mass, Monday – Friday
Sunday Mass at 10:30 a.m.
Liturgy of the Hours evening prayer at 4:30 p.m. every Wednesday
Sacrament of Reconciliation - 11:30 a.m. Fridays or by appointment with Fr. Tom Dymowski, O.SS.T. (210) 829-3131 or dymowski@uiwtx.edu.
---
Events
2015 Corporate Cup
UIW will host the citywide San Antonio Sports Corporate Cup on Saturday, May 30 from 7 a.m. – 2 p.m. at the UIW Athletic Complex. Companies from all over San Antonio will compete in field day type activities for points and prizes. UIW is in the large company category against groups such as H-E-B, USAA, Rackspace and more. This year there is an online registration form to be a part of TEAM UIW. Visit http://uiw.edu/teamuiw/ to select which activities you would be interested in participating or sign-up to volunteer during tailgate. You will be notified which activities you will be competing in closer to the event by the Team UIW Corporate Cup Committee, as there are limited spots for each. Each UIW employee who participates will receive a free t-shirt! Families are encouraged to attend and support but are not eligible to participate EXCEPT for a 2k Healthy Walk. For more information, visit http://www.sanantoniosports.org/corporatecup/.


Campus Parking Closures for Corporate Cup
This event will effect some parking lots and roadways, which are outlined below.
Roadway and Parking Lot Closures:
Parking lots around the Natatorium, Convocation Center, Mabry Tennis Center, and Benson Stadium are currently closed and will remain closed until Sunday, May 31.
The roadway between the Mabry Tennis Center and Benson Stadium with access to Avoca Apartments will remain open on Friday, but be closed on Saturday. Residents of the Avoca Apartments are encouraged to move their vehicles to Agnese/Sosa parking garage or Ancira Parking Garage on Thursday evening and/or Friday morning.
On Saturday, no vehicle traffic will be allowed between the bridge and the hill from 7:30 a.m. – 3 p.m.while the event is taking place.
Parking lots being used on Saturday include:
All campus parking lots
All campus parking garages
Incarnate Word High School parking lots
Feik School of Pharmacy parking lots
McCracken House parking lot
If you have any questions regarding parking or roadway closures, please contact Campus Police at (210) 829-6030. If you have any questions on the Corporate Cup event, please contact Rick Smith at (210) 283-6448.


---
Department News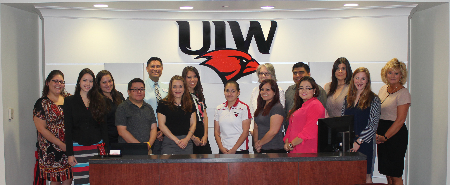 The Office of Admissions staff loves their new digs in the Administration Building.You can find their new office on the ground floor of the Administration Building just down the hall from the UIW Print Shop. For more information, contact their office at (210) 829-6000.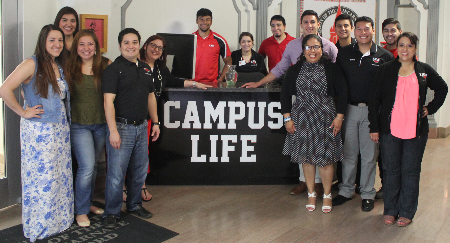 UIW Campus Life smiles big as they settle in to their new location in the Dubuis Hall Lounge on the first floor of Dubuis Hall. For more information about Campus Life, contact their office at (210) 829-3817.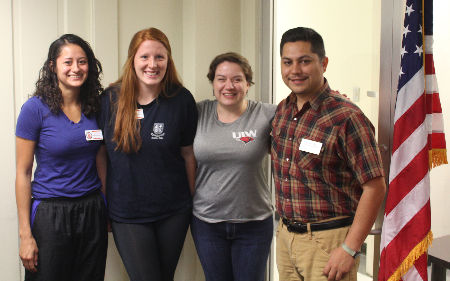 The UIW Center for Veterans Affairs is hard at work after settling in to their new office space in the Administration Building. Their new location is on the ground level of the Administration Building down the hall from Hortencia's Café in Room 79. If you have any questions, please contact their office at (210) 832-2154.

UIW Public Relations becomes UIW Communications and Marketing
To better include the breadth of services provided by the UIW Office of Public Relations, the department name has been changed to UIW Communications and Marketing. As UIW continues to grow, the department's role has evolved to include not just public relations work but also advertising, special event planning, media relations, university publications, crisis communication and social media. If you have any questions regarding the change, you may contact the Office of Communications and Marketing at (210) 829-6001.

Fiscal Year End Procedures
We are approaching the end of another budget year. In order to close out the 2014/2015 fiscal year, we need your cooperation in the areas displayed in this memorandum. 

---
Extended Academic Programs
Extended Academic Programs Highlight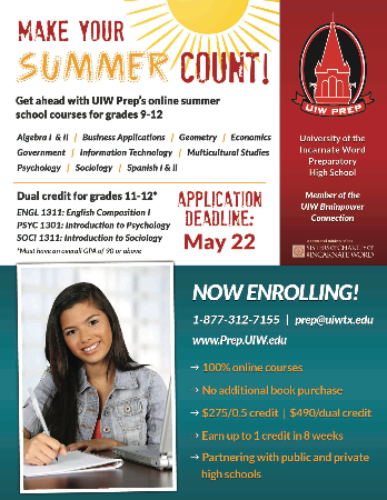 Full-Time Employees Receive Discount for UIW Prep
Are you looking for a summer school option that gives your student the flexibility of earning high school and/or college credit without going to a physical location? UIW Prep can help. We offer 100% online courses for acceleration and dual credit. Full-time employees receive $25 off regular courses. Dual credit courses are not eligible for discount.

Session Dates
Summer II 2015 – June 29 – July 24
Dual Credit Summer 2015 – June 29 – August 21
For more information, you may email us at prep@uiwtx.edu. The registration deadline for the Summer II session is Friday, June 19.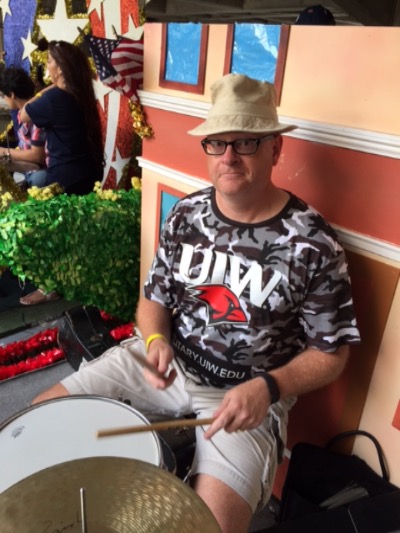 Extended Academic Program's Joint Strike Force Fast Attack Band rocked the America's Armed Forces River Parade Saturday, May 16.  The band is composed of veterans of the Army, Navy, Air Force and Marine Corps. They chose to honor our Armed Forces with traditional instrumentation of historic patriotic selections such as 'You're a Grand Old Flag' and 'Yankee Doodle' complete with military marching 'street beats' and 'roll-offs' in between. Dr. Mitch Seal, dean of the School of Online Learning, is shown in the photo as an enthusiastic member of the band.  
UIW Faculty & Staff Receive Discount for Summer Soccer Camps
UIW Cardinals Soccer Camp is right around the corner for boys and girls ages 5 – 15. Campers will be placed into groups based on their age and skill. Experienced soccer players and coaches will pay attention to the skills and techniques for each camper to help them improve. Soccer camps will run from 8 a.m. – 1:30 p.m. on the following weeks:
June 22 – 26 at Benson Stadium
July 20 – 24 at Back Grass Field
July 27 – 31 at Benson Stadium
August 3 – 7 at Benson Stadium
Each week is a separate camp session. Camp registration is $150 with a non-refundable fee of $50. UIW faculty and staff receive a $50 discount on registration with the code UIWSoccer15. You may pay online in advance for the camp at www.uiwcardinals.com. For more information, contact Coach Chris Fidler at (210) 841-7396 or cfidler@uiwtx.edu.

Free UIW Workshop – Intro to Theology of the Body
Two senior presenters of the Theology of the Body Institute, Damon Owens, CEO of the Theology of the Body Institute, and Fr. Tom DeSimone, spiritual director and director of clergy development of the Theology of the Body Institute, will share an introductory workshop on Blessed John Paul II's Theology of the Body, which will focus on issues of sexuality and dignity that face our students. Everyone is welcome — students, faculty, staff, administrators. The workshop will be at the Oblate Renewal Center – Oblate School of Theology, Conference Room 2 (5700 Blanco Road, San Antonio, TX 78216) Thursday, May 28, starting at 9 a.m. The workshop will also include discussions together over lunch and conclude at 1:30 p.m. Workbook materials and lunch will be provided free, but please register at https://www.surveymonkey.com/s/TOB-UIW. If you have any questions, contact Dr. Glenn James at (210) 710-0002 or gjames@uiwtx.edu.

New Summer Zumba™ Class Offered at UIW
Join certified Zumba™ instructor Candace Graham at UIW's newest class.  Designed with the seasoned person in mind, this Zumba™ party offers interesting tunes, variety for all, and what's certain to send you home sweatin' and smiling.  Those new to Zumba™ are encouraged to give this class a try. Classes begin on Monday, June 1 from 5:15 – 6 p.m. and will continue every Monday and Wednesday. For questions about the class and more information, contact Candace Graham at cmgonza4@uiwtx.edu.

UIW Writing & Technology Camp
The 2015 Writing and Technology Camp is a partnership between the UIW Dreeben School of Education and the San Antonio Humane Society. The camp runs from Monday, June 15 through Friday, June 26 from 8 a.m. – 12 p.m. in the Gorman Building, Room 119. Students entering 2nd – 6th grades will research the animals and use their writing and technology skills to help the animals find forever homes. This camp will develop informational and persuasive writing skills while integrating technology to create actual materials the San Antonio Humane Society will use in the community. This is an opportunity to learn and to give back to the San Antonio community! To register your child, visit the webpage of the Dreeben School of Education http://www.uiw.edu/education/. Contact Stephanie Grote-Garcia (grotegar@uiwtx.edu) to learn about discounts for UIW employees. Registration deadline is Monday, June 8. 
---
EMPLOYEE HEALTH & WELLNESS
---
Faculty Focus
 
Microsoft Word & Excel 2013 Workshop
Learn how to be more productive when using Microsoft Word and Excel from 8:30 a.m. – 12:30 p.m. on Monday, June 22 and Tuesday, June 23 in the Joyce Building, Room 236. Monday's session will feature options for formatting and publishing Microsoft Word documents. On Tuesday, we will explore how to use Microsoft Excel at a higher level. This will include linking worksheets, using complex formulas, and workbook management options. Both classes will highlight several tips, tricks, and shortcuts to streamline your interaction with these applications. Seating is limited. Email Terry Peak: tpeak@uiwtx.edu, or call 829-3920 for reservations. Reservation deadline is Monday, June 15.
Adobe Photoshop Workshop
Based on the success of our spring break Adobe Photoshop sessions, Adela Gott will expand the session from one to two days on from 8:30 a.m. – 12:30 p.m. on Wednesday, June 24 and Thursday, June 25 in the Joyce Building, Room 236. Adela will share her vast experience with Photoshop, by teaching you how to repair damaged family photos, edit images for optimal quality, and add text to an image. In addition, you will learn a few shortcuts that will allow to you to complete projects faster. Seating is limited. Email Terry Peak: tpeak@uiwtx.edu, or call 829-3920 for reservations. Reservation deadline is Monday, June 15. 
---
High Schools


Visit St. Anthony Catholic High School at www.sachs.org. 
Visit Incarnate Word High School at www.incarnatewordhs.org. 

Visit the UIW Prep website at https://my.uiw.edu/prep-closure/.


---
Miscellaneous

Our sympathies and prayers go to:

Dr. Jessica Ibarra (UIW Asst. Professor of Biology), her husband Armando & family on the recent loss of his mother, Ernestine Ann Ibarra.
Sr. Marian Jordan, CCVI (BS '64, MA '81) & family on the recent loss of her brother, Larry Jordan.
Jeanne Nail Avandsalehi (BS '77), her husband Reza & family on the recent loss of her father, Clarence Nail.
James Perry & family on the recent loss of his wife, Wilma Zalesak Perry (BSN '68).
Deborah Streckfus Crawford (BA '75), husband Daniel & family on the recent loss of her mother, Alice Gerodetti Streckfus (IWHS '48).
Frances Richter Swinny & family on the recent loss of her husband, William Heywood Swinny (UIW Friend, member Extended Run Players).
Dr. Lisa McDougle (UIW Dean of Academic Success & Student Affairs, School of Physical Therapy) & family on the recent loss of her grandmother, Nelda Sims Rich Thurmond.
The University of the Incarnate Word provides reasonable accommodation with adequate notice. To request disability accommodation for events listed in this newsletter, visit www.uiw.edu/ada.