The Word E-News Archive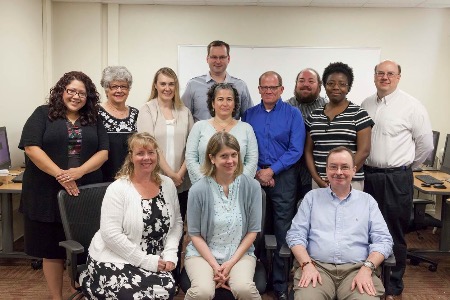 UIW Instructional Technology is hosting the 3rdAnnual Blackboard Guru Workshop through today. This workshop is designed to help faculty leverage the tools within the Blackboard Learning Management System to enhance their teaching, engage their students and improve teaching and learning. Participants pictured (left to right): (front row) Heather Litwhiler, Erin Cassity, Dr. Scott Dittloff, (middle row) Jessica Martinez-Palacios, Julianna Franklin, Stephanie Schmiedecke Barbieri, Cay Crow, Terry Peak, Dr. Joseph Bonilla, Dr. Adeola Coker, Tim Griesdorn, (back row) and Dr. Ryan Lunsford.
---

Mission

Our Lady's Chapel Services
All are welcome. 
Noon Mass, Monday – Friday
Sunday Mass at 10:30 a.m.
Liturgy of the Hours evening prayer at 4:30 p.m. every Wednesday
Sacrament of Reconciliation - 11:30 a.m. Fridays or by appointment with Fr. Tom Dymowski, O.SS.T. (210) 829-3131 or dymowski@uiwtx.edu.
---
Events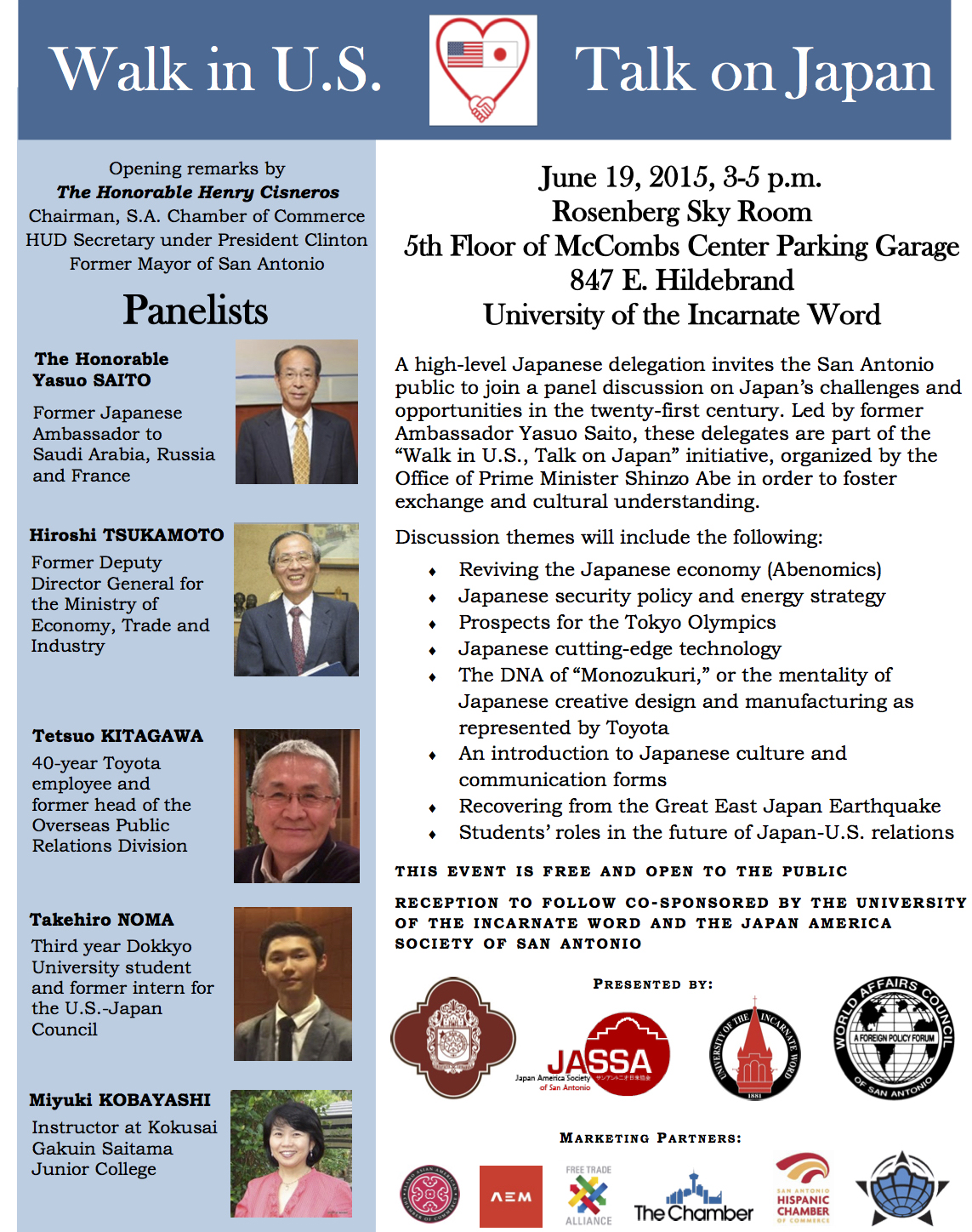 Walk in U.S. Talk on Japan
You are invited to a panel discussion on Friday, June 19, 3 – 5 p.m. in the McComb's Center Rosenberg Sky Room about Japan's challenges and opportunities in the 21st century. Led by former Ambassador Yasuo Saito, participatory delegates are part of the "Walk in U.S., Talk on Japan" initiative, organized by the Office of Prime Minister Shinzo Abe to foster exchange and cultural understanding. For information, contact the McComb's Center Rosenberg Sky Room at (210) 805-5805 or skyroom@uiwtx.edu. 
---
Department News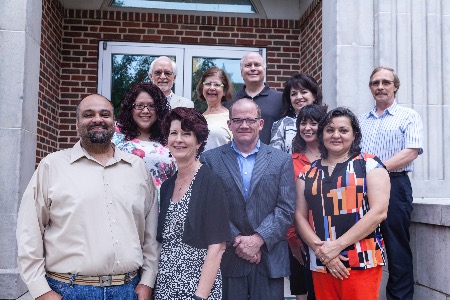 On May 14, Dr. Rhonda Spells from Quality Matters held a Designing Your Blended Course Workshop discussing how standards ensure quality in online/blended course design and delivery. Participants included Dr. Esmeralda De Los Santos, Dr. Alberto Rubio-Sanchez, Dr. Elda E. Martinez, Dr. Cynthia J. Heiss, Phillip D. Youngblood, Dr. Annette E. Craven, Dr. Mike M. McGuire, Dr. Mark Teachout, Teri A. Lopez, Terry Peak, Ana M. Gonzalez, and Jessica M. Martinez-Palacios.

Changes to the Office of Research and Graduate Studies
Dr. Osman Ozturgut has accepted the position of Dean, Office of Research and Graduate Studies (ORGS).  Dr. Ozturgut has most recently been an associate professor in the graduate studies department of the Dreeben School of Education.  Special thanks to the search committee, chaired by Dr. Denise Staudt, for their work in helping to identify the next dean of Research and Graduate Studies and Dr. Kevin Vichcales for his leadership in the ORGS over the last nine years.  He built a fine team and expanded the recognition and support for student and faculty research in many ways.  Dr. Vichcales has moved into the position of dean, College of Humanities, Arts and Social Sciences. Good luck to both Dr. Vichcales and Dr. Ozturgut in their new positions.
---
Extended Academic Programs
Bereavement Notice
EAP is saddened to announce that Mozelle Breeding, coordinator of the Office of Personal and Professional Development, is grieving the loss of her father, James William Breeding.  He passed away Thursday, June 11, surrounded by family at his home in San Antonio. Join us as we pray for Mozelle and her family.

Full-Time Employees Receive Discount for UIW Prep
Are you looking for a summer school option that gives your student the flexibility of earning high school and/or college credit without going to a physical location? UIW Prep can help. We offer 100% online courses for acceleration and dual credit. Full-time employees receive $25 off regular courses. Dual credit courses are not eligible for discount. 

Session Dates
Summer II 2015 – June 29 – July 24
Dual Credit Summer 2015 – June 29 – August 21
For more information, you may email us at prep@uiwtx.edu. The registration deadline for the Summer II session is Friday, June 19.
---
Athletics News
 
UIW Baseball's Geno Encina drafted into MLB's Blue Jays
UIW is proud to announce that Geno Encina has been chosen by the Toronto Blue Jays through the Major League Baseball Draft. Encina is the eighth Major League Baseball Draft pick from UIW in the university's history. Congratulations to Encina and his job well-done. Encina's story can be read further in this article from MySA. 

UIW Faculty & Staff Receive Discount for Summer Soccer Camps
UIW Cardinals Soccer Camp is right around the corner for boys and girls ages 5 – 15. Campers will be placed into groups based on their age and skill. Experienced soccer players and coaches will pay attention to the skills and techniques for each camper to help them improve. Soccer camps will run from 8 a.m. – 1:30 p.m. on the following weeks:
June 22 – 26 at Benson Stadium
July 20 – 24 at Back Grass Field
July 27 – 31 at Benson Stadium
August 3 – 7 at Benson Stadium
Each week is a separate camp session. Camp registration is $150 with a non-refundable fee of $50. UIW faculty and staff receive a $50 discount on registration with the code UIWSoccer15. You may pay online in advance for the camp at www.uiwcardinals.com. For more information, contact Coach Chris Fidler at (210) 841-7396 or cfidler@uiwtx.edu.
---
Community News
 
Free Museum Admission with UIW ID
Did you know that you get free admission to local art museums such as the San Antonio Art Museum or the McNay Art Museum with your UIW ID? There are fees that will be extra if the museums are having exhibits, so be sure to check their schedule ahead of time. There are so many perks with your UIW Cardinal ID. For more information about discounts with your ID, visit this link to the HR website.

UIW Volunteers Needed for KLRN's 49th Annual Blazing Gavels 
KLRN is hosting its annual live-auction event starting Wednesday, June 10. UIW is recruiting volunteers to represent the university in the KLRN studio, Thursday, June 18. Two shifts are available with up to 10 volunteer positions per shift.  Positions vary from phone operator, board managers, confirmation callers, hospitality helpers and more.
First Shift: 6 – 10 p.m. with dinner provided. Volunteers should arrive by 6 p.m. to allow for check-in, dinner and training. The event goes live at 7 p.m.
Second Shift: 9 p.m. – 12 a.m. with snacks provided. Volunteers should arrive by 9 p.m.
To volunteer, please follow this link to the online form. Volunteers must be 16 years old and up to participate. A representative from the Office of Communications and Marketing will email you to confirm.  If you have any questions, please contact us at (210) 829-6001.

Dedication of the UIW Music Department's Lecture Hall
In honor of Sr. Maria Goretti Zehr's life work and dedication to the Music Program at UIW, we would like to name the Lecture Hall in the new Music Building after her; we invite you to contribute to this naming opportunity. The Sisters of Charity of the Incarnate Word have agreed to match every dollar raised up to $15,000.  We are only $405 away from our goal.  Sr. Goretti was dear to all who knew her in the UIW community and we hope you welcome this opportunity to participate in honoring her memory.  For your convenience you can give online at www.uiw.edu/give.  Be sure to designate your gift to the Sr. Maria Goretti Zehr Lecture Hall. For more information please contact Alex Castañeda, director of major gifts and planned giving, at (210) 829-6071 or macasta1@uiwtx.edu.

Information Resource Division (IRD) June 2015 Maintenance
IRD will be conducting the scheduled June monthly maintenance beginning Friday, June 19 at 5 p.m. through Saturday, June 20 at 7 a.m.
The following production change items will be included in the maintenance window:
Banner INB Student 8.6.1, 8.6.1.1, 8.6.2, 8.6.5, 8.6.7, 8.7.1
Banner General 8.6.4
Recruiter 3.7.1 Upgrade – Banner BEP/BRIM*
Blackboard Learn Integration Changes (Add Fall 2015 Courses & Memberships to Feed)
ECHO 360 Upgrade
*Please note the Banner BEP/BRIM upgrades are required for the Recruiter upgrade scheduled to occur on Monday, 6/15 and Tuesday, 6/16. On Monday and Tuesday, Recruiter will be upgraded to 3.5.1 followed by 3.7.1. The Recruiter web front-end customizations will also be migrated on Tuesday. The Recruiter system will be the only system affected on 6/15 and 6/16.

During the maintenance window the following systems will not be available:
Banner INB/SSB
Banner Document Management
BOSSCars
myWord (Banner Links within the portal will not be available)
Intellecheck
Argos
FormFusion
Automic
Focus
Recruiter
If you have any questions, contact Joanna Arredondo at (210) 283-6489 or jcarredo@uiwtx.edu.

New Summer Zumba™ Class Offered at UIW
Join certified Zumba™ instructor Candace Graham at UIW's newest class.  Designed with the seasoned person in mind, this Zumba™ party offers interesting tunes, variety for all, and what's certain to send you home sweatin' and smiling.  Those new to Zumba™ are encouraged to give this class a try. Classes will be every Monday and Wednesday from 5:15 – 6 p.m. in the cardio room of the Wellness Center. For questions about the class and more information, contact Candace Graham at cmgonza4@uiwtx.edu.

---
EMPLOYEE HEALTH & WELLNESS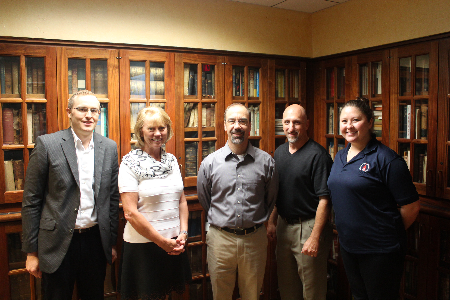 The June 10 Employee Lunch & Learn featured guest speaker Brandon Ross, project manager for City of San Antonio. Ross educated the attendants about the San Antonio Greenways and Trails located throughout the city. Pictured (left to right) Michael Schneid, Annette Thompson, Brandon Ross, Scott LeBlanc, and Erin Galloway.

Gently Used Shoe Drive
The UIW Employee Wellness Committee will be all types of collecting gently used shoes for all ages and genders until Friday, June 12. Donations will be given to the Catholic Charities Archdiocese of San Antonio, Inc. Clothes Closet & Food Pantry. A collection box will be located in the Wellness Center. For information, contact empwellness@uiwtx.edu. 
---
High Schools


Upcoming St. Anthony Catholic High School Events
Save the dates and mark your calendars.
Visit St. Anthony Catholic High School at www.sachs.org. 
Visit Incarnate Word High School at www.incarnatewordhs.org. 

Visit the UIW Prep website at https://my.uiw.edu/prep-closure/.


---
Miscellaneous 

News from The Headwaters Coalition
The Executive Director of the Headwaters at Incarnate Word, Helen Ballew, noted recently that thanks to recent rains, the Blue Hole, the start of the San Antonio River, is only 10 feet shy of flowing again. The Headwaters is a sponsored earth care ministry of the Sisters of Charity of the Incarnate Word. They are always looking for volunteers to help preserve and restore the areas around the Headwaters Sanctuary. To volunteer, fill out this online form or contact them at (210) 828-2224. 

Our sympathies and prayers go to:

The family of Robert R. Biechlin (UIW Friend) on his recent death.
Catherine Delaney & family on the recent loss of her husband, James A. Delaney (UIW Friend).
Doris & Randolph Gotthardt & family on the recent loss of their son, Travis Randolph Gotthardt (BA '12).
Arthur Gurwitz & family on the recent loss of his wife, Ruth Jean Scharlack Gurwitz (B. of Music '54).
Joe D. Harris & family on the recent loss of his wife, Frances Marie Sacco Harris (BA '46).
Monica (BA '86) and Paul (BA '84) Henson & family on the recent loss of his father Col.Archie L. Henson, USAF (ret).
The family of Anne L. McClanahan (BA '74) on her recent death.
The family of the Sisters of Charity of the Incarnate Word and the entire UIW community on the recent death of Sr. Mary Alyce Odneal, CCVI (BSN '54).
Sally Jo Lehman Oeffinger (IWHS '49) & family on the recent loss of her husband, Jack Clayton Oeffinger.
The family of Jennifer M. Vargas (UIW Current Student) on her recent death.
Neal Williamson & family on the loss of his mother, Helene C. Williamson (BSN '69).
The University of the Incarnate Word provides reasonable accommodation with adequate notice. To request disability accommodation for events listed in this newsletter, visit www.uiw.edu/ada.