The Word E-News Archive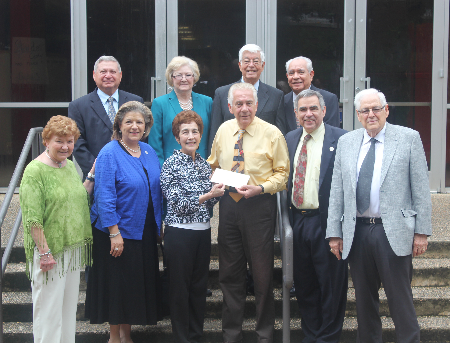 On Monday, June 22, the Sembradores de Amistad of San Antonio presented their annual contribution to UIW scholarship funds. We thank them for their generosity and contribution to help our students further their education at UIW.
---

Mission

Our Lady's Chapel Services
All are welcome. 
Noon Mass, Monday – Friday
Sunday Mass at 10:30 a.m.
Liturgy of the Hours evening prayer at 4:30 p.m. every Wednesday
Sacrament of Reconciliation - 11:30 a.m. Fridays or by appointment with Fr. Tom Dymowski, O.SS.T. (210) 829-3131 or dymowski@uiwtx.edu.
---
Events


Japanese Traditional Calligraphy Workshop
Please join the UIW Institute of World Cultures on Thursday, July 16 from 2:30 – 3:30 p.m. in the ICC Boardroom 1 to learn more about Japanese traditional calligraphy and feel the art of the zen. Take a short break from your day; you will feel relaxed after this event. For more information, contact Wei Cheng Tung at (210) 832-2174 or wtung@student.uiwtx.edu. 
---
Department News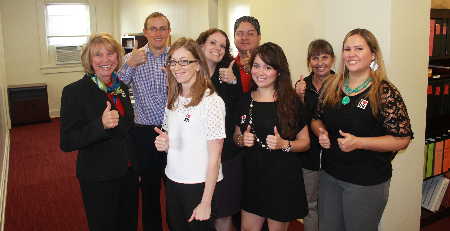 The Office of Human Resources is showing off their new space in style. You can find them on the fourth floor of the Administration Building in Room 425. Pictured above (L to R) are Annette Thompson, Mike Schneid, Heather Hamilton, Shannon Root, Jaime Lopez, Jessica Garza-Padilla, Leslie White and Mallory Angier. If you have any questions, contact (210) 829-6019.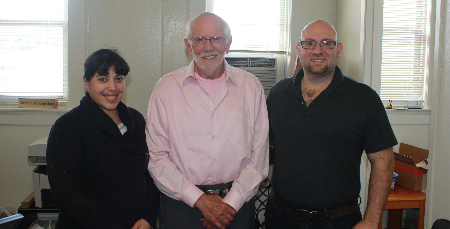 The Office of Counseling Services is enjoying their new office just down the hall from the Office of Human Resources on the fourth floor of the Administration Building in Room 438. Pictured above (L to R) are Lori Alvarez, Dr. Keith Tucker and Dr. Christopher Leeth. If you have any questions, contact (210) 832-5656.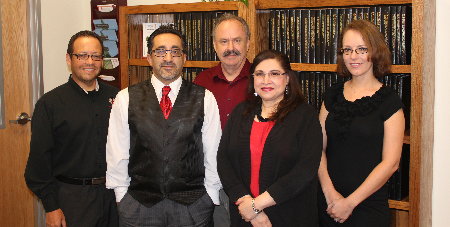 The Office of Research and Graduate Studies is settled into their new location on the ground floor of the Administration Building down the hall from the new Admissions Office in Room 1A. Pictured above (L to R) are Dr. David Ortiz, Dr. Osman Ozturgut, Duncan Hayse, Gracie Zuniga and Rebecca Peñaloza. For more information, contact (210) 805-3555.
---
Extended Academic Programs
Dean of the School of Online Learning Attends Global Initiative Meeting in Denver
Dr. Mitch Seal, RN, dean of the School of Online Learning, was invited to attend the fifth Annual Clinton Global Initiative Meeting in Denver.  He was accompanied by Brigadier General Bob Miller who is the Commandant of the Medical Education Training Campus on Joint Base San Antonio and the Director of Medical Education and Training for the Defense Health Agency. The initiative brings together leaders from business, philanthropy and government to develop solutions for economic growth, long-term competitiveness and social mobility in the United States. Participants focused on many challenges including work force development in the area of health care and veterans employment barriers. The intent was to form relationships that will enhance educational opportunities for our military and veterans.
---
Athletics News
Athletics Highlight
Youth Football Camp
UIW Football is hosting a Youth Football Camp this summer for grades 1 – 8 at Benson Stadium. The price per daily session is $35. Below is the list of sessions from 9 a.m. – 12 p.m.:
Monday, June 29
Tuesday, June 30
Wednesday, July 1
Thursday, July 2
Military and UIW employees will receive a 20% discount. Each camper will also receive a camp T-shirt. You may register at this link. The final day for registration is Sunday, June 28. For more information, contact coach Tony Marciano at (210) 283-6350 or marciano@uitx.edu.

UIW Faculty & Staff Receive Discount for Summer Soccer Camps
UIW Cardinals Soccer Camp is right around the corner for boys and girls ages 5 – 15. Campers will be placed into groups based on their age and skill. Experienced soccer players and coaches will pay attention to the skills and techniques for each camper to help them improve. Soccer camps will run from 8 a.m. – 1:30 p.m. on the following weeks:
July 20 – 24 at Back Grass Field
July 27 – 31 at Benson Stadium
August 3 – 7 at Benson Stadium
Each week is a separate camp session. Camp registration is $150 with a non-refundable fee of $50. UIW faculty and staff receive a $50 discount on registration with the code UIWSoccer15. You may pay online in advance for the camp at www.uiwcardinals.com. For more information, contact Coach Chris Fidler at (210) 841-7396 or cfidler@uiwtx.edu.
---
Community News
 
Bereavement Notice
Join us in expressing condolences to Dr. Arcelia Johnson-Fannin on the loss of her sister, Mrs. Tiny Spencer of Dallas, TX, who passed away on Sunday.  Mrs. Spencer was a frequent visitor to San Antonio, often attending events at the School of Pharmacy and UIW. Tiny was Dr. J's traveling "buddy". Services will be held on Saturday, June 27, 2015 in Dallas.
Singing Hills Funeral Home, 6221 University Hills Blvd, Dallas Texas 75241
True Believers Baptist Church, 2414 Kilburn Ave., Dallas, TX 75216

A Parking Notice from the Vice President for Enrollment Management & Student Services, Dr. David Jurenovich
The two parking lots in front of the Administration Building will be reserved for new students and parents attending orientation Wednesday, July 1. Employees are asked to park in the Agnese-Sosa garage or behind the Barshop Natatorium. Thank for your understanding and cooperation as we welcome new students and their families to the UIW community. If you have any questions, contact (210) 805-3552.

Competition for Spirit Shirt Slogan
Fall is fast approaching and we need your help! We are looking for slogan ideas for our 2015 Spirit Shirt. The UIW Office of Communications and Marketing will hold the annual Spirit Shirt Giveaway, giving a free Spirit Shirt to the first 1000 Cardinals fans at the first home football game on Sept. 5. The best slogan will be short, fun and convey UIW pride. Previous winners have included "Beware the Cardinals," "Meet Me at the Game" and "Not in My Nest." The top three slogans will be voted on through social media in July. Send your best ideas to smchandl@uiwtx.edu by 5 p.m., Friday, July 3.

UIW Continues to Conform to Drought Conservation Measures
The City of San Antonio has removed drought restrictions for SAWS customers, that is, all but year round restrictions. However, UIW's Director of Facilities and Ancillary Services – Mr. Steve Heying – cognizant that UIW is a large water consumer due to its population and campus size, has elected to proactively lead on water conservation.  As a result, the UIW campus and its area sites will continue to conform to drought conservation measures. In brief, Mr. Heying noted to SAWS, "We believe we can continue to improve and maintain our rich campus aesthetic while simultaneously leading in water conservation. Preserving the beauty of the campus grounds and water conservation are not mutually exclusive endeavors. Therefore, our irrigation schedule will remain unchanged, despite the official lifting of drought measures." SAWS response was immediate and concise: "Well done and thank you." If you have any questions, contact the Office of Facilities Management and Services at (210) 829-6023.

Dedication of the UIW Music Department's Lecture Hall
In honor of Sr. Maria Goretti Zehr's life work and dedication to the Music Program at UIW, we would like to name the Lecture Hall in the new Music Building after her; we invite you to contribute to this naming opportunity. The Sisters of Charity of the Incarnate Word have agreed to match every dollar raised up to $15,000.  We are only $405 away from our goal.  Sr. Goretti was dear to all who knew her in the UIW community and we hope you welcome this opportunity to participate in honoring her memory.  For your convenience you can give online at www.uiw.edu/give.  Be sure to designate your gift to the Sr. Maria Goretti Zehr Lecture Hall. For more information please contact Alex Castañeda, director of major gifts and planned giving, at (210) 829-6071 or macasta1@uiwtx.edu.

New Summer Zumba™ Class Offered at UIW
Join certified Zumba™ instructor Candace Graham at UIW's newest class.  Designed with the seasoned person in mind, this Zumba™ party offers interesting tunes, variety for all, and what's certain to send you home sweatin' and smiling.  Those new to Zumba™ are encouraged to give this class a try. Classes will be every Monday and Wednesday from 5:15 – 6 p.m. in the cardio room of the Wellness Center. For questions about the class and more information, contact Candace Graham at cmgonza4@uiwtx.edu.
---
Employee Health & Wellness
Employee Lunch and Learn
The next lunch and learn will be on Thursday, July 16 in the Mabee Library Special Collections Room from 12 – 1 p.m. Learn tips and tricks to beat the heat and be well during the summer. RSVP today at empwellness@uiwtx.edu. 



---
Faculty Focus

Microsoft Word & Excel 2013 Workshop
Learn how to be more productive when using Microsoft Word and Excel. The workshops will take place on Tuesday, July 7 and Wednesday, July 8 from 1 – 5 p.m. in the Administration Building, Room 417. Tuesday's session will feature options for formatting and publishing Microsoft Word documents. On Wednesday, the workshop will explore how to use Microsoft Excel at a higher level. This will include linking worksheets, using complex formulas, and workbook management options. Both classes will highlight several tips, tricks, and shortcuts to streamline your interaction with these applications. Seating is limited. Email Terry Peak at tpeak@uiwtx.edu, or call 829-3920 for reservations.

TIAA-CREF Counseling Session
TIAA-CREF will conduct individual counseling sessions for English and Spanish speakers on how to plan for retirement. The sessions will be held in the Mabee Library from 9 a.m. – 3 p.m. on Thursday, July 9 in room 234 and Friday, July 10 in room 221. Please RSVP as soon as you can at www.tiaa-cref.org/schedulenow. Contact Shannon Root at (210) 829-6019 or uiwhr@uiwtx.edu if you have any questions.
---
High Schools


Upcoming St. Anthony Catholic High School Events
Save the dates and mark your calendars.
Visit St. Anthony Catholic High School at www.sachs.org. 
Visit Incarnate Word High School at www.incarnatewordhs.org. 

Visit the UIW Prep website at http://prep.uiw.edu.


---
Miscellaneous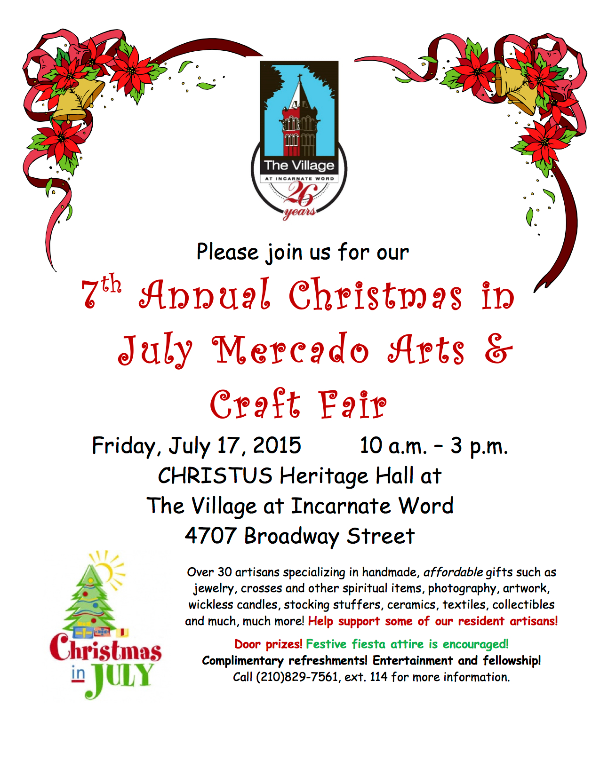 7th Annual Christmas in July Mercado Arts & Crafts Fair
The 7th Annual Christmas in July Mercado Arts & Crafts Sale is set for Friday, July 17 from 10 a.m. - 3 p.m., in the CHRISTUS Heritage Hall at The Village of the Incarnate Word (4707 Broadway St., San Antonio, TX 78212). This fair hosts over 30 artisans specializing in a variety of handmade, affordable gifts. Come support your resident artisans and enjoy complimentary refreshments, fun entertainment and fellowship. Call (210) 829-7561, ext. 114 for more information.

The fair is looking for all vendors that specialize in handcrafted items, art, photography, crafters, etc. Booth space is only $50.00. Items priced at $25 or less sell well at this sale. To pick up an application and details, stop in to The Village at Incarnate Word. No phone calls, please. To receive an application via email, please send your inquiry to: alma.cosme@iwretire.org.

Free Museum Admission with UIW ID
Did you know that you get free admission to local art museums such as the San Antonio Art Museum or the McNay Art Museum with your UIW ID? There are fees that will be extra if the museums are having exhibits, so be sure to check their schedule ahead of time. There are so many perks with your UIW Cardinal ID. For more information about discounts with your ID, visit this link to the HR website.

Our sympathies and prayers go to:

Mozelle Breeding (Coordinator, UIW Office of Personal & Professional Development, MEd '11) & family on the recent loss of her father, James William Breeding.
The family of Carol Louise Grasley Bucklaw (Santa Rosa School, BSN '51) on her recent death.
Carolina Lauriano Dimmick (BA '92) & family on the recent loss of her husband, Robert Lee Dimmick (former UIW student).
Caitlin Bailey (IWHS '08) & family on the recent loss of her grandmother, Rita Bailey Eichler (IWHS Friend).
Joe Denton Harris & family on the recent loss of his wife, Frances Marie Sacco Harris (BA '46).
Elaine & Joseph Martin & family on the recent loss of his mother, Anna Melissa Birge Menke (BSN '50).
Maureen (Former UIW Development Board, BSN '84) and George Mimari, M.D. & family on the recent loss of her mother, Helen Susan Mikels.
Kimberly and Joe Bianco (UIW Friends) on the recent loss of his father, David Arthur Miller, M.D.
Sally Lehman Oeffinger (IWHS '49) & family on the recent loss of her husband, Jack Clayton Oeffinger.
Jan and Ben Davis (UIW Development Board) & family on the recent loss of her mother; Cara Davis (BA' 01) and Kelly Davis (IWHS '07) on the recent loss of their grandmother, Mary Lou Helmsing Schicker.
Dr. Arcelia Johnson-Fannin (Founding Dean, Feik School of Pharmacy) & family on the recent loss of her sister, Tiny N. Spencer. 
The University of the Incarnate Word provides reasonable accommodation with adequate notice. To request disability accommodation for events listed in this newsletter, visit www.uiw.edu/ada.