The Word E-News Archive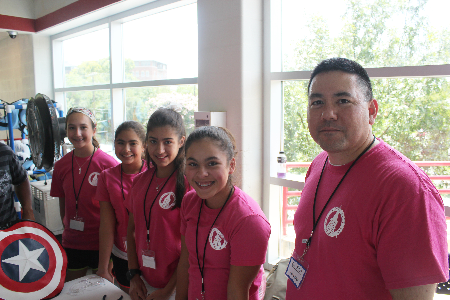 On Thursday, July 9, UIW's Autonomous Vehicle Systems (AVS) Laboratory hosted an underwater robotics competition in the Barshop Natatorium as a part of the mini-GEMS (Girls in Engineering, Math and Sciences) program. Pictured above is Dr. Michael Frye, associate professor of engineering, with some of the girls in the program getting ready to launch their robot.
---

Mission

Our Lady's Chapel Services
All are welcome. 
Noon Mass, Monday – Friday
Sunday Mass at 10:30 a.m.
Liturgy of the Hours evening prayer at 4:30 p.m. every Wednesday
Sacrament of Reconciliation - 11:30 a.m. Fridays or by appointment with Fr. Tom Dymowski, O.SS.T. (210) 829-3131 or dymowski@uiwtx.edu.
---
Events


Japanese Traditional Calligraphy Workshop
Please join the UIW Institute of World Cultures on Thursday, July 16 from 2:30 – 3:30 p.m. in the ICC Boardroom 1 to learn more about Japanese traditional calligraphy and feel the art of the zen. Take a short break from your day; you will feel relaxed after this event. For more information, contact Wei Cheng Tung at (210) 832-2174 or wtung@student.uiwtx.edu. 
---
Department News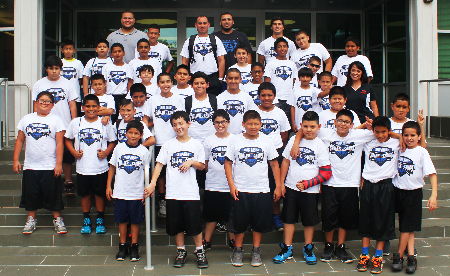 Dr. Elda Martinez, associate professor of education and 2015 Moody Professor, hosted this summer's BALLER Camp (Basketball and Life Lessons Essential to Remember) at UIW. Children in the camp had a chance to meet with UIW athletes, coaches and toured the campus. The camp was created to help kids transition to middle school by becoming involved in on-campus activities and developing a support network.

Student Services in Higher Education Information Session
Join the Dreeben School of Education on Monday, July 20 from 6 – 8 p.m. in the Admissions Presentation Room, AD 21 for an information session about our Masters of Arts and Masters of Education programs that offer a concentration in Student Services in Higher Education. This concentration is designed to prepare students for employment or advancement in colleges and universities. Potential areas of employment include Admissions, Financial Aid, Residence Life, Campus Activities, and other student service areas. For more information, contact Joan Labay-Marquez at (210) 283-6429.
 
UIW Faculty & Staff Receive Discount for Summer Soccer Camps
UIW Cardinals Soccer Camp is right around the corner for boys and girls ages 5 – 15. Campers will be placed into groups based on their age and skill. Experienced soccer players and coaches help campers improve their skills and techniques. Soccer camps will run from 8 a.m. – 1:30 p.m. on the following weeks:
July 20 – 24 at Back Grass Field
July 27 – 31 at Benson Stadium
August 3 – 7 at Benson Stadium
Each week is a separate camp session. Camp registration is $150 with a non-refundable fee of $50. UIW faculty and staff receive a $50 discount on registration with the code UIWSoccer15. You may pay online in advance for the camp at www.uiwcardinals.com. For more information, contact Coach Chris Fidler at (210) 841-7396 or cfidler@uiwtx.edu.
---
Community News
 
UIW Highlights
Fraternity/Sorority Affiliation
University Events and Student Programs would like to gather the names of any UIW faculty/staff members that are currently, or previously have been, affiliated with a fraternity or sorority in any capacity. Please send your name, position with the university, name of Greek organization affiliated with and year(s) in which you were on active status with the organization to Paulina Mazurek pmazurek@uiwtx.edu.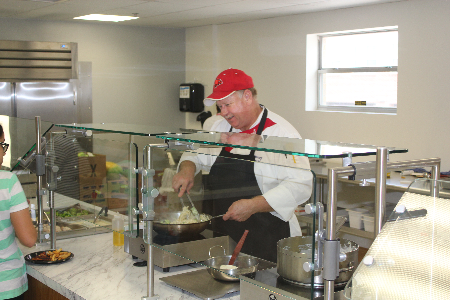 Marian Café at the ICC is now open and serving meals throughout the day. The café features a breakfast bar, pasta bar, sandwich station, desserts and a salad bar.  There will also be a hot meal served daily. Items featured include chicken fried steak, cheese ravioli with marinara, grilled fiesta lime chicken fajitas, vegetarian fajitas and spinach fettuccini.  For more information, contact UIW Dining at (210) 832-2149. Below are the July hours of operation in the ICC:

Monday – Friday:
7 – 9 a.m.: Breakfast
11 a.m. - 1 p.m.: Lunch
5 – 7 p.m.: Dinner
Saturday – Sunday:
11 a.m. - 1 p.m.: Brunch
5 – 7 p.m.: Dinner

A Parking Notice from the Vice President for Enrollment Management & Student Services, Dr. David Jurenovich
The two parking lots in front of the Administration Building will be reserved for new students and parents attending orientation Thursday, July 30. Employees are asked to park in the Agnese-Sosa garage or behind the Barshop Natatorium. Thank for your understanding and cooperation as we welcome new students and their families to the UIW community. If you have any questions, contact (210) 805-3552.
---
Employee Health & Wellness
 
Open Swimming for Faculty and Staff
Make a splash this summer with employee only open swim. Running until Thursday, August 13, open swimming will take place on Tuesdays and Thursdays at the Incarnate Word High School campus pool located behind the school from 5 – 7 p.m. One lane will be open for lap swimming while two lanes will be reserved for a circuit of exercise classes. Tuesdays, an instructor will teach a water aerobics class. Thursdays, the lanes will have instructions and equipment for circuit workouts to be completed at your own pace. This program is free to all UIW, IWHS and SACHS faculty and staff (you must have your ID to enter). No family members or guests are allowed. There will be a lifeguard on duty from 5 – 7 p.m. for the session only. If you have any questions, please contact (210) 805-5873 or empwellness@uiwtx.edu.

Employee Lunch and Learn
The next lunch and learn will be on Thursday, July 16 in the Mabee Library Special Collections Room from 12 – 1 p.m. Learn tips and tricks to beat the heat and be well during the summer. RSVP today at empwellness@uiwtx.edu. 


---
High Schools


Upcoming St. Anthony Catholic High School Events
Save the dates and mark your calendars.
Visit St. Anthony Catholic High School at www.sachs.org. 
Visit Incarnate Word High School at www.incarnatewordhs.org. 

Visit the UIW Prep website at http://prep.uiw.edu.


---
Miscellaneous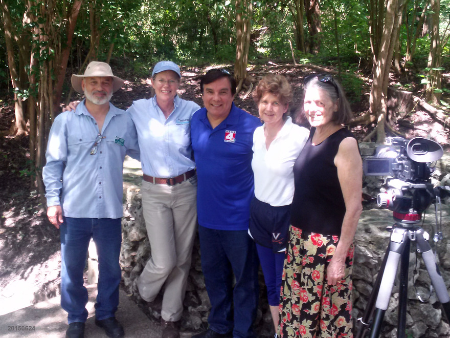 On Wednesday, June 24, Albert Flores, News 4-WOAI Weather, came to film the Blue Hole as it flowed again for the first time since Feb. 2011. Pictured above is Albert Flores with Helen Ballew, executive director of the Headwaters Sanctuary, and members of the coalition.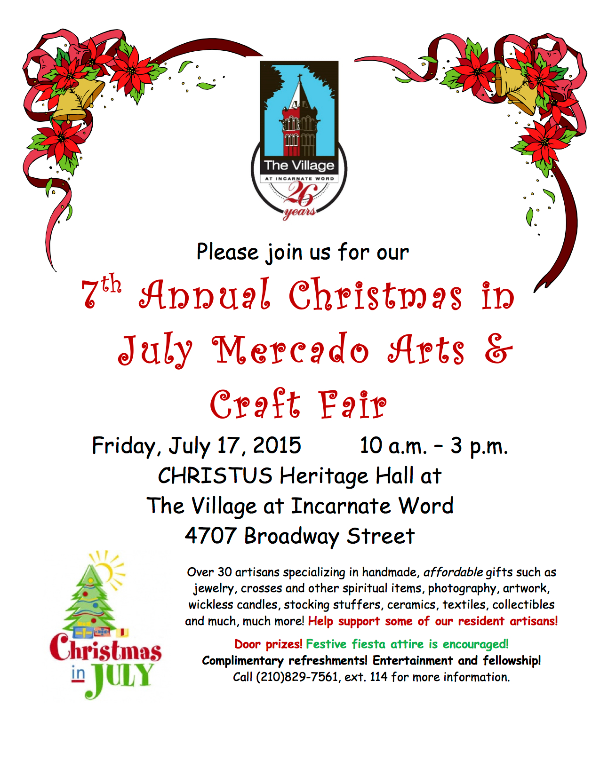 7th Annual Christmas in July Mercado Arts & Crafts Fair
The 7th Annual Christmas in July Mercado Arts & Crafts Sale is set for Friday, July 17 from 10 a.m. - 3 p.m., in the CHRISTUS Heritage Hall at The Village of the Incarnate Word (4707 Broadway St., San Antonio, TX 78212). This fair hosts over 30 artisans specializing in a variety of handmade, affordable gifts. Come support your resident artisans and enjoy complimentary refreshments, fun entertainment and fellowship. Call (210) 829-7561, ext. 114 for more information.

The fair is looking for all vendors that specialize in handcrafted items, art, photography, crafters, etc. Booth space is only $50.00. Items priced at $25 or less sell well at this sale. To pick up an application and details, stop in to The Village at Incarnate Word. No phone calls, please. To receive an application via email, please send your inquiry to: alma.cosme@iwretire.org.

Our sympathies and prayers go to:

Vanessa Angelica Botello (BBA '05) & family on the recent loss of her mother, Frances M. Botello (BSN '70).
Angela Lewis & family on the recent loss of her husband, Bradley W.Lewis (BBA '09).
Blanca Garcia Salazar & family on the recent loss of her husband, Adan Salazar (Former Music Faculty, SACHS & IWHS).
Douglas Travers & family on the recent loss of his wife, Mary Isobel Dorgan Travers (UNDCLD '67).
The University of the Incarnate Word provides reasonable accommodation with adequate notice. To request disability accommodation for events listed in this newsletter, visit www.uiw.edu/ada.