The Word E-News Archive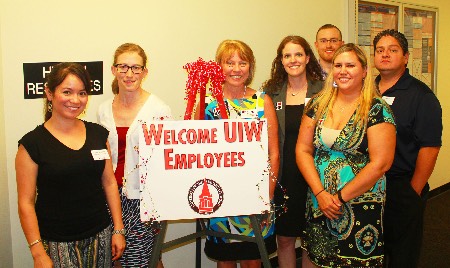 On Wednesday, July 15, the Office of Human Resources opened their new space to all UIW employees for a chance to tour, sit back, relax and meet the HR staff. Pictured above (from L to R) is HR staff Jessica Garza-Padilla, Heather Hamilton, Annette ThompsonShannon Root, Michael Schneid, Mallory Angier and Jaime Lopez, benefits specialist. For any HR questions, contact (210) 829-6019. 
---

Mission

Our Lady's Chapel Services
All are welcome. 
Noon Mass, Monday – Friday
Sunday Mass at 10:30 a.m.
Liturgy of the Hours evening prayer at 4:30 p.m. every Wednesday
Sacrament of Reconciliation - 11:30 a.m. Fridays or by appointment with Fr. Tom Dymowski, O.SS.T. (210) 829-3131 or dymowski@uiwtx.edu.
---
Events


Mozart Festival Texas 2015
Come and experience a fantastic performance of classical pieces during this two day Mozart Festival. This festival takes place Friday, July 31 and Saturday, Aug. 1 at 8 p.m. on both days in the UIW Concert Hall. Artistic Director Terence Frazor and the UIW Department of Music present wonderful performances spanning the work of Wolfgang Amadeus Mozart and Edvard Grieg.

Admission for both concerts (July 31 & Aug. 1) is as follows:
Students: $15 with ID
General Admission in advance: $40
General Admission at the door: $55
For more information, contact the UIW Department of Music at (210) 829-3855. 
---
Department News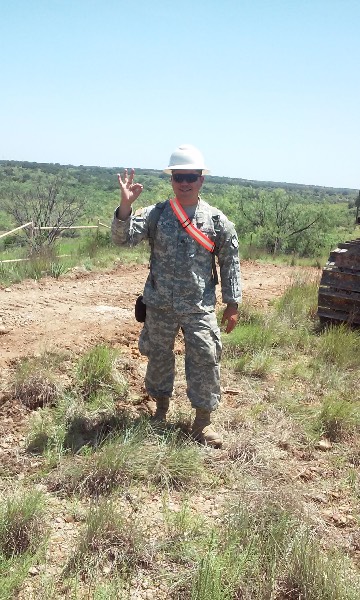 UIW Veteran Services Specialist, Reuben Aleman,shows his Cardinal Pride while away at annual Army Reserve training. 

Employee Appreciation Luncheon
UIW Athletics and UIW Cardinals Club want to thank all university employees for their hard work and tremendous support for UIW Athletics. Come enjoy some delicious tacos and UIW camaraderie with your colleagues on Wednesday, Aug. 5 from 12 – 1: 30 p.m. at Benson Stadium. Everyone will also have the opportunity to watch the official new Adidas uniform unveiling for the fall sports (women's soccer, volleyball, football, men's soccer). Please RSVP by Friday, July 31 to Kevin Lepore at lepore@uiwtx.edu.
 
UIW Faculty & Staff Receive Discount for Summer Soccer Camps
UIW Cardinals Soccer Camp is right around the corner for boys and girls ages 5 – 15. Campers will be placed into groups based on their age and skill. Experienced soccer players and coaches help campers improve their skills and techniques. Soccer camps will run from 8 a.m. – 1:30 p.m. on the following weeks:
July 27 – 31 at Benson Stadium
August 3 – 7 at Benson Stadium
Each week is a separate camp session. Camp registration is $150 with a non-refundable fee of $50. UIW faculty and staff receive a $50 discount on registration with the code UIWSoccer15. You may pay online in advance for the camp at www.uiwcardinals.com. For more information, contact Coach Chris Fidler at (210) 841-7396 or cfidler@uiwtx.edu.
---
Community News
 
UIW Highlights
UIW Receives New Grant through Student Support Services
We are proud to announce that UIW has been selected to receive funding under the Student Support Services program for over $200,000 for the first budget period (09/01/2015 through 08/31/2016). It is anticipated that the grant will be for a total of five years. Funds are awarded to institutions of higher education to provide opportunities for academic development, assist students with basic college requirements and to motivate students toward the successful completion of their postsecondary education. Student Support Services projects also may provide grant aid to current participants who are receiving Federal Pell Grants. The goal of this program is to increase the college retention and graduation rates of its participants. If you have any questions, please contact Sandy McMakin at (210) 805-3005.

Information Resources Division (IRD) Scheduled August Maintenance
IRD will be conducting the scheduled August monthly maintenance on Friday, July 31 at 6 p.m.

Enterprise Applications Production Change Items:
Banner Student 8.7, 8.7.0.1, 8.7.0.2, 8.7.2.1, 8.7.4
Banner General 8.7.1
Banner Advancement 8.7.1.4
Banner Financial Aid 8.23.0.3
Banner HR/Position Control 8.11.4.4
During the July 31 maintenance window, the following systems will not be available:
Banner INB/SSB
Banner Document Management
BOSSCars
myWord (Banner Links within the portal will not be available)
Intellecheck
Argos
FormFusion
Automic
Focus
Recruiter
For more information, contact Joanna Arredondo at (210) 283-6487 or jcarredo@uiwtx.edu.

A Special Message from the Vice President for Business and Finance, Douglas Endsley
The campus entrance at Joeris Hall from the 281 access road and the road from Joeris Hall to the ICC Building will be closed from Friday, July 24 at 1 p.m. through Saturday, July 25 at 7 a.m. for road construction.  If you have any questions, contact (210) 829-6038. We apologize for any inconvenience.

A Parking Notice from the Vice President for Enrollment Management & Student Services, Dr. David Jurenovich
The parking lot in front of the Fine Arts Building will be reserved for new students and parents attending orientation.  Employees are asked to park in the Agnese-Sosa garage or behind the Barshop Natatorium on the following dates:
Thursday, July 30
Thursday, Aug. 6
Wednesday, Aug. 12
Thank for your understanding and cooperation as we welcome new students and their families to the UIW community. If you have any questions, contact (210) 805-3552.
---
Employee Health & Wellness
 
Open Swimming for Faculty and Staff
Make a splash this summer with employee only open swim. Running until Thursday, August 13, open swimming will take place on Tuesdays and Thursdays at the Incarnate Word High School campus pool located behind the school from 5 – 7 p.m. One lane will be open for lap swimming while two lanes will be reserved for a circuit of exercise classes. Tuesdays, an instructor will teach a water aerobics class. Thursdays, the lanes will have instructions and equipment for circuit workouts to be completed at your own pace. This program is free to all UIW, IWHS and SACHS faculty and staff (you must have your ID to enter). No family members or guests are allowed. There will be a lifeguard on duty from 5 – 7 p.m. for the session only. If you have any questions, please contact (210) 805-5873 or empwellness@uiwtx.edu.


---
High Schools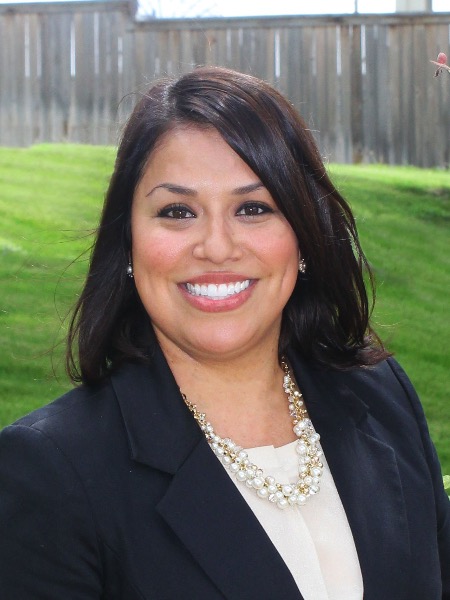 Incarnate Word High School (IWHS) is proud to welcome Jennifer Salazar as its new principal. Born and raised in San Antonio, Salazar is beginning her 12th year in education. Prior to IWHS, she served as assistant principal at the Young Women's Leadership Academy. Salazar holds a Bachelor of Arts in Interdisciplinary Studies from the University of the Incarnate Word and a Master's degree in Educational Leadership and Policy Studies from the University of Texas at San Antonio. She is also a member of Blessed Sacrament Catholic Church where she has attended since she was a child. Salazar is also a member of the National Honor Society of Leadership & Success and Kappa Delta Epsilon Educational Fraternity.  In 2010, she was the recipient of H-E-B Excellence in Education Award & Grant. We are very proud to have her as a part of the UIW community.

Upcoming St. Anthony Catholic High School Events
Save the dates and mark your calendars.
World Youth Day San Antonio – Saturday, July 25: Join the SACHS Mission and Ministry as they take over the SACHS campus for an evening celebration to kick-off their journey to meet with the Holy Father in Krakow, Poland in 2016. This event will be from 7 – 10 p.m. and take place all around campus. For more information, contact Rosi Cortez at (210) 832-5691 or rpcortez@uiwtx.edu.
Concert – Saturday, Sept. 5: Catholic musicians and recording artists David Kauffman and William Gokelman, UIW professor of music, will present a concert at SACHS at 7 p.m. Together they have produced 7 CD's, written a musical, and co-composed an award winning Mass setting, Mass of Renewal. You will not want to miss this night of prayer, song and story. For more information on tickets contact Rosi Cortez, rpcortez@uiwtx.edu or 210 832-5691.
Partners for Good with SACHS – Saturday, Sept. 12: From 9 a.m. – 3 p.m., Goodwill Industries of San Antonio will place donation trailers on the SACHS campus. Each full truck will result in up to $1,000 for the school. This year, Goodwill is also accepting furniture donations. All donations to Goodwill will be used for re-sale in their stores to fund their exceptional educational programs and services. It's win-win collaboration for SACHS and Goodwill Industries. Be on the lookout for further details in the coming weeks. All proceeds benefit the SACHS chapel fund. For more information, contact Rosi Cortez, rpcortez@uiwtx.edu, 210 832-5691.
Visit St. Anthony Catholic High School at www.sachs.org. 
Visit Incarnate Word High School at www.incarnatewordhs.org. 

Visit the UIW Prep website at http://prep.uiw.edu.


---
Miscellaneous 

Our sympathies and prayers go to:

Virginia Garcia (BA '86) on the recent loss of her mother; Marivel Garcia (BA '10) and Martin Garcia (BA '13) on the recent loss of their grandmother, Mary Lou Barrera.
The family of Stella Teresa Salazar (BSN '54) on her recent death.
The University of the Incarnate Word provides reasonable accommodation with adequate notice. To request disability accommodation for events listed in this newsletter, visit www.uiw.edu/ada.