The Word E-News Archive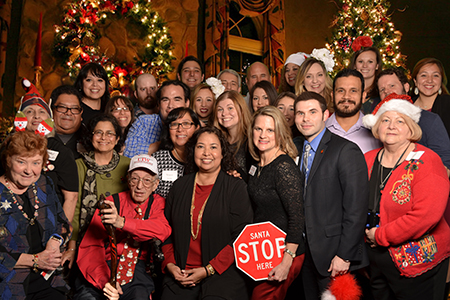 Institutional Advancement was one of many groups that took fun Christmas photos at the annual Jingle and Mingle Employee Christmas Reception Friday, Dec. 4 in the McCombs Center Rosenberg Sky Room.  
---
Mission
Our Lady's Chapel Services
All are welcome. 
Noon Mass, Monday – Friday
Sunday Mass at 10:30 a.m.
Liturgy of the Hours evening prayer at 4:30 p.m. every Wednesday
Sacrament of Reconciliation - 11:30 a.m. Fridays or by appointment with Fr. Tom Dymowski, O.SS.T. (210) 829-3131 or dymowski@uiwtx.edu
Advent Scripture Reflection
"Thus says the LORD, your redeemer, the Holy One of Israel: I, the LORD, your God, teach you what is for your good, and lead you on the way you should go. Isaiah 48:17

University Worship Schedule
We will continue to have 12 p.m. weekday Masses in Our Lady's Chapel throughout the semester break, except when the university is closed. Only the Sunday 10:30 a.m. Mass continues throughout the holiday season. The Sunday Evening Masses at 8 p.m. will resume on Sunday, Jan. 17. For more info, contact Brenda Dimas at (210) 829-3128 or dimas@uiwtx.edu.

Christmas Eve Mass
UIW will be hosting its Christmas Eve Mass at 5:30 p.m., Thursday, Dec. 24 in Our Lady's Chapel. Pre-Service Music will begin at 5 p.m.  For more info, contact Brenda Dimas at (210) 829-3128 or dimas@uiwtx.edu.
---
Events
Advent and Christmas Masses
The Sisters of Charity of the Incarnate Word invite you to join the community for this year's Advent and Christmas Masses. The date and times are listed below:
Evening Prayer for Advent – 6 p.m. prayer every Sunday of Advent (through Dec. 24) in the Chapel of the Incarnate Word
Sunday Eucharist – 10:30 a.m., Sunday, Dec. 13 in the Chapel of the Incarnate Word
Christmas Novena – 4:15 p.m. Wednesday, Dec. 16 through Thursday, Dec. 24 in St. Joseph's Chapel at the Village at Incarnate Word
Christmas Eve Mass – 5 p.m., Thursday, Dec. 24 in Our Lady's Chapel
Midnight Mass – Thursday, Dec. 24 in the Chapel of the Incarnate Word
For more info, contact Jose Deleon at (210) 828-2224 or jose.deleon@amormeus.org.
---
Department News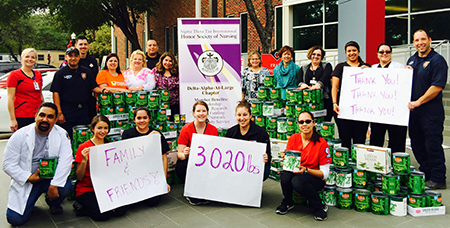 Faculty and student nurses from the Ila Faye Miller School of Nursing, along with nursing students from Waylon Baptist University and UTHSCSA collected over 3,000 pounds of green beans for the Raul Jimenez thanksgiving dinner.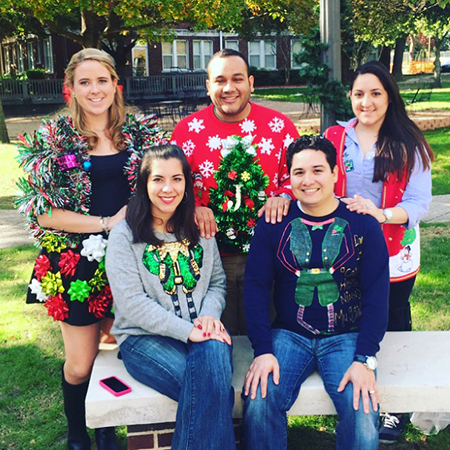 University Events and Student Programs had an Ugly Christmas Sweater Day this week. Pictured above (left to right) are Jenness Gough, graduate assistant, Paulina Mazurek, assistant director of the student center, Justin Puente, graduate assistant, Paul Ayala, director of the student center, and Nataly Gutierrez, graduate assistant. 
UIW Alumni & Parent First Annual Christmas Bash
Join UIW Alumni & Parent Relations for breakfast treats at the McCracken House, located at 102 Mount Erin Pass, San Antonio, Texas 78212 between the Feik School of Pharmacy and Incarnate Word High School, from 10 a.m. – 12 p.m., Saturday, Dec. 12. There will be hot chocolate, hot cider and pan dulce. Treats and a picture with Santa is FREE to all UIW Alumni & Parents, including your family, with a donation of (one) toy or gift card to be donated to St. PJ's Children's Home for Christmas. To see the wish list of donations, please visit this link. Visit our website to register for the event. For more info, contact Gaby Gonzales at (210) 805-5899 or parents@uiwtx.edu.
---
Athletics News
Cardinal Spotlight
UIW Basketball Season
The UIW Athletics Department invites the community to enjoy men and women's basketball. Games for December are listed below.

Men's Basketball for the Week:

Dec. 15: Men's Basketball vs. OLLU, McDermott Convocation Center, 7 p.m.
Dec. 18: Men's Basketball at St. John's, 6 p.m.

Women's Basketball for the Week:

Dec. 14: Women's Basketball at Texas Tech, 6:30 p.m.
Dec. 17: Women's Basketball at UT – Rio Grande Valley, 7 p.m.

For info, please contact Athletics at (210) 805-3000.
---
Community News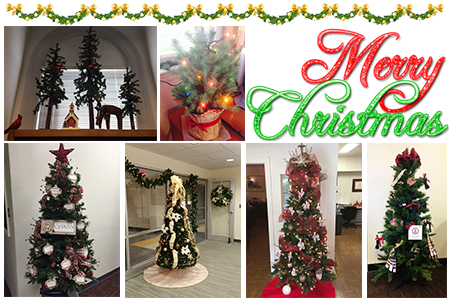 We would like to give a big shout out to the departments that sent us photos of their Christmas trees. Pictured above (top left to bottom right) are the Business Office, the Visitor and Parking Information Kiosk, the College of Humanities and Social Sciences, the School of Physical Therapy, the Office of Communications and Marketing and the School of Media and Design. 
Send Us Your Christmas Tree Photos
Happy Holidays UIW! In the spirit of the season, the Office of Communications and Marketing would love to share photos of your department Christmas trees with the community. Send your photos to cemyers@uiwtx.edu.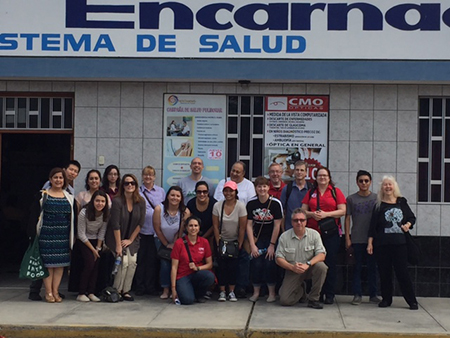 UIW faculty, staff and students along with the Ettling Center for Civic Leadership, Women's Global Connection and CCVI Sisters are pictured above on their service learning retreat in Peru.

International Service Learning in Peru
Read Verbo Encarnado in Peru to learn of the Ettling Center for Civic Leadership (ECCL) and Women's Global Connection's international service learning in Peru from Dec. 7 to 17 with ECCL participants Dr. Barbara Aranda-Naranjo, Assoc. Provost for Civic Engagement, Denise K. Ramón and Sr. Martha Ann Kirk; Optometry Faculty: Dr. Russel Coates, Dr. Charles Garcia, Dr. Yutaka Maki; Pharmacy Faculty: Dr. Renee Bellanger; Early Childhood Education: Lisa Anna Uribe-Kozlovsky, Executive Director, WGC; Nutrition: Dr. Beth Senne-Duff, Business: Dr. Michael Forrest, and students. If you are interested in being a part of future international service learning, contact the ECCL ccl@uiwtx.edu. 

UIW wins 2015 National Night Out Competition
UIW was awarded first place in the college/university category for the 2015 National Night Out Completion. The City of San Antonio Police Department organized the competition. This was the second year in a row UIW placed first in this event. Congratulations to Campus Life and all departments who were involved on an extremely successful event!

Faculty and Staff Appreciation Event at UIW Bookstore
It is that time of year again! Through Friday, Dec. 11, receive 25% off your purchase in the bookstore located in the McCombs Center. This offer is good on all regular priced clothing and gifts. There will be no exceptions or extensions of additional discounts. You must provide a valid UIW ID to receive this discount. For more info, contact the UIW Bookstore at (210) 829-6056 or 0236mgr@follett.com.

MyWORD Portal Upgrade
Enterprise Applications has been working with the MyWord portal vendor, CampusEAI and their partner LookingGlass to upgrade the portal. Students and employees navigate to most of the university's third party software such as Blackboard Learn, CASHNet, Grades First and campus email through the MyWord portal. The new platform will introduce responsive themes and responsive page layouts that will enable users on mobile devices like tablets and smartphones to have a better user experience. The upgrade is currently scheduled for the weekend of Friday, Dec 18. For more info, contact Armando Villarreal at arvilla1@uiwtx.edu or Ciro Juarez at cijuarez@uiwtx.edu.
---
Employee Health & Wellness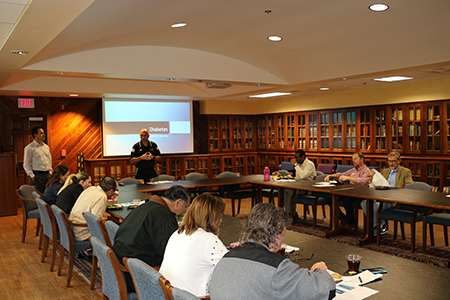 The Employee Wellness Committee hosted a Lunch and Learn Thursday, Dec. 10 about diabetes. Scott LeBlanc, director of recreation, sport and wellness, opened the lunch to guest speaker Dr. Aaron King of MedFirst Primary Care. Dr. King's presentation covered how to live with and manage a lifestyle around diabetes. 
---
High Schools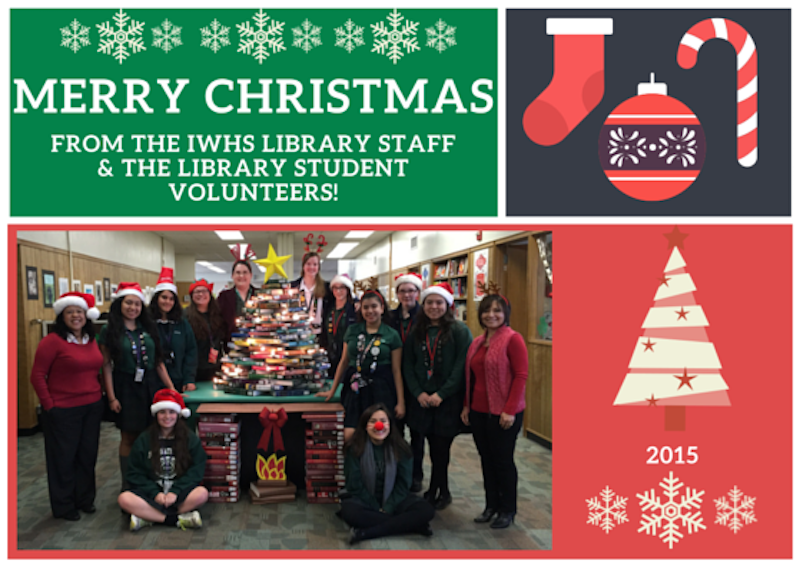 The Incarnate Word High School Library staff and student volunteers would like to wish everyone a Merry Christmas.
SACHS Highlight
San Antonio Express News: Bassey dominates as St. Anthony beats East Central, 90-81 

Visit St. Anthony Catholic High School at www.sachs.org. 
Visit Incarnate Word High School at www.incarnatewordhs.org. 

Visit the UIW Prep website at http://prep.uiw.edu.


---
 Miscellaneous
CVS location to open soon
The new CVS location across from the UIW main campus on Broadway and Burr is scheduled to open Saturday, Dec. 19.
Our sympathies and prayers go to:
James Duane Brown & family on the recent loss of his wife, Darlene Rose Schacherl Brown (BSN '64).
The family of Vivian F. Condel (BA '65) on her recent death.
Javier Lara (Director of Undergraduate Admissions) & family on the recent loss of his nephew, Iaen Gage Feilen (UIW Current Student).
Idalia Rodriguez (J.E. & L.E. Mabee Library Cataloger) & family on the recent loss of her grandmother, Ramona Gonzalez.
Daniel Lozano, Jr. (BA '80) & family on the recent loss of his wife, Martha Montejano Salazar Lozano (BS '80).
The family of, the Sisters of Charity of the Incarnate Word, and the entire UIW community on the recent loss of Sr. Florence Zdeb, CCVI (BA '65).
The University of the Incarnate Word provides reasonable accommodation with adequate notice. To request disability accommodation for events listed in this newsletter, visit www.uiw.edu/ada.