The Word E-News Archive
We are pleased to introduce the first in our summer series of Unsung Heroes of UIW, Armando Rey. During the summer months, we would like to introduce you to some of the great folks in the UIW family. If you have a suggestion for a UIW Unsung Hero, email pr@uiwtx.edu.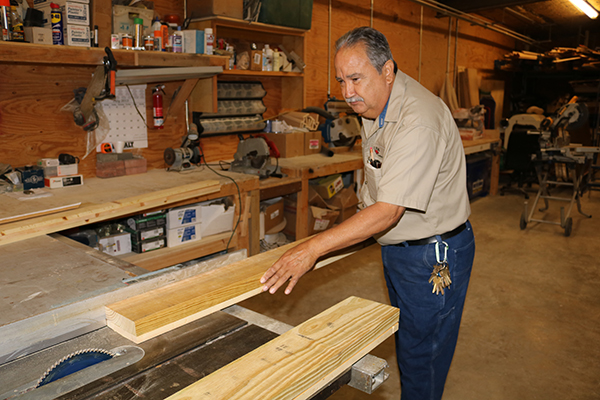 Meet UIW Carpenter Armando Rey. Born and raised in San Antonio, Texas, Armando has been working at UIW for 25 years. He said his favorite thing about UIW is that we're all a family and work together. In his spare time, Armando and his wife, who retired from USAA after 30 years of employment, enjoy antique shopping and boating. They also love spending time with their grandchildren. Armando loves road trips. He and his family have traveled to nearly every state in the U.S. and have visited various national parks. He said there's nothing like driving and seeing different parts of the country.
If you see Armando on campus, be sure to stop and say hello and help us thank him for all he does for UIW.
---
Mission
Our Lady's Chapel Services
All are welcome. 
Noon Mass, Monday – Friday
Sunday Mass at 10:30 a.m. & 8:30 p.m.
Liturgy of the Hours evening prayer at 4:30 p.m. every Wednesday
Sacrament of Reconciliation - 11:30 a.m. Fridays or by appointment with Fr. Tom Dymowski, O.SS.T. (210) 829-3131 or dymowski@uiwtx.edu. 
---
Events
First-Time Freshman Orientation
Help us welcome new Cardinals to the nest. UIW's one-day orientation program is designed to prepare admitted students to be successful at UIW. Students and families will have the opportunity to participate in sessions which will familiarize them with the UIW campus and prepare them for classes. The program includes a welcome from Dr. Lou Agnese, sessions from academic deans, advising, Cardinal organization fair and other informative events. Orientation is required for first-time freshmen and will take place from approximately 8:00 a.m. - 5 p.m., on the following dates in the Concert Hall:
Thursday, June 16
Thursday, June 23
Wednesday, June 29
Thursday, July 7
Wednesday, July 13
Wednesday, August 10
Wednesday, August 17
For more info, contact Rochelle Ramirez at (210) 805-3069 or orientation@uiwtx.edu.

Ramadan Dialogue Dinner
You are invited to an Iftar dinner for the UIW community at 7:30 p.m., Monday, June 13, at the Raindrop Turkish House (4337 Vance Jackson Road, 78230) commemorating the Muslim holy month of Ramadan. Make friends, learn of Islamic prayer, charity and the practice of fasting from sun up to sun down during the holiest month. Enjoy the fast-breaking dinner of delicious Turkish foods. The Dialogue Institute welcomes you to this event. For more info, questions and to RSVP, contact Dr. Suleyman Tek at tek@uiwtx.edu.

Sustainability Workshop
The Ettling Center for Civic Leadership invites the community for a Sustainability Workshop from 9 a.m. - 12 p.m., Tuesday, June 21, in the Gorman Building, Room 119. There is an optional tour available from 12:45 - 1:45 p.m. of sustainability projects with Daniel Potter, Dr. Monica Cruz and others. Please register by Monday, June 13. Indicate there if you would like an added tour of the Eagle Ford Shale and/or lecture to learn about fracking from nationally known Sr. Elizabeth Riebschlaeger, CCVI. 

The Sisters of Charity of the Incarnate Word International Office of Justice, Peace, and the Integrity of Creation invite all to share and learn of transforming efforts in sustainability. How do our daily choices in food, life style and energy consumption impact our common home, the earth? Consider urban gardening, wind and solar energy, and more. Help us set priorities for sustainability throughout the CCVI Congregation.

For more info, contact Assistant Director of the Congregational Justice, Peace, and Integrity of Creation Office Sisters of Charity of the Incarnate Word Jennifer Reyes Lay at (314) 707-7313 Jennifer.Reyes@amormeus.org. View the CCVI blog here.
---
Department News
Zoom Video Conferencing Online
Join the IT Team for an online webinar running from 2 – 3 p.m. every Thursday afternoon starting June 23 through July 28. Do you zoom? Zoom Video conferencing unifies cloud video conferencing, simple online meetings, group messaging, and a software-defined conference room solution into one easy-to-use platform. The zoom platform is being adopted across all UIW campuses. Learn how to use it online. This course is open to all faculty and staff. Space is limited. Sign up at this link. For more info, contact Terry Peak at (210) 829-3920 or tpeak@uiwtx.edu.

Adobe and Microsoft Online Sessions
Learn how to use Microsoft Office online. Join the IT Team as they explain the basics of Microsoft Excel, Outlook, PowerPoint and Adobe Photoshop. Attend any or all of these one-hour online webinars from the comfort of your own desk. We will include the following topics:
June 28: Excel basics part 2
July 5: Outlook Calendar basics
July 12: Photoshop basics part 1
July 19: Photoshop basics part 2
July 26: Create a poster from a PowerPoint template  
This course is open to all faculty and staff. Space is limited. Make your reservation here. For more info, contact Terry Peak at (210) 829-3920 or tpeak@uiwtx.edu.
---
Community News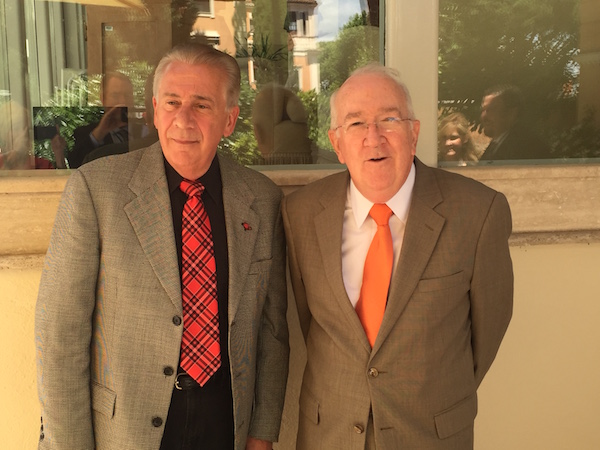 Dr. Lou Agnese, UIW president, took a recent trip to Rome, Italy. He is pictured above with Ken Hackett, U.S. ambassador to the Vatican.
2016 Swing-In Auction Party & Golf Tournament: Thank You!
The Office of Development would like to thank everyone that volunteered and attended the 2016 Swing-In Auction Party & Golf Tournament. Everyone had a great time in their western wear and many great items were auctioned off.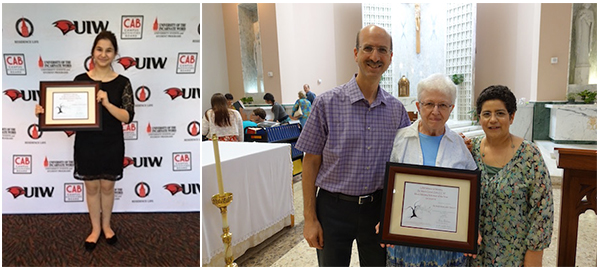 This was the inaugural year of the Sr. Maria Goretti Zehr Music Ministry Volunteer Award. There were two recipients: Gabriella Fresquez (pictured left), a UIW freshman who dedicated quite a bit of time and energy to the music ministry and Music Ministry Office this year as well as being the great niece of Sr. Catalina Fresquez, CCVI, and Sr. Mary Margaret Bright, CCVI (pictured right with William Gokelman, professor of music, and Lena Gokelman, coordinator of music ministry). Sr. Mary Margaret Bright, CCVI was one of the founding members of the "Chapel Choir," as it was initially called back in the 1990s. She has dedicated many years of service to this choir and, upon her return to San Antonio after her retirement, the Laudate Choir.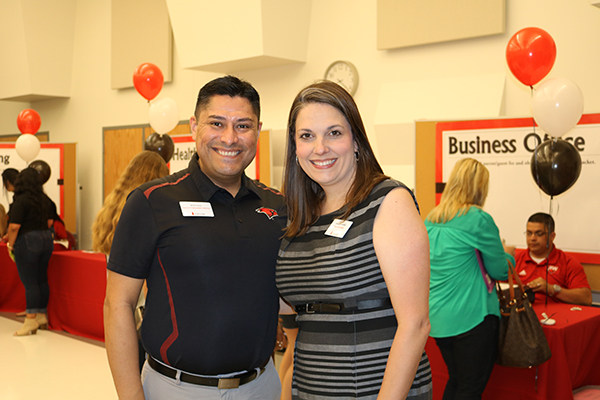 Javier Lara, director of undergraduate admissions, and Jennielle Strother, dean of enrollment, pose together at the first Freshman Orientation of 2016 Wednesday, June 8.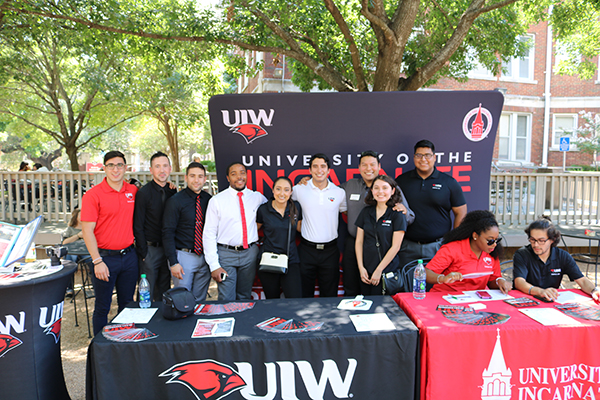 Representatives of the Student Success Residence Life team and The Office of Financial Assistance are pictured above ready to greet incoming freshman at the first Cardinal Fair on Dubuis Lawn Wednesday, June 8.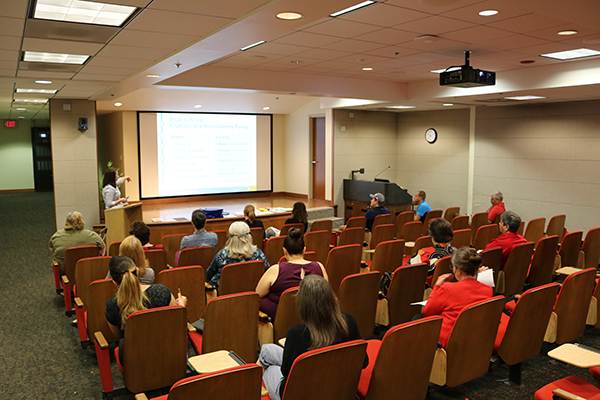 The Office of Environmental Health, Safety and Risk Management partnered with the St. Bernard Project to host a disaster preparedness workshop Thursday, June 9, in the Mabee Library Auditorium. Autumn Lotze, disaster resilience and recovery specialist at the St. Bernard Project, gave the UIW community tips on preparing one's home and life for a possible disaster.

Argos Reporting System Upgrade Town Hall Meeting
Enterprise Applications will be upgrading the Argos Reporting system to version 5.0 on Friday, July 15, during the scheduled IRD July Maintenance window. We are inviting all Banner users who run reports in the Argos system to attend the Argos Upgrade Town Hall Meeting scheduled from 10 – 10:30 a.m., Tuesday, June 14, in the Mabee Library Auditorium. We will be reviewing the Argos upgrade, Testing Dates, Test Plans, and other details. Please join us for a detailed review and a Q&A session.  
Key updates we'll be reviewing include:
Improved User interface
Enhanced exporting capabilities
Greater Report Scheduling Administration
Improved edit checking
For more info, contact Joanna Arredondo at (210) 283-6489 or jcarredo@uiwtx.edu.

A Parking Notice from the Vice President for Business & Finance, Mr. Douglas Endsley
The two parking lots in front of the Administration Building will be reserved for new students and parents attending orientation.  Employees are asked to park in the Agnese-Sosa garage or behind the Barshop Natatorium on the following dates:
Thursday, June 16
Thursday, June 23  
Wednesday, June 29
Thursday, July 7 
Wednesday, July 13  
Wednesday, Aug. 10
Wednesday, Aug. 1
Thank for your understanding and cooperation as we welcome new students and their families to the UIW community. If you have any questions, call (210) 805-3552.

Health Services - Curtailment of Services
The Office of Health Services is currently undergoing renovations. During this time service will be limited and the availability of service will be made on a day-by-day basis.  A completion date for the project has not been determined. We appreciate your patience. If you have any questions, please contact the Office of Health Services at (210) 829-6017.

Revamped UIW App Now Available
The revamped UIW mobile app is now available for download from the iTunes and Google Play stores. This version of the app includes a university events calendar, athletics information, and news and social media feeds, among other features. 

If you already have the UIW app on your mobile device, you'll just have to update it to view the new version. If you haven't downloaded the app before, it is available in the stores by searching for University of the Incarnate Word. If you have questions, contact webteam@uiwtx.edu. 

Bereavement Notice
Dr. Amy Wagner, assistant professor of physical therapy, lost her father, Michael H. Semingson. A memorial service will be planned at Ft. Sam Houston where he will be buried with military honors.  Please keep Dr. Wagner and her family in your prayers. 
---
Division of Extended Academic Programs
UIW Online and ADCaP Information Session
The UIW community is invited to attend a UIW Extended Academic Programs Information Session held at 6 p.m., Thursday, July 28, at the Rosenberg School of Optometry (9725 Datapoint Drive, 78229). This is a great opportunity to learn about UIW's Adult Degree Completion Program (ADCaP) and UIW Online program, which are tailored to the busy adult learner. UIW will be highlighting opportunities to earn a bachelor's or master's degree completely online or at one of our five locations in San Antonio. Admissions, Academic Advisors, Financial Aid, Veterans Affairs, and faculty will be available to meet face-to-face with attendees. To RSVP, please call (210) 757-0202 or email eapadmission@uiwtx.edu. Visit www.adulted.UIW.edu/rsvp for more information.  
---
Employee Health & Wellness
Summer Zumba Class for Employees
Join UIW employees for this summer's Zumba party. All are welcome and modifications are available for every level. This is great stress release and lots of fun. Wear comfortable shoes, bring a small towel, water, and your positive vibes. Classes are from 5:15 – 6:15 p.m. every Thursday in the Wellness Center Cardio Room throughout the summer until Aug. 11. For more info, contact Candace Graham at (210) 829-2703 or cmgonza4@uiwtx.edu.

Employee Wellness Lunch & Learn
The Employee Wellness Committee will host a Lunch & Learn at 12 p.m., Wednesday, June 15, in the Mabee Library Special Collections Room. The speaker will present on Trails, Headwaters and Greenways. RSVP by email at empwellness@uiwtx.edu. 
---
High Schools

On Saturday, May 21, UIW Prep held its fifth graduation ceremony at the Mabee Library Special Collections Room. Family, friends and UIW Prep staff gathered together to honor three students that earned high school and college credit completely online. These three will all attend Texas universities and colleges in the Fall with over $100,000 awarded in scholarships.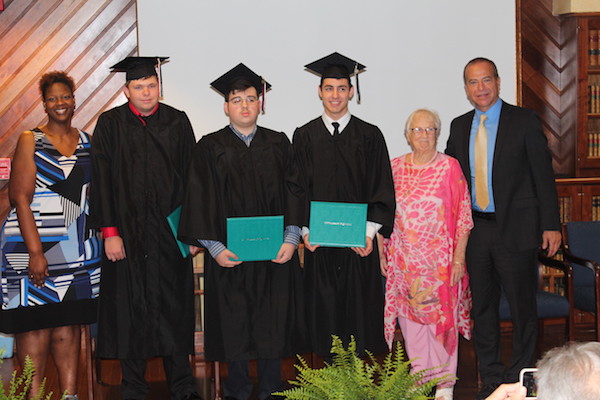 Pictured above (left to right) are Dione Bedell, UIW Prep coordinator of admissions & guidance, Justin Schwausch, graduate, John Martinez IV, graduate, Gary Hernandez, graduate, Sr. Sally Mitchell, extended academic programs instructor, and Daniel Ochoa, dean of preparatory programs.
Visit St. Anthony Catholic High School at www.sachs.org. 
Visit Incarnate Word High School at www.incarnatewordhs.org.  

Visit the UIW Prep website at www.uiw.edu/prep.
---
Miscellaneous 
Our thoughts and prayers go to:
Sean Michael Bernal Hazuda (BA '89) & family on the recent loss of his uncle, Fr. Eddie Bernal.
Deacon Jerome Ciarrocchi & family on the recent loss of his wife, Maura Barry Ciarrocchi (IWHS Former Faculty & Staff).
Ana Gonzalez (UIW Director of Instructional Technology) & family on the recent loss of her father, Santiago Gonzalez.
George and Cindy Mozisek (BA '75) Callins & family on the recent loss of her mother, Betty Snavely Mozisek.
The family of and the Presentation Sisters on the recent loss of Sr. Mary Carmel O'Callaghan, PBVM (BA '69, MA '77).
Mary Hart, Latrobe Laidlaw and John Laidlaw & their families on the recent loss of their mother Ofelia Onderdonk Laidlaw Roddie (BA '45).
Shannon (UIW Assistant Director of Human Resources) and Bradley Root & family on the recent loss of his father, Walter W. Root, M.D.
The family of Dorothy Bomba Rose (Santa Rosa School '52) on her recent death.
The family of and the Congregation of the Incarnate Word & Blessed Sacrament on the recent loss of Sr. Anastasia Thibodeaux, C.V.I. (B. of Music '59).
Dr. Lydia Andrade (UIW Faculty/Government & International Studies) & family on the recent loss of her mother-in-law, Patsy Ruth Landrum Whipple.
The University of the Incarnate Word provides reasonable accommodation with adequate notice. To request disability accommodation for events listed in this newsletter, visit www.uiw.edu/ada.