The Word E-News Archive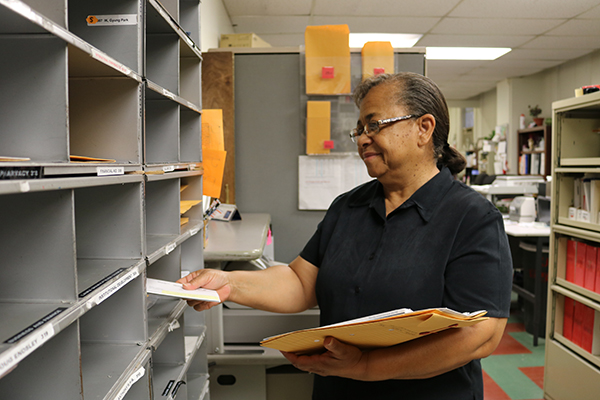 Meet UIW Postal Operations Supervisor Dorothy Mills. Born in College Station, Dorothy has been working at UIW for 20 years. She currently lives in Austin with her husband and commutes to and from work daily. Dorothy's favorite part of working at UIW is working with the people. She said UIW is more of a home than a workplace where we're all a family. In her spare time, she loves to cook. She maintains a catering business in her spare time, providing service to various events including weddings. Dorothy also is a skilled seamstress. Her father was a tailor and taught her the skill of sewing, which she now uses regularly.
If you see Dorothy on campus, be sure to stop and say hello and help us thank her for all she does for UIW.
If you have a suggestion for a UIW Unsung Hero, email pr@uiwtx.edu.


---
Mission
Our Lady's Chapel Services
All are welcome. 
Noon Mass, Monday – Friday
Sunday Mass at 10:30 a.m.
Liturgy of the Hours evening prayer at 4:30 p.m. every Wednesday
Sacrament of Reconciliation - 11:30 a.m. Fridays or by appointment with Fr. Tom Dymowski, O.SS.T. (210) 829-3131 or dymowski@uiwtx.edu. 


---
Events
First-Time Freshman Orientation
Help us welcome new Cardinals to the nest. UIW's one-day orientation program is designed to prepare admitted students to be successful at UIW. Students and families will have the opportunity to participate in sessions which will familiarize them with the UIW campus and prepare them for classes. The program includes a welcome from Dr. Lou Agnese, sessions from academic deans, advising, Cardinal organization fair and other informative events. Orientation is required for first-time freshmen and will take place from approximately 8:00 a.m. - 5 p.m., on the following dates in the Concert Hall:
Wednesday, June 29
Thursday, July 7
Wednesday, July 13
Wednesday, August 10
Wednesday, August 17
For more info, contact Rochelle Ramirez at (210) 805-3069 or orientation@uiwtx.edu.

In-person Entrance Counseling Session
The Office of Financial Assistance is offering in-person workshops for students wanting assistance with the online Entrance Counseling process from 10 – 11:30 a.m., Friday, July 8, in the Administration Building, Room 417. For more info, contact Heather Miller at (210) 829-1234 or hkmiller@uiwtx.edu.

Mozart Festival Texas
The Mozart Festival Texas is San Antonio's premier summer classical music event. Held from July 29 through Aug. 6 in the new state-of-the-art Concert Hall at UIW, Mozart Festival Texas features chamber music and orchestral concerts performed by nationally and internationally recognized artists. For tickets and info, please call the UIW Music Department at (210) 829-3852. You can also purchase tickets online and gather info at the following link. 
---
Department News
Zoom Video Conferencing Online
The Zoom online courses will run from 2 – 3 p.m., Thursday afternoons, June 23 through July 28. Do you zoom? Zoom web conferencing unifies cloud web conferencing, simple online meetings, group messaging, and a software-defined conference room solution into one easy-to-use platform. The Zoom platform is free for all UIW faculty and staff, and being adopted across all UIW campuses. Users are able to connect via desktop, tablet and mobile devices by downloading the Zoom app, or by accessing the service though Blackboard. The service provides screen sharing, chat, and other interactive tools. With these features, Zoom can provide faculty with the means to conduct virtual office hours or advise students. UIW staff now have an outlet to collaborate across multiple campuses. Join the IT staff as the explain how to use all aspects of the Zoom platform, including the shared desktop and whiteboard.We will offer multiple training sessions online. You can attend from the comfort of your own home. Sessions are open to all faculty and staff. Seating is limited. Make your reservation here.Click here for additional info on Zoom. For questions, contact Terry Peak at (210) 829-3920 or tpeak@uiwtx.edu. 
---
Community News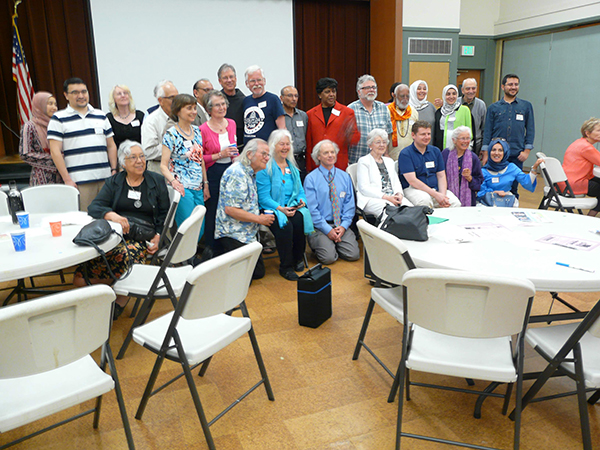 For  "Peacemaking: Muslims and Christians in Dialogue," Sr. Martha Ann Kirk, professor of religious studies, was a speaker with Fr. William O'Neill, SJ, associate professor of social ethics at the Jesuit School of Theology, Dr. Ejaz Naqvi, past president of Islamic Center of Zahra, and Rev. Imam Dr. Koya, the editor and publisher of the Muslim News, June 18, 2016, in Castro Valley, CA,  sponsored by PaxChristi/Northern California, Maryknoll Affiliates East Bay, and the Pacifica Institute East Bay.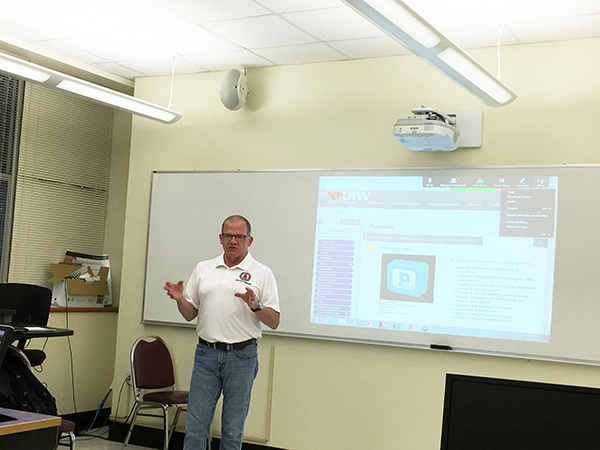 Terry Peak, technology training coordinator, taught a Microsoft Publisher course to the UIW community Tuesday, June 21.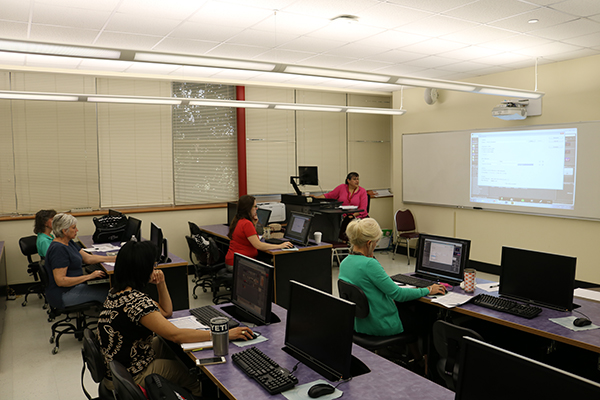 Adela Gott, multimedia specialist, is shown above teaching a course about Adobe Photoshop to the UIW community Wednesday, June 22.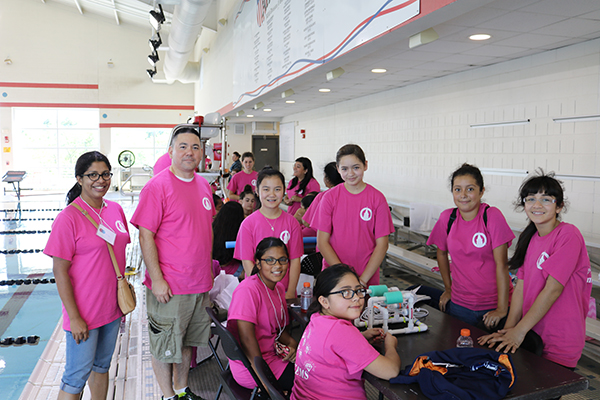 UIW's Autonomous Vehicle Systems (AVS) Laboratory hosted MiniGEMS 2016 (Girls in Engineering, Mathematics, and Science), which is a free five-day engineering camp for middle school girls introducing them to the field of Engineering through robotic projects and competitions, guest speakers, and field trips.
Pictured above is Dr. Sreerenjini Nair, assistant professor of physics, and Dr. Michael Frye, associate professor of engineering, with six middle school girls that participated in the 2016 MiniGEMS engineering camp in the Barshop Natatorium Thursday, June 23.

Highest Heaven: Spanish and Portuguese Colonial Art Exhibit
The San Antonio Museum of Art is hosting an exhibit titled Highest Heaven: Spanish and Portuguese Colonial Art through Sept. 4, 2016. The exhibition features more than 100 works, including religious paintings, carved and gilded wooden sculptures, intimate ivories, and silverwork, originally housed in ecclesiastical and private collections throughout the former colonial possessions of Spain and Portugal. For more info on the exhibit, contact (210) 978-8100. REMEMBER: You receive FREE admission to the San Antonio Museum of Art with your valid UIW ID. Additional exhibition fees may apply.

A Parking Notice from the Vice President for Business & Finance, Mr. Douglas Endsley
The two parking lots in front of the Administration Building will be reserved for new students and parents attending orientation.  Employees are asked to park in the Agnese-Sosa garage or behind the Barshop Natatorium on the following dates:
Wednesday, June 29
Thursday, July 7 
Wednesday, July 13  
Wednesday, Aug. 10
Wednesday, Aug. 17
Thanks for your understanding and cooperation as we welcome new students and their families to the UIW community. If you have any questions, call (210) 805-3552.

Health Services - Curtailment of Services
The Office of Health Services is currently undergoing renovations. During this time service will be limited and the availability of service will be made on a day-by-day basis.  A completion date for the project has not been determined. We appreciate your patience. If you have any questions, please contact the Office of Health Services at (210) 829-6017.

Bereavement Notice
Nancy Mizera, senior accounts payable technician, is mourning the loss of her sister, Ellen Bueche, who passed away Friday, June 17. Please keep Nancy and her family in your prayers.
---
Employee Health & Wellness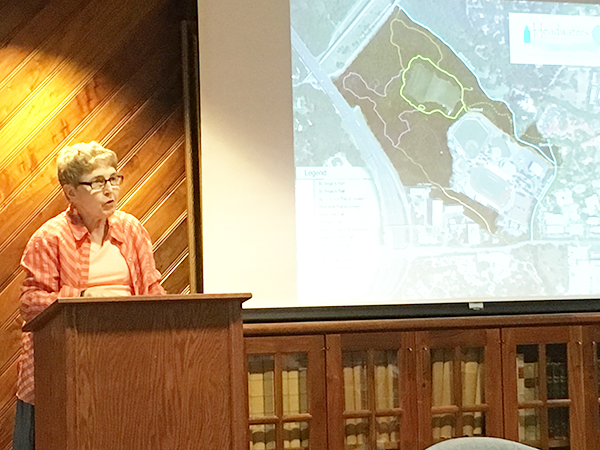 Pictured above is Dr. Sally Said, professor emerita of English, speaking to the UIW community about the trails, Headwaters Sanctuary and greenways as part of this month's Employee Wellness Lunch & Learn.


---
High Schools
---
Miscellaneous 
Our thoughts and prayers go to:
Her family, the Sisters of Charity of the Incarnate Word, and the entire UIW community on the recent loss of Sr. Bernadette Anderwald, CCVI (BA '42, former Sacristan).
Tom Callahan, Patty Adamson, Bernadette Erfurt and Beth Brown & their families on the recent loss of their mother, Dorothy Anderwald Callahan (BS '39).
Robert M. Duross & family on the recent loss of his wife, Charlotte Ann Duross (MA '82).
The family of Bridget Mary Harris (BA '83) on her recent death.
The family of, the Sisters of Charity of the Incarnate Word, and the entire UIW community on the recent loss of Sr. Maria Teresa Gonzalez Heredia, CCVI.
Laura Matthews & family on the recent loss of her mother, Norine Pelton Matthews (BA '60).
Charles F. McAlleer III & family on the recent loss of his wife, Ann Rex McAleer (IWHS '64, BA '68).
Dr. Amy Wagner (UIW assistant professor of physical therapy) & family on the recent loss of her father, Michael H. Semingson.
Christi & Tom Moorman & family on the recent loss of her mother, Amelie Rutherford Shaw (ALND '45, former Dev. Bd.).
Pat Symons & family on the loss of his wife, Rev. Georgina Strand Symons (BA '87).
The family of Nancy Gael Gafford Torries (IWHS '53) on her recent death. 
The University of the Incarnate Word provides reasonable accommodation with adequate notice. To request disability accommodation for events listed in this newsletter, visit www.uiw.edu/ada.