The Word E-News Archive
Unsung Hero of UIW
Meet UIW Print Distribution Manager Albert Guerrero, Jr. Albert was born and raised right here in San Antonio and has worked at UIW for 16 years. Albert's favorite part of working at UIW is working with everyone in the community; there's never a dull moment while working at UIW. In his spare time, Albert likes to hunt, fish and spend time with his grandchildren. He's been married for 26 years and is enjoying life and working at UIW.
If you see Albert on campus, be sure to stop and say hello and help us thank him for all he does for UIW.
If you have a suggestion for a UIW Unsung Hero, email pr@uiwtx.edu.
---
Mission
Our Lady's Chapel Services
All are welcome.
Noon Mass, Monday - Friday
Sunday Mass at 10:30 a.m.
Liturgy of the Hours evening prayer at 4:30 p.m. every Wednesday
Sacrament of Reconciliation - 11:30 a.m. Fridays or by appointment with Fr. Tom Dymowski, O.SS.T. (210) 829-3131 or dymowski@uiwtx.edu.
---
Events
In-person Entrance Counseling Session
The Office of Financial Assistance is offering in-person workshops for students wanting assistance with the online Entrance Counseling process from 10 - 11:30 a.m., Friday, July 8, in the Administration Building, Room 417. For more info, contact Heather Miller at (210) 829-1234 or hkmiller@uiwtx.edu.

First-Time Freshman Orientation
Help us welcome new Cardinals to the nest. UIW's one-day orientation program is designed to prepare admitted students to be successful at UIW. Students and families will have the opportunity to participate in sessions which will familiarize them with the UIW campus and prepare them for classes. The program includes a welcome from Dr. Lou Agnese, sessions from academic deans, advising, Cardinal organization fair and other informative events. Orientation is required for first-time freshmen and will take place from approximately 8:00 a.m. - 5 p.m., on the following dates in the Concert Hall:
Wednesday, July 13
Wednesday, August 10
Wednesday, August 17
For more info, contact Rochelle Ramirez at (210) 805-3069 or orientation@uiwtx.edu.

8th Annual Christmas in July Mercado Arts & Crafts Fair
Join the community and over 30 artisans at a special arts and crafts fair from 10 a.m. - 3 p.m., Friday, July 15, in the CHRISTUS Heritage Hall at The Village at Incarnate Word. Artisans specializing in handmade, affordable gifts such as jewelry, crosses, artwork and so much more. There will also be opportunities to win door prizes. Come enjoy complimentary refreshments, entertainment and fellowship. Festive Fiesta attire is encouraged. For more info, contact Alma Cosme at (210) 829-7561.

Unforgettable: A Celebration of the Life and Songs of Nat King Cole
UIW alumnus José Rubén De León has written and will be performing in a special concert dedicated to the life and songs of Nat King Cole. De León will be joined by pianist Aaron Ellington Prado and bassist George Prado for the concert at 3 p.m., Sunday, July 24, in the Concert Hall. The concert is free and open to the public, however, reservations are required. For more info and to reserve your seat, please call (210) 219-4639.

Mozart Festival Texas
The Mozart Festival Texas is San Antonio's premier summer classical music event. Held from July 29 through Aug. 6 in the new state-of-the-art Concert Hall at UIW, Mozart Festival Texas features chamber music and orchestral concerts performed by nationally and internationally recognized artists. For tickets and info, please telephone the UIW Music Department at 829-3852.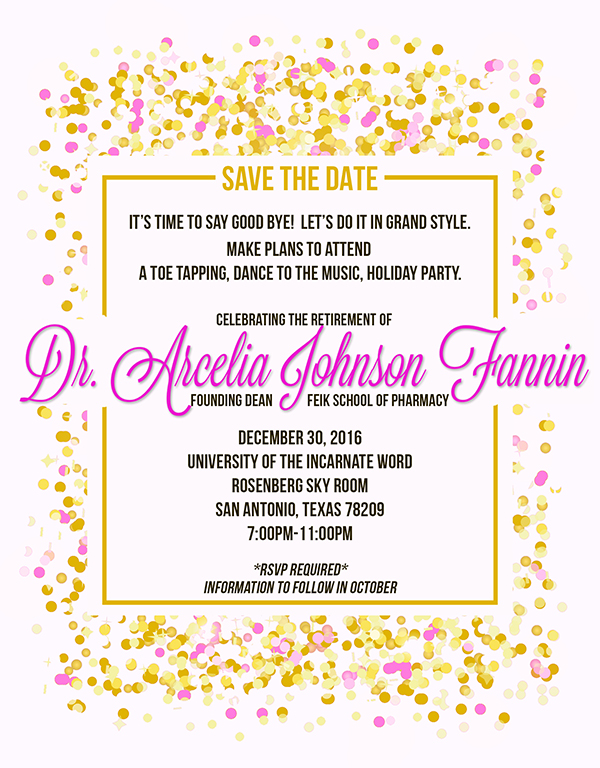 ---
Department News
Ronald Washington Dissertation Defense
Ronald Washington hosts a defense of his dissertation, "Enabling Change: Faculty and Student Perceptions of Blended Learning," at 4 p.m., Monday, July 11, in the Gorman Building, Room 120. The chair of his dissertation committee is Dr. Noah Kasraie. For more info, contact Duncan Hayse at (210) 829-2758 or hayse@uiwtx.edu.

Zoom Video Conferencing Online
The Zoom online courses will run from 2 - 3 p.m., Thursday afternoons through July 28. Do you zoom? Zoom web conferencing unifies cloud web conferencing, simple online meetings, group messaging, and a software-defined conference room solution into one easy-to-use platform. The Zoom platform is free for all UIW faculty and staff, and being adopted across all UIW campuses. Users are able to connect via desktop, tablet and mobile devices by downloading the Zoom app, or by accessing the service though Blackboard. The service provides screen sharing, chat, and other interactive tools. With these features, Zoom can provide faculty with the means to conduct virtual office hours or advise students. UIW staff now have an outlet to collaborate across multiple campuses. Join the IT staff as the explain how to use all aspects of the Zoom platform, including the shared desktop and whiteboard.
We will offer multiple training sessions online. You can attend from the comfort of your own home. Sessions are open to all faculty and staff. Seating is limited. Make your reservation here.
Click here for additional info on Zoom. For questions, contact Terry Peak at (210) 829-3920 or tpeak@uiwtx.edu.
---
Community News
UIW Highlight
Bereavement Notice
Erika Pompa, IR programmer/data analyst, is mourning the loss of her grandmother, Eudelia Quintero Lombrano, who died at the age of 96. Visitation will begin 9 a.m., Sunday, July 10, in The Angelus Chapel (1119 North St. Mary's Street, 78215) with a Rosary to be recited at 6 p.m. Funeral Mass will be offered 9 a.m., Monday, July 11, at St. Agnes Catholic Church (829 Ruiz Street, 78207). Interment will follow at San Fernando Cemetery II (746 Castroville Road, 78237). Please keep Erika and her family in your thoughts and prayers.

UIW appoints Chair to steer university efforts for San Antonio 300 Celebration
UIW is pleased to announce the appointment of Dr. Gilberto Hinojosa, professor emeritus of history, as the chair of the UIW Steering Committee leading the university's participation in the San Antonio Tricentennial Celebration. He will serve as liaison with the Congregational efforts being led by Sr. Mary Henry.
Dr. Hinojosa is a renowned historian and a long-standing leader in both the UIW and San Antonio communities. He is the former dean of CHASS and the School of Graduate Studies and Research. Prior to his work at UIW he taught at both UTSA and UT Austin. Dr. Hinojosa has been author and editor-and-contributor of three books and has published articles and reviews in several state and national journals. Most of his scholarly work focuses on the formation of communities and cultural interaction. He has written on the San Antonio missions and on Mexican Americans and the Catholic Church. Dr. Hinojosa has previously worked on projects involving UIW history.
If your area has considered participating in San Antonio's Tricentennial celebration, deadlines are fast approaching. Participation may include arts and cultural events, service projects, education and other community initiatives. Please contact Dr. Gil Hinojosa at hinojosa@uiwtx.edu to discuss opportunities for your area to participate.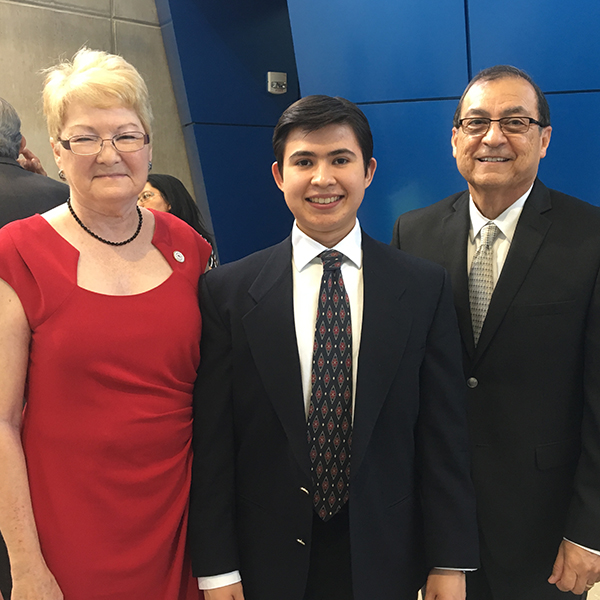 Pictured above (left to right) are Kathleen De Leon, president of the Sembradores of San Antonio Educational Foundation, Miguel Sifuentes, UIW student, and Dr. Carlos Garcia, dean of the School of Mathematics, Science and Engineering, at the Sembradores of San Antonio Educational Foundation scholarship check presentation on June 22.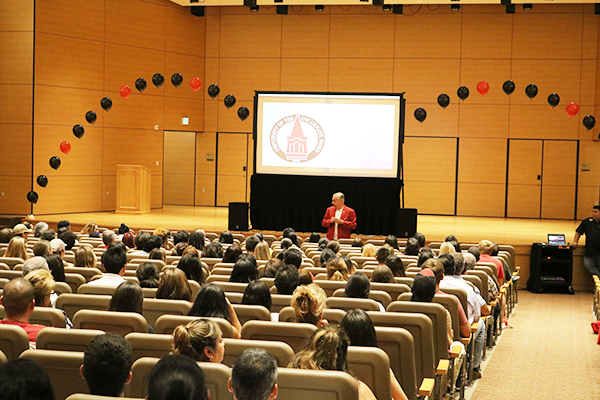 Pictured above is Dr. Louis Agnese, UIW president, speaking to the incoming Class of 2020 at the Freshman Orientation in the Concert Hall Thursday, July 7.

Highest Heaven: Spanish and Portuguese Colonial Art Exhibit
The San Antonio Museum of Art is hosting an exhibit titled Highest Heaven: Spanish and Portuguese Colonial Art through Sept. 4, 2016. The exhibition features more than 100 works, including religious paintings, carved and gilded wooden sculptures, intimate ivories, and silverwork, originally housed in ecclesiastical and private collections throughout the former colonial possessions of Spain and Portugal. For more info on the exhibit, contact (210) 978-8100. REMEMBER: You receive FREE admission to the San Antonio Museum of Art with your valid UIW ID. Additional exhibition fees may apply.

A Parking Notice from the Vice President for Business & Finance, Mr. Douglas Endsley
The two parking lots in front of the Administration Building will be reserved for new students and parents attending orientation. Employees are asked to park in the Agnese-Sosa garage or behind the Barshop Natatorium on the following dates:
Wednesday, July 13
Wednesday, Aug. 10
Wednesday, Aug. 17
Thanks for your understanding and cooperation as we welcome new students and their families to the UIW community. If you have any questions, call (210) 805-3552.
---
Employee Health & Wellness
Summer Zumba Class for Employees
Join UIW employees for this summer's Zumba party. All are welcome and modifications are available for every level. This is great stress release and lots of fun. Wear comfortable shoes, bring a small towel, water, and your positive vibes. Classes are from 5:15 - 6:15 p.m. every Thursday in the Wellness Center Cardio Room throughout the summer until Aug. 11. For more info, contact Candace Graham at (210) 829-2703 or cmgonza4@uiwtx.edu.

Employee Wellness Lunch & Learn: Healthy Summer Cooking Demonstration and Sampling
The Employee Wellness Committee is hosting a Lunch and Learn at 12 p.m., Thursday, July 21, in the Mabee Library Special Collections Room. Jennifer Meachum, the wellness director at North Central Baptist Hospital and UIW graduate, will be conducting a Healthy Summer Cooking Demonstration and Sampling. All attendees will receive her NEW BHS Summer Cookbook. RSVP by email at empwellness@uiwtx.edu.
---
High Schools
St. Anthony Catholic High School Alumni Association Casino Night
The SACHS Alumni Association Casino Night will take place at 6:30 p.m., July 23 in the SACHS gym. The event is 21 and up only. This year's event will have a silent and live auction with prizes that include all-inclusive trips to Las Vegas and much more! We are still looking for sponsors and volunteers to help set up for this event. If you or any one you know would like to help make this event an even bigger success please contact the Alumni Relations Office by email dehoyos@uiwtx.edu.

Join the community for Black Jack, Poker, Roulette and Craps in our yearly benefit for the SACHS Alumni Association. The cost is $35 a person and includes dinner and beverages throughout the night. Tickets can be purchased at the business office or at the door by cash or credit. Save $5 by emailing dehoyos@uiwtx.edu your RSVP by Sunday, July 17. The annual Texas hold 'em poker tournament, which is $50 a player, for a grand prize will also be available to participate in. Space is limited.
Visit St. Anthony Catholic High School at www.sachs.org.
Visit Incarnate Word High School at www.incarnatewordhs.org.

Visit the UIW Prep website at www.uiw.edu/prep.
---
Miscellaneous
Our thoughts and prayers go to:
Nancy Mizera (UIW senior accounts payable technician) & family on the recent loss of her sister, Ellen Bueche.
The family of Ana Maria Chavez (IWHS '64) on her recent death.
The family of and the U.S. Province of Priests and Brothers on the recent loss of Rev. Joseph Francis Geniesse, C.S.C. (Former Incarnate Word College Chaplain).
Paula Kinman & family on the recent loss of her husband, Fred Otis Kinman (MS '68).
Carmen (UIW Board of Trustees) and Robert Nava & family on the recent loss of her father, Sotero Perea.
Scott Hill & family on the recent loss of his wife, Eleanor M. "Ellie" Schermerhorn (ALND '74).
Tom Tasos Tsirigotis & family on the recent loss of his wife, Diana Garcia Tsirigotis (BBA '79).
The University of the Incarnate Word provides reasonable accommodation with adequate notice. To request disability accommodation for events listed in this newsletter, visit www.uiw.edu/ada.