The Word E-News Archive
Unsung Hero of UIW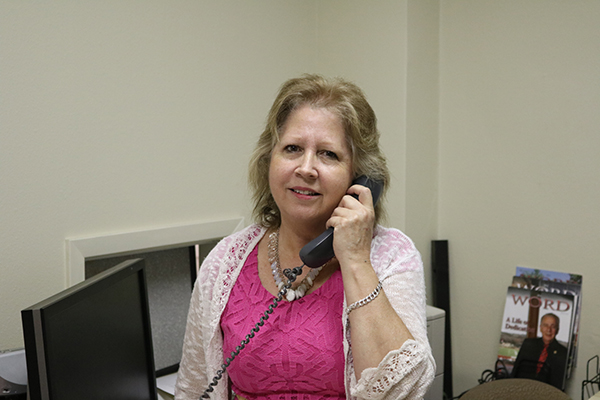 Meet UIW Secretary of Facilities Management Linda Wages. This native New Yorker is from a military family. Linda moved to San Antonio with her family including husband, Sam Wages, UIW director of purchasing. Linda has been working at UIW for 31 years. When away from the university she enjoys spending time with her family and while at work she appreciates the many members of her UIW family.
If you see Linda on campus, be sure to stop and say hello and help us thank her for all she does for UIW.
If you have a suggestion for a UIW Unsung Hero, email pr@uiwtx.edu.
---
Mission
Our Lady's Chapel Services
All are welcome.
Noon Mass, Monday - Friday
Sunday Mass at 10:30 a.m.
Liturgy of the Hours evening prayer at 4:30 p.m. every Wednesday
Sacrament of Reconciliation - 11:30 a.m. Fridays or by appointment with Fr. Tom Dymowski, O.SS.T. (210) 829-3131 or dymowski@uiwtx.edu.
---
Events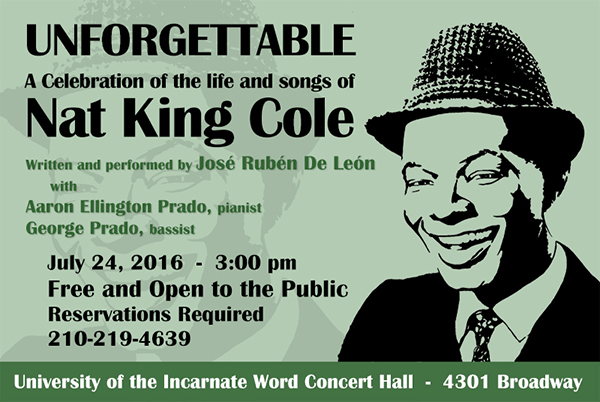 Unforgettable: A Celebration of the Life and Songs of Nat King Cole
UIW alumnus José Rubén De León has written and will be performing in a special concert dedicated to the life and songs of Nat King Cole. De León will be joined by pianist Aaron Ellington Prado and bassist George Prado for the concert at 3 p.m., Sunday, July 24, in the Concert Hall. The concert is free and open to the public, however, reservations are required. For more info and to reserve your seat, please call (210) 219-4639.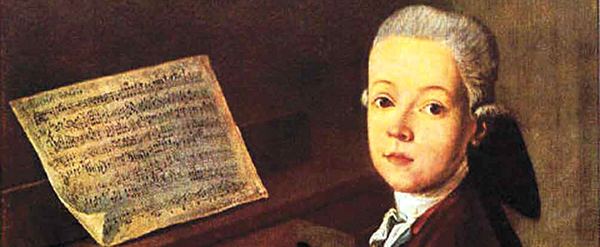 Mozart Festival Texas
The Mozart Festival Texas is San Antonio's premier summer classical music event. Held from July 29 through Aug. 6 in the new state-of-the-art Concert Hall at UIW, Mozart Festival Texas features chamber music and orchestral concerts performed by nationally and internationally recognized artists. For tickets and info, please telephone the UIW Music Department at (210) 829-3852. Tickets can also be purchased online at this link.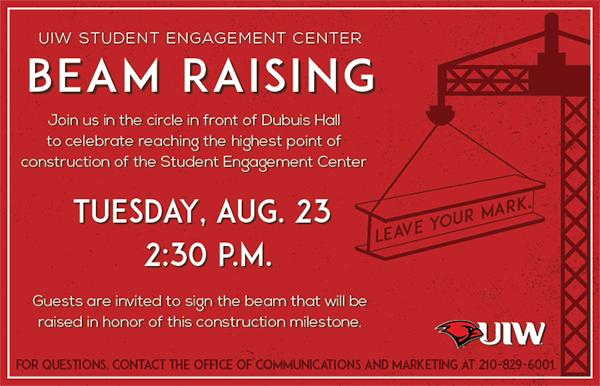 UIW Student Engagement Center Beam Raising
Join us at 2:30 p.m., Tuesday, Aug. 23, in the circle in front of Dubuis Hall to celebrate reaching the highest point of construction of the Student Engagement Center. Guests are invited to sign the beam that will be raised in honor of this construction milestone. Please RSVP at this link. For info, contact the Office of Communications and Marketing at (210) 829-6001.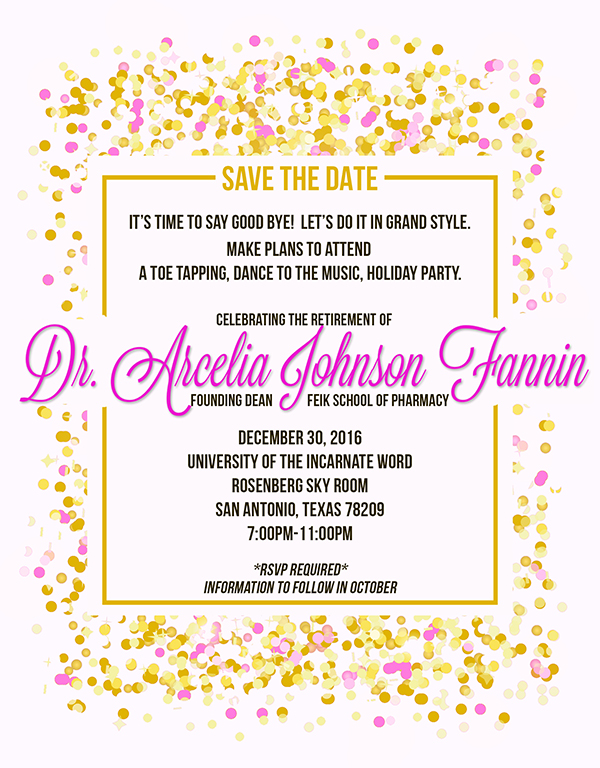 ---
Department News
Zoom Video Conferencing Online
The Zoom online courses will run from 2 - 3 p.m., Thursday afternoons through July 28. Do you zoom? Zoom web conferencing unifies cloud web conferencing, simple online meetings, group messaging, and a software-defined conference room solution into one easy-to-use platform. The Zoom platform is free for all UIW faculty and staff, and being adopted across all UIW campuses. Users are able to connect via desktop, tablet and mobile devices by downloading the Zoom app, or by accessing the service though Blackboard. The service provides screen sharing, chat, and other interactive tools. With these features, Zoom can provide faculty with the means to conduct virtual office hours or advise students. UIW staff now have an outlet to collaborate across multiple campuses. Join the IT staff as the explain how to use all aspects of the Zoom platform, including the shared desktop and whiteboard.
We will offer multiple training sessions online. You can attend from the comfort of your own home. Sessions are open to all faculty and staff. Seating is limited. Make your reservation here.
Click here for additional info on Zoom. For questions, contact Terry Peak at (210) 829-3920 or tpeak@uiwtx.edu.
---
Community News
UIW Highlights
UIW Named a "2016 Great College to Work For®"
For the eighth consecutive year, the UIW has been named one of the best colleges in the nation to work for, according to a survey by The Chronicle of Higher Education.
The results, released in The Chronicle's annual report on The Academic Workplace that gauges specific best practices and policies, are based on a national survey of 281 colleges and universities. Results are reported for small, medium, and large institutions. UIW is included among the medium universities, which is reserved for institutions with 3,000 to 9,999 students. In addition, this is the 7th consecutive year that UIW has received the prestigious Honor Roll designation.
UIW won honors in 11 categories:
Collaborative Governance
Compensation & Benefits
Confidence in Senior Leadership
Job Satisfaction
Professional/Career Development
Respect and Appreciation
Supervisor/Department Chair Relationship
Teaching Environment
Tenure Clarity and Process
Work/Life Balance
Honor Roll
Great Colleges to Work For® is one of the largest and most respected workplace-recognition programs in the country. For more information and to view all the results of the survey, visit The Chronicle's Web site at http://chronicle.com/AW16.

Road Closure Notice
On Friday, July 22, the entrance off of US-281 and the road leading down to the lower campus from the ICC between Joeris Hall and the Ancira Garage will be closed from 8 a.m. - 4 p.m. Please contact facilities at (210) 829-6023 if you have any questions.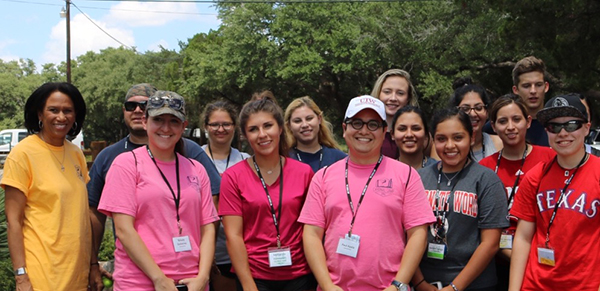 Pictured above are Dr. Renee Moore, associate dean of judicial affairs, and Paul Ayala, director of campus engagement, with current students and incoming freshman at the first Cardinal Camp of the summer last weekend at the John Newcombe Ranch in New Braunfels, Texas.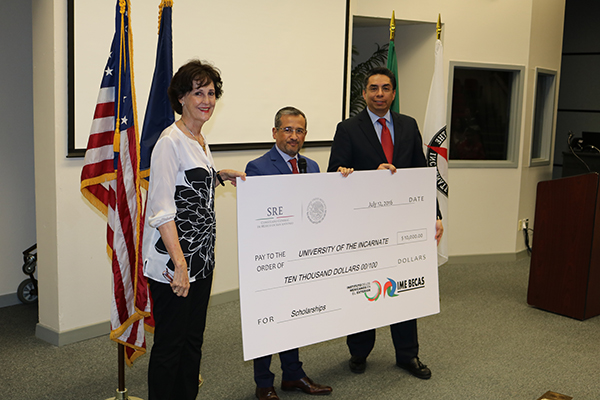 On Tuesday, July 12, Estela Gutierrez and Consul General Hector Velasco Monroy from the Mexican Consulate presented Marcos Fragoso, vice president for international affairs, with a $10,000 IME Becas Scholarship check.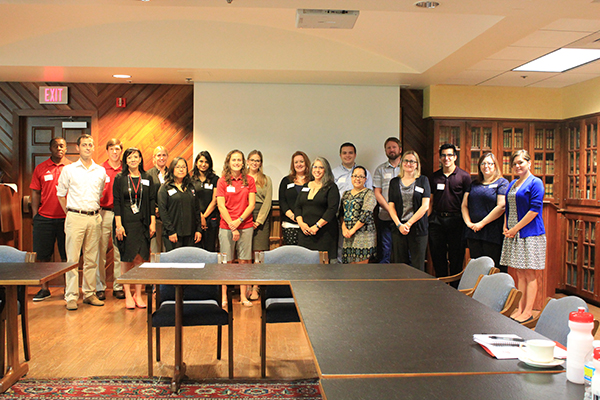 The Office of Human Resources held its New Employee Mixer Wednesday, July 20, in the Mabee Library Special Collections Room. We welcome all of the new employees to the UIW family.

Bereavement Notice
Dr. Sophie Pina, associate dean of student affairs for the School of Osteopathic Medicine, is mourning the loss of her mother, Maria "Rose Mary" Guardiola, who passed away Saturday, July 16. A Mass of Resurrection was celebrated at 10 a.m., Thursday, July 21, at St. Ann Catholic Church (210 St. Ann St., 78201). Please keep Dr. Pina and her family in your thoughts and prayers.

2016-2017 Employee Lottery for "A" Permit
Parking for the off-campus 'free' lot (next to Cheesy Jane's) requires an "A" permit and is open to full-time administrators, faculty and staff. Since the demand for parking in this lot has exceeded the 80 available spaces, the executive council has decided that a lottery will be held to select recipients of the "A" permit.

Entry into the Lottery will end at 5 p.m. on Monday, July 25, 2016. A random selection of names will be conducted from all of the submissions and the winners will be notified by 5 p.m. on Tuesday July 26, 2016.

In order to participate in the lottery, you must submit your name by accessing this Survey Monkey link.

Winners will be required to register their vehicles, and permits will be available for pickup after the winners are notified. Contact the Business Office at busad@uiwtx.edu if you have any questions.

Highest Heaven: Spanish and Portuguese Colonial Art Exhibit
The San Antonio Museum of Art is hosting an exhibit titled Highest Heaven: Spanish and Portuguese Colonial Art through Sept. 4, 2016. The exhibition features more than 100 works, including religious paintings, carved and gilded wooden sculptures, intimate ivories, and silverwork, originally housed in ecclesiastical and private collections throughout the former colonial possessions of Spain and Portugal. For more info on the exhibit, contact (210) 978-8100. REMEMBER: You receive FREE admission to the San Antonio Museum of Art with your valid UIW ID. Additional exhibition fees may apply.
---
Faculty Focus
Blackboard Course Shell Training
In case you haven't noticed, UIW has adopted a new shell for the Blackboard course template. This shell will be used campus-wide. Come and spend an hour with the IT team in the Administration Building, Room 212, and learn how the shell is designed to enhance student engagement and help faculty manage course content. Contact Terry Peak at tpeak@uiwtx.edu to register.
Aug. 1 - 3 p.m.
Aug. 5 - 12 p.m.
Aug. 9 - 3 p.m.
Aug. 10 - 9 a.m.
Aug. 12 - 12 p.m.
Aug.16 - 9 a.m.
Aug. 18 - 12 p.m.
Aug. 19 - 3 p.m.
Aug. 22 - 3 p.m.
Aug. 24 - 12 p.m.
Aug. 26 - 9 a.m.
Aug. 30 - 12 p.m.
Sept. 1 - 9 a.m.
Blackboard 101 - Daytime and Evening Courses
Are you new to the Blackboard LMS? No problem. Designed for first-time users and adjunct faculty, the Blackboard 101 workshop will explain the basics of using the interface. This three-day workshop runs from 8:30 a.m. - 12:30 p.m. daily from Aug. 1 - 3 and from 5:30 - 9 p.m. daily from Aug. 2 - 4.

Over the course of three days, first-time users and adjunct faculty will learn how to communicate with students using announcements and email, deliver course content and documents, as well as assign and retrieve homework using the assignments tool. In addition, faculty will also learn to track student progress using the Grade Center.

Join the UIW Instructional Technology staff in the Mabee Library, Room 230 for this informative and enlightening workshop. Seating is limited. To sign up for the daytime courses, please follow this link. To sign up for the evening courses, please follow this link. For more info, please contact Terry Peak at (210) 829-3920 or tpeak@uiwtx.edu.

Blackboard Organizations 101
This workshop is designed for organizational leaders who need to leverage Blackboard tools and content to deliver information and generate feedback from organization users. The course will be offered Aug. 8, 9 and 11 from 8:30 a.m. - 12:30 p.m. in the Mabee Library, Room 230. Upon completing the workshop, organizational leaders will be able to manage the organization's course menu and communicate with members using announcements and email. The Instructional Technology team will also explain how to create, deliver and manage course content. We will finish out the workshop with an overview of the Zoom web conferencing interface. Seating is limited. To sign up, please follow this link. For more info, contact Terry Peak at (210) 829-3920 or tpeak@uiwtx.edu.
---
Employee Health & Wellness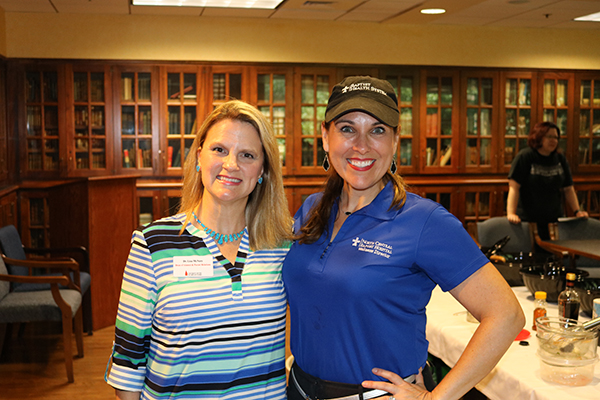 Pictured above is Dr. Lisa McNary, dean of parent and alumni relations, with Jennifer Meachum, wellness director at North Central Baptist Hospital and UIW alumna, at the Employee Wellness Lunch and Learn Thursday, July 21, in the Mabee Library Special Collections Room. Jennifer conducted a healthy summer cooking demonstration and sampling for the UIW community.

Summer Zumba Class for Employees
Join UIW employees for this summer's Zumba party. All are welcome and modifications are available for every level. This is great stress release and lots of fun. Wear comfortable shoes, bring a small towel, water, and your positive vibes. Classes are from 5:15 - 6:15 p.m. every Thursday in the Wellness Center Cardio Room throughout the summer until Aug. 11. For more info, contact Candace Graham at (210) 829-2703 or cmgonza4@uiwtx.edu.
---
High Schools
St. Anthony Catholic High School Alumni Association Casino Night
The SACHS Alumni Association Casino Night will take place at 6:30 p.m., July 23 in the SACHS gym. The event is 21 and up only. This year's event will have a silent and live auction with prizes that include all-inclusive trips to Las Vegas and much more! We are still looking for sponsors and volunteers to help set up for this event. If you or any one you know would like to help make this event an even bigger success please contact the Alumni Relations Office by email dehoyos@uiwtx.edu.

Join the community for Black Jack, Poker, Roulette and Craps in our yearly benefit for the SACHS Alumni Association. The cost is $35 a person and includes dinner and beverages throughout the night. Tickets can be purchased at the business office or at the door by cash or credit. The annual Texas hold 'em poker tournament, which is $50 a player, for a grand prize will also be available to participate in. Space is limited.
Visit St. Anthony Catholic High School atwww.sachs.org.
Visit Incarnate Word High School atwww.incarnatewordhs.org.

Visit the UIW Prep website atwww.uiw.edu/prep.
---
Miscellaneous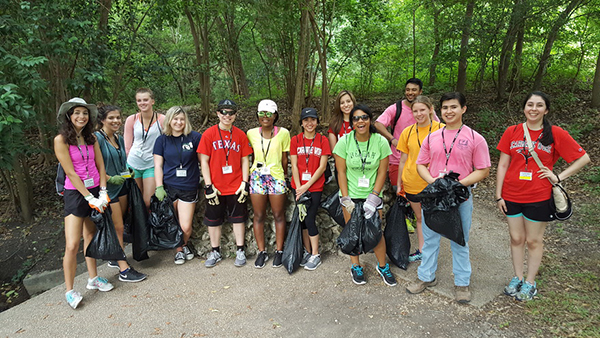 On Saturday, July 9, The Headwaters Sanctuary hosted the first two hours of Cardinal Camp. The incoming freshman had the opportunity to learn about restoration, volunteering and participated in two hours of community service by picking up trash and pulling giant ragweed from around the sanctuary before leaving to the John Newcombe Ranch.
Our thoughts and prayers go to:
The family and friends of, and the Marianists Province for the recent loss of Brother Cletus G. Behlmann, S.M. (UIW Friend & Benefactor).
Yvette Johnson, Yvonne Johnson and Catherine Johnson Batot & family on the recent loss of their mother, Mary Catherine Johnson (BA '59).
Erika Pompa (UIW IR Programmer/Data Analyst; BBA '90, MBA '09) & family on the recent loss of her grandmother, Eudelia Quintero Lombrano.
Patty Mueller (UIW Former Board of Trustees, Friend & Benefactor) & family on the recent loss of her husband, Joseph Paul "Joe" Mueller (UIW Friend & Benefactor).
Janice Heye Payer (IWHS '55, BA '59) & family on the recent loss of her husband, Michael Creamer Payer.
Lisl Eichorn (UIW EAP Admissions Counselor, BA '11) & family on the recent loss of her grandmother, Alma C. Sparks.
The University of the Incarnate Word provides reasonable accommodation with adequate notice. To request disability accommodation for events listed in this newsletter, visit www.uiw.edu/ada.