The Word E-News Archive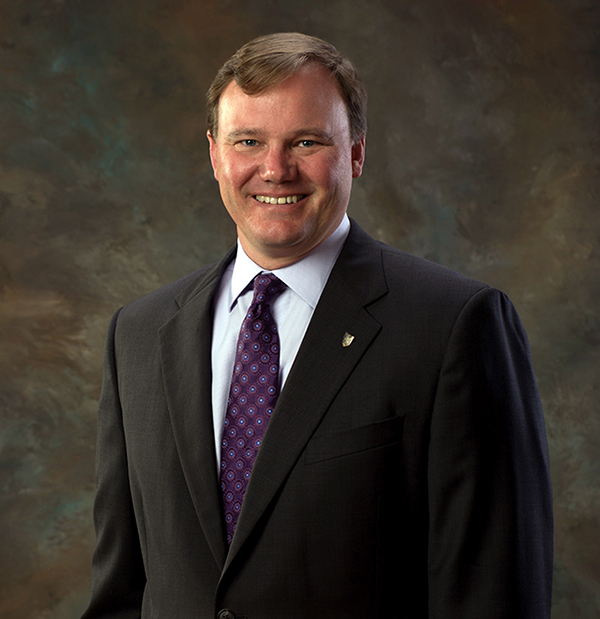 The University of the Incarnate Word Board of Trustees and the Sisters of Charity of the Incarnate Word have named Dr. Thomas Evans as the 10th president of UIW. Dr. Evans comes to UIW after serving as president of Carroll College in Helena, Montana.

Dr. Evans holds both a Master of Arts in Asian Studies and a Ph.D. in higher education administration from the University of Texas at Austin. He earned a Bachelor of Science in language arts from the School of Languages and Linguistics at Georgetown University. Dr. Evans and his wife, Lisa, have two sons, Walter and Leland.

The University will hold an official media and community introduction at 10 a.m., Tuesday, June 13, in the McCombs Center Rosenberg Sky Room. Please RSVP to pr@uiwtx.edu or (210) 829-6001.
---
Mission
Our Lady's Chapel Services
All are welcome.
Noon Mass, Monday - Friday
Sunday Mass at 10:30 a.m.
Sacrament of Reconciliation - 11:30 a.m. Fridays or by appointment with Fr. Tom Dymowski, O.SS.T. at (210) 829-3131 or dymowski@uiwtx.edu

.
---
Events
First-Time Freshman Orientation
UIW's Freshman Orientation is from 8:30 a.m. - 5 p.m. on the available dates below:
Wednesday June 7
Thursday June 15
Thursday, June 29
Wednesday, July 12
Thursday, July 20
Wednesday, Aug. 9
Wednesday, Aug. 16
Check-in will begin in the Concert Hall. This program is designed to help students acclimate to the college environment and have a successful first-year as a Cardinal. Our goal is to answer new students' questions, connect them to campus resources, and help them capitalize on their new college experience. The program includes information on UIW's history/mission, sessions with Academic Deans, advising, and many more informative events. Orientation is mandatory for all freshman students. For info and the full list of dates, visit http://www.uiw.edu/orientation/ or contact Rochelle Ramirez at (210) 805-3069 or orientation@uiwtx.edu.

Microsoft Office 365 Summer Camp Sessions
Instructional Technology is hosting summer workshops in the morning and afternoon on a variety of topics from 9 - 10:30 a.m. and 2:30 - 4 p.m. in the Fine Arts, Room 213. Attendees will have a choice to attend either the morning or afternoon session. You can sign up for the morning sessions at this link. You can sign up for the afternoon sessions at this link. Session topics and their respective dates are listed below:
Monday, June 12 - Office 365 Mail and Skype for Business
Tuesday, June 13 - Everything You Wanted to Know About the OneDrive
Wednesday, June 14 - Microsoft Office Online
Thursday, June 15 - Office 365 Collaborative Applications; Flow, Forms & Sway
These workshops have been developed specifically for UIW staff. For info, contact Terence Peak at (210) 829-3920 or tpeak@uiwtx.edu.

Blackboard Organizations 101
Instructional Technology has designed this workshop for students, faculty and staff who lead or manage a Blackboard organization. The workshop will help you leverage Blackboard tools and content to deliver information and receive feedback from your organization's users. The sessions will be held daily from 8:30 a.m. - 12:30 p.m., Tuesday, June 20 through Thursday, June 22 in the Fine Arts, Room 213. Register here: http://bit.ly/2odXaJ8. For info, contact Terence Peak at (210) 829-3920 or tpeak@uiwtx.edu.
---
Department News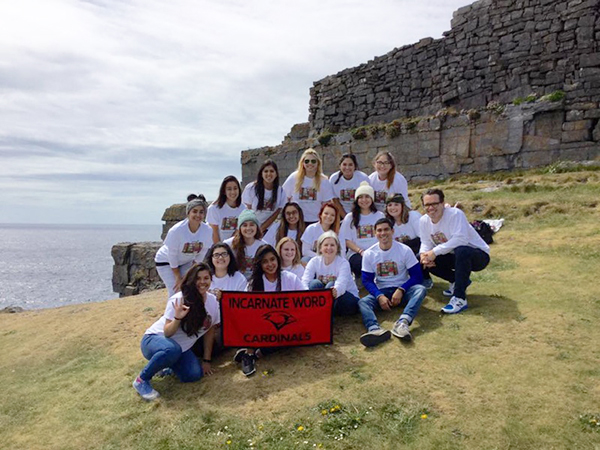 Dr. Trey Guinn, assistant professor and director of communication arts, and Dr. Sharon Welkey, dean of the School of Media and Design, taught an Intercultural Communication course this spring that culminated with a faculty-led tour in Ireland. The group traveled from May 15-26. The group is pictured above in the Aran Islands posing with the UIW flag just after hiking Dún Aonghasa.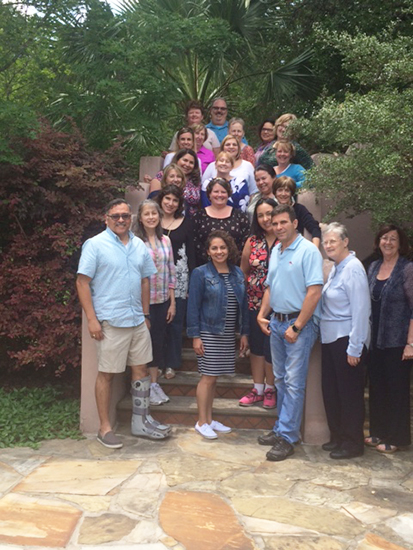 The Ila Faye Miller School of Nursing hosted an end-of-semester retreat for faculty at the Episcopal Diocese of West Texas Monday, May 22. The retreat was facilitated by Sr. Walter Maher.
---
Community News
UIW Highlights
Unsung Hero Nominations
The Office of Communications and Marketing is seeking nominations for this summer's Unsung Heroes. These employees serve as the backbone to our university and rarely get the recognition they deserve. Nominated employees should be sent to pr@uiwtx.edu. One employee will be chosen from the nomination list and will be featured in the Friday e-Newsletter throughout the summer. For info or questions, contact (210) 829-6001 or pr@uiwtx.edu.
---
Employee Wellness
Employee Wellness Zumba Class
UIW employees are invited to join the fun and relieve some stress at the employee Zumba class at 5:15 p.m., every Monday, in the Wellness Center. Bring your face towel, water, positive vibes and the desire to move. Comfortable light-weight tennis shoes are recommended. All levels welcome. Classes will be continue on Mondays through Aug. 21. For info, contact Candace Graham at (210) 269-5238 or cmgonza4@uiwtx.edu.
---
Brainpower Connection
---
Miscellaneous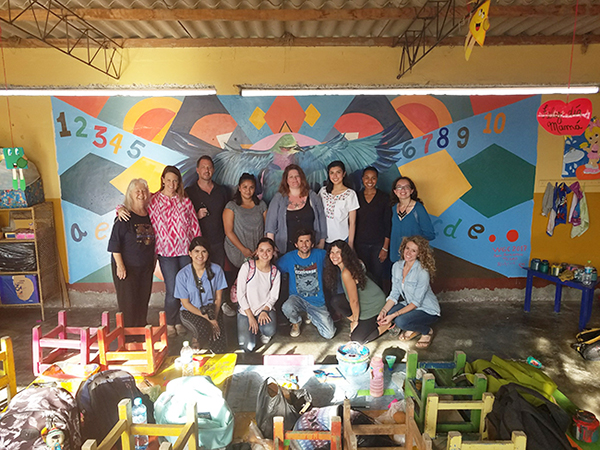 On Thursday, May 25, Women's Global Connection (WGC) volunteers participated in service projects across Chimbote, Peru. Pictured above are Sr. Martha Ann Kirk, professor of religious studies, Nicole Foy, assistant director of WGC and Dr. Brian McBurnett, professor of chemistry. Also pictured are Richard Jon Castaneda Estrada, a Chimbote artist, Monica Hernandez, Ettling Center for Civic Leadership, and Stephanie Mitchell, adjunct professor of nutrition, who helped create this mural for one of the area's poorest schools. Follow the WGC travel blog at wgctravelblogue.wordpress.com.

The Unforeseen Film Screening
The Headwaters at Incarnate Word presents The Unforeseen at 3:30 p.m., Monday, June 5, at the CHRISTUS Heritage Hall at the Village at Incarnate Word. The documentary captures the drama, passion, and heartfelt convictions on all sides of a residential development conflict without making easy targets of any of them. For info, contact Pamela Ball at (210) 828-2224 or pamela.ball@amormeus.org.

San Antonio Museum Exhibitions
University employees receive free admission to the McNay Art Museum and the San Antonio Museum of Art with their valid UIW ID. Additional fees may apply to exhibitions. For info, contact (210) 829-6019.
---
Bereavement
Our thoughts and prayers go to:
The family of Marvin S. Baker, Jr. (MA '62) on his recent death.
Maria Courtney & family on the recent loss of her husband, Newton J. Courtney, Jr.

(MBA '91, Ph.D. '15).
George Foster & family on the recent loss of his wife, Georgia Rice Foster

(IWHS '53).
Lt. Jessica Serbantes-Soto (UIW Police Department) & family on the recent loss of her grandmother, Guadalupe Serbantes.
The University of the Incarnate Word provides reasonable accommodation with adequate notice. To request disability accommodation for events listed in this newsletter, visit www.uiw.edu/ada.