UIW Community Newsletter
Photo of the Week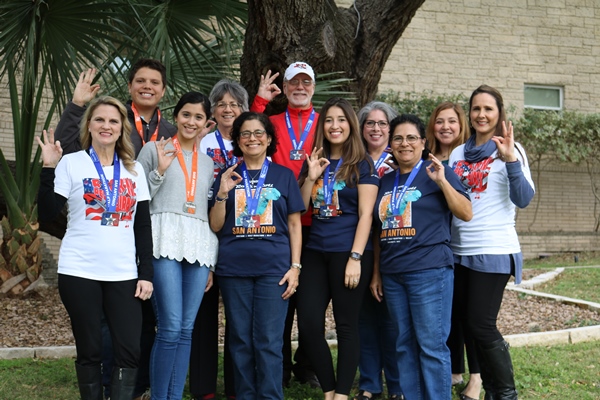 Congratulations to all our Rock 'n' Red Birds who participated in the San Antonio Rock 'n' Roll 10K and Half Marathon! The races were held at the beginning of December and our Cardinal group finished strong . Participants included UIW staff, family and friends. Look out for our training group for next year's races! Go Cardinals! Pictured L-R Row 1: Lisa McNary, Claudia Zapata, Sylvia Kutschenreuter, Gaby Alvarado, Cynthia Rodriguez, Susan Castillo. Row 2: Jorge Jones, Itza Casanova, Gerald Mulvey, Melissa Molina, Mercedes Moreno.
Mission
Our Lady's Chapel Services
All are welcome.
Noon Mass will continue through Thursday, Dec. 21,2017 and will resume Jan. 2018.
8 p.m., Sunday Mass will resume January 2018.
Sacrament of Reconciliation - by appointment only with Fr. Tom Dymowski, O.SS.T. at (210) 829-3131 or dymowski@uiwtx.edu

or Fr. James Admae at jbadame@uiwtx.edu
Advent Prayer
Give us wisdom, Lord, to take to make the choices and take the steps that give life and bring joy (Matthew 11: 16-19). From The Magnificat, Advent Companion, 2017 (www.magnificat.com)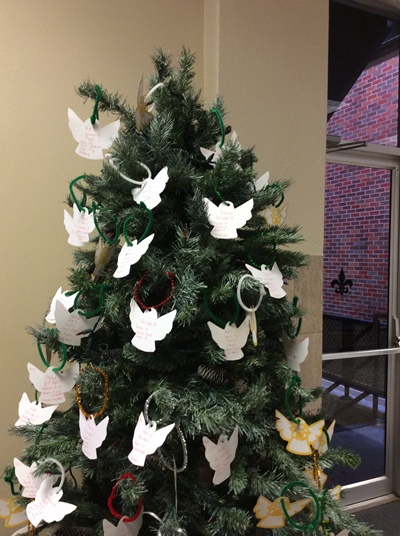 Don't forget that all Angel Tree gifts are due by end of day today, Friday, Dec. 15. Distribution to the families will begin on Monday. Please bring items in a holiday bag with the original Angel tag to the University Mission & Ministry office (AD 147). For more information, contact Brenda Dimas by email at dimas@uiwtx.edu or (210) 829-3128.
Fall Baccalaureate Mass
The University of the Incarnate Word will hold its Fall Baccalaureate Mass at 5 p.m., Friday, Dec. 15 in the McDermott Convocation Center. A reception sponsored by the Provost's Office will immediately follow in the Student Engagement Center (SEC). For details contact, Brenda Dimas at (210) 829-3128 or dimas@uiwtx.edu.
UMM - Sometime Singers-Players RSVP
Interested in singing or playing for some of our worship services, but can only make a short-term commitment? Join our SOMETIME SINGERS-PLAYERS ministry - a great way to meet new friends, make great music, and serve your community! Sometime Singers & Players (a part of University Mission and Ministry's Ecclesiastes Ministries) is an ensemble comprised of students, faculty, administrators, staff, CCVIs, and community members who cannot commit to weekly rehearsals, but who serve when possible at liturgical prayer throughout the school year. Your commitment to participate is made only when you RSVP. To RSVP for one of the liturgies below, or to have your name placed on the roster for future events, please complete the forms below, or contact Lena Gokelman at mgokelma@uiwtx.edu or at Ext. 3207 or Dr. Glenn James at gjames@uiwtx.edu or Ext. 3940.
We welcome your participation in the following liturgies:
Christmas Eve Music Ministry
5:30 p.m., Sunday, Dec. 24, Chapel of the Incarnate Word
RSVP by Friday, Dec. 15
---
Events
Fall Commencement - Saturday, Dec. 16
UIW President Dr. Thomas M. Evans will confer degrees to nearly 1,300 professional, doctoral, graduate and undergraduate students at the Fall Commencement Ceremony scheduled for Saturday, Dec. 16 in the Joe and Harry Freeman Coliseum. This graduating class completed a total of 45,597 hours of service in the community providing an economic impact totaling $1,100,711.
Moody Professor Dr. Laura Muñoz of the Ila Faye Miller School of Nursing and Health Professions will deliver the commencement address. Dr. Christopher Alvarado, a proud alumnus of the UIW Feik School of Pharmacy, will be recognized as the 2017 Alumna of Distinction for Professional Development.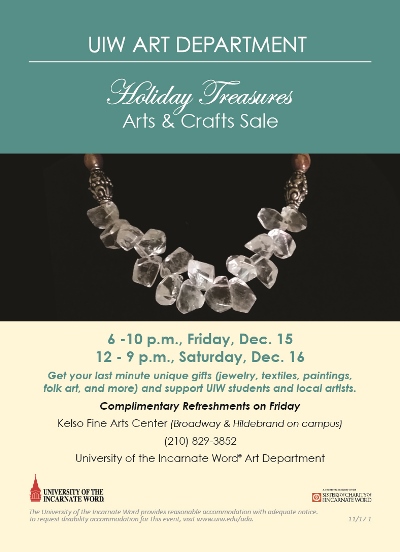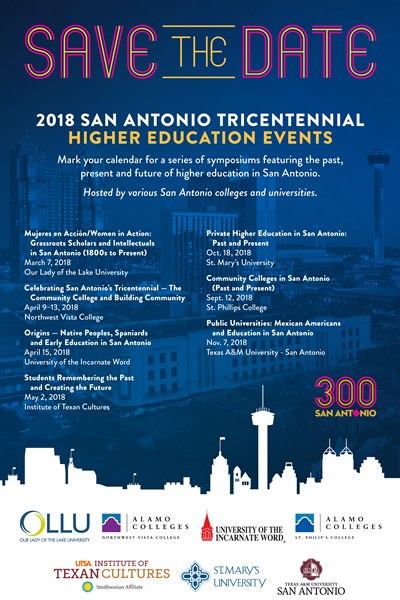 ---
Department News
Transfer Get-In Friday (TGIF)
UIW invites all transfer students interested in Main Campus to visit the Office of Admissions from 11 a.m., to 5 p.m., Friday, Dec. 15. Interested students will be given assistance in completing all the necessary steps for enrolling. You may sign up for a tour at 10am or 3pm along with your visit. This is a come and go event, no formal presentation will be given. The event will be held in the Office of Admissions. For more information, contact Eric Martinez at (210) 805-3557 or campusvisit@uiwtx.edu.
Join the OneDrive League this month to ensure that no file is left behind
Still need help with OneDrive? Join us on Monday, Dec. 18 at @ 9 a.m. and 3 p.m. in the Mabee Library room 230. The deadline for moving UIW work files including Dropbox, My Documents, and personal files stored on the network) to your Office365 OneDrive is Wednesday, Dec. 20. To help with the transition the OneDrive League. If you need some one-on-one support, contact the UIW ITS OneDrive League: Terry Peak tpeak@uiwtx.edu or Adela Gott agott@uiwtx.edu to make an appointment. Click link to sign up: Signup Genius: http://www.signupgenius.com/go/10c084ca9ad23a3f94-everything.
Upgrading Blackboard for Spring
Over Christmas Break, our Learning Management System vendor will be upgrading UIW's Blackboard system. All current courses and organizations will be migrated to a cloud-based environment. This requires a shutdown of the system between December 26thand January 2nd. For detailedinformation, please click here.
---
Community News
Bereavement Notice
Vanessa Garcia, in the Registrar's Office, is mourning the loss of her father Jesus Galindo Garcia Sr., who passed away Wednesday, Dec. 6. Visitation will begin at 4 p.m., with a Rosary to be recited at 7 p.m., Monday, Dec. 18 at Delgado Funeral Home (319 W. Mitchell San Antonio, TX 78204). Procession will depart the Funeral Home on Tuesday, December 19 at 9:30 a.m. Interment will follow at Fort Sam National Cemetery. Please keep Vanessa and her family in your thoughts during this difficult time.
Retirement Celebration
The School of Nursing & Health Professions will be holding a potluck in celebration of Alice Oldmixon and her retirement from UIW (her last day will be Friday, January 5). The potluck will take place on Monday, Dec. 18 from 11:30 a.m., - 1:30 p.m., in NB 142. For details contact, Kayla Sheehan at (210) 283-5093.
The Ettling Center for Civic Leadership & Sustainability Winter Coat Drive
The ECCL needs your assistance in donating new clothing and items to help the children at the Jose Cardenas Early Childhood Head Start Center. The purpose of the Head Start program is to provide children and families with quality educational, nutritional, medical, dental, mental health, disability, and many other services. They are able to support these services through federal funding. One necessity that is not provided through the program is clothing. Many parents of the students at the center are unable to provide basic necessities such as warm clothing / items. Children have been arriving to school in shorts and t-shirts. Your donations will help support the 365 students that attend this center. We are asking for the following items Children's coats/sweaters size 5, blankets, kids socks, khaki/navy blue pants (child sizes 4, 5, and 6). Please drop off your donations in AD 158 or call our office to arrange a pick-up. For questions, please contact Yesenia Caloca at 210-805-2547 or caloca@uiwtx.edu.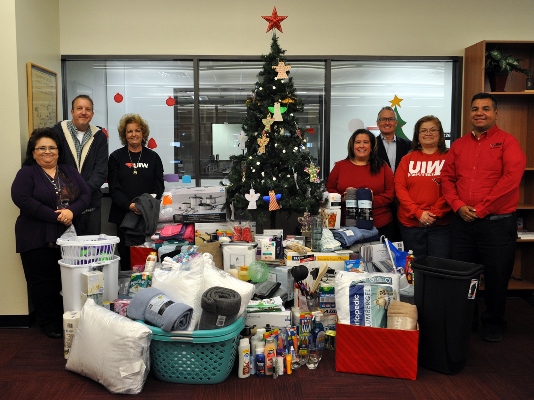 The Rosenberg School of Optometry (RSO) hosted an "Angel Tree" drive to help the homeless in our community who are in need during the holidays. Pictured below (left to right) are Guadalupe Atienzo, clinic receptionist, Eric Tradup, assistant director of admissions, Jill Mohr, director of admissions, Melissa Carreon, clinical appointment representative, Dr. William Miller, associate dean of RSO Academic Affairs, Libby Macias, student affairs coordinator, and Cesar Hernandez, access services library assistant.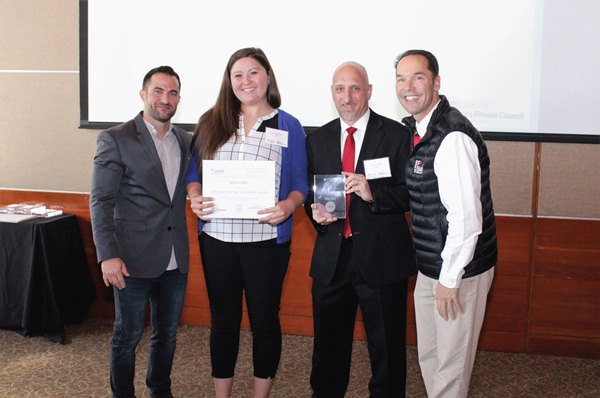 Congratulations UIW on the receipt of the Gold level Mayor's Fitness Council 2017 Healthy Workplace Recognition. This award recognizes employer's that promote health and wellness in the workplace. A special thank you to the Wellness Committee, chaired by Scott LeBlanc. Thanks to Scott LeBlanc and Erin Galloway for their hard work completing the application process and for continually promoting a healthy workplace at UIW.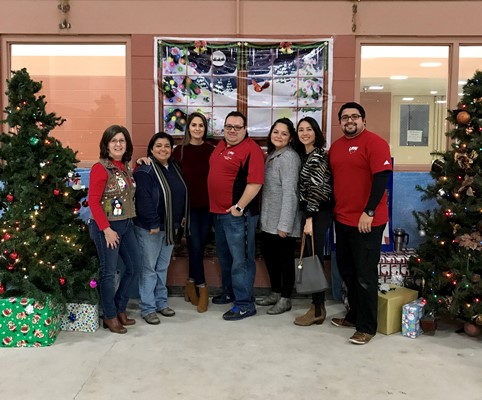 The EAP Admissions team celebrated Christmas by helping Elf Louise wrap toys, Friday, Dec. 8.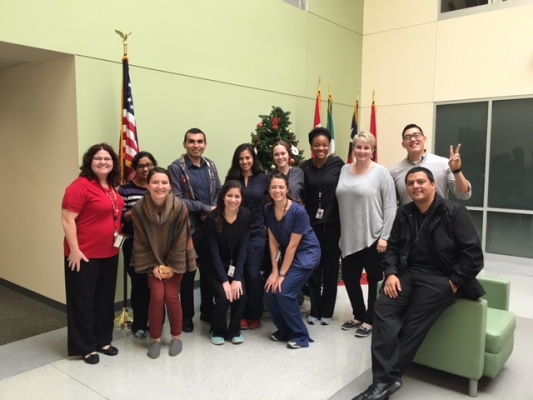 Dr. Lisa R. McDougle, Ed.D., assistant dean for Academic Success and Student Affairs and Fr. James Adame join students from the UIW School of Physical Therapy to decorate their Christmas tree.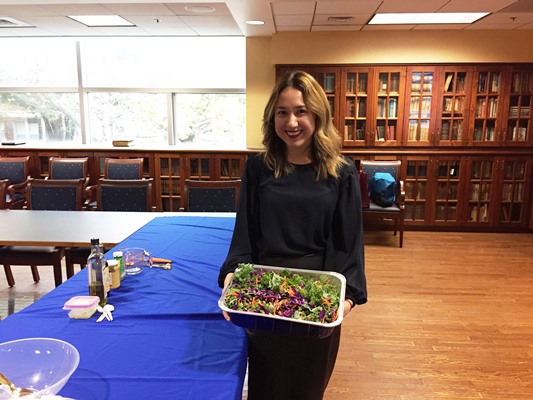 UIW employees enjoyed the last Employee Wellness "Lunch and Learn" of the year, Wednesday, Dec. 13 in the Mabee Library Special Collections Suite. UIW alumna Karla M. Reyes, MS, RDN, LD Registered Dietitian was this months featured speaker.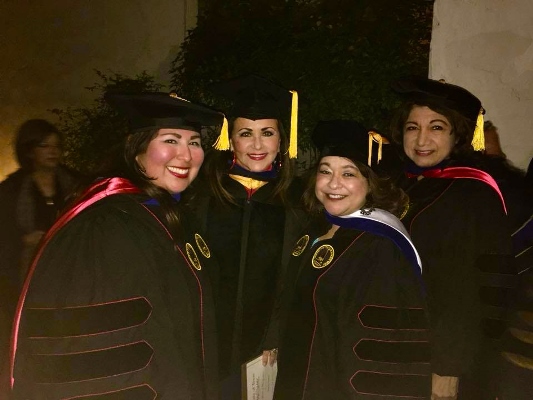 Pictured left to right are Dr. Tina Siller, Dr. Patsy Torres, Dr. Lynda Cavazos and Dr. Mary Ann Reyes, UIW Doctoral Program alumnae and members of the San Antonio Latina Ph.D.'s and Ed.D.'s organization. The members enjoyed their 2nd Annual gathering Tuesday, Dec. 12 at Trinity University.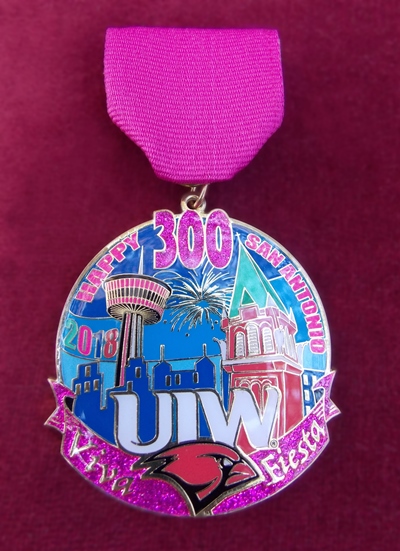 Are you looking for that perfect stocking stuffer? Look no further, the 2018 UIW Fiesta Medal is now available! Get yours today in the Campus Engagement Office located in the Student Engagement Center - Rm# 3150. Medals are also available in the Cardinal Shoppe. Medals are $10 and supplies are limited. For details contact Janine Chavez at (210) 829-3817.
San Antonio Museum Exhibitions
---
Athletics News

December
Dec. 16: Men's Basketball vs. UMKC - 3 p.m. McDermott Center
Dec. 28: Women's Basketball vs. McNeese (conference opener) - 6 p.m. McDermott Center
Dec. 30: Women's Basketball vs. Nicholls - 1 p.m. McDermott Center
January
Jan. 06: Men's Basketball vs. Sam Houston - 3 p.m. McDermott Center
Jan. 10: Women's Basketball vs. Central Arkansas - 6 p.m. McDermott Center
Jan. 17: Men's Basketball vs. Lamar - 7 p.m. McDermott Center
Jan. 24: Women's Basketball vs. HBU - 6 p.m. McDermott Center
Jan. 27: Women's Basketball vs. New Orleans - 11 a.m. McDermott Center
Jan. 27: Men's Basketball vs. New Orleans - 2 p.m. McDermott Center
---
Faculty Focus
Recording Service Learning in the Faculty Self Inventory & for Carnegie Classification Faculty, when writing your Faculty Self Inventory, please remember that service learning is valued and can be documented in Sedona in a number of areas. One way to do that is posted on BlackBoard in the Faculty Repository site with the title "Intro Service Learning Code in Sedona." Each time you do a service learning project in your class be sure and record it by clicking the Recording Service Learning Form https://orgsync.com/49690/forms/199176 For Service Learning information, see the ECCL Faculty Resources http://www.uiw.edu/eccl/Faculty-Resources/ or contact kirk@uiwtx.edu
---
Brainpower Connection
---
Miscellaneous
Sisters of Charity of the Incarnate Word - Migration Mass
The Incarnate Word Sisters (and the UIW worshiping community) are having a special Mass at 10:30 a.m., Sunday, Jan. 7, 2018 on the Feast of the Epiphany in the Chapel of the Incarnate Word to mark the beginning of the United States Conference of Catholic Bishops Nation Migration Week. The Mass will be a multi-cultural and multi-lingual celebration of our unity, through our diversity. Members of the community who would like to participate by proclaiming a reading for the Mass or one of the Prayers of the Faithful in their native language (not English) are asked to be in touch with Sr. Mary Henry at mary.henry@amormeus.org or (210) 828-2224
Women's Global Connection - Alternative Giving Campaign
As we head into this special holiday season, Women's Global Connection invites you to shop gifts that truly give back. Our Alternative Giving program allows you to honor loved ones while empowering women and girls locally and globally. Donate to help send a child to school. Buy hens, pigs or goats to help build a woman's family business - or even help build a rainwater harvester for a village in Tanzania or Kenya. Sponsor a San Antonio-area girl to attend our flagship Girls Global Summit. WGC has a number of ways to participate, with an array of options and price ranges to best suit anyone. To make sure your recipients know of your thoughtful gesture, we can send you a special recognition card to personalize and pass along to them.
You can give online at WGC Alternative Giving or contact WGC at (210) 828-2224, ext. 297 or wgcinsa@gmail.com for more information
Bereavement
Our thoughts and prayers go to:
Thomas Beck on the recent loss of his wife; Kathy McDevitt Garza (IWHS '70) & their families on the recent loss of her sister, Margaret Julia "Peggy" Beck (IWHS '65).
Warren Bowen & family on the recent loss of his wife, Helen Marie Elder Bowen (BA '78, MA '86).
Vanessa Garcia (System Analyst/Registrar's Office, BBA '05, MAA '12) & family on the recent loss of her father, Jesus Galindo Garcia, Sr.
Laura (Director of DNP Program, Ila Faye Miller School of Nursing) and Ricardo Munoz, Jr. (BA '75) on the recent loss of his father, Ricardo Munoz, Sr.
The family and friends of Margret Simon (BA '69) on her recent death.
---
The University of the Incarnate Word provides reasonable accommodation with adequate notice. To request disability accommodation for events listed in this newsletter, visit www.uiw.edu/ada.