The Word E-News Archive
Photo of the Week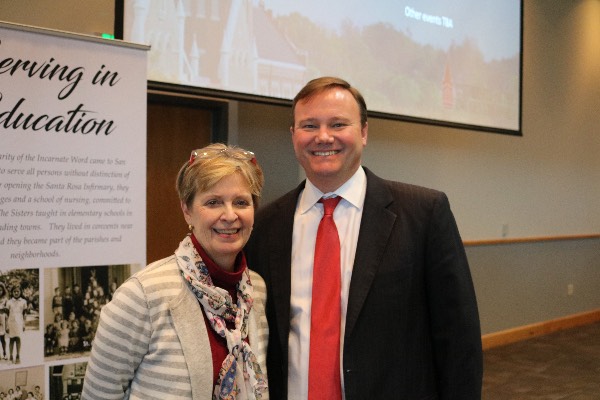 UIW President Dr. Thomas Evans attends the 2018 Faculty Award Reception, hosted by Provost Dr. Kathi Light and the Office of the Provost. Members of the UIW faculty were honored for excellence in leadership and service.
Mission
Our Lady's Chapel Services
All are welcome.
Noon Mass, Monday - Friday
Sunday Mass at 10:30 a.m. and 8 p.m.will resume on Sunday, Jan. 21, 2018.
Sacrament of Reconciliation - 11:30 a.m. Fridays or by appointment with Fr. Tom Dymowski, O.SS.T. at (210) 829-3131 or dymowski@uiwtx.edu.
---
Events
The Texas Woman's Heritage in Song for 300 San Antonio
One of the exciting opening events for San Antonio's Tricentennial celebration will be held in Seddon Hall of the University of the Incarnate Word at 7:30 p.m. on Jan. 18. This program, presented by Flicka Rahn, soprano, and Ruth Friedberg, pianist and lecturer, traces the history of Texas through the medium of song in the majority of languages that have been spoken in this region.
It begins with a Native American love-song and then offers settings in the languages of Spain, France, Mexico, Germany, and the United States, the latter including samples of classical composition, spirituals, and the cowboy ballads of the Southwest.
Tickets are $10 each and may be purchased at the door. Admission is free for students.
UIW Department of Art presents San Antonio Modernism: The Art of Bill Reily
Born in San Antonio, Bill Reily was interested in art from an early age. With encouragement from his godmother, Marion Koogler McNay, he received his first formal instruction from Mrs. Mamie Price, an accomplished art teacher trained at the Art Institute of Chicago. He continued his studies at the San Antonio Art Institute. After earning his undergraduate degree at the University of Texas at Austin, Reily began a career as a full-time artist. With his friend and UT colleague, Cecil Casebier, Reily founded the San Antonio Men of Art Guild, a loose-knit group of contemporary painters within the city. Working and exhibiting together, these men shared an aesthetic synergy in advancing a style of abstract painting in a city famous for its impressionism. Reily joined the faculty at the University of the Incarnate Word, remaining as professor, advisor, and chairman of the fine arts department until his retirement.
The exhibit will be on display in the Kelso Art Center/Semmes Gallery from Jan. 19 - Feb. 28. An opening reception will take place from 6 - 8 p.m., Friday, Jan. 19. The exhibit is free and open to the public. For more information, contact Roland Sul at (210) 829-3852 or sul@uiwtx.edu.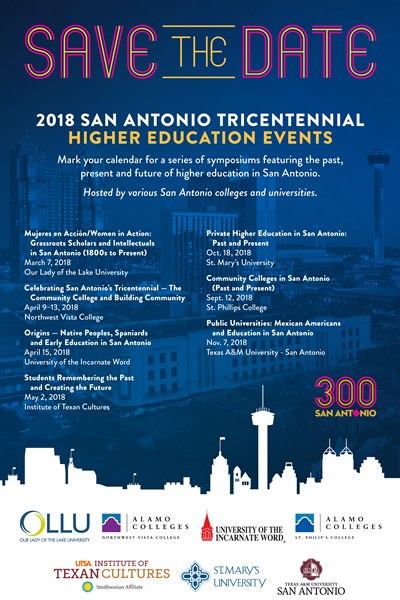 ---
Department News
Office of Special Services - We've Moved
The Office of Special Services (Student Disability Services and International Undergraduate Advising) has moved to its new location in the Administration Building, Suite 51. If you have any questions, please contact Moisés Torrescano, Director of Special Services, or Michelle Beasley, Coordinator of Student Disability Services at (210) 829-3997 or beasley@uiwtx.edu.
---
Community News
Cardinals Give Back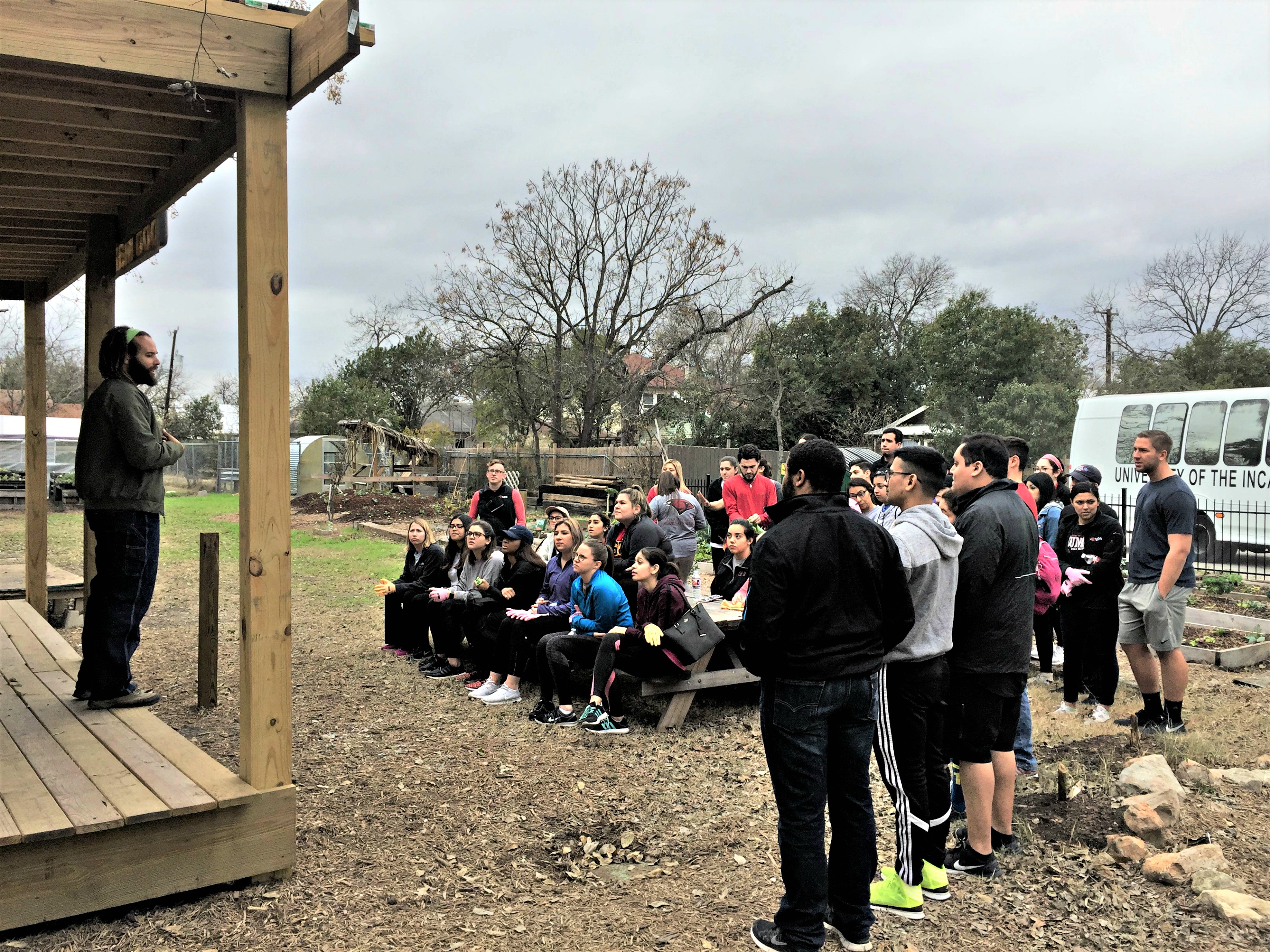 The UIW Residence Life office and the Ettling Center for Civic Leadership & Sustainability held a community service project as part of the Resident Assistant training on Sunday, January 7th. Students and staff volunteered with Gardopia Gardens, an education based non-profit organization, to clean and prepare surrounding community gardens. RA training includes four hours of community service each semester, totaling 424 community service hours each academic year.


Celebrating the Big 300th Birthday!
Incarnate Word ministries have been part of almost half of San Antonio's history. For education and enjoyment during this Tricentennial year, please consider the resources and service opportunities available for you at our website's UIW Tricentennial Invitation page and Sustainability Service 300 page. For more on how to integrate service learning opportunities in your classes this year, please visit the website's Service and Service Learning Guidelines page. For more information, please contact Sister Martha Ann Kirk at kirk@uiwtx.edu.
Watch KSAT 12's recent SA 300 feature on UIW founder, Mother Madeleine here: http://bit.ly/2mdri7c

The Ettling Center for Civic Leadership & Sustainability Winter Coat Drive
The ECCL needs your assistance in donating new clothing and items to help the children at the Jose Cardenas Early Childhood Head Start Center. We are asking for the following items Children's coats/sweaters size 5, blankets, kids socks, khaki/navy blue pants (child sizes 4, 5, and 6). Please drop off your donations through Feb. 1, 2018 in AD 158 or call our office to arrange a pick-up. For questions, please contact Yesenia Caloca at 210-805-2547 or caloca@uiwtx.edu.
UIW Official 2018 Fiesta Medal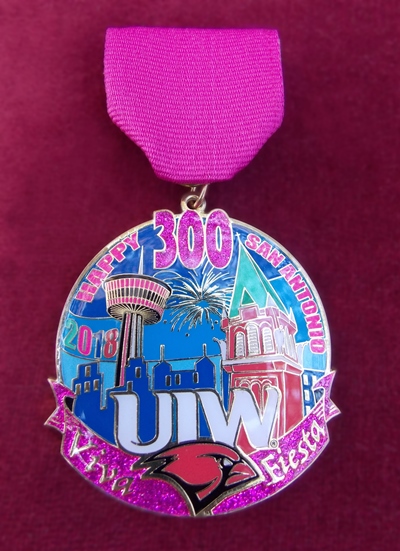 The 2018 UIW Fiesta Medal is now available! Get yours today in the Cardinal Shoppe or in the Campus Engagement Office. Both are located in the Student Engagement Center. Medals are only $10. Supplies are limited.
San Antonio Museum Exhibitions
University employees receive free admission to the McNay Art Museum and the San Antonio Museum of Art with their valid UIW ID. Additional fees may apply to exhibitions. For info, contact (210) 829-6019.
---
Faculty Focus


Welcome Back, Employees!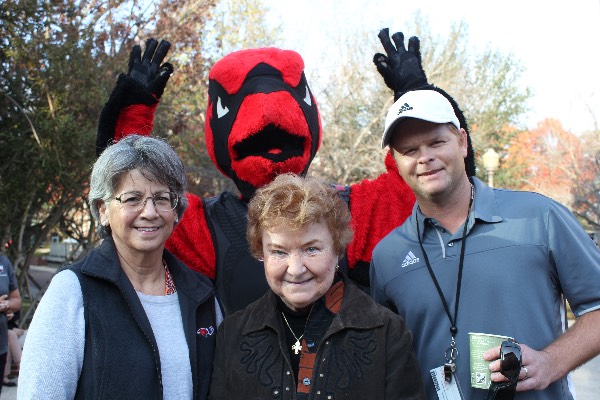 All UIW employees were invited to a Welcome Back event on Thursday, Jan. 11 in front of the UIW clock tower. Faculty, staff, and administrators enjoyed coffee, donuts and fellowship as they geared up for the spring semester.

Recording Service Learning in the Faculty Self Inventory & for Carnegie Classification
Faculty, when writing your Faculty Self Inventory, please remember that service learning is valued and can be documented in Sedona in a number of areas. One way to do that is posted on Blackboard in the Faculty Repository site with the title "Intro Service Learning Code in Sedona." Each time you do a service learning project in your class be sure and record it by clicking the Recording Service Learning Form https://orgsync.com/49690/forms/199176 For Service Learning information, see the ECCL Faculty Resources http://www.uiw.edu/eccl/Faculty-Resources/ or contact kirk@uiwtx.edu
---
For Your Students
Official UIW Class Ring Order Dates
UIW now has an official class ring designed by Herff Jones! The new class ring was carefully designed to encompass prominent landmarks on campus that not only tell the story of our university, but also reflect on the student's college journey. To view the official class ring, visit https://goo.gl/64UZ7X
Herff Jones will be on main campus outside the Cardinal Shoppe in the Student Engagement Center to take orders on:
Tuesday, Jan. 30: 11 a.m. - 5 p.m.
Wednesday, Jan 31: 10 a.m. - 5 p.m.
Thursday, Feb. 1: 10 a.m. - 3 p.m.
Prices vary depending upon material and stone selections. A full price breakdown and payment plan options will be available at the ring order site. For inquiries, please contact Herff Jones at 281-353-2774 or at hjcollegetx@sbcglobal.net.
---
Athletics News
January
Jan. 17: Men's Basketball vs. Lamar - 7 p.m. McDermott Center
Jan. 24: Women's Basketball vs. HBU - 6 p.m. McDermott Center
Jan. 27: Women's Basketball vs. New Orleans - 11 a.m. McDermott Center
Jan. 27: Men's Basketball vs. New Orleans - 2 p.m. McDermott Center
---
Brainpower Connection
Visit Incarnate Word High School at www.incarnatewordhs.org.
The IWHS Athletics Department is hosting the Shamrocks first Homecoming event themed "Adventure Awaits," in January. The community is invited to join us for exciting events.

Night Pep Rally - Friday, Jan. 12, 6:30 p.m.,
JV and Varsity Basketball Games vs St. Joseph's - Saturday, Jan. 13, 1 p.m. and 2:30 p.m.

IWHS will offer the High School Placement Test on January 13 and 20 from 9 a.m.-12 p.m. Register online or call 210-829-3123.
Visit St. Anthony Catholic High School at www.sachs.org.

SACHS parent, Julissa Carielo is running for the Archdiocese Hope for the Future Khaki and Plaid Homecoming Court. Her goal is to raise $100,000 for SACHS. When making an auction item donation or sponsoring a table, please consider crediting and voting for Julissa Carilo: https://www.archsa.org/hope/2018-khaki-plaid-a-royal-ball
Visit St. Anthony Catholic School at http://www.stanthonysa.org.

Visit St. Peter Prince of Apostles Catholic School at http://www.stpeterprince.org.
---
Miscellaneous
Headwaters at Incarnate Word
Come take a leisurely walk through the Sanctuary with one of our birding specialists on Friday, Jan. 19 from 8:30 a.m. - 10:30 p.m. Anyone fascinated by the sights and sounds of birds is welcome. This is a great opportunity for beginning or intermediate birders to develop and improve their identification skills. Each walk is limited to 12 people. Reservation required. For more information, call (210) 828-2224 x 280.


On Friday, Jan. 19 from 1 - 4 p.m., Headwaters Sanctuary and Sisters of Charity of the Incarnate Word campus trees will be utilized to train participants in the proper methods of measuring Big Trees, and how to nominate a Big Tree for the Texas Big Tree Registry. To register, visit headwaters-iw.org/calendar. For more information, please call (210) 828-2224 x280. The workshop is limited to 16 people. You must be able to physically move safely around the base of a tree and walk on inclines. All tools will be provided.


Invasive Plants Identification, Management, and GPS Reporting Workshop set for Saturday, Jan. 20 from 10 a.m. to 5 p.m. (4503 Broadway). This workshop will cover the Invaders of Texas Citizen Science Program and focus on training citizen scientists to identify and report invasive plants. It will include data entry using the TX Invaders mobile application. The workshop will also present general information on invasive species, managing the spread of invasive species, invasive pests of regulatory concern, the Sentinel Pest Network, and best management practices for control and eradication of selected species. Our instructors will demonstrate the "Eradicator Calculator", which is designed to help organize and record volunteer-based eradication efforts. To register, click here.

 

 
Bereavement
Our thoughts and prayers go to:
Robert Jennings Jr. and family on the recent loss of his wife,

Charlotte Walker Jennings

(BA '56).
---
The University of the Incarnate Word provides reasonable accommodation with adequate notice. To request disability accommodation for events listed in this newsletter, visit www.uiw.edu/ada.