The Word E-News Archive
Photo of the Week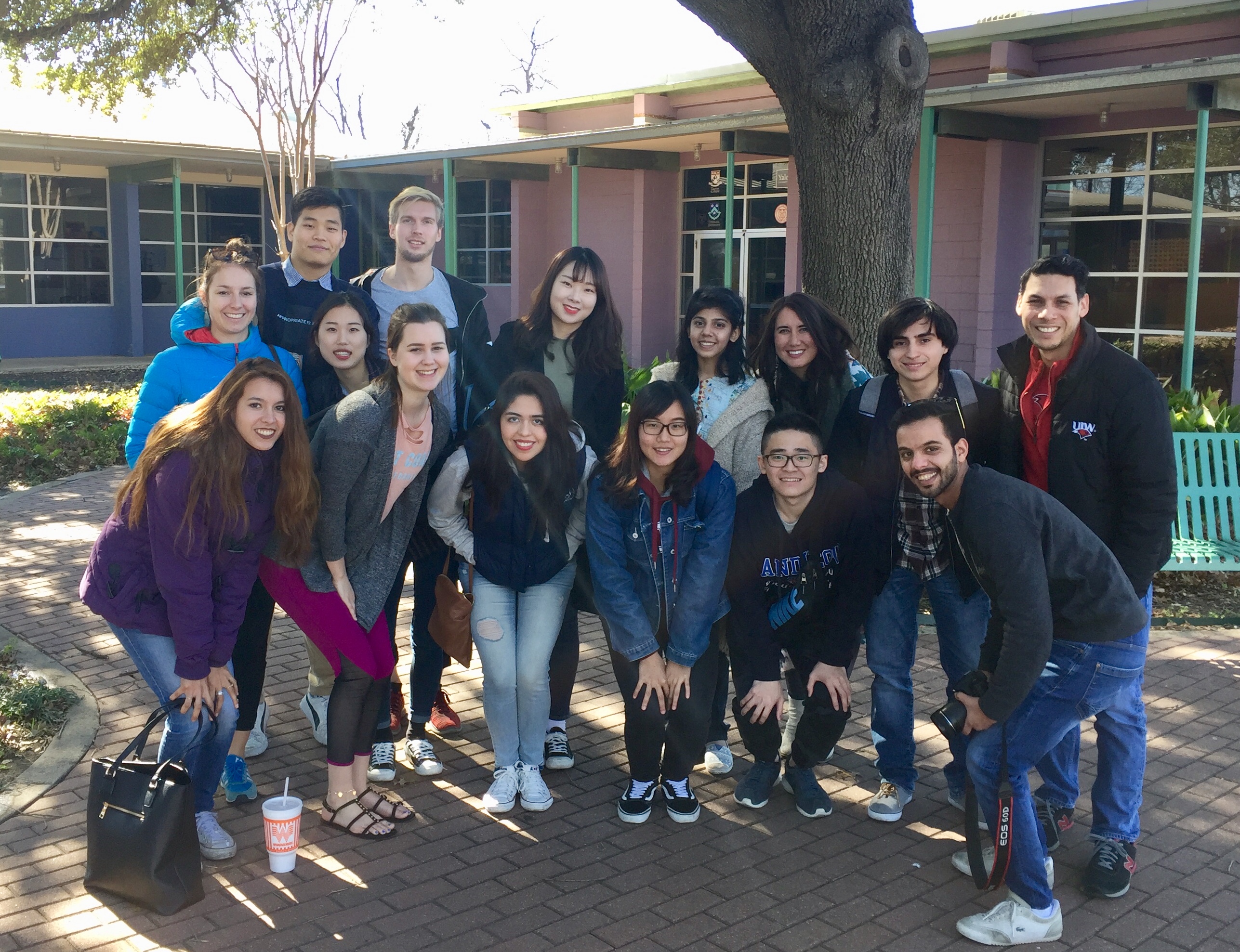 Staff members of the International Student & Scholar Services wrapped up orientation week with a day of community service at the Good Samaritan Community Services - West Side Campus.
Mission
Our Lady's Chapel Services
All are welcome.
Noon Mass, Monday - Friday
Sunday Mass at 10:30 a.m. and 8 p.m.will resume on Sunday, Jan. 21, 2018.
Sacrament of Reconciliation - 11:30 a.m. Fridays or by appointment with Fr. Tom Dymowski, O.SS.T. at (210) 829-3131 or dymowski@uiwtx.edu.
---
Events


UIW Department of Art presents San Antonio Modernism: The Art of Bill Reily
Born in San Antonio, Bill Reily was interested in art from an early age. With encouragement from his godmother, Marion Koogler McNay, he received his first formal instruction from Mrs. Mamie Price, an accomplished art teacher trained at the Art Institute of Chicago. He continued his studies at the San Antonio Art Institute. After earning his undergraduate degree at the University of Texas at Austin, Reily began a career as a full-time artist. With his friend and UT colleague, Cecil Casebier, Reily founded the San Antonio Men of Art Guild, a loose-knit group of contemporary painters within the city. Working and exhibiting together, these men shared an aesthetic synergy in advancing a style of abstract painting in a city famous for its impressionism. Reily joined the faculty at the University of the Incarnate Word, remaining as professor, advisor, and chairman of the fine arts department until his retirement.
The exhibit will be on display in the Kelso Art Center/Semmes Gallery from Jan. 19 - Feb. 28. An opening reception will take place from 6 - 8 p.m., Friday, Jan. 19. The exhibit is free and open to the public. For more information, contact Roland Sul at (210) 829-3852 or sul@uiwtx.edu.
Headwaters at Incarnate Word
On Friday, Jan. 19 from 1 - 4 p.m., Headwaters Sanctuary and Sisters of Charity of the Incarnate Word campus trees will be utilized to train participants in the proper methods of measuring Big Trees, and how to nominate a Big Tree for the Texas Big Tree Registry. To register, visit headwaters-iw.org/calendar. For more information, please call (210) 828-2224 x280. The workshop is limited to 16 people. You must be able to physically move safely around the base of a tree and walk on inclines. All tools will be provided.
Invasive Plants Identification, Management, and GPS Reporting Workshop set for Saturday, Jan. 20 from 10 a.m. to 5 p.m. (4503 Broadway). This workshop will cover the Invaders of Texas Citizen Science Program and focus on training citizen scientists to identify and report invasive plants. It will include data entry using the TX Invaders mobile application. The workshop will also present general information on invasive species, managing the spread of invasive species, invasive pests of regulatory concern, the Sentinel Pest Network, and best management practices for control and eradication of selected species. Our instructors will demonstrate the "Eradicator Calculator", which is designed to help organize and record volunteer-based eradication efforts. To register, click here.
The Village at Incarnate Word - Health is Wealth Health Fair
Join us for the free, annual Health is Wealth Health Fair. We will have community resource representatives to visit with, flu vaccines, financial security assistance, blood pressure checks, hearing aid checks, and so much more! Don't miss Dr. Darpan Patel's presentation on the Science of Power and Movement while you're there. The Health is Wealth Health Fair is taking place Thursday, Jan. 25 from 9 a.m. - noon at the CHRISTUS Heritage Hall at The Village. For more information, contact Maria Reyna at (210) 829-7561 or maria.reyna@iwretire.org.
Campus Engagement, ECCLS, and International Affairs: Diversi-Tea/Collation
The Campus Engagement office, in collaboration with the Ettling Center for Civic Leadership and Sustainability, and International Affairs invites the community to join "Diversi-Tea/Collation" in the SEC Patio at 1 p.m. on select dates. The daily tradition of "Collation" of the Sisters of Charity of the Incarnate Word dates as far back as 1876. The Sisters would gather for a break each afternoon when they returned to the convent from teaching in the local schools and helping in the hospitals. The Sisters would reflect and spend time with each other over tea and bread or cookies. The featured countries for this semester are:

January 24- Tibet
February 7- Pakistan
February 21- Finland
March 7- Uganda
March 21- Bahrain
April 4- Taiwan
April 18- Peru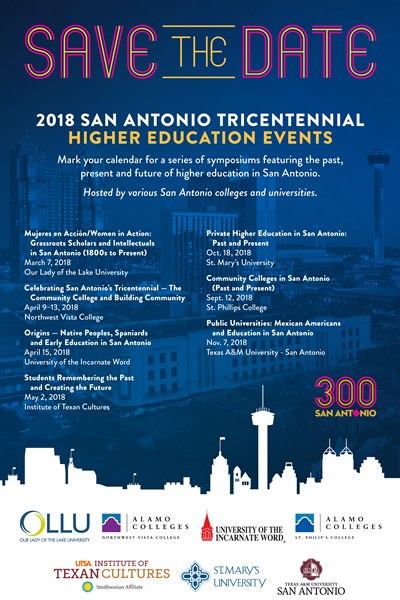 ---
Community News
Cardinals Honor Martin Luther King Jr.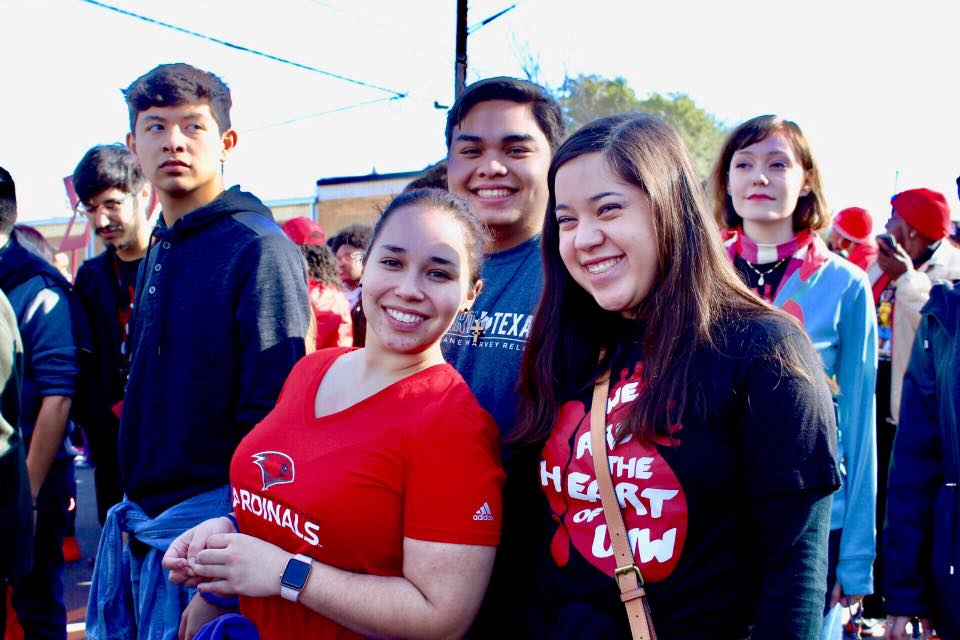 University Mission & Ministry representatives participated in San Antonio's 50th annual Martin Luther King Jr. Day march on Monday, January 15, 2018.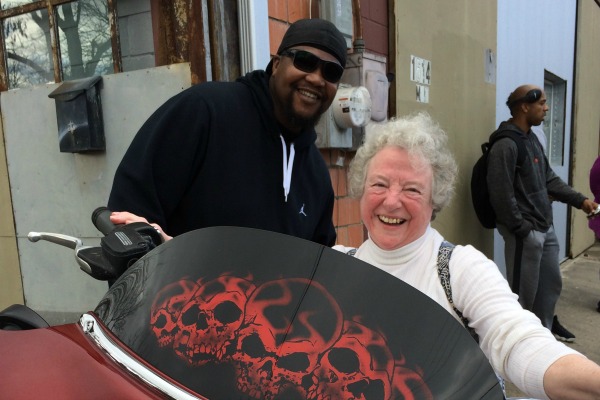 UIW students, faculty, and staff took part in the 50th annual Martin Luther King Jr. Day march in San Antonio on Monday, Jan. 15, 2018. UIW Professor Emerita of Religious Studies, Sr. Eilish Ryan took the opportunity to express solidarity, make a few new friends, and embrace her adventurous side.
Celebrating the Big 300th Birthday!
Incarnate Word ministries have been part of almost half of San Antonio's history. For education and enjoyment during this Tricentennial year, please consider the resources and service opportunities available for you at our website's UIW Tricentennial Invitation page and Sustainability Service 300 page. For more on how to integrate service learning opportunities in your classes this year, please visit the website's Service and Service Learning Guidelines page. For more information, please contact Sister Martha Ann Kirk at kirk@uiwtx.edu.
Watch KSAT 12's recent SA 300 feature on UIW founder, Mother Madeleine here: http://bit.ly/2mdri7c

The Ettling Center for Civic Leadership & Sustainability Winter Coat Drive
The ECCL needs your assistance in donating new clothing and items to help the children at the Jose Cardenas Early Childhood Head Start Center. We are asking for the following items Children's coats/sweaters size 5, blankets, kids socks, khaki/navy blue pants (child sizes 4, 5, and 6). Please drop off your donations through Feb. 1, 2018 in AD 158 or call our office to arrange a pick-up. For questions, please contact Yesenia Caloca at 210-805-2547 or caloca@uiwtx.edu.
San Antonio Museum Exhibitions
University employees receive free admission to the McNay Art Museum and the San Antonio Museum of Art with their valid UIW ID. Additional fees may apply to exhibitions. For info, contact (210) 829-6019.
San Antonio Museum of Art Current Exhibitions:
The Magic of Clay and Fire: Japanese Contemporary Ceramics Through Spring 2018
McNay Art Museum Current Exhibitions:
Chuck Ramirez: All This and Heaven Too - Through January 14, 2018
Art & Activism: Political Prints by Goya, Orozco, and Shahn - Through January 14, 2018
Rashaad Newsome: KNOT - Through January 21, 2018
Behind the Screen: Tim Burton's The Nightmare Before Christmas - Through February 4, 2018
Stage Frights: Madness, Monsters, Mayhem - Through February 4, 2018
---
Faculty Focus


Office 365 Training: Groups and Forms
This session will be held Friday, Jan. 19, 2018, noon - 1 p.m., in the Mabee Library room 230 and will focus on two of Microsoft's newest collaborative applications: Groups and Forms. Sign up here.
At the conclusion of this workshop, users will be able to:
Build a workgroup and share documents and folders
Create a shared inbox and calendar
Use Forms to create a survey, collaborative activity and an engaging student poll
For more information, contact Terry Peak at (210) 218-8795 or tpeak@uiwtx.edu

Instructional Technology - Canva Workshops
Canva makes design simple for everyone. Learn more about Canva on Tuesday, Jan. 23 from noon - 1 p.m. Learn to create designs for Web or print and graphic presentations, flyers, posters and invitations. Sign up for this online training here. For more information, contact Terry Peak at (210) 218-8795 or tpeak@uiwtx.edu


Instructional Technology - Blackboard User's Group
Since UIW's last update, Blackboard has made significant updates to the LMS. These new features include:
Bulk Delete - This is a time-saving feature that allows faculty to delete multiple unused Grade Center columns at one time.
Drag and Drop - This option allows faculty to drag and drop links and documents into content areas, assignments, journals and blogs.
Submission Receipts - When a student submits their assignment, they receive a receipt with a date and time stamp, noting that the assignment was completed and turned in.
Cloud storage integration allows students and faculty to upload course documents from their OneDrive.
This training session will be held on Friday, Jan. 26 from noon - 1 p.m., in the Mabee Library room 230. For more information, contact Terry Peak at (210) 218-8795 or tpeak@uiwtx.edu


Cooperative Learning - Three Strategies to Use Right Now
The research is clear. Well-designed cooperative learning activities increase student engagement and achievement. Participants in this session will learn three simple but effective cooperative learning strategies that work in many disciplines, yet don't require instructors to re-organize an entire course. This workshop will be held once on Tuesday, Jan. 23 from noon - 1 p.m., and once on Friday, Jan. 26 from 9 - 10 a.m. in AD 212. For more information, contact Kathy Allwein at (210) 283-6359 or kallwein@uiwtx.edu. Register here.
---
For Your Students
Residence Life Staff Recruitment
Residence Life has opened its "Call for Nominations" for the 2018-2019 Residence Life staff. Nominations will be accepted from Jan 16 through 5 p.m., Saturday, Feb. 10. Please take this opportunity to nominate a UIW student who you feel is ready to take on the challenge of being a residential leader. The department has six unique opportunities for students who wish to develop their skill set and be challenged to make a difference at UIW: Resident Assistant (UIW), Resident Assistant (Madeleine Hall), Office Assistant, Tutor, and Driver. Nominees will receive a personal invitation to one of several information sessions hosted January 22-25. Please visit http://www.uiw.edu/housing for more information. If you would like to nominate a student, fill out our nomination form at here. For more information, contact J.R. Chiodo-Benmuvhar at (210) 883-1996 or chiodobe@uiwtx.edu.


Official UIW Class Ring Order Dates
UIW now has an official class ring designed by Herff Jones! The new class ring was carefully designed to encompass prominent landmarks on campus that not only tell the story of our university, but also reflect on the student's college journey. To view the official class ring, visit https://goo.gl/64UZ7X
Herff Jones will be on main campus outside the Cardinal Shoppe in the Student Engagement Center to take orders on:
Tuesday, Jan. 30: 11 a.m. - 5 p.m.
Wednesday, Jan 31: 10 a.m. - 5 p.m.
Thursday, Feb. 1: 10 a.m. - 3 p.m.
Prices vary depending upon material and stone selections. A full price breakdown and payment plan options will be available at the ring order site. For inquiries, please contact Herff Jones at 281-353-2774 or at hjcollegetx@sbcglobal.net.
---
Athletics News
January
Jan. 24: Women's Basketball vs. HBU - 6 p.m. McDermott Center
Jan. 27: Women's Basketball vs. New Orleans - 11 a.m. McDermott Center
Jan. 27: Men's Basketball vs. New Orleans - 2 p.m. McDermott Center
---
Miscellaneous
College of Humanities, Arts and Social Sciences Cuz Corner Book Club
Cuz Corner is a book club that will meet four times on select Mondays at 3 p.m. this semester. The meetings will last about an hour and a half, with the exception of the first meeting, Monday, Feb. 12, when books will be distributed.

UIW's College of Humanities, Arts and Social Sciences (CHASS) Dean is sponsoring Cuz Corner to extend an opportunity to the entire University community and outside the university to engage in courageous conversations about justice, relationships, and responsibility with diverse individuals.

In order for books to be ready for distribution at the first meeting, participants must sign up by Tuesday, Jan. 23. Sign up by this date is required for participation. Click here to register.

Bereavement
Our thoughts and prayers go to:
Adrian Pfeil, Deborah Herber, Bonnie Goodwin and Roger Wells & their families on the recent loss of their mother, Nettie Mae Parker Wells (ALSR '42).
---
The University of the Incarnate Word provides reasonable accommodation with adequate notice. To request disability accommodation for events listed in this newsletter, visit www.uiw.edu/ada.