The Word E-News Archive
Photo of the Week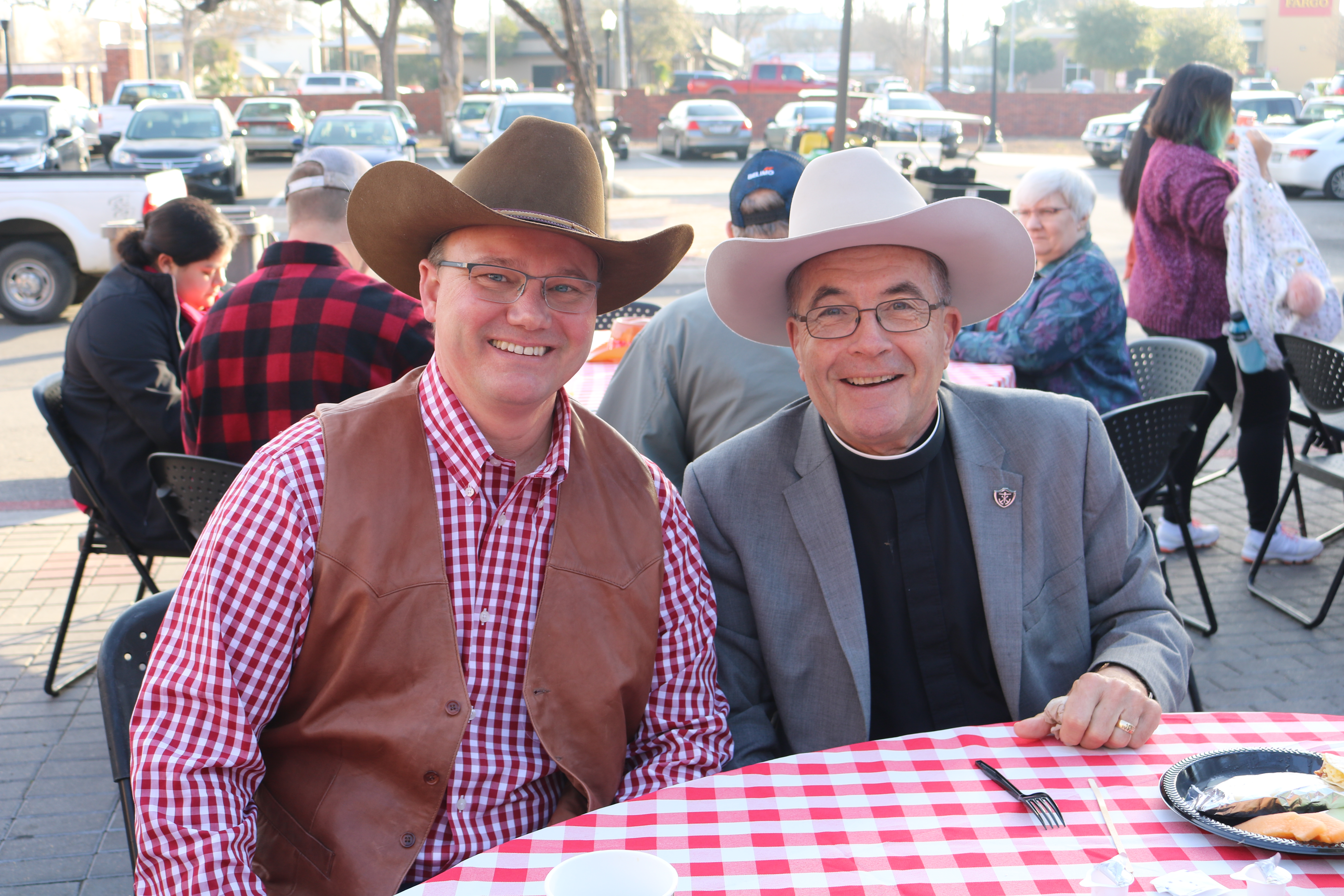 Dr. Thomas Evans and Brother John enjoy their first UIW Cowboy Breakfast. The annual breakfast took place on Thursday, Feb. 1, 2018.
Mission
Our Lady's Chapel Services
All are welcome.
Noon Mass, Monday - Friday
Sunday Mass at 10:30 a.m. and 8 p.m.
Sacrament of Reconciliation - 11:30 a.m. Fridays or by appointment with Fr. Tom Dymowski, O.SS.T. at (210) 829-3131 or dymowski@uiwtx.edu.
BLACK HISTORY MONTH - DID YOU KNOW?
Did You Know? Thurgood Marshall was the first African American ever appointed to the United States Supreme Court. He was appointed by President Lyndon B. Johnson, and served on the Supreme Court from 1967 to 1991.

RED DRESS HEALTH TIP OF THE DAY

In honor of the annual Red Dress Health Fair and Fashion Show coming up on Feb. 13, we're bringing you a daily health tip to help you start feeling your best! Today's tip is brought to you by Jan Tilley, MS, RD, LD, president of Jan Tilley & Associates.
Tip #4: Enjoy a 45-minute workout today doing something you love. It will help you burn off extra weight, and if it is an activity you enjoy, you'll stick with it!
---
Events
BSA Poetry Slam
Join us for a night of deep thoughts, raw rhymes, funny lines, and electrifying performances on Monday, Feb. 5 at 6 p.m. at the SEC Mezzanine! Share your talent and poetry to a welcoming and receptive crowd! To sign up to perform, please e-mail dhogan@student.uiwtx.edu OR drop by the event to get in queue!
Alamo Heights High School Day at UIW
UIW is inviting Alamo Heights High School students for at day at UIW on Wednesday, Feb. 7 from 9:30 a.m. - 12:30 p.m. Students will receive presentations over Admissions, Financial Aid, Study Abroad, and Student Panel. Students will also go on a campus tour and have lunch at Red's. Be sure to say hello!
Honors Program: Human Library
Popular demand has the Honors Program bringing back the Human Library to Mabee Library. "Readers" will check out human "books" for an information exchange on provocative topics to help dispel misconceptions or misinformation. This year's topics include reporter, feminist, addiction recovery, veteran, peace activist, and more. The full catalog can be found online at here. The public is invited to participate in this event, to be held from 4:30 - 7:30 p.m. in the Mabee Library on Wednesday, Feb. 7.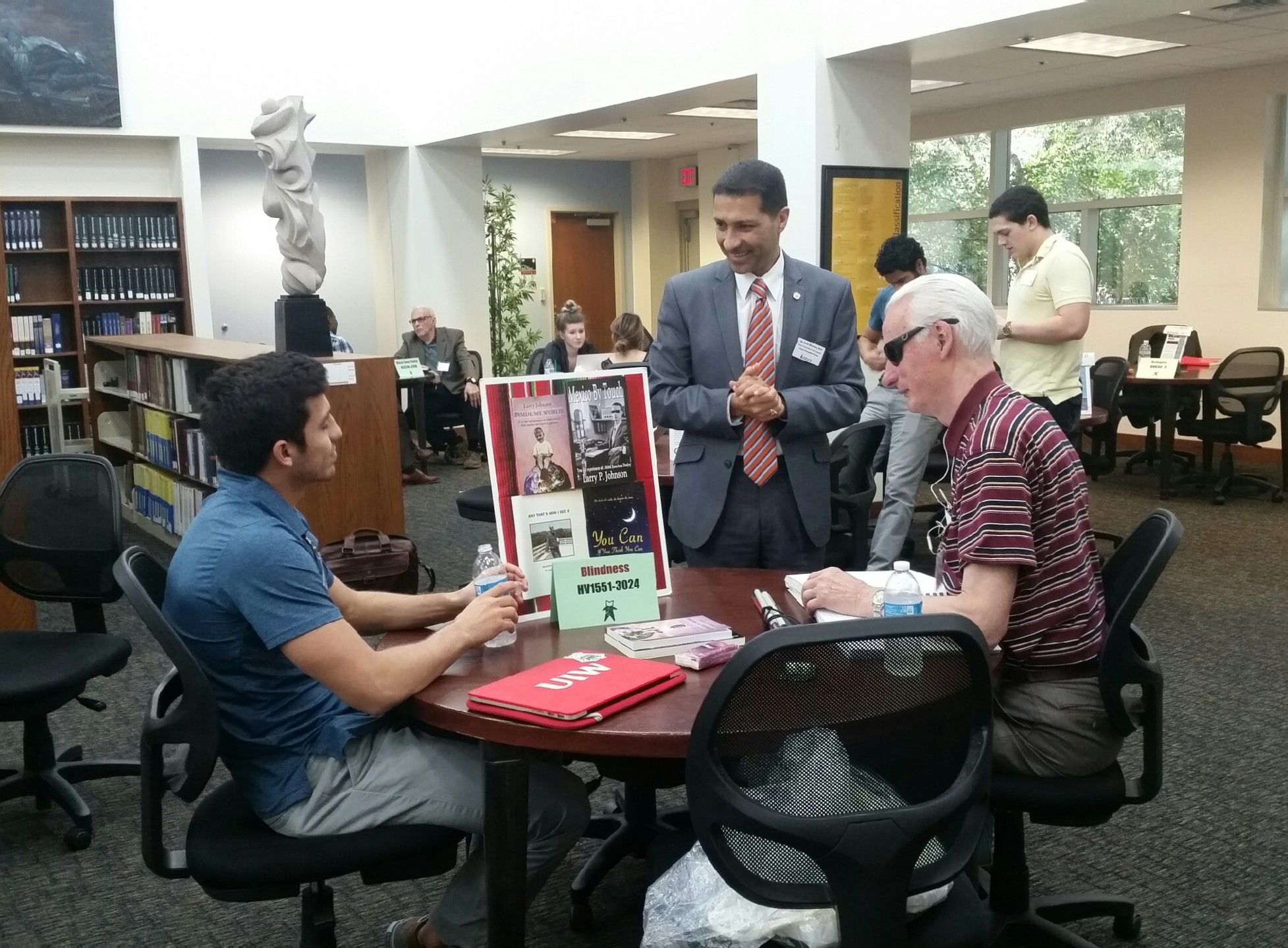 A UIW student participates in the 2017 Human Library. The student checked out the "Muslim" and "Blindness" human books.

International Student & Scholar Services: 2018 Asian New Year Celebration
The International Affairs Division invites you to the annual Asian New Year Celebration from 11:30 a.m. - 1:30 p.m., Monday, Feb. 12, in the Student Engagement Center Ballroom. Enjoy Asian cuisine and live performances. For more information, contact Jose Martinez at (210) 805-5705 or jfmartin@uiwtx.edu.

UIW Presents 15th Annual Red Dress Fashion Show & Health Fair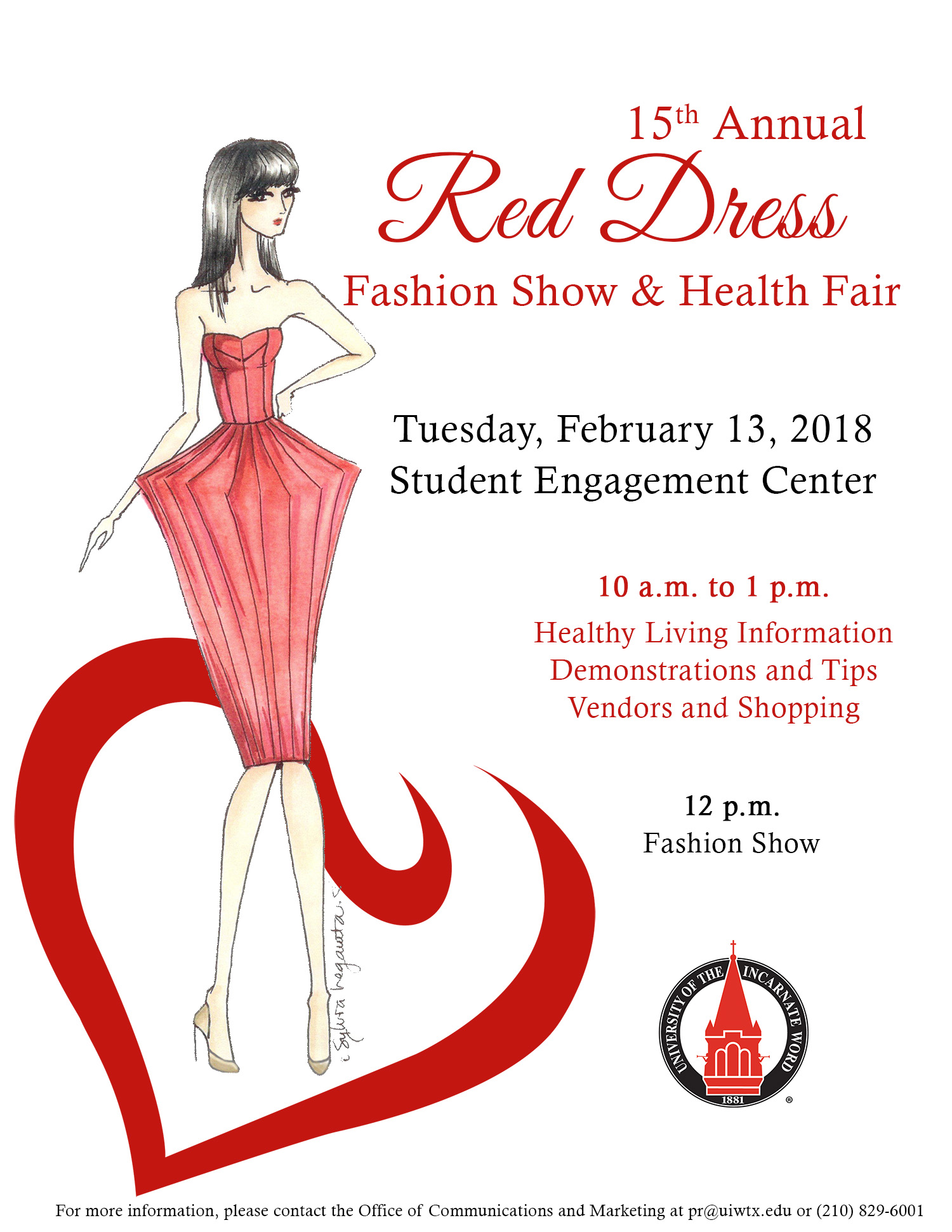 The University of the Incarnate Word (UIW) is proud to present the 15th Annual Red Dress Fashion Show & Health Fair, Tuesday, Feb. 13. Join us from 10 a.m. to 1 p.m. in the UIW Student Engagement Center (SEC) for healthy living information, demonstrations and tips provided by students from UIW's professional programs. Plus, visit local vendors to shop for unique gifts just in time for Valentine's Day. The highlight of the event will take place at 12 p.m. as the Red Dress Fashion Show takes place in the SEC Ballroom. The annual Red Dress Fashion Show & Health Fair supports the American Heart Association and their Go Red campaign during National Heart Month in February. The event is free and open to the public.

2018 San Antonio Tricentennial Higher Education Events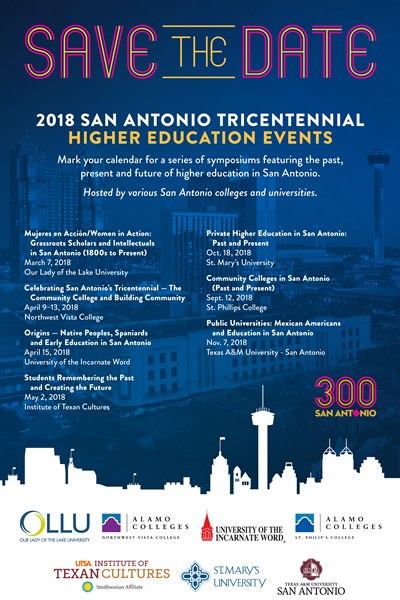 ---
Community News
Human Resources: Cowboy Breakfast
On Thursday, Feb. 1, Human Resources hosted the annual Cowboy Breakfast for all UIW employees. Faculty and staff enjoyed breakfast tacos, games, prizes, and community! Thank you for all that you do, Human Resources team!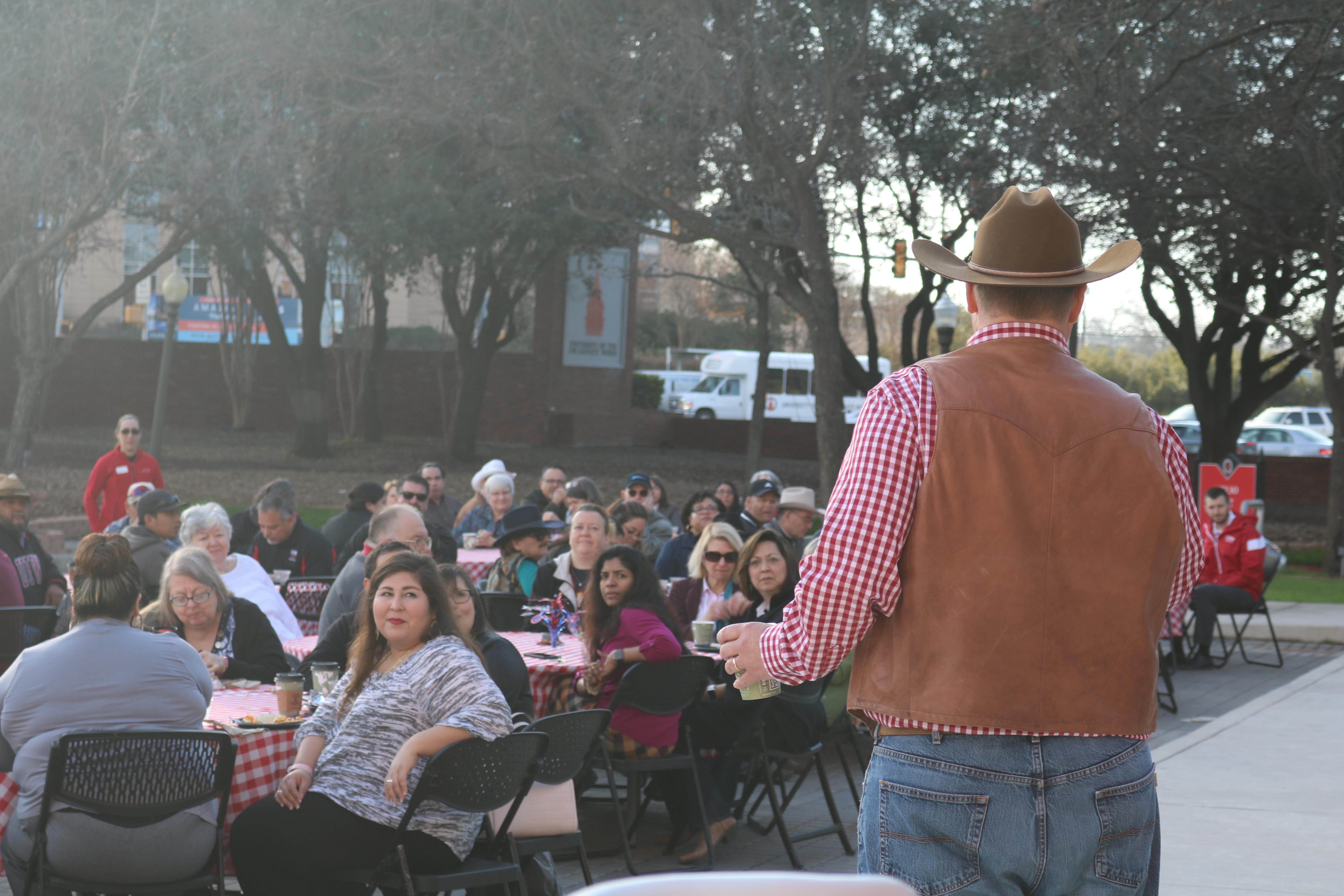 Dr. Thomas Evans addresses employees at the annual Cowboy Breakfast.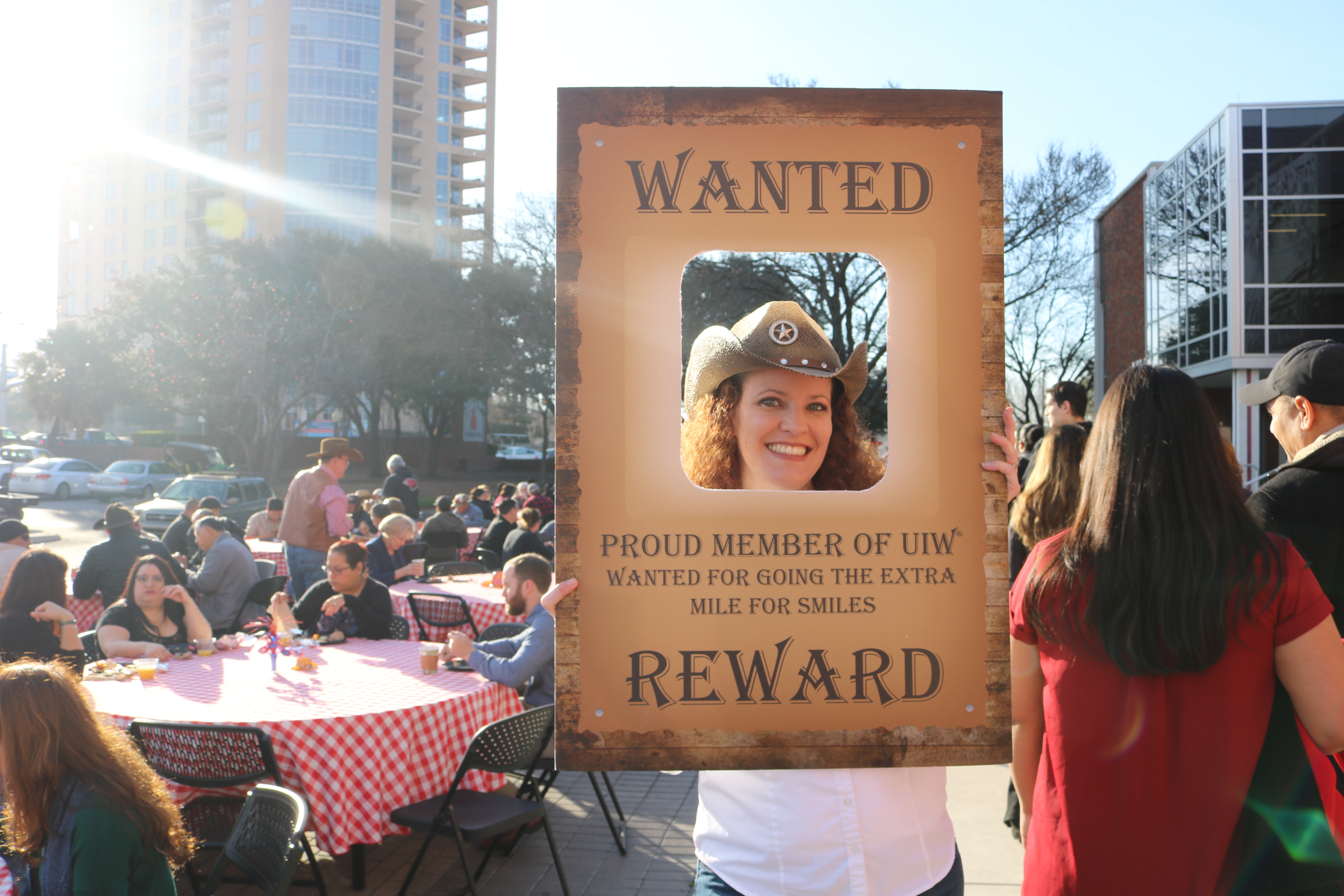 Wanted! UIW faculty and staff enjoyed games, prizes, and fun at the 2018 Cowboy Breakfast.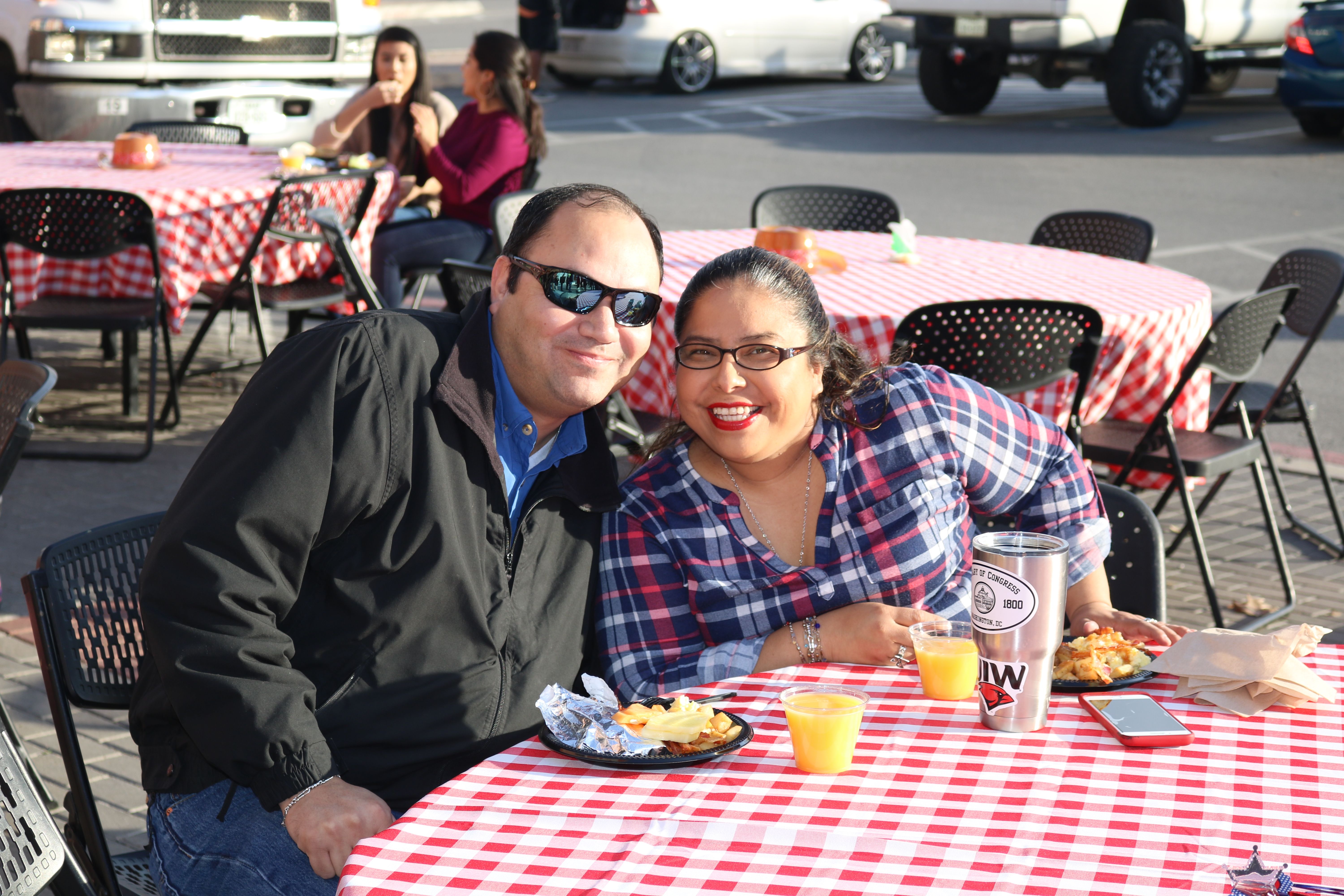 Dig in! UIW employees enjoyed a delicious breakfast of breakfast tacos, fresh fruit, coffee, and orange juice.
FSOP Dedication Ceremony for University Tenets
Dean David Maize with the Feik School of Pharmacy had custom panels made featuring the Tenets of the UIW Mission. The tenets were prominently installed in the building lobby in early January before the start of spring classes. Returning pharmacy students were greeted with striking reminders of the UIW values to govern not only their academic endeavors, but their careers and their lives going forward. Incoming first-year students were taught about the tenets during orientation week, and everyone in the school was given laminated pocket cards from the Dean listing the tenets with descriptions.
A dedication ceremony and reception for the tenets was held on Monday, January 29th. FSOP administrators, faculty and many students were in attendance at the ceremony. Sr. Walter Maher, UIW Vice President of Mission and Ministry, spoke about the meaning and origin of the tenets, and their application to students and employees' lives. Dr. Denise Doyle, Senior Advisor to the President for Special Projects, spoke as well. She referenced the school's history and recognized the successful trajectory of the FSOP.
Celebrating the Big 300th Birthday!
Incarnate Word ministries have been part of almost half of San Antonio's history. For education and enjoyment during this Tricentennial year, please consider the resources and service opportunities available for you at our website's UIW Tricentennial Invitation page and Sustainability Service 300 page. For more on how to integrate service learning opportunities in your classes this year, please visit the website's Service and Service Learning Guidelines page. For more information, please contact Sister Martha Ann Kirk at kirk@uiwtx.edu.
Watch KSAT 12's recent SA 300 feature on UIW founder, Mother Madeleine here: http://bit.ly/2mdri7c
San Antonio Museum Exhibitions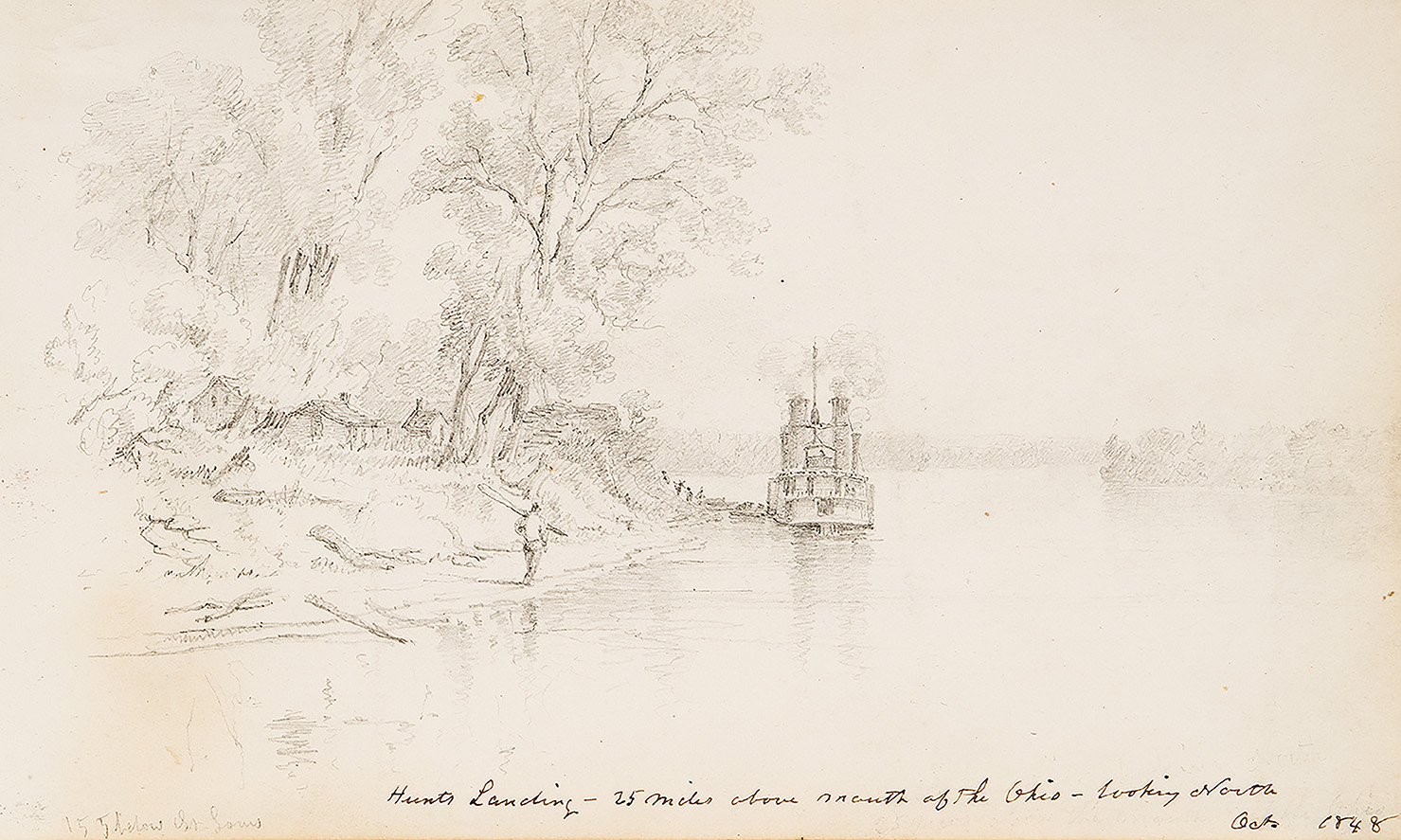 ---
Faculty Focus
Center for Teaching and Learning Sessions:

"You Made that Video?"
Despite the videos available in every corner of the internet, sometimes the best videos are the ones we make ourselves, perhaps discussing a textbook passage or reviewing a tricky procedure.Kalturaallows us to create videos from anything on our computer screen. Participants in this BLENDED session will complete a little online preparation, and then do the hands-on work of creating a video during the session. Each session is limited to 5 participants. Door prize: a microphone headset.
Presenters: Adela Gott and Terry Peak, Instructional Technology
Mon 2-5 (noon, lunch) and Wed 2-7 (4:15, drinks and snacks)in Admin 212
Writing with (Almost!) No Grading
Informal writing, sometimes called writing to learn, consists of short, in-class writing activities focused on class content. Cognitive scientists, such as the authors of Make It Stick, note its effectiveness in helping students retain key ideas. Participants will learn several informal writing prompts as well as simple but effective ways to assess this work. The first ten faculty members to register and attend each session will receive $100 stipends.
Presenter: Amanda Johnston, Writing and Learning Center
Tues 2-6 (8:00, breakfast) and Fri 2-9 (noon, lunch) in Admin 212
Register for these two sessions here.


Instructional Technology Sessions:
Canva Workshops
Canva makes design simple for everyone. Learn more about Canva on Tuesday, Feb. 13 from noon - 1 p.m. Learn to create designs for Web or print and graphic presentations, flyers, posters and invitations. At the end of this seminar, participants will be able to:

Create a presentation
Create a poster
Sign up for this online training here. For more information, contact Terry Peak at (210) 218-8795 or tpeak@uiwtx.edu
Instructional Technology: Office 365 OneDrive
With OneDrive, your documents are available anywhere, anytime, and with any mobile device.A seminar will be held on Wednesday, Feb. 14 from 6 - 7 p.m. in Mabee Library Rm. 230. At the conclusion of this workshop, users will be able to:

Review the Interface and settings
Demonstrate file uploading, copying and downloading
Use Office 365's file-sharing and search functions
Sign up here. For more information, contact Terry Peak at (210) 218-8795 or tpeak@uiwtx.edu
Soft Chalk
Are you delivering engaging, interactive learning content to your students? Or are your online courses just a place for students to download a syllabus and check their grades? SoftChalk Cloud is the fast and easy way for you to create high quality online lessons and eBooks that are interactive and engage students. This course is taught in two consecutive sessions, one week apart.

At the conclusion of session one, you will be able to:

Access your License Key
Convert a Word document into an interactive Web page
Save a lesson



At the conclusion of session two, you will be able to:

Create an interactive Web page
Add an interactive quiz
Upload your SoftChalk lesson to Blackboard



Click here to register for both February face-to-face sessions.

Please sign up for both sessions

StudyMate
StudyMate will help students "master the basics" of course material through learning activities, self-assessments, and games.
At the conclusion of this seminar, you will be able to:

Create different types of learning activities such as crossword puzzles, flash cards and self-quizzes

Integrate learning activities with Blackboard and the Grade Center
---
For Your Students
Residence Life Staff Recruitment
Residence Life has opened its "Call for Nominations" for the 2018-2019 Residence Life staff. Nominations will be accepted from Jan 16 through 5 p.m., Saturday, Feb. 10. Please take this opportunity to nominate a UIW student who you feel is ready to take on the challenge of being a residential leader. The department has six unique opportunities for students who wish to develop their skill set and be challenged to make a difference at UIW: Resident Assistant (UIW), Resident Assistant (Madeleine Hall), Office Assistant, Tutor, and Driver. Please visit http://www.uiw.edu/housingfor more information. If you would like to nominate a student, fill out our nomination form at here. For more information, contact J.R. Chiodo-Benmuvhar at (210) 883-1996 or chiodobe@uiwtx.edu.
---
Athletics News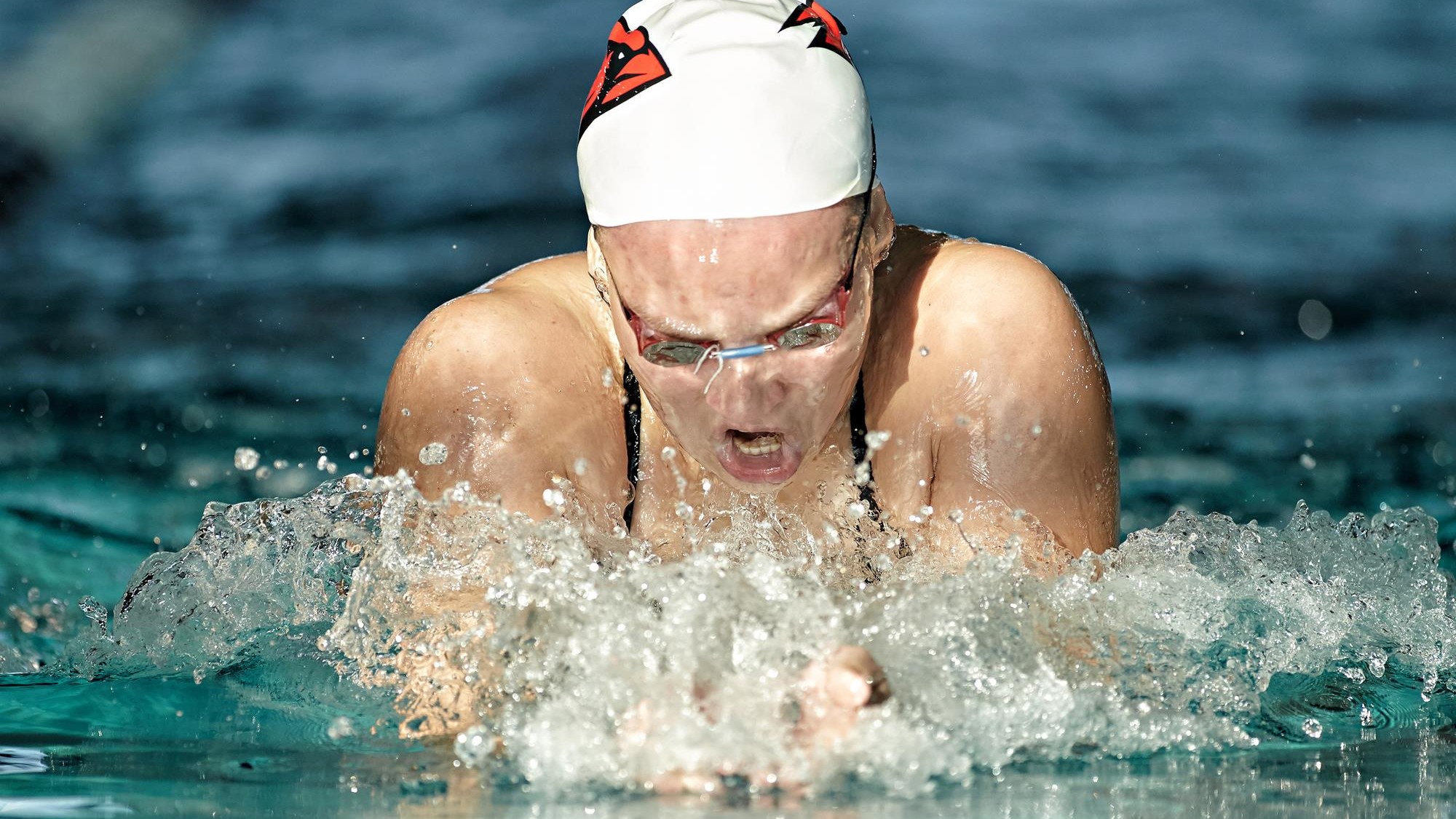 February
Feb. 3: Women's Basketball vs. Texas A&M-Corpus Christi - 1 p.m. (McDermott Center)
Feb. 3: Men's Basketball vs. Texas A&M-Corpus Christi - 3 p.m. (McDermott Center)
Feb. 4: Men's Tennis vs. Louisiana-Lafayette - 10 a.m. (Mabry Tennis Center)
Feb. 4: Women's Tennis vs. UTSA - 1 p.m. (Mabry Tennis Center)
Feb. 7: Men's Basketball vs. Southeastern Louisiana - 7 p.m. (McDermott Center)
Feb. 9: Women's Tennis vs. Louisiana-Lafayette - 11 a.m. (Mabry Tennis Center)
Feb. 9: Synchro Hosts UIW Invitational - 7 p.m. (Natatorium)
Feb. 10: Synchro Hosts UIW Invitational - 11:30 a.m. (Senior Day; Natatorium)
Feb. 14: Women's Basketball vs. Lamar - 6 p.m. (McDermott Center)
---
Miscellaneous

Headwaters at Incarnate Word
Come take a leisurely walk through the Sanctuary with one of our birding specialists.Learn how to start identifying birds by their calls and songs. What do sounds mean? Why is it important to understand bird behaviors to identify sounds? Join Tom and Patsy Inglet for an introduction to this birding skill. The walk is limited to 12. Do make a reservation! Anyone fascinated by the sights and sounds of birds is welcome. This is a great opportunity for beginning or intermediate birders to develop and improve their identification skills. Please wear closed-toe shoes, long pants, and bring water. Binoculars will be available.
For more information, please call (210) 828-2224 x 280.
Register here.
Bereavement
Our thoughts and prayers go to:
Dr. Barbara Aranda-Naranjo (Associate Provost for Civic Engagement & Sustainability, MSN '88) & family on the recent loss of her brother, Albert Aranda.
Joshua Jay Hillyard & family on the recent loss of his mother, Ethel Colene Bishop (BA '87, MBA '88).
Jesse Guzman & family on the recent loss of his wife, Stephanie Marie Garza-Guzman (BA '02).
Ebony Lozano & family on the recent loss of her husband, Jonathon Lozano (Sodexo Retail Supervisor, UIW Campus).
Cornell Mike & family on the recent loss of his wife, Natalie Diane Smith Mike (BSN '00).
James Neumann & family on the recent loss of his wife, Jewel Virginia Mair Neumann (BA '52).
Kathy & Lionel (Hon. Ph.D. '05) Sosa & family on the recent loss of his brother, Robert O. Sosa (former UIW Faculty, former Director of Foundation, Corporate & Government Relations).
Robin Logan, Director of Institutional Research,on the recent loss of her father, David Arthur Logan. Robin's dad (84 years) passed away peacefully at home, surrounded by family on January 31in Minden, LA. Services will be held in Minden on Saturday, February 3. In lieu of flowers the family has requested donations to the St. Jude Children's Research Hospital at www.stjude.org/donate. Robin's dad had a special place in his heart for St. Jude's. He built over 140 pieces of furniture many of which supported fundraising for St. Jude's. In particular, he built the first children's playhouse for the annual auction, a tradition that has now been institutionalized. A playhouse is the keystone of the annual auction event. Please keep Robin and her family in your thoughts and prayers during this difficult time.
---
The University of the Incarnate Word provides reasonable accommodation with adequate notice. To request disability accommodation for events listed in this newsletter, visit www.uiw.edu/ada.