The Word E-News Archive
UIW Unsung Hero

Meet Nancy Mizera, senior accounts payable technician for the University of the Incarnate Word. Nancy was born and raised in San Antonio, TX and has worked at UIW for 15 years. When asked what she is most proud of having accomplished at UIW she said she's truly proud of every single person she has met and helped at UIW.
Melba Huerta, accounts payable manager, said "Nancy always goes above and beyond to help people, both internally and externally."
When asked what she loves most about working at UIW, Nancy said, "I have made so many wonderful friends here over the years and I treasure each and every one of them." 
As for hidden talents? Nancy's family has a secret weapon up their sleeves during tax season as she helps them with their tax returns every year! She also enjoys reading and growing beautiful flowers in her garden with her husband. When you have a chance, be sure to say hello to Nancy and don't be shy about sharing photos of your pets - she has a soft spot for animals. 
Thank you for everything you do, Nancy!
MISSION
Mission and Ministry: Summer Mass Schedule
Our last 8 p.m. Mass for the Spring semester was celebrated on Sunday, May 6.

Masses will continue on Sundays at 10:30 a.m. in Our Lady's Chapel through August 19, 2018. 

We will celebrate our annual Welcome Mass on Sunday, August 26. Due to limited seating in the Chapel of the Incarnate Word, two liturgies will be offered on this day:
- 10:30 AM (Chapel of the Incarnate Word)
- 10:45 AM (Our Lady's Chapel) 

Our 8 p.m. Mass resumes in Our Lady's Chapel on Sunday, September 2, 2018.
Our Lady's Chapel Services
All are welcome.
Noon Mass, Monday – Friday
Sunday Mass at 10:30 a.m. 
Sacrament of Reconciliation - 11:30 a.m. Fridays or by appointment with Fr. Tom Dymowski, O.SS.T. at (210) 829-3131 or dymowski@uiwtx.edu.    
---
Events   
Un Verano Con Arise!
Faculty are invited to all or part of the
immersion
experience in the Rio Grande Valley with student volunteers leading an educational camp for children in one of the poorest counties in the United States. The Ettling Center collaborates with the 
ARISE (A Resource In Serving Equality) organization
 that was founded by the Sisters of Mercy 30 years ago. 
Click here for more information on service opportunities
. This can be an introduction to issues for research and/or service learning. The fee to participate is approximately $55 per day inclusive of room and food. Please call the Ettling Center for more information at (210) 283-6425.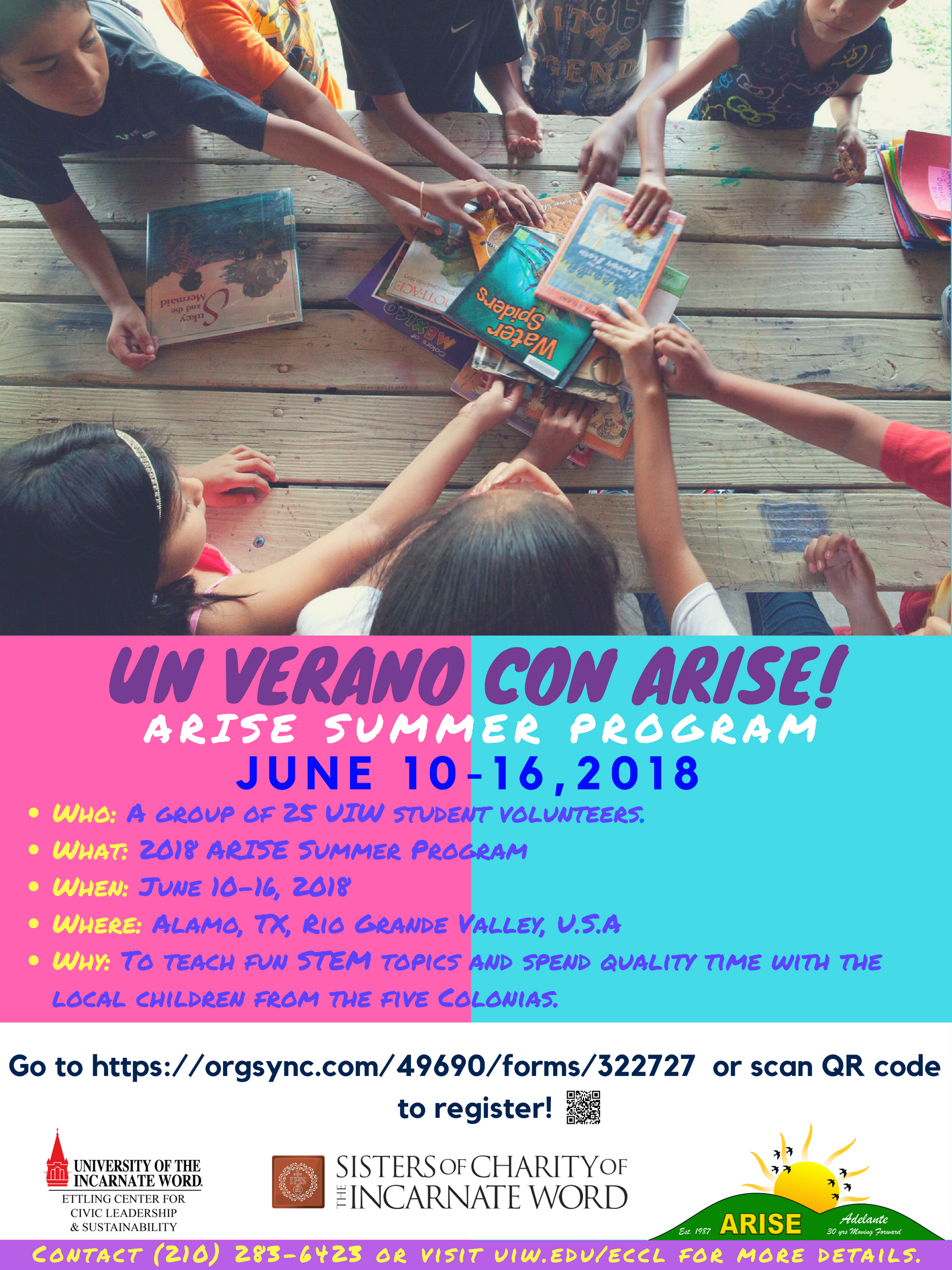 ---
Community News
New Employee Orientation
Human Resources hosted New Employee Orientation on Friday, June 1 and would like to welcome these Cardinals to the nest!
Back row, from left to right: Holly Frost, Secretary for Academic Affairs, Steven Starr, Assistant to Technical Director, Kaylyn Zierke, Assistant Softball Coach, Allison Howarth, Head Women's Golf Coach, David Nelson, Athletics Media Relations Assistant, Remy Huston, Head Men's Golf Coach, Kevin Greene, Clinical Research Coordinator, Andrew Plentl, Assistant Men's and Women's Cross Country/Track and Field Coach.
Front row, from left to right: Jaydee Foster, Clinical Research Coordinator, Danielle Vogel, Immigration Advisor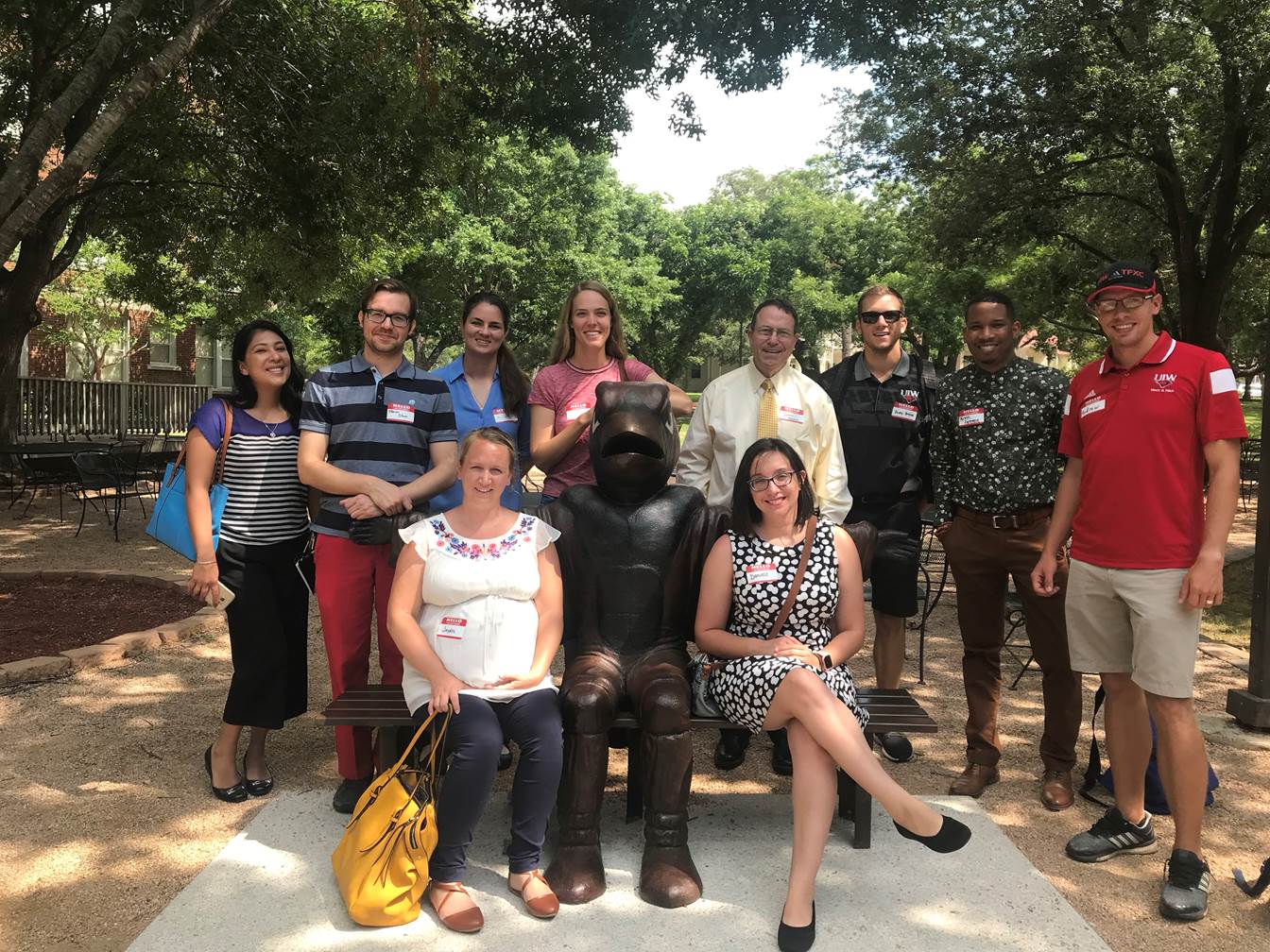 Corporate Cup 2018
UIW employees volunteered and competed at the 7th annual San Antonio Sports Corporate Cup on Saturday, June 2. Approximately 100 UIW employees were present at the event representing the University of the Incarnate Word. Pictured below is the Team UIW Tug-O-War team after their hard-fought battle. Thank you to all who participated and volunteered. We'll see you again next year, Team UIW!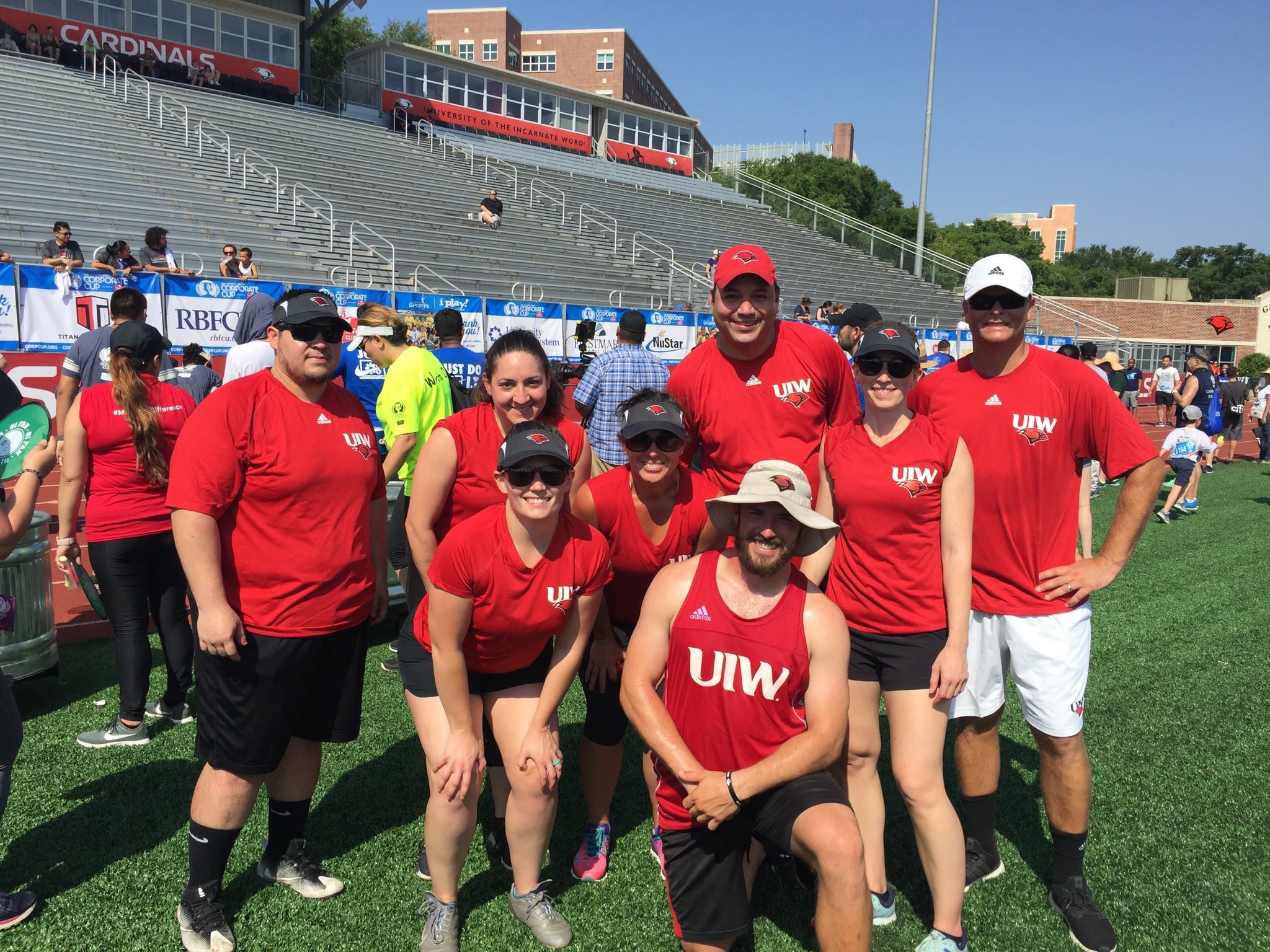 San Antonio Museum Exhibitions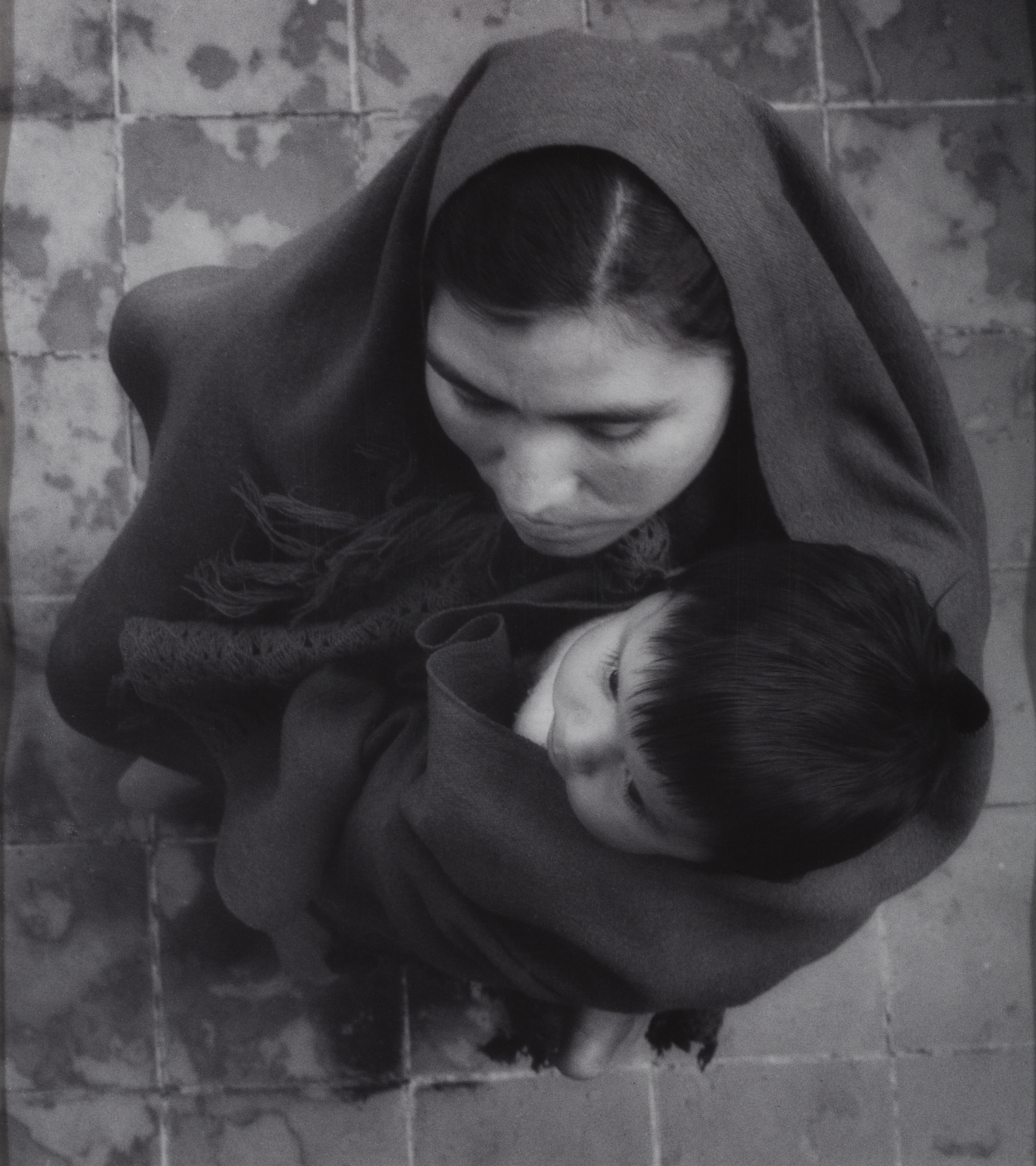 University employees receive free admission to the McNay Art Museum and the San Antonio Museum of Art with their valid UIW ID. Additional fees may apply to exhibitions. For info, contact (210) 829-6019.
San Antonio Museum of Art Current Exhibitions:
The Magic of Clay and Fire: Japanese Contemporary Ceramics - Through Spring 2018 
Egyptian Animal Mummies: Science Explores an Ancient Religion - Through July 1, 2018
McNay Art Museum Current Exhibitions:
Manuel Carrillo: Mi Querido Mexico - Through September 2, 2018
Cities on Parade: 300 Years of European Festival Books – Through June 10, 2018
Spain to San Antonio: Hispanic Culture on Stage – Through June 10, 2018
Fragments of a Dream - Through September 9, 2018

HemisFair '68: San Antonio's World's Fair - Through July 29, 2018

100 Years of Printmaking in San Antonio: Bill Reily - Through July 1, 2018

Captain Seth Eastman's Journey with a Sketchbook: New Orleans and the Gulf - Through July 1, 2018

ARTMATTERS: Mi McNay es Su McNay - Through July 1, 2018
---
Faculty Focus
Blackboard Master Workshop
Over the last several years, the Instructional Technology Team has trained over 40 Blackboard Gurus. They have been a great asset to the IT team and their UIW colleagues. To provide additional Blackboard training, we have developed the Blackboard Master course taking place from Tuesday, June 19 – Thursday, June 21 from 8:30 a.m. – 12:30 p.m. in Mabee Library Rm. 230. This course is open to faculty who have completed the Blackboard Guru program. Masters will learn about additional Blackboard features including:

• Zoom video conferencing
• Rubrics
• Groups
• Glossary tools
• Achievements and badges

Seating is limited. Make your reservation here.
Department News
A Parking Notice from the Vice President for Business & Finance, Mr. Douglas Endsley
The two parking lots in front of the Administration Building will be reserved for new students and parents attending orientation. Employees are asked to park in the Agnese-Sosa garage or behind the Barshop Natatorium on the following dates:
Orientation #1 - Thursday, June 14, 2018
Orientation #2 - Thursday, June 28, 2018
Orientation #3 - Thursday, July 12, 2018
Orientation #4 - Wednesday July 18, 2018
Orientation #5 - Tuesday, July 24, 2018
Orientation #6 - Tuesday, August 7, 2018
Orientation #7 - Thursday, August 16, 2018
Employees with a handicap or H parking decal can continue to park in the two parking lots in front of the Administration Building. Thank for your understanding and cooperation as we welcome new students and their families to the UIW community. If you have any questions, please call (210) 805-3552.
---
Athletics News

---
Bereavement
Our thoughts and prayers go to:
Her family, the Sisters of Charity of the Incarnate Word, and the entire UIW community on the recent loss of Sr. Rosemary Burke, CCVI (BSN '63).
Sr. Christine Stavinoha, CCVI (BA '79, MA '95) on the recent loss of her brother, Wilbert James Stavinoha.
The University of the Incarnate Word provides reasonable accommodation with adequate notice. To request disability accommodation for events listed in this newsletter, visit www.uiw.edu/ada.