The Word E-News Archive
UIW Unsung Hero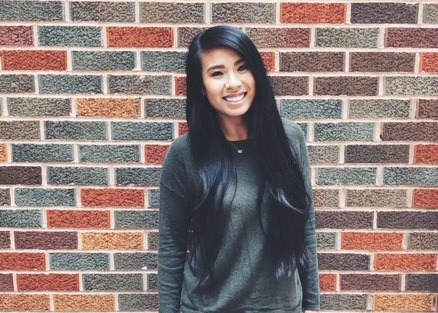 Meet Mimi Nguyen, financial aid advisor for the University of the Incarnate Word. Mimi was born in Arlington, TX and raised in Rockport, TX. She joined the UIW family three years ago.
Mimi says watching students succeed and graduate at UIW is the most rewarding part of her job. "Financial aid can seem overwhelming to some," she explained. "I really enjoy helping students better understand their financial aid options and search for scholarships. I think it is important to build connections with students and their families so they feel at ease - that in turn allows the student to focus on academics, not worry about how to pay for tuition." 
Dr. Julie Nadeau, BSN Program Chair, said Mimi and the entire financial aid crew "always go above and beyond to serve students - they are amazingly efficient and extremely responsive to requests and questions from program chairs that help us to better serve our students."
The help and sense of community that Mimi provides to others is exactly what she feels she receives in return at UIW. When asked what she loves most about working here, Mimi said, "I love the UIW community! I enjoy working in an environment where colleagues happily greet you while walking down the hallway and are also quick to lend a helping hand."
In her free time, Mimi enjoys working out, traveling, spending time with family and friends, and cooking (or as she likes to say, trying to make healthy food taste good). As for hidden talents? You may want to bring her along for your next trip to the mall - she's great at finding the best deals and discounts. 
Thanks for everything you do, Mimi!
Mission and Ministry: Summer Mass Schedule
Our last 8 p.m. Mass for the Spring semester was celebrated on Sunday, May 6.

Masses will continue on Sundays at 10:30 a.m. in Our Lady's Chapel through August 19, 2018. 

We will celebrate our annual Welcome Mass on Sunday, August 26. Due to limited seating in the Chapel of the Incarnate Word, two liturgies will be offered on this day:
- 10:30 AM (Chapel of the Incarnate Word)
- 10:45 AM (Our Lady's Chapel) 

Our 8 p.m. Mass resumes in Our Lady's Chapel on Sunday, September 2, 2018.
Our Lady's Chapel Services
All are welcome.
Noon Mass, Monday – Thursday (there will be no noon service on Fridays in July)
Sunday Mass at 10:30 a.m. 
Sacrament of Reconciliation - 11:30 a.m. Fridays or by appointment with Fr. Tom Dymowski, O.SS.T. at (210) 829-3131 or dymowski@uiwtx.edu.    
Uniting for Compassion and Speaking Against Prejudice
The Incarnate Word Sisters invite you to consider ways that we might unite more for compassion and speak against prejudice. We have made a statement in conjunction with LCWR representing the largest group of Catholic Sisters in the US that can be found here. We commend students and friends acts of compassion and invite all to help promote human dignity. For more information, please email kirk@uiwtx.edu.
---
Events    
Message from Lisa Bazley, VP for Information Resources
Please join us for a reception honoring Dr. Cheryl Anderson's twenty-seven years of service to UIW.  The retirement party will be held on July 11, 2018 from 3:30p.m., to 5 p.m., in the Mabee Library Special Collections room. Please RSVP to gasalina@uiwtx.edu
UIW School of Osteopathic Medicine Preview Day
Spread the word! The School of Osteopathic Medicine will host a preview day for prospective students who wish to take a tour, and ask questions about programs that are offered.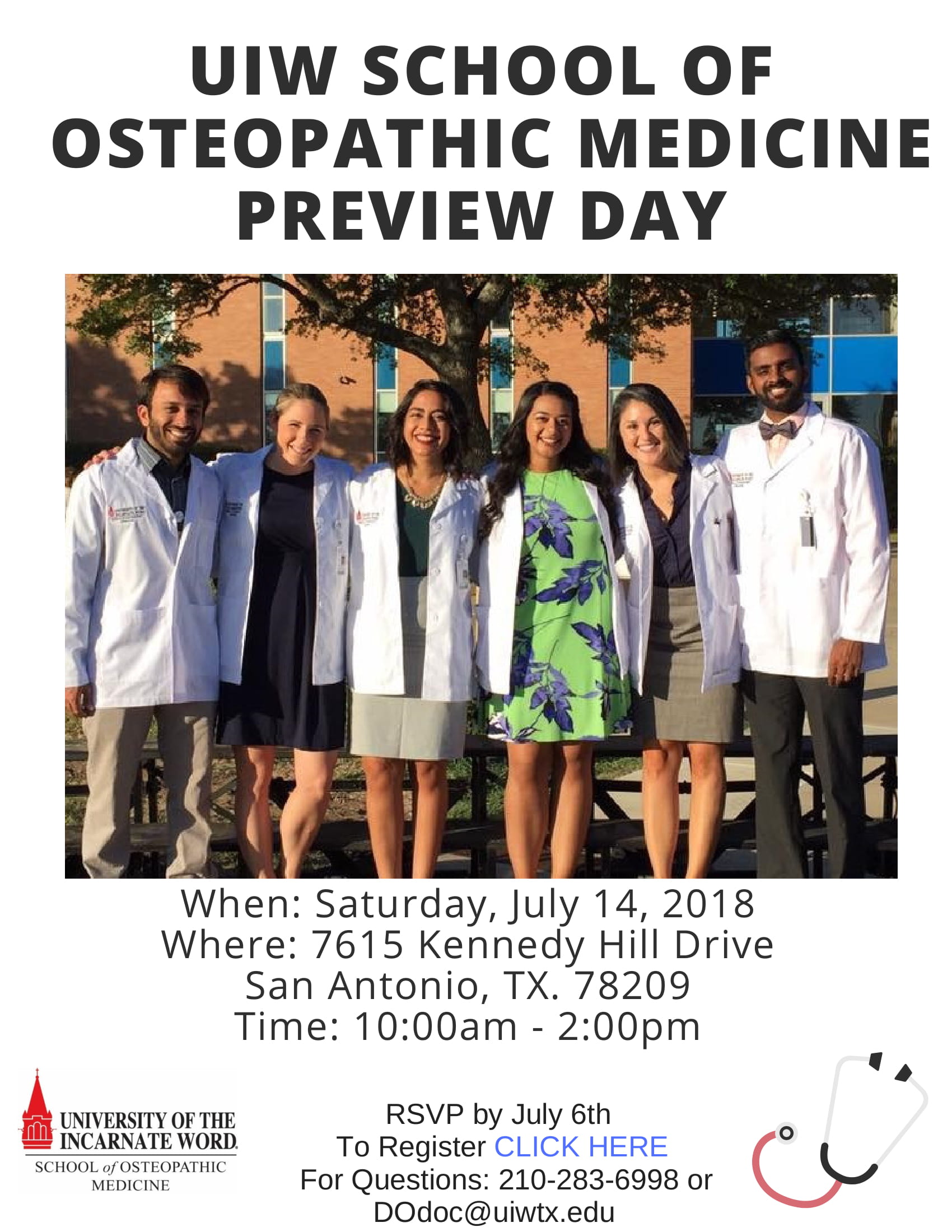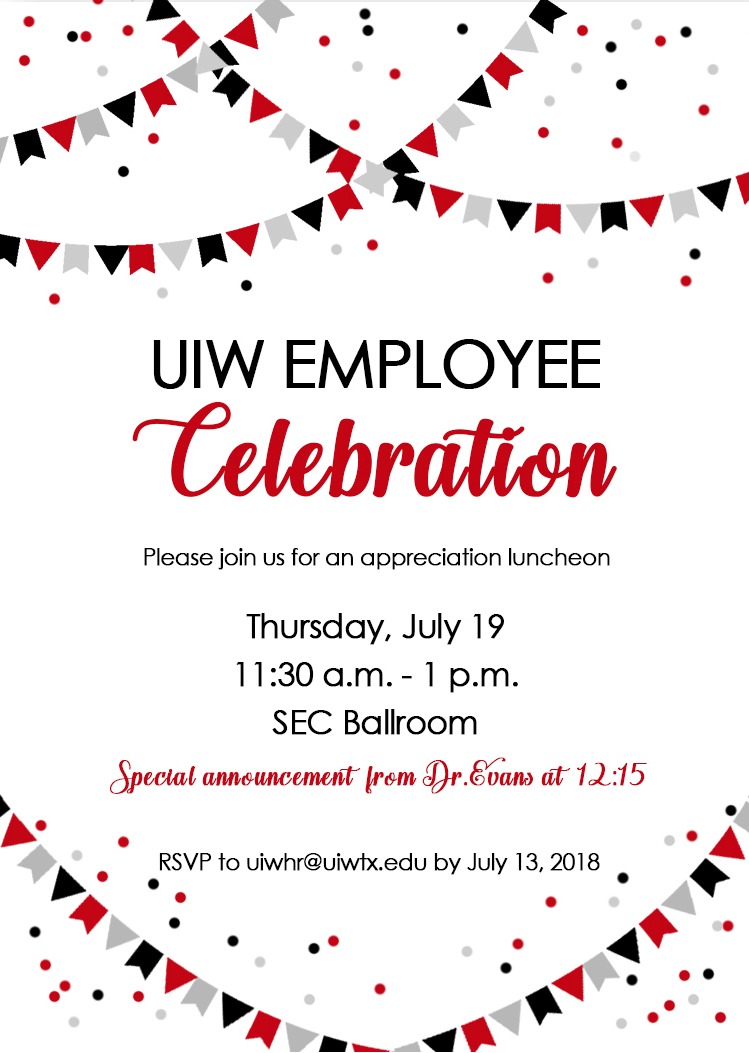 ---
Community News
A Message from the President

In appreciation of your service to the UIW community, main campus employees will be released at noon on the following Fridays in July:
July 6
July 13
July 20
July 27
Please note, employees will be released at noon with the exception of essential personnel as determined by the appropriate Vice President. In situations where events, appointments, or classes have been scheduled, the Dean or Director for that department and off-site location will determine an appropriate course of action.Thank you for making UIW a great place to work! We value your service and sincerely appreciate your dedication to the Mission.We hope you enjoy this extra break during the summer.
With Gratitude,
Thomas M. Evans, PhD
President
47th Leadership Corpus Christi
Jessica Parra, Director of Operations at the Corpus Christi Center, has been selected for the 47th Leadership Corpus Christi (LCC) program by United Corpus Christi Chamber of Commerce.  This 10-month intensive training programs is for emerging and existing leaders.  Established in 1972 by the Corpus Christi Chamber of Commerce, the program is the third-oldest community leadership program in the country. Congratulations, Jessica!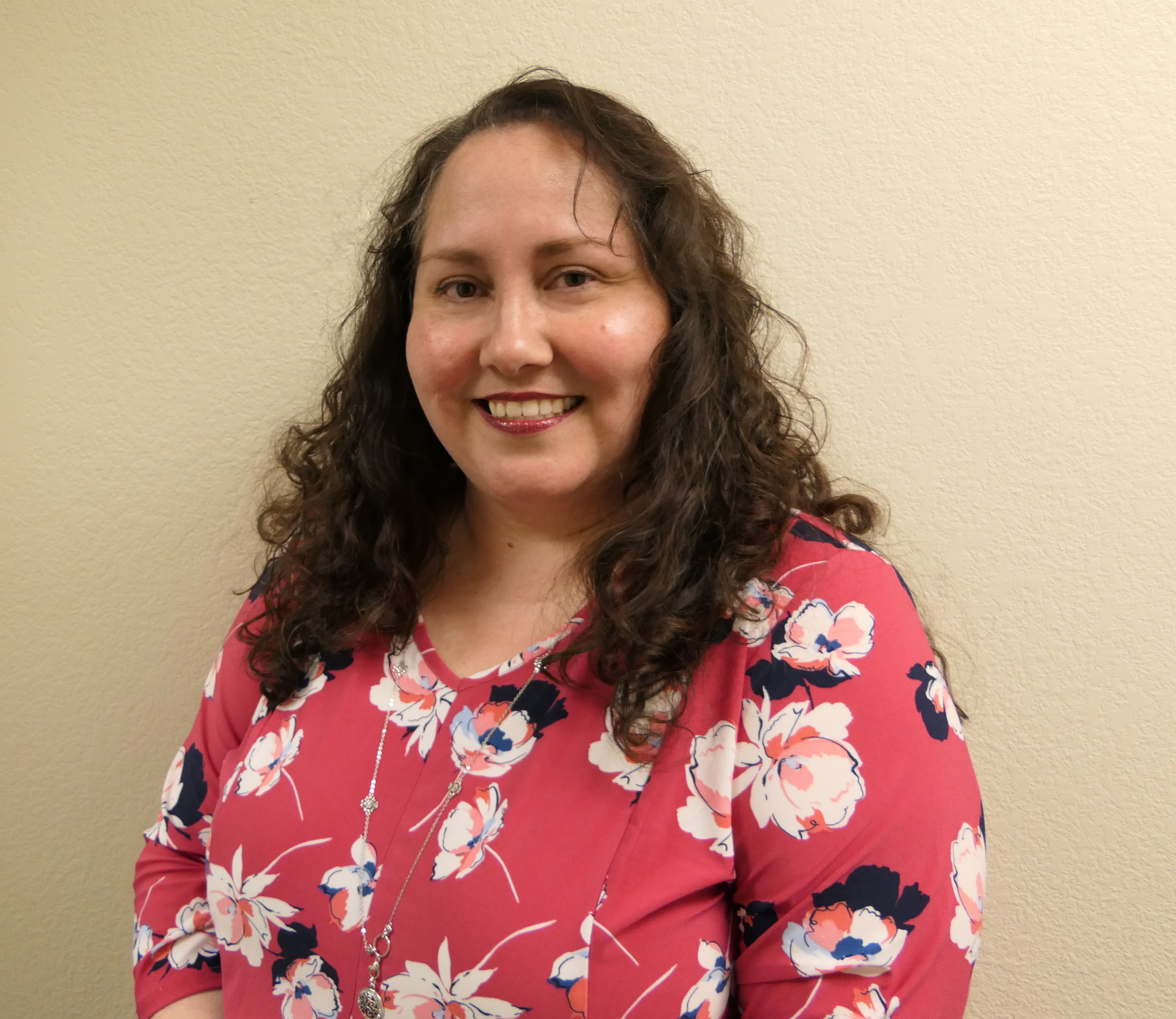 UIWRSO Students Capture First Place in Project Foresight Competition
In an effort to promote the profession of optometry and incorporate the teachings of Schools and Colleges of Optometry, Walmart/Sam's Club sponsor a national scholarship competition in conjunction with the annual American Optometric Association's (AOA) Optometry's Meeting. Representatives from most of the 23 national schools and colleges of optometry attend this professional conference which was recently hosted in Denver, CO.  
UIW and the Rosenberg School of Optometry (UIWRSO) wish to congratulate 3rd year students, Janelle Sventek and Verle Judd for claiming the top prize in this competition!  In addition to the $15,000 team scholarship award, the winning team also receives a traveling trophy for display at their respective institution.   The award winners were named and recognized at the Dessert Reception in front of their peers, faculty and other conference attendees.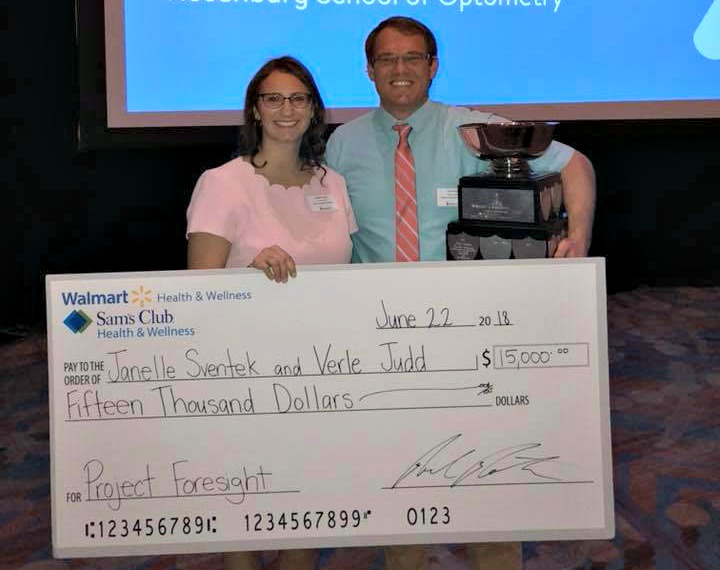 New Employee Orientation
Human Resources hosted New Employee Orientation on Monday, July 2 and would like to welcome these Cardinals to the nest!
Back row, from left to right: Joseph Bernal, Admissions Counselor, Thomas Tomasko, Admissions Counselor, Elton Crochran, Asst. Strength and Conditioning Coach, George Ikemizu, Asst. Strength and Conditioning Coach, Kathleen Bottaro, Director of Instructional Technology Services, Julian Rodriguez, Groundskeeper, Lei Wang, Sr. Programmer/Analyst
Front row, from left to right: DeLisa Stockman, Executive Assistant to the President, Tracey Mendoza, Dean of Library Services, Tessa Foster, Admissions Counselor, Danielle Shedd, External Relations Coordinator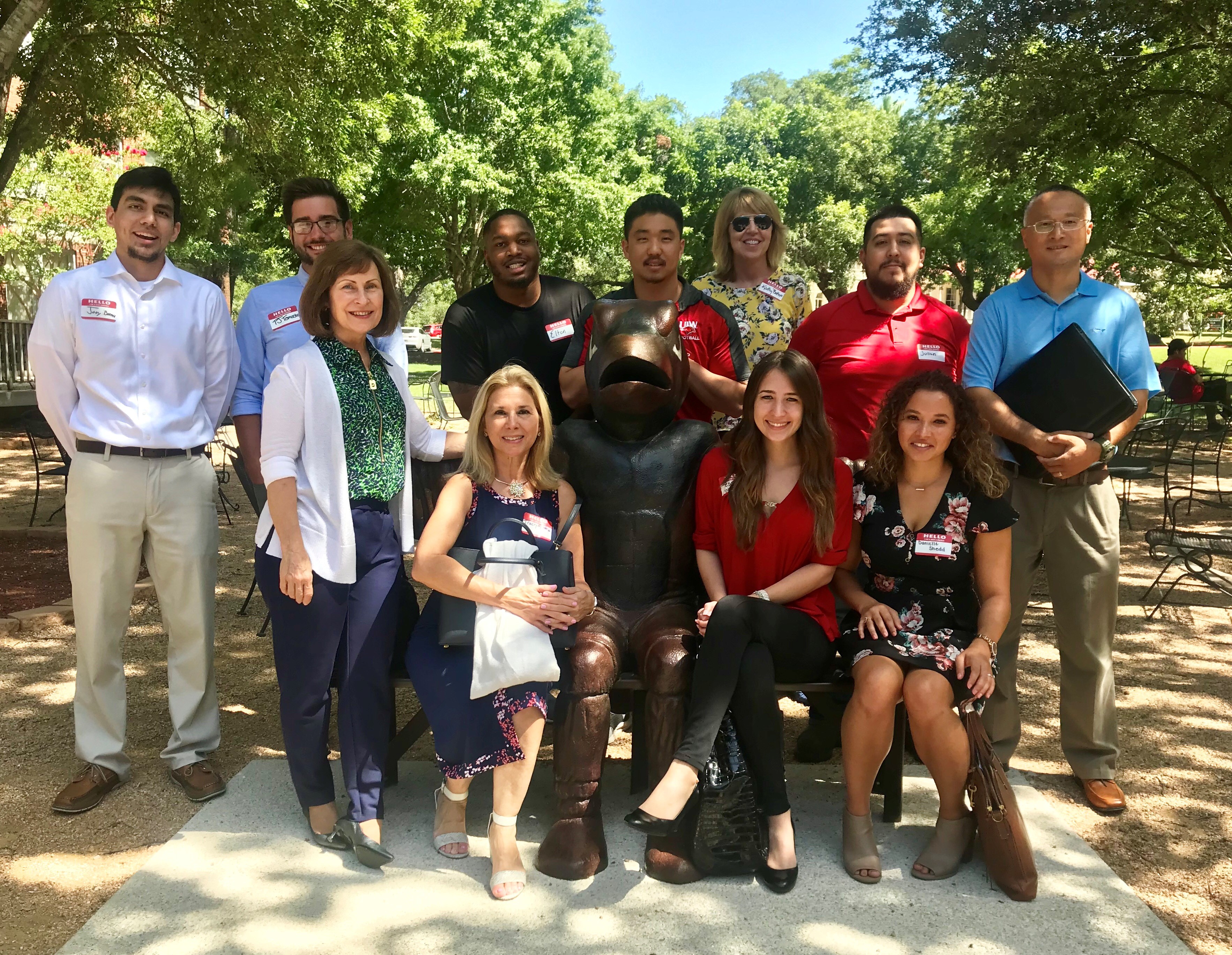 XII ANFECA Regional Entrepreneurial Exhibition
UIW CIW students participated in the XII ANFECA Regional Entrepreneurial Exhibition, winning first and second place in the traditional business category. The students created a company that offers balanced food services. The winning team will represent ANFECA Zone 7 (Mexico City and Metropolitan Area) in the National Exhibition next September in the city of Colima. In addition, CIW students won third place in the finance category, and third and fifth places in the marketing category. The ANFECA Marathons have been held for the last 12 years. This is the third time CIW students have participated and the second time CIW hosted the event.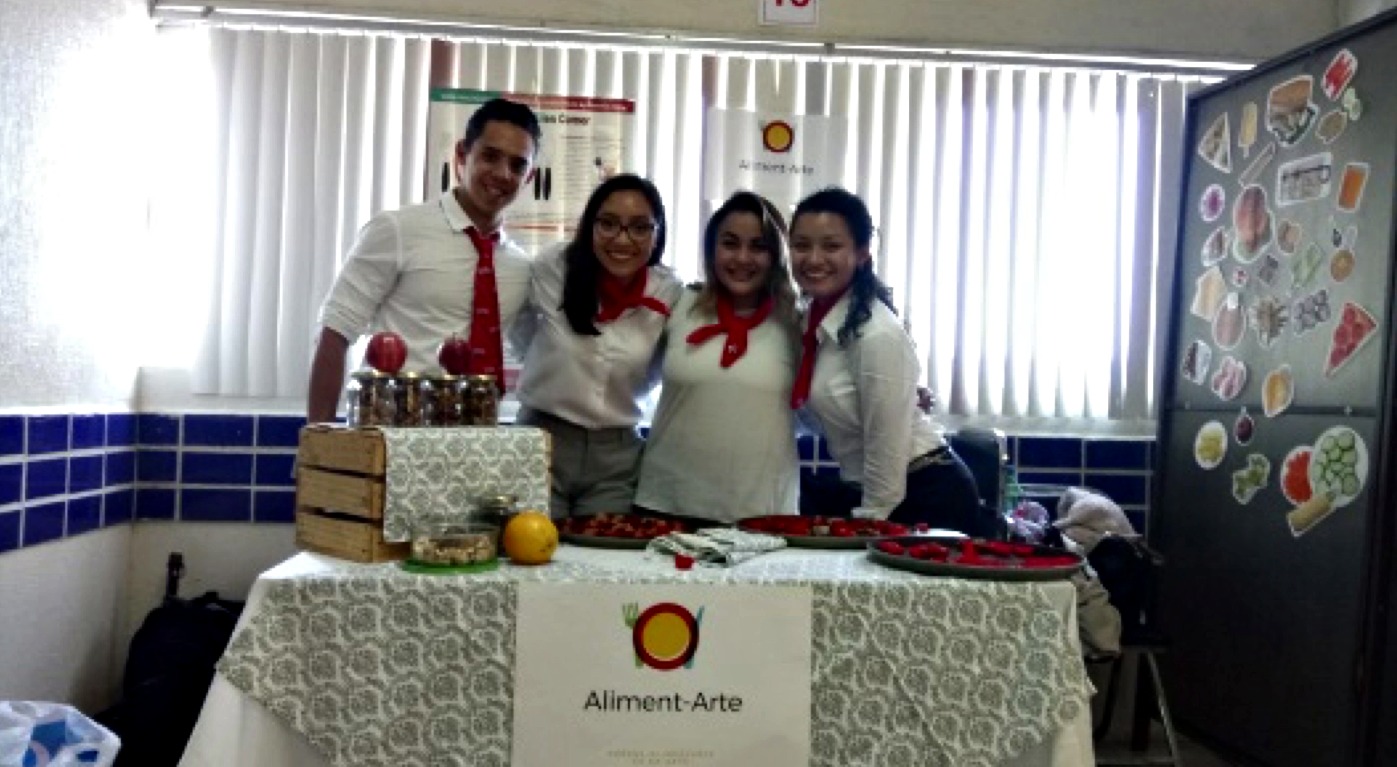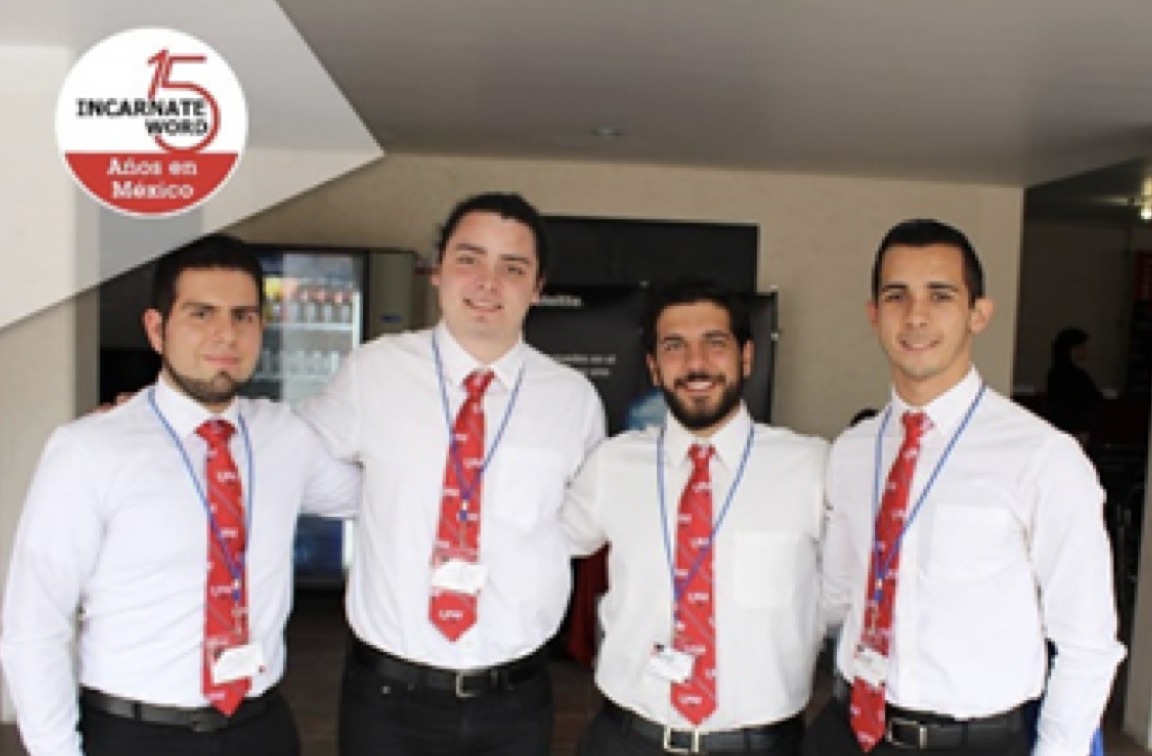 San Antonio Museum Exhibitions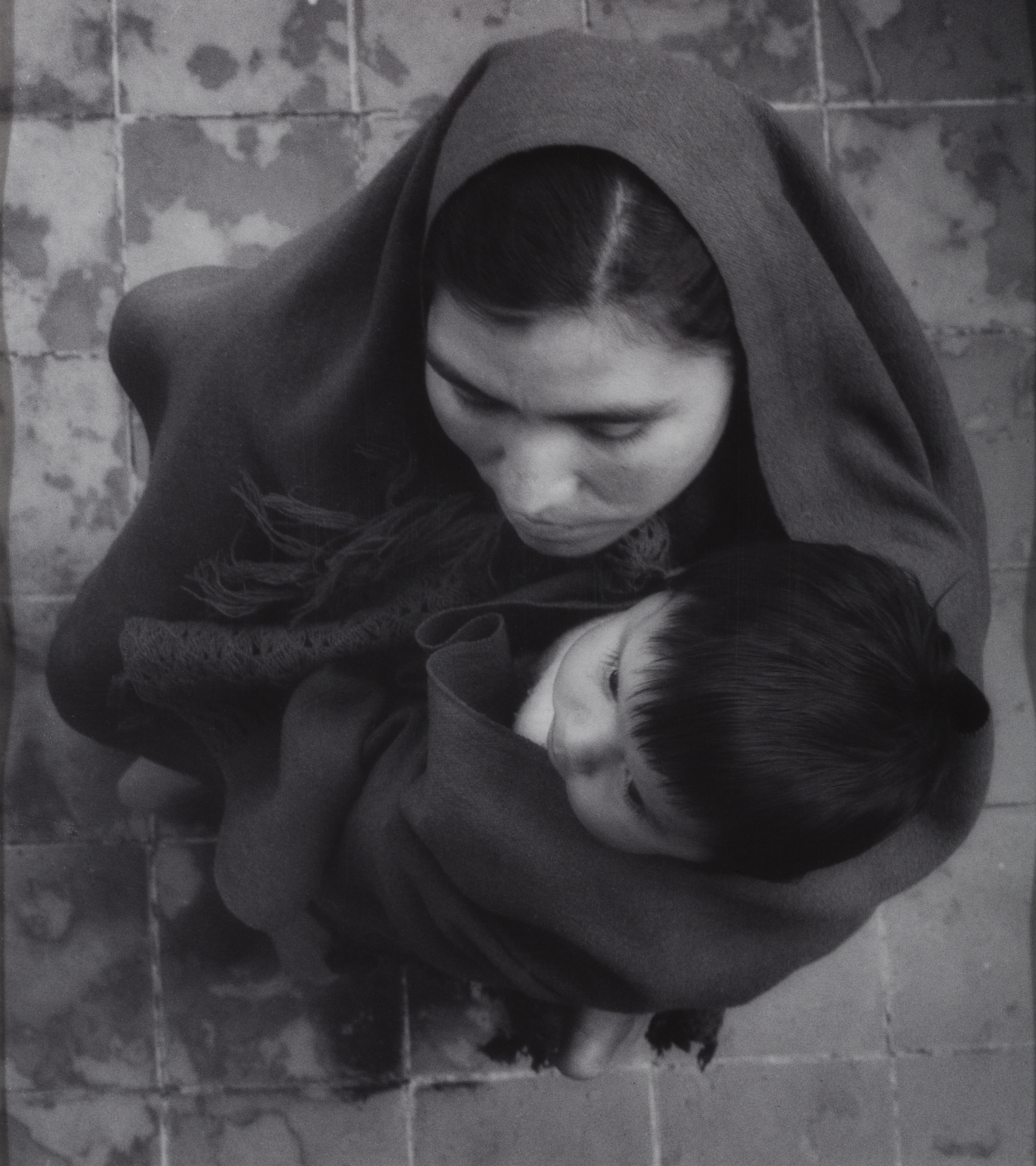 University employees receive free admission to the McNay Art Museum and the San Antonio Museum of Art with their valid UIW ID. Additional fees may apply to exhibitions. For information about UIW employee discounts, contact (210) 829-6019.
San Antonio Museum of Art Current Exhibitions:
The Magic of Clay and Fire: Japanese Contemporary Ceramics - Through Spring 2018 

Spain: 500 Years of Spanish Painting from the Museums of Madrid, A Tricentennial Exhibition - Through September 16, 2018
McNay Art Museum Current Exhibitions:
Dario Robleto: Ancient Beacons Long for Notice - Through September 23, 2018

Manuel Carrillo: Mi Querido Mexico - Through September 2, 2018

Immersed: Local to Global Art Sensations - Through September 2, 2018
Fragments of a Dream - Through September 9, 2018

 

HemisFair '68: San Antonio's World's Fair - Through July 29, 2018

100 Years of Printmaking in San Antonio: Bill Reily - Through July 1, 2018
---
Faculty Focus
Technology 4 Lunch: OneDrive
Learn everything you wanted to know about OneDrive at this workshop being held on Tuesday, July 10 from noon – 1 p.m. in Mabee Library Rm. 230. With OneDrive, your documents are available anywhere, anytime, and with any mobile device. This workshop will:
Review the Interface and settings
Demonstrate file uploading, copying and downloading
Use Office 365's file sharing and search functions
Register here.  For more information, please contact Terry Peak at (210) 829-3920 or tpeak@uiwtx.edu.
Technology 4 Lunch: OneNote
OneNote is a digital notebook that gathers notes and information from users' notes, drawings, screen clippings and audio. Those notes can be shared collaboratively online or managed on your PC or Mac. Join us as we explain the OneNote App and show you how to complete a variety of tasks using OneNote on Wednesday, July 11 from noon – 1 p.m. in Mabee Library Rm. 230.

At the conclusion of this seminar, you will be able to:
Create, edit and save a OneNote document
Add images, text, screen clippings and audio to the document
Share the document and work collaboratively within the document
Register here. For more information, please contact Terry Peak at (210) 829-3920 or tpeak@uiwtx.edu.
Athletics News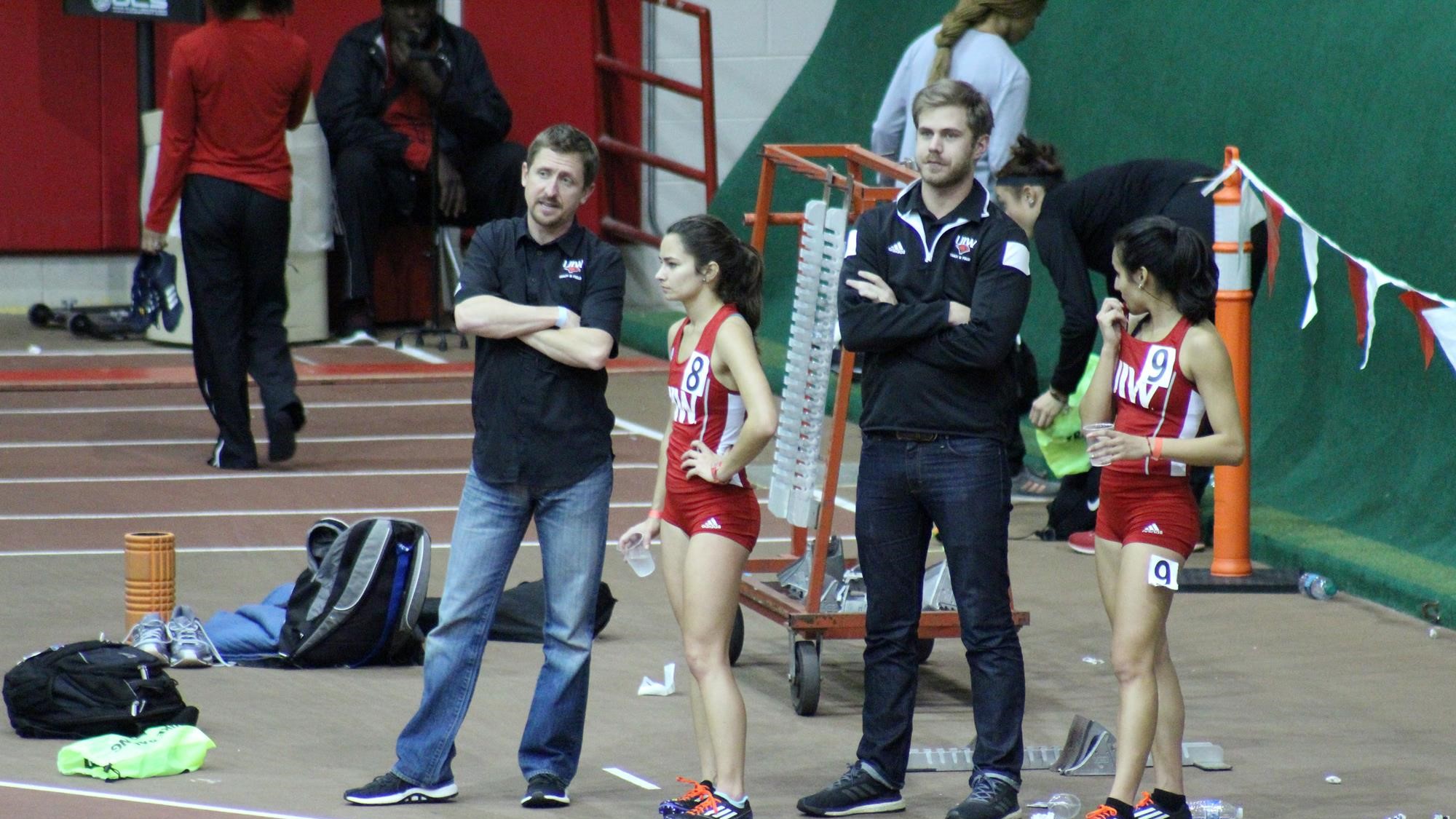 Cardinal Football Season Tickets Now Available

Another football season is almost here, and this season promises to be an exciting one with new head football coach Eric Morris. Coach Morris has put together a great staff and is bringing an exciting style of offense to the program.
Each faculty/staff member receives one free general admission ticket by swiping their ID at the entrance, and additional season tickets can be purchased for as little as $37.50. Reserved seats are also available for just $75 for faculty/staff. With payroll deduction available, purchasing season tickets has never been easier.
Thank you for the support you have given our football program over the past 9 years. We look forward to seeing you and your families at many games this season. Buy your season tickets early and be part of the excitement.
For more information contact  Adam McKenzie at amckenzi@uiwtx.edu or Alma Lara at  aylara@uiwtx.edu.
---
Miscellaneous
Traveling this summer?
In preparation for our annual Cup Runneth Over service project, TRiO will start collecting small toiletry items from those summer vacations! Please remember us and donate your unused shampoos, conditioners, lotions, soap bars, and coffee mugs. You can drop them off in the TRiO Lab, SEC 3145, or contact us at 210-805-5812 for pick up.
Win a Family Four Pack of Tickets to Schlitterbahn® Waterpark
We've already had three winners - will you be the final winner? Thanks to the Office of Development, we have one remaining Family Four Pack ticket bundle available to Schlitterbahn® Waterpark in New Braunfels. For a chance to win the four tickets, email vireyna1@uiwtx.edu with #BahnLove in the subject line and your answer to the following question: On what date was the grand opening of UIW's new Student Engagement Center (main campus) held? The first person to correctly answer the question wins!

The tickets are valid through Sunday, Sept. 16. Questions? Call Communications and Marketing at (210) 829-6001. Stay tuned to The Word Today for the remaining two opportunities to win!

Bereavement
Our thoughts and prayers go to: 
Margaret Garcia, Interim Director of Communications & Marketing, on the loss of her brother John Flores who lost his battle with cancer on Tuesday, July 3, in Massachusetts. Services are pending.  Please keep Margaret and her family in your prayers.
The University of the Incarnate Word provides reasonable accommodation with adequate notice. To request disability accommodation for events listed in this newsletter, visit www.uiw.edu/ada.