The Word E-News Archive
UIW Unsung Hero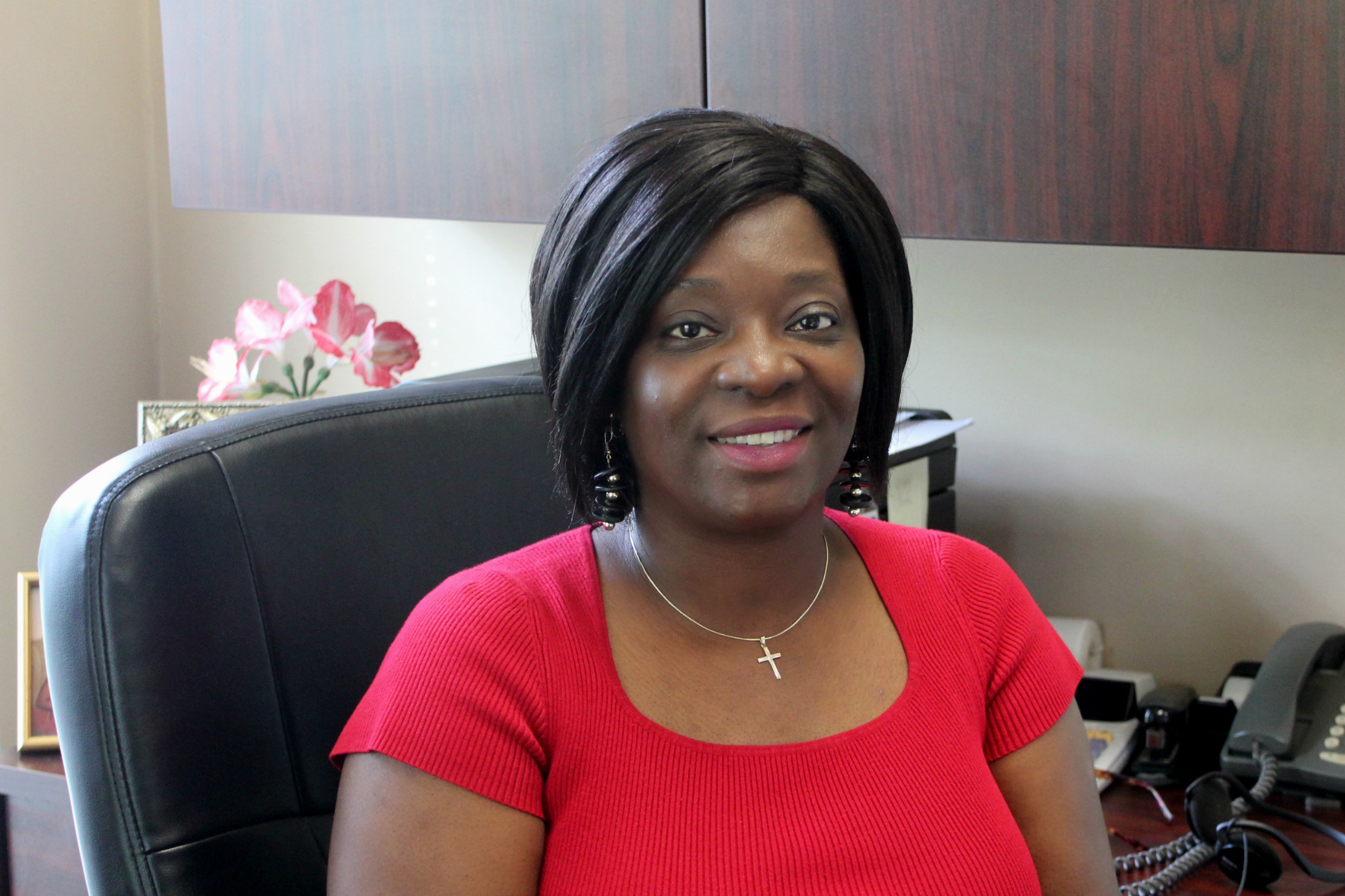 Meet Lynn Davis-Johnson, campaign coordinator for development and university relations. Lynn was born and raised in San Antonio, TX and has worked at the University of the Incarnate Word for over 12 years.
After her many years as part of the UIW family, Lynn has a lot to be proud of. She has spent her time building important relationships with her colleagues, the Board of Trustees, alumni and students, all to benefit the university. If you ask her what she's most proud of though, it's that her daughter will officially become a Cardinal this fall when she starts attending school at UIW!


When asked what her favorite part about working at UIW is, Lynn said "I'm fond of UIW's overall warm environment which has helped me develop life-long, loving and deep-rooted friendships with so many talented people!"

Lynn works hard for the university by day, but we bet you didn't know that she actually knows how to play the clarinet and bass clarinet!

Be sure to give Lynn a big thanks for all her hard work over the years the next time you see her (and maybe pause for an impromptu musical duet!).
Mission and Ministry: Summer Mass Schedule
Our last 8 p.m. Mass for the Spring semester was celebrated on Sunday, May 6.

Masses will continue on Sundays at 10:30 a.m. in Our Lady's Chapel through August 19, 2018.

We will celebrate our annual Welcome Mass on Sunday, August 26. Due to limited seating in the Chapel of the Incarnate Word, two liturgies will be offered on this day:
- 10:30 a.m. (Chapel of the Incarnate Word)
- 10:45 a.m. (Our Lady's Chapel)

Our 8 p.m. Mass resumes in Our Lady's Chapel on Sunday, September 2, 2018.
Our Lady's Chapel Services
All are welcome.
Noon Mass, Monday – Thursday (there will be no noon service on Fridays in July)
Sunday Mass at 10:30 a.m.
Sacrament of Reconciliation, 11:30 a.m. Fridays or by appointment with Fr. Tom Dymowski, O.SS.T. at (210) 829-3131 or dymowski@uiwtx.edu.    
HIGHLIGHTS
University of the Incarnate Word offering immunization clinics at Nursing Wellness Center
---
Events      
Summer Concert benefitting Visitation House Ministries
Join violist Chris Gokelman (Oberlin Conservatory), organist and pianist Robert Brewer (St. Mark's Episcopal Church), and pianist William Gokelman (Professor of Music and Chair, UIW Music Department) for an afternoon of music benefiting Visitation House Ministries. Visitation House is a sponsored ministry of the Incarnate Word Sisters that provides housing and education resources to single mothers with young children who are homeless. Admission is free. Donations are voluntary and very welcomed. For further information contact Cynthia at (210) 735-6910 or email cynthia.bossard@amormeus.org.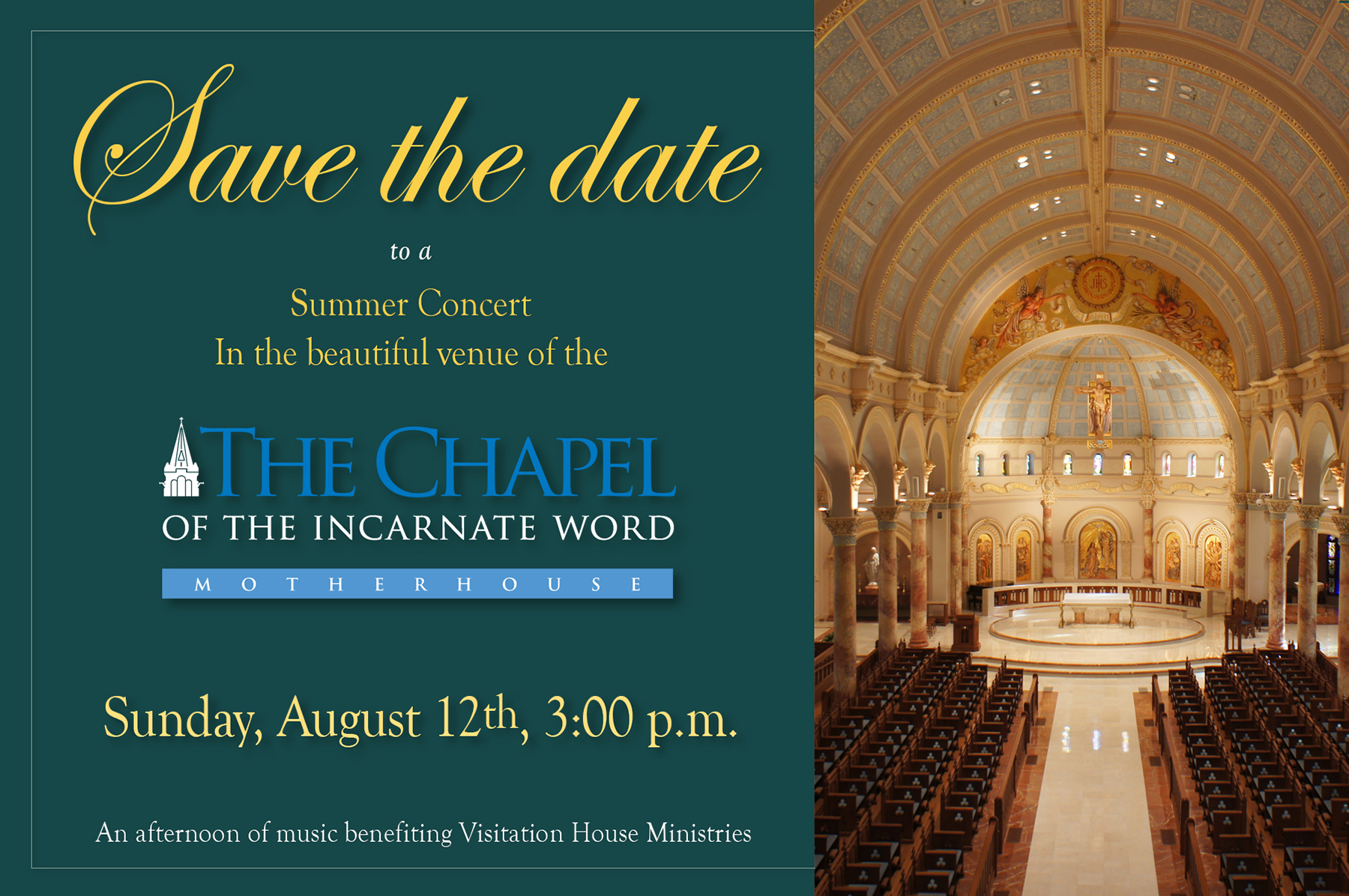 ---
Community News
Welcome, New Employees!

Human Resources would like to welcome the newest Cardinal Employees to the nest!
Back row, from left to right: Richard Kaye, Library Assistant for Public Services, Kristen Barrick, Student Conduct Officer, Christina Leeth, Director of Student Conduct/Judicial Affairs, Uriel Echavarria, Web Designer
Front row, from left to right: Lallo Vigil, Portal Administrator, Frederick Hayes, Web Administrator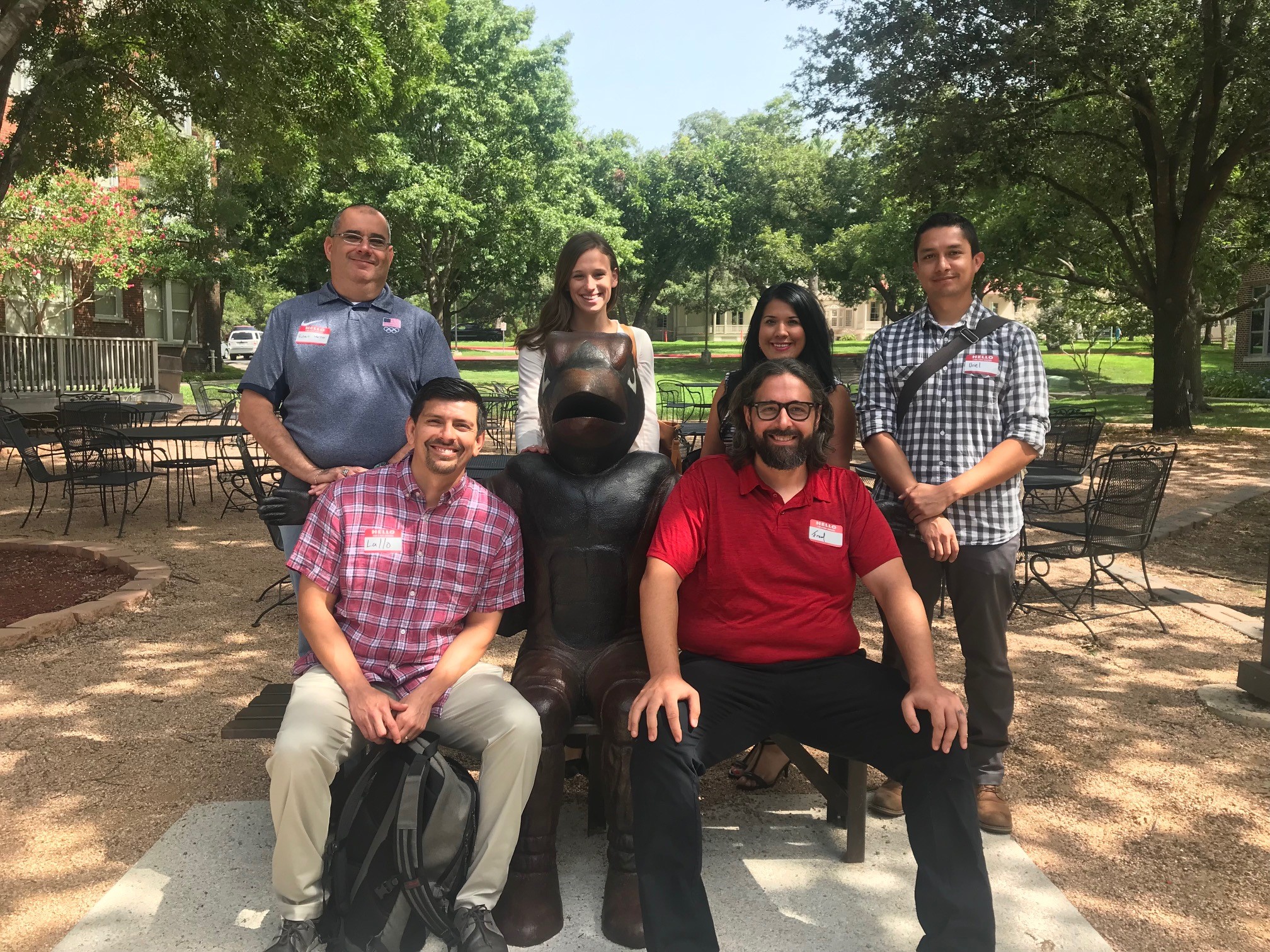 New Employee Mixer
Human Resources hosted the quarterly New Employee Mixer/Luncheon on July 26, 2018, where new employees had an opportunity to meet fellow co-workers, increase their knowledge of the University, and enjoy lunch with the Provost and Vice Presidents of the University. Welcome, new Cardinals!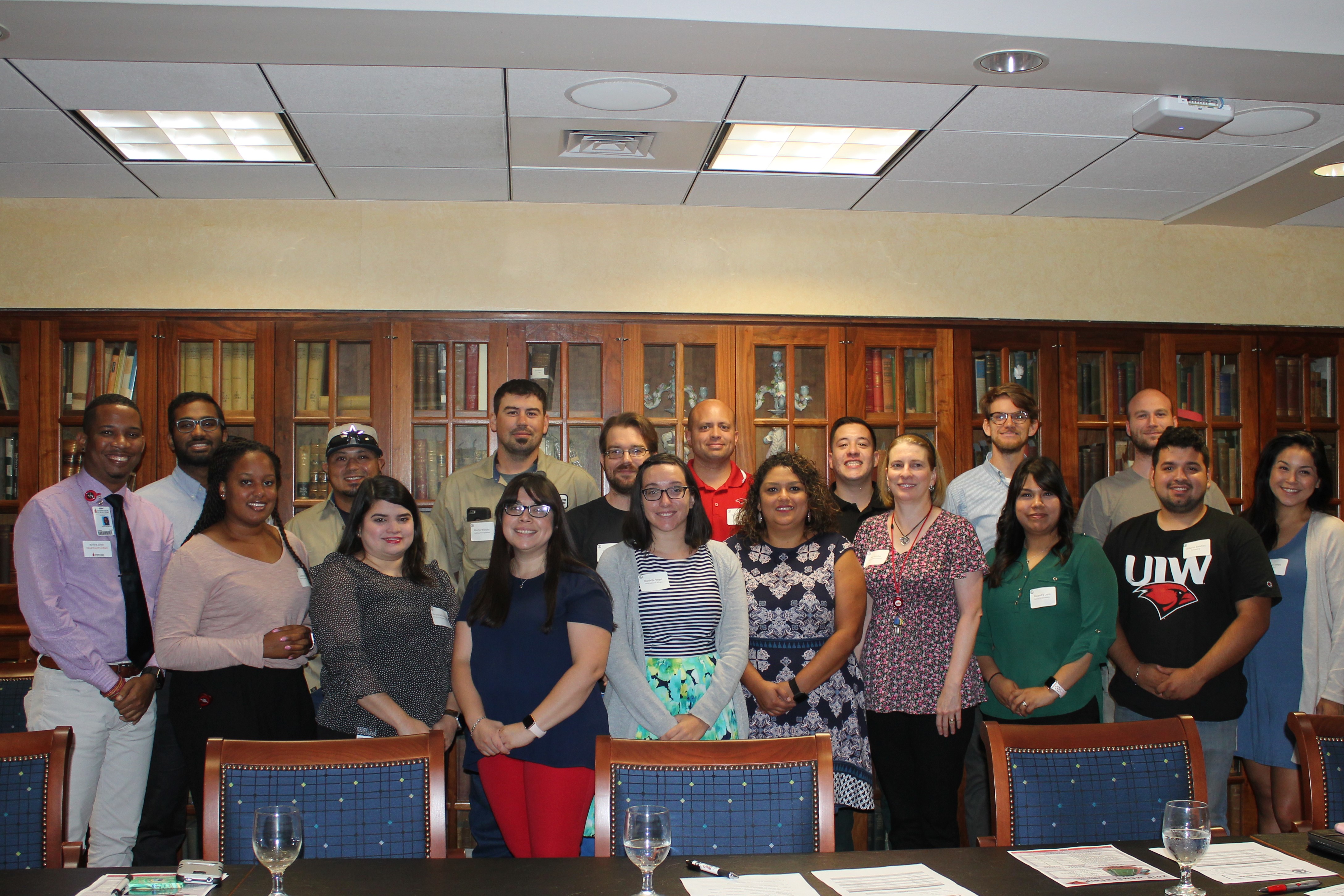 San Antonio Museum Exhibitions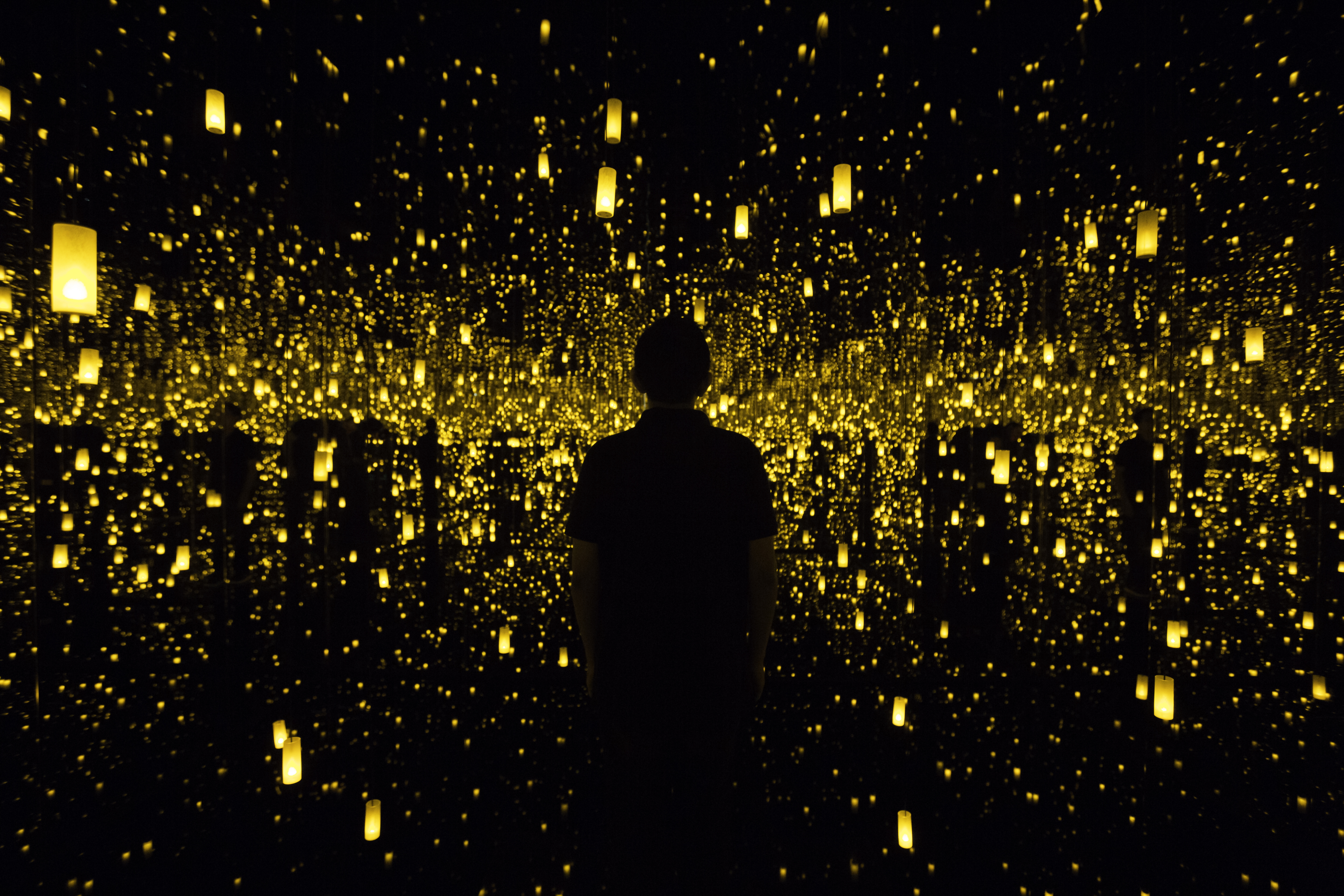 University employees receive free admission to the McNay Art Museum and the San Antonio Museum of Art with their valid UIW ID. Additional fees may apply to exhibitions. For information about UIW employee discounts, contact (210) 829-6019.
San Antonio Museum of Art Current Exhibitions:
The Magic of Clay and Fire: Japanese Contemporary Ceramics - Through Spring 2018

Spain: 500 Years of Spanish Painting from the Museums of Madrid, A Tricentennial Exhibition - Through September 16, 2018
McNay Art Museum Current Exhibitions:
Dario Robleto: Ancient Beacons Long for Notice - Through September 23, 2018

Manuel Carrillo: Mi Querido Mexico - Through September 2, 2018

Immersed: Local to Global Art Sensations - Through September 2, 2018

Fragments of a Dream - Through September 9, 2018
HemisFair '68: San Antonio's World's Fair - Through July 29, 2018
---
Faculty Focus
Technology 4 Lunch
Technology 4 Lunch is a series of one-hour seminars. Each week, attendees will receive a brief overview of an online application including Canva, Outlook Groups, Microsoft Forms, OneNote, OneDrive and Microsoft Planner. Seminars are open to UIW faculty and staff. Please see remaining sessions and registration links below.
Athletics News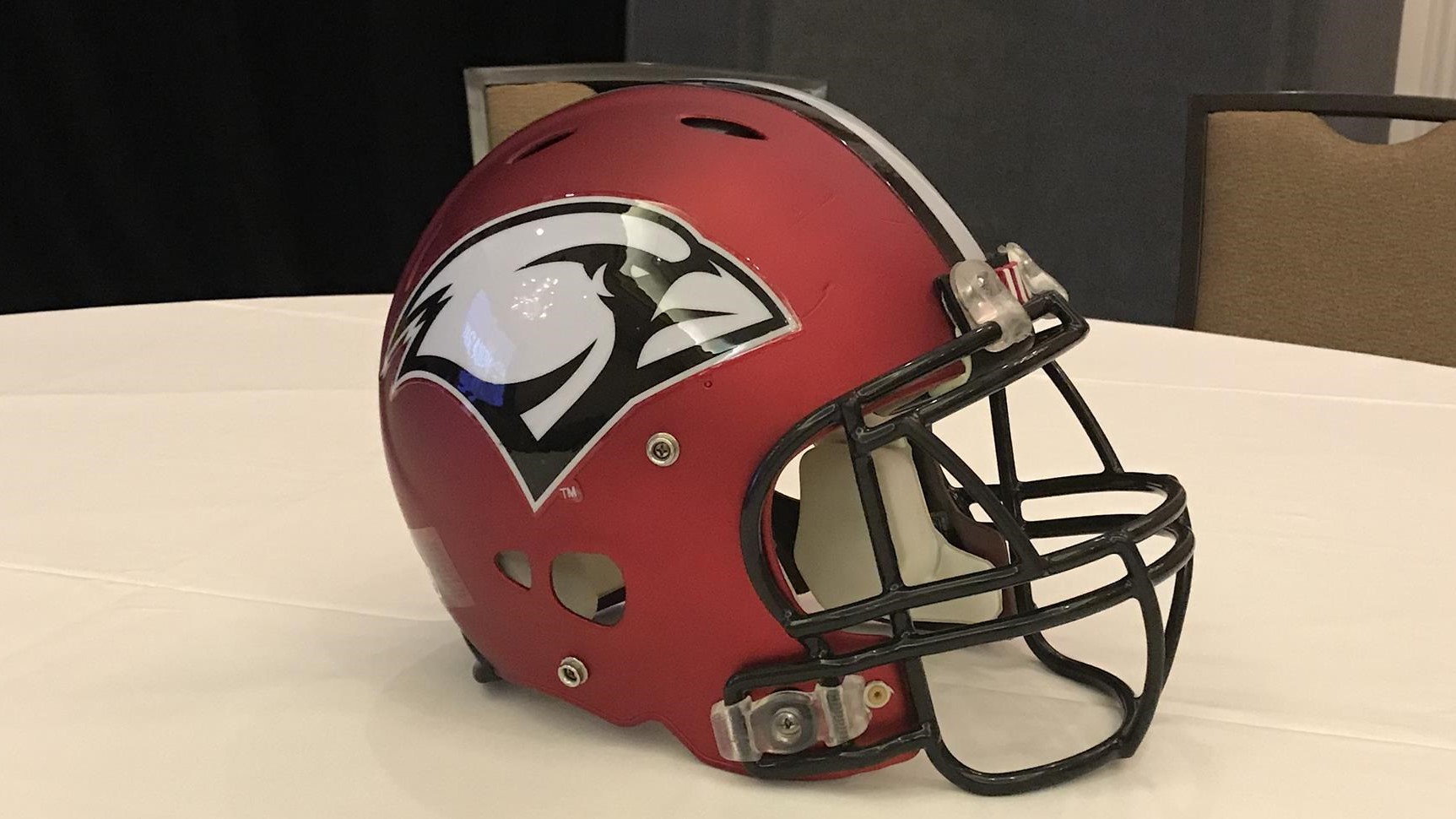 August Games

Aug. 16 - Men's Soccer vs. St. Edward's (exhibition) - 7 p.m.
Aug. 18 - Volleyball hosts Red and Black Scrimmage - 2 p.m.
Aug. 26 - Women's Soccer vs. Houston - 5 p.m.


Cardinal Football Season Tickets Now Available

Another football season is almost here, and this season promises to be an exciting one with new head football coach Eric Morris. Coach Morris has put together a great staff and is bringing an exciting style of offense to the program.
Each faculty/staff member receives one free general admission ticket by swiping their ID at the entrance, and additional season tickets can be purchased for as little as $37.50. Reserved seats are also available for just $75 for faculty/staff. With payroll deduction available, purchasing season tickets has never been easier.
Thank you for the support you have given our football program over the past nine years. We look forward to seeing you and your families at many games this season. Buy your season tickets early and be part of the excitement.
For more information contact Adam McKenzie at amckenzi@uiwtx.edu or Alma Lara at aylara@uiwtx.edu.
---
Miscellaneous
Mozart Festival Ticket Giveaway
The UIW Department of Music is proud to present Mozart Festival Texas 2018, a one-of-a-kind celebration of orchestral, operatic and chamber music repertoire by select masters. Four unique performances will take place Saturday, July 28 at 8 p.m., Sunday, July 29 at 3 p.m., Saturday, August 4 at 8 p.m., and Sunday, August 5 at 3 p.m. For a chance to win the complete ticket bundle (two tickets to each performance), email vireyna1@uiwtx.edu with "Mozart" in the subject line and your answer to the following question: At what age did Mozart write his first symphony? The first person to correctly answer the question wins!

Questions? Call Communications and Marketing at (210) 829-6001. 
Bereavement
Our thoughts and prayers go to: 
Rudy Cisneros and Linda Cisneros Hamilton on the recent loss of their mother, Ramona Lopez Cisneros (BSN '56).
Duane Gaither II, Douglas Gaither, David Gaither and Dona Gaither-Guerrero on the recent loss of their mother, Mary Margaret Love Gaither (IWHS '45, ALND '49).
Nora Saenz Wilson (BSN '65) on the recent loss of her husband, James Wilson.
The University of the Incarnate Word provides reasonable accommodation with adequate notice. To request disability accommodation for events listed in this newsletter, visit www.uiw.edu/ada.