The Word E-News Archive
UIW Unsung Hero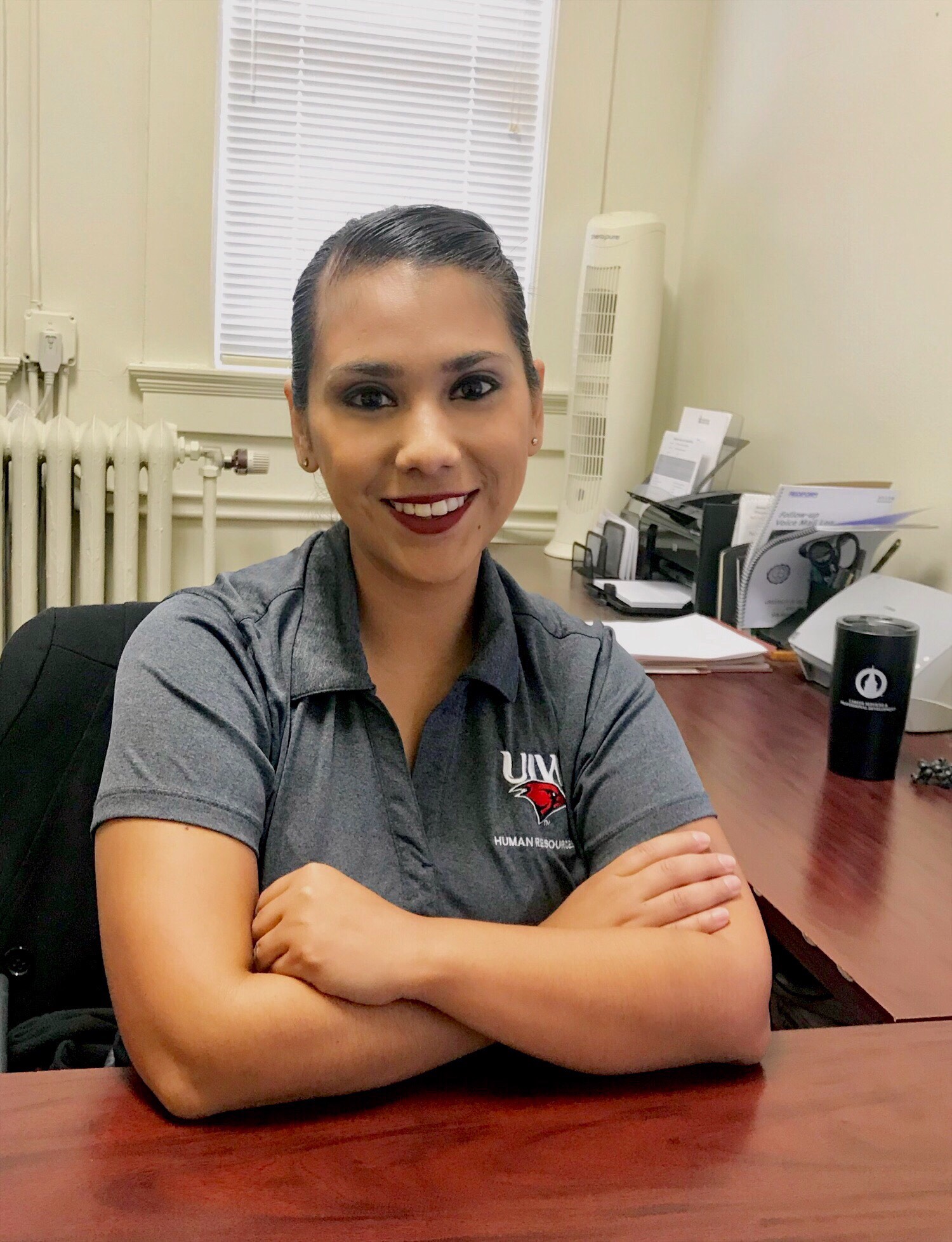 Meet Breanna Martinez, recruiting and onboarding specialist at UIW. Breanna was born and raised in San Antonio, Texas and has been part of the UIW community for 20 years now. Her father first started working at UIW all that time ago, giving Breanna a front row seat to all of the University's growth since then. She attended UIW as a student of the Dreeben School of Education from 2008 to 2012, and eventually made her way back "home" to UIW when she joined the Human Resources team in 2016.
New employees of the University are familiar with Breanna because she launched the new employee orientation program. Through this program, Breanna has the "privilege of meeting and welcoming new employees to the UIW community."


When asked what she loves most about working at UIW, Breanna said, "New employees that have attended an orientation can tell you that I constantly share the answer to this question with them. What I love most about UIW is the strong sense of community and that it feels like we are all part of one big family. I love the fact that we are all driven by the University's mission of service and the support we provide students to help achieve their goals. It is through this, I feel I have a purpose."

When she's not busy welcoming new employees to UIW, you might find her singing her favorite karaoke songs. Rumor has it, she has a great singing voice! Thanks for all you do, Breanna!
Mission and Ministry: Summer Mass Schedule
Our last 8 p.m. Mass for the Spring semester was celebrated on Sunday, May 6.

Masses will continue on Sundays at 10:30 a.m. in Our Lady's Chapel through August 19, 2018.

We will celebrate our annual Welcome Mass on Sunday, August 26. Due to limited seating in the Chapel of the Incarnate Word, two liturgies will be offered on this day:
- 10:30 a.m. (Chapel of the Incarnate Word)
- 10:45 a.m. (Our Lady's Chapel)

Our 8 p.m. Mass resumes in Our Lady's Chapel on Sunday, September 2, 2018.
Our Lady's Chapel Services
All are welcome.
Noon Mass, Monday - Thursday (there will be no noon service on Fridays in July)
Sunday Mass at 10:30 a.m.
Sacrament of Reconciliation, 11:30 a.m. Fridays or by appointment with Fr. Tom Dymowski, O.SS.T. at (210) 829-3131 or dymowski@uiwtx.edu.
HIGHLIGHTS
---
Events
Summer Concert benefiting Visitation House Ministries
Join violist Chris Gokelman (Oberlin Conservatory), organist and pianist Robert Brewer (St. Mark's Episcopal Church), and pianist William Gokelman (Professor of Music and Chair, UIW Music Department) for an afternoon of music benefiting Visitation House Ministries. Visitation House is a sponsored ministry of the Incarnate Word Sisters that provides housing and education resources to single mothers with young children who are homeless. Admission is free. Donations are voluntary and very welcomed. For further information contact Cynthia at (210) 735-6910 or email cynthia.bossard@amormeus.org.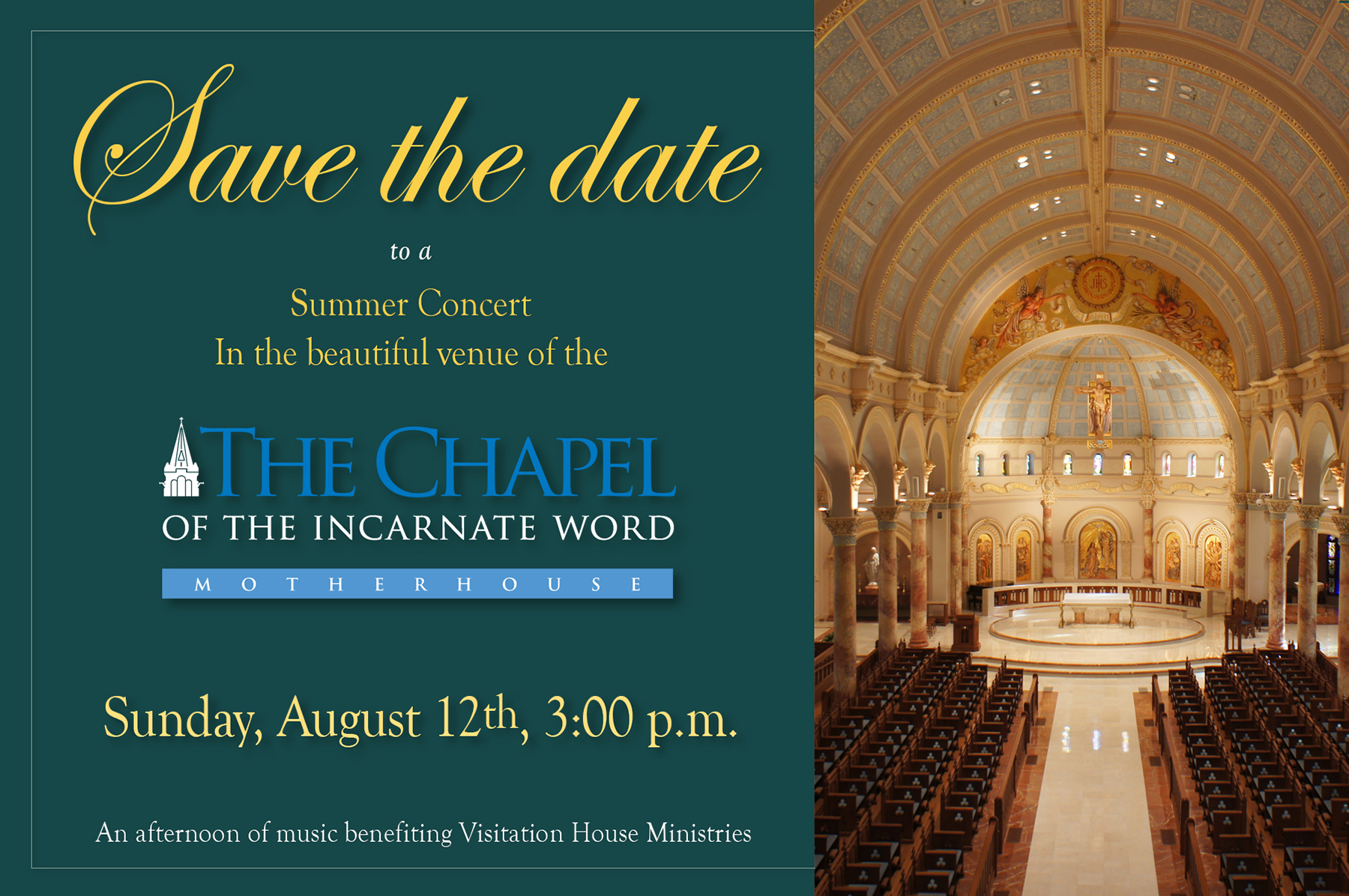 ---
Community News
Welcome, New Employees!

Human Resources hosted New Employee Orientation on Wednesday, August 1 and would like to welcome these Cardinals to the nest!
From left to right: Lisa Rivera, Clinical Counselor; Moses De Leon, Student Resources Specialist; Gloria Ramos- Cortes, HEB School of Business Undergraduate Adviser; Suzy Gray, SEC Property Manager; Grisseth Gomez, Biology Laboratory Technician; Claudia Gonzalez, Receptionist/Scheduler; Bret Roberts, Library Public Services Assistant; Chelsea Butler, Assistant Softball Coach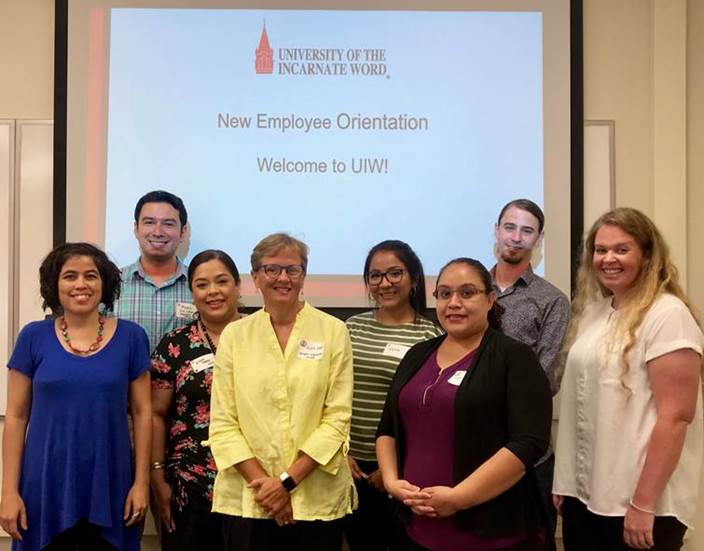 UIWSOM White Coat Ceremony
The UIW School of Osteopathic Medicine held its 2nd annual White Coat Ceremony on Saturday, July 28.
Dr. Robyn Philip Madson, founding dean of UIWSOM, addressed the class of 2022 at the ceremony prior to the class taking the Hippocratic Oath.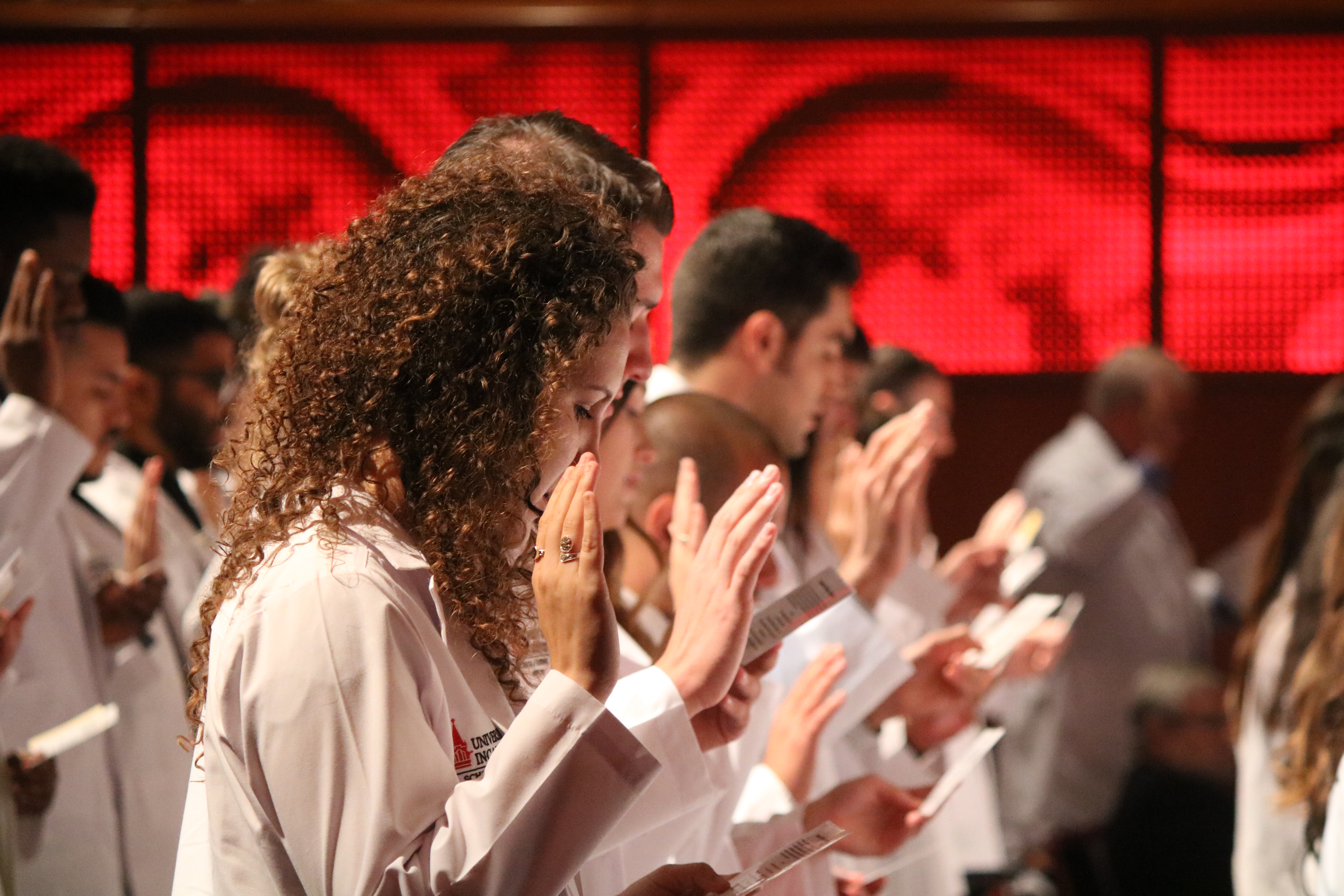 The History of Our Sisters - Remembering the Past, Creating the Future
The History of Our Sisters - Remembering the Past, Creating the Future poster presentation is on display in the Mabee Library until the end of August. The posters were created by UIW undergraduate students under the direction of Sr. Martha Ann Kirk. After being displayed for several weeks at the Institute of Texan Cultures, the Mabee Library has now mounted the collection in the gallery spaces on the first floor Reference Room. To accompany this presentation, a small collection of books from the Rosengren, Loch and Brackenridge special collections are on display as well. These historic works are a part of a larger collection of library materials on the history of San Antonio.
San Antonio Museum Exhibitions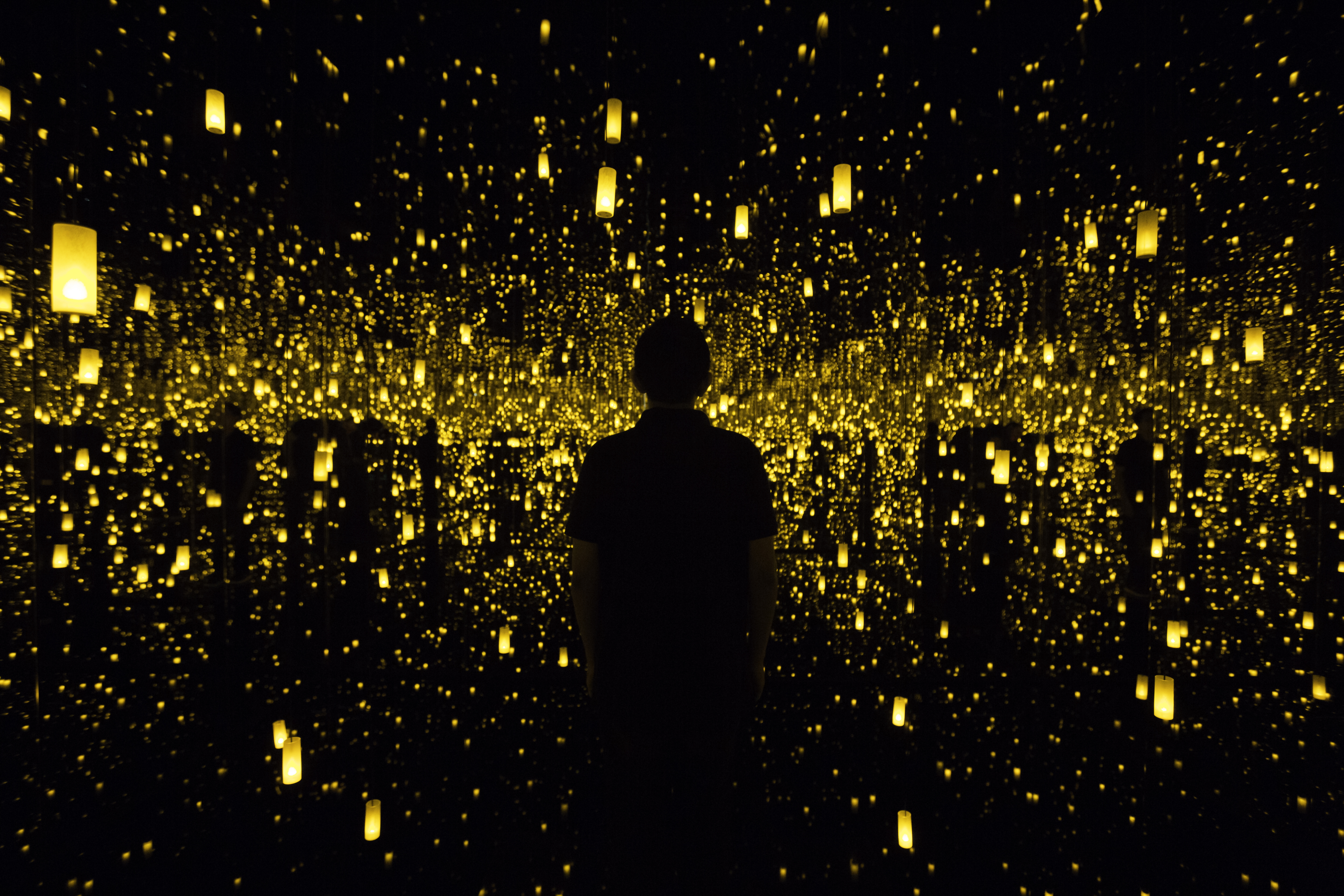 University employees receive free admission to the McNay Art Museum and the San Antonio Museum of Art with their valid UIW ID. Additional fees may apply to exhibitions. For information about UIW employee discounts, contact (210) 829-6019.
San Antonio Museum of Art Current Exhibitions:
The Magic of Clay and Fire: Japanese Contemporary Ceramics - Through Spring 2018

Spain: 500 Years of Spanish Painting from the Museums of Madrid, A Tricentennial Exhibition - Through September 16, 2018
McNay Art Museum Current Exhibitions:
Dario Robleto: Ancient Beacons Long for Notice - Through September 23, 2018

Manuel Carrillo: Mi Querido Mexico - Through September 2, 2018

Immersed: Local to Global Art Sensations - Through September 2, 2018

Fragments of a Dream - Through September 9, 2018
---
Department News
UIW Registrar
Interim Registrar Marisol Scheer has accepted the position as the UIW Registrar. Marisol has 16 years of experience in higher education in a variety of different functional areas and has been at UIW for over six years. In that time she has demonstrated her leadership abilities as well as skill in building community and developing those who report to her. Please welcome Marisol to her new role in the Division of Enrollment Services.

A message from VP Lisa Bazley on plans underway for new website
Work is underway on an updated web design for uiw.edu. Click here for Lisa Bazley's message on the new website.
Athletics News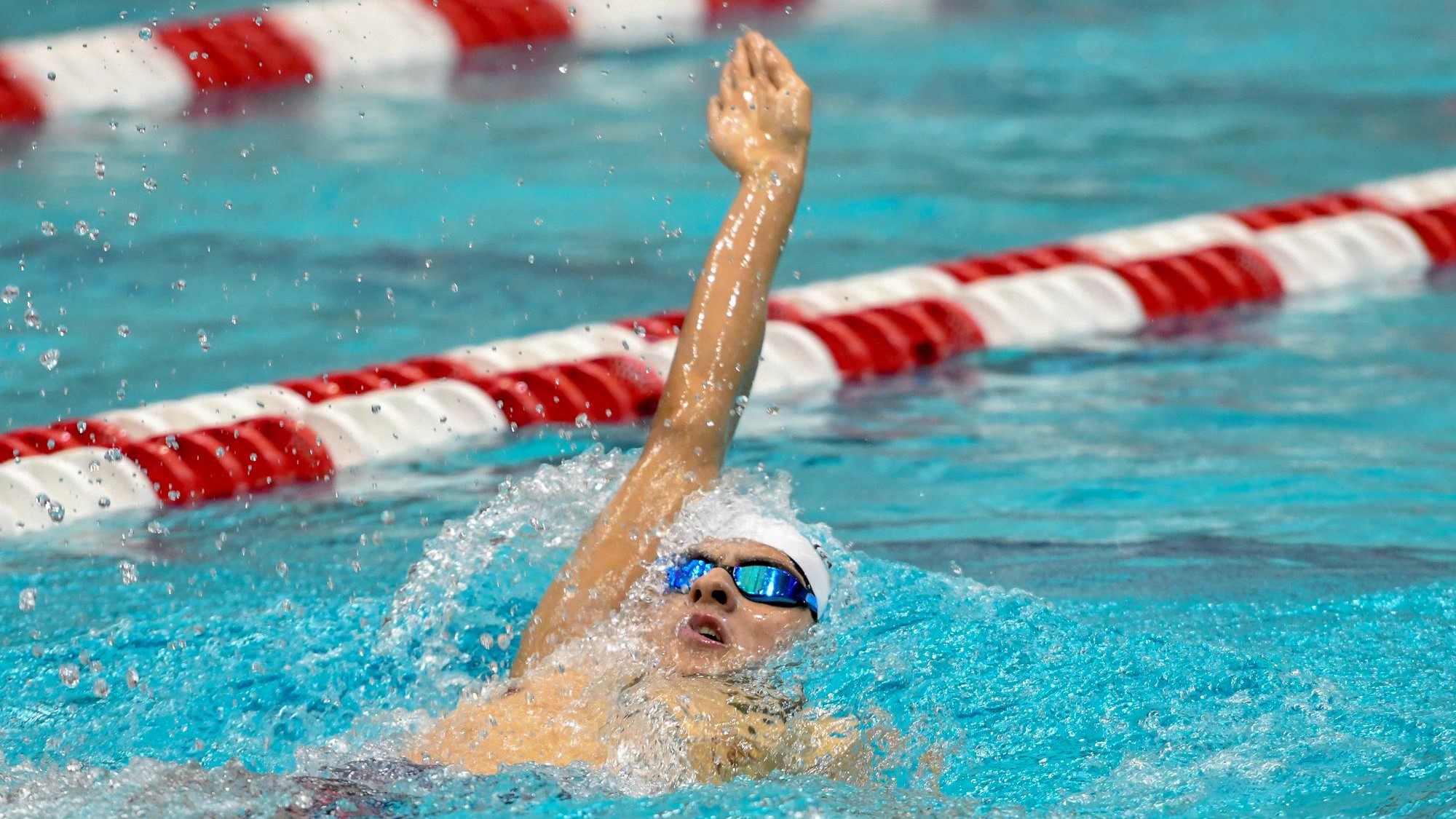 August Games

Aug. 16 - Men's Soccer vs. St. Edward's (exhibition) - 7 p.m.
Aug. 18 - Volleyball hosts Red and Black Scrimmage - 2 p.m.
Aug. 26 - Women's Soccer vs. Houston - 5 p.m.


Cardinal Football Season Tickets Now Available

Another football season is almost here, and this season promises to be an exciting one with new head football coach Eric Morris. Coach Morris has put together a great staff and is bringing an exciting style of offense to the program.
Each faculty/staff member receives one free general admission ticket by swiping their ID at the entrance, and additional season tickets can be purchased for as little as $37.50. Reserved seats are also available for just $75 for faculty/staff. With payroll deduction available, purchasing season tickets has never been easier.
Thank you for the support you have given our football program over the past nine years. We look forward to seeing you and your families at many games this season. Buy your season tickets early and be part of the excitement.
For more information contact Adam McKenzie at amckenzi@uiwtx.edu or Alma Lara at aylara@uiwtx.edu.
---
Miscellaneous
The Office of Residence Life is searching for volunteers to help our incoming and returning residents move in their buildings. We would much appreciate for UIW faculty and staff to be part of our Cardinal Move-In. Help is needed on Thursday, August 23 and Friday, August 24 from 8:30 a.m. to 5 p.m. For more information, please contact Diana Sanchez at rsanmart@uiwtx.edu.
Employee Aquatic Fitness Class
The UIW Wellness Committee is conducting Employee Only Aquatic Fitness Class at the IWHS Pool on Monday and Thursday nights from 5:30 p.m. to 6:30 p.m. These classes are open to all current UIW faculty and staff. Instructor and life guard present. For questions, please contact Erin at empwellness@uiwtx.edu.
CPR/AED Employee Training
The UIW Employee Wellness Committee is hosting a CPR/AED training course available for all current UIW faculty and staff on August 6 from 1:00 p.m. to 5:00 p.m. in the Wellness Center. This one-day course is taught using the American Heart Association's Heartsaver AED and CPR curriculum. The cost is $25 per person and covers the official AED/CPR card, AHA Workbook and practical supplies. For questions, please contact Erin at empwellness@uiwtx.edu.

Bereavement
Our thoughts and prayers go to:
Stephen and David Fern and family on the recent loss of their mother, Emelie Jolly Fern (BSN '58).
The family of and the Sisters of the Incarnate Word and Blessed Sacrament on the recent loss of Sr. M. Marietta Hajdik, IWBS (BS '65).
Donald L. Hawkes and family on the recent loss of his wife of 71 years, Margaret F. Grimmett Hawkes (BSN '49).
Mary Jinks on the recent loss of her father, Herbert P. Cheesman. Visitation and prayer will be held on August 6 at Sunset Northwest Funeral Home (6321 Bandera Rd.). Celebration of life and burial will take place on August 7.
The University of the Incarnate Word provides reasonable accommodation with adequate notice. To request disability accommodation for events listed in this newsletter, visit www.uiw.edu/ada.