The Word E-News Archive
UIW Unsung Hero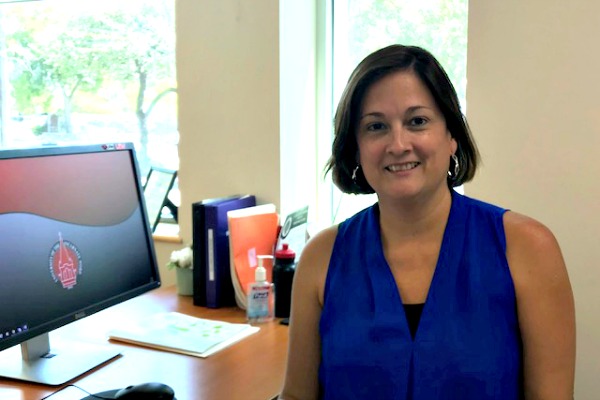 Meet Eunice Avila, administrative assistant at the Ila Faye Miller School of Nursing. Eunice was born in Weslaco, Texas and raised in Mexico. A recent addition to the UIW family, Eunice has been part of the UIW community for eight months now. During her time here, Eunice is most proud of the work she's done to help incoming undergraduate students with the application process for the UIW nursing program. 


"It's a rigorous job, but I feel accomplished and happy when I see new students every semester who are on their way to accomplishing their goals," she explained. 
When asked what she loves most about working at UIW, Eunice said, "What I love most about my job is the sense of family around our workplace. UIW truly values people on a personal level, making the hardest days as wonderful as the best days." 

A self-proclaimed innovator, Eunice loves trying new ideas and creating change to achieve growth. When she's not busy making a difference in the lives of students, you can find her spending time with family or on her way out of town - she loves visiting new places!
Thanks for all that you do, Eunice!
Mission and Ministry: Summer Mass Schedule
Masses will continue on Sundays at 10:30 a.m. in Our Lady's Chapel through August 19, 2018. 

We will celebrate our annual Welcome Mass on Sunday, August 26. Due to limited seating in the Chapel of the Incarnate Word, two liturgies will be offered on this day:
10:30 a.m. (Chapel of the Incarnate Word)

10:45 a.m. (Our Lady's Chapel) 
Our 8 p.m. Mass resumes in Our Lady's Chapel on Sunday, September 2, 2018.
Our Lady's Chapel Services
All are welcome.
Noon Mass, Monday – Friday 
Sunday Mass at 10:30 a.m. 
Sacrament of Reconciliation, 11:30 a.m. Fridays or by appointment with Fr. Tom Dymowski, O.SS.T. at
(210) 829-3131 or dymowski@uiwtx.edu.    
---
Events      
School of Mathematics, Science and Engineering Welcome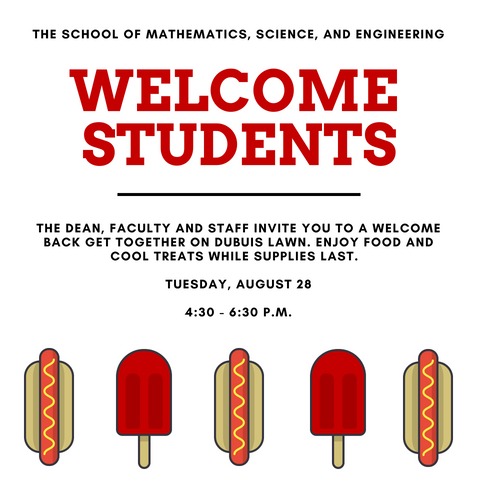 CHASS Welcome Back 
The Dean, faculty and students of the College of Humanities, Arts and Social Sciences invite you to join them for some fun, food and friendship. Enjoy some BBQ, games and prizes while you learn a little about all that CHASS has to offer. The welcome back party will be held on Wednesday, August 29 from 5:30 – 7 p.m. on Dubuis Lawn. For more information, please contact Tanja Stampfl at (210) 829-3885 or stampfl@uiwtx.edu.

School of Nursing and Health Professions Speed Meeting Event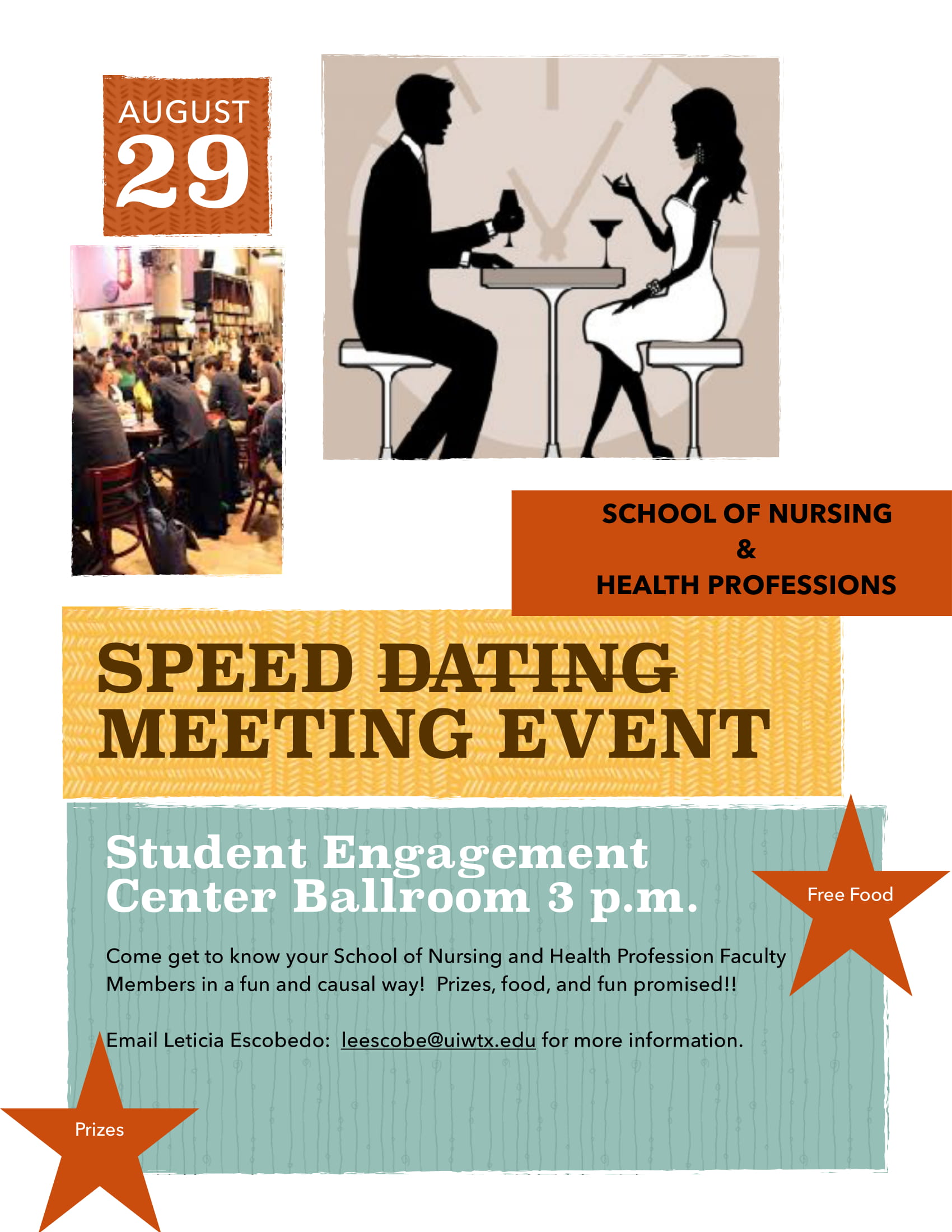 The Austin Baroque Orchestra & Chorus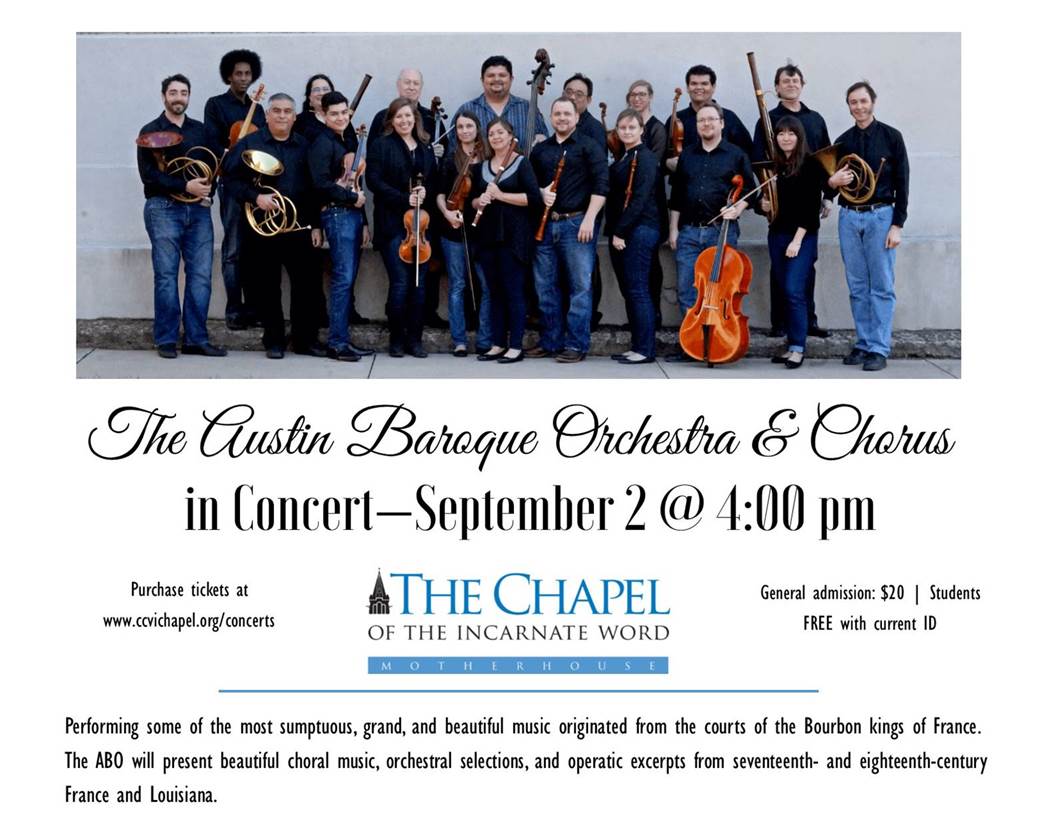 ---
Community News
$2 Million in Scholarships Dedicated to Support Healthcare Career Dreams
Baptist Health Foundation of San Antonio (BHFSA), the Tenet Healthcare Foundation and Baptist Health System are pleased to announce a $2 million scholarship program that will help make a higher education accessible for economically disadvantaged high school graduates in our community who want to pursue a career in healthcare. The need-based scholarships will go to students enrolled in health-related academic programs at the bachelor's degree level and below. Two UIW senior BSN students, Aimee Oates and Jose Paramo, and one Feik School of Pharmacy graduate, Dr. Bhavika Makanji Cross, were invited to speak about receiving scholarships. Pictured left to right are Dr. Bhavika Makanji Cross, graduate of the Feik School of Pharmacy; Dr. Thomas M. Evans, UIW President; Mr. Cody Knowlton, President and CEO of the Baptist Health Foundation of San Antonio; Judge Nelson Wolff; Mr. Matt Stone, Baptist Health System Group CEO; Ms. Aimee Oates, current UIW BSN student; and Mr. Jose Paramo, current UIW BSN student.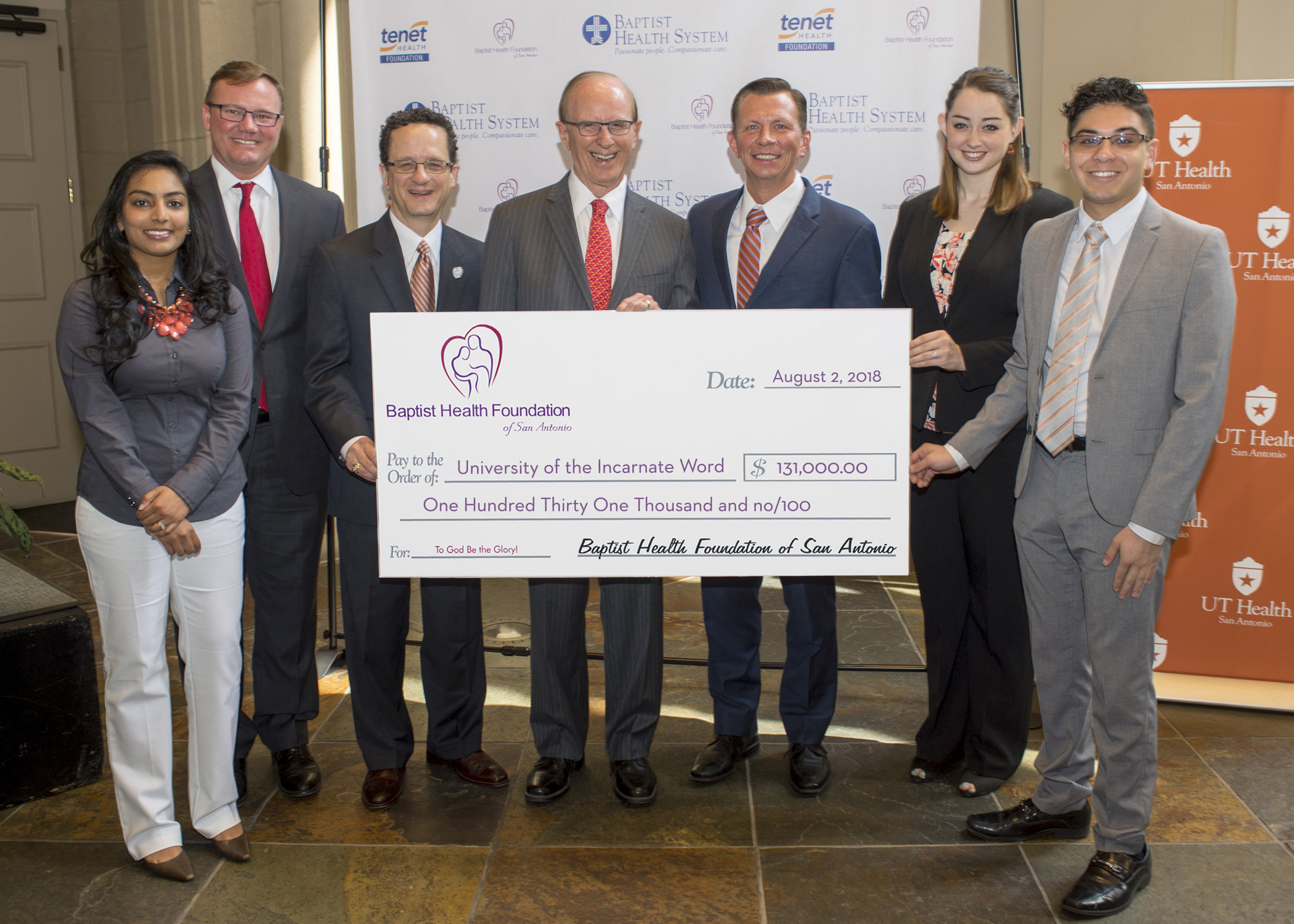 Welcome New Employees!   
Human Resources hosted New Employee Orientation on Thursday, August 16 and would like to welcome these Cardinals to the nest!
From left to right: Melissa Torres, Library Public Services Assistant; Nora Galvan, Residency Coordinator; Jennifer Hight, HR & Title IX Investigator; Juan Gonzalez, Network Administrator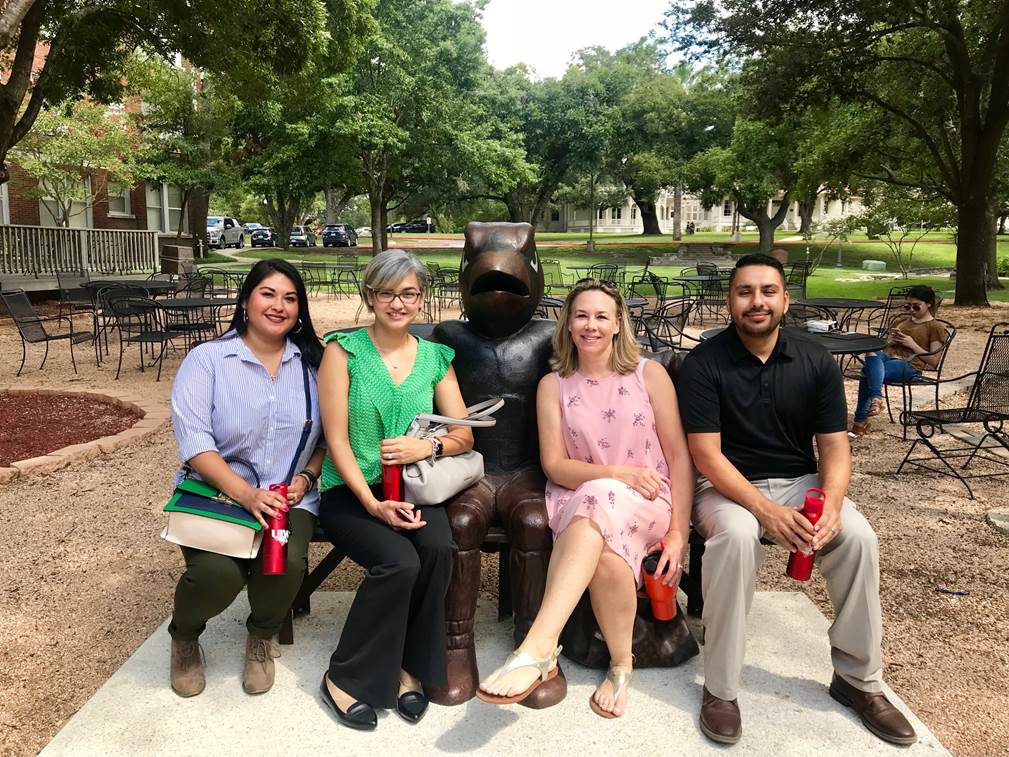 San Antonio Museum Exhibitions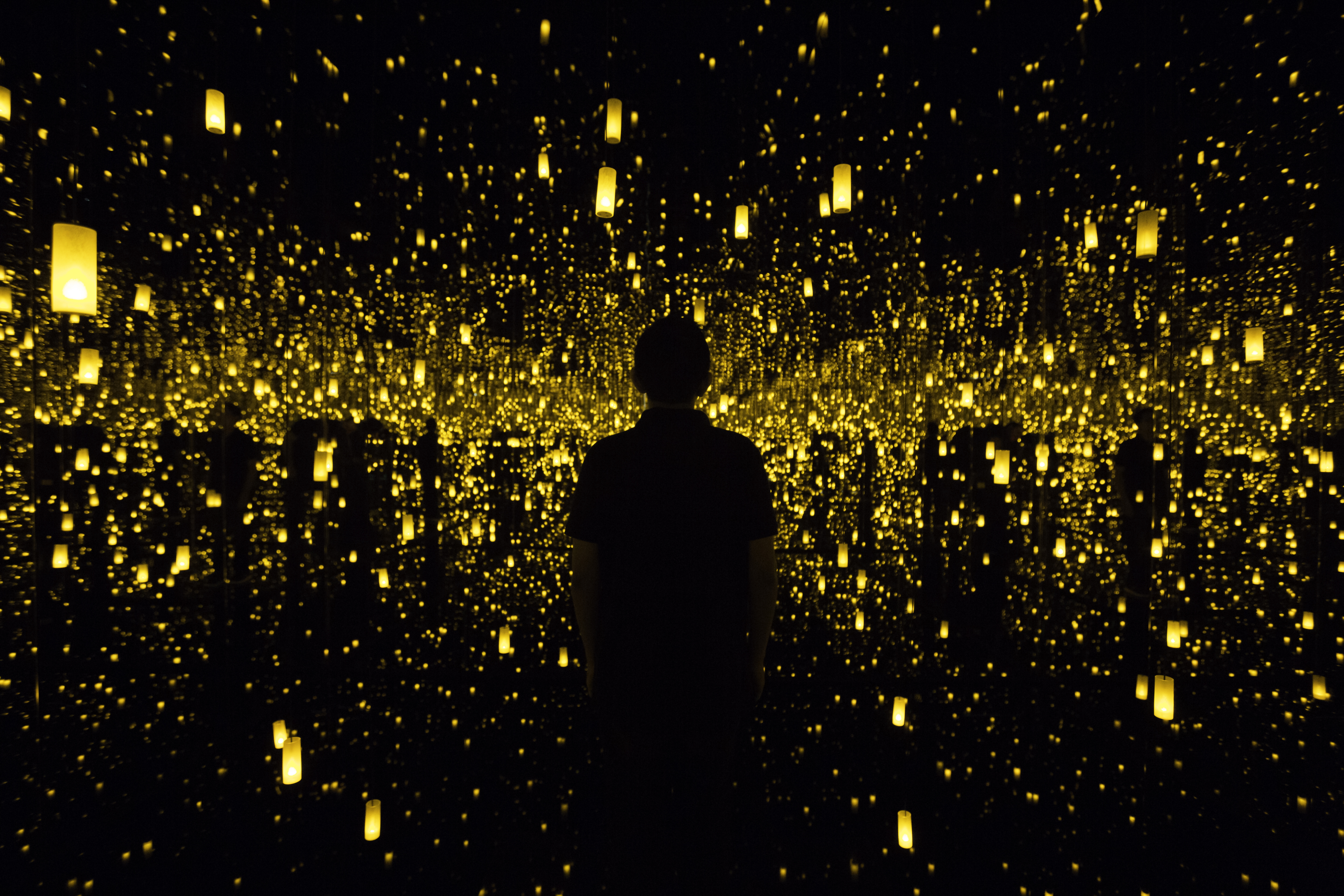 University employees receive free admission to the McNay Art Museum and the San Antonio Museum of Art with their valid UIW ID. Additional fees may apply to exhibitions. For information about UIW employee discounts, contact (210) 829-6019.
San Antonio Museum of Art Current Exhibitions:
The Magic of Clay and Fire: Japanese Contemporary Ceramics - Through Spring 2018 

Spain: 500 Years of Spanish Painting from the Museums of Madrid, A Tricentennial Exhibition - Through September 16, 2018
McNay Art Museum Current Exhibitions:
Dario Robleto: Ancient Beacons Long for Notice - Through September 23, 2018

Manuel Carrillo: Mi Querido Mexico - Through September 2, 2018

Immersed: Local to Global Art Sensations - Through September 2, 2018

Fragments of a Dream - Through September 9, 2018
---
Department News
A Parking Notice from the Vice President for Business & Finance, Mr. Douglas Endsley
The Agnese/Sosa parking garage, Riverside parking (Parking lot adjacent to Agnese/Sosa Garage), and parking lot behind Dubuis will be reserved for Resident Move-In. Employees are asked to park in front of the Convocation Center, in front of the Administration Building, or behind the Barshop Natatorium on the following dates:

Thursday, August 23, 2018 & Friday, August 24, 2018

Employees with a handicap or H parking decal can continue to park in the two parking lots in front of the Administration Building. Thank for your understanding and cooperation as we welcome new students and their families to the UIW community.
If you have any questions, call (210) 805-3552.
Faculty Focus
Part-Time Faculty Workshop
Part-time faculty are invited to attend the part-time faculty workshop on Saturday, August 25 from 9 a.m. – noon at the Rosenberg School of Optometry (9725 Datapoint). Meet representatives from a wide range of UIW offices and services, enjoy breakfast with colleagues, win door prizes and get up to date on university updates. This event is sponsored by the Provost, School of Professional Studies and The Center for Teaching & Learning. For more information, please contact Kathy Allwein at kallwein@uiwtx.edu. Click here to RSVP.
Blackboard Walk-In Sessions
Stop by the Center for Teaching and Learning for an opportunity to get your courses ready for the spring. Get help setting up your Grade Center, copy course materials from last semester's course, or upload electronic copies of your course documents to Blackboard. Registration is not necessary. Just stop by AD 212 on Wednesday, August 29 between 10 a.m. and 2 p.m.! For more information, please contact Terry Peak at (210) 829-3920 or tpeak@uiwtx.edu.
Blackboard Attendance Workshop
Many instructors use attendance data as part of their students' overall grades. The Blackboard attendance tool makes taking attendance a simple process, allowing instructors to mark students present, late, absent or excused. Attendance calculates a grade based on the number of absences and posts that grade to the Grade Center. A learning session on Blackboard Attendance will be held on Friday, August 31 from noon – 1 p.m. in Mabee Library Rm. 230. For more information, please contact Terry Peak at (210) 829-3920 or tpeak@uiwtx.edu.
Athletics News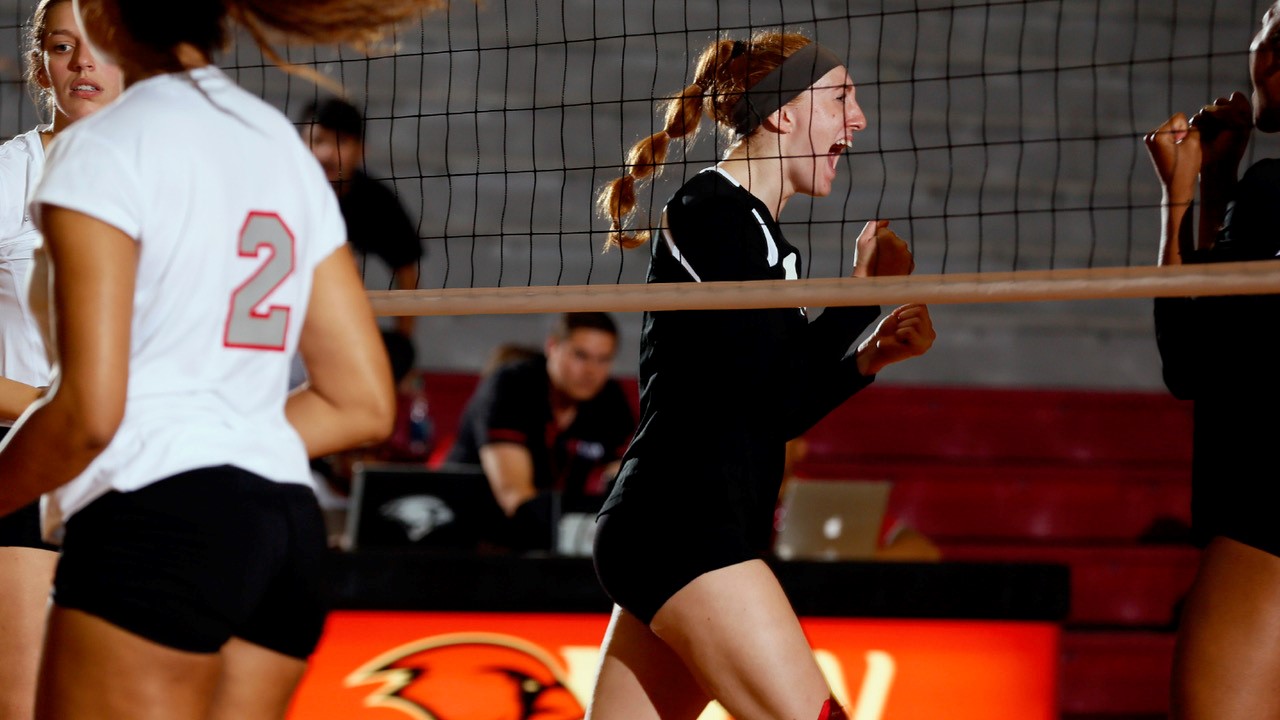 August Games
Aug. 18 - Volleyball hosts Red and Black Scrimmage - 2 p.m.
Aug. 26 - Women's Soccer vs. Houston - 5 p.m.


Cardinal Football Season Tickets Now Available

Another football season is almost here, and this season promises to be an exciting one with new head football coach Eric Morris. Coach Morris has put together a great staff and is bringing an exciting style of offense to the program.
Each faculty/staff member receives one free general admission ticket by swiping their ID at the entrance, and additional season tickets can be purchased for as little as $37.50. Reserved seats are also available for just $75 for faculty/staff. With payroll deduction available, purchasing season tickets has never been easier.
Thank you for the support you have given our football program over the past nine years. We look forward to seeing you and your families at many games this season. Buy your season tickets early and be part of the excitement.
For more information contact Adam McKenzie at amckenzi@uiwtx.edu or Alma Lara at aylara@uiwtx.edu.
---
Miscellaneous
Parking Lottery - Final Day to Enter
The UIW Off-Site campus parking lottery is now open! Access the link below to enter your name in the lottery to receive an off-site campus parking permit. The off-site campus parking lots are located behind Cheesy Jane's and the AT&T lot next to the Jim's restaurant. Parking in these lots are by permit only. The lottery will be open until end of day, August 17. Winners will be notified on August 20. Click here to enter.              
Cardinal Move-In
The Office of Residence Life is searching for volunteers to help our incoming and returning residents move in their buildings. We would much appreciate for UIW faculty and staff to be part of our Cardinal Move-In. Help is needed on Thursday, August 23 and Friday, August 24 from 8:30 a.m. to 5 p.m. For more information, please contact Diana Sanchez at rsanmart@uiwtx.edu. 
Bereavement
Our thoughts and prayers go to: 
Debbie Davis Di Filippo (IWHS '76) and Laurie Davis Fillmore (IWHS '79) & their families on the recent loss of their father, John Tynan Davis.
Pat Frost & family on the recent loss of her husband, Thomas C. "Tom" Frost (UIW Friend).
Dr. Andrea Gonzalez (IWHS '88) and Paula Marie Kelly (IWHS '92) & their families on the recent loss of their mother, Elizabeth Catherine Paganucci Kelly.
Emmet Monahan & family on the recent loss of his wife, Agnes Teresa Dunphy Monahan (BA '67).
Mayra Carbajal Levy, Student Success Advisor for the School of Professional Studies, is mourning the loss of her grandmother Josefina H. Carbajal, age 89. Josefina entered into rest on Tuesday, August 14, 2018 in Del Rio, Texas. Visitation will be held on Thursday, August 16, 2018 from 5 - 9 p.m. at Sunset Memorial Oaks Funeral Home. Mass of Christian Burial will be held on Friday, August 17, 2018 at 10 a.m. at St. Joseph Catholic Church in Del Rio. Please keep Mayra and her family in your thoughts and prayers.
The University of the Incarnate Word provides reasonable accommodation with adequate notice. To request disability accommodation for events listed in this newsletter, visit www.uiw.edu/ada.