The Word E-News Archive
Spotlight



The University of the Incarnate Word (UIW) has been awarded a 2018 Top Workplaces honor by The San Antonio Express-News. The list is based solely on employee feedback measuring several aspects of workplace culture, including alignment, execution, and connection, just to name a few. Thank you to all employees who make UIW a wonderful place to be for all. In the video above, UIW employee, Itza Casanova, highlights some of the many reasons UIW is truly a top workplace. 
Our Lady's Chapel Services
All are welcome.
Noon Mass, Monday – Friday 
Sunday Mass at 10:30 a.m. and 8 p.m.
Sacrament of Reconciliation, 11:30 a.m. Fridays or by appointment with Fr. Tom Dymowski, O.SS.T. at
(210) 829-3131 or dymowski@uiwtx.edu.    
BEREAVEMENT
Our thoughts and prayers go to:
Her family and the Marianites of Holy Cross on the recent loss of Sr. Elizabeth Laborie, MSC (MA '67).
The family of Pattye M. Lawrence (BSN '77) on her recent death.
Christopher Liberda and Cherie Ashwander on the recent loss of their mother, Carolyn Liberda (ALND '56).
The family of Nelda G. Montalvo (IWHS '50) on her recent death.
Raymond Leon, his wife Sylvia, and family as they mourn the loss of Sylvia's dear father, Jose Jaime G. Rodriguez. Raymond Leon has served UIW as the paint supervisor for 25 years. Please keep Raymond, Sylvia, and their family in your prayers.
Melinda Wright, venue manager for the Department of Music, is mourning the loss of her grandfather, Charles Wright Jr. Services were held in Coatesville, Pennsylvania on Saturday, October 13, 2018. For more information, click here. Please keep Melinda and her family in your prayers during this difficult time.
---
Events      
TRiO's Cup Runneth Over Drive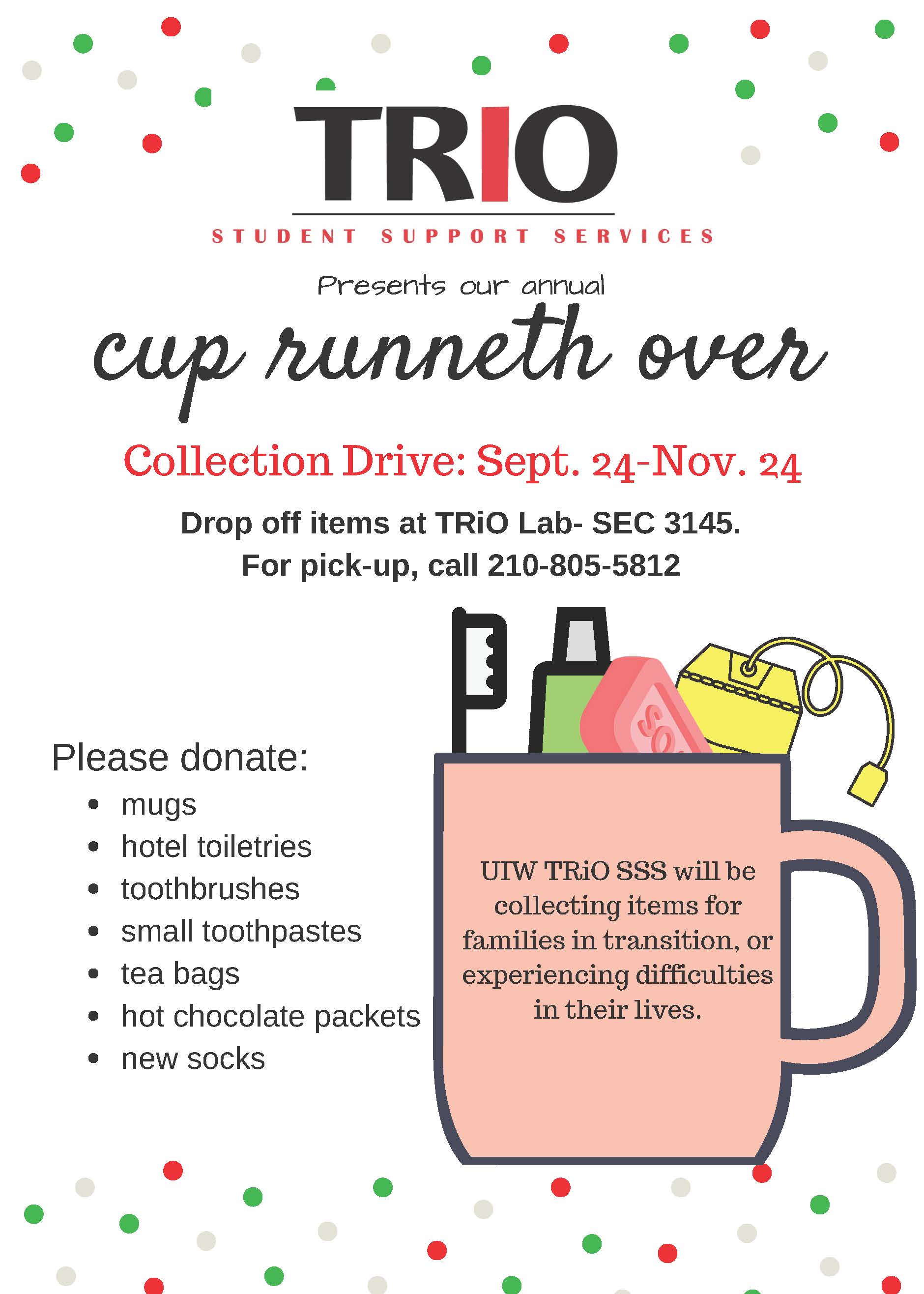 Voter Drive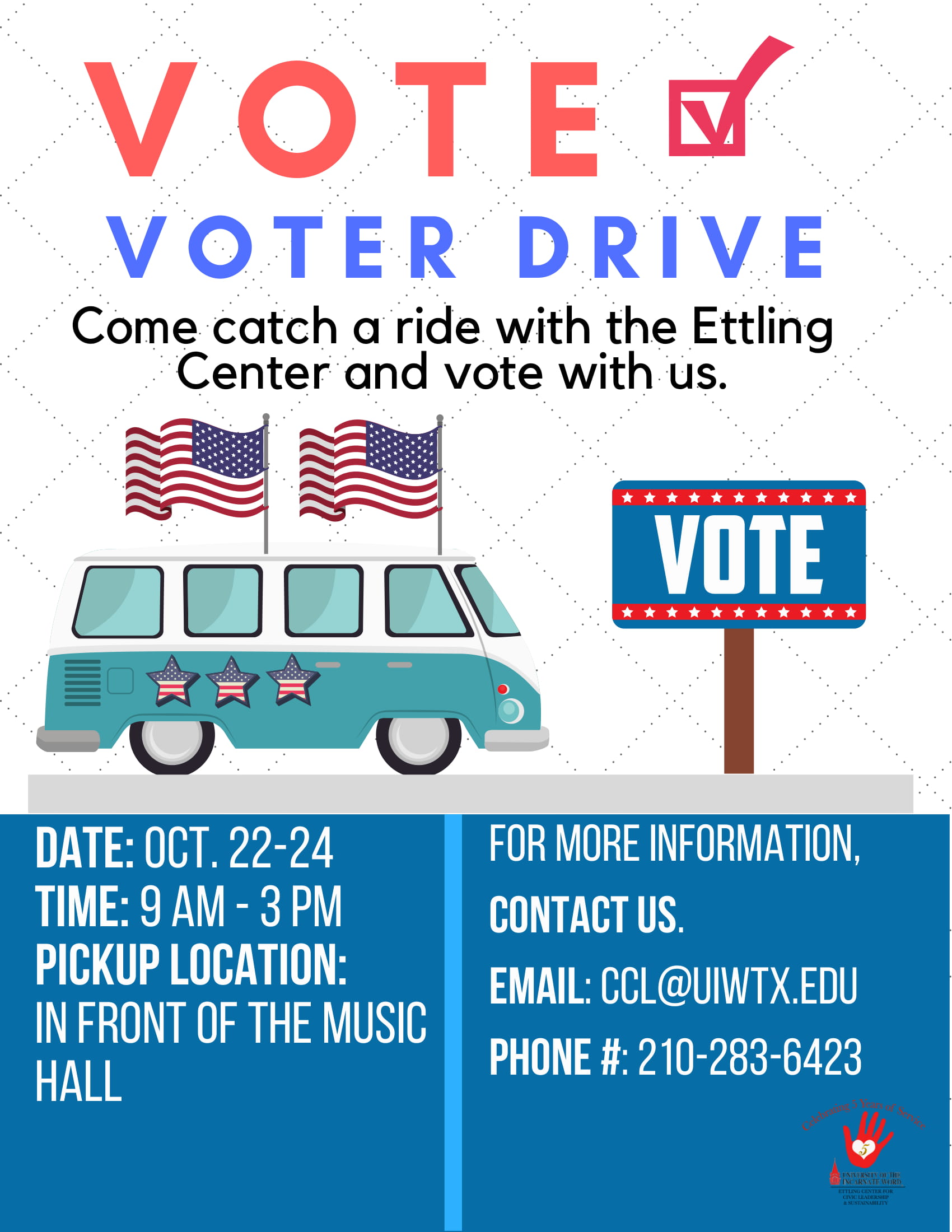 Preparing a Federal Grant Application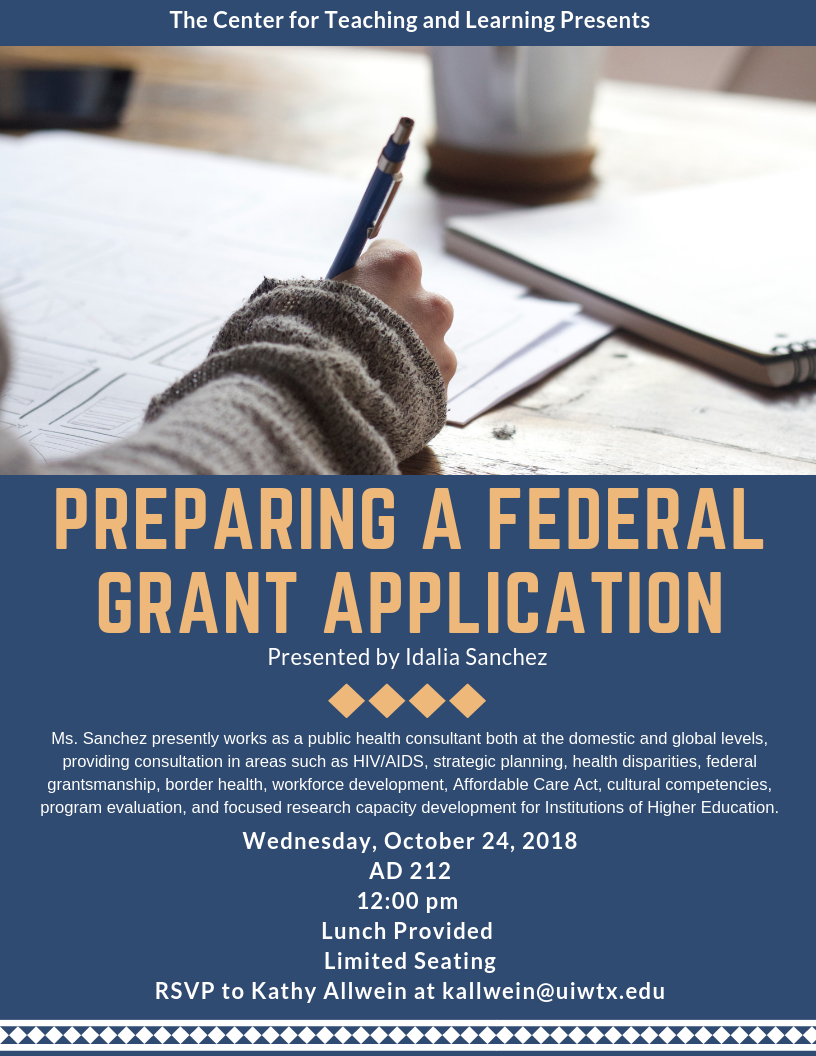 Quijotes of San Antonio 2nd Annual Fundraising Dinner & Dance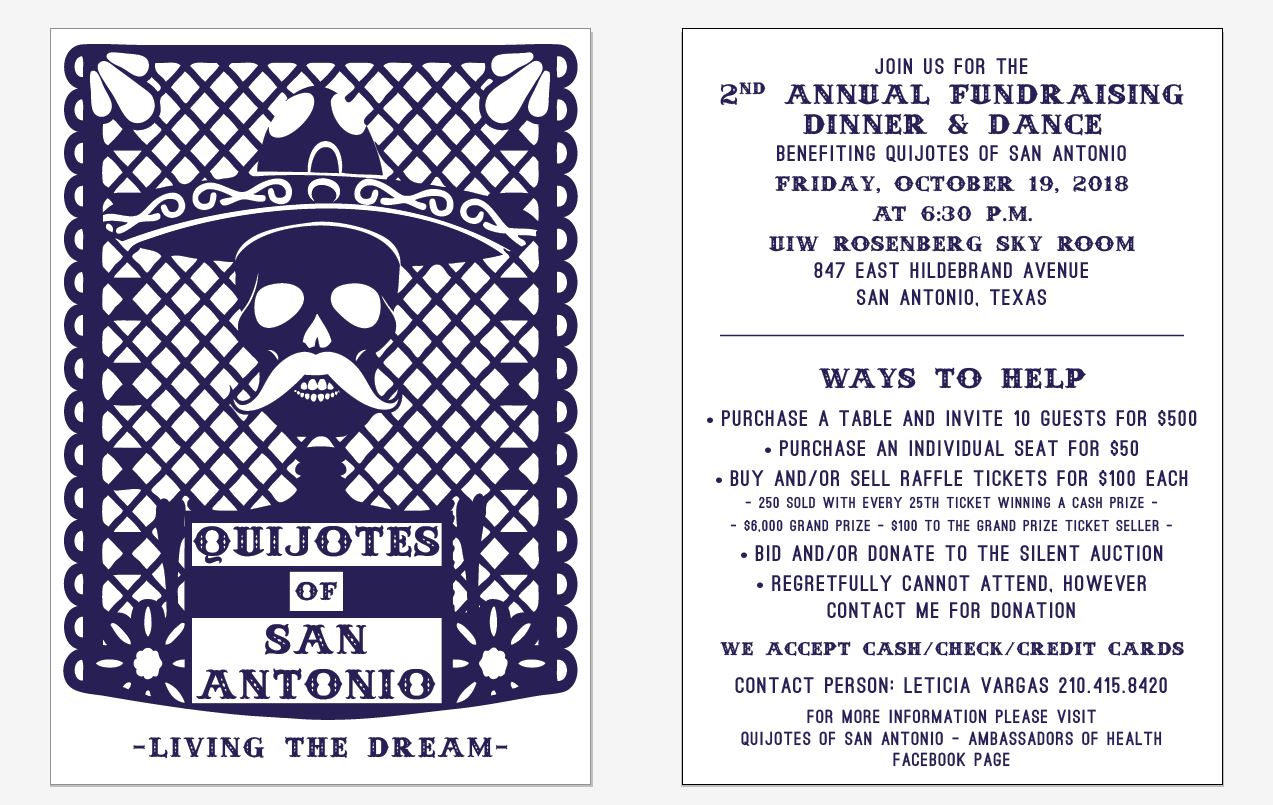 UIW Retirement Week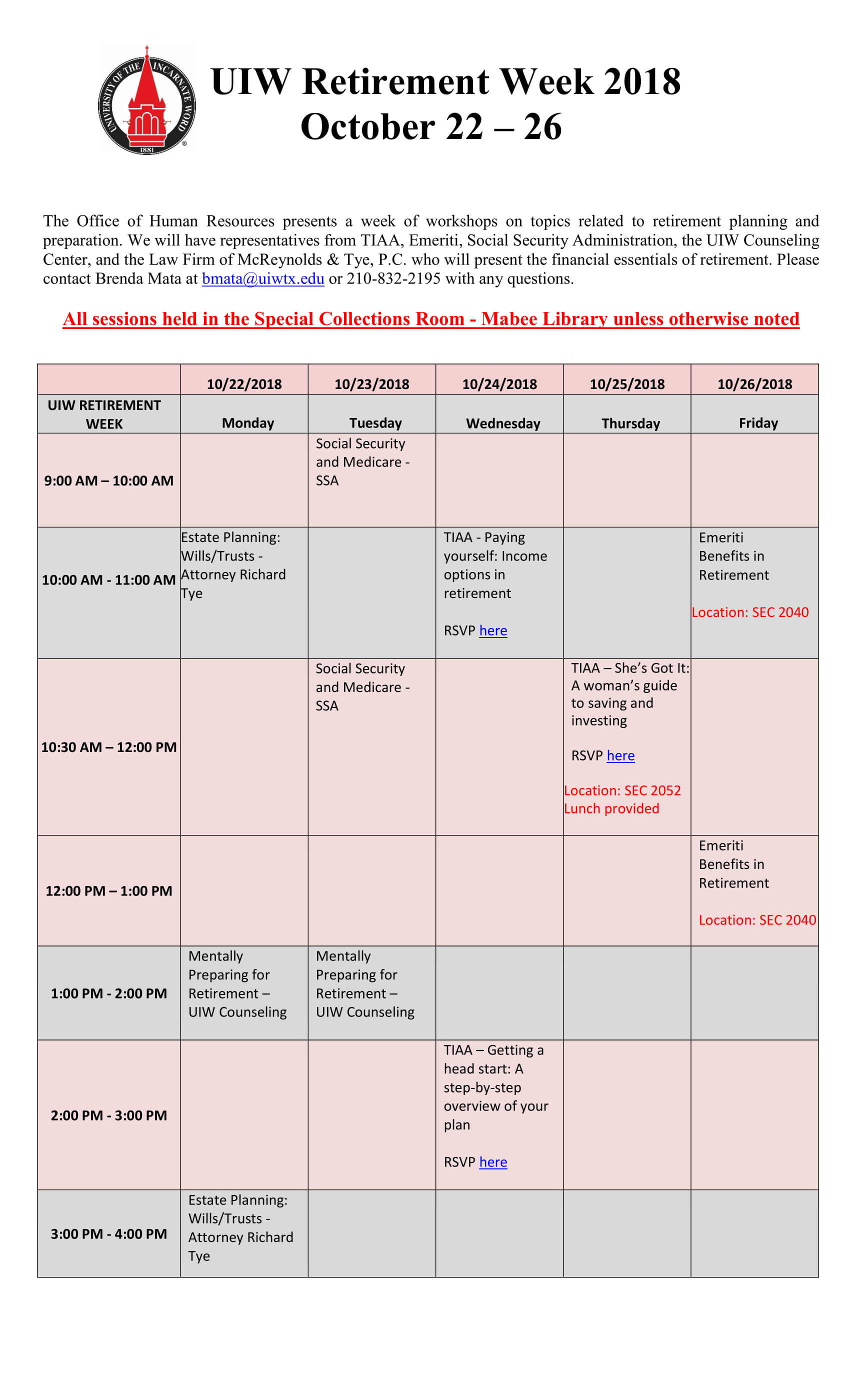 1881 Society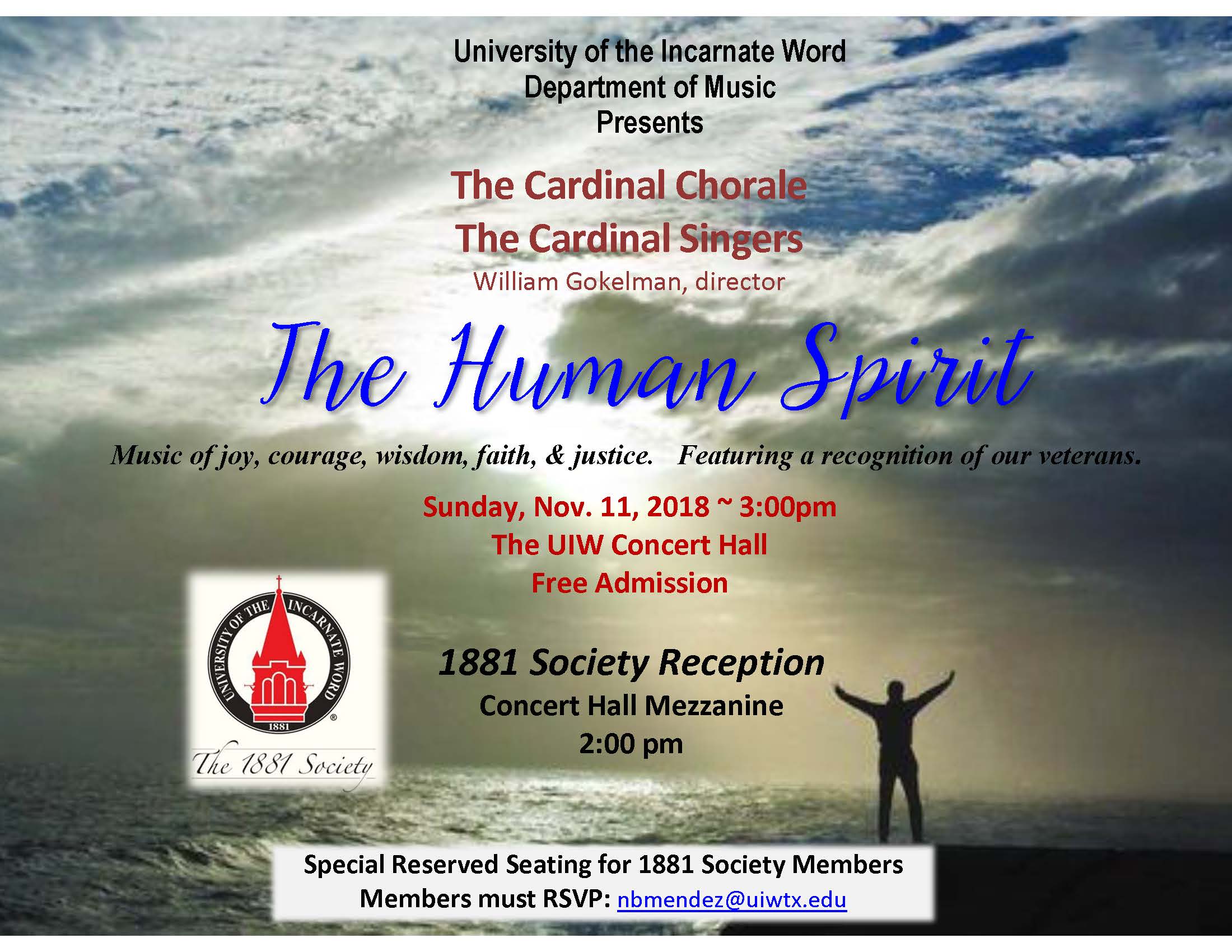 Veteran's Day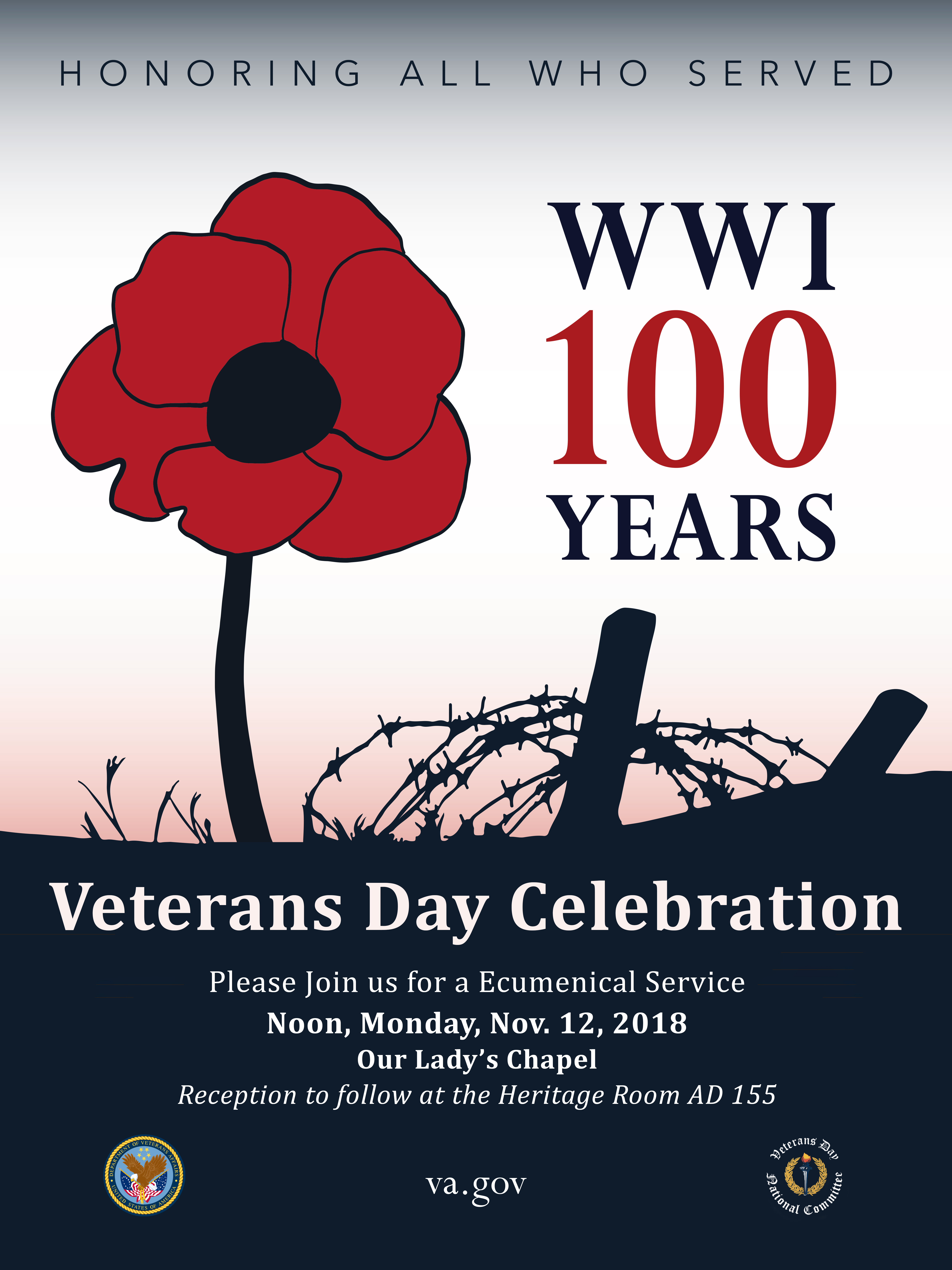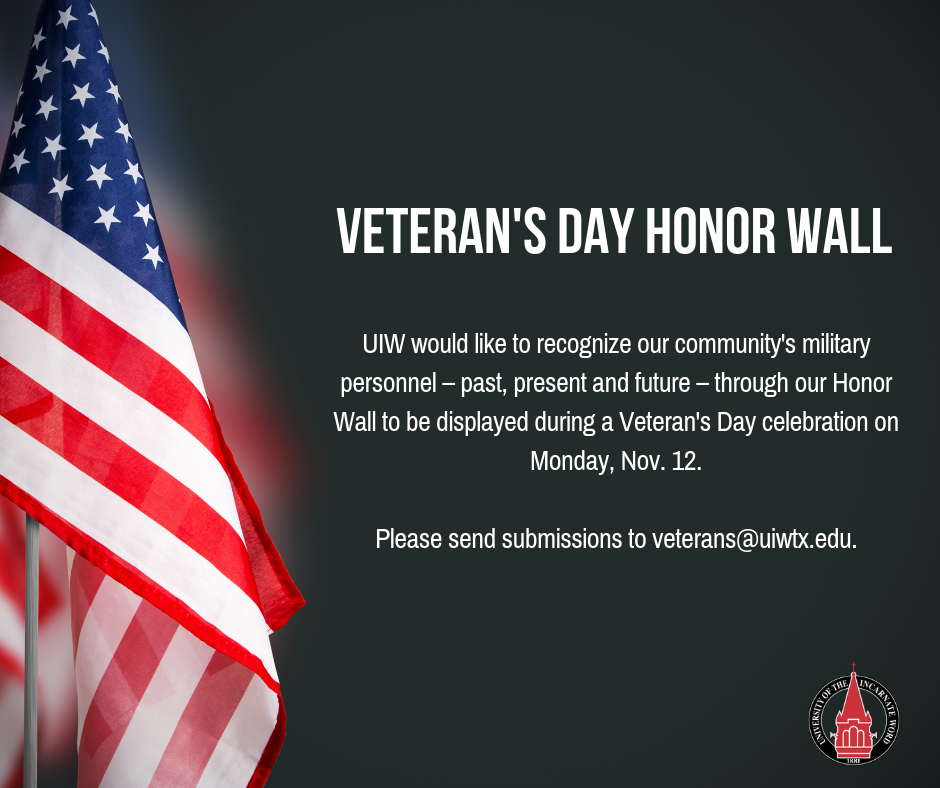 ---
Community News

Town Hall Schedule

Join UIW President, Dr. Tom Evans at a townhall next week to learn more about enrollment, financial outlook and strategic planning processes, including campus master planning. All members of our community are invited to attend a session, ask questions and provide feedback, with specific emphasis on the strategic vision and priorities and our way forward. After each meeting, attendees are invited to a post-event reception.
For those not able to attend, the Office of Communications and Brand Marketing will be working with media services to ensure important information from a Town Hall meeting will be available for viewing following the event. Please see the schedule below and make plans to attend a Town Hall meeting that best fits your schedule. 
Town Hall Meetings:
Tuesday, Oct. 23
School of Osteopathic Medicine, 3 p.m.
Wednesday, Oct. 24
Rosenberg School of Optometry, 12 p.m.
School of Physical Therapy, 3 p.m.
Friday, Oct. 26
Feik School of Pharmacy, 12 p.m.
Broadway Campus, 2:15 p.m.
UIW ROTC 2018 Army Ten Miler Team
The UIW Army Ten Miler (ATM) team, led by CDT Aneya Torres and CDT Eric Wages, culminated their intense 6 week training plan with the completion of the ATM race in Washington, D.C on Sunday, Oct. 7. The team used CDT Torres' prior experience cross country experience to build a training plan that combined endurance/distance training, speed/interval training, and upper body/core training, leading to a successful race. The team also had the opportunity to tour the nation's capitol over the long weekend, to include a Capital Tour. The team logged over 50 miles walking through the city and running the race!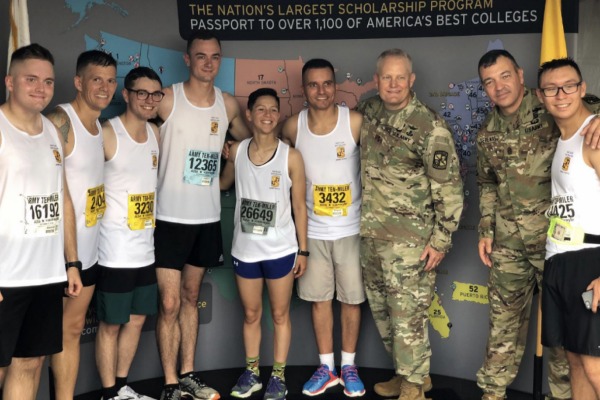 Light the Way Display Board Contest
On Saturday, Oct. 13, students, faculty and staff gathered for the annual Light the Way Display Board Contest. Student organizations designed and painted artwork that will be displayed on campus for Light the Way and throughout the holiday season. Pictured below are first place winners, the Asian Culture Club, and second place winners, Psi Chi and the Psychology Society. The UIW Honors College took home the People's Choice award this year. Congratulations to all winners and participants!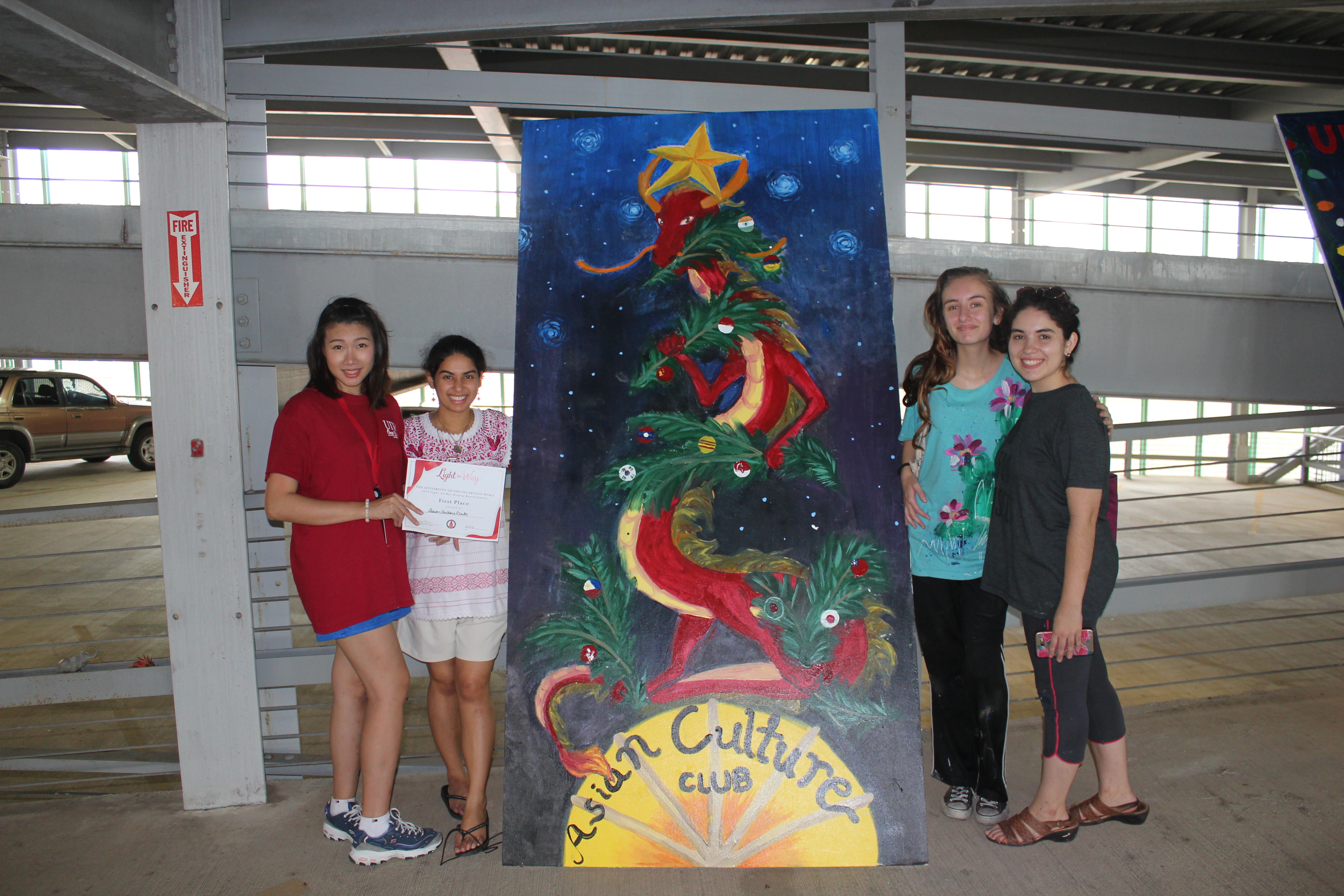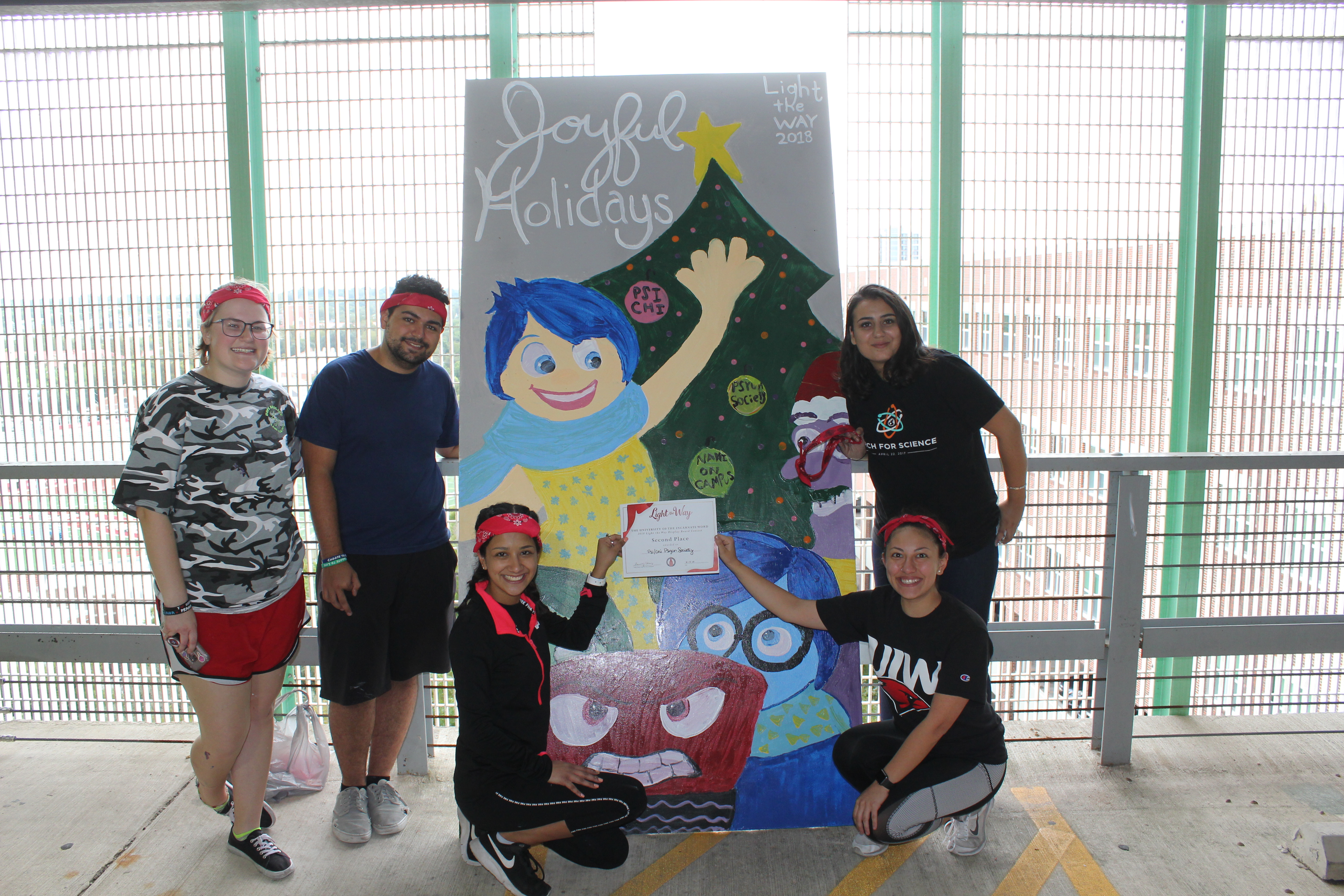 Employee Campaign Finale Party
On Tuesday, Oct. 16, UIW employees celebrated another successful employee campaign. Faculty and staff enjoyed breakfast and entertainment providing by UIW Spirit and the Marching Cardinals! Many also took home raffle prizes. Thank you to all employees who have participated in this year's employee campaign - your contribution makes a difference in the lives of our students. There is still time to make your gift.
Click here for a printable donation form
 or
here to make an online gift
. You may also call the development office at (210) 829-6013. It starts with us!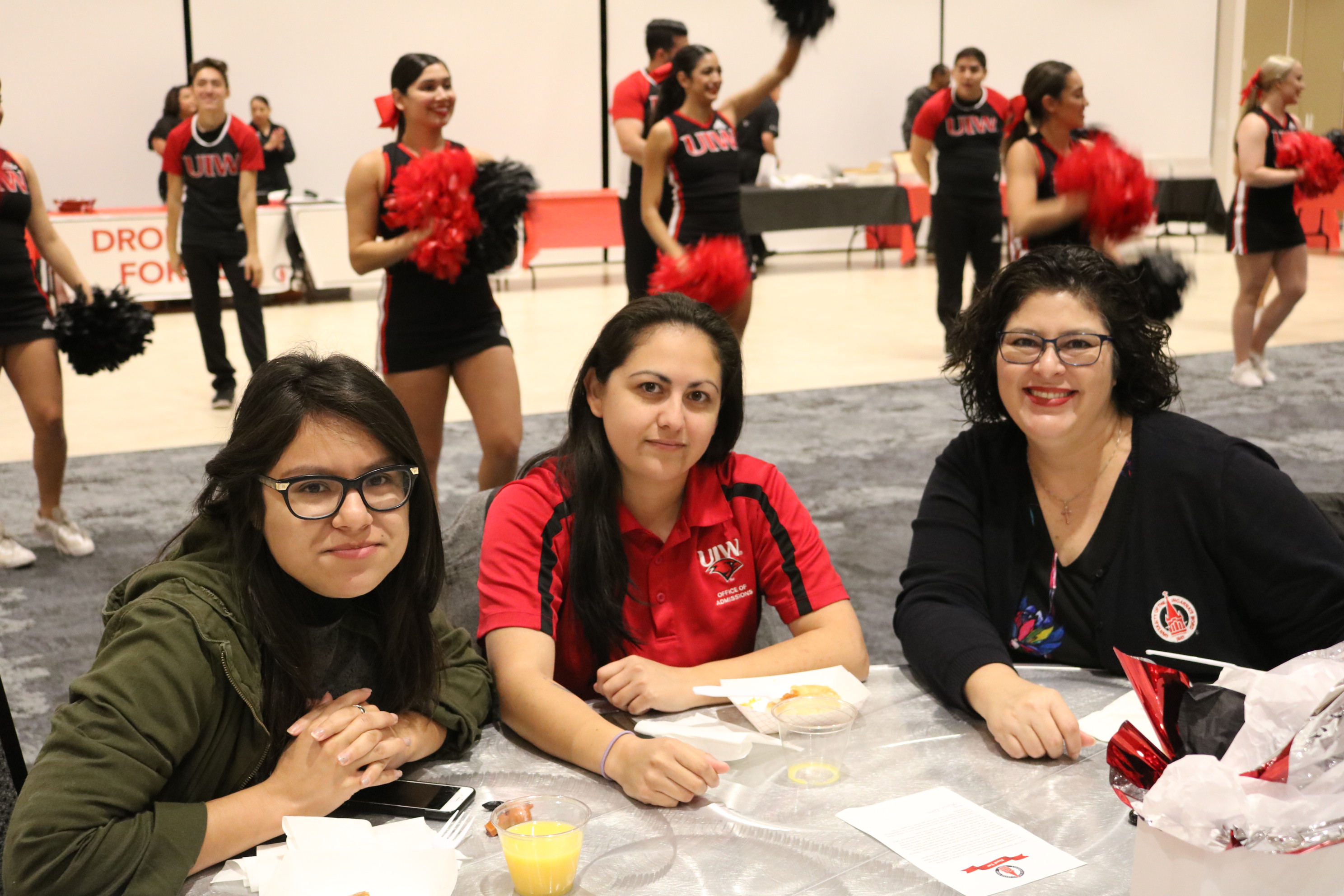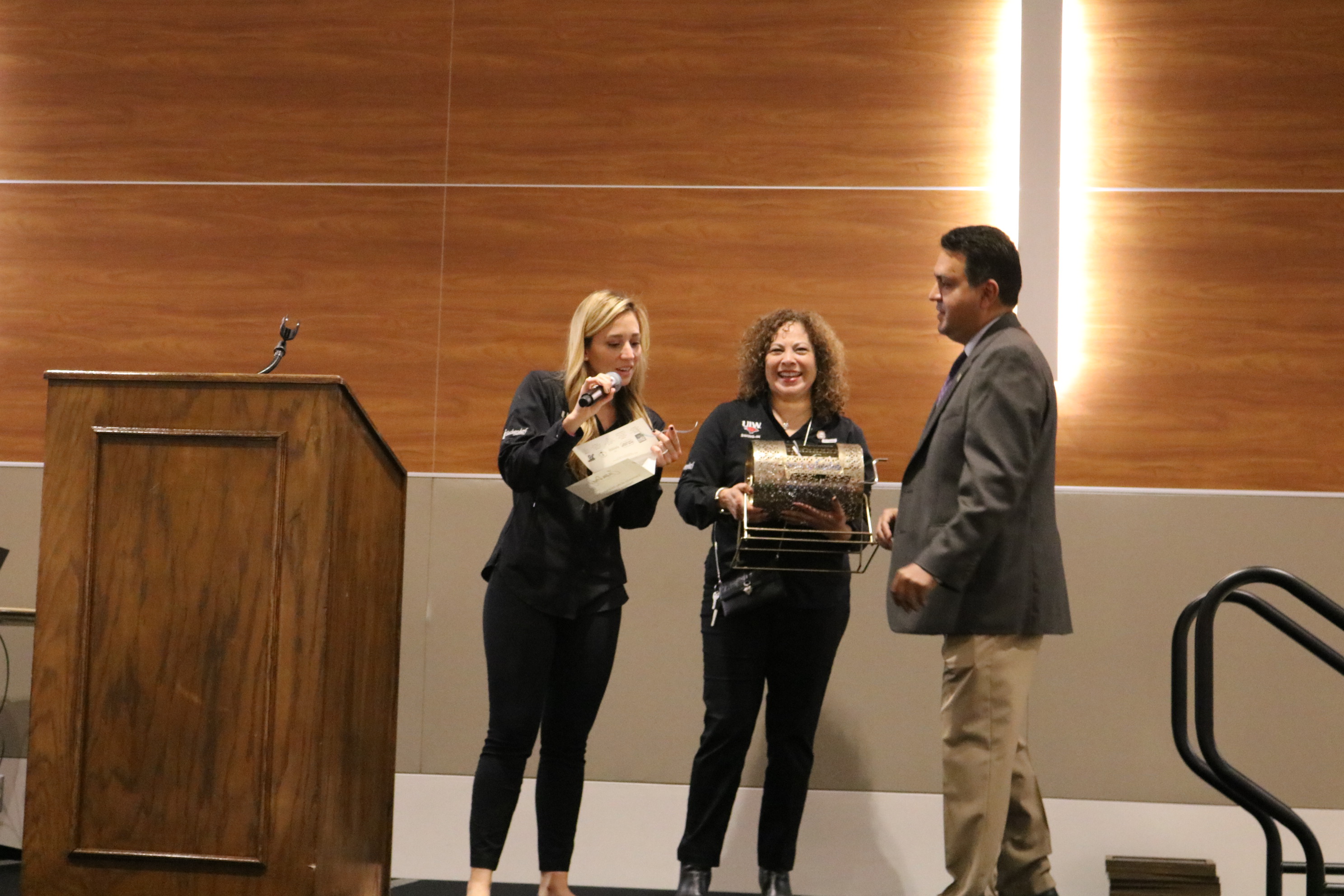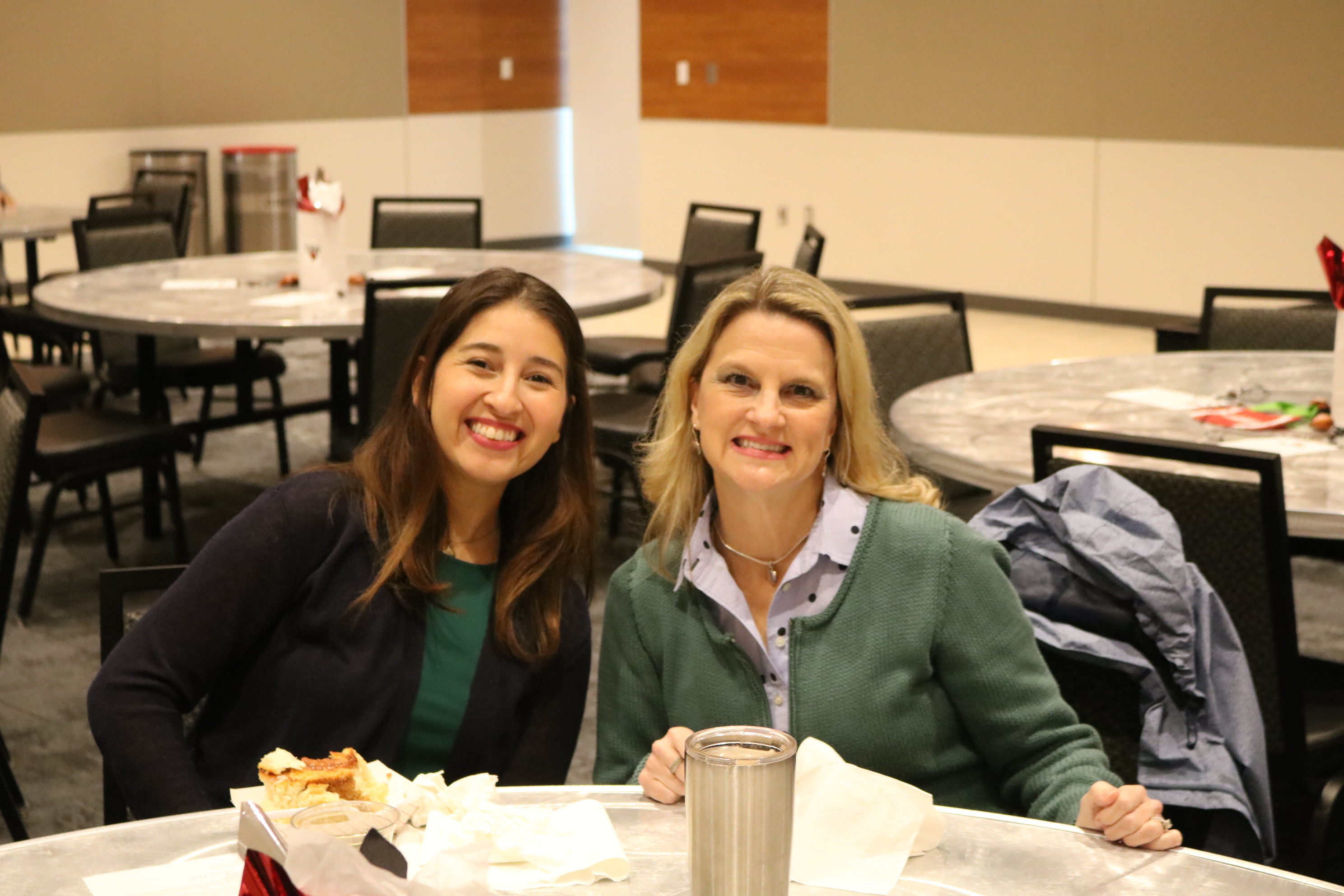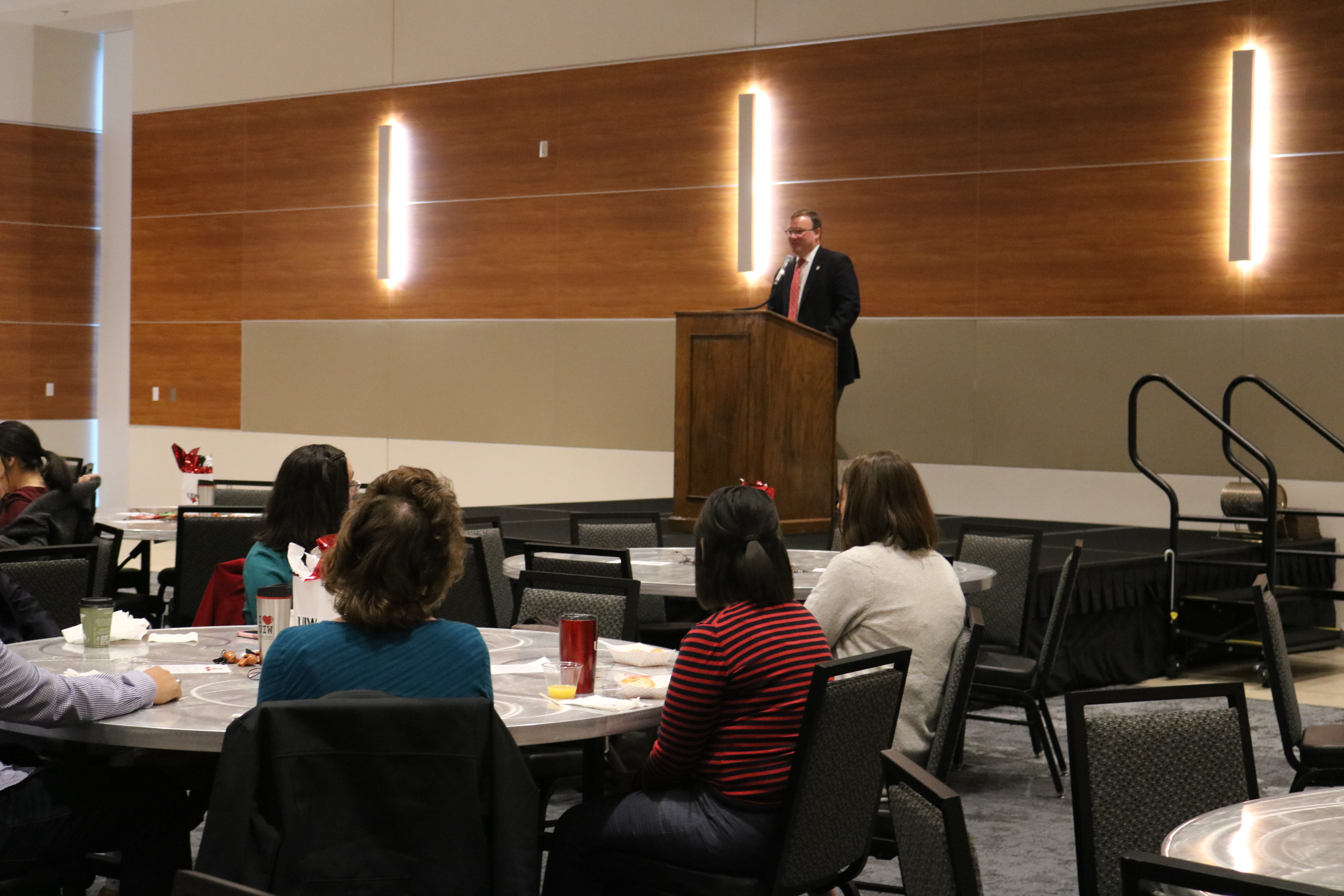 Welcome, New Employees!
Human Resources hosted New Employee Orientation on Tuesday, Oct. 16 and would like to welcome these new Cardinals to the nest!
 From left to right: Mary Jo Bilicek, Research Compliance Coordinator, Luis Gonzalez, University Police, Brittany Sharnsky, Development Associate.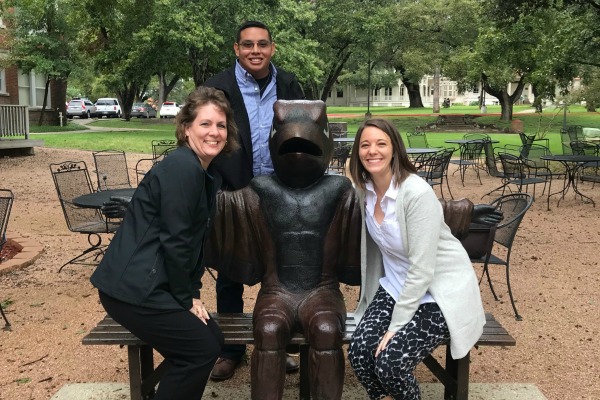 Rosenberg School of Optometry: Pink Out Day

On Wednesday, Oct. 17, the Rosenberg School of Optometry hosted their Pink Out Day in honor of the fight to end Breast Cancer. Faculty and staff wore matching t-shirts to show support to breast cancer survivors, fighters, and to honor those who were taken too soon. Thank you for supporting the fight!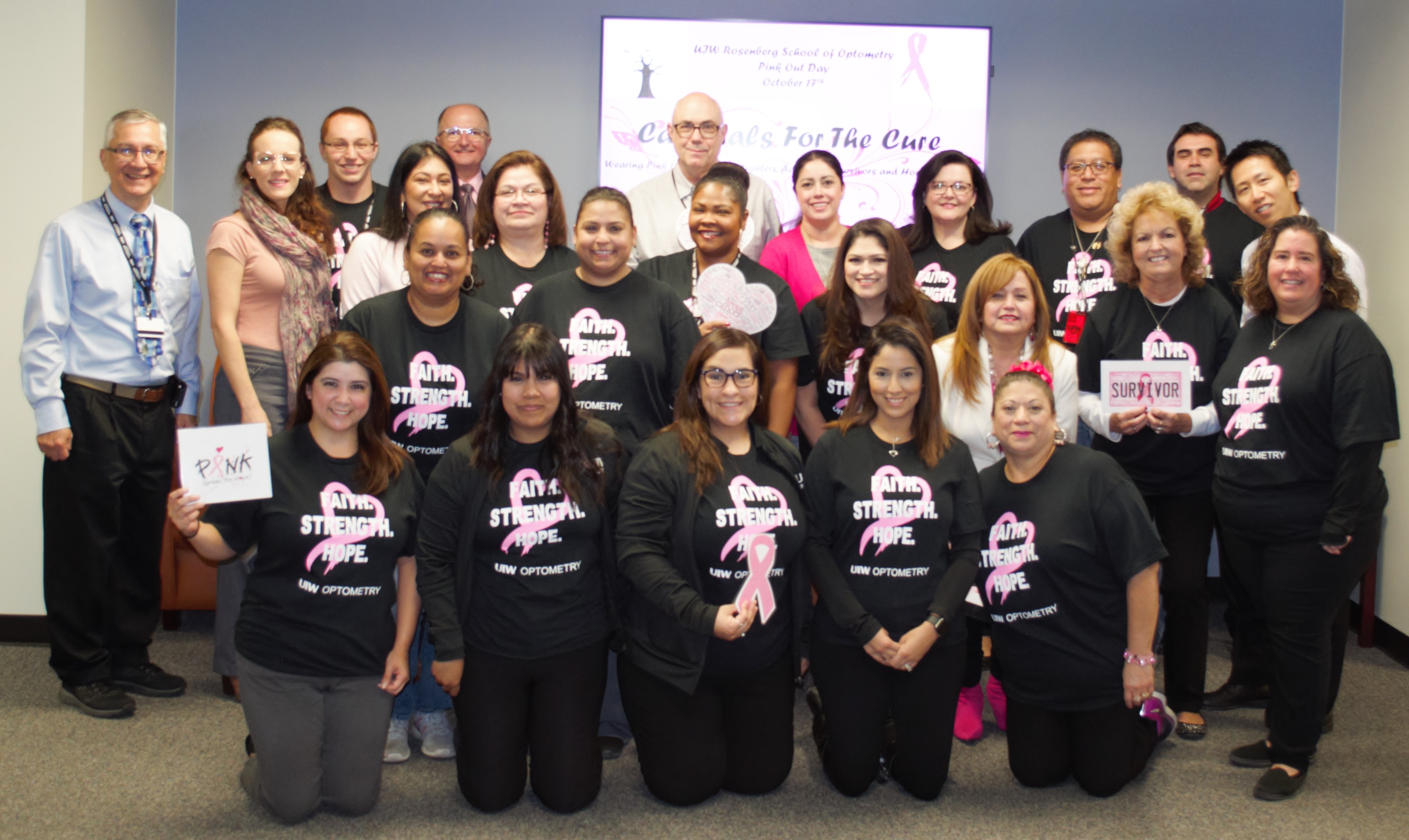 Get Your Flu Shot!
Why is it important to get a flu vaccine every year? Flu viruses are constantly changing, so flu vaccines may be updated from one season to the next to protect against the viruses that research suggests will be common during the upcoming flu season. Your protection from a flu vaccine declines over time. Yearly vaccination is needed for the best protection! Come get your flu vaccine at the main campus health clinic now through Dec. 20! With insurance, there is absolutely no cost. No insurance? Don't worry! You can still get your flu shot for $25. For more information, please contact Yolanda Salazar at (210) 829-6017 or healthsvcs@uiwtx.edu.
Dr. Evans and his family aren't taking chances when it comes to the flu this year! They're protecting themselves against the virus and are encouraging you to do the same!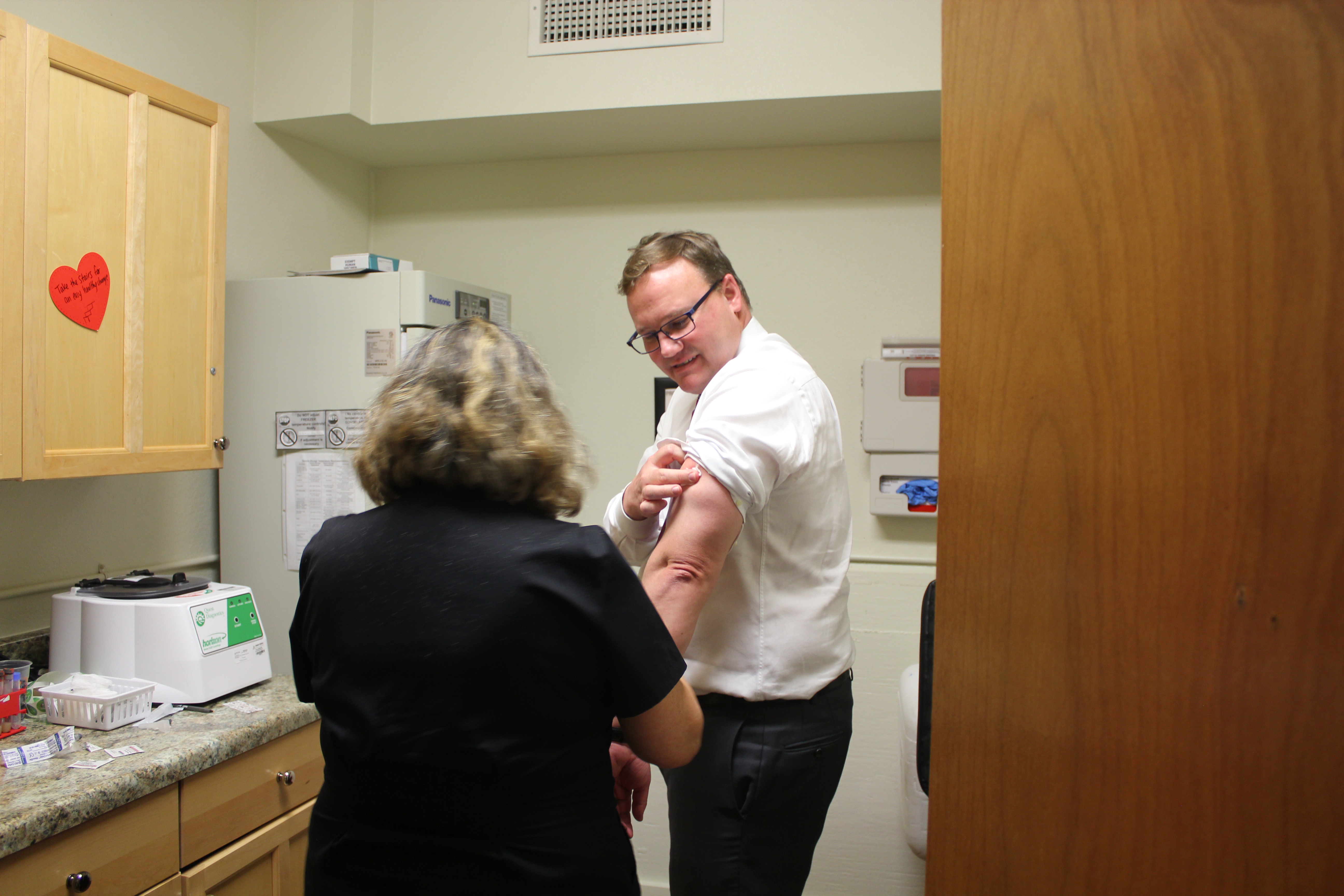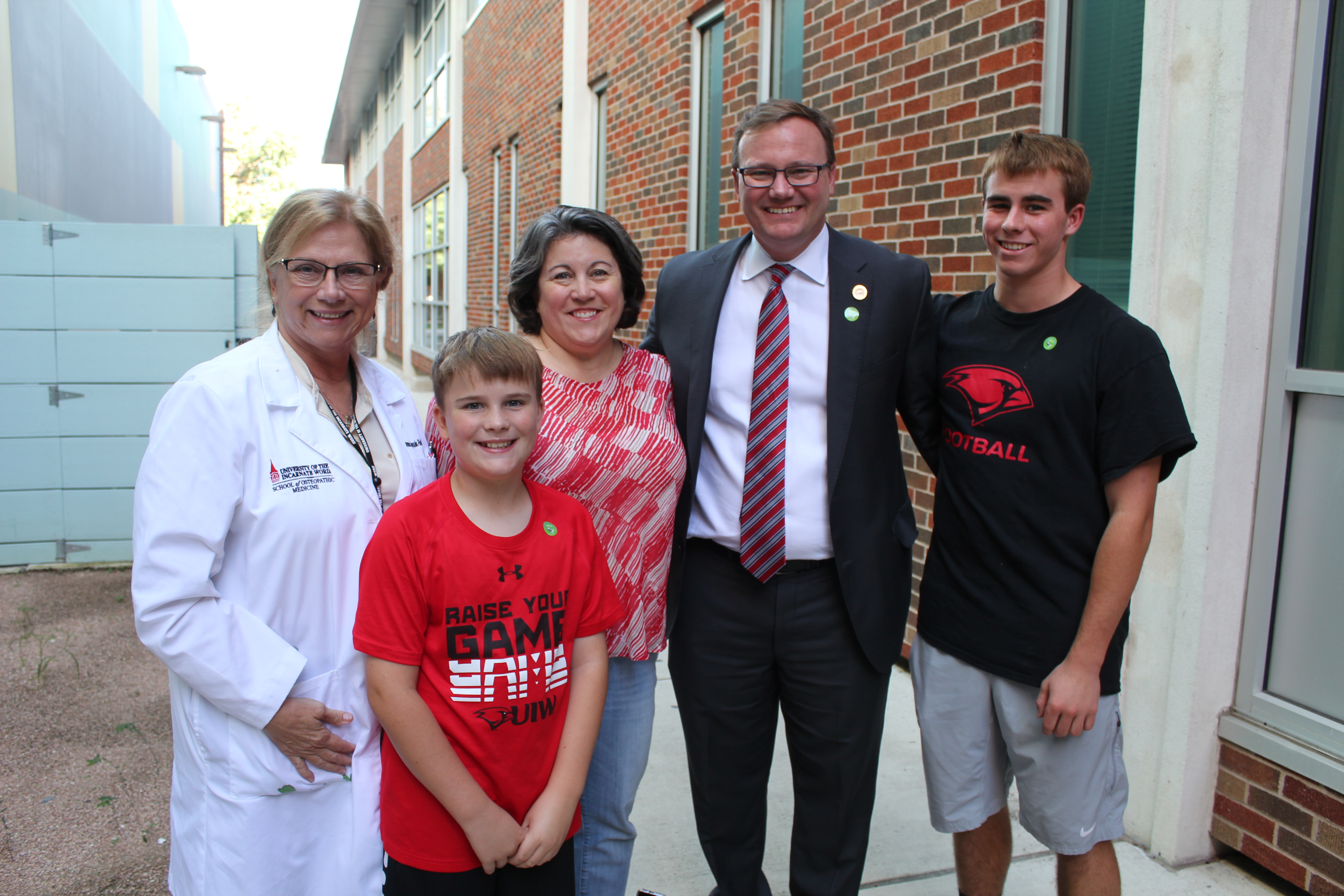 San Antonio Museum Exhibitions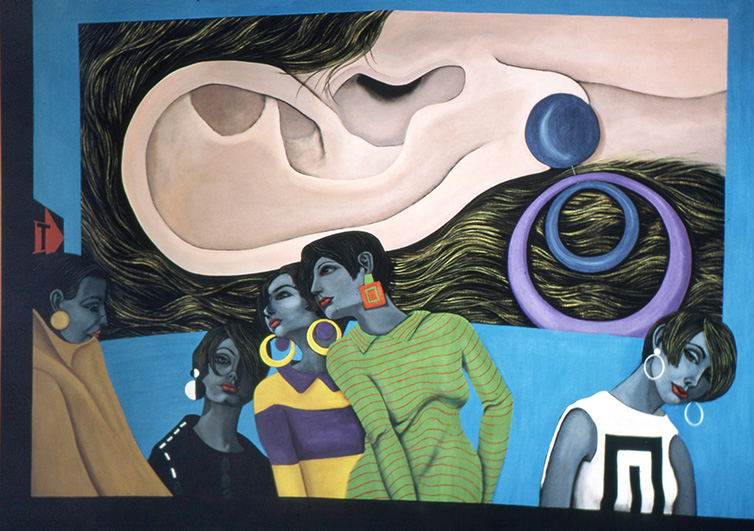 University employees receive free admission to the McNay Art Museum and the San Antonio Museum of Art with their valid UIW ID. Additional fees may apply to exhibitions. For information about UIW employee discounts, contact (210) 829-6019.
San Antonio Museum of Art Current Exhibitions:
Marilyn Lanfear: Material Memory - Through November 11, 2018
Harry Bertoia: Sculptor and Modernist Designer - Through March 31, 2019
McNay Art Museum Current Exhibitions:
Spotlight: San Antonio's K-12 Artists Embrace Georgia O'Keeffe - Through November 4, 2018
Mel Casas: Human - Through January 6, 2019

Picturing Latin America - Through January 6, 2018

AT&T Lobby: Teresita Fernandez - Through April 18, 2019
---
Department News
A Message from Dr. Cyndi Porter, Vice President of Enrollment Services
Starting October 29, the offices of Admissions, Advising, Residence Life, Veterans Affairs, Financial Aid, Registrar and Business Offices will be open from 8 a.m. - 5 p.m. during the week (Monday - Friday). Beginning Saturday, Nov. 3, these offices will be open the first Saturday of each month from 9 a.m. - 1 p.m. These changes have been made to better serve all of UIW's populations.

Athletics News
UIW Athletics Coaches Show
Hear from football head coach Eric Morris, volleyball head coach Samantha Dabbs, men's soccer head coach Chris Fidler, women's soccer head coach Emma Wright-Cates, and men's and women's cross country head coach Dr. Derek Riedel on the inaugural UIW Athletics Coaches Show. Follow UIW Athletics on YouTube to see the Coaches Show and more!

UIW Athletics implements new bag check policy
To enhance existing security measures and expedite entry at Gayle and Tom Benson Stadium, a new bag check policy has been implemented that regulates the size and type of bags that may be carried into the facility.
 
The back check policy will be enforced at all home events, including Saturday's Taco Cabana Hispanic Heritage Football Game against Southeastern Louisiana.
 
Permitted bags:
- Clear, plastic bags that do not exceed 12" x 6" x 12"
- One-gallon, clear, resealable plastic storage bags
- Small clutch bags or purses that do not exceed 4.5" x 6.5"
- Diaper bags, camera or binocular cases, seat cushions, seatbacks

Each person is allowed one large clear bag and one small clutch.
 
Bags subject to further inspection:
- Non-clear purses, backpacks, fanny packs, reusable grocery totes, printed pattern plastic bags, cinch bags, duffle bags, large totes that do not meet size requirements
Please contact Zachary Carlton at zcarlton@uiwtx.edu for more information and with any questions. 

Exceptions will be made for medically necessary items after proper inspection at designated areas. There is no check-in location for prohibited bags.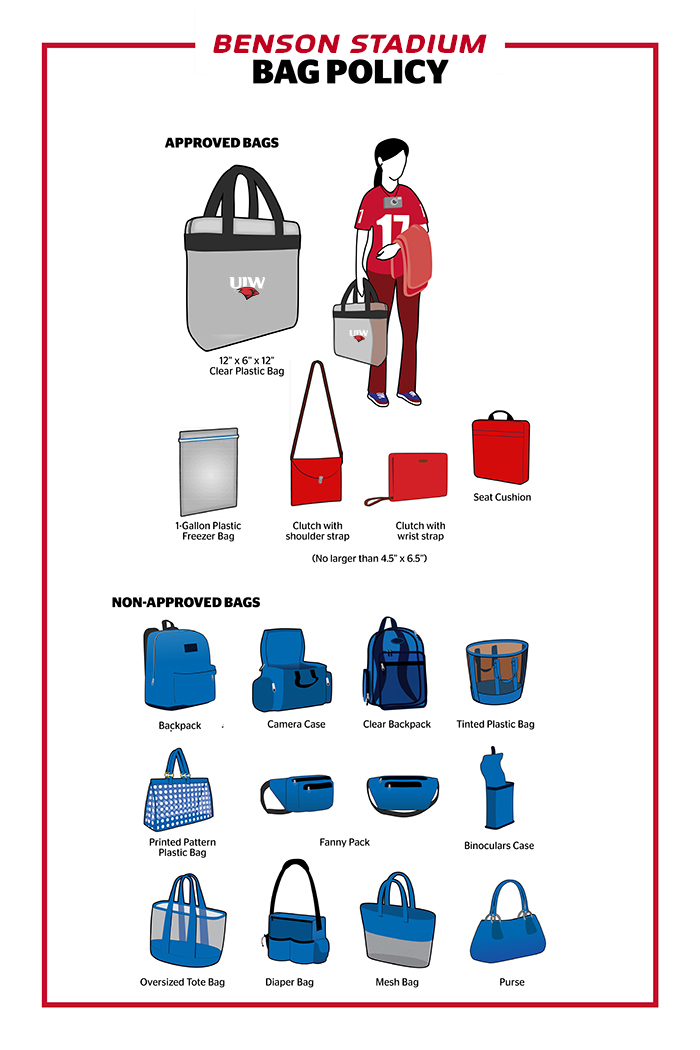 Parking Lot Closures – UIW Football Game
For Saturday, October 20, 2018, UIW v. McNeese (6 p.m. kickoff), the following parking areas and roadways will be closed. Parking areas will be closed from 6 a.m. to 10 p.m., beginning Friday night.  Any vehicles remaining in these areas are subject to being towed and impounded at the owner/operator's expense.
Parking area between the tennis courts and football field – closed

Parking areas between the tennis courts and natatorium – closed

Parking around the natatorium – closed 

All parking areas around the softball and baseball fields – closed

The small lot between the San Antonio River and Agnese/Sosa – closed
Some campus roadways will be closed on game day.
The roadway under the football bleachers will be closed from 6 a.m. – 10 p.m.

The roadway from Avoca to the McDermott Center will be closed from 6 a.m. – 10 p.m.

The roadway between the San Antonio River Bridge and the McDermott Center will be closed from 12 p.m. – 10 p.m.  This means no thru traffic between main campus and upper campus.
Thank you for your cooperation.
Top Stories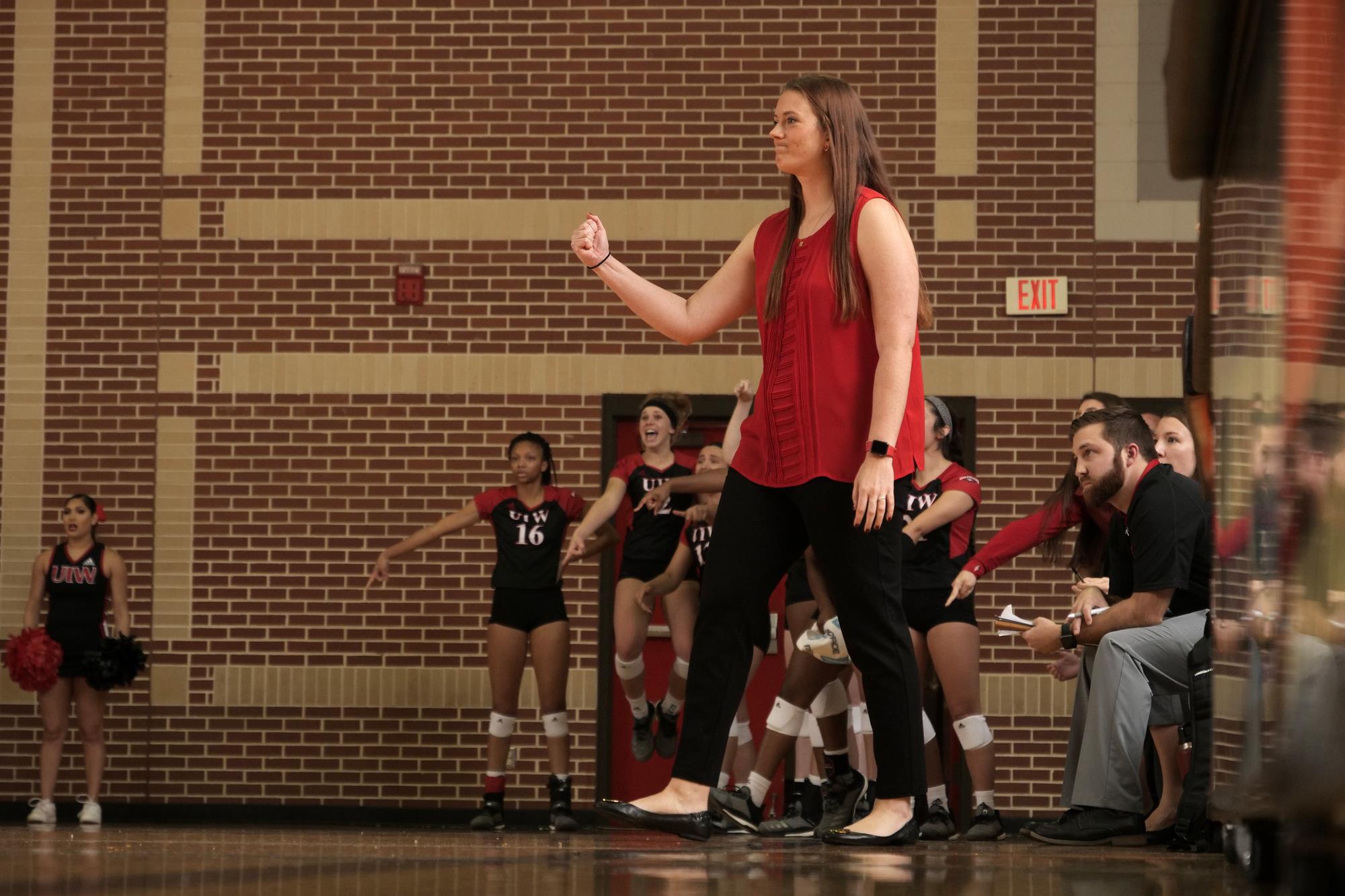 ---
Miscellaneous
Fall Break Dining Hours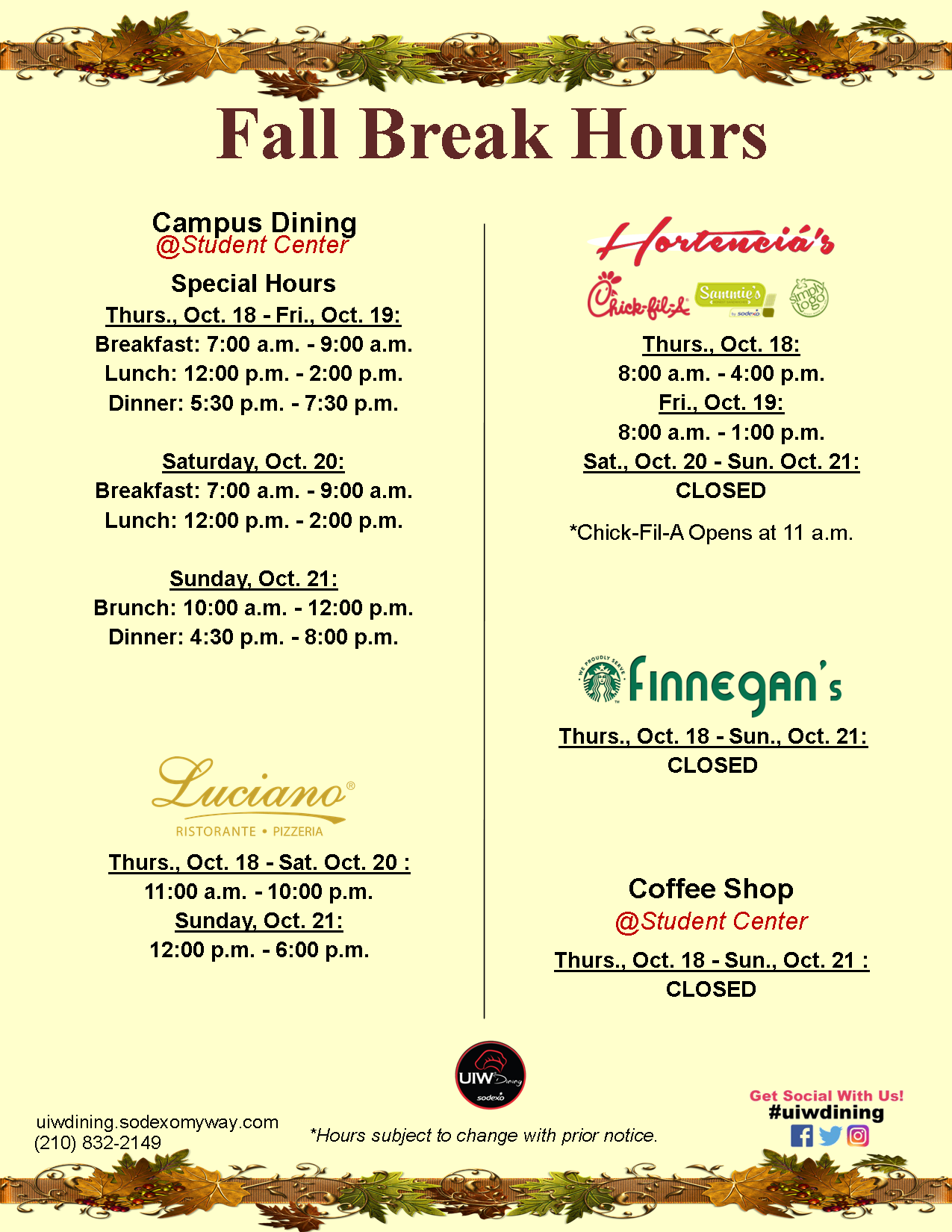 The University of the Incarnate Word provides reasonable accommodation with adequate notice. To request disability accommodation for events listed in this newsletter, visit www.uiw.edu/ada.