The Word E-News Archive
Spotlight
UIW Philanthropy Ambassadors kicked off the annual "Feed Phil" campaign this week. Students picked up their very own "Phil" - short for Philanthropy - a red piggy bank for them to feed with spare change over the next three weeks. Every cent raised goes directly to student scholarships. To kick off the campaign, students enjoyed meeting adorable piglets on Thursday, Oct. 25.


Our Lady's Chapel Services
All are welcome.
Noon Mass, Monday - Friday
Sunday Mass at 10:30 a.m. and 8 p.m.
Sacrament of Reconciliation, 11:30 a.m. Fridays or by appointment with Fr. Tom Dymowski, O.SS.T. at
(210) 829-3131 or dymowski@uiwtx.edu.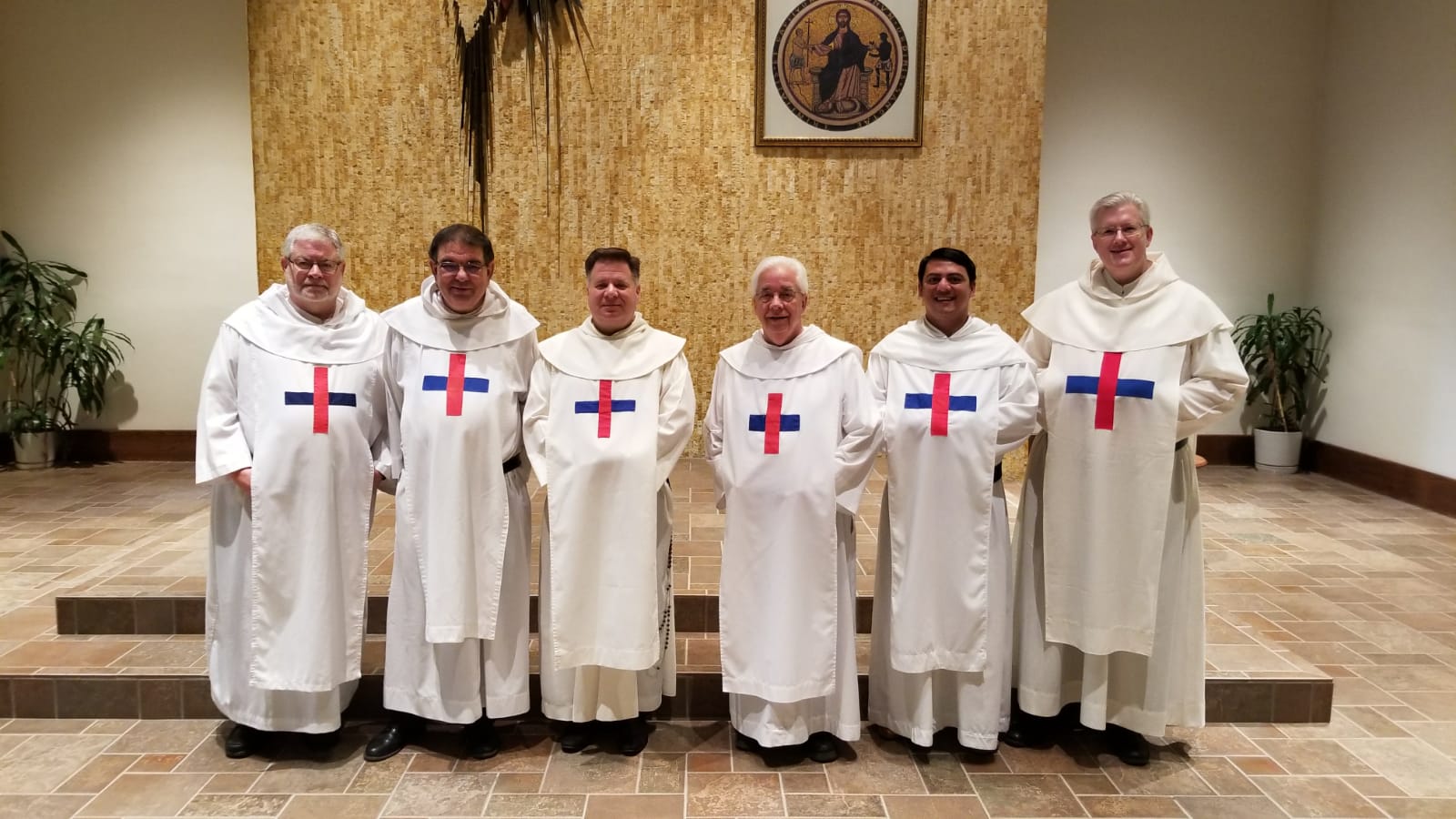 Mission News
Fr. Thomas Dymowski, O.SS.T, University Chaplain, and Fr. James Mark Adame, O.SS.T, Associate Chaplain, have been elected to the Provincial Council of the Order of the Most Holy Trinity and of the Captives for a three year term. Congratulations to Fr. Tom and Fr. James.
BEREAVEMENT
Our thoughts and prayers go to:
Raymond Leon (UIW Paint Supervisor) and his wife, Sylvia & family on the recent loss of her father, Jose Jaime G. Rodriguez.

Shelby McCollum (UIW Registrar's Office) & family on the recent loss of her grandmother, Joyce Ann McCollum.

Dr. Holly DiLeo (Faculty, School of Nursing & Health Professions) & family on the recent loss of her father, Dr. Bradley G. Showalter.

Melinda Wright (Venue Manager for the Dept. of Music) & family on the recent loss of her grandfather, Charles Wright, Jr.

Dr. Adam Ratner (Faculty, School of Osteopathic Medicine) and his family mourn the loss of his dear mother, Dr. Joan Ratner, who passed away peacefully on Tuesday, Oct. 23, 2018. Born in Brooklyn, NY, Dr. Joan Ratner earned her undergraduate degree from the University of Massachusetts, her Master's degree from Trinity University, and her PhD from the University of Texas Long School of Medicine at the age of 50. There, she taught microbiology to a generation of medical, dental, dental hygiene and other graduate students and served as a mentor and a role model to many professional women. Please keep Dr. Ratner and his family in your prayers.
---
Events
Town Hall Schedule

Join UIW President, Dr. Tom Evans at a townhall next week to learn more about enrollment, financial outlook and strategic planning processes, including campus master planning. All members of our community are invited to attend a session, ask questions and provide feedback, with specific emphasis on the strategic vision and priorities and our way forward. After each meeting, attendees are invited to a post-event reception.
For those not able to attend, the Office of Communications and Brand Marketing will be working with media services to ensure important information from a Town Hall meeting will be available for viewing following the event. Please see the schedule below and make plans to attend a Town Hall meeting that best fits your schedule.
Town Hall Meetings:
Friday, Oct. 26

Feik School of Pharmacy, 12 p.m., P2 Classroom
Broadway Campus, 2:15 p.m., UIW Concert Hall
Your Vote Matters - 2018 Midterms

In Person Early Voting
Early voting for the 2018 midterm elections begins Monday, Oct. 22 and ends on Friday, Nov. 2. Click here for a list of Bexar County early voting locations and hours or click here for a map view. A convenient early voting location near UIW is Lion's Field (2809 Broadway). You may vote at any polling location during early voting.
Curbside Early Voting
If you have difficulty walking or standing, curbside voting is available. Simply call ahead to the polling location to notify the early voting clerk that you want to vote from your vehicle - the election official will bring your ballot to your car outside the polling location.
Early Voting by Mail
Voting by mail is available to those who cannot vote in person for the following reasons:
Going to be away from your county on Election Day/during early voting
Sick or disabled
65 years of age or older on Election Day
Applications for a ballot by mail can be found here and must be submitted to the Bexar County Elections Department no later than 11 days before Election Day (Friday, Oct. 26 - received, NOT postmarked). The early voting clerk must receive your marked ballot by 7 p.m. on Election Day. Call (210) 335-0362 for more information on early voting by mail.
Election Day
You may also vote on Election Day! However, you MUST vote at the polling location associated with the address you are registered to vote with. These locations are typically listed about two days prior to Election Day. Once locations are available, you'll be able to search for your polling location at this link.
For more information on voting in Bexar County, please click here.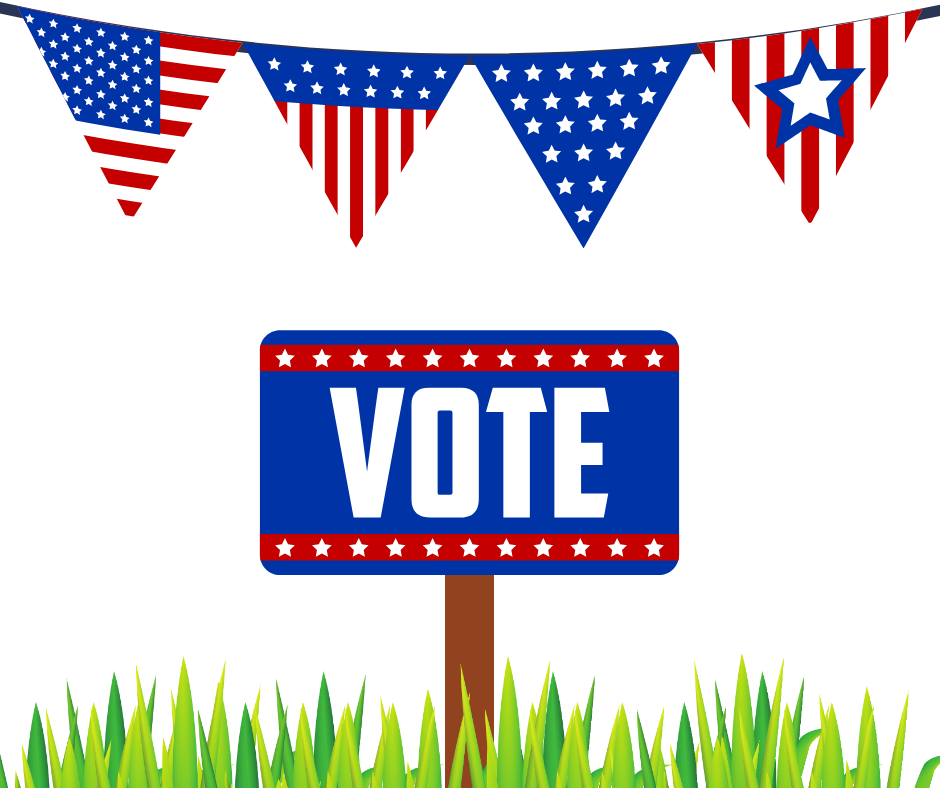 UIW Homecoming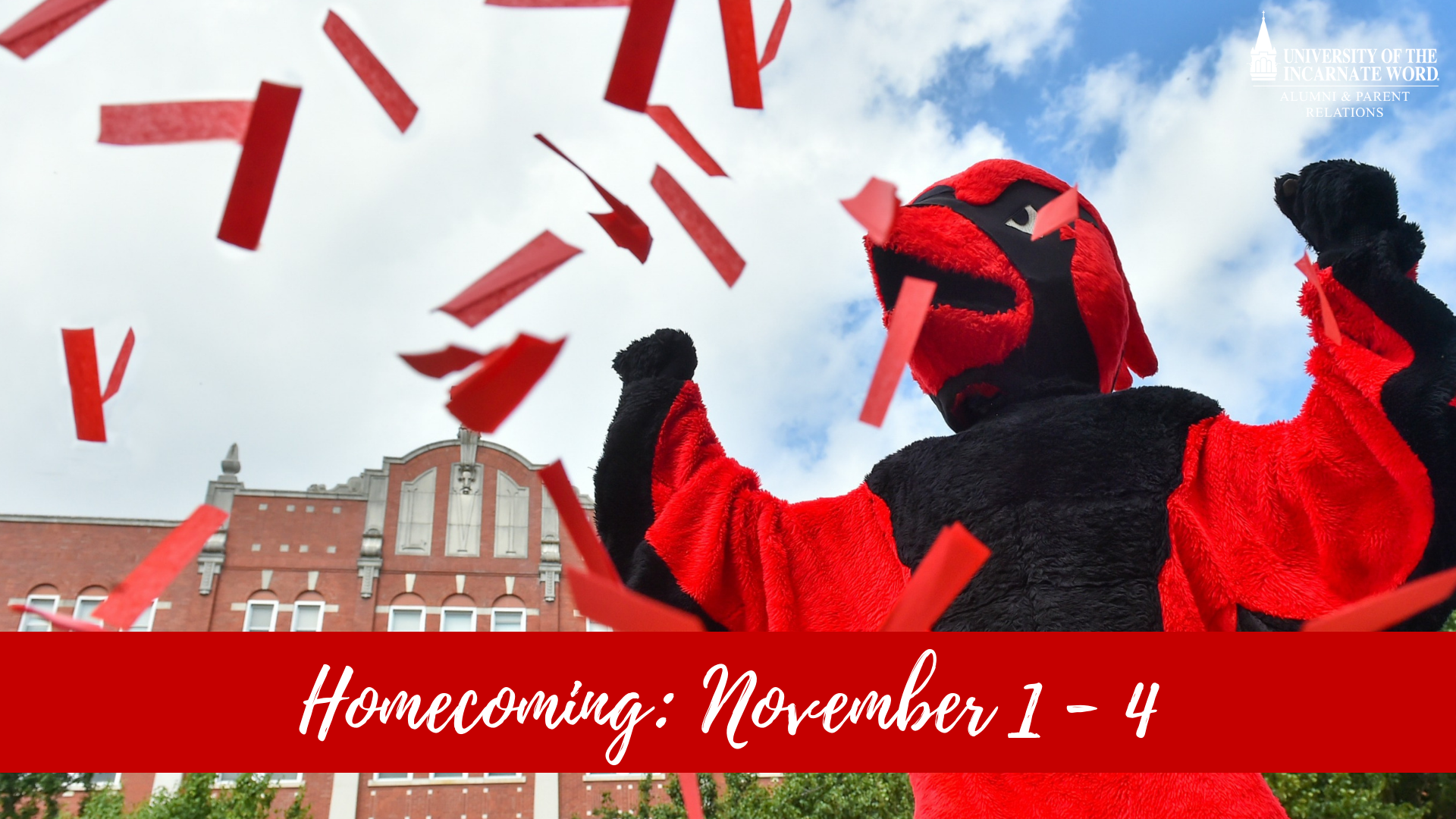 UIW Homecoming is just around the corner! The University will be celebrating homecoming from Nov. 1-4, 2018. Please find the full schedule of events below:
Thursday, November 1
Cards for Cardinals
Open Lecture w/ Dr. Guinn
One Word. Global Mixer.
Arts & Music Festival
Friday, November 2
UIW Employee Lunch (email mjmoreno@uiwtx.edu to RSVP)
Pumpkin Patch & Cardinal Market
50th Reunion Dinner
Saturday, November 3
50th Reunion Coffee Klatch & Campus Tour
Redzone Cardinal Tailgate
UIW Football vs. Sam Houston
Sunday, November 4
Homecoming Memorial Mass
Cardinal Brunch
Click here to RSVP for events.
TRiO's Cup Runneth Over Drive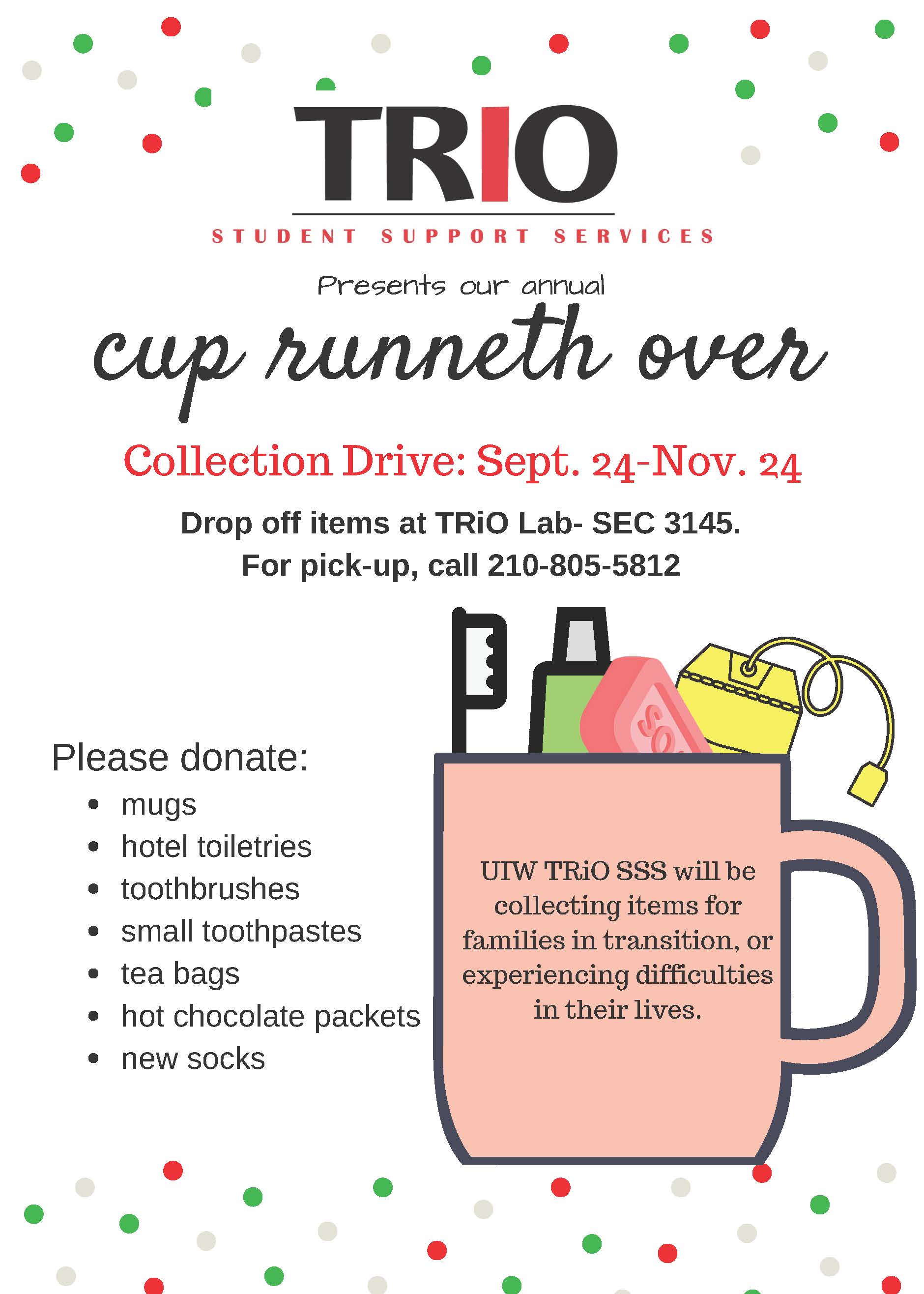 Military Appreciation Football Game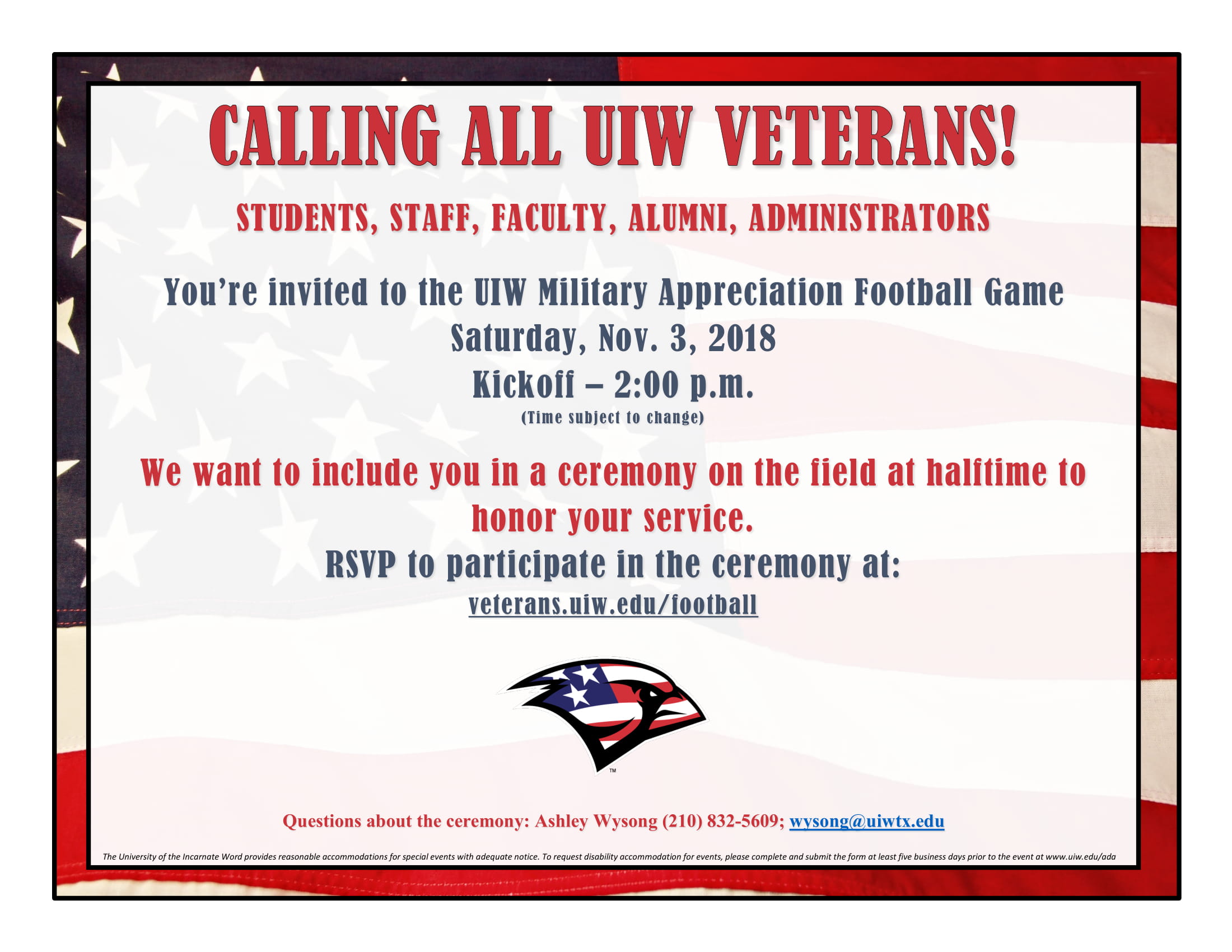 1881 Society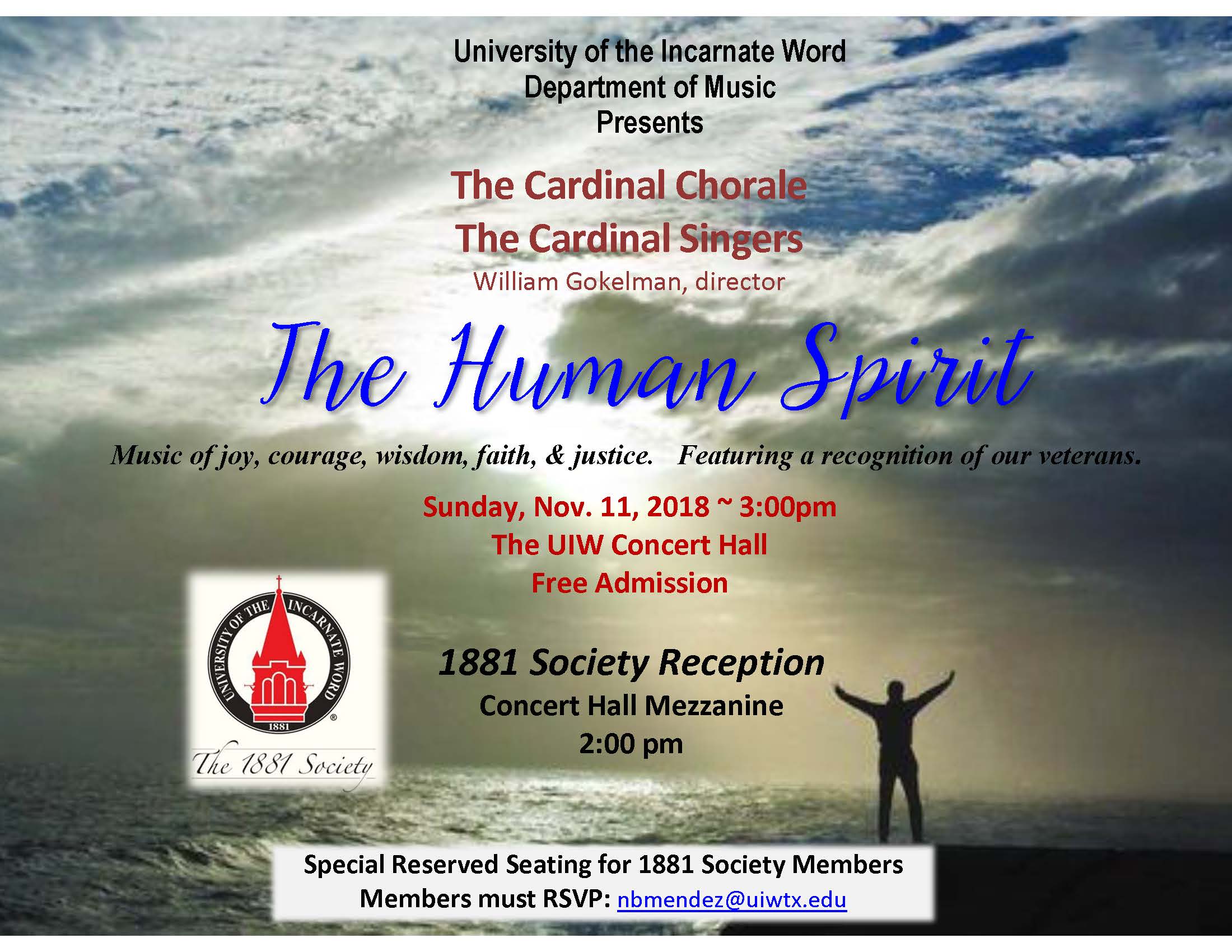 Veteran's Day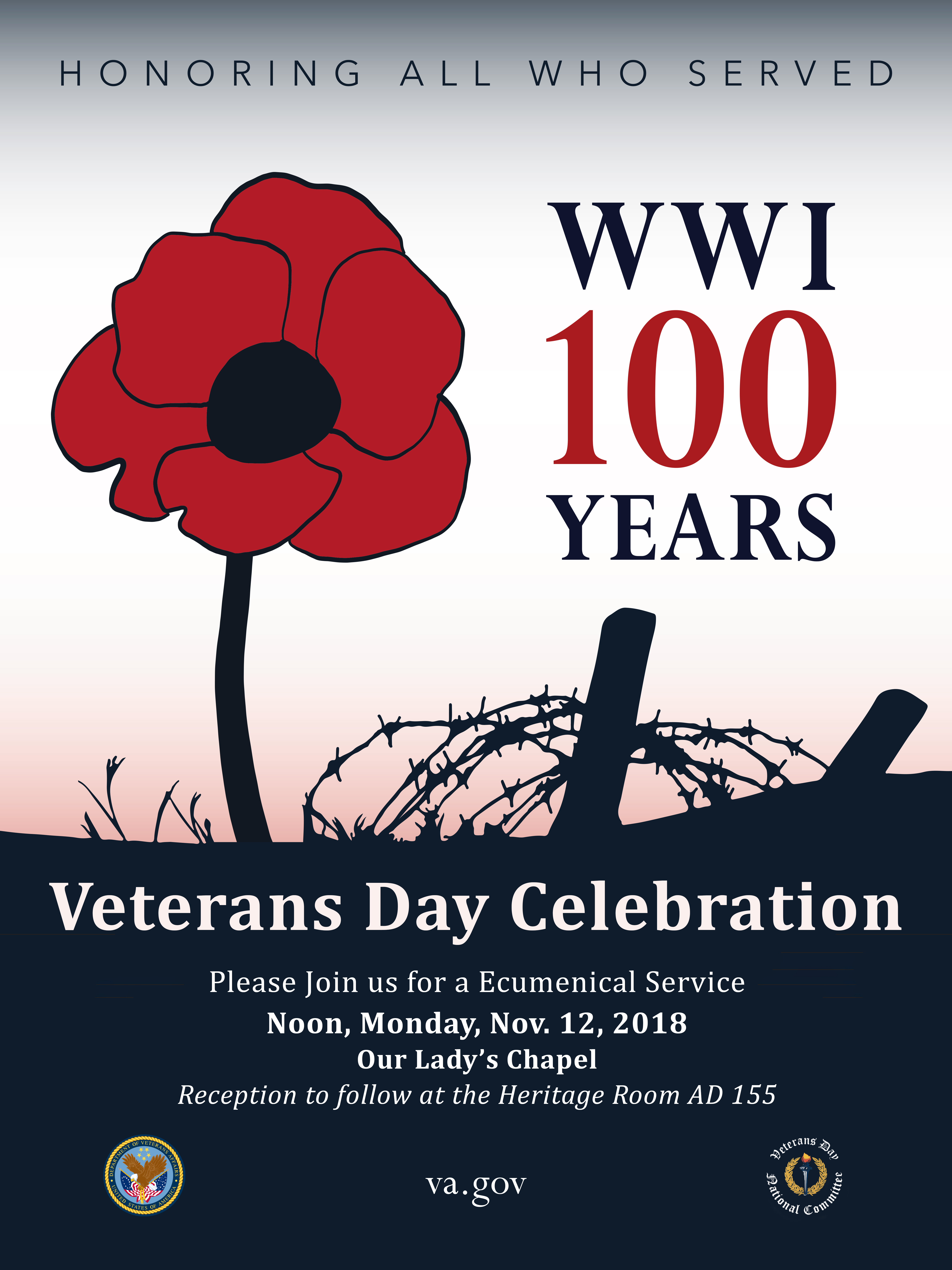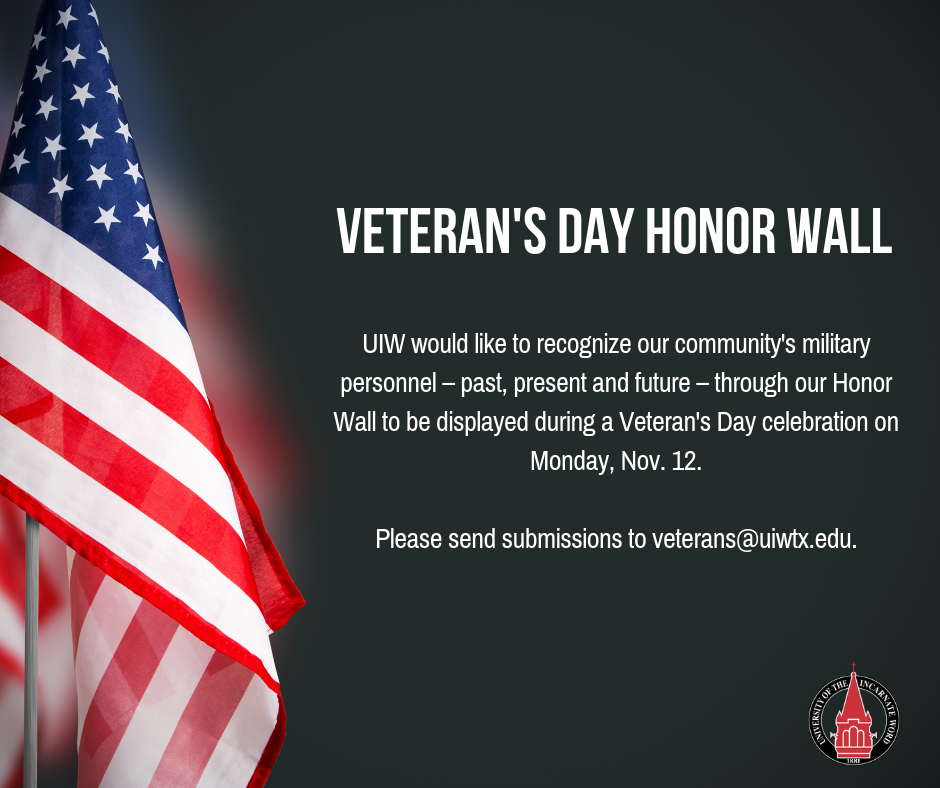 ---
Community News

Dining in the Dark
On Thursday, Oct. 18, the Rosenberg School of Optometry student organizations, American Optometric Student Association (AOSA) and Student Volunteers in Optometric Service to Humanity, hosted Dining in the Dark, a unique sensory awareness experience, taking
guests
on a journey
in
to
the dark
.
The
event was a fun-filled evening complete with a silent auction, entertainment, raffle prizes, and, of course, a blindfolded dinner. All proceeds from this event benefited World Sight Day - Optometry Giving Sight; a global fundraising
in
itiative dedicated to providing eye care to those lacking access to eye examinations or glasses.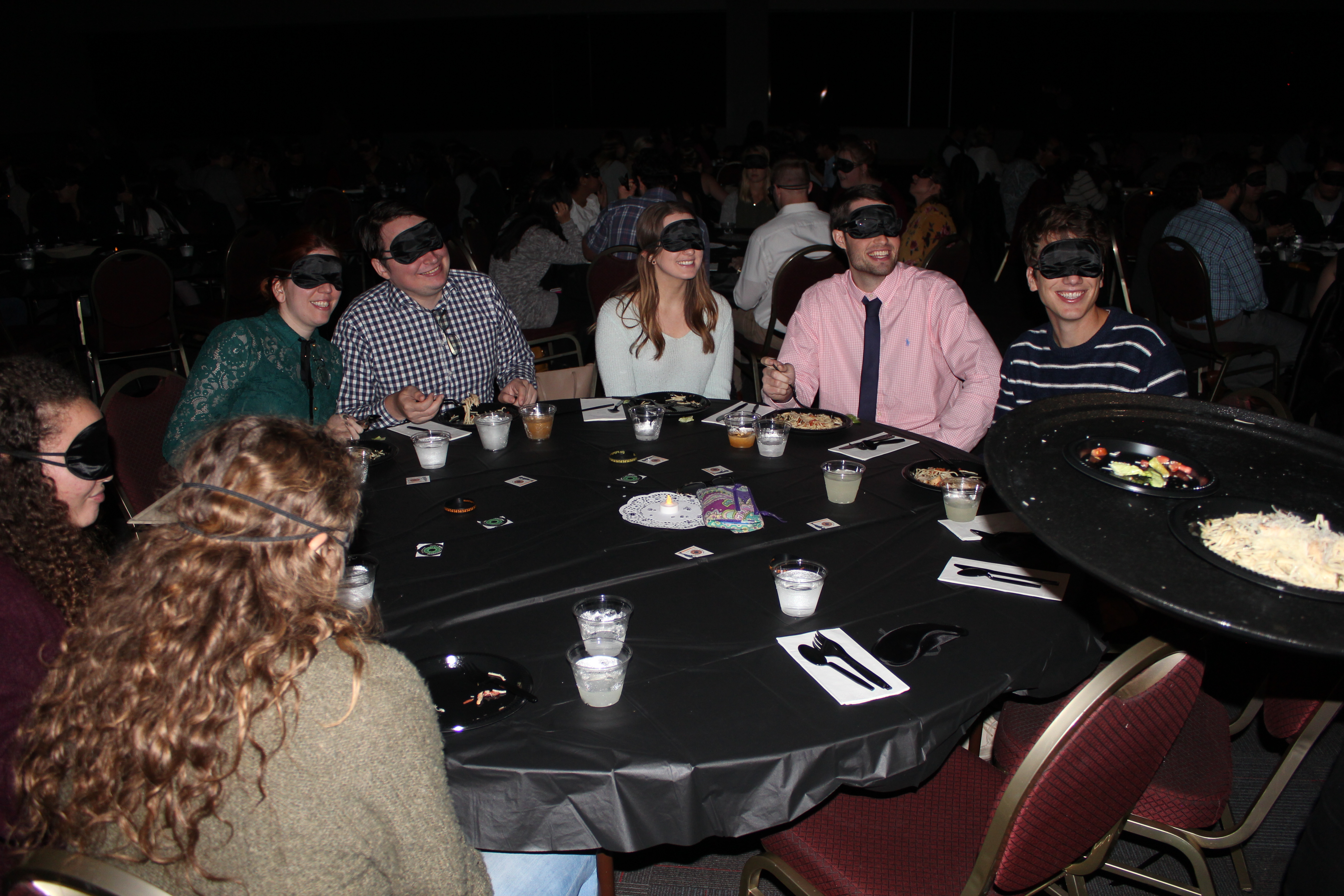 Women's and Gender Studies Roundtable
The Women's and Gender Studies program sponsored a roundtable about "hookup culture" on the Catholic college campus on Monday, Oct. 22.. Dr. Julie Miller, associate professor and chair of Religious Studies; Matthew Gonzalez, testing center coordinator and UIW alumni; Elijah Salazar, current UIW English major; and Silke Gonzalez, current UIW Psychology major and Women's and Gender Studies minor, participated in the roundtable.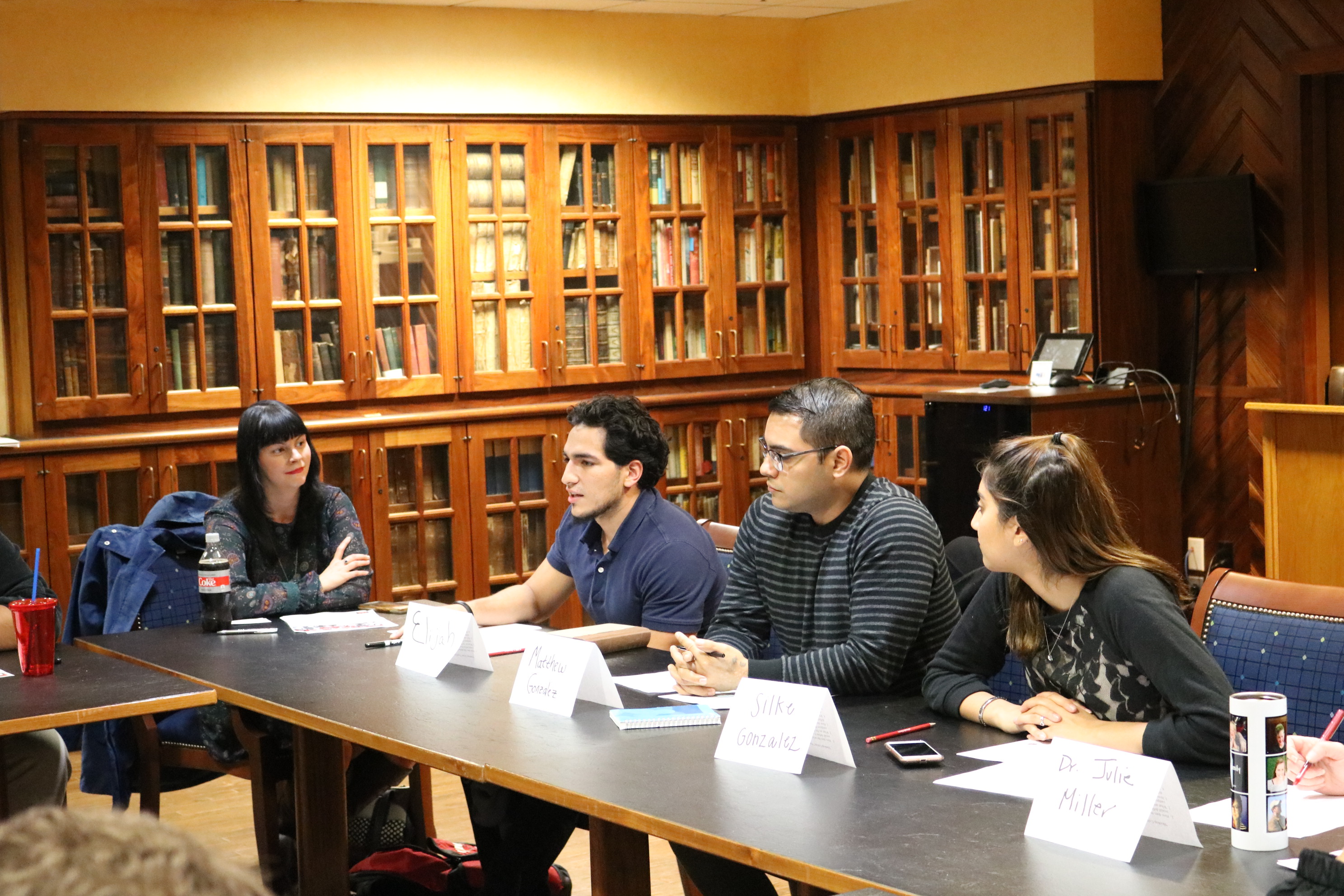 Joe Procter Dissertation Defense
Joe Don Procter hosted a public defense of his dissertation on Tuesday, Oct. 23.. The title of his dissertation was A Practitioner Inquiry of High School Teachers' Experiences Participating as a Community of Practice. His dissertation committee chair was Dr. Arthur Hernandez.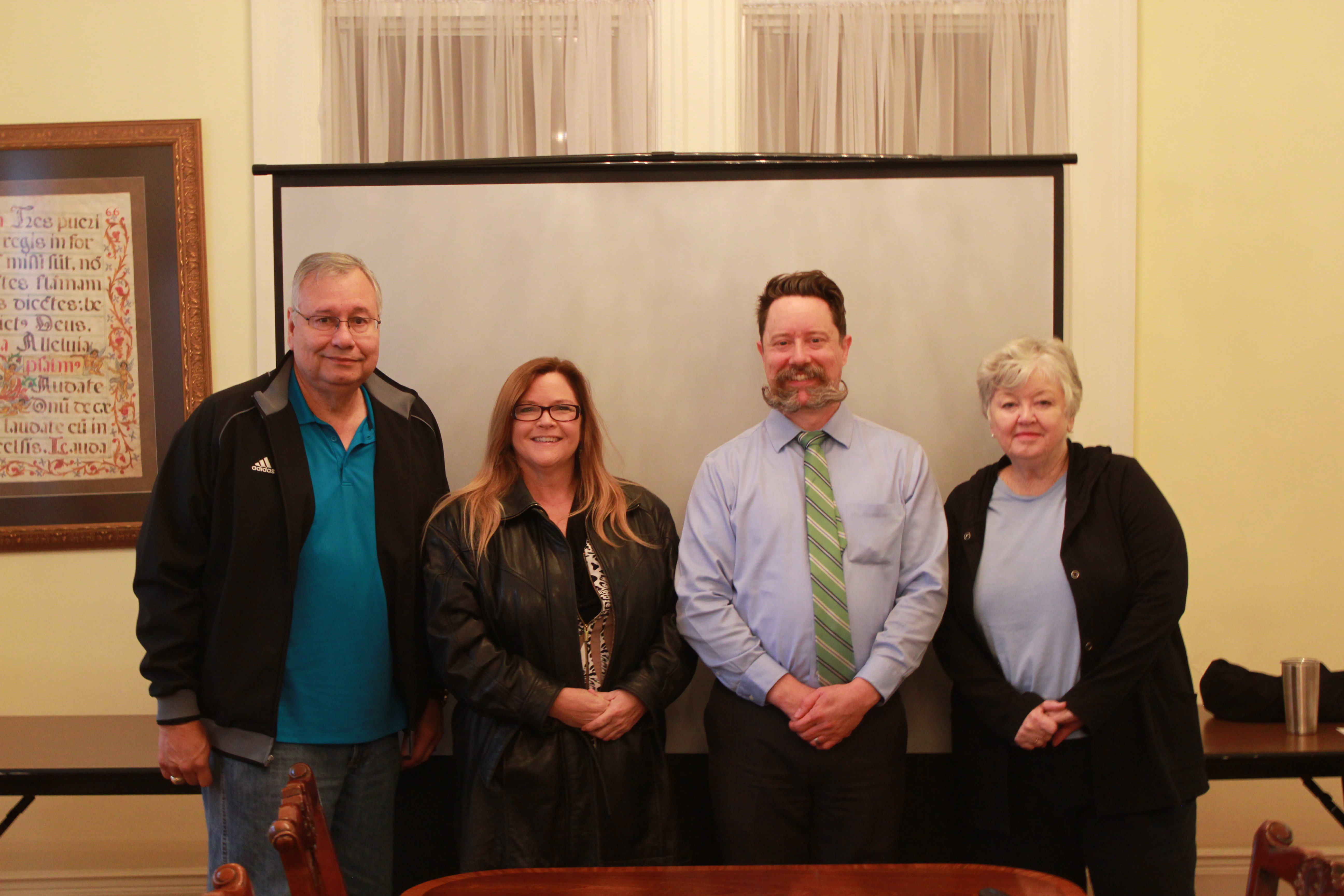 Fourth Annual "Team Tony" Marrow Registry Drive
GenCure, a subsidiary of BioBridge Global, partnered with UIW's Feik School of Pharmacy for the fourth annual "Team Tony" marrow donor registry drive, Oct. 23-25. Hosted by GenCure and UIW's Pre- Pharmacy Association (PPA), the goal of the drive was to add 300 people to the Be the Match Registry. The first UIW Team Tony drive was held in 2013 in honor of SAPD officer Anthony "Tony" Barasa. He was unable to find a marrow match and passed away in 2014 from acute myeloid leukemia. The UIW PPA and GenCure now carry on his memory and mission of raising awareness for the need for committed marrow donors.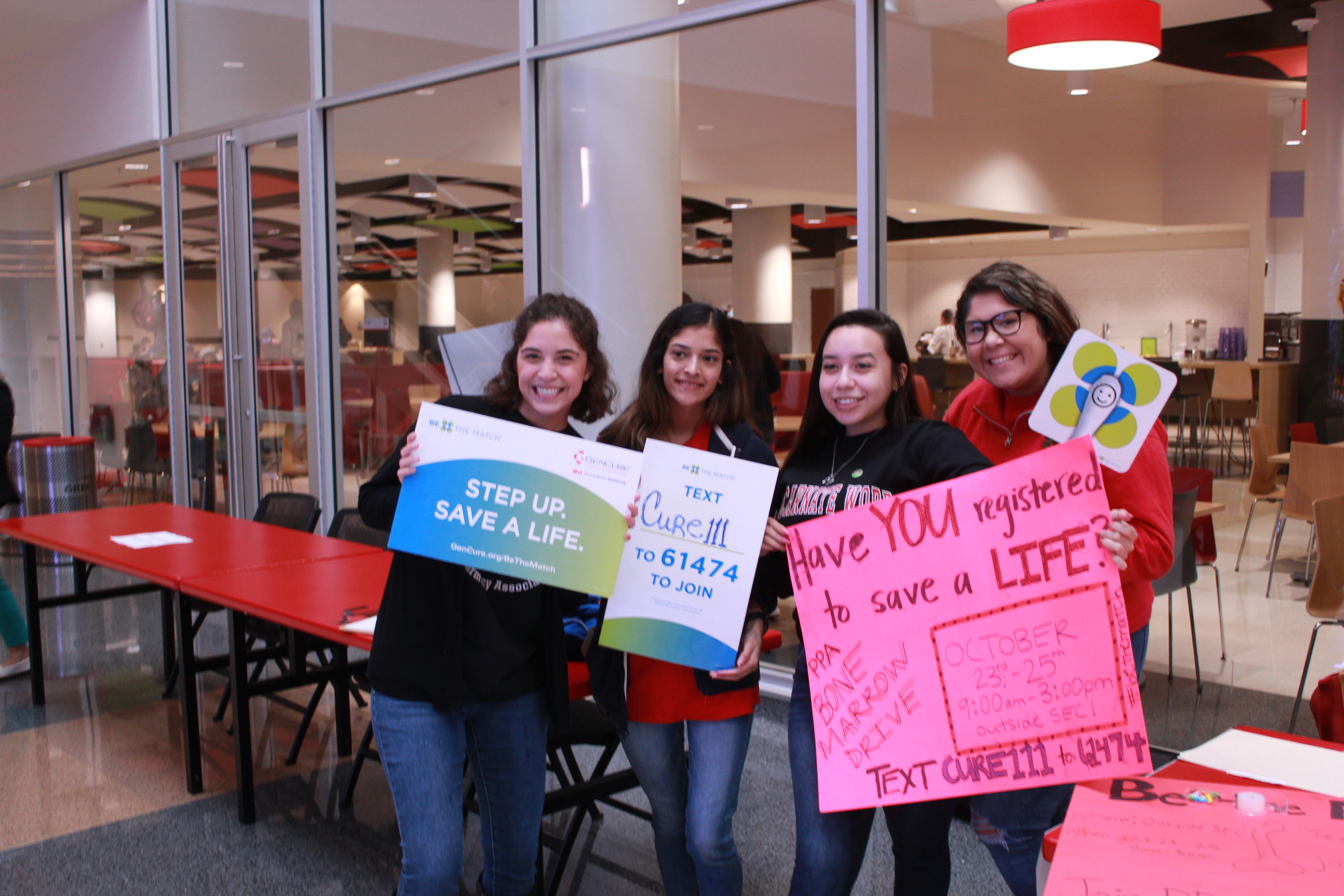 THE LINE IN THE SAND: Stories from the US/Mexico Border
On Wednesday, Oct. 24, the UIW community enjoyed a special production of The Line in the Sand: Stories from the US/Mexico Border. Based on the interviews, notes and experiences of five writers and actors sent to study to the U.S.-Mexico border by Catholic Relief Services in 2005, this play reveals the tensions, struggle and voices of the borderlands. The play was directed by award-winning UIW Alum, José Rubén De León.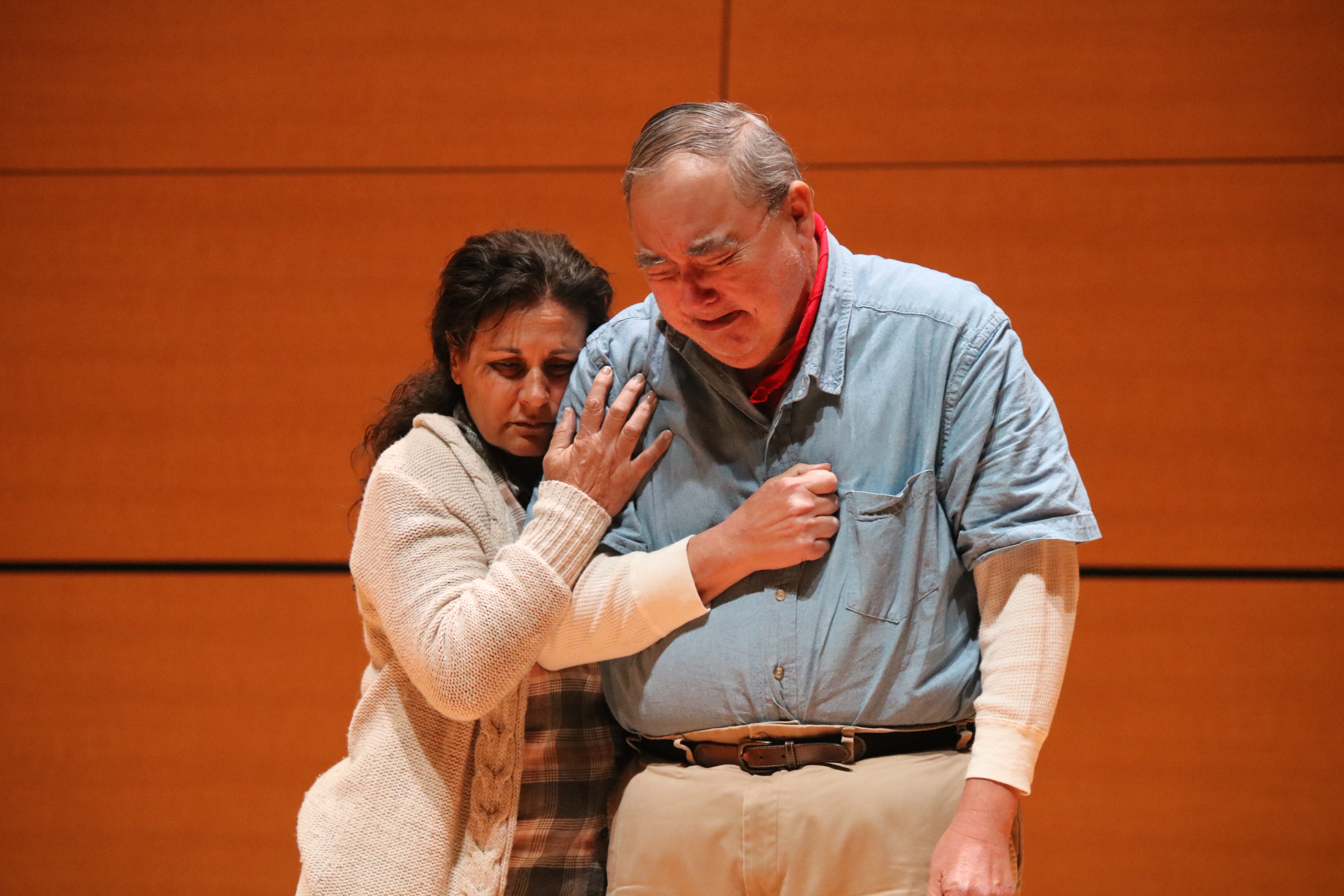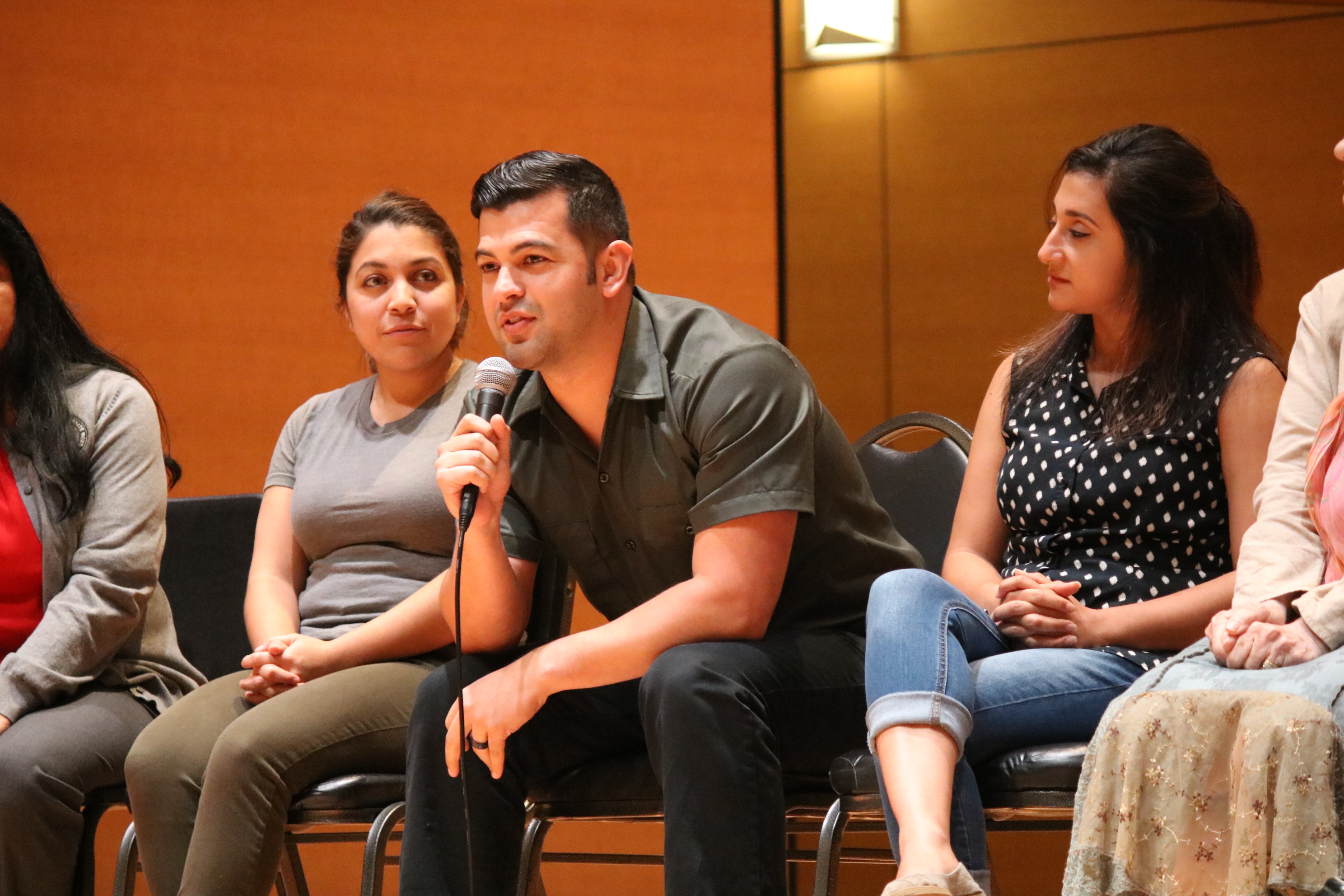 New Employee Mixer
Human Resources hosted the quarterly New Employee Mixer/Luncheon on Thursday, Oct. 25, new employees had an opportunity to meet fellow co-workers, increase their knowledge of the University, and enjoy lunch with the Provost and Vice Presidents of the University. Welcome, to the Nest Cardinals!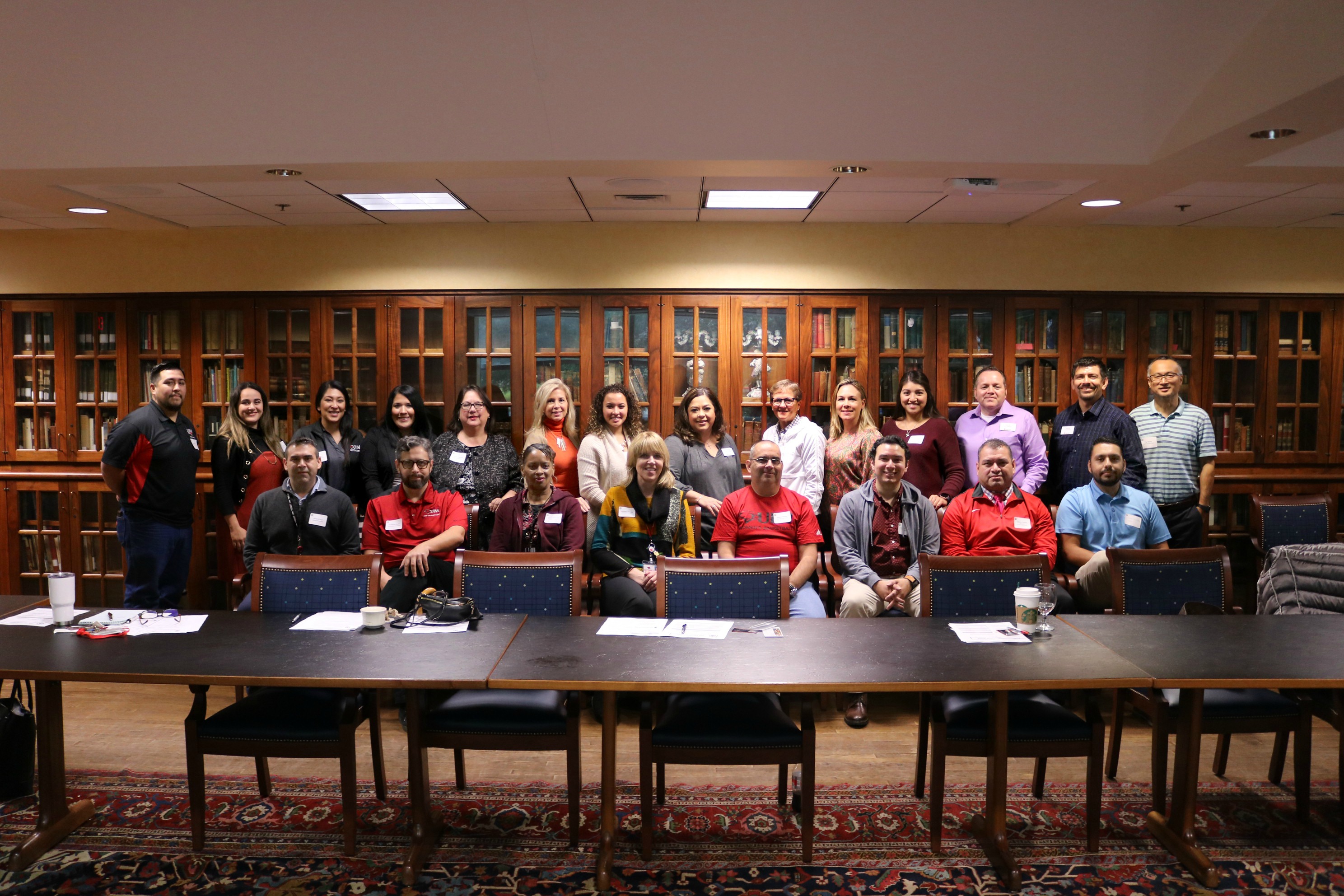 San Antonio Museum Exhibitions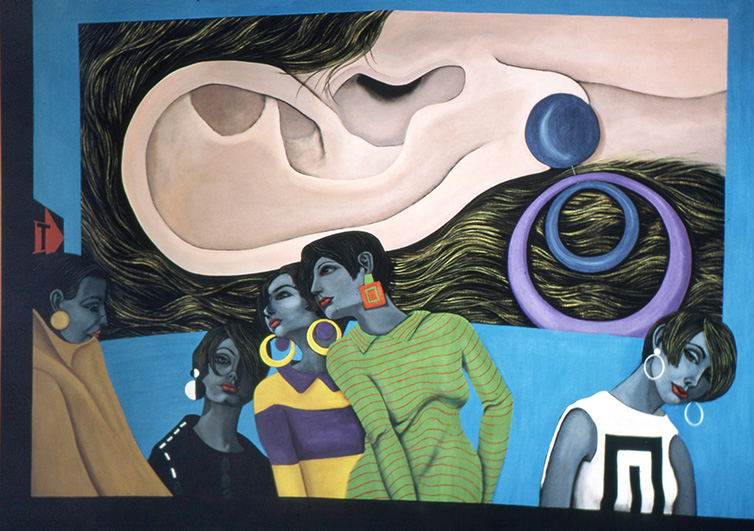 University employees receive free admission to the McNay Art Museum and the San Antonio Museum of Art with their valid UIW ID. Additional fees may apply to exhibitions. For information about UIW employee discounts, contact (210) 829-6019.
San Antonio Museum of Art Current Exhibitions:
Marilyn Lanfear: Material Memory - Through November 11, 2018
Harry Bertoia: Sculptor and Modernist Designer - Through March 31, 2019
McNay Art Museum Current Exhibitions:
Spotlight: San Antonio's K-12 Artists Embrace Georgia O'Keeffe - Through November 4, 2018
Mel Casas: Human - Through January 6, 2019
Picturing Latin America - Through January 6, 2018
AT&T Lobby: Teresita Fernandez - Through April 18, 2019
---
Athletics News
UIW Athletics Coaches Show
It's the 3rd episode of the UIW Coaches Show presented by UIW Athletics!
Top Stories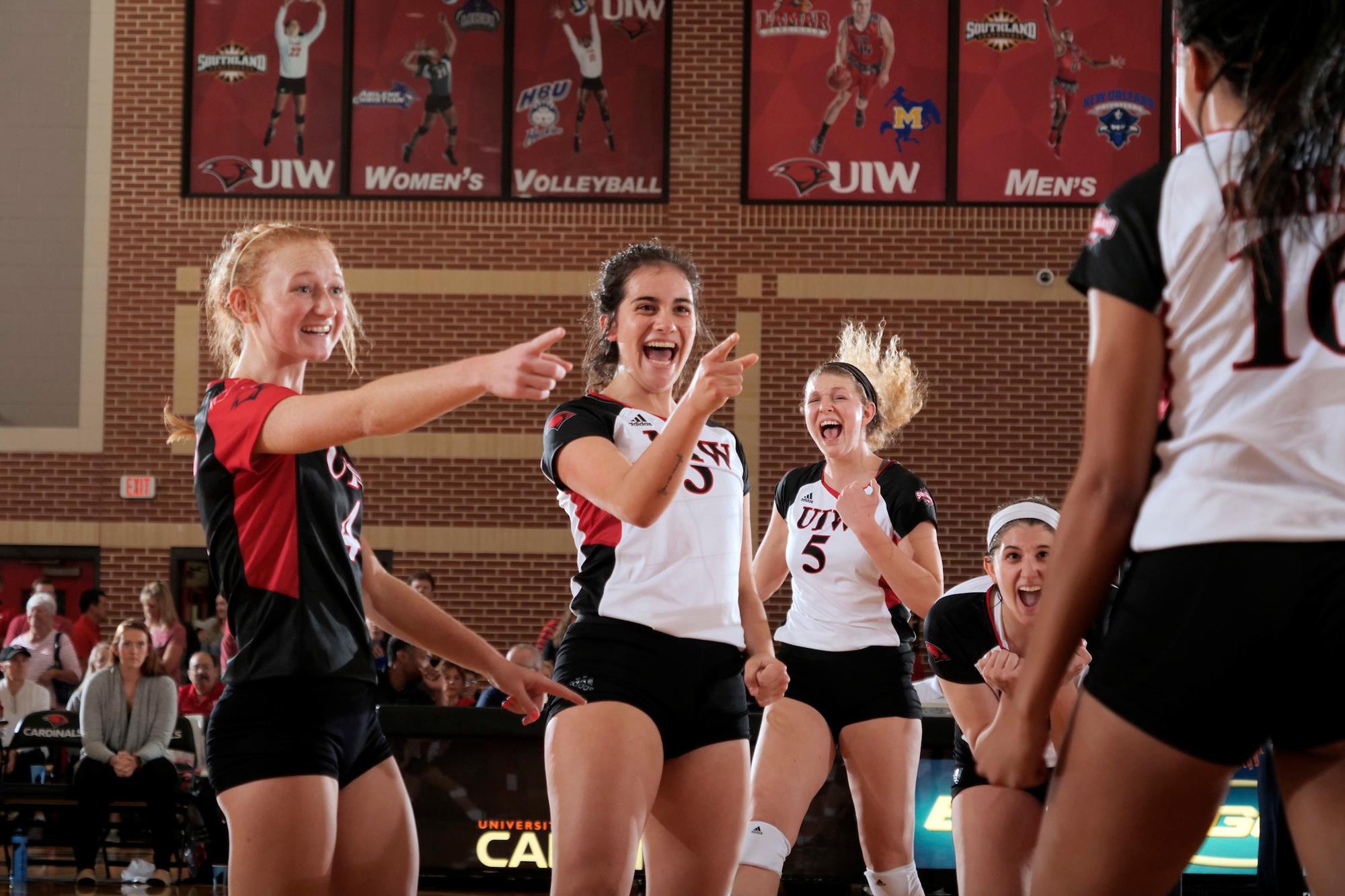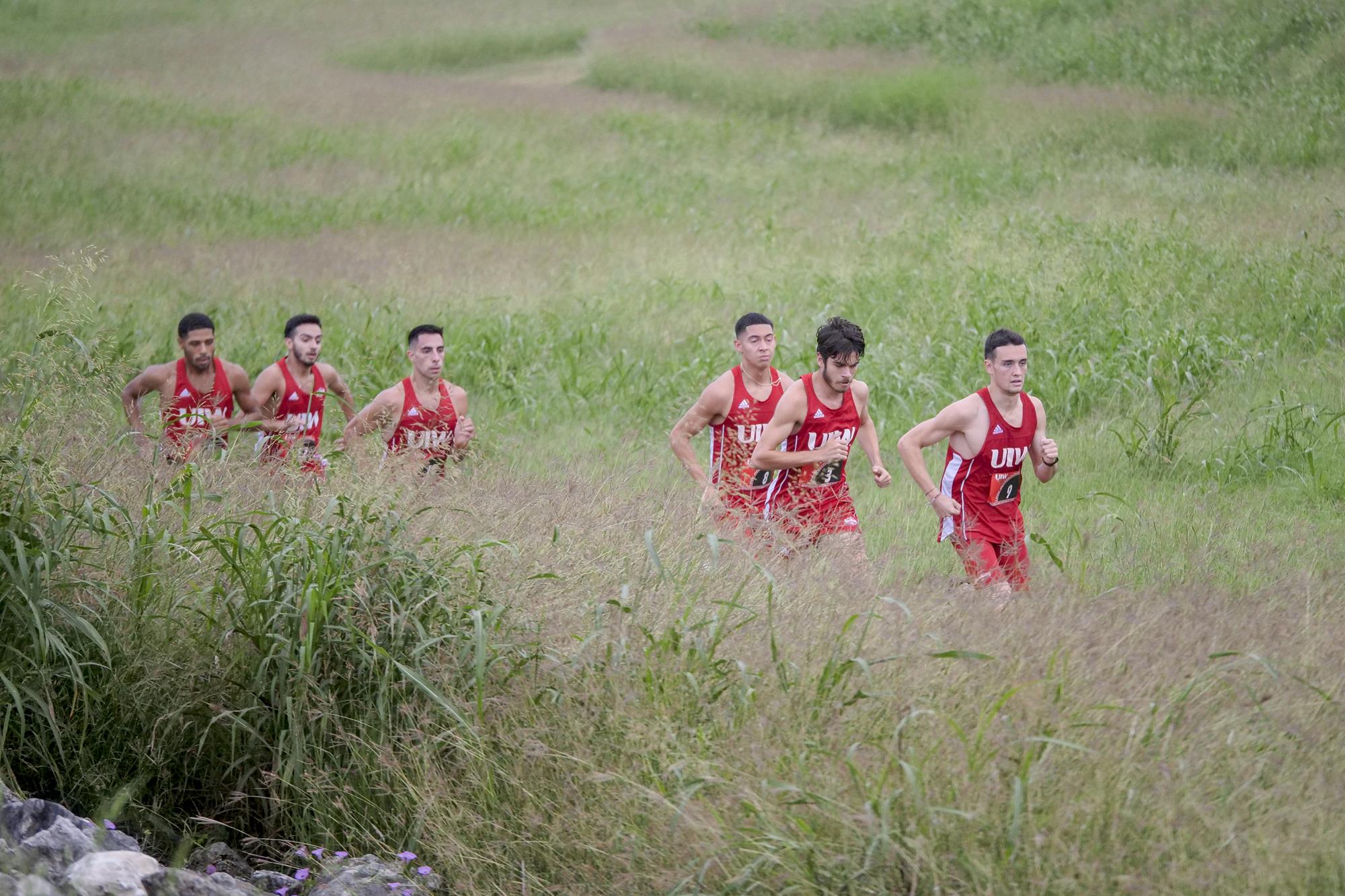 A Special Message from Athletics
Attention Cardinal Family,
Your Cardinal football team defeated the sixth-ranked McNeese Cowboys on October 20.
Now, watch them in action against #22 Sam Houston State on Saturday, November 3 as we celebrate Homecoming and our Military Appreciation game!
Register for your ticket/t-shirt combo here.
Go Cardinals!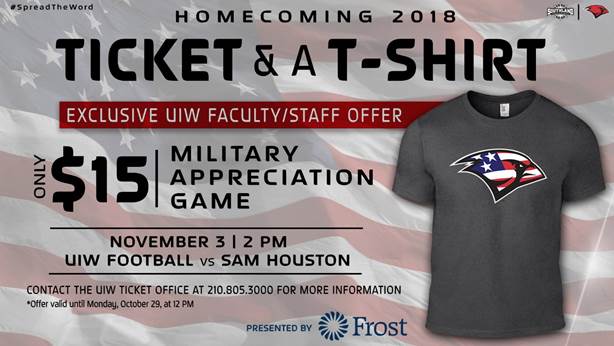 ---
Miscellaneous
Get Your Flu Shot!
Why is it important to get a flu vaccine every year? Flu viruses are constantly changing, so flu vaccines may be updated from one season to the next to protect against the viruses that research suggests will be common during the upcoming flu season. Your protection from a flu vaccine declines over time. Yearly vaccination is needed for the best protection! Come get your flu vaccine at the main campus health clinic now through Dec. 20! With insurance, there is absolutely no cost. No insurance? Don't worry! You can still get your flu shot for $25. For more information, please contact Yolanda Salazar at (210) 829-6017 or healthsvcs@uiwtx.edu.
Dr. Evans and his family aren't taking chances when it comes to the flu this year! They're protecting themselves against the virus and are encouraging you to do the same!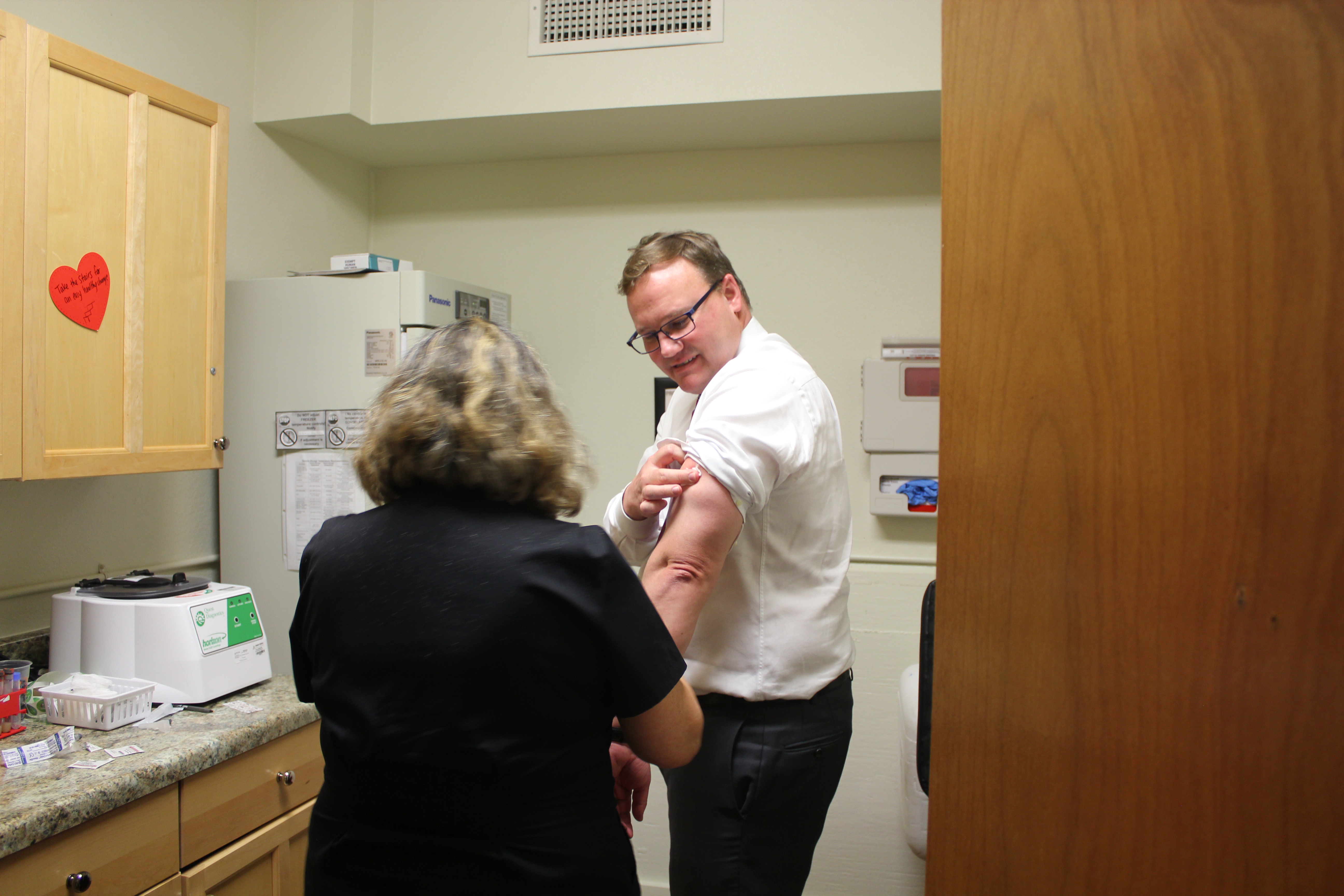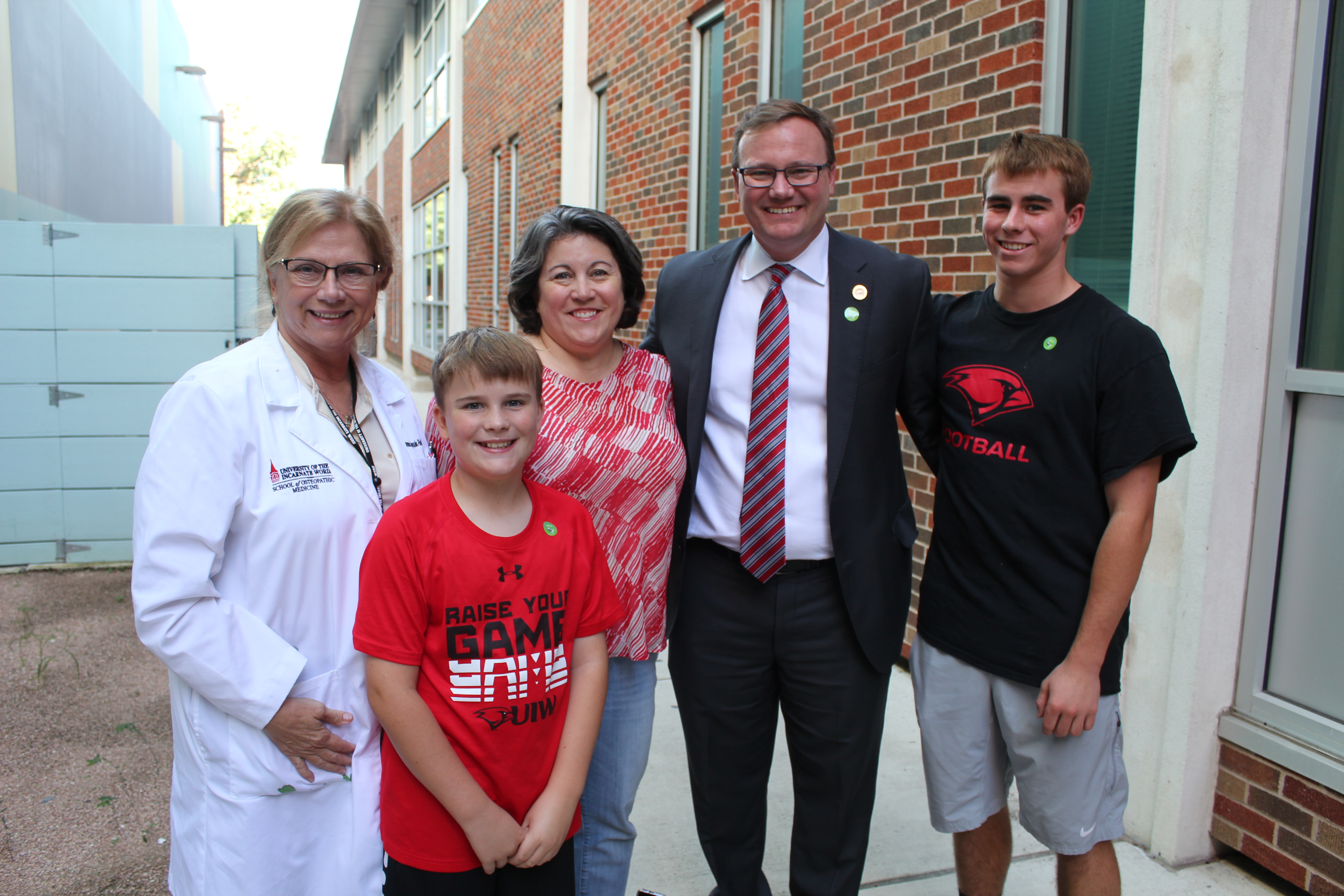 Fall Dining Hours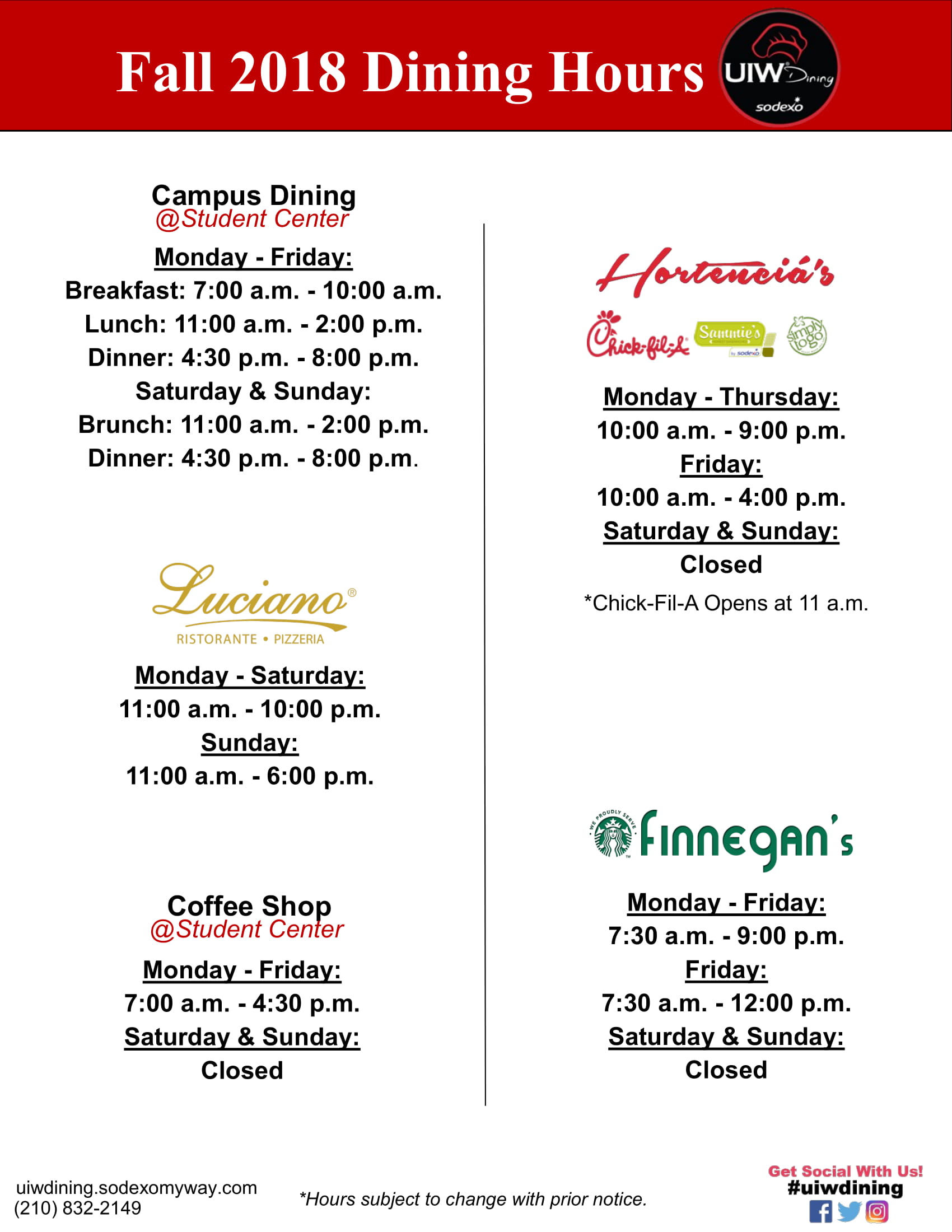 The University of the Incarnate Word provides reasonable accommodation with adequate notice. To request disability accommodation for events listed in this newsletter, visit www.uiw.edu/ada.