The Word E-News Archive
Photo of the Week 
Students, faculty and staff at the UIW School of Physical Therapy weren't afraid to let their Halloween spirit shine! Among their many creative costumes were princesses, baby sharks, Mario Kart characters, and more! 


Our Lady's Chapel Services
All are welcome.
Noon Mass, Monday – Friday 
Sunday Mass at 10:30 a.m. and 8 p.m.
Sacrament of Reconciliation, 11:30 a.m. Fridays or by appointment with Fr. Tom Dymowski, O.SS.T. at
(210) 829-3131 or dymowski@uiwtx.edu.
Homecoming-Memorial Mass
The 2018 Homecoming-Memorial Mass will be celebrated at 10:30 a.m., Sunday, Nov. 4 in the Chapel of the Incarnate Word. Students, faculty, staff, alumni and friends of the University are invited to attend.  Ths annual event is an opportunity to gather and remember our past - especially those who have given much to make our University what it is today - as well as to pray for those who, today and in years to come, will continue to live the mission and legacy of our founding Sisters of Charity of the Incarnate Word. This annual remembrance of our departed alumni and Sisters concludes with a brief prayer in the Sisters' cemetery. If you have a loved one you would like remembered at Mass, please call or email Venessa Avant at (210) 829-6076 or vavant@uiwtx.edu. 
Día de los Muertos Mass
The Día de los Muertos Mass will be celebrated Sunday, Nov. 4 at 8 p.m. in Our Lady's Chapel. Following Mass, the Modern Languages Department and Campus Ministry will serve pan de muertos and hot chocolate. An altar will be in the chapel foyer, and all are invited to add a picture or other small item in honor of someone who has died. Please write your contact info on any item you leave so it can be returned to you. The altar will remain in place until Nov. 7. For more information, please contact Dr. Gabriel T. Saxton-Ruiz at saxtonru@uiwtx.edu.
BEREAVEMENT
Our thoughts and prayers go to:
 The family of Catherine Napper Governale (BSN '55) on her recent death.

Patti Lummus, Aimee, Michael, Victor, Samuel & Christopher Pantuso & their families on the recent loss of their father, Blasé Phillip Pantuso (UIW Friend).

Karen (BSN '78) and Dewayne Coburn & family on the recent loss of her mother, Christine J. Parma.

The family and friends of Colin T. Carlile, age 64 of Devine, TX, who passed away on Friday, Oct. 26, 2018 in San Antonio, TX. Colin was a part-time faculty member in the School of Media and Design. He has taught at UIW since 2015. Colin is survived by his wife, Sheryl C. Carlile; son, Charles Thomas Carlile II (Tom); daughter, Stephanie Carlile Banks (James); brother, James Carlile; sister, Sherron Carlile; Grandchildren Madison, Cole, and Kaleb Banks. A Memorial Service will be held on Saturday, Nov. 10 at 1:00 p.m. at Moore Baptist Church (404 FM 462 Moore, Texas 78057). In lieu of flowers, donations may be made to cancer research in his name.

The family and friends of Dr. Mary Lou Mueller. A Memorial Service will be held at 1 p.m., Saturday, Nov. 3 in Our Lady's Chapel for Dr. Mary Lou Mueller, longtime Incarnate Word faculty, who died Friday, September 14, 2018 in New Braunfels.  In lieu of flowers, the family requests memorial donations be made to Visitation House, P.O. Box 12074, San Antonio, TX 78212 or to the UIW Scholarship Fund at www.uiw.edu. Dr. Mueller taught Religious Studies for forty years and had many longtime friendships with her faculty colleagues and students alike.  For more, click here. Please keep the Mueller family in your prayers during this difficult time.
HIGHLIGHTS
---
Events      
Your Vote Matters – 2018 Midterms

In Person Early Voting
Early voting for the 2018 midterm elections ends on Friday, Nov. 2. Click here for a list of Bexar County early voting locations and hours or click here for a map view. A convenient early voting location near UIW is Lion's Field (2809 Broadway). You may vote at any polling location during early voting.
Curbside Early Voting
If you have difficulty walking or standing, curbside voting is available. Simply call ahead to the polling location to notify the early voting clerk that you want to vote from your vehicle – the election official will bring your ballot to your car outside the polling location. 
Early Voting by Mail
Voting by mail is available to those who cannot vote in person for the following reasons:
Going to be away from your county on Election Day/during early voting
Sick or disabled
65 years of age or older on Election Day
Applications for a ballot by mail were due to the Bexar County Elections Department no later than 11 days before Election Day (Friday, Oct. 26 – received, NOT postmarked). The early voting clerk must receive your marked ballot by 7 p.m. on Election Day. Call (210) 335-0362 for more information on early voting by mail.
Election Day
You may also vote on Election Day! However, you MUST vote at the polling location associated with the address you are registered to vote with. These locations are typically listed about two days prior to Election Day. Once locations are available, you'll be able to search for your polling location at this link.
For more information on voting in Bexar County, please click here.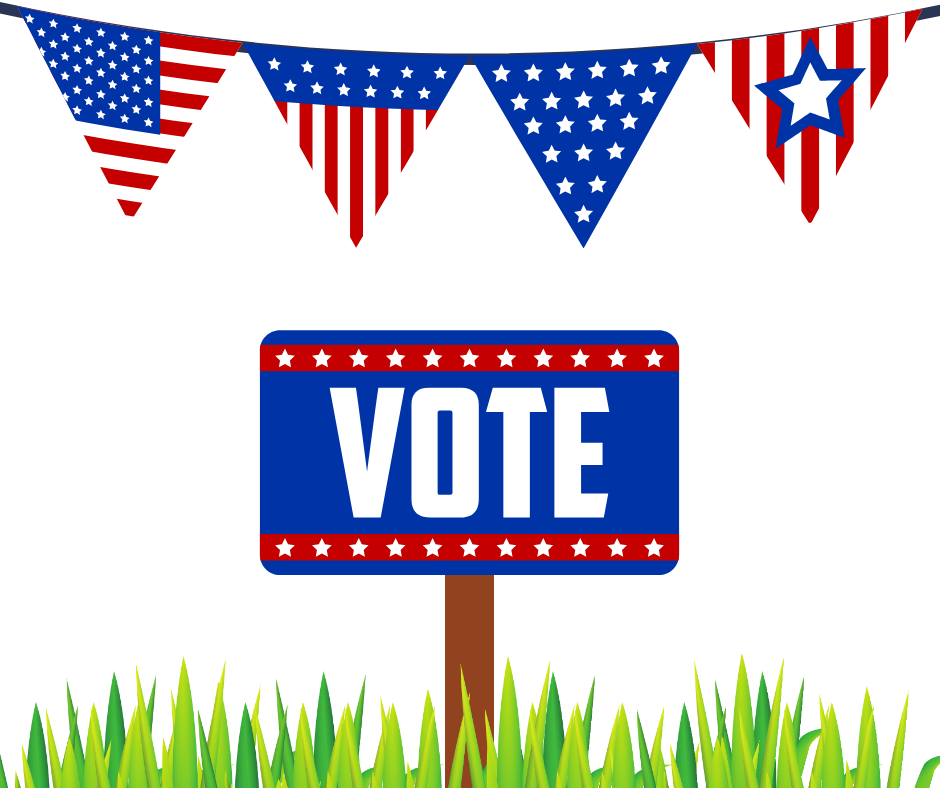 UIW Homecoming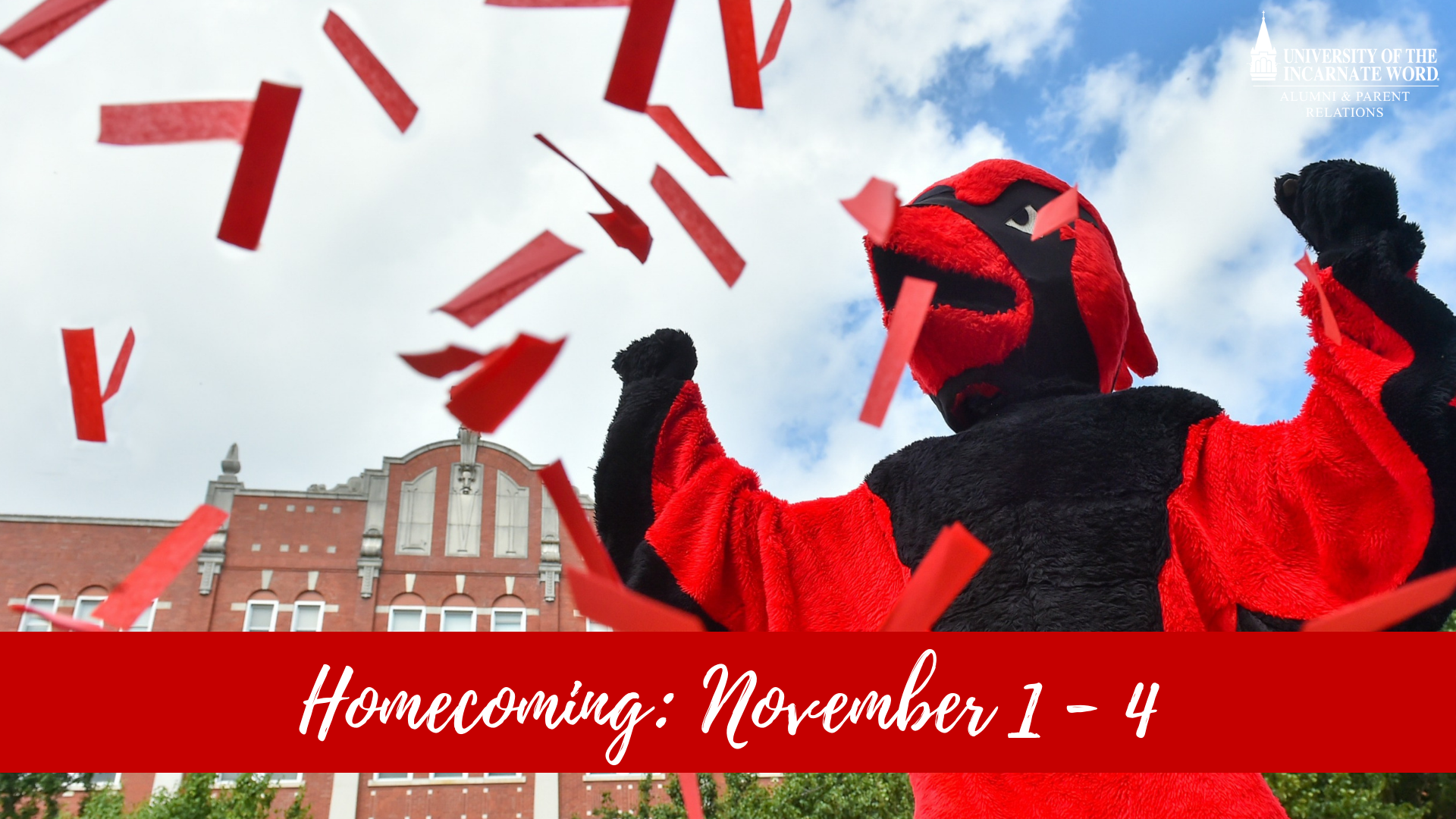 It's Homecoming Weekend! Please find the full schedule of events below:
Friday, November 2
UIW Employee Lunch (email mjmoreno@uiwtx.edu to RSVP)
Pumpkin Patch & Cardinal Market
50th Reunion Dinner
Saturday, November 3
50th Reunion Coffee Klatch & Campus Tour
Redzone Cardinal Tailgate
UIW Football vs. Sam Houston
Sunday, November 4
Homecoming Memorial Mass
Cardinal Brunch
Click here to RSVP for events.
TRiO's Cup Runneth Over Drive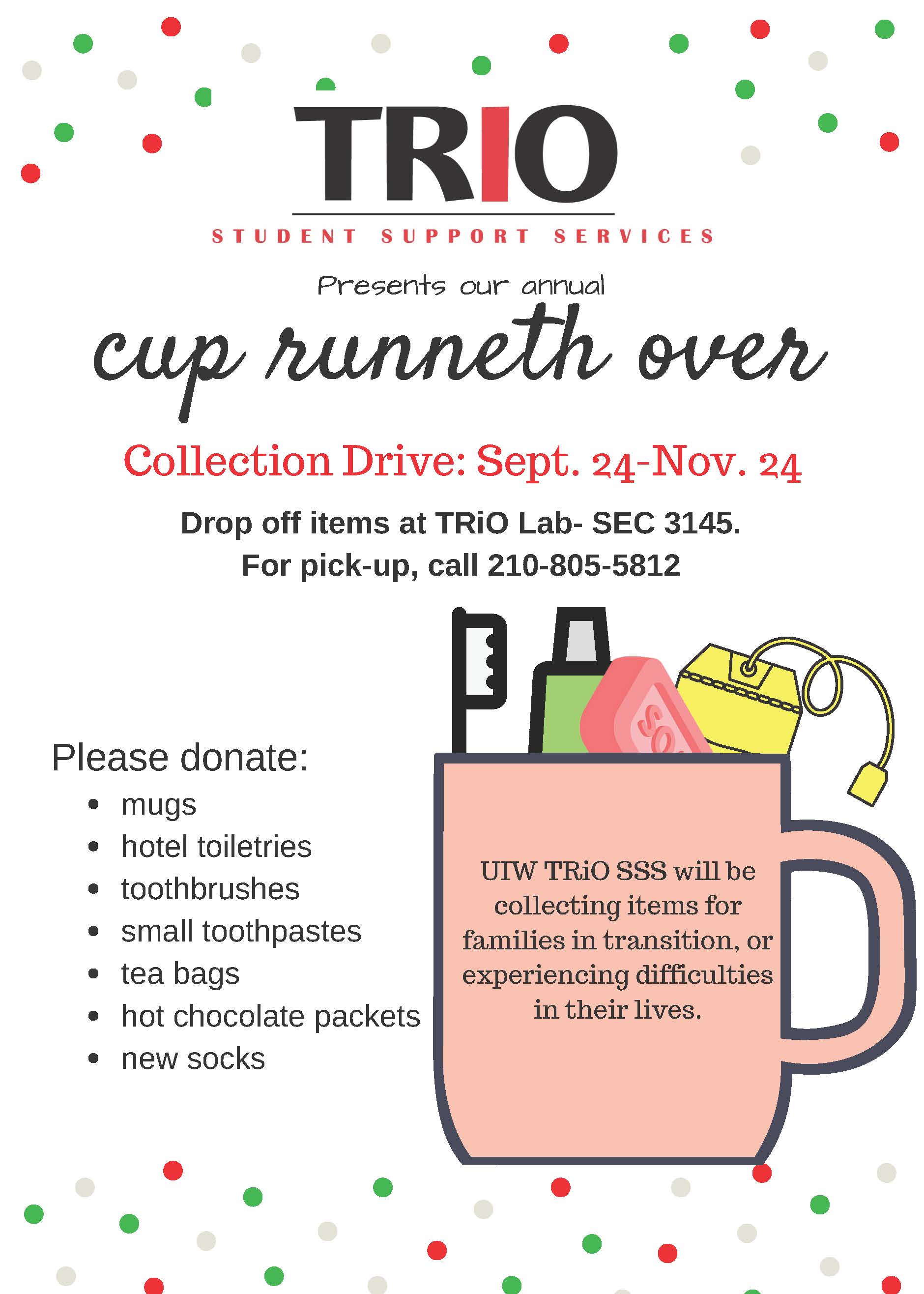 Ettling Center for Civic Leadership and Sustainability November Calendar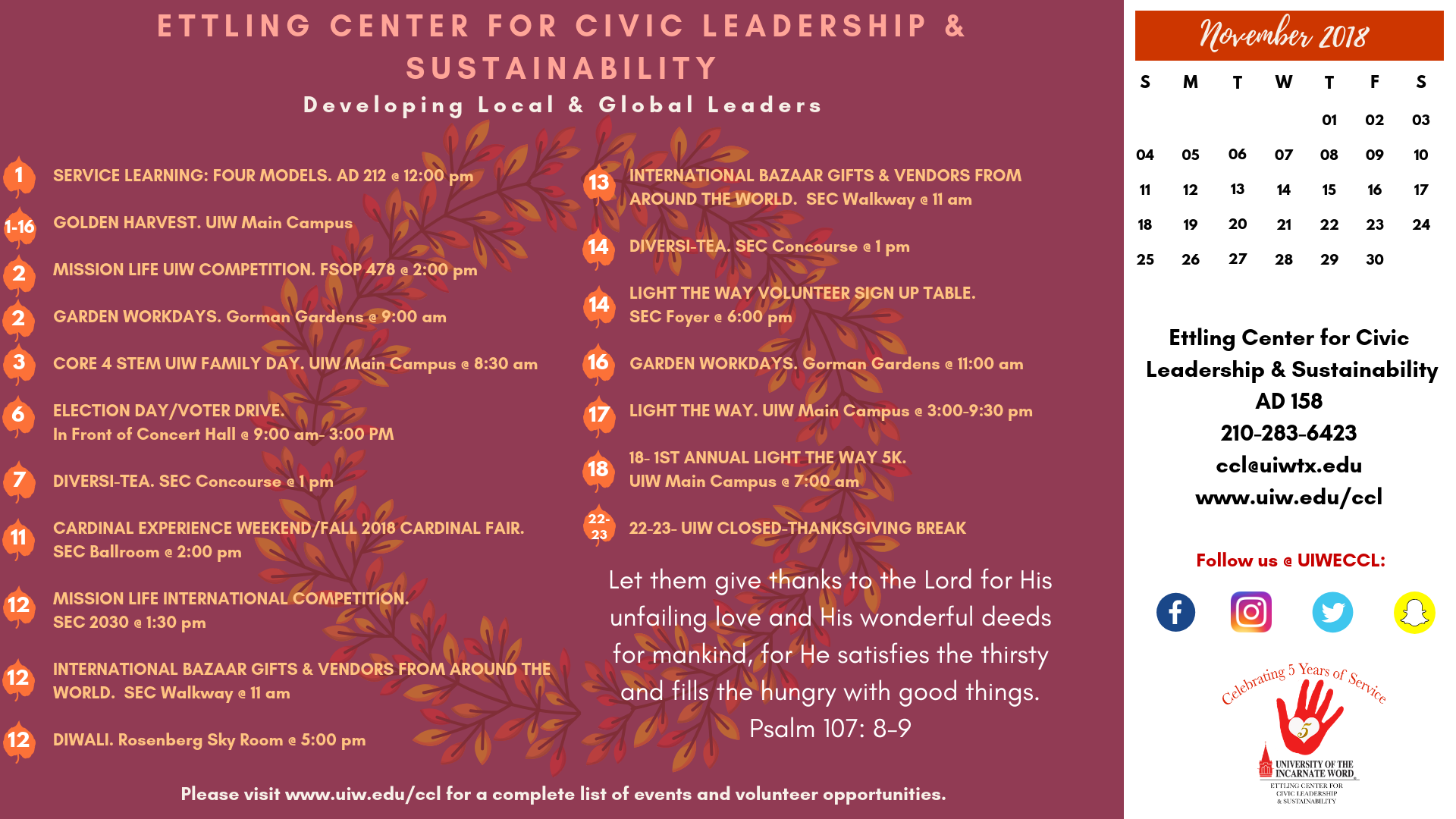 Military Appreciation Football Game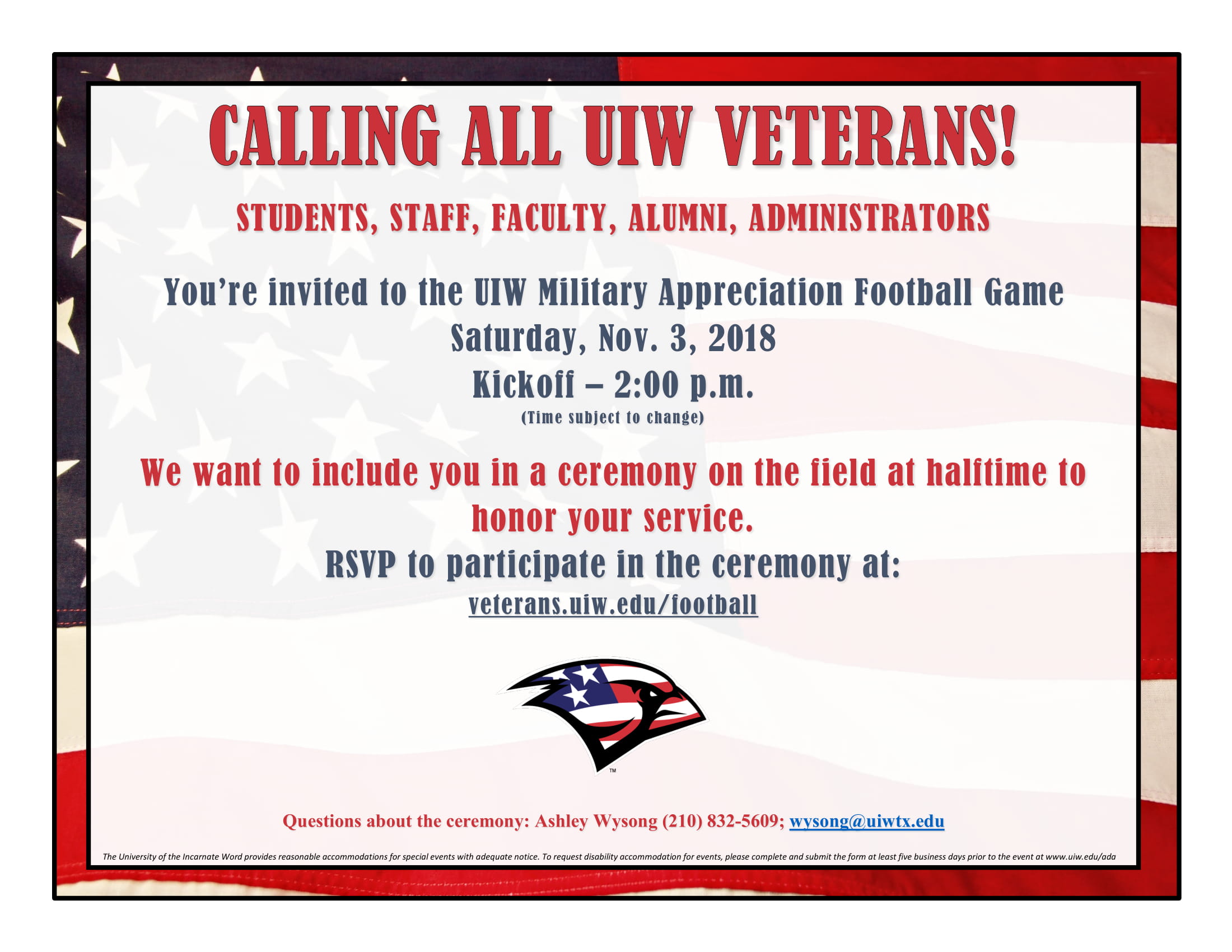 1881 Society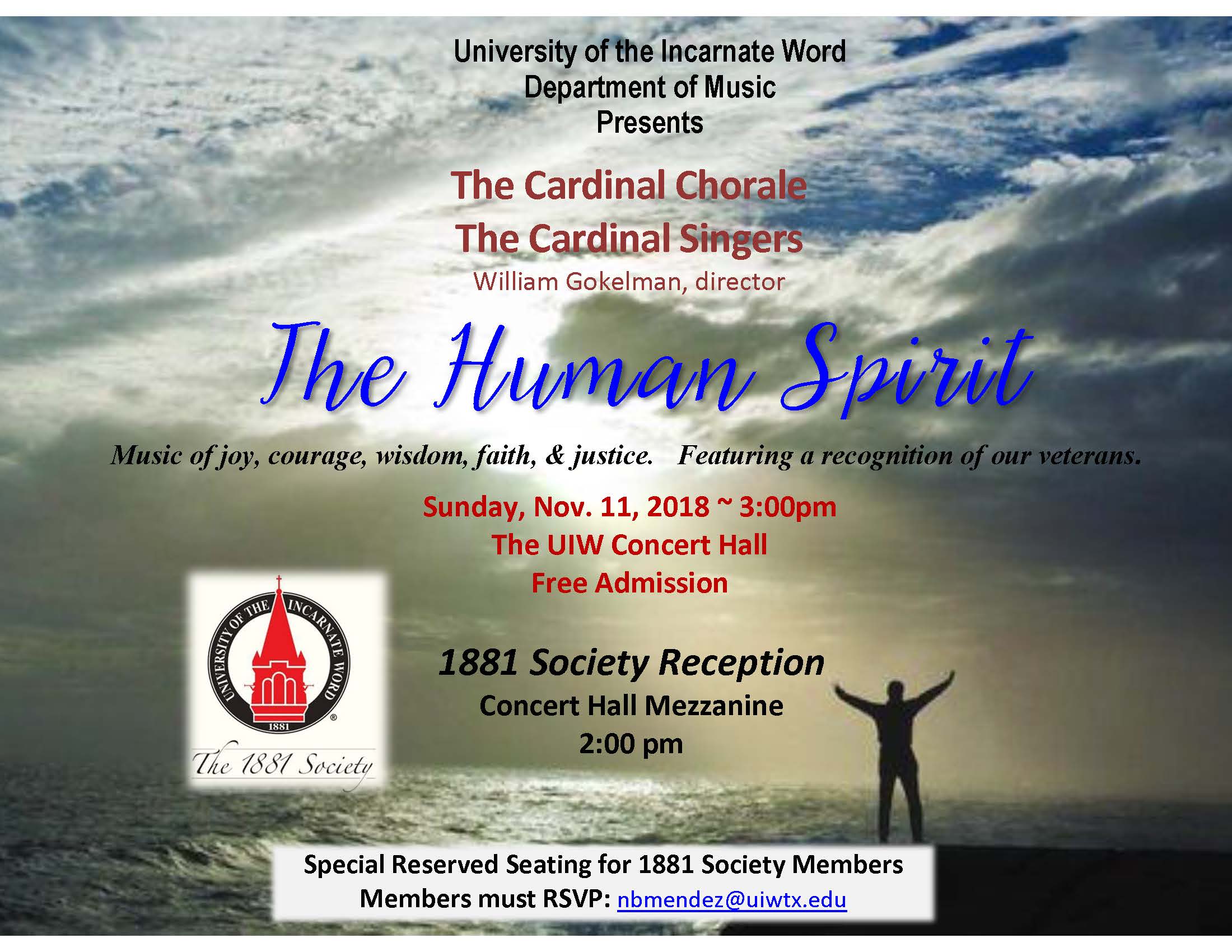 Veteran's Day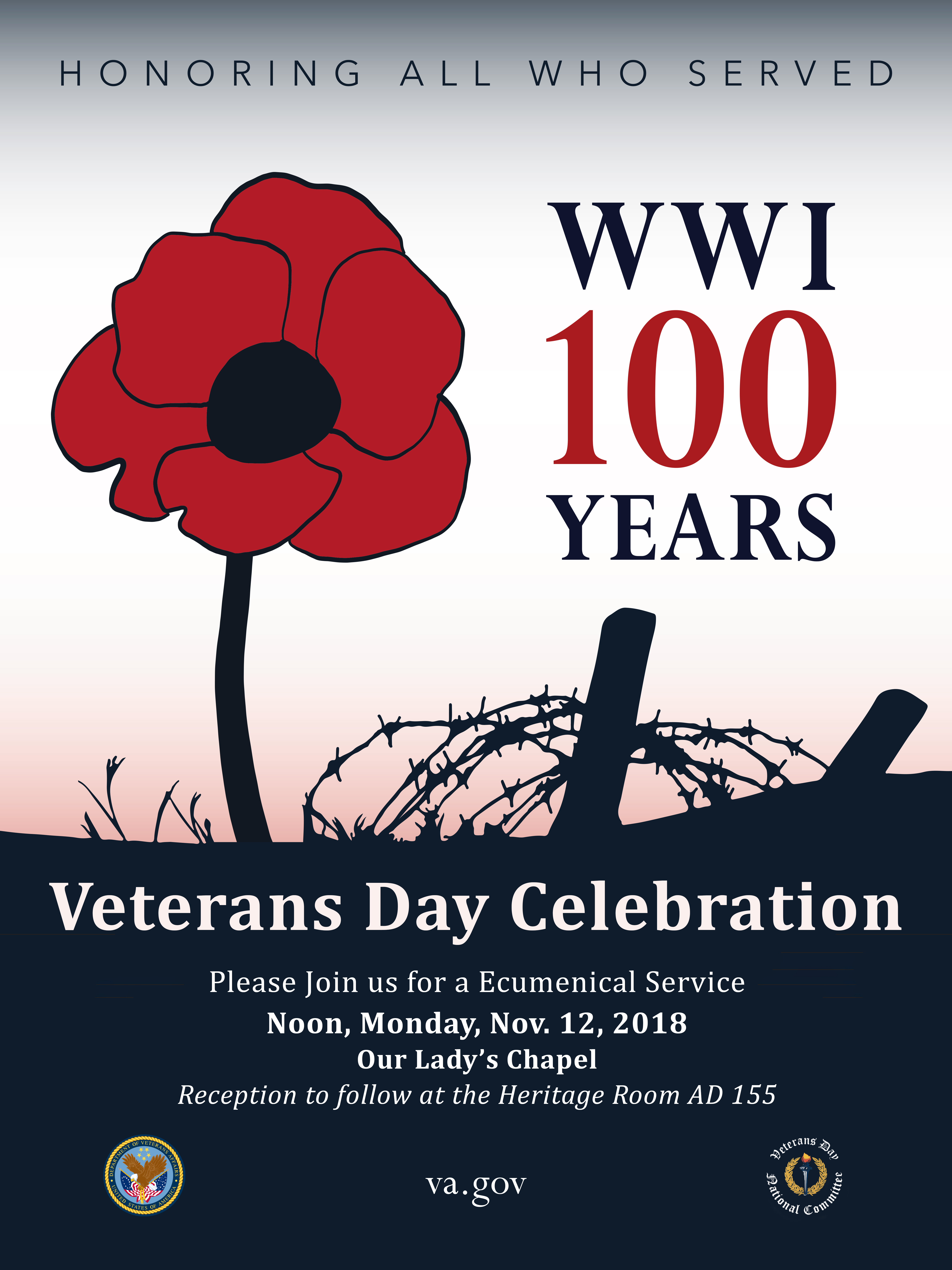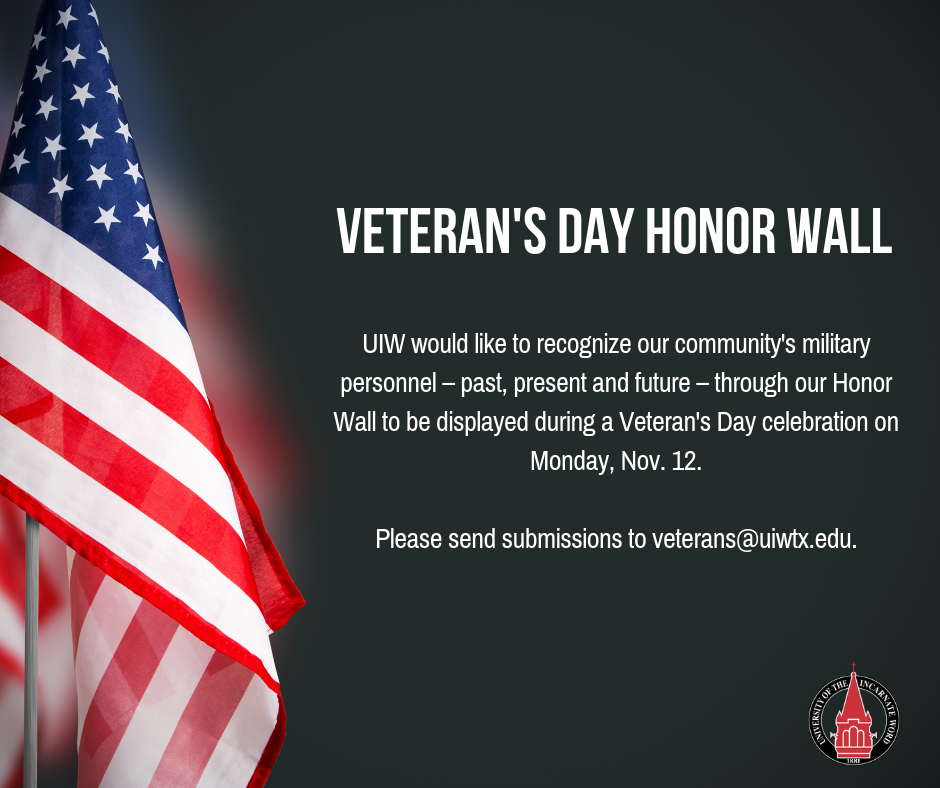 ---
Community News

UIW United Way Campaign
Monday, Nov. 5,  is the official kickoff the 2018 UIW United Way Campaign. Each employee will receive a pledge form, a United Way brochure and a letter from our president this week. We encourage you to review the materials and decide how you can make a difference in the lives of so many in our community.

Below is a link to the 2018 United Way Campaign Video, which shows just how many lives are impacted by United Way. If you have any questions, please call the Office of Communications & Brand Marketing at (210) 829-6001 or email us at PR@uiwtx.edu.
Pastoral Institute 50th Anniversary
This year, the Pastoral Institute at UIW celebrated 50 years of preparing ministers for the Church. In honor of this milestone, faculty, students, alumni, supporters and friends were invited to celebrate! As part of the celebrations, the Pastoral Institute announced new plans for the future including a revised Master of Arts degree in the Pastoral Ministry program that will be offered as an expansion of our already successful collaboration with the Mexican American Catholic College. Congratulations to all on this milestone celebration.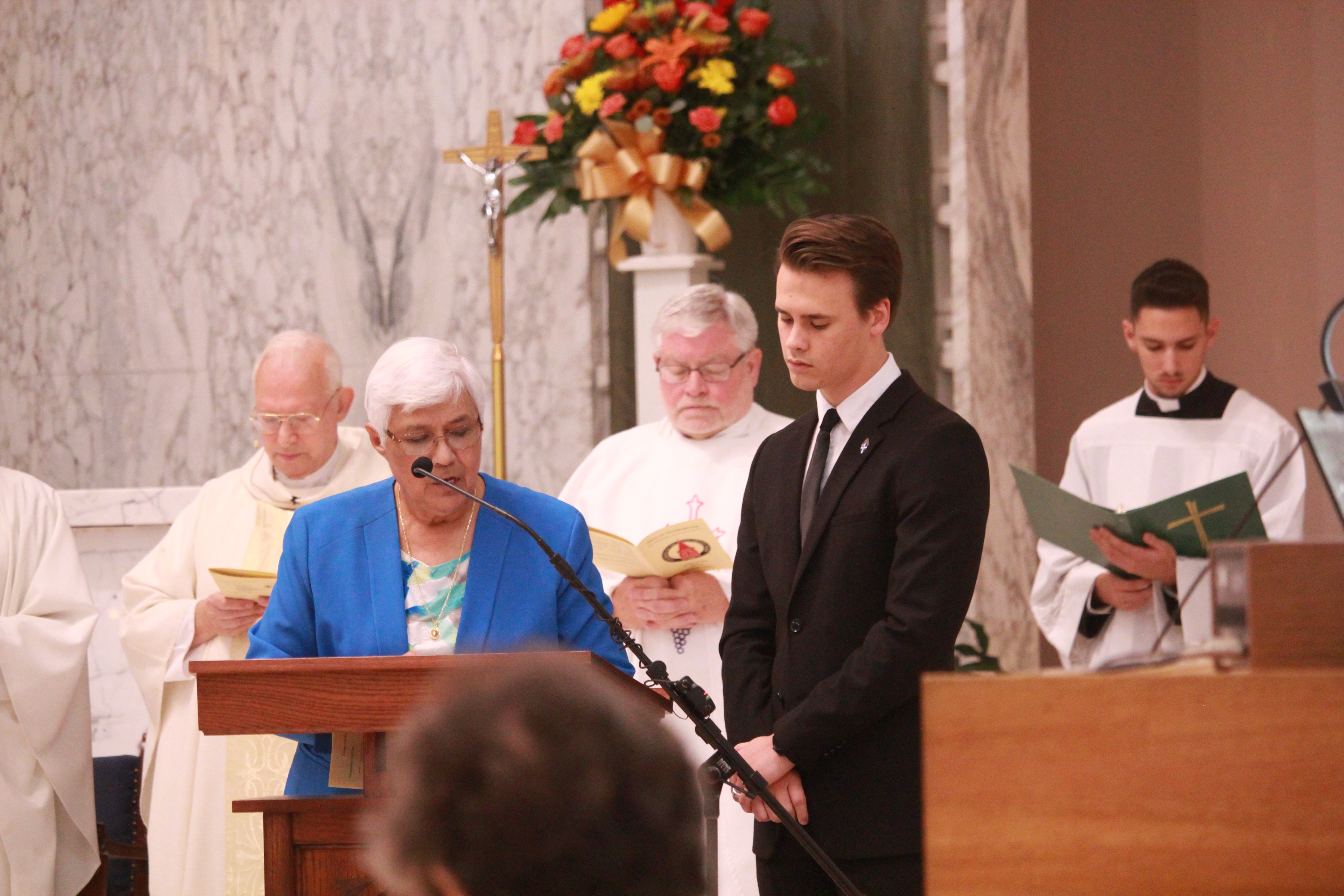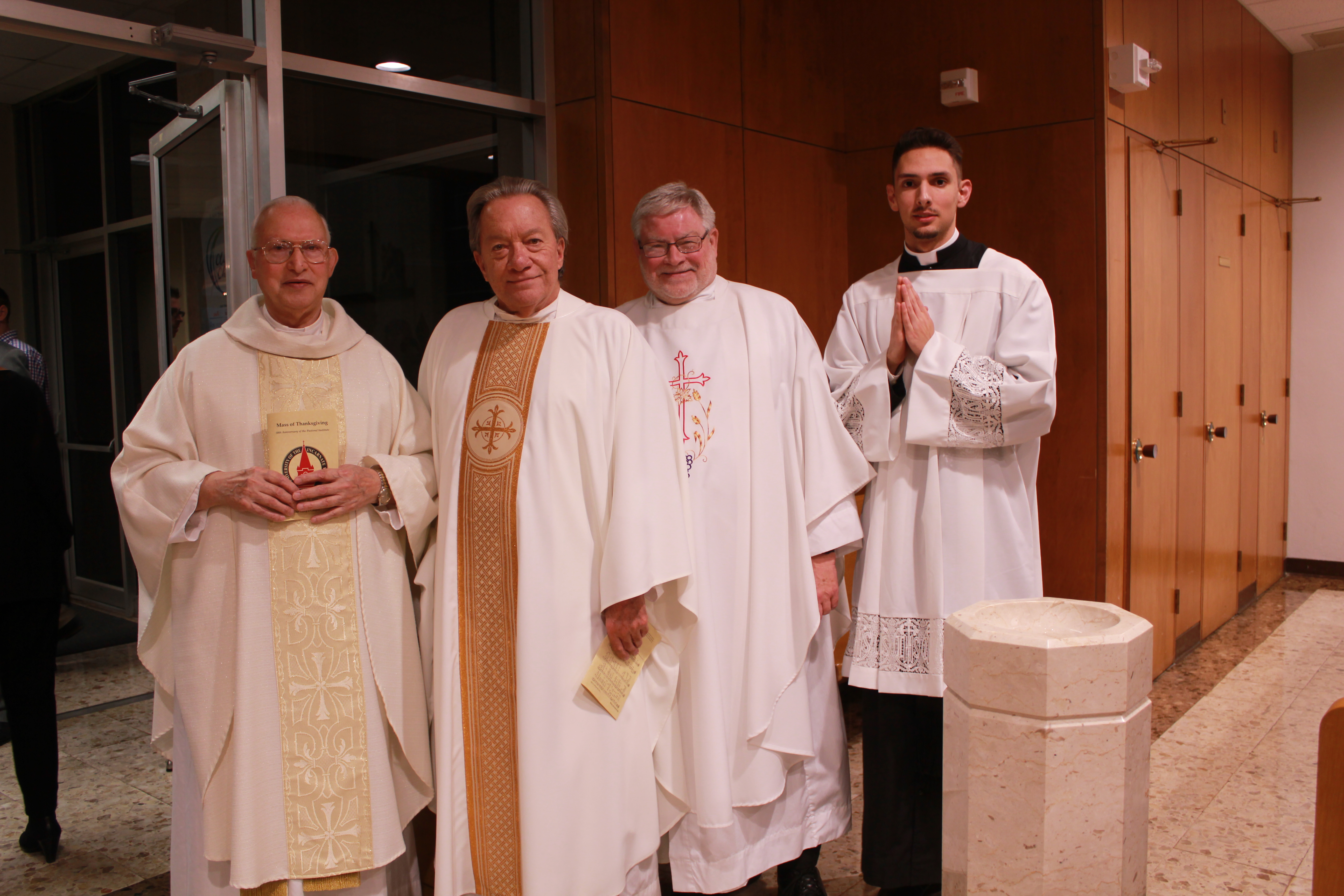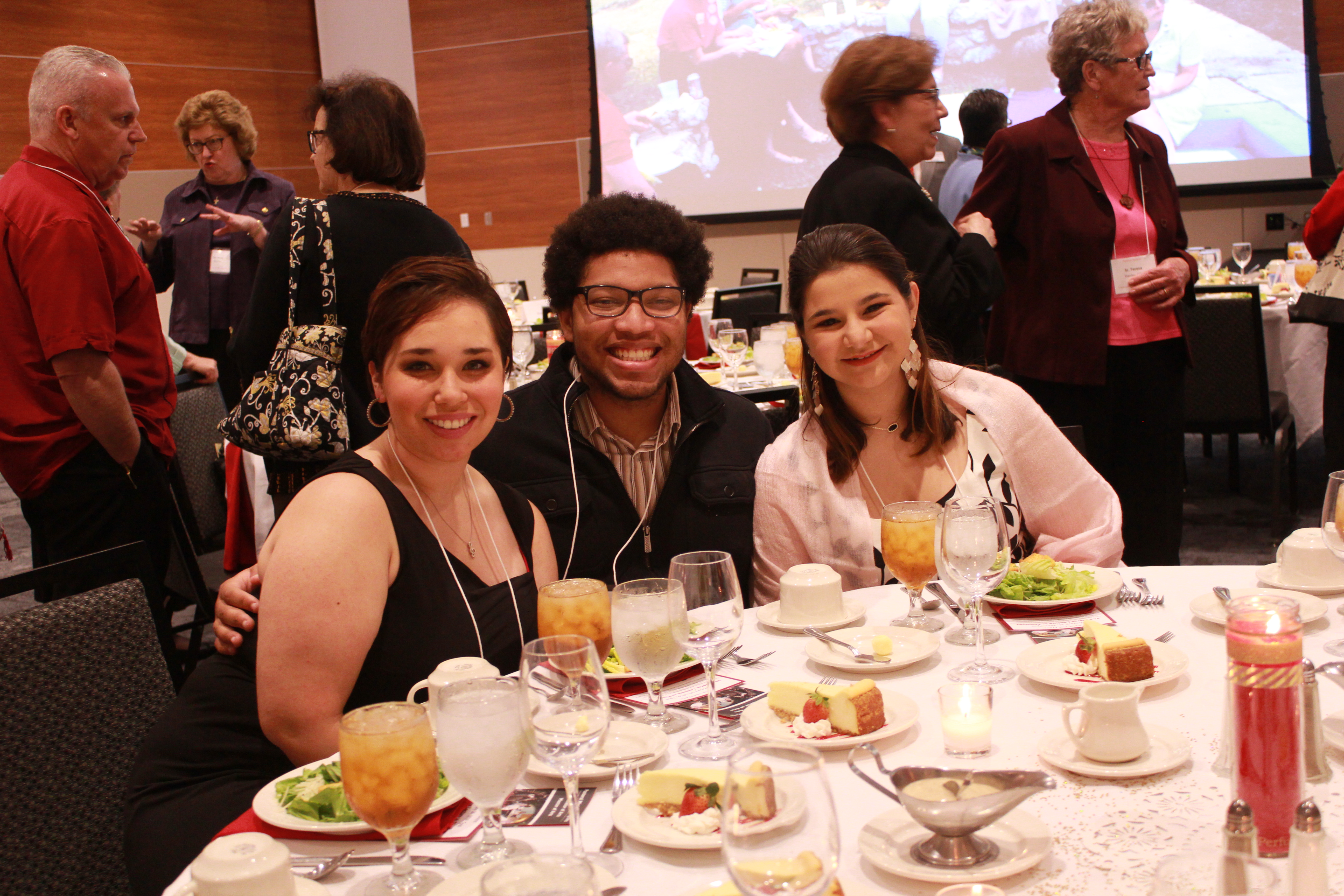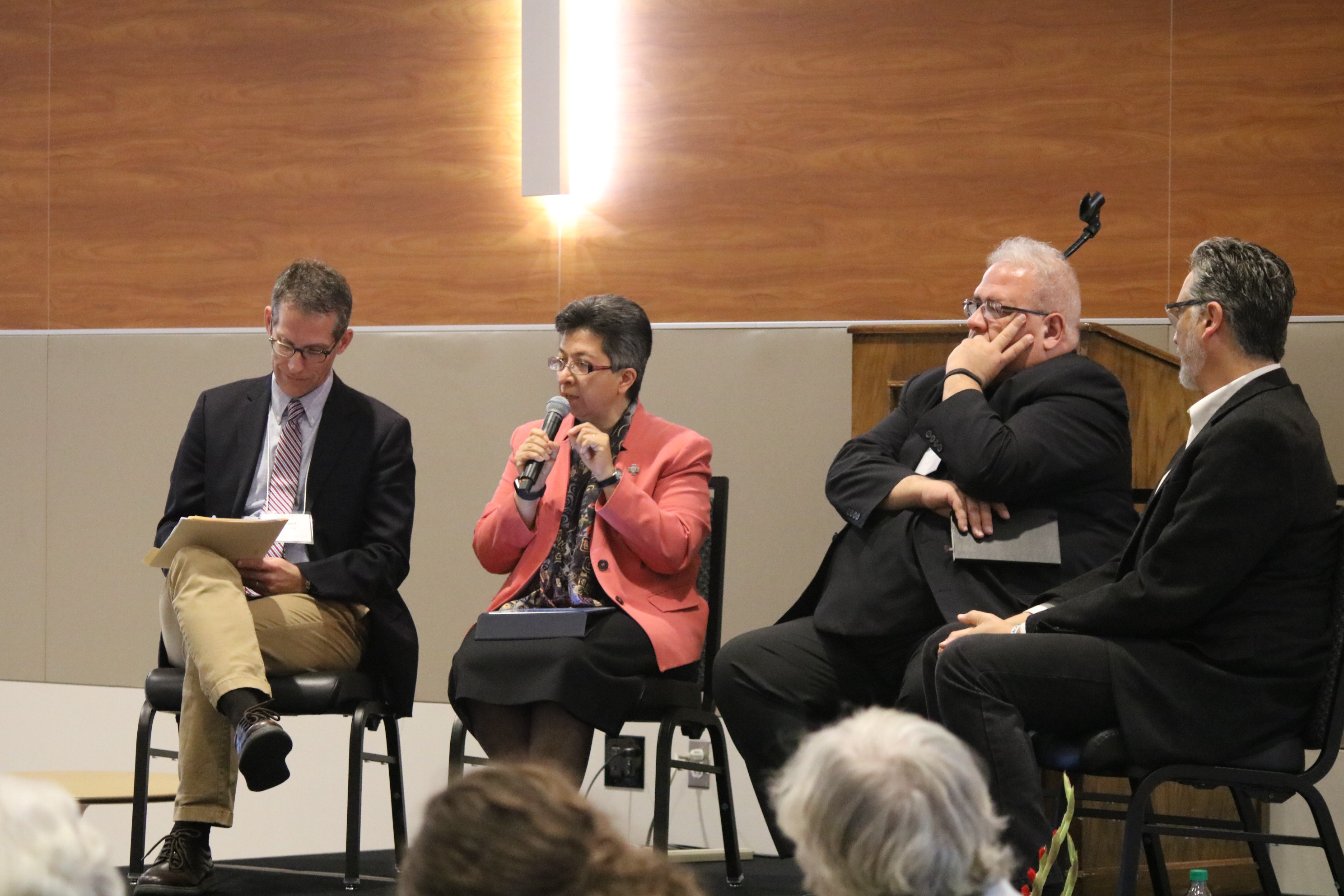 Trick or Treating at UIW!
The Ettling Center for Civic Leadership & Sustainability in collaboration with UIW's University Preparatory Programs hosted little princesses, ghosts, superheroes, pirates and minions from St. Anthony's Catholic School and St. Peter Prince of the Apostles Catholic School on Wednesday, Oct. 31 for some Halloween fun. Thank you to all employees who participated in this special tradition! Of course, we couldn't forget about all of our employees who got in the Halloween spirit across San Antonio at various campuses. Take a look at some of their amazing costumes!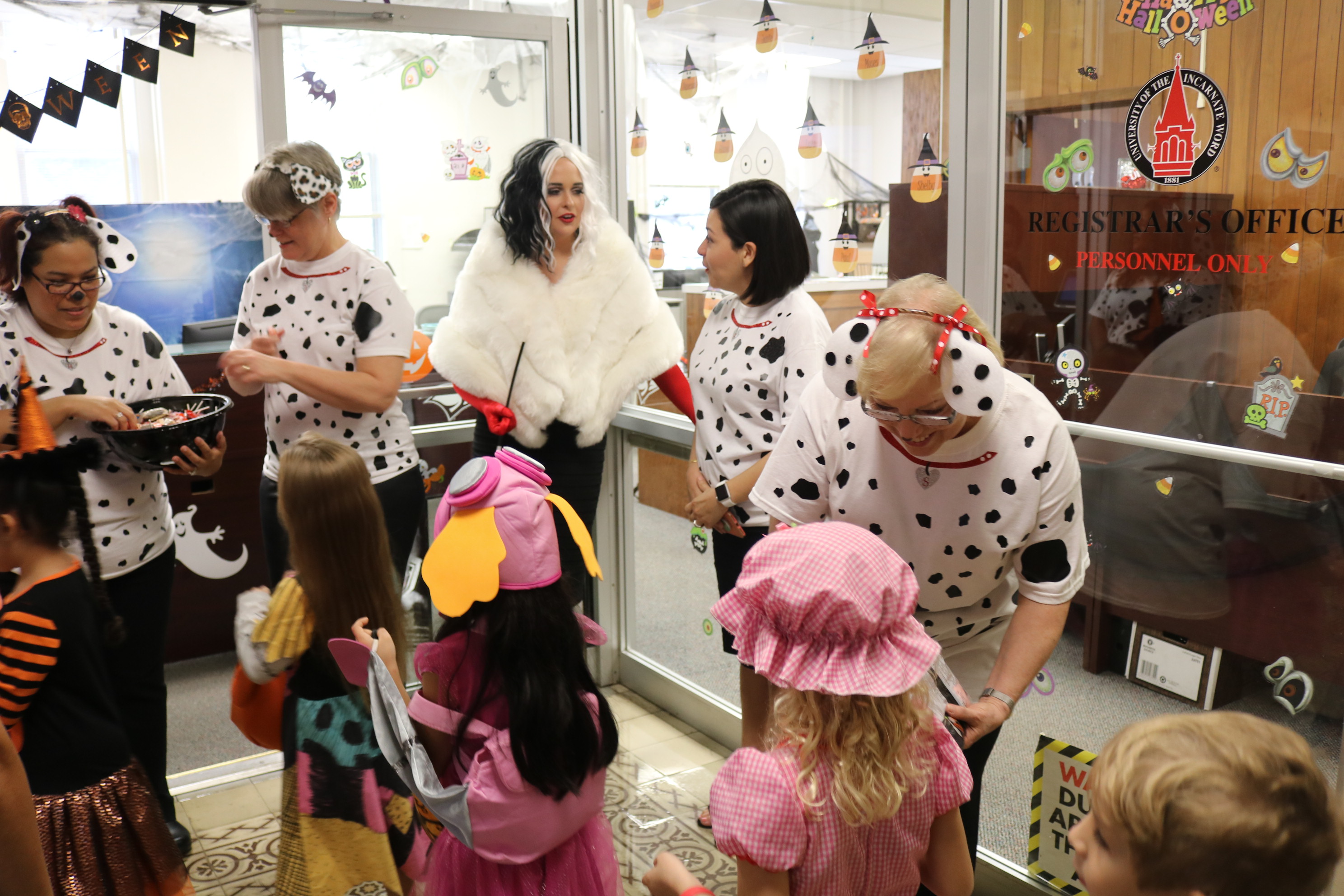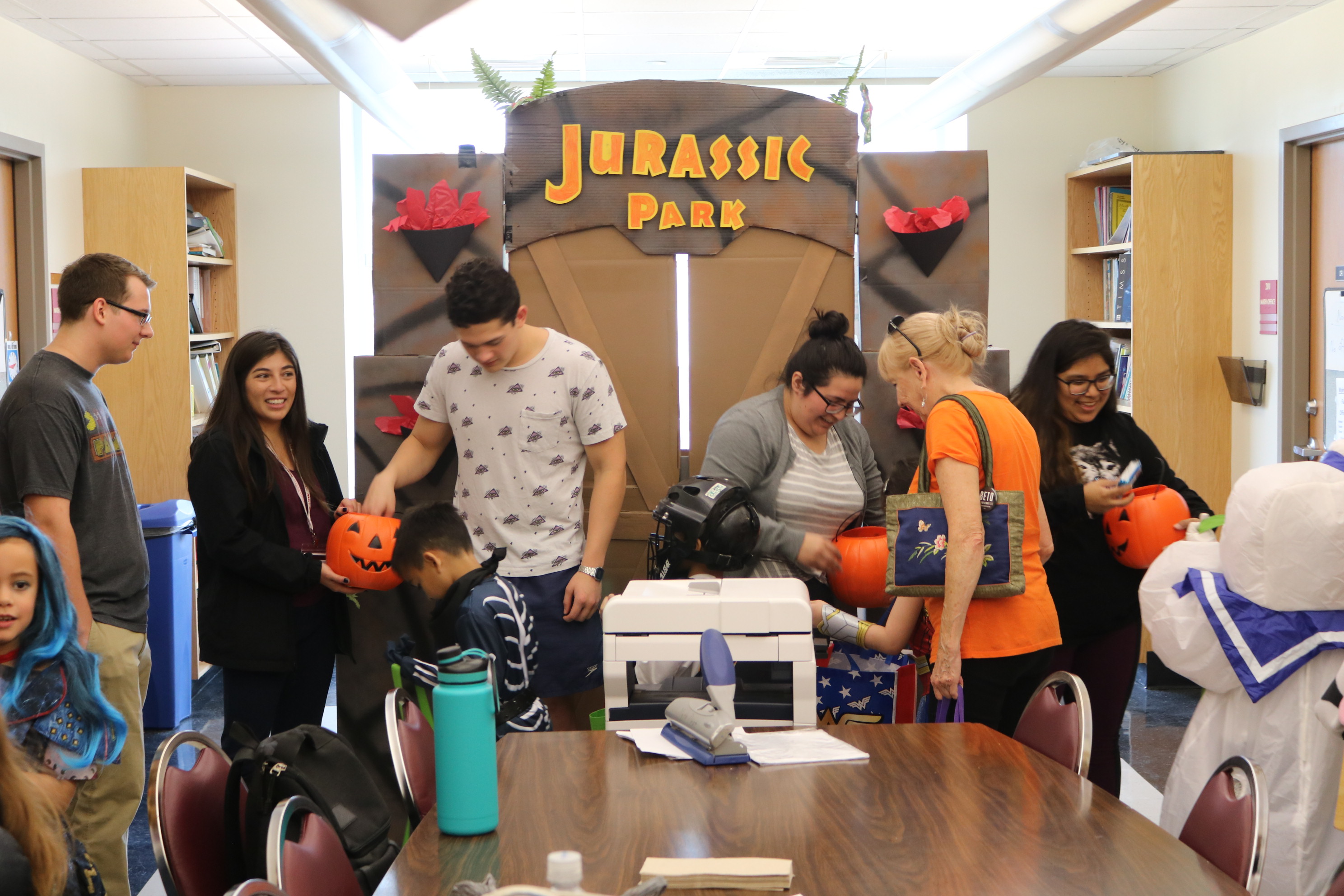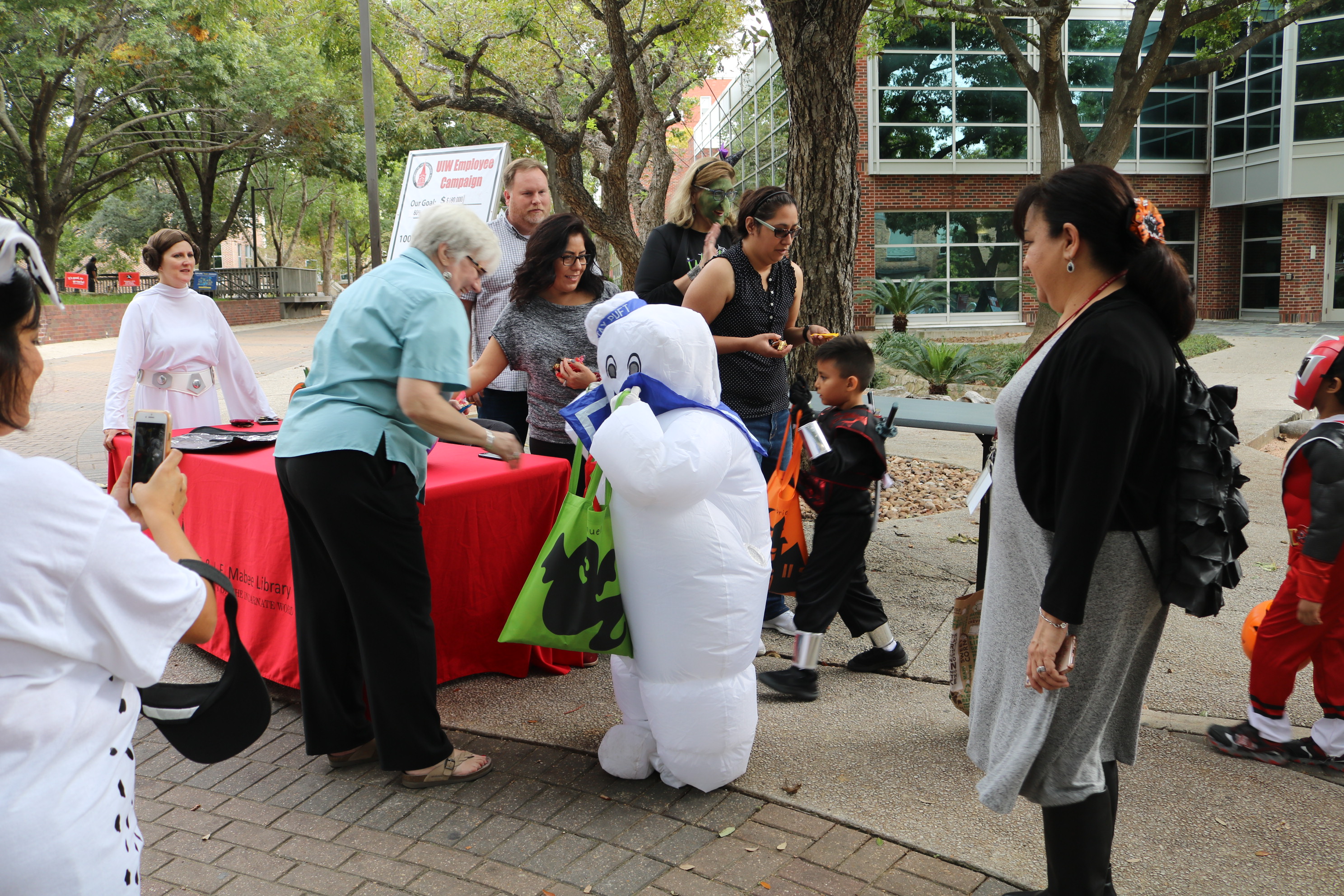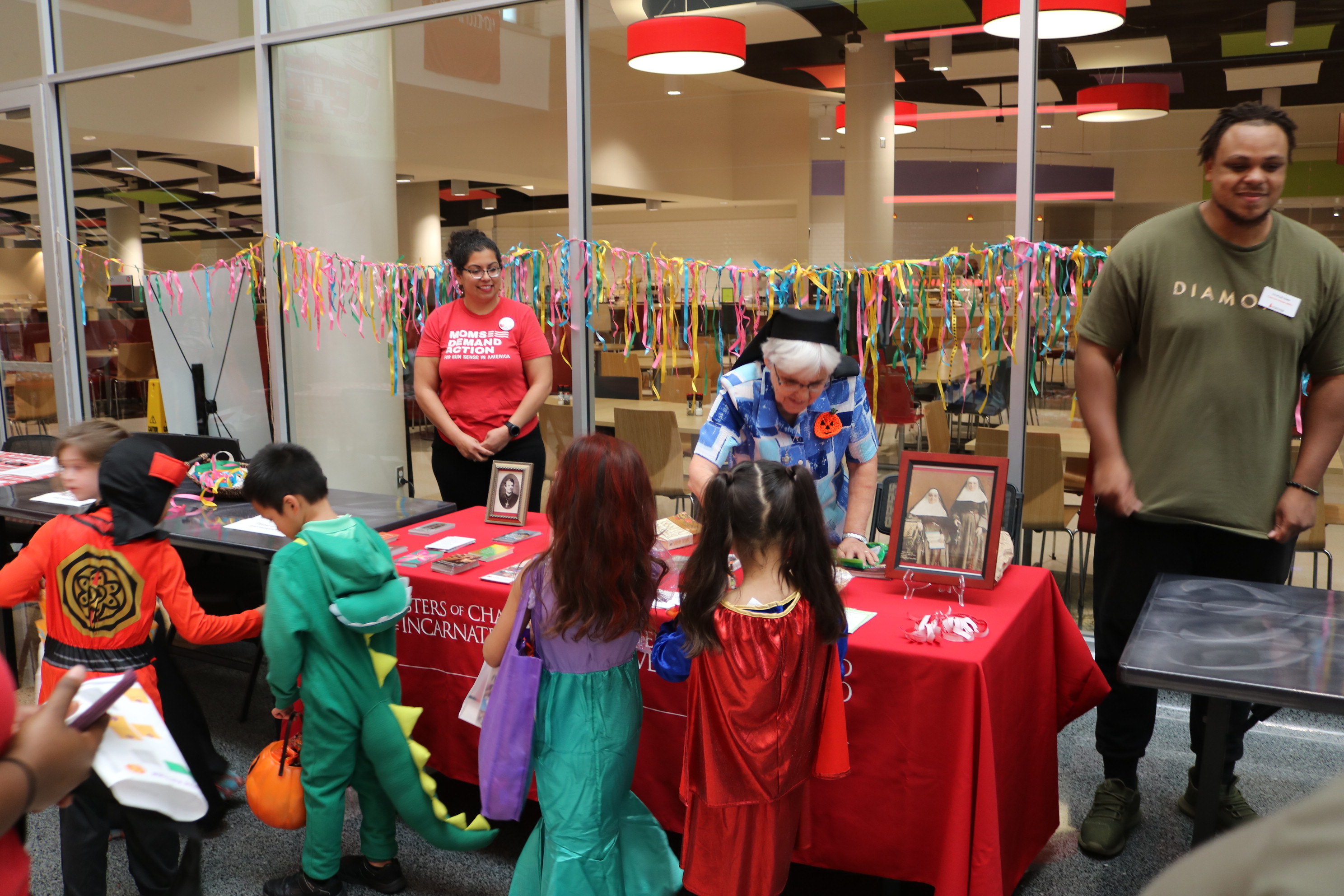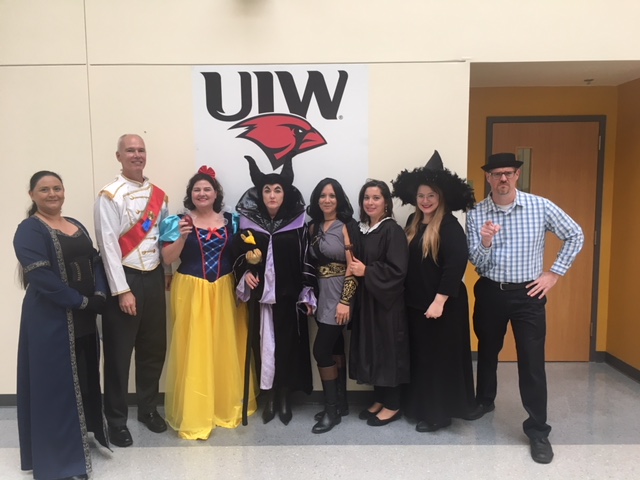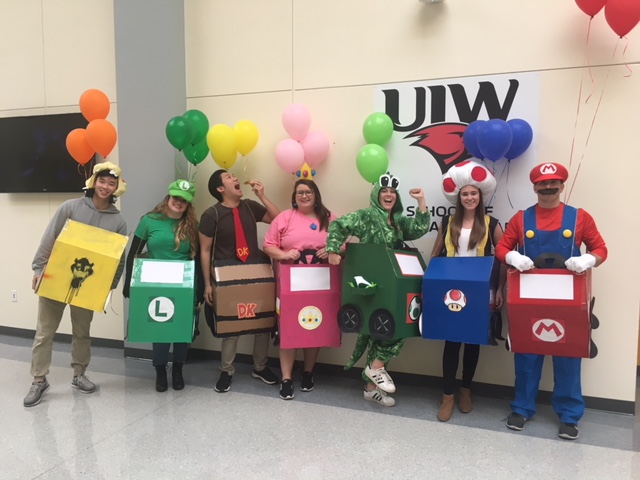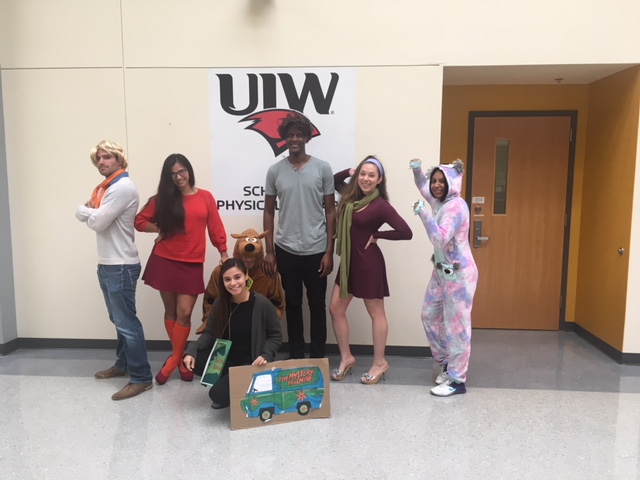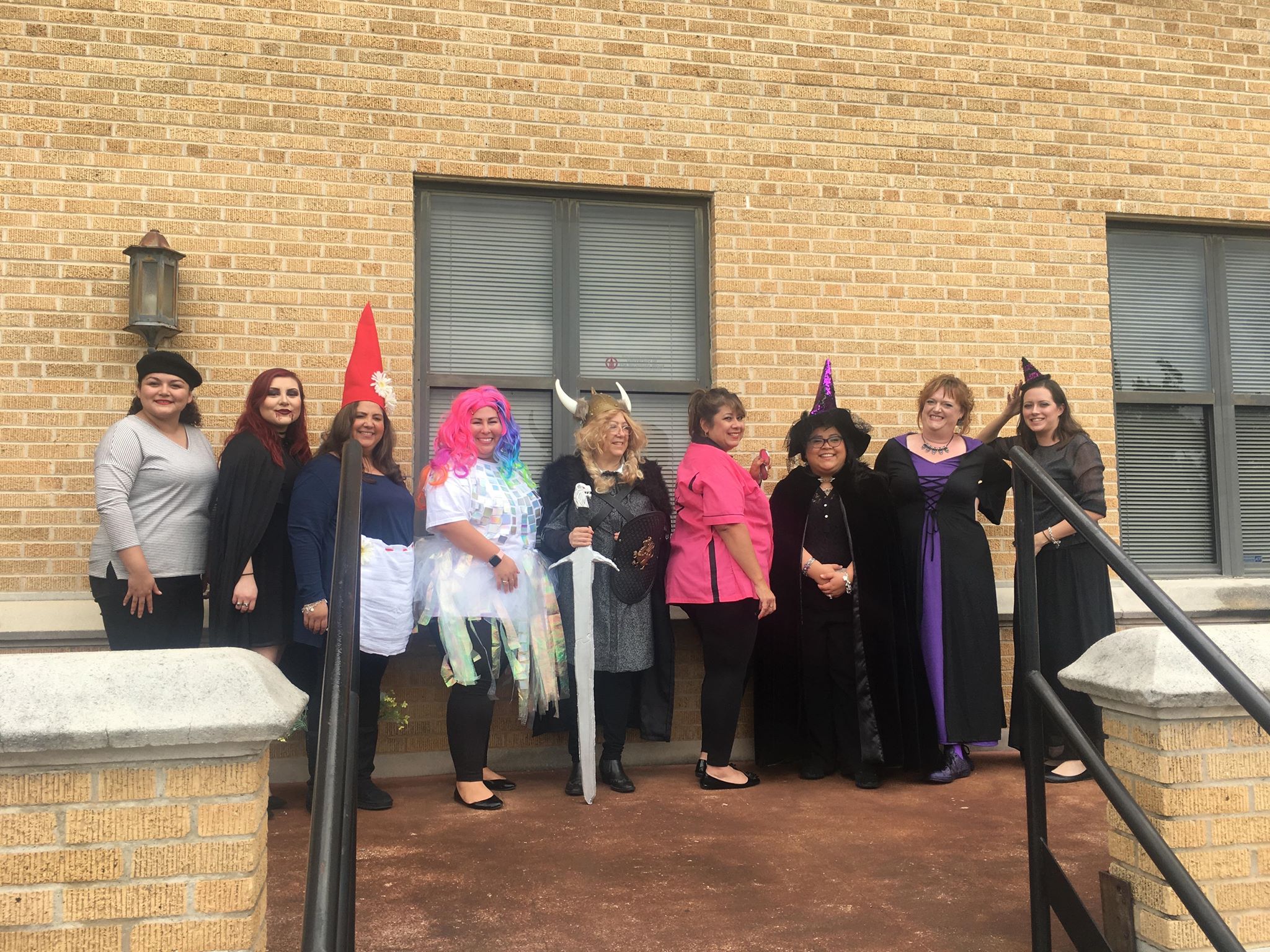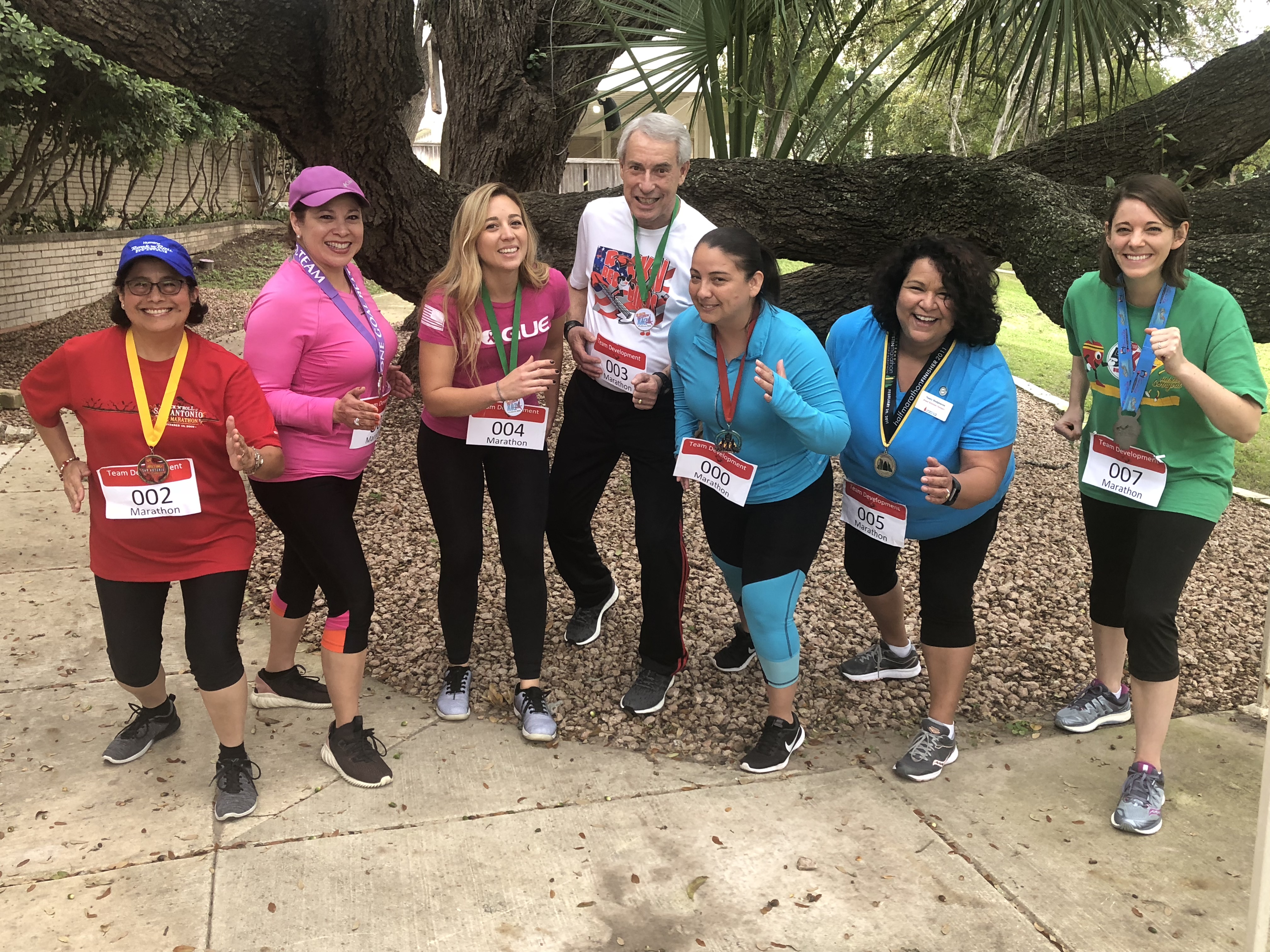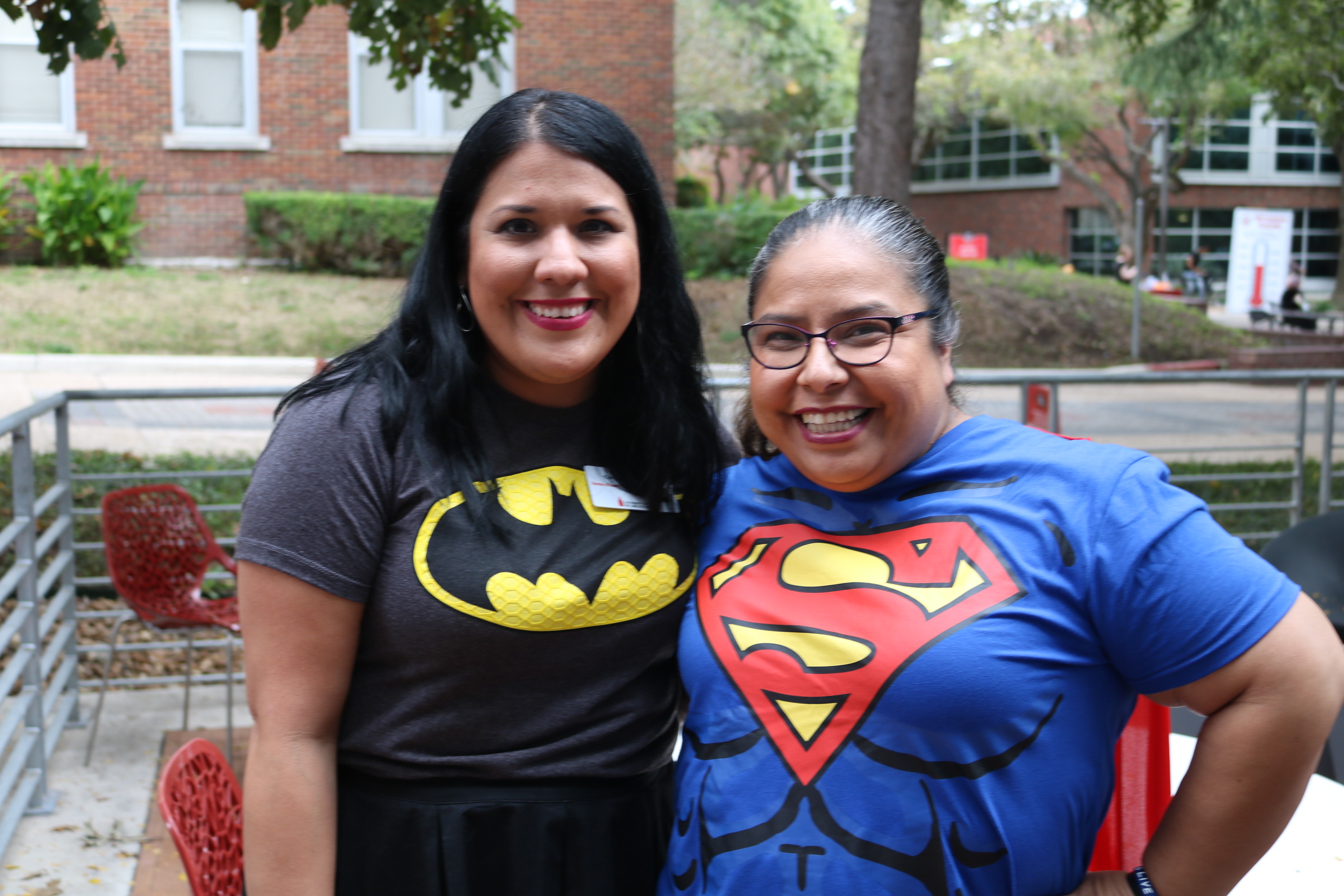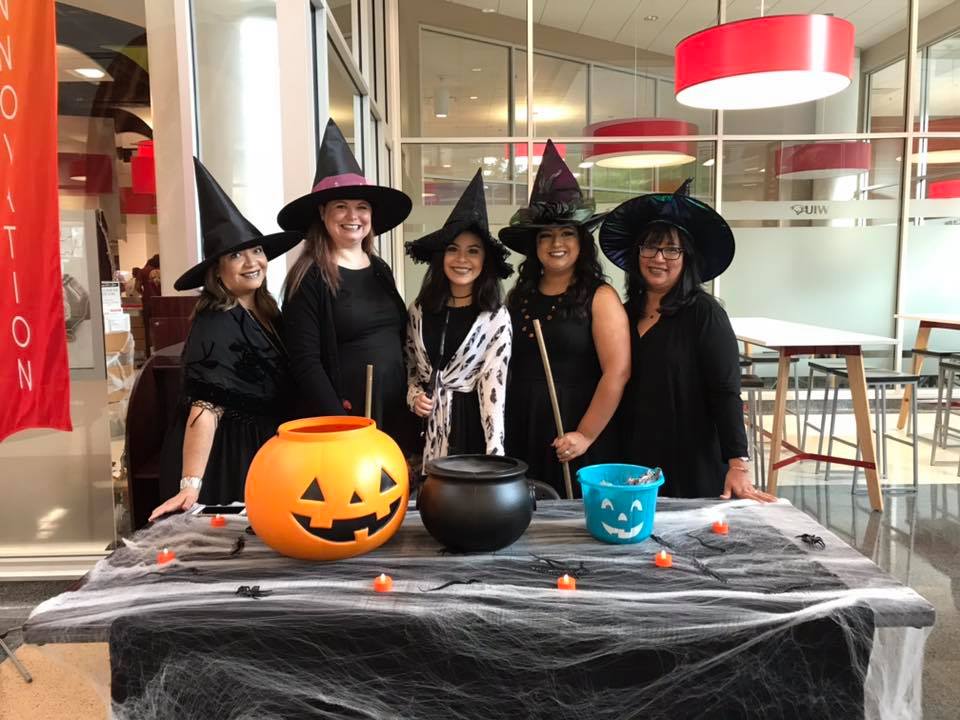 UIW Homecoming
Cards for Cardinals
The Alumni Association kicked off homecoming on Thursday, Nov. 1 with Cards for Cardinals, a new event designed to connect current students with successful UIW alumni. Students found new mentors in their fellow UIW community members.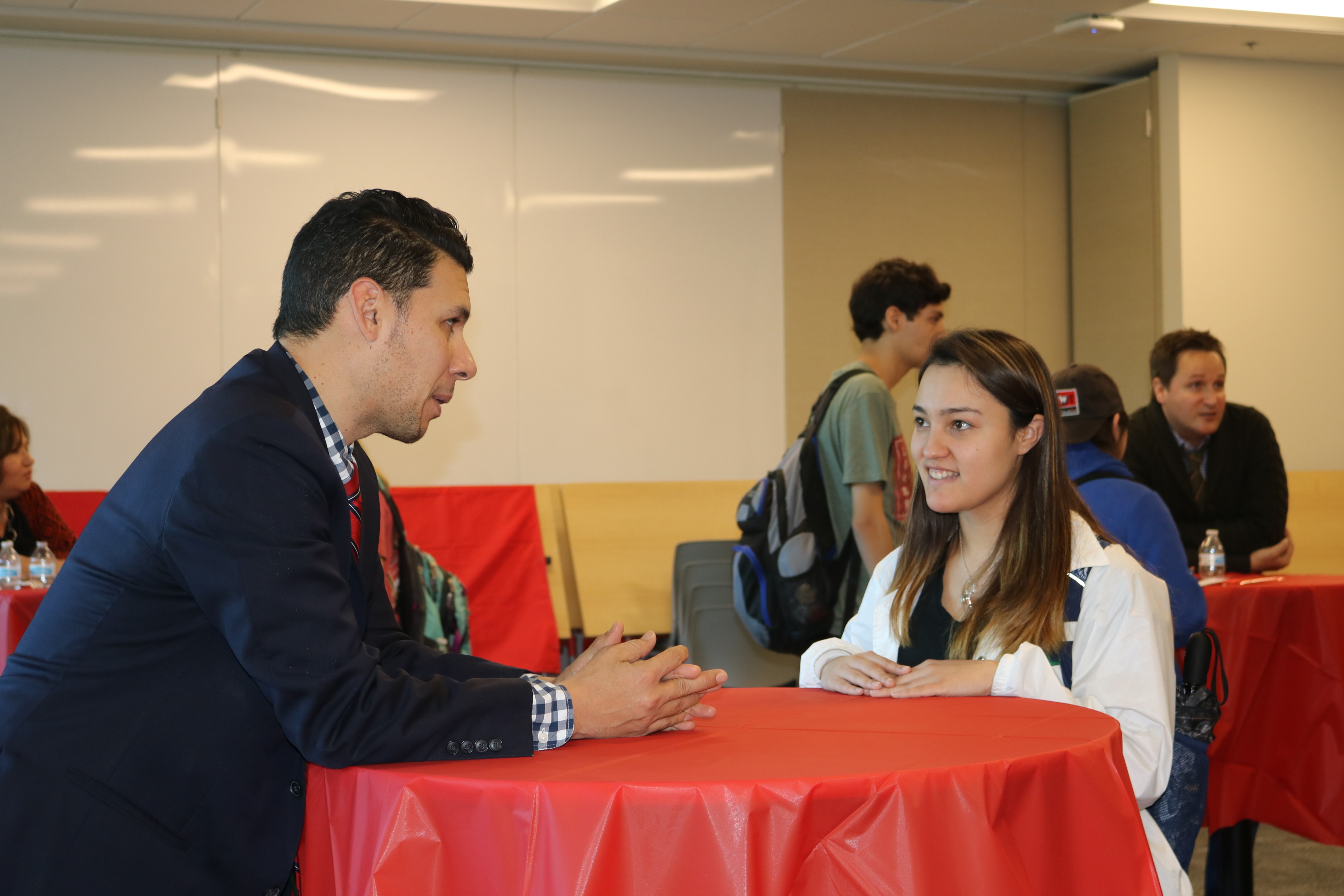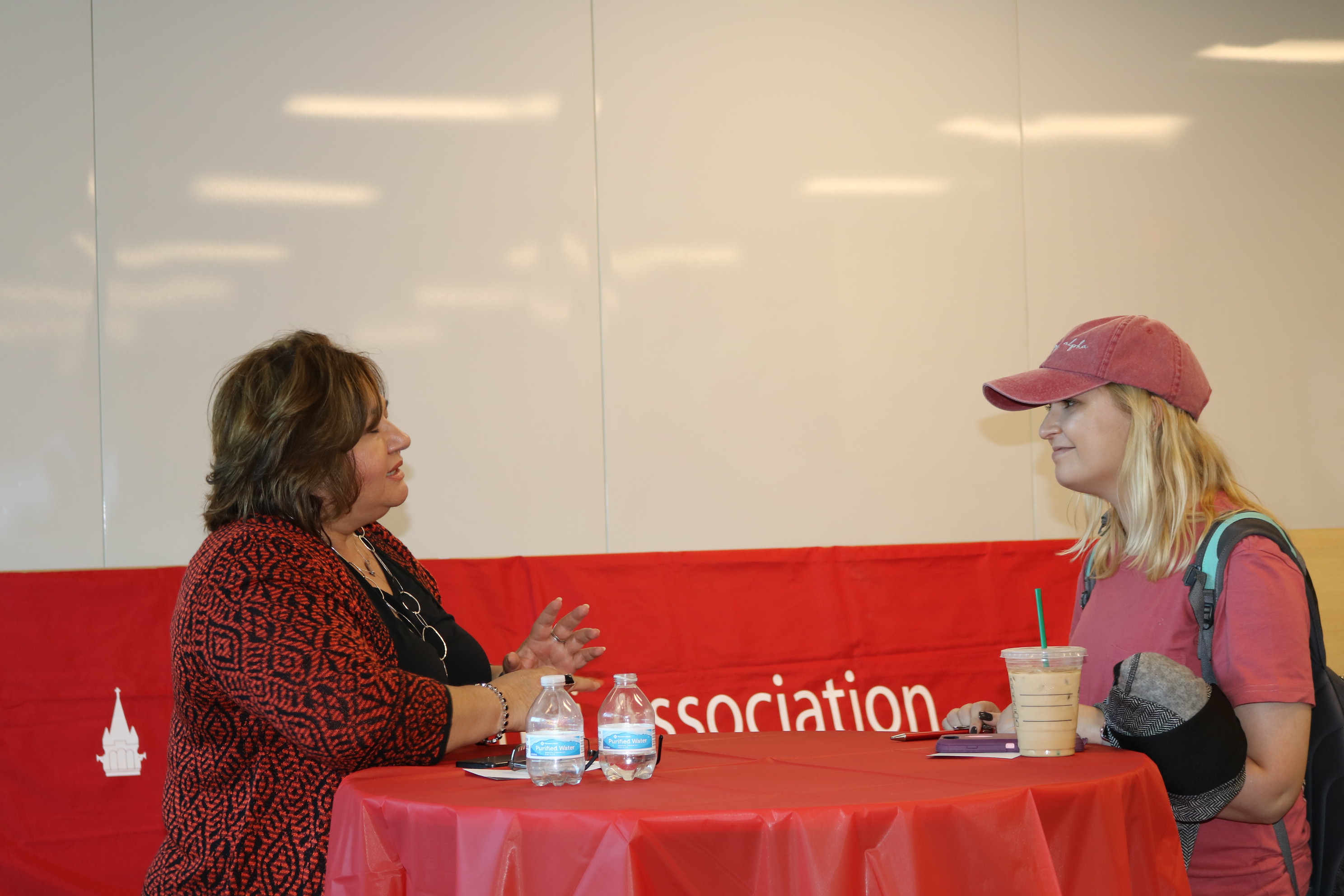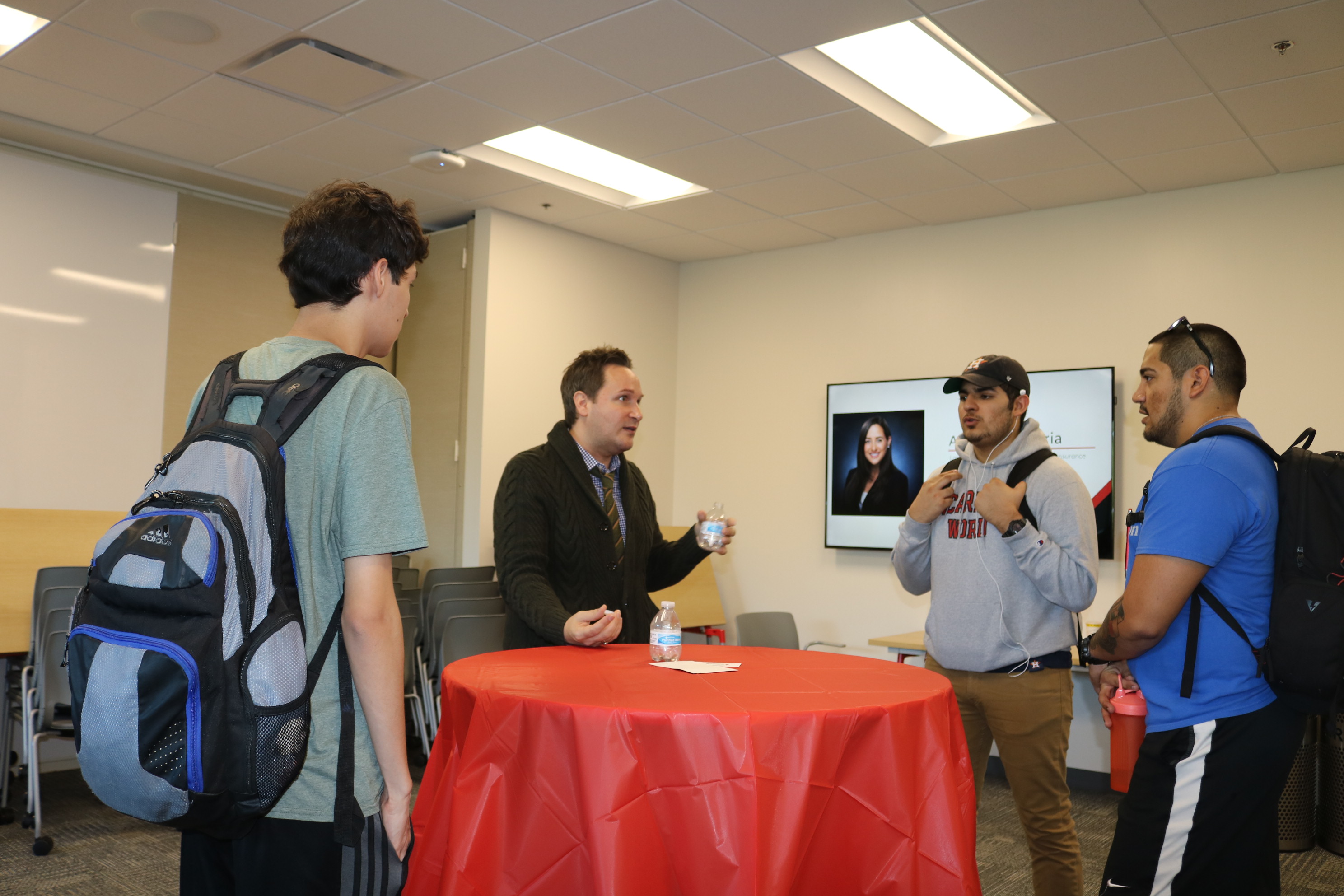 Open Lecture 
Alumni were invited back to campus for an open lecture with Dr. Trey Guinn. Here, alumni were reminded of the UIW student experience. 

One Word. Global Mixer.
To wrap up the first night of homecoming, alumni came together in the Cardinal Shoppe for a special mixer complete with drinks, pizza, and a special message from UIW President, Dr. Thomas Evans. 

Take Back the Night
The Women's and Gender Studies program hosted "Take Back the Night" on Thursday, Nov. 1. The San Antonio chapter of Awaaz presented information about peace, healthy relationships, and helping families break the cycle of violence. The night ended with a march around the UIW campus with the goal of raising awareness about sexual violence in all forms. For more information, visit the Take Back the Night Foundation here.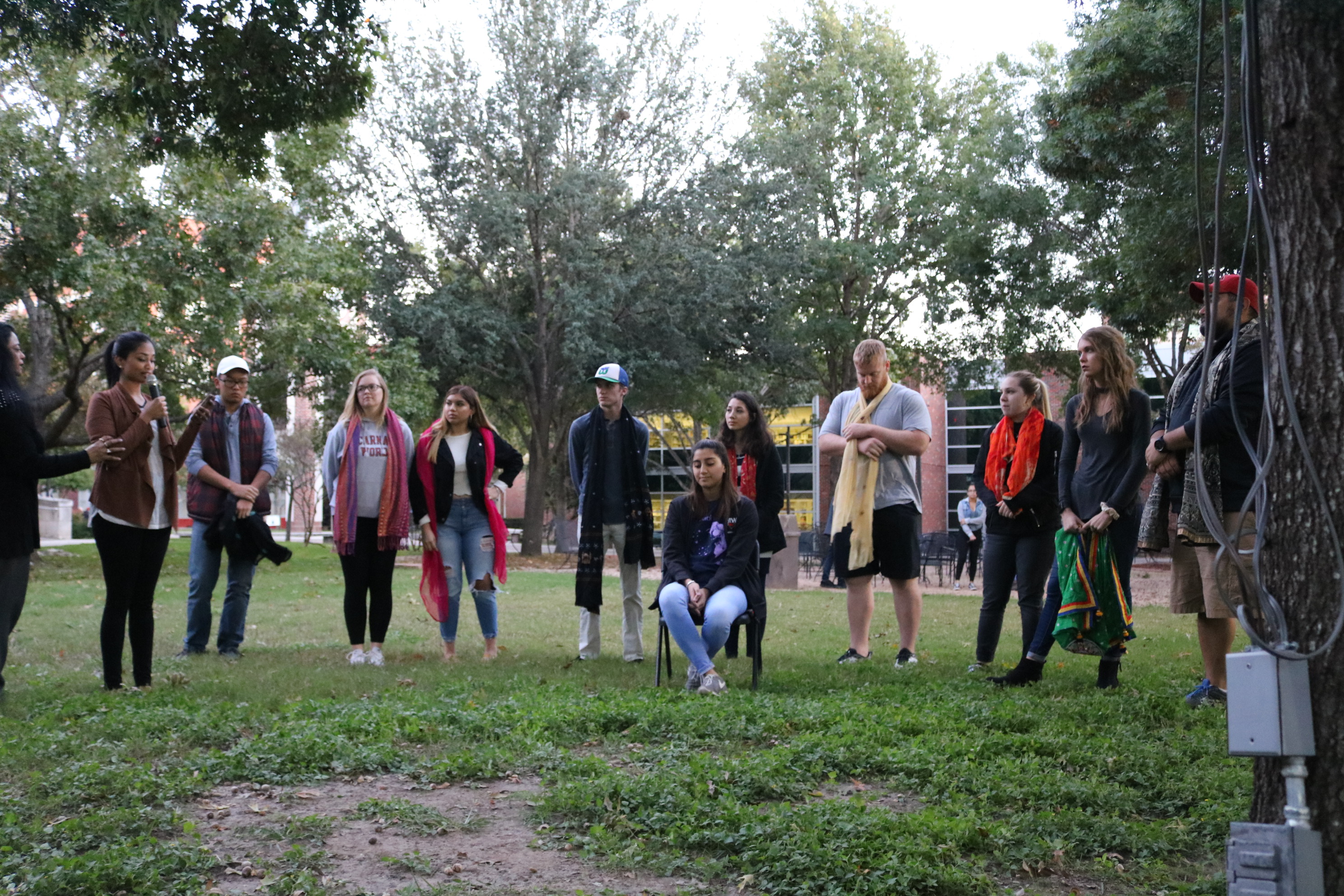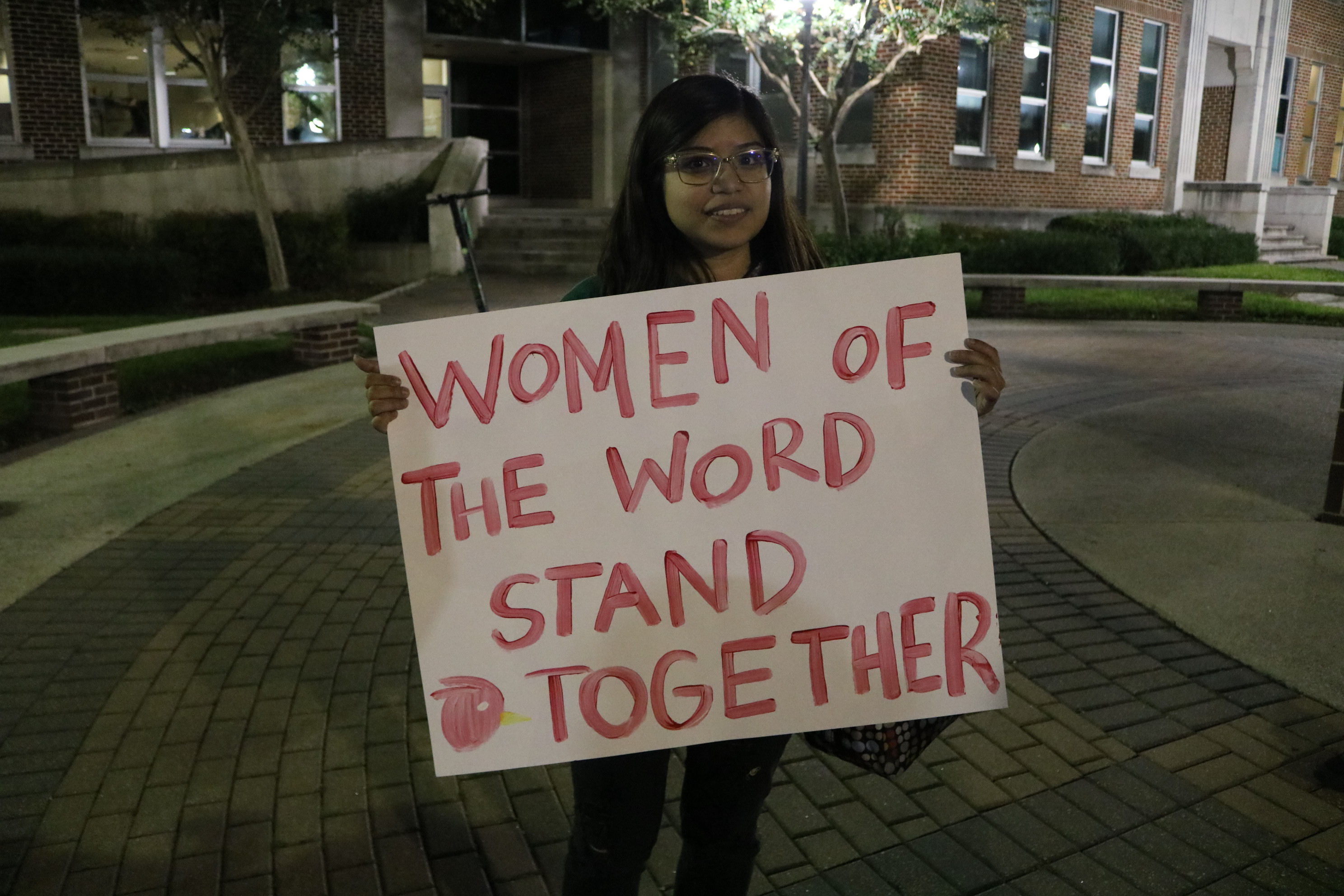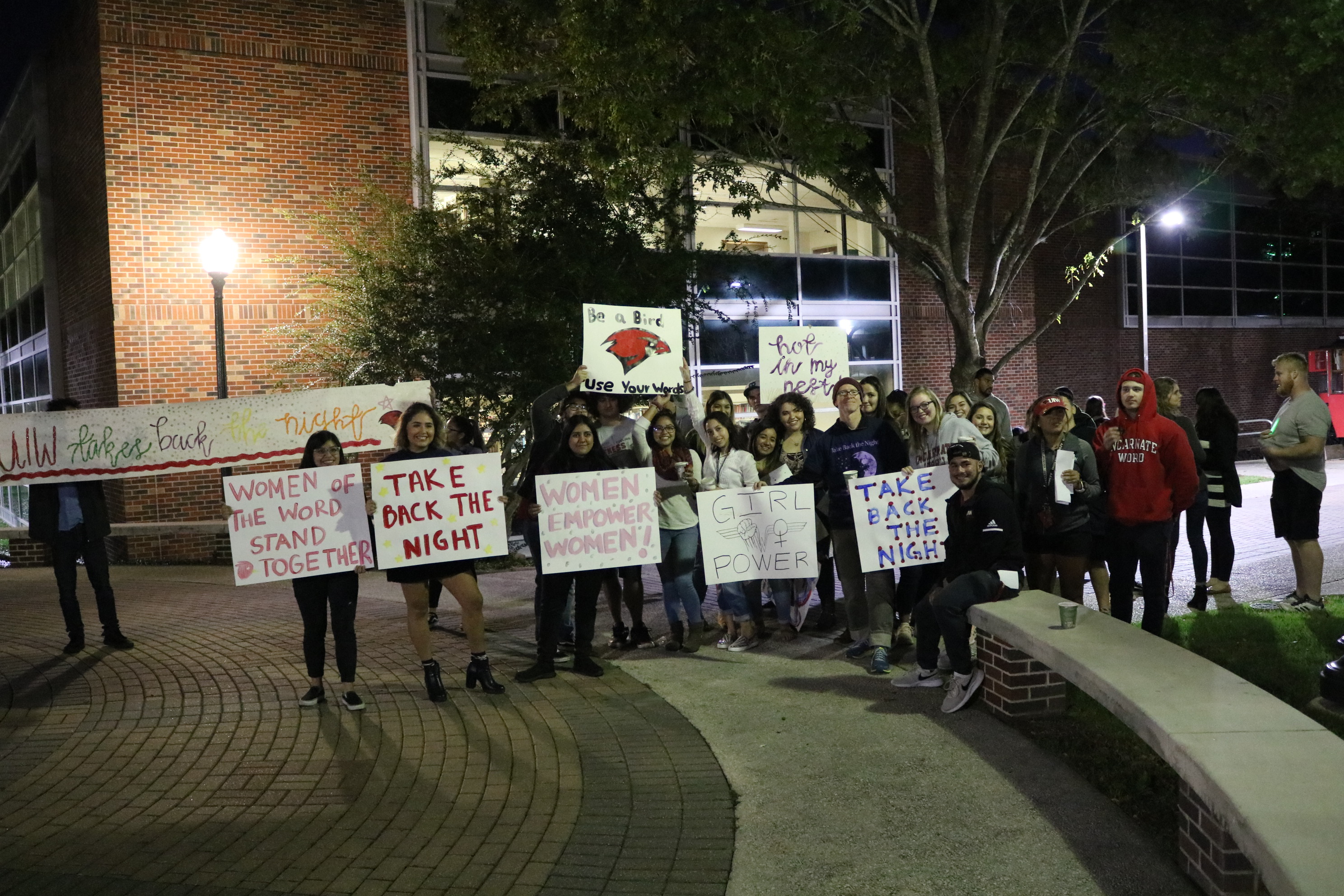 Rosenberg School of Optometry Library: Dia de los Muertos
Every year, the RSO library builds an ofrenda and invites students, faculty, and staff to bring photos of their dearly departed.  This year, RSO celebrated them on Thursday, Nov. 1, with hot chocolate from Mexico and Dia de los Muertos bread.  It was a wonderful opportunity for students to learn about Mexican culture and traditions.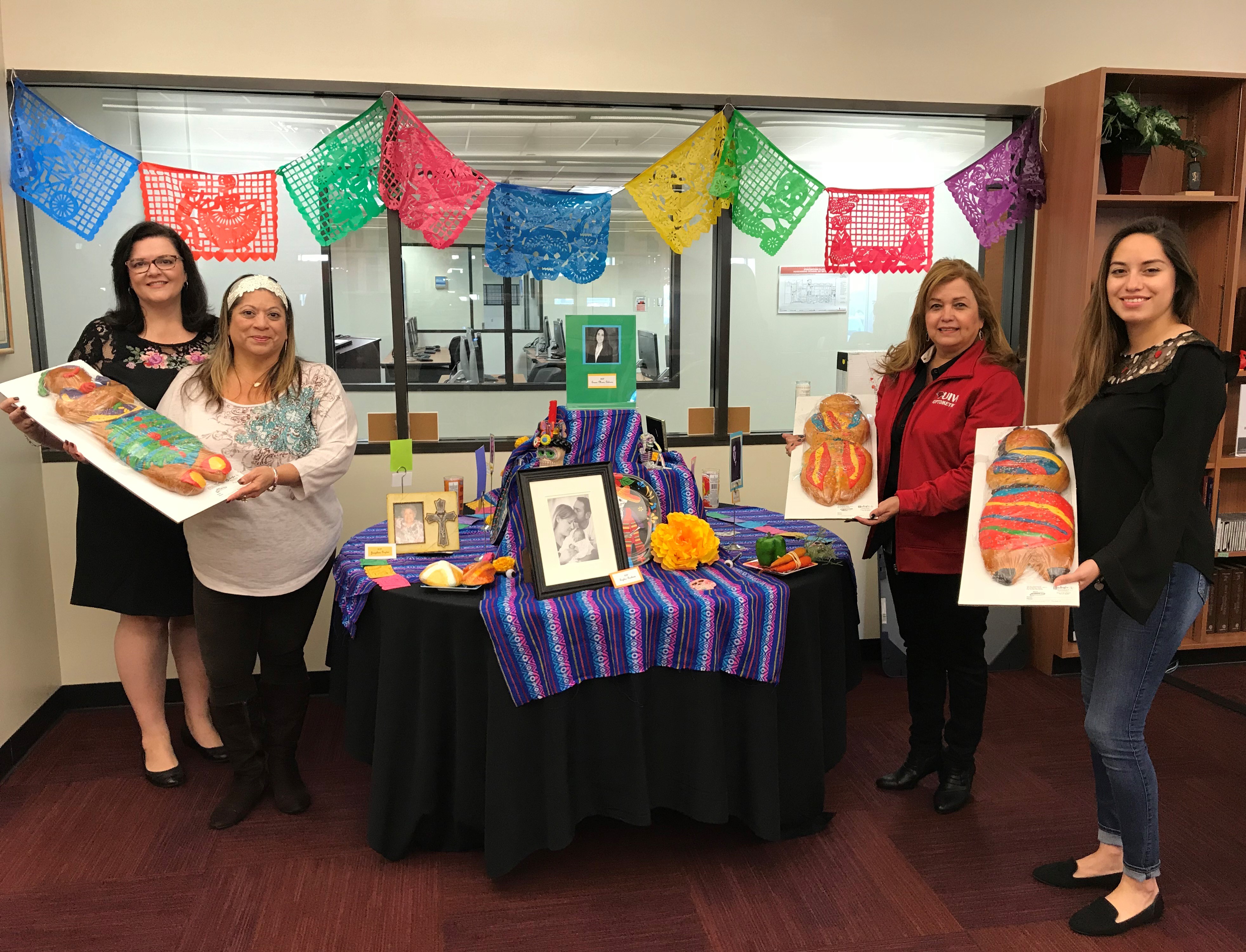 San Antonio Museum Exhibitions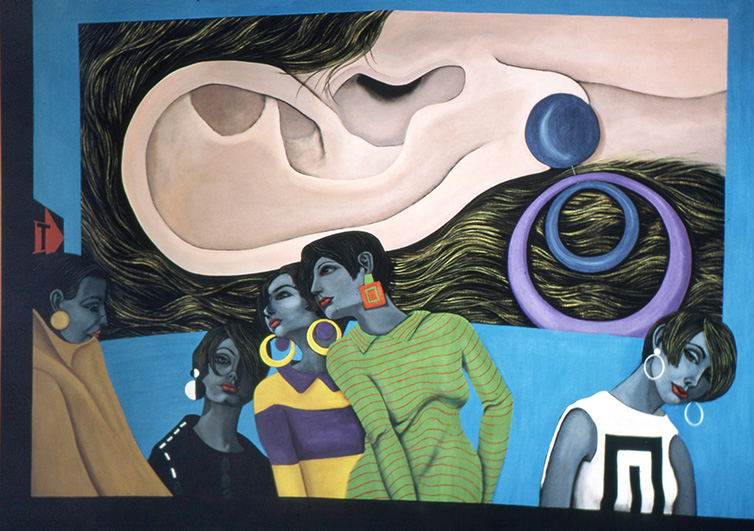 University employees receive free admission to the McNay Art Museum and the San Antonio Museum of Art with their valid UIW ID. Additional fees may apply to exhibitions. For information about UIW employee discounts, contact (210) 829-6019.
San Antonio Museum of Art Current Exhibitions:
Marilyn Lanfear: Material Memory - Through November 11, 2018
Harry Bertoia: Sculptor and Modernist Designer - Through March 31, 2019
McNay Art Museum Current Exhibitions:
Spotlight: San Antonio's K-12 Artists Embrace Georgia O'Keeffe - Through November 4, 2018
Mel Casas: Human - Through January 6, 2019
Picturing Latin America - Through January 6, 2018
AT&T Lobby: Teresita Fernandez - Through April 18, 2019
---
Department News
UIW Policy for Conducting Surveys 
Any student, faculty, or UIW office that would like to survey large groups of the UIW campus communities must submit a formal request before launching their survey. Please click here for guidance. The IE Council (Institutional Effectiveness) reviews those requests to make sure we protect the rights and privacy of the people we hope to survey, and also helps manage your survey timing to have the best chance for useful results. Please contact Associate Provost for Institutional Effectiveness, Dr. Glenn James at gjames@uiwtx.edu, with any questions.

Student Engagement Center Room Request Training
On Thursday, Nov. 8, the process for reserving a room in the Student Engagement Center will change. Two training sessions will be held prior to this date to help you learn how to submit a room request. The first training session will be held on Monday, Nov. 5 from 10 – 11 a.m. The second will be held on Wednesday, Nov. 7 from 3:30 – 4:30 p.m. Both sessions will take place in SEC Rm. 2030-31. You are invited to bring the type of device you will use to make reservations to the training session so that you may walk through the process with us. No RSVP is required – simply attend one of the two sessions! For more information, please contact Dr. Suzy Gray at swgray@uiwtx.edu.
Faculty Focus
Instructional Technology: Excel
On Wednesday, Nov. 7, explore how to use Microsoft Excel at a higher level. This training will include linking worksheets, using complex formulas, and workbook management options. This is an advanced course, not suitable for novice users. Register here. 
HEB School of Business: Brown Bag Research Series
Dr. David Vequist will present as part of the Brown Bag Research Series on Nov. 5, 2018 in the Mabee Library, Special Collections Room. The 60-minute presentation will begin at noon. Dr. Vequist will present on the topic of "A logical model forreducing healthcare costs through mathematical selection by distance and quality (Vequist, D. & Harmsen, E.)." Using a statistical model, the authors propose a population health model that improves quality and health for lives covered by a self-insured company or a third-party payer (i.e. health insurance provider).

The Brown Bag Research Presentation Series is designed to promote research and draw attention to the ongoing academic exploration occurring in the H-E-B School of Business. Attendees are encouraged to bring a "brown bag" lunch to enjoy during the presentation.

Visit uiw.edu/brownbag to learn more.
Athletics News
UIW Athletics Coaches Show
Parking Lot Closures – UIW Football Game
This Saturday, Nov. 3, UIW Football will take on the Sam Houston State Bearkats at 2 p.m., in Benson Stadium. Please be aware of parking lot closures for this event. See attached map showing areas that will be affected. 
The orange areas are parking areas that will be closed at 6a.m. The yellow shaded areas are the roadways affected by game day events and needs.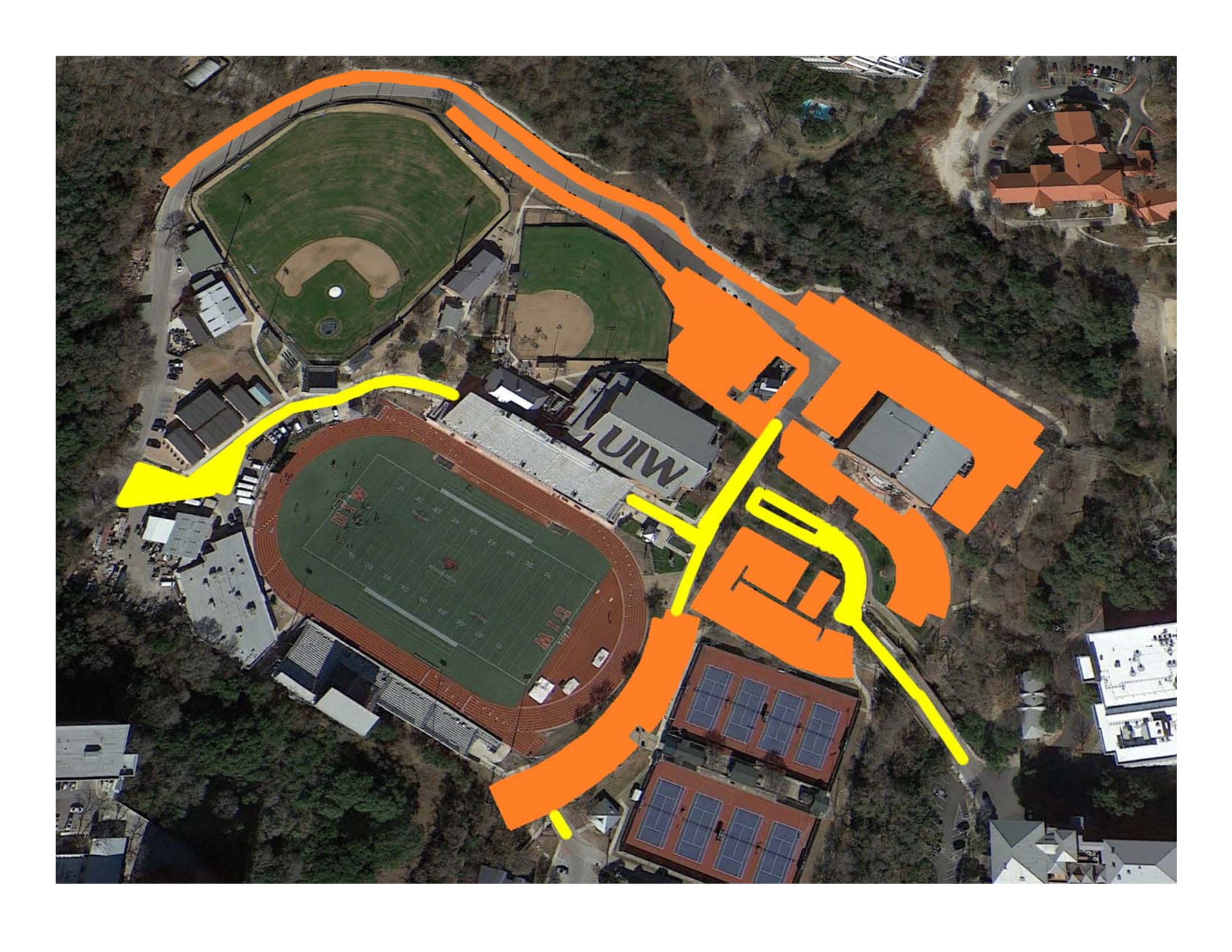 For Saturday, November 3, 2018, UIW Homecoming (2 p.m. kickoff), the following parking areas and roadways will be closed. Parking areas will be closed from 6 a.m. to 6 p.m.  Any vehicles remaining in these areas are subject to being towed and impounded at the owner/operator's expense.
Parking area between the tennis courts and football field – closed

Parking areas between the tennis courts and natatorium – closed

Parking around the natatorium – closed 

All parking areas around the softball and baseball fields – closed

The small lot between the San Antonio River and Agnese/Sosa – closed
Some campus roadways will be closed on game day.
The roadway under the football bleachers will be closed from 6 a.m. – 6 p.m.

The roadway from Avoca to the McDermott Center will be closed from 6 a.m. – 6 p.m.

The roadway between the San Antonio River Bridge and the McDermott Center will be closed from 9 a.m. – 6 p.m. (This means no thru traffic between main campus and upper campus.)
Thank you for your cooperation.
Happy Homecoming Cardinals!
---
Miscellaneous
Get Your Flu Shot!
Why is it important to get a flu vaccine every year? Flu viruses are constantly changing, so flu vaccines may be updated from one season to the next to protect against the viruses that research suggests will be common during the upcoming flu season. Your protection from a flu vaccine declines over time. Yearly vaccination is needed for the best protection! Come get your flu vaccine at the main campus health clinic now through Dec. 20! With insurance, there is absolutely no cost. No insurance? Don't worry! You can still get your flu shot for $25. For more information, please contact Yolanda Salazar at (210) 829-6017 or healthsvcs@uiwtx.edu.
Dr. Evans and his family aren't taking chances when it comes to the flu this year! They're protecting themselves against the virus and are encouraging you to do the same!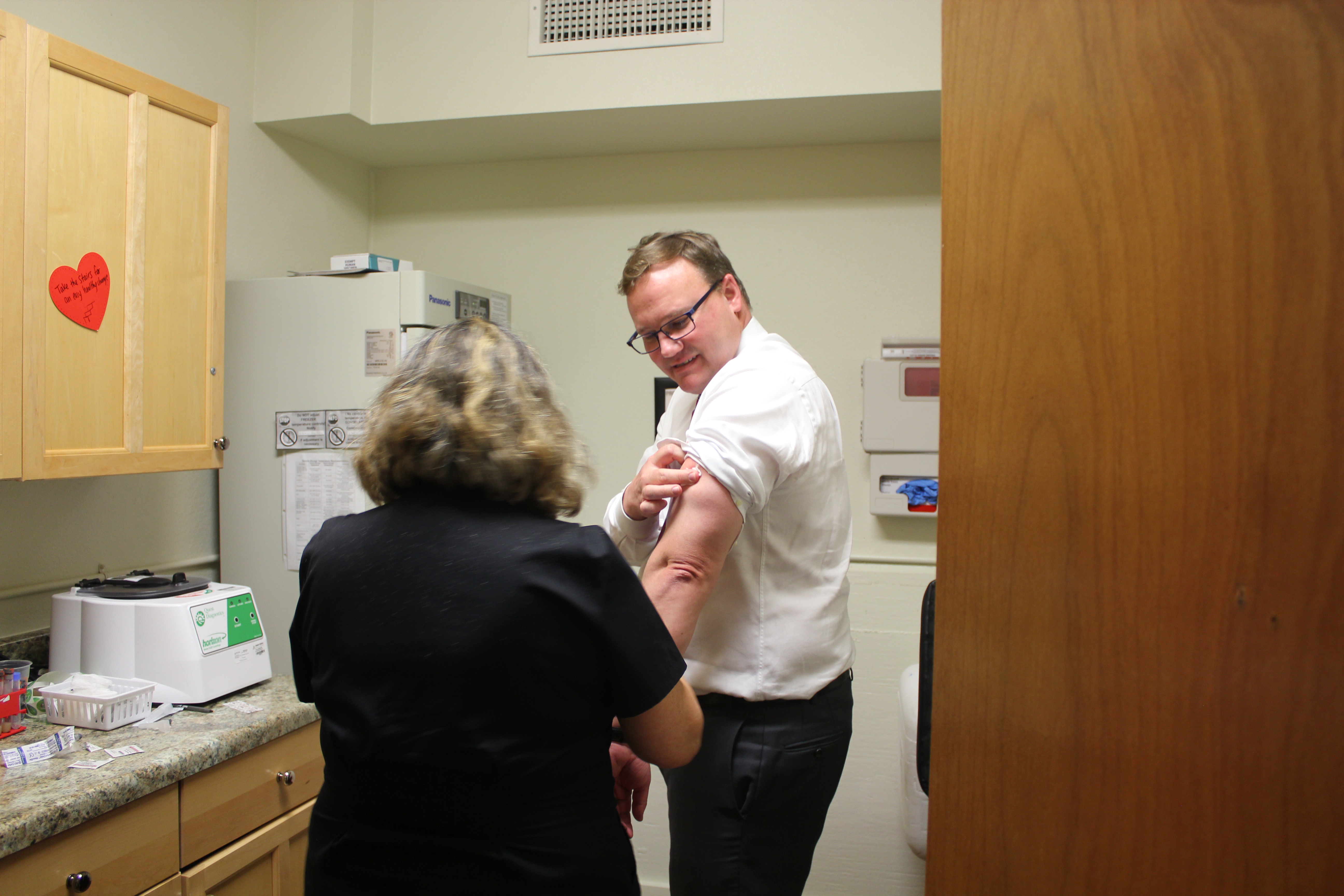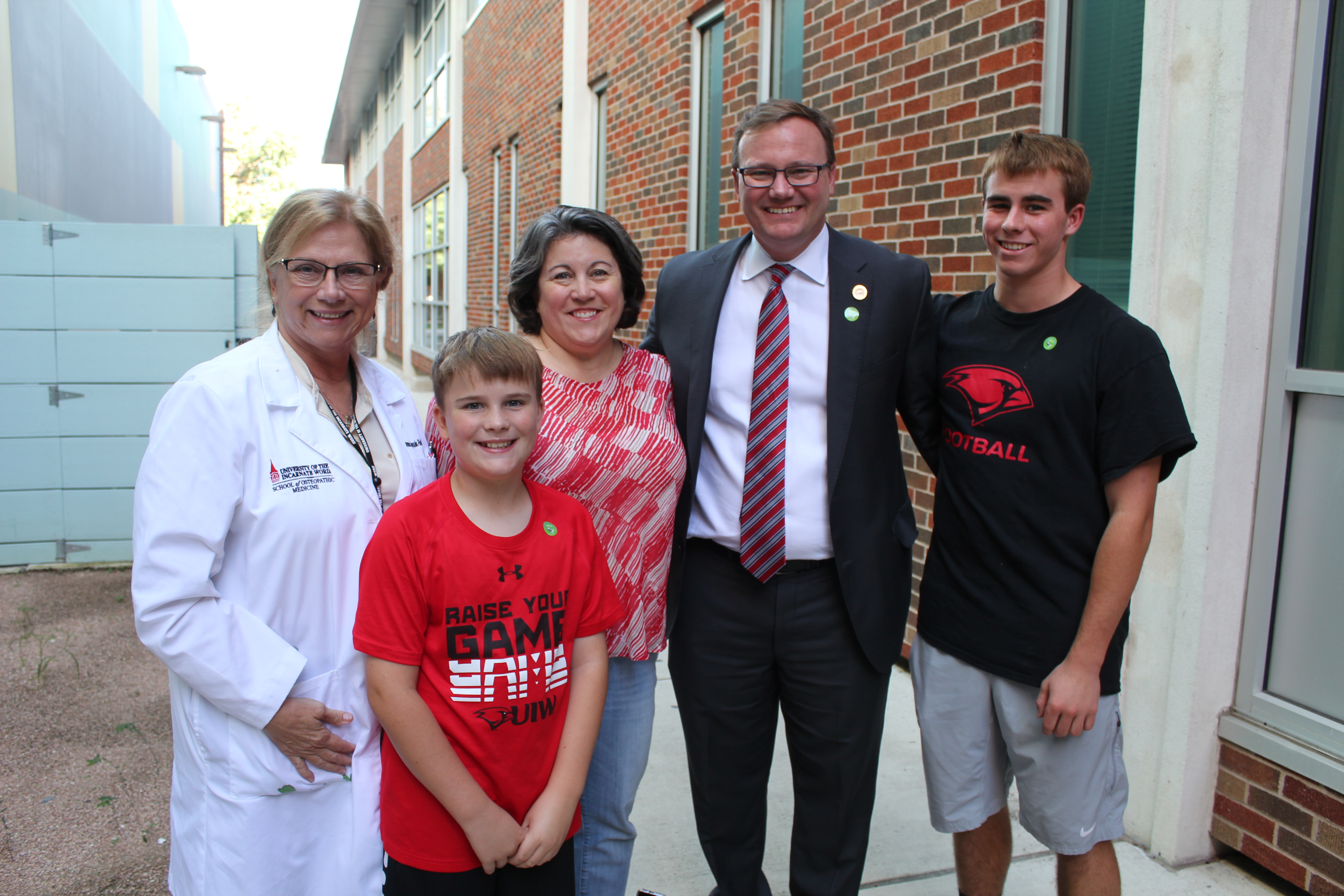 Fall Dining Hours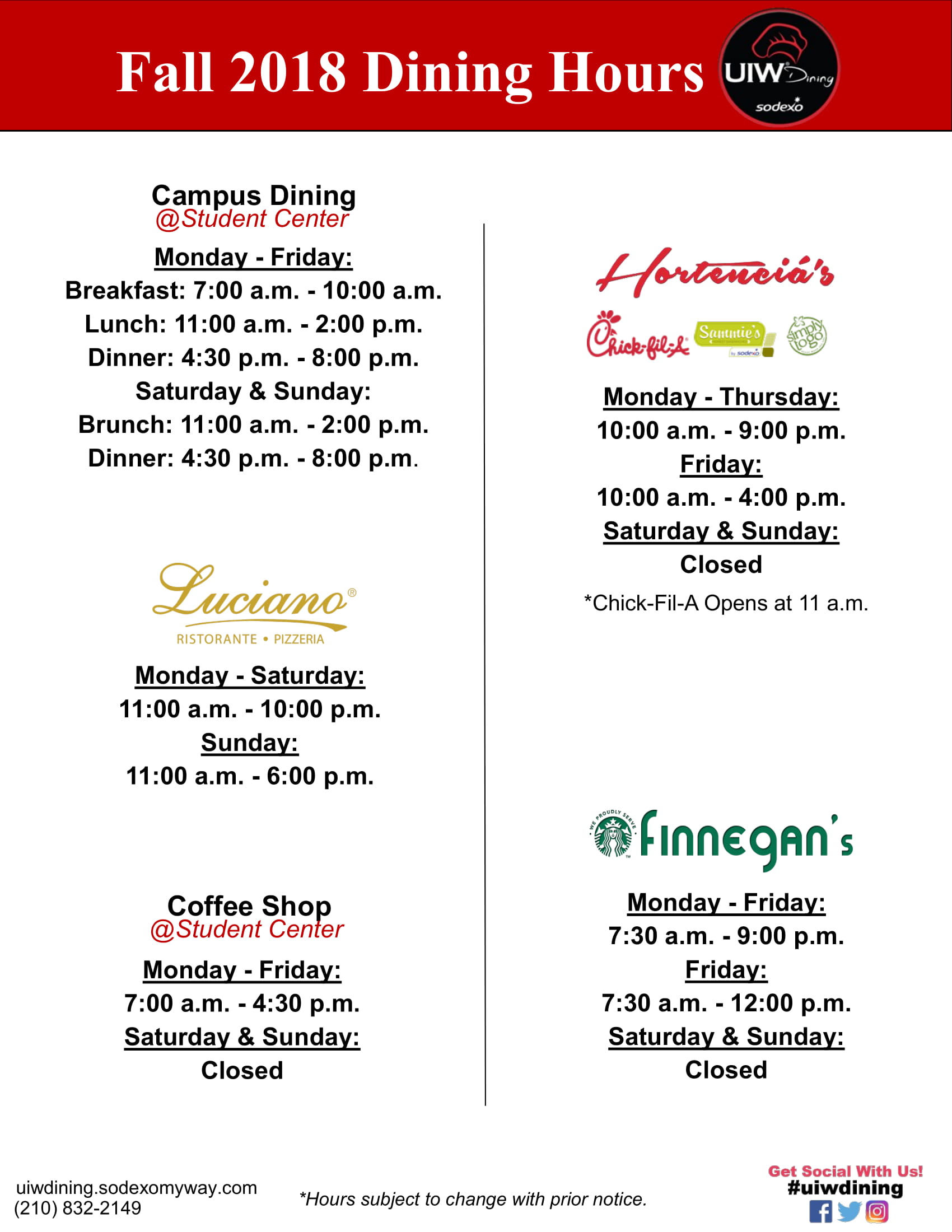 The University of the Incarnate Word provides reasonable accommodation with adequate notice. To request disability accommodation for events listed in this newsletter, visit www.uiw.edu/ada.