The Word: UIW Community Newsletter - August 7, 2020
Spotlight
Cardinal Flight Plan: Campus Safety 
Dr. Ronda Gottlieb, director of Clinical Health, shares information about campus safety measures for the upcoming semester! 
Stay up to date on the latest Fall 2020 information on our Cardinal Flight Plan web page. 
Academics 
GEMS Virtual Research Camp

During the third week of the UIW Girls in Engineering, Math and Science (GEMS) Virtual Research Camp, the campers finalized their research papers and provided an outstanding showcase of presentations when the camp closed on Friday, July 31, 2020. The presentation topics ranged from COVID-19 in pediatrics to Unmanned Vehicle Systems (UVS) to Artificial Intelligence (AI) in pharmacy. The final presentations were presented to an all-female panel made up of UIW staff and colleagues, and demonstrated what GEMS high school research can accomplish while practicing social distancing. 
The research camp featured multiple guest speakers of influential female STEM advocates including representatives from Valero and the Intercultural Development Research Association. The guest speakers discussed the importance of internships, job shadowing, working with a mentor, student inclusion and having a voice in STEM.
UIWSOM Faculty and Students Publish Works

Drs. Linda Solis, Adam Ratner and John Seidenfeld, along with UIW School of Osteopathic Medicine (UIWSOM) students Samantha Bailey, Maria Batchinsky, Kalli Davis, and Teresa Samson, wrote articles that were published in the July and August editions of the San Antonio Medicine magazine. Article titles and authors are as follows:
Samantha Bailey and Dr. John Seidenfeld, "Medical Education: Meta Reflection in the Midst of a Pandemic"
Teresa Samson, "The Healing Process: A Lesson Learned from Your Blood"
Drs. Linda Solis and Adam Ratner, "Equality, Health Policy, and the Real World"
Kalli David and Maria Batchinsky, "Communication Interrupted: The Spread of Misinformation and How Do We do Better?"
Additionally, UIWSOM students Hugo Rodriguez and Ian Stone recently published their article, "Prone Anesthesia for a Super-Super Morbidly Obese Patient Undergoing Neurosurgery: A Case Report," in OBM Neurobiology. 
"Critical Thinking, Compassion, and Paths to Civic Engagement" Workshops

A grant from the Wabash Center for Pedagogies for Social Justice and Civic Engagement was awarded to Sr. Martha Ann Kirk, CCVI, Th.D., Dr. Sandra Guzman-Foster, associate professor in UIW's Dreeben School of Education, and Sr.Theophane Power, endowed chair in Education and Dr. Dhawn Martin, executive director of the Sol Center, for their project "Critical Thinking, Compassion, and Paths to Civic Engagement." The project includes a day-long virtual workshop Tuesday, August 11, 2020 and a half-day workshop in December, for all San Antonio university and college educators to learn more about teaching strategies and approaches. Dr. Arturo Chavez, president of the Mexican American Catholic College, will share in the opening workshop. 
The workshop is in collaboration with the inaugural San Antonio Compassionate Institute 2020, a citywide initiative and workshop series for K-12 teachers and college and university-level educators. Invited by San Antonio Mayor Ron Nirenberg, all of the city colleges and universities, and 85% of the school districts, selected representatives based on their previous work in equity, diversity and compassion, commitment to their community, leadership skills and character who participated. 
These efforts are in keeping with the Mission of the University of the Incarnate Word to help students become the concerned and enlightened citizens that the world needs now more than ever. The workshop empowers educators outside the UIW system to shape their students in a similar manner by stressing the significance of active compassion and its implications.
In the workshop, faculty will learn methods to teach critical thinking, to guide students in strategies of sight, strategies of "empathetic accountability," and effective compassionate agency. A small group of Religious Studies teachers will be in a cohort all year to explore teaching strategies. Kirk, Guzman-Foster and Martin will guide reflection and evaluation and gather what has been successful as a pilot project.
Faculty are invited to register for the workshop at the link below. 
COVID-19
Community Updates

On Monday, July 20, 2020, UIW launched its new COVID-19 Response site. At the site (linked below), you'll find information regarding UIW's Continuity of Operations Phase Plan, safety rules, links to helpful forms and more. As always, any questions about UIW's response to COVID-19 may be submitted here. 
Mission & Ministry
An Examen for Life During COVID-19 by Susan Haarman

Take a moment to settle. Take a deep breath. Get comfortable. Like a rock settling on the bottom of a lake after it's thrown in, let yourself settle.
Acknowledge how you are feeling in this moment. If being calm is hard, acknowledge it. If you find yourself frustrated or stressed, acknowledge it. God wants to be present in all parts of our lives—not just the easy or serene moments.
Ask for light and insight as you prepare to review your day. For some, that light may come in the form of a sense of the Divine. For others, it's from a deep sense of your true self.
Take a moment to think about how COVID-19 has impacted your life. Even as we are being asked to distance ourselves from one another socially, ask yourself what connections you find yourself grateful for? Who makes you feel grounded and connected to God?
Public health issues have a way of making us recognize how interwoven our lives are with others in society. It can help us realize who we may often choose not to see or connect with. Is there a person or group of people especially affected by COVID-19 that you don't often choose to see or connect with normally? What connections to others are you becoming more aware of? Who do you normally choose to reach out and connect to? Who do you avoid or refuse to see? If you can, picture the faces of these people. What connections do you take for granted in your life? What connections impact you the most?
Note the emotions you feel when you think of these individuals without judging or overanalyzing. Simply acknowledge them, pay attention, and listen to where God may be speaking.
As you think of the ways we are connected or disconnected to one another, pick a connection (or lack thereof) that seems important, significant, or is manifesting itself the strongest. Pause and reflect on where you're being invited to grow from that moment. If you are a person of faith, take a moment to pray with it.
God gifted us with limitless creativity and imagination. Even in this time of separation and possible isolation, what is one way you can maintain meaningful connection to others—whether directly, through technology, or intentional focus and attention?
Take a deep breath and moment of quiet. When you are ready, return to your day. 
In the News 
KSAT 12: UIW offers free back-to-school vaccines for San Antonio school children

Community News
Compassion Tree Planting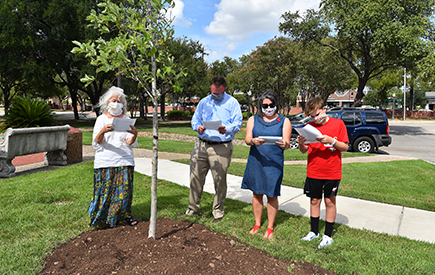 Sr. Martha Ann Kirk, CCVI, was joined by the Evans family for the planting of a Compassion Tree on the UIW Broadway Campus in front of the historic Columkille Administration Building. UIW President Dr. Thomas M. Evans, alongside his wife Lisa and son Leland, participated in the Compassion Tree Project as part of a greater city effort to plant 20,000 trees throughout San Antonio in 2020. Following the example of the UIW first family, all are invited to water, prune, plant or care for a tree as part of this effort to care for creation. UIW is one of 10 civic, faith-based, education and environmental organizations that make up the Compassion Tree Project core team. The Compassion Tree Project is part of the City of San Antonio's Charter for Compassion.
Red's New Look  
Red has missed our Cardinals, so he took this period of social distancing as an opportunity to get fit! Take a look at his journey and his new look!
UIW Bowden Eye Care and Health Institute Receives Donation from Mary Kay Cosmetics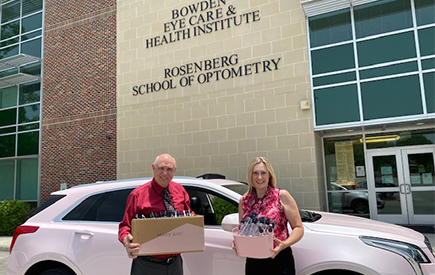 Mary Kay Cosmetics has donated more than 500 ounces of hand sanitizer to the UIW Bowden Eye Care and Health Institute. The contribution was coordinated by Dr. Stephanie Schmiedecke Barbieri, chief of the Low Vision Service at Bowden and a 10-year independent consultant for Mary Kay. The company has refocused global manufacturing efforts on the production and donation of essential items, including personal care and hygiene products, as well as hand sanitizer that was donated to nearly 20 healthcare systems, 1,000 hospitals and 1.5 million combined frontline responders, physicians, and staff around the world. The local donation will be distributed within the Bowden Eye Care and Health Institute.
Service
I Wear a Mask for... 

We recently challenged our UIW community and friends to submit a picture or video about why they wear a mask! Some of our Cardinal submissions are pictured above. Practicing compassion and kindness can take shape in many ways, including wearing a face mask. The "I Wear a Mask for..." campaign is intended to inspire and educate the public on the importance of wearing a face mask.
The UIW community is encouraged to submit a 15-30 second video or picture answering the phrase, "I wear a mask for..."
Students may register to earn community service hours through this project by visiting  GivePulse. For more information on how to get involved, please contact the Ettling Center at ccl@uiwtx.edu or call (210) 832-3208.
Cardinal Corner
MIS students collaborate to build VPN for semester project at H-E-B School of Business and Administration 

Four students from two different Management Information Systems (MIS) courses teamed up to build and market a virtual private network (VPN) for their class projects after courses were moved online mid-semester due to the COVID-19 pandemic. 
Eulises Franco Penalosa, a junior Computer Information Systems (CIS) major and MIS minor, and Esteban Rodriguez, a junior CIS Cyber Security major, were building a VPN for their Systems Development and Design course before the pandemic forced classes to be held online. Penalosa was also enrolled in Introduction to Information Systems and working on a separate project with Monica Wade, a senior management major and marketing minor, and Paula Cazares Carrera, a junior international business major. The four students were encouraged to combine their projects by HEBSBA Assistant Professor Dr. Ron Washington, who taught both courses. 
"The ability of these students to produce a high-level of work under strenuous conditions is commendable and recognizes the ability of Information Systems, and those business professionals that effectively utilize them, to overcome obstacles and boundaries to meet the challenges of business," Dr. Washington said. 
UIWSOM Student Recognized as Bayardo Scholar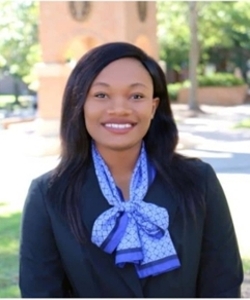 Kemi Alabi, a new UIWSOM student from Ft. Worth, was recently recognized as a "Bayardo Scholar," one of 15 students recognized and awarded scholarships for minority students entering Texas medical schools. The scholarship is provided by the Texas Medical Association Foundation Trust Fund of Roberto J. Bayardo, MD, and the late Agniela M. Bayardo of Houston.   
Alumni and Parent Relations
UIW Parent Association
What is the main purpose of the UIW Parent Association? How can parents benefit from joining? Listen to Dr. Lisa McNary, dean of Alumni & Parent Relations, as she gives more details on this exclusive association!
UIW Alumni Class Notes  

We love keeping up with our alumni! Share your personal and professional milestones with us so we can celebrate with you! Submit a class note and they will appear in the upcoming Word Magazine and/or social media via @UIWAlumni!
Athletics
Former baseball head coach Steve Heying retires after 34 years at UIW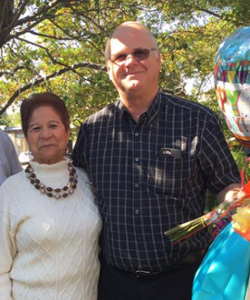 Former University of the Incarnate Word baseball Head Coach Steve Heying ( pictured left with former colleague) has officially retired from his position as director of Facilities Management. Heying, who worked with the baseball program and in facilities management during his 34 years with the University, was the head coach from 1993-97.
Through Heying's time leading the baseball program, the team had three winning seasons, two Heart of Texas Conference titles and a Heart of Texas Conference Tournament title. Overall, the team finished 139-116-2 (.545) under Heying. 
In 1993, his first season at the helm of UIW, Heying guided his team to a 37-13-2 overall record, a 14-1 mark in conference action and a Heart of Texas Conference Championship title. Through those efforts, the Granville, Iowa, native was named the Heart of Texas Coach of the Year.  
Under Heying's leadership, the program saw three NAIA All-Region selections, one NAIA All-District honoree and an NAIA All-American. He coached 15 all-conference selections, the 1994 Heart of Texas Freshman of the Year (Steve Zieschang), the 1997 Heart of Texas A.O Duer Award (Scott Heying) winner and the 1997 NAIA Region Most Valuable Player (Aaron Blosser). 
Academically, four student-athletes earned first team CoSIDA Academic All-District honors, while 11 were chosen for NAIA Academic All-District accolades. Todd Rasco was named a NAIA All-America Scholar-Athlete.  
Heying hung up his glove after the 1997 season following a 36-22 record. That season, the team was 15-9 in league action and won both the regular season and the Heart of Texas Conference Tournament.  
After his coaching tenure, Heying remained at UIW directing facilities management, a post he has held for more than 20 years.  
Throughout his time of service, Heying helped build the modern UIW: he oversaw major capital projects that include the School of Osteopathic Medicine, the School of Physical Therapy, the Rosenberg School of Optometry, Feik School of Pharmacy, the Bonilla and AT&T science buildings, and the Student Engagement Center.  
Right up until retirement, Heying continued to work hard, ensuring that the renovation of UIW's newly acquired Township apartments is on schedule to open in August, and that Dubuis Hall renovation is off to a good start. 
Heying earned a bachelor's degree from Wayne State College and a master's degree from The University of Texas-Pan American. Steve and his wife Pat, have two sons, Mark and Scott, and three grandsons.