The Word: UIW Community Newsletter - August 21, 2020
Spotlight
Cardinals Fly Back to the Nest

Students have followed the Cardinal Flight Plan right back to the Nest for the start of the academic year! This week, UIW welcomed resident students back on campus to move into residence halls. All those on campus followed best safety practices, including wearing a mask at all times and abiding by social distancing guidelines. Thank you to all who made move-in week a safe, smooth process for our new and returning Cardinals.

The Cardinal Flight Plan will continue to be updated and modified to reflect any changes made in accordance with city ordinances and state guidance.

Academics
UIW Receives Major Grant Funding for Research Projects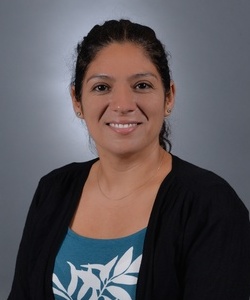 The Department of Defense (DoD) has awarded two grants this summer totaling more than $1.2 million to two research projects in the UIW School of Mathematics, Science and Engineering.
This month, the DoD awarded $617,102 to Associate Professor of Physics Dr. Rosa Cardenas. Cardenas, who chairs the Department of Atmospheric Science, Environmental Science and Physics in the School of Mathematics, Science and Engineering, is the principal investigator on a team that will conduct research on the fundamental mechanisms responsible for the superconducting state of one of the simplest high temperature superconductors, FeTeSe.
"Focusing on our research will give UIW a platform to demonstrate our students' achievements," says Cardenas. "The ability to spend time on scholarship means that the results may be presented by our students and myself at national American Physical Society (APS) meetings. UIW's presence at these types of meetings will showcase our University's state-of-the-art physics facilities along with our students' talent to an international audience."
Cardenas adds, "The skills that students acquire while working on this research project will make them very competitive after graduation as they pursue either a graduate education or an industry position."
Earlier this summer, the DoD awarded $643,759 to a research project led by Dr. Michael Frye, professor of Electrical Engineering. Frye is the principal investigator of the UIW Autonomous Vehicle Systems (AVS) Research and Education Laboratory. His team will develop new indoor and outdoor research capabilities in the area of artificial intelligence and autonomous decision-making.
"The DoD Basic Research Grant will provide opportunities for the AVS Lab to research new areas in artificial intelligence for autonomous air and ground vehicles," says Frye. "The Lab will have new exciting opportunities for UIW undergraduate and graduate students to research and explore areas that are in high demand right now and of national importance."
Funding for both projects will cover the next three years.
UIW Dean Named to National Leadership Fellowship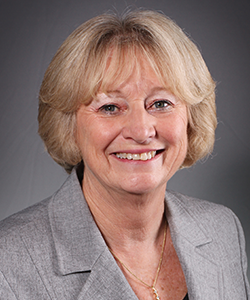 The University of the Incarnate Word is proud to announce that Dr. Denise Staudt, dean of the Dreeben School of Education, has been named an Impact Academy fellow for the Deans for Impact organization. Staudt joins a cohort of leaders chosen for their commitment to improving educator preparation. The year-long Impact Academy fellowship empowers dean-level leaders with skills, knowledge and strategies to pursue instructional excellence.
"I am honored and thrilled to receive this fellowship from Deans for Impact," says Staudt. "Being part of the 2020 Impact Academy Fellows cohort will allow me the opportunity to strengthen my leadership skills and vision to help transform our educator preparation program to meet future challenges. This fellowship provides opportunities for me to network on a national level with education deans committed to the improvement of educator preparation."
"We believe that transformative leadership is the cornerstone of an educator-preparation program that embraces an improvement mentality and prioritizes candidate learning above all else," said Benjamin Riley, founder and executive director of Deans for Impact. "We're thrilled to welcome 17 such leaders into the Impact Academy fellowship and are excited to support these leaders as they embark on efforts to improve their own educator-preparation programs and the field more broadly."
According to Deans for Impact, educator-preparation programs face unprecedented challenges as they prepare the next generation of teachers in uncertain environments and seek to address educational inequities revealed and exacerbated by COVID-19. More than ever, the field needs leaders who can foster individual and organizational learning and ensure that all children have access to rigorous, content-rich instruction – whether in-person or online. Founded in 2015, Deans for Impact is a national nonprofit organization dedicated to ensuring that every child is taught by a well-prepared teacher.
Staudt has been in the field of education for over 35 years. She currently serves as the dean of the Dreeben School of Education. Prior to a career in higher education, Staudt served as a kindergarten teacher, a junior high English teacher, a high school librarian and an elementary school librarian. In addition to her degrees, she holds credentials in English as a Second Language, All-Level Learning Resource Specialist, Mid-Management Administrator and Reading Specialist. Staudt is recognized at the local, state, and national levels for her work in teacher education.
Nursing Faculty Recognized by MEDSURG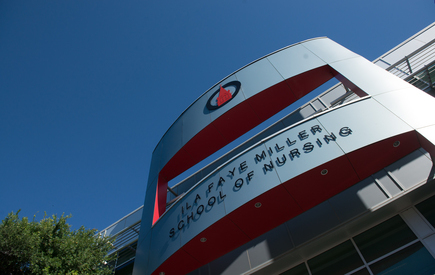 Two faculty from the Ila Faye Miller School of Nursing and Health Professions were recently recognized by MEDSURG, the official journal of the Academy of Medical-Surgical Nurses, for their publication, "Causation and Risk Factors for 30-Day Readmission of Patients Post-Liver Transplant: A Descriptive Study." Dr. Jean Dols, professor of Nursing, and Dr. Cynthia Purcell, associate professor of Nursing, were awarded the 2020 MEDSURG Nursing Research Writer's Award. Former faculty member, Dr. Theresa Pomerleau, and UIW graduate student, Dr. Katie A. Chargualaf, also participated in the research, alongside additional researchers and authors. The MEDSURG Writer's Awards recognizes excellence in medical-surgical nursing clinical scholarship. 
COVID-19
Get Your Thermometers Ready: Cardinal Daily Health Check is Here!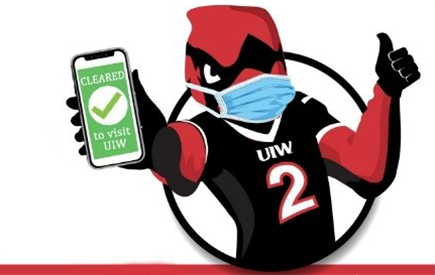 The Cardinal Daily Health Check, a web-based tool, must be completed by all employees, students, and guests before visiting any UIW location. After a successful daily health check, users will be emailed a ticket to be used to verify completion of the screening. Staffed checkpoints, supervisors, faculty members, athletic staff, and others may ask to see this ticket to help our community minimize COVID-19 transmission risks.
Community Updates: UIW Now in Phase 2

On Monday, July 20, 2020, UIW launched its new COVID-19 response site. At the site (linked below), you'll find information regarding UIW's Continuity of Operations Phase Plan, safety rules, links to helpful forms and more. Note that UIW has now moved into Phase 2 of its phase-in plan. As always, any questions about UIW's response to COVID-19 may be submitted here. 
Mission & Ministry
Welcome Blessing 

University Mission and Ministry invites the entire Incarnate Word family to join together in prayer for a virtual Welcome Blessing celebration as we begin the new academic year. The blessing will be held via Zoom at 11 a.m., Sunday, August 23, 2020. 
There is no denying that recent months have caused us all to reflect on what is truly important in our lives. These times have also moved us to embrace our UIW core values – Faith, Innovation, Education, Service and Truth – even more deeply. While we can focus on all the ways we are limited during this pandemic, it is also an opportunity to consider how we might worship in innovative ways as an Incarnate Word family. More than ever, as we are isolated by necessity through distance learning, remote work, and wearing masks for the common good, we must not only put our faith in God, but we must also gather as a family to pray in sure and certain hope with and for one another, those whom we hold dear, and the world in which we live. This fall will look very different, but together as community, we will not walk alone.  
The Zoom session will be open beginning at 10:45 a.m. with a slideshow.
Register for a Welcome Blessing Zoom link. 
St. Isidore of Seville Virtual Ministries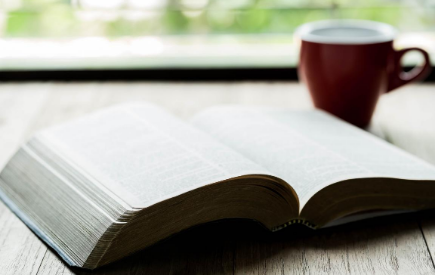 Inspired by the core values of our University – Faith, Innovation, Education, Service and Truth – and the strong desire to be together in some way, the St. Isidore of Seville Virtual Ministries was born. At its heart, the ministry will work to help the Incarnate Word family – students, faculty, staff, administration, Sisters of Charity of the Incarnate Word, alumni and friends of UIW – remain connected to one another and the campus, while building a more prayerfully aware community ready to offer its heart and hands in service to those most in need.
As the patron saint of the internet, St. Isidore will guide our efforts to remain connected in prayer. St. Isidore ministers are on a rotating schedule from week to week – they serve as readers and proclaimers of prayer, musicians, tech angels, greeters, virtual sacristans, virtual environment and art ministers, prayer leaders for devotionals (rosaries, the Chaplet of Divine Mercy, novenas, etc.) through any of the following ways:
Sunday Morning Prayer (11 a.m.): A weekly opportunity to gather virtually as an Incarnate Word family – to reflect on the scriptures of the day and pray for our global family, supported by music and visual art.
Sunday Night Live (8 p.m.): We invite individuals or groups (couples, families, roommates, house communities, etc.) to host a short contemplative prayer time virtually on Facebook Live, Instagram Live, or Zoom in collaboration with University Mission and Ministry. At the heart of this prayer opportunity is extended contemplative silence (20-30 minutes) and prayers of petition from participants.
Ps 98 ("Sing a New Song") Music Ministry: Though physical distancing due to the pandemic has made it difficult to gather together in a traditional way, new and returning members of the UIW family can still "sing a new song" in a virtual space. This music ministry will help facilitate the music of our Sunday Morning Prayer along with other opportunities throughout the semester, including a collaborative venture at the end of the semester with the UIW Music Department. Singers and instrumentalists (keyboard, guitar, percussion, winds and strings) are welcome. 
The plus side of virtual ministry is that one does not have to travel far. Students can receive service hours. Alumni can reconnect. Faculty and staff have some new options on campus to nourish their faith. Sisters of Charity of the Incarnate Word have another avenue to meet students, faculty and staff and vice versa. New friendships can be made!
For more information, please contact Lena Gokelman, director of Music Ministries or Carmen Aguiler, liturgy and music assistant) at uiwmusicministry@uiwtx.edu.
St. Isidore Ministries Registration Form 
Silence in the Liturgy: Why We Just Don't Get It by Fr. Roger Keeler, OST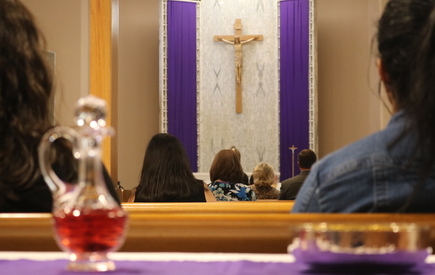 Well, we just don't – we just haven't had the experience! The Sunday liturgy typically unfolds in a seamless flow from the parking lot to the parking lot – one jam-packed event with processions and hymns, Gathering Rites, the Liturgy of the Word with the Homily, Creed, Prayers of the Faithful, collection, procession with the gifts, the Liturgy of the Eucharist, Communion procession, Concluding Rites, recessional, and back to the parking lot. And all done in an hour or, even better, 45 minutes. "Gotta get that parking lot emptied in time for the next one, Father!"
The story is told of the family returning home after the Sunday Eucharist. "I don't know why we go," said Dad. "The music is horrible and that soloist! Sheesh! She needs voice lessons!"
"I know what you mean," Mom piped in. "The homily was a bore! That man just drones on and on."
"And did you watch the people in there?" asked Big Sister. "Parading around in their Sunday best, being all high and mighty yet behaving like such jerks! That little kid behind me kept poking at my necklace, and her folks didn't do a darned thing about it. And what about that old guy in the Cadillac that cut us off to get out of the parking lot before we did!"
"It's just so boring," lamented Big Brother. "The same thing, week in and week out. Dull. Dull! DULL!"
"Hey," said Little Brother. "I don't know what you're all complaining about. I thought it was a pretty good show for a buck!"
Look, we attend the Sunday Liturgy to "celebrate the Eucharist," right? And what does "celebrate" mean? In common parlance, it means an enjoyable social gathering: "We had a wonderful celebration of her birthday on Saturday evening. We laughed, we ate, we shared good champagne, we danced. It was perfect!"
So this means we have to keep the Liturgy moving – keep it interesting – no dilly-dallying ... keep this celebration going! Isn't this what the Church had in mind when, on December 4, 1963, Pope Saint Paul VI promulgated the first Constitution of the Second Vatican Council, Sacrosanctum Concilium (This Sacred Council), with this oft-quoted line from paragraph 14: "Mother Church earnestly desires that all the faithful should be led to that fully conscious, and active participation in liturgical celebrations which is demanded by the very nature of the liturgy." But does "full" equal no gaps?  Does "conscious" mean no time for wandering thoughts? Does "active" mean constantly moving?
Well … it was my fourth time named as pastor of a parish. It was not large by most standards, an urban parish with 800 households listed in the register.
What I noticed the first time I presided at the Sunday Eucharist was the speed with which the liturgy unfolded. The Psalm Response began just as soon as the Assembly responded, "Thanks be to God." The same was true for the Gospel Acclamation. When I lingered for a moment after the homily, several stood and began the Creed. The hospitality ministers began to take the collection even before I concluded the prayer at the end of the Universal Prayers, and they sent the gifts to the Sanctuary before the Altar was set.
I suppose I ought not to have been surprised. Mrs. McGillicudy started the rosary 10 minutes before the liturgy began, rattling out the "Hail Mary" with the speed of a Civil War Gatling gun on steroids, completing the 10 decades in a breathtaking (literally!) seven minutes.
On my first meeting with the liturgy committee, I asked about it.
"It's the way we've always done it, Father. We've got to keep it fresh, you know."
I suggested we study the General Instruction to the Roman Missal to see what the Church might have to say about how our gathering more closely resembled a meal at McDonald's than a sacred meal, when "we and God at table are sat down." [I would be willing to write another article about how this committee eventually became the liturgical planning committee and the seven-step process we developed to effect liturgical change. It has been shared in several dioceses in Canada and here in the United States with enviable success.]
What we discovered was this:
Sacred silence also, as part of the celebration, is to be observed at the designated times. Its nature, however, depends on the moment when it occurs in the different parts of the celebration. For in the Penitential Act and again after the invitation to pray, individuals recollect themselves; whereas after a reading or after the Homily, all meditate briefly on what they have heard; then after Communion, they praise God in their hearts and pray to him. Even before the celebration itself, it is a praiseworthy practice for silence to be observed in the church, in the sacristy, in the vesting room, and in adjacent areas, so that all may dispose themselves to carry out the sacred celebration in a devout and fitting manner (No. 45).
The former General Instruction (1975) adds a little bit more: "These silent periods for prayer should not be too brief or too lengthy. A more lengthy pause for reflection may take place at the penitential rite and after the readings or homily … The proper use of periods of silent prayer and reflection will help to render the celebration less mechanical and impersonal and lend a more prayerful spirit to the liturgical rite (No. 13)."
Of all the liturgical changes we introduced over the next nine years – including introducing the new Roman Missal (2011) – this one was the most profound and the most fruitful, even if it took most of those years to actualize. There was a prayerful silence after the invocation "Let us pray"; one after the first reading; another after the Psalm Response; yet another after the second reading; one after the homily; after the last petition was offered during the Universal Prayer; a full three minutes after the last person in the Assembly received Holy Communion; and one after the invocation for the collection after Holy Communion. The liturgy extended to fill a full hour rather than the 45 minutes to which people had grown accustomed. And no one complained!
Once, when the bishop came to preside at the Sunday Liturgy, he clipped along as was our former wont. As the ministers of music scrambled to their places after he dismissed the Assembly, a child's voice was heard to ask in that awkward moment, "Mommy, why is the man with the pointed hat in such a hurry?" The bishop asked me about that when we returned to the sacristy. "Well, Excellency, we've been working for several years on doing what the Missal would like us to do to make this a more prayerful encounter with the Lord. We've just become accustomed to periods of prayerful silence."
So, then, just what does it mean to "celebrate?" The word itself comes from the Latin celebrates, which means "much frequented; kept solemn." The past participle of the word is celebrate, which means  "assemble to honour." The keywords here are "frequented," "solemn," and "honour." When we celebrate the Eucharist, we gather together in rites that are ancient and yet ever new because of the circumstances of our times, in a solemn way that seeks to honour, praise, thank and petition the Good God for that which we, our community, our Church, and our world needs that can only come from God's good grace. It is an action of Christ, the Head of the Body, the Church, in the power of the Holy Spirit, to the glory of God the Father. "Through Him, with Him, and in Him, in the unity of the Holy Spirit, all glory and honour are Yours, forever and ever. Amen!"
We come as individuals. We are made into one Assembly – one Body in Christ – by song, by ritual action, by common responses in dialogues. God speaks. We listen. God gives. We receive. We become a new being in our Communion with Him who gave His life that we might live. We become a new Communion with one another in the very sacred food we share – "That we might become one body, one Spirit in Christ." Refreshed, renewed, recreated, we are sent to a waiting world eager to build with the Master Heaven on Earth – "Your will be done on earth as it is in Heaven" – to give to it what we have touched, heard, tasted and felt.
And how can this come about if we don't have even a moment to let it all sink in? We can't! We just don't get it! The antidote is silence. And silence is the very stuff of a good, authentic, fruitful celebration of the Eucharist.
In the News 
KSAT 12: Miss Fiesta (UIW student) surprises young girls with gift to keep them motivated
Community News
16th Annual Pinning Ceremony  
Join us for this special tradition of welcoming first-time students to the UIW family through a symbolic ceremony where lapel pins, bearing the University seal, are given to all incoming Cardinals. This ceremony marks the start of Cardinals' collegiate journey. The ceremony will be available for streaming beginning at 6 p.m., Friday, August 21, 2020. 
Learn more about Pinning Ceremony. 
Service
I Wear a Mask For... 

We recently challenged our UIW community and friends to submit a picture or video about why they wear a mask. Some of our Cardinal submissions are pictured above. Practicing compassion and kindness can take shape in many ways, including wearing a face mask. The "I Wear a Mask for..." campaign is intended to inspire and educate the public on the importance of wearing a face mask.
The UIW community is encouraged to submit a 15-30 second video or picture answering the phrase, "I wear a mask for..."
Students may register to earn community service hours through this project by visiting  GivePulse. For more information on how to get involved, please contact the Ettling Center at ccl@uiwtx.edu or call (210) 832-3208.
Cardinal Corner
Welcome Week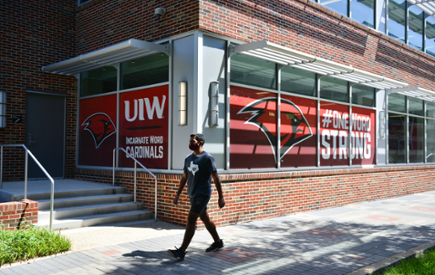 The Office of Campus Engagement is ready to welcome our Cardinals back to the Nest for the start of a new semester with Welcome Week! This year's Welcome Week includes many virtual options, as well as a few in-person events for resident students and those on campus for class. All attendees at in-person events must abide by social distancing guidelines and wear a mask at all times. Events include at-home DIY face masks, a virtual activities info fair, virtual trivia night and more! 
Third-Year Pharmacy Student Completes Leadership Training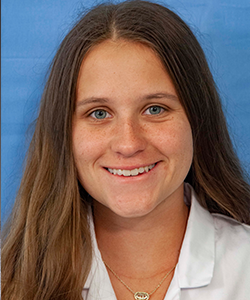 Brittany McCoy, a third-year student from the UIW Feik School of Pharmacy, recently completed the first leadership development program sponsored by the Texas Society of Allied Health Professions (TSAHP).  The program ran from February through August of this year.  The seven-session, synchronous, online course was developed from the book New Leadership for Today's Health Care Professionals.  Participants included students from around the state who were enrolled in a wide variety of allied health programs. 
It was noted by program sponsors that McCoy's commitment to the course, while managing the rigors of the pharmacy program, highlighted her sincere interest in providing strong leadership for the future.  McCoy looks forward to putting what she learned into practice in preparation for her career as a pharmacist.
Alumni and Parent Relations 
Alumni Association President Welcome Video
REDTalks - Dr. Keely Petty

Join us for our next webinar on Wednesday, August 26, 2020 as we welcome Dr. Keely Petty (BA '94) for a discussion on the Five Components of Social Skills. 
Dr. Petty is the CEO of Kick-Start Your Life where she is a confidence coach, counselor and consultant with a stellar reputation as an empowerment specialist, transformational innovative thinker, and a life strategist. 
Register to receive Zoom invitation
Let's Talk! 
If you would like to speak with a member of the Department of Alumni & Parent Relations or Development team, we have a new, helpful scheduling form for you! Appointments must be arranged within regular office hours of Monday - Friday, 8 a.m. - 5 p.m.
Athletics
Seven synchro student-athletes earn 2019-2020 Collegiate All-American Team Award honors

Seven University of the Incarnate Word synchronized swimming student-athletes – senior Rebecca Barlow, sophomore Juliana Damico, freshman Greta Hampson, freshman Adora Kruger, sophomore Natalie LaGrone, senior Alexandra McGee and senior Natalia Vega – earned 2019-2020 Collegiate All-American Team Award accolades, announced USA Artistic Swimming. 
"I am so proud of each of our All-American team members," said UIW Head Coach Elizabeth Gerdin. "To have seven named is a huge honor for our program. It is very exciting to see a mix of athletes from each of our classes named to the team; this shows that our athletic talent is not just held to one class and speaks to the consistency that the team has built. Each of these ladies worked hard, especially on their technical skills, which is what pushed them to this honor." 
Rebecca Barlow | Senior | Keller, Texas 
Barlow was one of UIW's top competitors from nationals during the 2018-19 season. This past season, she was a member of the red squad as well as the trio that was crowned regional champions.  
Juliana Damico | Sophomore | Rio De Janeiro, Brazil 
Damico was a top point performer for the Cardinals during the 2019-20 season, competing in the highest point categories of team, trio, and duet. She was a member of the trio that bested the Buckeyes (who won every event during the 2018-19 nationals) at the Collegiate Open, hosted by the University of Arizona, on Feb. 14-15.   
Greta Hampson | Freshman | Wigan, Manchester, England 
Hampson was a freshman member of the red squad during the 2019-20 season. She was a key part of the trio that bested the Buckeyes at the Collegiate Open, hosted by the University of Arizona, on Feb. 14-15. 
Adora Kruger | Freshman | Calgary, Alberta, Canada 
As a freshman in 2019-20, Kruger earned her way to All-America accolades by consistently scoring well in her Technical A routine. She was also a vital member of the trio that was crowned regional champions.  
Natalie LaGrone | Sophomore | Las Vegas, Nev. 
Despite sitting out select regional routines, LaGrone was a top performer all year in both Technical A routine and team, where she completed one of the riskiest lifts in the nation. She also earned points for trio and solo throughout the year. 
Alexandra McGee | Senior | Tonawanda, N.Y. 
McGee was a member of the red squad and the trio that was crowned regional champions during the 2019-20 season. She also served as a flyer during team, helping create difficult moves. 
Natalia Vega | Junior | Guaynabo, Puerto Rico 
Prior to the season ending early due to the COVID-19 pandemic, Vega was tied with the 2018-19 National Individual High Point Trophy award winner as the top point earner for qualifications from across the country. She also beat the 2018-19 Technical A champion in the same category at the Stanford Invitational on Feb. 22-23.