The Word: UIW Community Newsletter - August 28, 2020
Spotlight
Welcome Home, Cardinals - A Message from President Evans
Dear UIW Community,
The first week of a semester unlike any we have ever seen before has come to a close. I want to thank everyone who worked so hard to support our students, provided them with much-needed resources and helped them to successfully begin the next legs of their academic journeys. So many of you went above and beyond, finding creative avenues for support and compassionate solutions to the challenges that emerged. I know many of our Cardinal parents have done the same and I want to reassure them that we are fully committed to serving our students whether they are learning in person or at a distance.
Earlier this week, I shared a special message of encouragement with our students and reassured them that our community is and has always been there for them. Through your many efforts, each of you has put our Mission into action and made our community that much stronger. Thank you.
Praised be the Incarnate Word! 
Sincerely, 
Thomas M. Evans, PhD
President
Academics
H-E-B School of Business and Administration Startup Challenge

The H-E-B School of Business and Administration (HEBSBA) is excited to host the annual Startup Challenge, sponsored by HOLT Ventures, as student entrepreneurs compete for $10,000 in startup funding. 
The 13-week competition encourages students and other members of the Cardinal community to team up and develop a business model from concept to creation. The winning team will be awarded $10,000 to fund their startup business. A $2,000 prize is awarded to the second-place team. 
The Startup Challenge at HEBSBA is looking for big ideas and compels students to develop creative solutions to real-world problems. The challenge is open to all students at the University and promotes cross-disciplinary teams to ensure a diverse leadership base for each startup. 
"Something that makes our Startup Challenge different from other entrepreneurship competitions is its own progressive process," said Dr. Jose Moreno, associate professor of Finance and a faculty organizer for the event. A student is not required to know everything about starting a business, nor are they required to have a clear business idea. They will have the opportunity to learn in the process, as well as improve upon their original idea. Also, the mentoring component makes this competition not only a learning experience, but a networking opportunity, too." 
Registration for the Startup Challenge is open through Friday, September 11. The challenge begins September 15, when teams will be notified of their acceptance to competition. The challenge culminates Friday, December 4 when teams present their final proposals to a panel of judges from the San Antonio business community, who will select the winner of the $10,000 first prize. 
Cardinals can visit the Startup Challenge website to learn more about the Startup Challenge and to register their team. 
UIW School of Mathematics, Science and Engineering Receives NASA Grant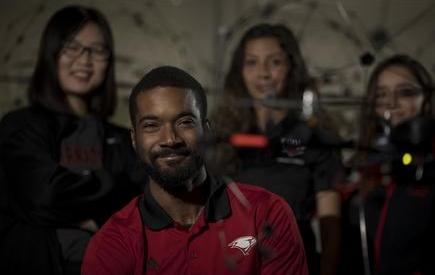 UIW is a recipient of the Minority University Research and Education Project grant from NASA to increase participation in engineering, announced Dr. Carlos Garcia, dean and Dr. Michael Frye, associate professor of Engineering. The grant was a collaboration between researchers at the University of Texas San Antonio and UIW. UIW will receive a subcontract of the funds awarded. Targeting underrepresented students, the grant will fund activities to "engage industry, government and educational stakeholders to collaboratively establish a tiered educational model for intentionally broadening participation in interdisciplinary aeronautics engineering."
COVID-19
Get Your Thermometers Ready: Cardinal Daily Health Check is Here!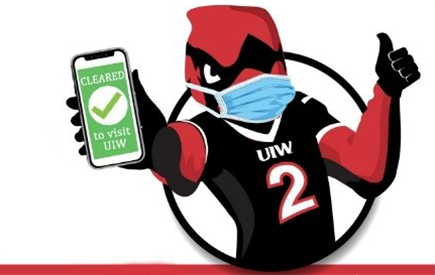 The Cardinal Daily Health Check, a web-based tool, must be completed by all employees, students, and guests before visiting any UIW location. After a successful daily health check, users will be emailed a ticket to be used to verify completion of the screening. Staffed checkpoints, supervisors, faculty members, athletic staff, and others may ask to see this ticket to help our community minimize COVID-19 transmission risks.
Community Updates: UIW Moves to Warning Indicators

At UIW's COVID-19 information site, you'll find the latest updates regarding UIW's response to COVID-19, safety rules, links to helpful forms and more. UIW has moved from its Continuity of Operations Phase Plan to a new warning indicator system. The warning indicators are now listed on the COVID-19 site. As always, any questions about UIW's response to COVID-19 may be submitted here. 
Mission & Ministry
Sunday Morning Prayer - August 30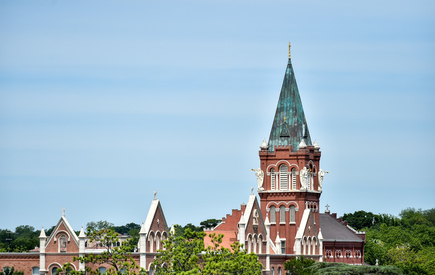 University Mission and Ministry invites you to attend our weekly Sunday Morning Prayer at 11 a.m. on August 30. The platform will open at 10:45 a.m. for an opportunity to greet one another. This week's service is based on the scriptures of the 22nd Sunday of Ordinary Time. While we cannot gather in person to celebrate the Sunday Eucharist in Our Lady's Chapel or the Chapel of the Incarnate Word, we can gather virtually and unite our prayers of petition with our extended Incarnate Word family during this celebration of the Liturgy of the Word. The service will be held on Zoom. We hope you'll be able to join us this Sunday!
RSVP to receive a Zoom link to Sunday Morning Prayer
Holy Spirit Liturgy and Blessing - September 2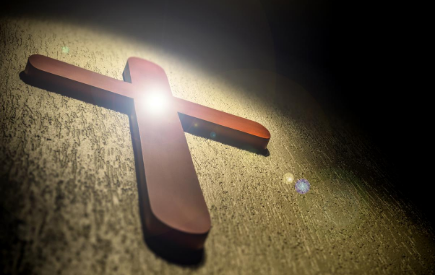 University Mission and Ministry invites you to attend our Holy Spirit Liturgy and Blessing for the 2020-2021 academic year on Wednesday, September 2 at noon. 
In keeping with a long tradition dating from the founding of the great European universities in the Middle Ages, UIW celebrates the invocation of the Holy Spirit at the start of each academic year. During the liturgy, we ask for the inspiration, guidance, and presence of God's Spirit on all of our campus activities. This festive event gathers the entire university community together to rededicate ourselves to UIW's mission, to renew friendships, and to welcome new members. 
While we cannot gather in person this year in Our Lady's Chapel or the Chapel of the Incarnate Word to celebrate together, we can gather virtually and unite our prayers of petition during this celebration with our extended members of the Incarnate Word family. The service will be held on Zoom. The platform will open at 11:45 a.m. for an opportunity to greet one another before prayer. We hope you'll be able to join us! 
RSVP to receive a Zoom link to the Holy Liturgy and Blessing
St. Isidore of Seville Virtual Ministries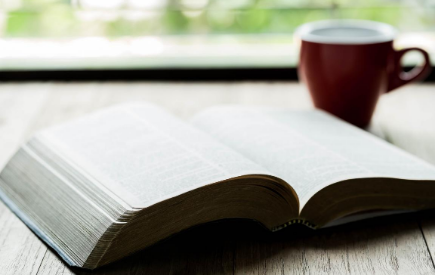 Inspired by the core values of our University – Faith, Innovation, Education, Service and Truth – and the strong desire to be together in some way, the St. Isidore of Seville Virtual Ministries was born. At its heart, the ministry will work to help the Incarnate Word family – students, faculty, staff, administration, Sisters of Charity of the Incarnate Word, alumni and friends of UIW – remain connected to one another and the campus, while building a more prayerfully aware community ready to offer its heart and hands in service to those most in need.
As the patron saint of the internet, St. Isidore will guide our efforts to remain connected in prayer. St. Isidore ministers are on a rotating schedule from week to week –they serve as readers and proclaimers of prayer, musicians, tech angels, greeters, virtual sacristans, virtual environment and art ministers, prayer leaders for devotionals (rosaries, the Chaplet of Divine Mercy, novenas, etc.) through any of the following ways:
Sunday Morning Prayer (11 a.m.): A weekly opportunity to gather virtually as an Incarnate Word family – to reflect on the scriptures of the day and pray for our global family, supported by music and visual art.
Sunday Night Live (8 p.m.): We invite individuals or groups (couples, families, roommates, house communities, etc.) to host a short contemplative prayer time virtually on Facebook Live, Instagram Live, or Zoom in collaboration with University Mission and Ministry. At the heart of this prayer opportunity is extended contemplative silence (20-30 minutes) and prayers of petition from participants.
Ps 98 ("Sing a New Song") Music Ministry: Though physical distancing due to the pandemic has made it difficult to gather together in a traditional way, new and returning members of the UIW family can still "sing a new song" in a virtual space. This music ministry will help facilitate the music of our Sunday Morning Prayer along with other opportunities throughout the semester, including a collaborative venture at the end of the semester with the UIW Music Department. Singers and instrumentalists (keyboard, guitar, percussion, winds and strings) are welcome. 
The plus side of virtual ministry is that one does not have to travel far. Students can receive service hours. Alumni can reconnect. Faculty and staff have some new options on campus to nourish their faith. Sisters of Charity of the Incarnate Word have another avenue to meet students, faculty and staff and vice versa. New friendships can be made!
For more information, please contact Lena Gokelman, director of Music Ministries or Carmen Aguiler, liturgy and music assistant) at uiwmusicministry@uiwtx.edu.
St. Isidore Ministries Registration Form 
In the News 
San Antonio Business Journal: UIWSOM Dean, Dr. Robyn Phillips-Madson Named a Healthcare Hero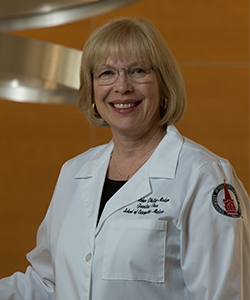 Dr. Robyn Phillips-Madson, dean of the UIW School of Osteopathic Medicine has been named the San Antonio Business Journal's Education Health Care Hero! 
This recognition is awarded to a local individual who is helping to train the next generation of San Antonio's health care workers.
Congratulations, Dr. Madson, and thank you for your commitment to educating the next generation of San Antonio's health care heroes! 
SABJ presents the 2020 Health Care Heroes
Community News
Sports Medicine Operates as One Word with Health Services

One Word. Those two words defined the University of the Incarnate Word even prior to the COVID-19 pandemic. UIW is one university with all parts working together for the common good of the students, faculty, staff and community. Nowhere is this more apparent than in the collaborative work of the Sports Medicine team, the Incident Response team, the Health Services department and other groups that have worked together to help the University maintain the health and safety of its students, faculty and staff.
On Wednesday, March 11, 2020, the NBA suspended its season due to COVID-19, and like a row of dominoes, the rest of the athletics world followed. Universities across the country would soon begin to suspend their seasons, but UIW already had a working incident response team for the pandemic and responded quickly.
With the situation developing quickly and the top two members of the athletic department at the Southland Conference Basketball Tournament in Katy, Texas, to watch the UIW women's basketball team play, Associate Director of Athletics/Sports Medicine B.J. Lough stepped in to be the on-campus voice for athletics.
"The incident response team was worried about how athletics would be affected should the University make certain decisions in regards to closing dorms and moving classes online," said Lough. Already on campus, he began reaching out to then-interim Athletic Director Richard Duran, who has now been elevated to permanent AD, and other senior staff to begin critical discussions and ask questions.
From there, Lough's main point of contact on the incident response team was Dr. David Garza, the medical director of UIW Health Services. Lough also worked closely with Dr. Ronda Gottlieb, UIW's director of Clinical Health. Garza and Gottlieb understood the medical side of Athletics' concerns, and Garza effectively communicated this information to the incident response team.
"It was easy to work with them because they understood the medical side," said Lough. "It was a good bridge to be able to explain what the NCAA was doing and why they were doing it. Then they were able to better relay the information from us in athletics to the incident response team."
"Health Services and Athletics have always worked closely to ensure the health and well-being of student-athletes, but the pandemic has led us to be more collaborative and rely on each departments' strengths and expertise to ensure the health and safety of all students, employees, and visitors on UIW campuses," said Gottlieb.
In May, the University experienced another shift. After closing campus for several weeks, some employees and staff were allowed back on campus, but a screening process was necessary to determine if those entering campus were healthy. Through working with Garza and Gottlieb, Lough determined that the Sports Medicine team could be useful to Health Services in the screening process.
"The athletic trainers were essential in creating and maintaining the UIW COVID-19 screening stations that were created in May, and they have continued to offer their help and expertise whenever needed," added Gottlieb. "Our collaboration has been very easy as both departments have a shared goal of promoting health throughout the UIW community."
The Sports Medicine staff worked eight hours each day. From there, more of Athletics became involved. With the screenings taking place outside at the front of campus, the department helped supply tents and the cooling fans typically reserved for use on the sidelines at football games. Athletics staffers, as well as members of other campus departments, also started assisting with additional shifts, helping relieve the stress of providing screenings 24 hours a day.
"The value [in helping with the screenings] came in showing our UIW community that UIW athletics was willing to step forward and help in any way we could," said Assistant Director of Athletics/Sports Medicine Sal Cervantes. "We want to be able to be depended on whenever a situation arises, and I think the screenings served as an example of that. The screenings showed the UIW family that the University was looking out for their health and well-being, and it was great for the department to be involved."
The Athletics Department and Health Services have built a strong relationship, benefiting both parties. This process has only served to strengthen that bond.
"Developing and creating a bridge to working with Health Services has served as a huge benefit to our department," said Cervantes. "Communication and understanding of what both departments do has increased dramatically, and that will benefit our student-athletes and staff going forward. Working closely together has formed a bond that will only get stronger. I'm certain that we will continue assisting Health Services now that we have welcomed students back for the fall."
"We plan to continue to maintain the same partnership going forward, one that promotes and encourages communication between both departments," said Gottlieb. "We are now participating in shared training and regular collaborative meetings. We have found that coordinating a robust COVID-19 mitigation and testing program requires a lot of collaboration and expertise in many areas. Athletics has been a huge support to Health Services during this new and ever-changing time, and we will continue to grow and foster teamwork between the two departments."
As the University formulated a plan to bring students back on campus for the fall semester, athletics was a major part of the discussions. Through working together as one team, as one University, as One Word, UIW determined how to best serve its students, faculty and staff.
"If you can't cooperate with each other and you're not moving in the same direction, then nobody is going to go anywhere," added Lough. "I think that by showing other departments on campus that Sports Medicine and the Athletics Department wants to help and be part of the team, we can keep moving forward." 
UIW Launches Official Mobile App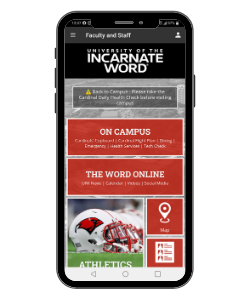 The official UIW app is here, Cardinals! The UIW mobile app is your one-stop shop for information on campus dining, University news, Blackboard and access to the Cardinal Daily Health Check! Download it today in the App Store or Google Play!
Service
Green Service Project Challenge
The UIW Community Gardens may be temporarily closed, but the Ettling Center for Civic Leadership & Sustainability put out a "Green Service Project" challenge to our Cardinals to continue sustainability projects in their own home as part of alternative, online service options. Students are encouraged to build a garden or plant a tree, flower, or other type of plant. Students made personal connections reflecting on this project. Read some of their reflections below. 
"My contribution to this service activity impacted others by encouraging them to start a mini garden. A few of my neighbors saw me on my balcony with the plants and they were inspired to do the same thing. We are getting together Saturday so I can help them with their mini gardens."
"Gardening has shown me how to create such simple, yet beautiful life. I believe this has helped me become even more nurturing and it reminds me to take care of something other than myself."
"This has been a great experience that I've been thankful to share with my family. I hope to provide healthy staples for our kitchen (and eventually our neighbors) for a long time to come."
"Small or large, I feel that contributing to the environment provides so many benefits for everyone. Not only are plants lovely to look at, but they also keep our world healthy by reducing the carbon dioxide in our air, which provides us with oxygen." 
For more information on how students can get involved, please contact the Ettling Center at  ccl@uiwtx.edu or call (210) 283-6423.
Cardinals' Cupboard Donations

The UIW community came together to create the Cardinals' Cupboard Food Pantry in response to issues of food insecurity on campus in the fall of 2018. To continue to provide for our students in need, please consider purchasing items from our Cardinals' Cupboard Amazon Wishlist. Items purchased will go directly to the Ettling Center for Civic Leadership & Sustainability to place in the Cardinals' Cupboard. Thank you for supporting the Cardinals' Cupboard! 
Cardinal Corner
Welcome Week 2020 

UIW officially welcomed Cardinals back to the Nest this week! Students moved into residence halls, began their first week of classes and enjoyed fun activities with the Office of Campus Engagement. Cardinals were invited to virtual and in-person events. All on-campus events enforced mask wearing and social distancing policies. 

Official Welcome Week events kicked off on August 19 with virtual information fairs and trivia nights, and will continue through Saturday, August 29 with a final event in Friendship Garden (spoiler alert, there will be tacos). 

As we begin the new semester, student and academic support services remain available to all students virtually or in-person by appointment. We encourage our Cardinals to utilize these services to help them not only succeed, but thrive while learning online. 
Alumni and Parent Relations 
Homecoming 2020: Save the Date! 

Attention Cardinals! We're going virtual for Homecoming and Family Weekend, Nov. 4 - 8, 2020!  
After much thought and consideration for the wellbeing of our alumni and entire UIW community, we have opted to go 100% virtual for this fun and festive weekend. The Department of Alumni & Parent Relations is determined to bring you the best experience possible for networking and celebration.  We will be in touch soon with a lineup of both new and familiar events.  
If you have any questions about Homecoming and Family Weekend, the  50th Year Reunion, or would like to share event ideas, please don't hesitate to contact our Alumni Relations team at (210) 805-5899.  We can't wait to share new memories with our Incarnate Word family near and far! 
Athletics
14 Cardinals earn 2019-2020 Collegiate Academic Award 

Fourteen student-athletes from the University of the Incarnate Word synchronized swimming team earned the 2019-2020 Collegiate Academic Award, announced USA Artistic Swimming. This is the most accolades by any of the universities with recipients during the 2019-20 season. 
"I am proud of this group of student-athletes for their work both in the classroom and in the pool," said UIW Head Coach Elizabeth Gerdin. "I think this team has done a great job balancing academics and athletics and showing how you can excel at both." 
Collegiate Academic Award honors are given to student-athletes who qualify for the national competition and have a 3.25 or higher cumulative GPA. 
The synchronized swimming team had the highest team GPA at UIW during the 2019-20 academic year. During the spring, the Cardinals achieved a 3.84 team semester GPA, while the team cumulative GPA was 3.66.
In the pool, UIW won its region, but the national competition was canceled due to the COVID-19 pandemic. 
UIW Award Recipients: 
Rebecca Barlow  
Rafaella Catharino  
Juliana Damico  
Claire Ermer  
Greta Hampson  
Natalie LaGrone * 
Alexandra McGee  
Lindsay Papper  
Amy Parker  
Hannah Ray  
Lauren Rein  
Gwenivere Ronnau 
Nour Shamala  
Leah Sterling 
*Achieved a 4.0 GPA during the 2019-20 academic year   
 
Carlos Sendin Castelao joins UIW men's soccer coaching staff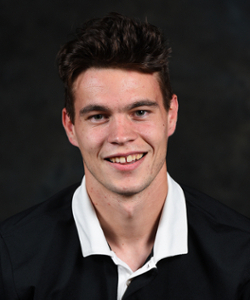 University of the Incarnate Word men's soccer Head Coach Kiki Lara  announced Tuesday the hiring of Carlos Sendin Castelao as the new assistant coach. Sendin Castelao joins the program after serving as the assistant coach under Lara at Eastern Illinois University (EIU) for the past two seasons. 
"Carlos is extremely well-rounded in the game and has strong experience in program building," said Lara. "He has great experience identifying strong fits for the program at this level of play, and he has done great at developing goalkeepers technically and tactically." 
¨I want to start by thanking Athletic Director Richard Duran, Interim Associate Director of Athletics/External Affairs Zack Carlton, Head Coach Kiki Lara and the UIW Administration that made this possible during these unprecedented times," said Sendin Castelao. "It is an incredible honor and opportunity to be part of the UIW men's soccer program and community." 
Sendin Castelao joined the staff at EIU in 2018 as Lara's assistant coach. In 2018, he was on the staff that led the team to an appearance in the Summit League Tournament. Prior to EIU, he began his coaching career as a volunteer assistant coach at Dayton for two seasons. 
"Carlos has a very calm nature when working with student-athletes, which is important in what can be a pressure environment," said Lara. "He is humble and has a true competitive spirit that helps him grow into a better coach and person every day, and that is exactly the type of influence we want in our program."  
Sendin Castelao, a Madrid, Spain native, played college soccer at West Virginia Tech (2014) and the University of Dayton (2015). At West Virginia Tech, he was a member of the 2014 United States Collegiate Athletics Association National Championship team and was named to the USCAA All-Tournament Team. 
At Dayton, he was a central defender for the team that won the Atlantic 10 Tournament Championship, which included a trip to the second round of the 2015 NCAA Tournament. At the conclusion of the season, he was one of six members of the squad to start all 23 games and finished tied for 10th in the A-10 with five goals, averaging .220 per game. 
"I also want to take this opportunity to thank all the coaching staff that has mentored me through this journey, Coach Dennis Currier, Coach Jake Plant and, again, Coach Lara," added Sendin Castelao. "To end this note, I want to especially thank my wife Leslie, and all my family that supported me. I am very excited to get to work impacting our student-athletes and the community using the Mission of the University." 
After 22 Years, Athletics Administrative Assistant Retires

Lisa Townzen, administrative assistant for the Athletics Department, has officially retired from UIW after 22 years of service.
"Staff, student-athletes and visitors alike could always count on one thing when they walked into the upstairs offices of the McDermott Convocation Center: getting a smile and a kind greeting from Lisa," says Richard Duran, athletic director. "Lisa has been an important part of the athletics department. We thank you for your years of dedicated service. 'The Convo,' Athletic Department and campus will not be the same without you, but we look forward to seeing you at games. We wish you all the happiness in the world as you enjoy time with your family and at the ranch."
Over the course of more than two decades, Townzen managed all athletic graduate assistants, work study contracts and assisted with all day-to-day operations and various projects in the Athletics Department.