UIW Community Newsletter - February 14, 2020
Spotlight
Red Dress Fashion Show and Health Fair
On Tuesday, Feb. 11, the UIW community came together for the 17th Annual Red Dress Fashion Show and Health Fair. The event brought local high school students and UIW fashion majors together to showcase their creative designs on the runway. Dr. Trey Guinn served as the fashion show's emcee. 

Students from UIW health professions schools provided basic health screenings and information on heart health to those in attendance. Mrs. Lisa Evans and Teri Lopez, UIW fashion program director, presented awards to the top designs at the high school and collegiate level. Award winners received scholarships to continue their education in fashion at UIW. 
The annual Red Dress Fashion Show & Health Fair supports the American Heart Association (AHA) and their Go Red campaign during National Heart Month in February. 

Mission
Our Lady's Chapel Services
All are welcome
Noon mass Monday - Friday
Sunday Mass at 10:30 a.m. and 8 p.m.
Sacrament of Reconciliation, 11:30 a.m. Fridays or by appointment with Fr. Tom Dymowski, O.SS.T. at
(210) 829-3131 or  dymowski@uiwtx.edu.  
Pray-a-thon 2020
As we approach the season of Lent, we invite you to Save the Date for Pray-a-thon 2020, set for March 22 – 29. Pray-a-thon is an invitation for our Brainpower schools and our UIW campus communities to join in solidarity, drawing on a shared vision of faith and learning, to work together as One Word.  While some events will find a place in our chapels, a hallmark of Pray-a-thon has been to take prayer to the people in unique and creative ways. We pray that each of you will enjoy a week filled with opportunities to experience prayer in different forms, expressions and traditions. For more information, please contact, Sr. Walter Maher, VP Mission and Ministry at maher@uiwtx.edu.
CCVI Spirit Award Nominations
On behalf of Mission and Ministry, please  click here to find the CCVI Spirit Award Nomination form for 2020. Should you wish to nominate a fellow employee for this award, the deadline for submission is Friday, Feb. 28. Please return nomination forms to Sr. Walter Maher at CPO 139. The CCVI Spirit Award recognizes a member of the faculty, administration, or staff who has demonstrated in service to the University and/or to the broader civic community, the spirit of the founders, the Sisters of Charity of the Incarnate Word. The mission of the University flows directly from this spirit. One award is given each year. All members of the campus community, lay and religious, part-time and full-time, are eligible. Selection of the honoree is made by a committee of faculty, administrators, and persons chosen for the award in past years.
Upcoming Events
Black History Month Events
UIW is celebrating Black History Month through Monday, Feb. 24. Please consider attending the following events:
Feb. 20 – Black History Open Mic Night, 6 p.m., Red's Pub
Feb. 24 – African America Read-in, 11:30 a.m. – 1:30 p.m., Dubuis Lawn
Feb. 25 – The Different Voices of Power, 6 p.m., SEC Ballroom
For more information, please contact Brandi Coleman at bjrodrig@uiwtx.edu.    
Primary Care Screening Day and Vaccine Drive
The UIWSOM internal medicine, family medicine, and pediatric interest groups (SOIMA, ACOFP, and SOMAP), the Ila Faye Miller School of Nursing and Health Professions and the Feik School of Pharmacy are hosting a learner-led "Primary Care Screening Day & Vaccine Drive" from 9 a.m. to 1 p.m. on Saturday, Feb. 15, on the Brooks City Base (SOM) Campus in Building 2. This event will consist of free primary care screenings (blood pressure, pulse, medical home, dental home, depression, and food insecurity) and free vaccinations for adults and children in the community. La Mision Family Health Care through Ascension DePaul Services will be present to accept referrals and arrange outpatient follow-up medical, dental, and behavioral health care at their clinic to patients screening positive. 
Women's Global Connection: Girls Global Summit
Women's Global Connection is celebrating its 8th Annual Girls Global Summit from 9 a.m. - 1 p.m., Saturday, Feb.15 in the UIW McCombs Center Rosenberg Sky Room. This event offers impactful and thoughtful cross-cultural engagement led by middle and high school girls from across the San Antonio metropolitan area. Exploring themes that resonate with our Girl Groups, conference attendees will engage in several round-table discussions and participate in leadership development exercises designed to embolden and inspire summit guests. Due to the donations from generous supporters, this event is free to attend. For more information and/or to volunteer, please contact Marlene Diaz at  wgc.mdiaz@gmail.com.  Register for the Summit here.

Community News
Cowboy Breakfast 
Let's Rodeo, UIW! Human Resources hosted the annual UIW Cowboy Breakfast on Thursday, Feb. 13.

Employees came together in the SEC Ballroom to enjoy a delicious breakfast and prizes and get in the rodeo spirit. 

Kiss a Pig for UIW Philanthropy!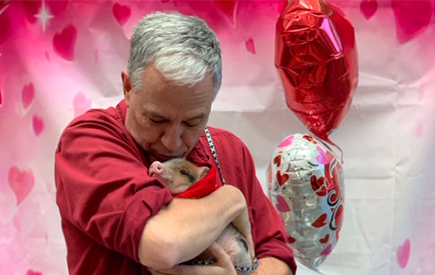 In an effort to raise funds for student scholarships, UIW Philanthropy Ambassadors (UPA) hosted a Valentine's Day-themed fundraiser this week. Students, faculty and staff gave spare change to cast a vote for their favorite professor or coach to "Kiss A Pig," as their Valentine's Day sweetheart! Dr. Glenn James received the most votes and shared a Valentine's Day kiss with PHIL (short for philanthropy) the piglet on Thursday, Feb. 13. In total, UPA raised $448 for the Feed PHIL Scholarship Fund. Thank you Dr. Glenn James, Dr. Alberto Rubio, Dr. Trey Guinn and Coach Joe DiPietro for your participation! 
Daniel Belcher Masterclass
Grammy Award-winning baritone, Daniel Belcher, gave a Masterclass to UIW voice students on Tuesday, Feb. 11. Belcher listened to select students perform a piece from their repertoire and offered feedback and coaching on how to improve their performance.

You can catch him in  Opera San Antonio's upcoming production of The Capulets and the Montagues!

World Affairs Council of San Antonio Academic World Quest
UIW Enrollment Services hosted the World Affairs Council of San Antonio Academic World Quest for 17 teams of high school students on Wednesday, Feb. 12 in the SEC Ballroom. This premiere social studies and international affairs competition consisted of ten rounds of ten questions on historic and current topics. Students also had the opportunity to hear about UIW degrees, study abroad options and tour the campus. Keystone High School won the top prize this year and will go on to compete in Washington, D.C. next month in the Carols and Malu Alvarez Academic World Quest.

H-E-B School of Business Career Fair
On Wednesday, Feb. 12, the H-E-B School of Business hosted a Career Fair in the McCombs Center Rosenberg Sky Room. More than 50 employers were available to students at the event to offer insight on available internship and career opportunities.

Students were also able to have professional headshots taken. Thank you, UIW Business and Career Services for providing these opportunities for our Cardinals!

UIW Music at TMEA
The UIW Department of Music is dedicating their time to recruiting new students, visiting with alumni and learning from music educators across the state of Texas at the annual Texas Music Educators Association Convention. The annual convention brings music educators and students from all over the state together for a weekend of professional development, concerts and more. 
Department News
UIW and Texas Academic Decathlon Partnership
We are proud to announce that UIW will partner with organizers from the Texas Academic Decathlon to host their annual state competition on the UIW campus, effective with the 2021 state competition.  The Texas Academic Decathlon is a competition held each spring for high school students.  Teams are comprised of three A-level students, three B-level students, and three C-level students.  The winners from each state competition advance to the national competition, the U.S. Academic Decathlon, set for April 30 – May 2 in Anchorage, Alaska.
During the fall 2020 semester, UIW will host discipline specific information sessions for the San Antonio area teams to help them learn the content of the theme selected for the 2021 competitions.  We know the teams look forward to working with our faculty to learn the exciting and challenging theme for 2021.  We will ask for your support to help us with these training sessions and reserving rooms for these special events.  We hope that you realize how beneficial these events are in our recruiting efforts and will help us with this effort. 
The Texas Academic Decathlon allows us to recruit from these events and encourages our students, admission officers, and faculty to volunteer.  Students that score well and progress on to the national Academic Decathlon are awarded academic scholarships from the Texas Academic Decathlon to attend the college or university of their choice.   The Texas Academic Decathlon alone provides $180,000 in scholarships.
Texas is so large that it sends three teams—small school, medium, and large—to the national competition.  Students are tested individually on seven disciplines—Art, Literature, Music, Social Science, Economics, Mathematics, and Science—based upon one universal theme.  The theme this year is "In Sickness and in Health: An Exploration of Illness and Wellness."  Additionally, students must give two speeches—one prepared and one extemporary—and sit for interviews, all also related to the theme.  Then the team competes as a unit on an event called the "Super Quiz."  This will bring between 400-500 high school students, their coaches/teachers, parents, school superintendents, and friends to UIW for the state competition.
In addition, San Antonio College will host the Texas Academic Decathlon State Finals. From March 6-8, 2020, regional winners (40 teams/9 students per team – 360 competitors) from across the state will converge on San Antonio to compete for $84,000 in scholarships. Team and individual winners are determined based on their knowledge of math, literature, economics, science, social science, art, and music.  In addition, the students will write an essay, give both a prepared and impromptu speech, and be interviewed regarding their high school activities and/or future plans. 
As noted previously, the contest relies heavily on community volunteers.  Volunteers are needed as follows:
March 6, 2020
11:30 am to 5:00 pm (lunch provided)
Speech and Interview Events (San Antonio College)
March 7, 2020
8:00 am to 1:15 pm (lunch provided)
Test Proctoring (Omni Hotel – Wurzbach and Interstate 10 W)
1:30 pm to 4:00 pm
Super Quiz Proctoring (Omni Hotel – Wurzbach and Interstate 10 W)
If you are interested and can volunteer, or you would like additional information, please email rhopkins@alamo.edu. Additional information and updates related to the Texas Academic Decathlon competition will be shared when it is available.
More information about the state and national organizations is at TXACAD.Org and USAD.Org.  Curricular topics related to the theme for 2019-2020 can be found here .
For more information, please contact Dr. Bobbye G. Fry, Assistant to the Vice President for Enrollment Services by email at Fry@uiwtx.edu
Cardinals' Cupboard: Donations Needed
Any UIW student, staff or faculty member is welcome to the Cardinals' Cupboard Food Pantry located at Joeris Hall on the UIW Broadway Campus. Hours of operation are Tuesday through Thursday from 10 a.m. - 2 p.m. Did you know 25% of children identified as food insecure in San Antonio and Texas is ranked #2 in the nation for food insecurity? Help us make a difference by making a donation to the Cardinals' Cupboard!
Top 10 Requested Items:
Cereal
Canned beans
Tuna
Canned soup
Rice
Mac and cheese
Peanut butter
Granola bars
Pasta and pasta sauce
Toothpaste/soap
Monetary and food donations may be dropped off at the Ettling Center in AD 158 or Campus Engagement in SEC 3150, Monday through Friday from 8 a.m. - 5 p.m. To learn more about Cardinals' Cupboard, please contact the Ettling Center at (210) 283-6423.
Health-E News
A Special Message from Health Services re: coronavirus update
Dear Cardinal Community,
We are closely tracking the spread of the new coronavirus, first identified in December in Wuhan, Hubei Province, China. At this point, there are no known cases of the virus in San Antonio, but there are cases in the United States. The situation is changing rapidly, and we will provide updates when new information or guidance needs to be communicated.
Symptoms of this infectious illness include fever, cough and difficulty breathing. Based on current information, symptoms can appear anywhere from two to 14 days after initial exposure to the disease and can be transmitted from inhaling or touching infected droplets – usually through a cough or sneeze — from an infected person.
UIW has numerous health and wellness resources available to students including flu shots which are being offered at Health Services. No appointment is needed to obtain a flu shot. For more information, please contact Health Services at (210) 829-6017.
Whether or not any symptoms have appeared, if you are a student on and of the UIW campuses who has traveled from China in the past 14 days, we ask that you notify School of Medicine Student Health Services at (210) 829-6017.
Similarly, if you are a UIW employee who has traveled from China in the past 14 days, we ask that you notify UIW Health Services at (210) 829-6017.
Any such students or employees should monitor themselves for fever, cough and difficulty breathing. Anyone with these symptoms should make a follow-up call to UIW Health Services and follow instructions to get evaluated. It's important to call before showing up at a doctor's office or emergency room.
We follow guidelines established by the Centers for Disease Control and Prevention (CDC) for identifying and managing patients of concern.
During flu season, you will often see people on campus wearing masks. Please be reassured that seeing someone in a mask does not mean they have been exposed to this coronavirus. Again, we currently do not have anyone in our community being evaluated for this virus.
It's important to note that cold and flu season is nearing its peak. In the absence of travel to affected areas in China, or exposure to a known case of novel coronavirus infection, the presence of these symptoms is likely related to a cold or flu. Please remember to practice cold and flu prevention techniques. 
Members of our campus community are reminded to take precautions
The best way to prevent infection is to take precautions to avoid exposure to this virus, which are similar to the precautions you take to avoid the flu. CDC always recommends these everyday actions to help prevent the spread of respiratory viruses:
Wash your hands often with soap and water for at least 20 seconds. If soap and water are not available, use an alcohol-based hand sanitizer.
Avoid touching your eyes, nose, and mouth with unwashed hands.
Avoid close contact with people who are sick.
Stay home when you are sick.
Cover your cough or sneeze with a tissue, then throw the tissue in the trash.
Clean and disinfect frequently touched objects and surfaces.
For more information, please visit the CDC's website here.
We will continue to monitor and update our campus community on the coronavirus outbreak as needed.
Thank you for helping to protect our campus community.
Sincerely,
David E. Garza, DO, MS.MEdL
Medical Director, UIW Health Services 
Ronda Gottlieb DNP, APRN, FNP-C.
Director, UIW Health Services Clinic
Athletic News