UIW Community Newsletter - January 31, 2020
Spotlight
Black History Alumni Reception 
On Thursday, Jan. 30, the UIW Black History Committee honored UIW alumna, Dr. Keely H. Petty at the 2020 Black History Alumni Reception. Dr. Petty is a renowned community activist, teacher, author and international speaker. Since 2006, she has served as the program director for Bethel Community Development Corporation, Inc. She graduated from the University of the Incarnate Word with her bachelor's degree in communications and continued her education by earning a master's degree and doctoral degree in Christian Counseling.

As an advocate for empowering others, she is the founder of Girls Worth Mentoring, Self Esteem Institute 4 Women, Sisters in the Spirit, and Sound Mind Strategies. Dr. Petty was honored by Governor Greg Abbot for her community work. She served on the Mayor's Pastoral Council and as commissioner on the Mayor's Commission on the Status of Women. Most recently, she was sworn in as the Chair of the San Antonio Martin Luther King, Jr. Commission.

Mission
Our Lady's Chapel Services
All are welcome
Noon mass Monday - Friday
Sunday Mass at 10:30 a.m. and 8 p.m.
Sacrament of Reconciliation, 11:30 a.m. Fridays or by appointment with Fr. Tom Dymowski, O.SS.T. at
(210) 829-3131 or  dymowski@uiwtx.edu.  
Pray-a-thon 2020
As we approach the season of Lent, we invite you to Save the Date for Pray-a-thon 2020, set for March 22 – 29. Pray-a-thon is an invitation for our Brainpower schools and our UIW campus communities to join in solidarity, drawing on a shared vision of faith and learning, to work together as One Word.  While some events will find a place in our chapels, a hallmark of Pray-a-thon has been to take prayer to the people in unique and creative ways. We pray that each of you will enjoy a week filled with opportunities to experience prayer in different forms, expressions and traditions. For more information, please contact, Sr. Walter Maher, VP Mission and Ministry at maher@uiwtx.edu .
Bereavement
Our thoughts and prayers go to:
Mr. Jim Price and family on the recent loss of his mother, Mary M. Price (BA '62). 
Upcoming Events
Black History Month Events
UIW is celebrating Black History Month through Monday, Feb. 24. Please consider attending the following events:
Feb. 3 – Black History Quiz Bowl, 11 a.m. – 2 p.m., Dubuis Lawn
Feb. 6 – Say Her Name: The Sandra Bland Story, 5 – 8 p.m., Mabee Library
Feb. 7 – Dr. Martin Luther King Path to Nonviolence, 10:30 a.m., AD 365
Feb. 12 – The Power of Black Love Panel, 6 p.m., SEC (TBD)
Feb. 20 – Black History Open Mic Night, 6 p.m., Red's Pub
Feb. 24 – African America Read-in, 11:30 a.m. – 1:30 p.m., Dubuis Lawn
Feb. 25 – The Different Voices of Power, 6 p.m., SEC Ballroom
For more information, please contact Brandi Coleman at bjrodrig@uiwtx.edu.  
2020 Pierre Lecture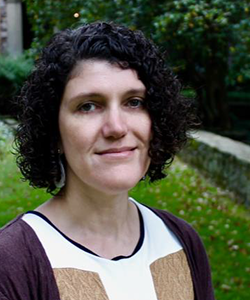 One of the first stories readers encounter in Genesis describes two migrants, Adam and Eve, leaving their first home and struggling to create a life in a new land. From Genesis through Revelation, the Jewish and Christian Bibles depict migration and responses to migration, and given the prominent role of the Bible in public life, politicians, thinkers, and migrants themselves have turned to those texts to think about just and appropriate immigration policies. Jacqueline M. Hidalgo, this year's Pierre Lecture speaker, will question some of these more contemporary political interpretations of the Bible and discuss the Bible as a text of migration. Dr. Hidalgo is department chair and associate professor of Latino/a Studies and Religion at Williams College. The 2020 Pierre Lecture will be held on Monday, Feb. 3 at 7 p.m. in the SEC Ballroom. For more information, please contact Dr. Glenn Ambrose at  ambrose@uiwtx.edu . 
Cardinal Couples Mass
Did you and your significant other meet at UIW? Come back to our beautiful campus to receive a special blessing from Fr. Tom Dymowski. The annual Cardinal Couples Mass will be held at 10:30 a.m., Sunday, Feb. 9 in Our Lady's Chapel.
After Mass, the UIW Department of Alumni Relations will have a sweet treat for all the Cardinal Couples in attendance. RSVP for the Cardinal Couples Mass here.
Cowboy Breakfast
The annual UIW Employee Cowboy Breakfast will be held at 8:30 a.m., Thursday, Feb. 6 in front of the Kelso Art Center. Come enjoy breakfast with colleagues, a raffle and more! 

Women's Global Connection: Girls Global Summit
Women's Global Connection is celebrating its 8th Annual Girls Global Summit from 9 a.m. - 1 p.m., Saturday, Feb.15 in the UIW McCombs Center Rosenberg Sky Room. This event offers impactful and thoughtful cross-cultural engagement led by middle and high school girls from across the San Antonio metropolitan area. Exploring themes that resonate with our Girl Groups, conference attendees will engage in several round-table discussions and participate in leadership development exercises designed to embolden and inspire summit guests. Due to the donations from generous supporters, this event is free to attend. For more information and/or to volunteer, please contact Marlene Diaz at  wgc.mdiaz@gmail.com .  Register for the Summit here.

Community News
Asian New Year
The UIW community gathered at the annual Asian New Year celebration on Thursday, Jan. 30. Guests enjoyed cultural experiences including live music and performances, authentic Asian cuisine and more.

This annual event provides UIW students and employees with an opportunity to celebrate the various Asian cultures represented on campus. 

Interfaith Youth Core Event
Dr. Eboo Patel, founder of the Chicago-based Interfaith Youth Core, spoke at Texas Lutheran University on Tuesday, Jan. 28. Students Zuleyha Goral and Melike Kilic attended alongside UIW faculty members Dr. Sumeyra Tek, Dr. Stephanie Grote-Garcia, Dr. Sandy Guzman Foster and Sr. Martha Ann Kirk, who currently have an Interfaith Innovation Grant from the Interfaith Youth Core. 

Compassion Tree Project Recognized at Blessing of the Peacemakers 
"The Compassion Tree Project" was highlighted by Mayor Ron Nirenberg at the Blessing of the Peacemakers and 25 th anniversary of the PeaceCENTER on Sunday, Jan. 26. The book  Heartwood, Wisdom from the San Antonio Peace Laureates  with an introduction by Arun Gandhi, grandson of Mahatma Gandhi, was released. Sr. Martha Ann Kirk, who was the 2013 laureate with the Sisters of Charity of the Incarnate Word, authored the chapter, "A person's 'compassion muscle' can be strengthened" which includes the story of the five Sisters who gave their lives to save over 90 children from the fire at St. John's Orphanage in 1912.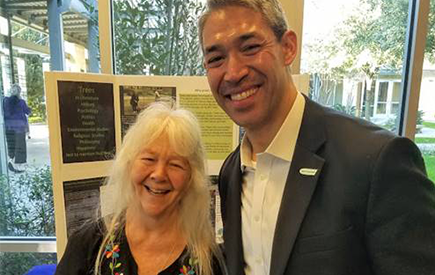 Mayor Nirenberg spoke of the collaboration to plant 20,000 trees in 2020 on behalf of Compassion San Antonio. A "Compassion Tree" was planted at UIW on Peace Day, 2019, launching educational and sustainability projects.  He noted that the Compassion Tree Project was about future generations and care for the earth. He concluded by quoting a Greek proverb: "A society grows great when old men plant trees in whose shade they know they shall never sit."
What to Do Before and After a Career Fair: Professional Development Day
During this session on Tuesday, Jan. 28, students had the opportunity to receive one-on-one resume reviews from Career Services staff and employer partners. Additionally, students learned tips and tricks about proper networking and how to land that job. Thank you for your commitment to student success, Career Services! 

UIW RSO Painting with a Twist
This week, the UIW Rosenberg School of Optometry's Low Vision and Rehabilitation Club enjoyed a special Painting with a Twist! The club gathered to paint a llama and raise funds for the Foundation Fighting Blindness.

Department News
FYE Student of the Month
The First Year Engagement (FYE) office will be highlighting a first-year student each month of the spring semester, as the FYE Student of the Month.  First year students may qualify by submitting a short essay describing how they have overcome challenges during their first year at UIW. The January FYE Student of the Month is Madison McMurtrie. Madison is a Liberal Studies major from Portland, TX.  Below, is an excerpt from Madison's submission about her first year as a UIW Cardinal.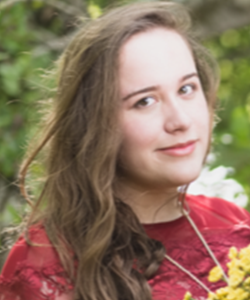 "I started to make a pretty amazing group of friends and even started to get more involved with small college activities. All my fears about the University vanished, and I finally began to understand the real joy of finding myself as a person and my love for literature. My grades improved and I ended the semester with pretty great-looking grades!"  
Want to learn about how the First Year Engagement Office can help your students? This semester, Dr. Raúl Zendejas will share academic tips for first year student success.  Schedule a classroom presentation here. For more information, contact Dr.  Raúl Zendejas at  rzendeja@uiwtx.edu  or 210-805-3006.  
SchoolDude Sign-on Procedure Change
SchoolDude access will be migrated under the Cardinal Apps portal on Friday, Feb. 7. On that date, the current/separate work order weblink or bookmark will no longer allow you to sign in. This change eliminates independent SchoolDude passwords and aligns the log-in process within the seamless single sign-on protocol. All other features of SchoolDude Maintenance Direct will remain. SchoolDude is a computerized software tool designed to facilitate and decentralize Facility-related work order requests and submittal. If you have questions, please contact Facilities Management at (210) 829-6023.   
Assessment: Looking at the Forest as Well as the Trees
Grading is demanding. It's easy to become entirely focused on individual students, trying to grade each assignment fairly and provide useful feedback. But it's also useful to occasionally step back and look at the big picture, to consider the forest as well as the individual trees. Doing that allows us to consider questions like these: Are my students learning to use course material to solve problems? If I spend an hour working with writing, what issue should I address? Should I adjust the amount of time I allot to various topics within my course? Participants in this workshop will learn strategies for more easily seeing patterns within the student work they already assign. In addition to helping us answer questions about our own teaching, these strategies can simplify the process of writing program reviews. This session will be held on Tuesday, Feb. 4 at noon in AD 212. Register for this assessment here. 
Search for Dean of Ila Faye Miller School of Nursing and Health Professions
Dear Members of the University of the Incarnate Word Community, 
Academic Search is working with the University of the Incarnate Word in its search for the next Dean of the Ila Faye Miller School of Nursing and Health Professions. We are reaching out to invite nominations from those of you in disciplines outside of the School of Nursing and Health Professions.
For more information about this opportunity,  expectations, qualifications, and the application process, please review the ad and  full position profile. 
To schedule a confidential call or offer nominations, please email uiwdeansnhp@academicsearch.org or reach out directly to the consultants leading this search:
We look forward to hearing from you soon!

Best Regards, 
Sharon Welkey, Search Committee Co-Chair
Tim Wingert, Search Committee Co-Chair  
Cardinals' Cupboard: Donations Needed
Any UIW student, staff or faculty member is welcome to the Cardinals' Cupboard Food Pantry located at Joeris Hall on the UIW Broadway Campus. Hours of operation are Tuesday through Thursday from 10 a.m. - 2 p.m. Did you know 25% of children identified as food insecure in San Antonio and Texas is ranked #2 in the nation for food insecurity? Help us make a difference by making a donation to the Cardinals' Cupboard!
Top 10 Requested Items:
Cereal
Canned beans
Tuna
Canned soup
Rice
Mac and cheese
Peanut butter
Granola bars
Pasta and pasta sauce
Toothpaste/soap
Monetary and food donations may be dropped off at the Ettling Center in AD 158 or Campus Engagement in SEC 3150, Monday through Friday from 8 a.m. - 5 p.m. To learn more about Cardinals' Cupboard, please contact the Ettling Center at (210) 283-6423.
Brainpower Connection
St. Anthony Catholic High School 2nd Annual Half Court Scholar-Shot
St. Anthony Catholic High School (SACHS) invites all middle school students to the 2nd annual Half Court Scholar-Shot. The Scholar-Shot will take place during tonight's basketball game vs. Feast at 7:30 p.m. at SACHS. Students have the opportunity to win a $500 scholarship by successfully making a half court shot during halftime. All students will receive 2 free tickets to the game with special seating accommodations. Pizza and drinks will be provided!  

Health-E News
A Special Message from Health Services re: coronavirus update
Dear Cardinal Community,
We are closely tracking the spread of the new coronavirus, first identified in December in Wuhan, Hubei Province, China. At this point, there are no known cases of the virus in San Antonio, but there are cases in the United States. The situation is changing rapidly, and we will provide updates when new information or guidance needs to be communicated.
Symptoms of this infectious illness include fever, cough and difficulty breathing. Based on current information, symptoms can appear anywhere from two to 14 days after initial exposure to the disease and can be transmitted from inhaling or touching infected droplets – usually through a cough or sneeze — from an infected person.
UIW has numerous health and wellness resources available to students including flu shots which are being offered at Health Services. No appointment is needed to obtain a flu shot. For more information, please contact Health Services at (210) 829-6017.
Whether or not any symptoms have appeared, if you are a student on and of the UIW campuses who has traveled from China in the past 14 days, we ask that you notify School of Medicine Student Health Services at (210) 829-6017.
Similarly, if you are a UIW employee who has traveled from China in the past 14 days, we ask that you notify UIW Health Services at (210) 829-6017.
Any such students or employees should monitor themselves for fever, cough and difficulty breathing. Anyone with these symptoms should make a follow-up call to UIW Health Services and follow instructions to get evaluated. It's important to call before showing up at a doctor's office or emergency room.
We follow guidelines established by the Centers for Disease Control and Prevention (CDC) for identifying and managing patients of concern.
During flu season, you will often see people on campus wearing masks. Please be reassured that seeing someone in a mask does not mean they have been exposed to this coronavirus. Again, we currently do not have anyone in our community being evaluated for this virus.
It's important to note that cold and flu season is nearing its peak. In the absence of travel to affected areas in China, or exposure to a known case of novel coronavirus infection, the presence of these symptoms is likely related to a cold or flu. Please remember to practice cold and flu prevention techniques. 
Members of our campus community are reminded to take precautions
The best way to prevent infection is to take precautions to avoid exposure to this virus, which are similar to the precautions you take to avoid the flu. CDC always recommends these everyday actions to help prevent the spread of respiratory viruses:
Wash your hands often with soap and water for at least 20 seconds. If soap and water are not available, use an alcohol-based hand sanitizer.
Avoid touching your eyes, nose, and mouth with unwashed hands.
Avoid close contact with people who are sick.
Stay home when you are sick.
Cover your cough or sneeze with a tissue, then throw the tissue in the trash.
Clean and disinfect frequently touched objects and surfaces.
For more information, please visit the CDC's website here.
We will continue to monitor and update our campus community on the coronavirus outbreak as needed.
Thank you for helping to protect our campus community.
Sincerely,
David E. Garza, DO, MS.MEdL
Medical Director, UIW Health Services 
Ronda Gottlieb DNP, APRN, FNP-C.
Director, UIW Health Services Clinic
Athletic News