The Word: UIW Community Newsletter - July 10, 2020
Spotlight

UIW Cardinal Flight Plan to Fall 2020

The University of the Incarnate Word is excited to welcome students to the nest - in person and virtually - this fall semester. With student and faculty safety in mind, the University has been hard at work making plans and solidifying protocols that will allow us to continue offering students a high-quality education as we monitor and adapt to COVID-19 developments. 
UIW is currently following a phased in approach to reopening, as recommended by the Centers for Disease Control. In order to continue to abide by this approach while still providing our Cardinals the tools they need to succeed at UIW, the University is preparing courses to be delivered for online, hybrid, and in-person instruction. University leadership will continually reassess the efficacy of moving all of our courses in-person when feasible and safe. Our intent is to provide our F-1 international students what they need to meet existing federal requirements; this is a priority for our planning committee as they finalize Fall 2020 plans.
Regardless of the modality of our courses, students will receive a quality education from faculty who are dedicated to student learning, growth and success. In addition, all of our student support services including Campus Engagement, Residence Life and others are hard at work to ensure that the student experience remains exactly what our Cardinals expect at UIW.  
Stay tuned next week as we roll out the UIW Cardinal Flight Plan to Fall 2020 with more information on UIW's plans for the upcoming semester. 
Mission & Ministry
COVID-19: A Prayer of Solidarity 

For all who have contracted coronavirus, 
We pray for care and healing. 
For those who are particularly vulnerable, 
We pray for safety and protection. 
For all who experience fear or anxiety, 
We pray for peace of mind and spirit. 
For affected families who are facing difficult decisions between food on the table or public safety, 
We pray for policies that recognize their plight. 
For those who do not have adequate health insurance, 
We pray that no family will face financial burdens alone. 
For those who are afraid to access care due to immigration status, 
We pray for recognition of the God-given dignity of all. 
For our brothers and sisters around the world, 
We pray for shared solidarity. 
For public officials and decision makers, 
We pray for wisdom and guidance. 
Father, during this time may your Church be a sign of hope, comfort and love to all. 
Grant peace. 
Grant comfort. 
Grant healing. 
Be with us, Lord. 
Amen. 
You Are Not Alone by Bishop Trevor Alexander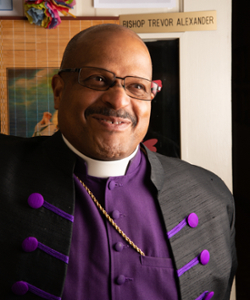 Some of you may be familiar with the term trauma and its effects. Trauma happens to us all at various stages of our lives. For example, graduating from middle school and going into high school can be a traumatic experience for some. Leaving your home and moving on a college campus can also be traumatic. Trauma is 100 percent "kin" to suffering. Trauma has the ability to become overwhelming and hinder one's ability to cope.
To a certain degree, our nation is suffering a sense of trauma from the COVID-19 pandemic, racial tension and more. I am sure that some of you are, in modern-day vernacular, "feeling some kinda way."  I want you all to know, you are not alone. You have people here at the University that want to hear from you. You have people that care about your well-being and helping you grow. Here are two questions for you to reflect on. First - do you know how to scream? Second - do you understand your own language of lament?
We human beings have a language of lament, but often it doesn't sound very theological. For example, you may say to your best friend, " You never have time for me. You can talk with your other friends all day, but you can't find time to sit and talk to me, you are always too busy for me. Do you want this friendship to work?"   Your best friend may not be quick to pick up the words of lament, because s/he will usually be busy trying to defend his/her actions. Nevertheless, there is a cry of lament not being heard.
What is lament? Let me give you my working definition:  Lament is about honestly tapping into our emotions and a willingness to engage in an external and internal conversation that will somehow transcend words and attitudes. Lament is the willingness to journey with our PAIN and an invitation for God to come into our conversations. On the Road to Emmaus, the disciples were feeling lost, hurt, and confused. Jesus showed up, uninvited, and walked with them. He engaged them in conversation and caused a change in them. This internal change led to an external action. They journeyed back to Jerusalem.
If you are feeling confused, struggling, trying to find answers, reach out to us, reach out to someone. You are not alone. Invite the Lord into your conversation and your struggles. Maybe He is already present with you on this journey, but you are not aware of His presence, yet. Remember, "… a threefold cord is not quickly broken." Truth can feel like a heavy burden for the hurting, but in most cases, it will provide relief for the pain/struggles/confusion we may be feeling.
Academics
UIW Receives Major Grant Funding for Drone Project

The University of the Incarnate Word (UIW) is pleased to announce that the Department of Defense (DoD) and the Army Research Office has awarded $643,759 to a research project led by Dr. Michael Frye, professor of Electrical Engineering in the School of Mathematics, Science and Engineering. 
Frye is the principal investigator of the UIW Autonomous Vehicle Systems (AVS) Research and Education Laboratory. His team will develop new indoor and outdoor research capabilities in the area of artificial intelligence and autonomous decision-making.
"The DoD Basic Research Grant will provide opportunities for the AVS Lab to research new areas in artificial intelligence for autonomous air and ground vehicles," says Frye. "The Lab will have new exciting opportunities for UIW undergraduate and graduate students to research and explore areas that are in high demand right now and of national importance."
The award is the result of a merit competition administered by the Army Research Office under policy and guidance of the Office of the Under Secretary of Defense for Research and Engineering (OUSD(R&E)), to increase the capabilities of HBCU/MIs to perform defense research. The Army Research Office is an element of the U.S. Army Combat Capabilities Development Command's Army Research Laboratory.
Funding for the project will cover the next three years.
UIW Faculty Member Serves as Co-editor of New Book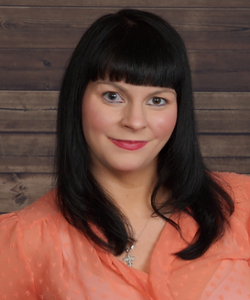 Dr. Luella D'Amico, assistant professor of English and coordinator of the Women's and Gender Studies program, served as co-editor (along with Robin L. Cadwallader) of the recently published book, Reading Transatlantic Girlhood in the Long Nineteenth Century. This collection is the first of its kind to interrogate both literal and metaphorical transatlantic exchanges of culture and ideas in nineteenth-century girls' fiction. As such, it initiates conversations about how the motif of travel in literature taught nineteenth-century girl audiences to reexamine their own cultural biases by offering a fresh perspective on literature that is often studied primarily within a national context. Women and children in nineteenth-century America are often described as being tied to the home and the domestic sphere, but this collection challenges this categorization and shows that girls in particular were often expected to go abroad and to learn new cultural frames in order to enter the realm of adulthood; those who could not afford to go abroad literally, could do so through the stories that traveled to them from other lands or the stories they read of others' travels. Via transatlantic exchange, then, authors, readers, and the characters in the texts covered in this collection confront the idea of what constitutes the self. Books examined in this volume include Adelaide Trafton's An American Girl Abroad (1872), Johanna Spyri's Heidi (1881), and Elizabeth W. Champney's eleven-book Vassar Girl series (1883-92), among others. 
UIW and San Antonio Catholic Colleges Awarded Grant

Dr. Carlos Garcia, dean of the School of Mathematics, Science, and Engineering, reports that UIW, along with St. Mary's University, Our Lady of the Lake University, and Trinity University, are recipients of the National Science Foundation's Louis Stokes Alliances for Minority Participation Grant. This competitive grant program funds proposals aimed at increasing under-represented students' success in STEM fields to increase the number of students in these fields who pursue graduate and doctorate degrees. UIW's co-project director is Dr. Veronica Acosta, professor of Biology. 
COVID-19
Community Updates
The dignity, health and wellbeing of every member of the University of the Incarnate Word community remains an institutional priority at the heart of our Mission. In response to this pandemic, UIW has assembled a team that meets daily to ensure that every possible contingency to keep campus life moving forward is considered when making campus-wide decisions. UIW continues to work closely with local and state officials, is taking all precautions as directed by the CDC, and sharing preventative information and resources with the University community via email. As a community, we offer our prayers for all of those affected by COVID-19 and all those who care for them.
In the News 
KENS5: How the University of the Incarnate Word prepared for ICE's announcement on international students and online learning
Click to watch: FOX San Antonio - New Incarnate Word AD Duran excited for Cardinals' future 

Service
I Wear a Mask for... 

Practicing compassion and kindness can take shape in many ways, including wearing a face mask. The "I Wear a Mask for..." campaign is intended to inspire and educate the public on the importance of wearing a mask/face covering to help minimize the spread of COVID-19, which some research reveals may mitigate the spread of the virus by 40%. Here are a few pointers for putting on and taking off a cloth mask:
Place your mask over your mouth and nose. 
Tie it behind your head or use ear loops and make sure it's snug. 
Don't touch your mask while wearing it. 
If you accidentally touch your mask, wash or sanitize your hands. 
Remove the mask by untying it or lifting off the ear loops without touching the front of the mask or your face. 
Wash your hands immediately after removing your mask. 
Regularly wash your mask with soap and water in the washing machine. It's fine to launder it with other clothes. 
For more information, please visit the CDC website.
The UIW community is encouraged to submit a 15-30 second video or picture answering the phrase, "I wear a mask for..." Students may register to earn community service hours by visiting GivePulse.   
For more information on how to get involved, please contact the Ettling Center at  ccl@uiwtx.edu  or call 210-832-3208.
Community News  
A Special Message from Marcos Fragoso, VP for International Affairs

On Monday, the Department of Homeland Security's Student and Exchange Visitor Program announced modifications to guidelines regarding international students holding F-1 visas that permit them to study in the United States.
According to the agency, guidelines for Fall 2020 semester options state that:
F-1 students enrolled in schools operating exclusively online may not take a full course load online and remain in the U.S.; or
F-1 students enrolled in schools offering face-to-face instruction can continue their studies as they normally would under federal regulations; or
For F-1 students at universities offering a hybrid model of learning, a mix of online and face-to-face classes, certifying school officials are reviewing program requirements to authorize the minimum number of online courses required to make normal progress.
As a global community of faith and education, the University of the Incarnate Word is proud to be a place of international study and a welcoming environment for students from all over the world. While the guidance from DHS is new and complex, administrators and faculty have been working to ensure a path forward for the international students who look to us for their education.
We will continue to share updates with our community as they become available. If you have any questions or concerns, please contact intl@uiwtx.edu .
Sincerely,
Marcos Fragoso
Vice President for International Affairs
President's Council on Equity, Diversity and Inclusion - George Floyd Memorial Fund

At the University of the Incarnate Word, we share in the grief and the collective call to action from every corner of the globe in the wake of the death of George Floyd. Social justice is not just a passive core value at UIW. We actively seek social justice in our teaching, learning, and how we interact as a community.  
Dr. Evans has tasked the President's Council on Equity, Diversity and Inclusion to reconvene and put forth recommendations on how we can improve as an institution. Originally convened in 2017 and co-chaired by Sr. Walter Maher, CCVI, vice president of Mission & Ministry, and Dr. Barbara Aranda-Naranjo, chief academic officer and provost, this council includes students, faculty and staff from throughout the University. 
Although we remain apart due to the COVID-19 pandemic, you have continued to show your support back to the University as One Word. At the request of several faculty and staff seeking an appropriate recognition at UIW in the memory of George Floyd, Dr. Evans has authorized the creation of the George Floyd Memorial Fund. Contributions to this fund will support the work and recommendations established by the President's Council on Equity, Diversity and Inclusion. If you are able, please make a donation of any size to fund and encourage future Black leaders in our UIW family.
Gifts of all sizes make a big difference.  
Signed:
Co-chairs: President's Council on Equity, Diversity and Inclusion 
Sr. Walter Maher, CCVI, vice president of Mission & Ministry 
Dr. Barbara Aranda-Naranjo, chief academic officer and provost
Members: 
Dr. Emily Clark 
Dr. Roger Barnes 
Bishop Trevor Alexander  
Aimeé Galindo, Student Government Association President
Cardinal Corner
Cardinals on the Frontlines: From the Pool to PT School  

Like most meetings since the start of the COVID-19 pandemic in March, two former University of the Incarnate Word student-athletes sit in front of their computers catching up, asking each other how school is going and if the pools in their area are open yet. Both their lives revolved around the pool. Both are in physical therapy school. And both have had their lives and education altered by the pandemic. 
"In PT school, you have to study the way that you train for a sport," said Beau Fusilier.  
Fusillier and Rachel Rosolowski were student-athletes on the swimming and synchronized swimming teams, respectively, at UIW. Fusilier is now in an accelerated program at the University of Mary Hardin Baylor, and Rosolowski is in her second year at Cal State Long Beach. 
When the pandemic began, Fusilier was in the middle of his spring break. The school extended spring break to allow the professors to transition their material online. Rosolowski was still taking classes at Cal State and rushed to finish a few labs before switching to online course work. The transition at both locations was smooth at first, but there were also complications without the added labs. 
"The first week I was like 'this is kind of cool', but motivation lasted about a week," said Fusilier. 
"It became really easy to get distracted. The visualization part of [learning] basically moved to lecture intense and looking at imaging made it a lot harder to learn versus the cadaver lab."  
Still there were some advantages to the online learning. 
"There are things that are better," said Rosolowsi. "I can listen to the [pre-recorded] lectures at the speed and time that I want. However, you had to work harder to learn the material because they pretty much stopped our labs and the labs are what help concrete the material." 
Having to balance an intense schedule as a student-athlete – one that consisted of classes, competitions, practices and extra curriculars – primed both Fusilier and Rosolowski to be able to juggle schedules and use their time wisely. 
"You have to be consistent and you can't really take time off," said Fusilier. "My afternoon and morning times that were dedicated to sports are now transitioned into the hours that I spend studying a variety of courses." 
"Transitioning into grad school, I thought 'there's so much work, I just don't know how I am going to keep up with it,'" Rosolowski chimed in. "[A former UIW teammate] reminded me that 'You were an athlete, you were in SAAC, you were in theatre. You are going to be fine; you just have to figure how to balance it.'" 
For Rosolowski, being a student-athlete helped prepare her, but so did her classes, like functional anatomy with Dr. Reid Fisher. 
"Dr. Fisher really pushed me to ask for help and ask for the 'why' and I really carried that forward. Struggling in that class has helped me in my struggle now because I am not scared to ask for help." 
Still, with the pandemic, a push for telehealth (virtual appointments) has increased and become an integral part of their education. 
"We have had to write papers on telehealth and in the exercise physiology class, we had to develop exercise videos and practice doing them with a partner in place of a patient," Rosolowski said. "I think even if the pandemic isn't a reality, telehealth could become a thing. There's something so convenient and efficient about being able to do things online. Especially for patients that have to get a service or a family member to drive them to therapy." 
Despite the challenges that came with transitioning into online learning during a pandemic, the adversities have also prepared them for a career in physical therapy and the new normal.  
"The education has prepared us for a career if [the pandemic] ever occurs again, or if it is still a thing by the time I graduate come December," said Fusilier. "I feel like I won't be nervous going into a job where they are meeting their patients online and doing telehealth." 
Alumni and Parent Relations
UIW Parent Association

Have you thought about joining the UIW Parent Association? 
This association will strive to increase parent involvement in the Mission of the University through two direct measures:  
Help prepare parents for the changes and challenges their student will face in a University setting. 
Encourage involvement from current parents through mentoring, internship opportunities, campus activities and special events.  
UIW Parent Association members are also encouraged to get involved in the recruitment of new students, participate in Parent and Family Day and other events hosted by different departments of the University. 
Click here to submit your application today!
COVID-19: College Parents Speak Out Survey 

The UIW Parent Association is proud to be part of a national research study to understand the needs and experiences of families during the COVID-19 pandemic. This survey will help us and other programs like ours understand this experience and consider how we can better serve parents and families as they support their college students.   
 
The online survey takes about 10 minutes to complete. In order to be included, you'll need to complete the survey by July 20, 2020. After completing the survey, you can choose to be entered into a drawing to win 1 of 20 $25 gift cards. Your responses will be kept private and will not affect your relationship with your student's institution. 
REDTalks

REDTalks are exclusive opportunities for UIW alumni to share experiences, ideas, and career development tools with the UIW community. This series of webinars are hosted via Zoom and Facebook Live. Watch past REDTalks from your fellow Cardinals here.
If you're interested in participating in a future REDTalk, please fill out this form in its entirety. The Alumni Association will be in contact within 5 to 7 business days upon submission. Should you have any questions, please don't hesitate to contact alumni@uiwtx.edu. 
Athletics
UIW places program-record, conference-high 175 on 2020 Spring SLC Commissioner's Honor Role

The University of the Incarnate Word Athletic Department placed a program-record, conference-high 175 student-athletes on the 2020 Spring Southland Conference Commissioner's Honor Roll, announced the league office on Monday. 
"We ask our student-athletes to be champions in the classroom, and they were able to accomplish this even with the unusual circumstances of the spring semester" said UIW Athletic Director Richard Duran. "I am excited that their efforts in the classroom are being recognized." 
Out of the 175 honorees, 41 Cardinals achieved a perfect 4.0 GPA for the spring semester. 
This is the second consecutive spring that the Cardinals have led the SLC in Commissioner's Honor Roll recipients (UIW had a league-leading 147 in spring 2019). For individual teams, UIW also had conference-best numbers in men's basketball (14), softball (25), men's tennis (10) and men's track and field (34). 
The men's track and field team, with 34 recipients, led the Cardinals, while baseball followed with 29 on the list.   
The 2020 Spring SLC Commissioner's Honor Roll recognizes student-athletes in the sports of baseball, men's basketball, women's basketball, men's golf, women's golf, softball, men's tennis, women's tennis, men's track and field and women's track and field who earned at least a 3.0 semester GPA and were eligible to compete during the spring. 
To see the full 2020 Spring Southland Conference Commissioner's Honor Roll, click here (PDF). 
Aday, Davis, Hurtado and Stowers earn WGCA All-American Scholar honors

Four student-athletes on the University of the Incarnate Word women's golf team –  Gracie Aday, Charlotte Davis, Estefania Hurtado and Iliana Stowers – earned Women's Golf Coaches Association (WGCA) All-American Scholar accolades, announced the organization Monday.  
The criteria for selection to the All-American Scholar Team are some of the most stringent in all of college athletics. The minimum cumulative GPA is 3.50.  
Gracie Aday | Senior | 3.69 | Communication Arts 
Played in nine tournaments for UIW  
Had a low round of 69 (-3) at the USA Intercollegiate  
Best three-round score was a 219 at the USA Intercollegiate (par 72)  
Top finish was 11th at the UTRGV Invitational  
After shooting a 79, Aday came back and shot a 71 (-1) in round two, followed by a 69 (-3) in the final round, to tie for 13th at the USA Intercollegiate  
Charlotte Davis  | Junior | 3.65 | Golf Management 
Played in four tournaments for UIW  
Best three-round score was a 230 at the Islander Classic (par 72)  
Top Finish was T-21 at the Islander Classic  
Estefania Hurtado  | Freshman | 3.85 | Biology 
Played in seven tournaments for UIW  
Had a low round of 71 (-1) at the Maryb S. Kauth Invitational  
Had her best three-round score twice, carding a 222 at the USA Intercollegiate and the Maryb S. Kauth Invitational (both par 72)  
The 222 at the Maryb S. Kauth Invitational earned Hurtado her best finish of the season at T-4  
Iliana Stowers  | Sophomore | 3.61 | Communication Arts 
Played in eight tournaments for UIW  
Had a low round of 72 at the Rainbow Wahine Invitational  
Best three-round score was a 224 at the Rainbow Wahine Invitational (par 72)  
Top finish was T-10 at the Huntsville Toyota Bearkat Invitational  
Bailey, Hill, Leffingwell earn Srixon/Cleveland Golf All-American Scholar honors 

Three University of the Incarnate Word men's golf student-athletes –  Trevor Bailey, John Hill and Trenton Leffingwell  – were selected as Srixon/Cleveland Golf All-America Scholars, announced the Golf Coaches Association of America on Thursday. 
"I am so grateful to have leaders like this on our team," said UIW Head Coach Remy Huston. "They have earned everything they have received, and it is exciting to see three student-athletes get this award for the first time in school history." 
Trevor Bailey   | Junior | 4.0 | Accounting 
Played in seven tournaments for UIW 
Held a 75.9 stroke average 
Had a low round of 69 (-3) at the La Tour Intercollegiate 
Best three-round score was a 216 at the La Tour Intercollegiate (par-72) 
Top finish was T- 28 with a total score of 221 at the Herb Wimberly Intercollegiate 
Also earned Academic All-District® Men's At-Large First Team, selected by CoSIDA, and Southland Men's Golf All-Academic first team 
John Hill   | Senior | 3.62 | Management 
Played in six tournaments for UIW 
Held a 71.33 stroke average 
Had a low round of 65 (-7) at the Mark Simpson Colorado Invite 
Best three-round score was a 209 at the Mark Simpson Colorado Invite (par-72) 
Top finish was T-3 at the Colin Montgomerie Invitational 
Named Southland Conference Men's Golf Student-Athlete of the Year and earned Southland Men's Golf All-Academic first team honors 
Trenton Leffingwell  | 3.82 | Finance 
Played in five tournaments for UIW 
Held a 73.73 stroke average 
Had a low round of 70 (-2) at the 2020 Gulf Coast Collegiate 
Best three-round score was a 218 at the La Tour Collegiate and the 2020 Gulf Coast Collegiate (both par-72) 
Top finish was T-9 at the 2020 Gulf Coast Collegiate 
To be eligible for Srixon/Cleveland Golf All-America Scholar status an individual must be a sophomore, junior or senior academically. In addition, they must have a stroke-average under 76.0 and maintain a minimum cumulative career grade-point average of 3.2. For 2019-20, they must participate in 40% of the team's competitive rounds.