The Word: UIW Community Newsletter - July 24, 2020
Spotlight

UIW Cardinal Flight Plan to Fall 2020
On Monday, July 20, UIW launched its Cardinal Flight Plan to Fall 2020 at uiw.edu/cardinalflightplan! We invite our Cardinal Community to explore the new site, which is full of information for students and community members about the upcoming semester at UIW. The University of the Incarnate Word is excited to welcome students to the Nest - in person and virtually - this fall semester. With student and faculty safety in mind, the University has been hard at work making plans and solidifying protocols that will allow us to continue offering students a high-quality education as we monitor and adapt to COVID-19 developments. 
UIW is currently following a phased in approach to reopening, as recommended by the Centers for Disease Control. In order to continue to abide by this approach while still providing our Cardinals the tools they need to succeed at UIW, the University is preparing courses to be delivered for online, hybrid, and in-person instruction. University leadership will continually reassess when it is safe to introduce supplemental in-person instruction. 
Regardless of the modality of our courses, students will receive a quality education from faculty who are dedicated to student learning, growth and success. In addition, all of our student support services including Campus Engagement, Residence Life and others are hard at work to ensure that the student experience remains exactly what our Cardinals expect at UIW.  
Academics 
Rosenberg School of Optometry Faculty Named to Accreditation Council on Optometric Education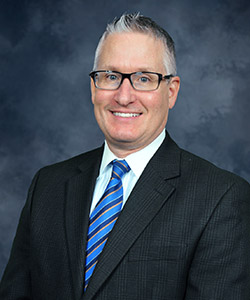 Dr. William L. Miller, professor and associate dean of Academic Affairs at the Rosenberg School of Optometry (RSO), has been named to a three-year term as a member of the Accreditation Council on Optometric Education (ACOE). Dr. Miller has had a long and distinguished career in optometric education at three separate institutions. He has served on numerous accrediting teams evaluating optometric programs and was nominated by the Association of Schools and Colleges of Optometry for this role on the accrediting body.
"His activities with ACOE will strengthen the expertise he brings to his current role as associate dean for Academic Affairs," said Timothy Wingert, dean of RSO. This appointment recognizes Dr. Miller's understanding of what goes into the accreditation process and will offer him the opportunity to see trends in advance of their implementation. 
Dr. Miller received his O.D., a combined M.S./Residency in Cornea and Contact Lens and PhD in Physiological Optics at The Ohio State University. He is a diplomate in the American Board of Optometry, a Fellow of the American Academy of Optometry and a member of the American Optometric Association and International Contact Lens Educators. He is on the editorial board of the Eye and Contact Lenses Journal, serves as a contributing column editor for Contact Lens Spectrum, and is a board member for the Ocular Surface Society of Optometry. Dr. Miller was named TOA Educator of the Year in 2017. He is involved in both the didactic and clinical education at the Rosenberg School of Optometry, participating in patient care at the UIW Eye Institute. 
Faculty Promote Compassion through City-Wide Training Effort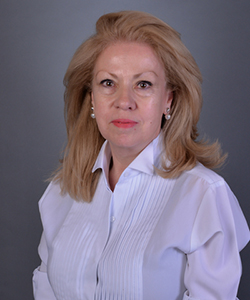 Two faculty from the H-E-B School of Business and Administration are among 160 educators to complete the San Antonio Compassionate Institute, a training program that equips educators to prioritize compassion in their classrooms.
Drs. Trish Driskill and Nursen Zanca participated in the program across June and July to learn new ways of bringing compassion to the classroom.
The institute is organized by Compassionate San Antonio, a grassroots initiative that encourages the community and educators to practice compassion and understanding. Compassionate San Antonio seeks to impart basic human values as skills for the purpose of increasing individual, social and environmental compassion. The courses at the institute were delivered online by trainers from around the world.
Dr. Driskill, a member of the HEBSBA accounting faculty, said the goal was to focus not on perfection, but on a progression toward a more compassionate San Antonio starting with the city's educators.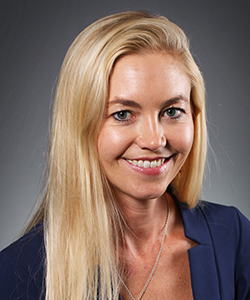 "The institute provided so many learning opportunities, from self-compassion to inclusivity of individuals outside of our in-groups, discernment, and how everyone has a different perspective based on their life experiences," Dr. Driskill said.
Drs. Driskill and Zanca worked with other university professors as well as K-12 educators throughout the coursework. Working with educators from all levels helps to empower teachers and professors to better understand how to demonstrate compassion toward students throughout their education.
"It is very important to train students in our classes toward more compassion in their lives. That is the way we can plant the seeds of compassion - by making changes in our students' lives," said Dr. Zanca, who is part of the economics faculty. "It was a pleasure to meet other faculty and administrators across San Antonio. In addition, the timing of the training during COVID-19 was an added benefit."
MHA Faculty Present Competency Evaluation Model at International Conference

Two faculty in the Master of Health Administration program recently presented the department's innovative model for evaluating student competencies and program effectiveness at an international conference hosted by the Association of University Programs in Health Administration (AUPHA).
MHA Director Dr. Chris Nesser and Assistant Professor Dr. Lynn Downs illustrated the program's competency evaluation model through a virtual poster presentation after the AUPHA conference was moved online due to the COVID-19 pandemic.
The poster, titled "Measuring Student Competency Achievement for the Future: Infusing the Continuous Improvement Process," demonstrates the MHA program's effort to continually improve its curriculum in order to provide a premiere education for its students.
Click here for the full story.
COVID-19
Community Updates

On Monday, July 20, UIW launched its new COVID-19 Response site. At the site (linked below), you'll find information regarding UIW's Continuity of Operations Phase Plan, safety rules, links to helpful forms and more. As always, any questions about UIW's response to COVID-19 may be submitted here. 
Mission & Ministry
Prayer: Mend What is Broken

Gracious God,
I call on you right now in a special way.
It is through your power
that I was created.
Every breath I take,
every morning I wake,
and every moment of every hour,
I live under your power.
I ask you now to touch me
with that same power.
For if you created me from nothing,
you can certainly recreate me.
Fill me with the healing power of your spirit.
Cast out anything that should not be in me.
Mend what is broken.
Root out any unproductive cells.
Open any blocked arteries or veins
and rebuild any damaged areas.
Remove all inflammation and
cleanse any infection.
Let the warmth of your healing
love pass through my body
to make new any unhealthy areas
so that my body will function
the way you created it to function.
Restore me to full health
in mind and body so that I may
serve you the rest of my life.
In the News 
KENS5: Youngest athletic director Richard Duran is determined for dream job at UIW
Service
I Wear a Mask for... 

We recently challenged our UIW community and friends to submit a picture or video about why they wear a mask! Some of our Cardinal submissions are pictured above. Practicing compassion and kindness can take shape in many ways, including wearing a face mask. The "I Wear a Mask for..." campaign is intended to inspire and educate the public on the importance of wearing a face mask.
The UIW community is encouraged to submit a 15-30 second video or picture answering the phrase, "I wear a mask for..."
Students may register to earn community service hours through this project by visiting GivePulse. For more information on how to get involved, please contact the Ettling Center at   ccl@uiwtx.edu  or call (210) 832-3208.
Community News   
A Message from Marcos Fragoso, VP for International Affairs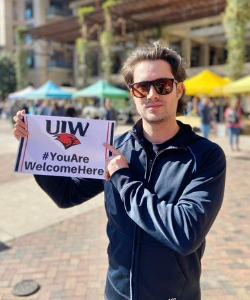 On Tuesday, July 14, the University of the Incarnate Word welcomed the announcement from the Department of Homeland Security to rescind the guidelines issued July 6 to the Student and Exchange Visitor Program (SEVP). This action means institutions hosting F-1 students must follow the previous SEVP guidance issued in March.  
The University was proud to sign a higher education community institutional letter sent to Congress, coordinated by the American Council on Education and the National Association of Independent Colleges and Universities. UIW is supportive of our global community and we are grateful for the resilience of our faculty and student's during this time.
Certifying school officials will continue to review program requirements under the March guidelines to ensure F-1 students are able to make normal progress.
UIW's Office of International Affairs will continue to share updates with our community as they become available. If you have any questions or concerns, please contact Jose Martinez, director, Office of International Students and Scholar Services at intl@uiwtx.edu.
Cardinal Corner
Meet Devon Chance from the UIW Class of 2024
UIW Graduate Eduardo Bravo, BBA, '14 One of Three Founders Whose Urban Services App Just Raised $1.2 Million
Click here to read the Forbes feature.
Alumni and Parent Relations
UIW Parent Association

Have you thought about joining the UIW Parent Association? 
This association will strive to increase parent involvement in the Mission of the University through two direct measures:  
Help prepare parents for the changes and challenges their student will face in a University setting. 
Encourage involvement from current parents through mentoring, internship opportunities, campus activities and special events.  
UIW Parent Association members are also encouraged to get involved in the recruitment of new students, participate in Parent and Family Day and other events hosted by different departments of the University. 
Click here to submit your application today!
REDTalks

REDTalks are exclusive opportunities for UIW alumni to share experiences, ideas, and career development tools with the UIW community. This series of webinars are hosted via Zoom and Facebook Live. Watch past REDTalks from your fellow Cardinals here.
If you're interested in participating in a future REDTalk, please fill out this form in its entirety. The Alumni Association will be in contact within 5 to 7 business days upon submission. Should you have any questions, please don't hesitate to contact alumni@uiwtx.edu. 
Athletics
Volleyball Earns 2019-20 USMC/AVCA Team Academic Award 

The University of the Incarnate Word volleyball team earned the 2019-20 USMC/AVCA Team Academic Award, announced the American Volleyball Coaches Association, in conjunction with the United States Marine Corps, on Monday.
"I am thrilled to see our team finish on a strong note especially during a pandemic," said Head Coach Samantha Dabbs Thomas. "I am proud of their dedication on and off the court."
The Cardinals were one of 1,313 teams across the high school and college level to earn the award for the 2019-20 year. This marks the third straight year that UIW has earned the honor; UIW was first recognized with this accolade in 2018 when Dabbs Thomas took over as head coach.
The award recognizes teams that maintain a year-long grade-point average of 3.30 on a 4.0 scale or 4.10 on a 5.0 scale. UIW boasted a 3.38 semester GPA and a cumulative GPA of 3.41 to qualify for the award.
Track & Field Teams Earn USTFCCCA All-Academic 

The University of the Incarnate Word men's and women's track and field teams were recognized as 2020 NCAA Division I All-Academic Teams by the U.S. Track & Field and Cross Country Coaches Association (USTFCCCA) on Thursday. Freshman Afiah Brathwaite was recognized as an All-Academic Athlete as well.
"I'm beyond proud of the resiliency, commitment, and fortitude demonstrated by the student-athletes that make the UIW track and field program such a dynamic and successful program," Head Coach Dr. Derek Riedel said. "The spring 2020 semester put each of our student-athletes in a never-before-seen situation. They could have folded and made excuses, but they chose to adapt and persevere and double down on their academic commitment. They passed this test with flying colors and showed once again how elite they are academically."
Brathwaite, an accounting major with a 3.25 GPA, was one of 659 women from across 178 institutions who were recognized as All-Academic Athletes. The freshman qualified athletically for the honor after clearing 1.73 meters in the high jump event at the Texas Tech Shootout (Feb 14-15), landing her among the top 96 in an individual event for the indoor season.
"Both the women and men set program records with their cumulative GPA (3.55 and 3.31 respectively) and answered the challenge the coaching staff gave them – to improve their GPA after the fall and put more people on the Dean's list."
The women's team was one of 264 programs recognized for academic excellence across the nation after posting a cumulative GPA of 3.55. This was the second-best GPA in the Southland Conference (behind McNeese) and the fourth-best GPA in the state (behind Baylor, Rice and Houston).
The men's team had a 3.31 cumulative GPA and was among 199 teams recognized. The Cardinals boasted the highest GPA on the men's side of the league and the third-highest GPA in the state (behind Baylor and Rice).

Men's basketball recognized with NABC Team Academic Excellence Award 

The University of the Incarnate Word men's basketball team was recognized on Thursday with the Team Academic Excellence Award, created by the National Association of Basketball Coaches (NABC) Committee on Academics
"Our student-athletes' lecture-hall prowess shows that they embrace the model of sports in a higher education setting, which is awesome," said UIW Head Coach Dr. Carson Cunningham. "A team GPA over 3.4 for the academic year is one of the highest I've seen in men's college basketball. And, practically speaking, a recent study by the Economic Policy Institute shows that not getting a degree could cost a person $1 million in lifetime wages, and that the unemployment rate is way lower for those with college degrees than those without. So I'm really happy for the fellas and storied Incarnate Word."
These awards recognize outstanding academic achievement by a team with a cumulative grade point average (GPA) of 3.0 or better for the 2019-20 season. In order to earn a NABC Team Academic Excellence Award, institutions in the NCAA, NAIA and NJCAA must count the grade point averages of all men's student-athletes who competed during the 2019-20 season.
The Cardinals boasted a 3.46 team GPA for the 2019-20 year. UIW also won nine games overall, with six in the Southland Conference. Both marks are the most for the program since 2016-17.
Men's Golf Earns GCAA 2019-20 Outstanding Team Academic Award 

The University of the Incarnate Word men's golf program was named a 2019-20 Outstanding Team Academic Award winner, announced the Golf Coaches Association of America (GCAA) on Thursday.
"I'm grateful to have young men who choose to work hard in all aspects of their life," said UIW Head Coach Remy Huston. "They motivate each other and me to keep striving for our goals. We know that we have great things in front of us, and they make the process enjoyable."
250 schools across all divisions (Division I, Division II, Division III, NAIA, NJCAA I and NJCAA II) submitted GPAs of 3.0 or above, with 95 of those schools earning Presidents Special Recognition Honors, finishing with a team GPA of 3.5 and above.
The Cardinals ended the 2019-20 school year with a 3.69 team GPA, receiving Presidents Special Recognition Honors.