The Word: UIW Community Newsletter - June 19, 2020
Spotlight
A Message from President Evans Regarding Supreme Court DACA Decision (June 18, 2020)

Dear Students, Faculty and Staff,
Today's decision by the United States Supreme Court regarding the Deferred Action for Childhood Arrivals, or DACA, is one for which many throughout the country and in our own community have been waiting and praying. In upholding the DACA program, it allows Dreamers continued protection from deportation and the chance to pursue an education or career.
To the Dreamers in our student community, we stand with you and celebrate today's decision. We are so glad to be able to continue supporting you in your academic journeys and we will continue to help you make your dreams of a college education a reality. We are blessed to serve your great potential to make positive change in the world.
To DACA recipients among our faculty and staff, you are valuable members of our UIW family and have contributed to our institution in countless ways. We are grateful for the opportunity to continue working together for the benefit of all of our students and to prepare them to be concerned and enlightened citizens in the global community.
Today's decision aligns with our commitment as a Catholic institution to promote the dignity of every person and our Mission to welcome into our community persons of diverse backgrounds as we pursue the discovery of truth, mutual understanding, self-realization and the common good. I pray we take today's progress as a sign of hope for a positive, permanent solution.
Praised be the Incarnate Word!
Sincerely,
Thomas M. Evans, PhD
President
Mission & Ministry
Cardinal Inspirations: Ann Tarrillion, UMM Volunteer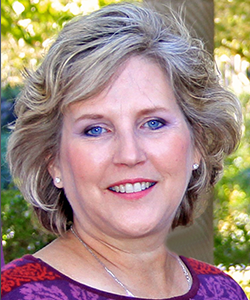 "Start where I am. Use what I have. Do what I can."
This quote speaks to me while "safer at home". I shouldn't run to the store to get what I physically need. I can't just run to my friends or the church to get what I emotionally need. 
"Starting where I am" has me accepting the world is not perfect. People in my house are not perfect. I am not perfect.  
With a little creative problem solving, I can… 
"Use what I have" to satisfy my needs - that applies to resources, people and myself. Need fabric for mask making? I can reuse my husband's old, torn shirt. Need a hug or a laugh? I've "Zoomed" more lately than I ever have in my lifetime. Anxious and germaphobic? I calm myself by turning off the TV and reading, including scripture (thank heavens for the Laudate and Bible apps)! 
"Do what I can" has me mindfully focusing on what I can accomplish, not what I didn't. No potatoes in the house to go with a simple meal? Pasta will do nicely without negative self-talk for not planning ahead. Can't physically be with students? We are all connected, and I hope this encourages you! Stay safe and well, Cardinals. See you soon!
A Prayer for Peace of Mind

Almighty God,
We bless you for our lives,
we give you praise for your abundant mercy
and for the grace we have received.
We thank you for your faithfulness
even though we are not that faithful to you.
Lord Jesus,
We ask you to give us all around
peace in our mind, body, soul and spirit.
We want you to heal and remove everything
that is causing stress, grief, and sorrow in our lives.
Holy Spirit,
please guide our path through life
and make our enemies be at peace with us.
Let your peace reign in our family,
at our place of work,
businesses
and everything we lay our hands on.
Triune God,
let your angels of peace
go ahead of us when we go out
and stay by our side
when we return.
Amen!
Academics
UIW Names New Dean for Ila Faye Miller School of Nursing and Health Professions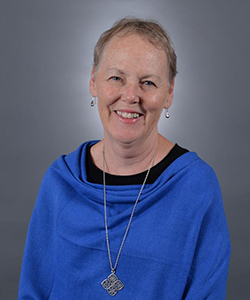 The University of the Incarnate Word is proud to announce that Dr. Holly Cassells has been selected and elevated to the post of dean for the Ila Faye Miller School of Nursing and Health Professions. Cassells has been acting as the interim dean since August 2019 and has been a UIW faculty member in the nursing program since 1982.
"I would like to congratulate Dr. Cassells and I look forward to her leadership and collaboration within the Provost Deans Council and across our UIW community," says UIW Provost Dr. Barbara Aranda-Naranjo. "In these uncertain times we are fortunate to have strong, experienced leadership with Dr. Cassells to guide our faculty, staff and students to become the next leaders in nursing and health professions to serve those in need. I ask that we all continue to pray for one another, for Dr. Cassells in her new role and for all of our students as we continue to live our UIW Mission in educating and serving others." 
"Assuming the dean's role is a wonderful opportunity to advance the university's Mission, and those of our school's diverse health professions programs," says Cassells. "Our school has a long tradition of educational excellence which we will sustain. We have a fabulous cadre of hard-working faculty and staff. Our students are engaged in the community; they are dedicated to compassionate service and prepared to deliver the highest quality professional care. My goal is not only to keep our programmatic momentum going, but to create a learning environment that is stimulating and relevant, and also welcoming for everyone."
The goal of the Ila Faye Miller School of Nursing and Health Professions is to provide an excellent student-centered education that will promote leadership development among students in each of the health disciplines. The mission of the school is to extend the healing ministry of Jesus Christ, the Incarnate Word, through the educational preparation of health professionals. The school offers outstanding programs in Athletic Training, Community Health Education, Kinesiology, Nuclear Medicine Science, Nursing, Public Health (Minor), Rehabilitative Sciences, and Sport Management.
From the School of Physical Therapy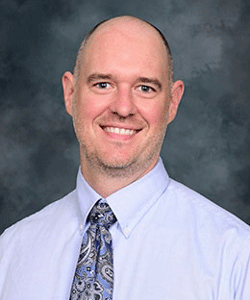 Dr. Caroline Goulet, dean of the School of Physical Therapy reports that Nathan Brown, PT, DPT, GCS, assistant professor, was elected vice chair of the American Council for Academic Physical Therapy's Consortium of Humanities, Ethics, and Professionalism. Congratulations, Dr. Brown!
COVID-19
Community Updates
The dignity, health and wellbeing of every member of the University of the Incarnate Word community remains an institutional priority at the heart of our Mission. In response to this pandemic, UIW has assembled a team that meets daily to ensure that every possible contingency to keep campus life moving forward is considered when making campus-wide decisions. UIW continues to work closely with local and state officials, is taking all precautions as directed by the CDC, and sharing preventative information and resources with the University community via email. As a community, we offer our prayers for all of those affected by COVID-19 and all those who care for them.
In the News 
Click here to read, UIW poised to respond to this moment,  a commentary by President Evans for the San Antonio Express News. 

Service
Green Service Project 

The UIW Community Gardens may be temporarily closed but the Ettling Center for Civic Leadership & Sustainability put out a "Green Service Project" challenge to our Cardinals to continue sustainability projects in their own home as part of alternative/online service options. Students are encouraged to build a garden, plant a tree, flower, or other type of plant. Read some of our students' personal reflections on the project below!
"Planting a small garden, a blueberry bush, a pineapple guava tree, different types of flowers brought me a sense of peace. I hope to share the "fruits of my labor" with friends and coworkers so they can benefit from fresh fruits and vegetables one day." -Lizette G., Junior  
"Planting seeds for the first time helped me step out of my comfort zone. Usually, I buy plants that are already grown and is only about their care and maintenance. In this case, I was involved with the entire process of picking up the soil and planting the seeds. Hopefully, in approximately two weeks the Spearmint seeds will germinate!" -Tatiana L., Senior  
"The service activity impacted others by adding beauty to a yard. My mother has Alzheimer's and she spends time looking outside. She likes pretty colors and as the flowers grow it will have added impact on her daily life." -Melanie M., Senior 
"Making this cactus garden allowed me to spend time in nature again, which I haven't done in a while due to quarantine. It was a nice breath of fresh air, both literally and figuratively, and it reminded me how liberating and pleasant it is to just spend time outside and appreciate nature's beauty." -David H., Sophomore 
For more information on how to get your students involved, please contact the Ettling Center at  ccl@uiwtx.edu  or call (210) 832-3208 for more information. 
Community News  
Juneteenth

Today, we celebrate freedom. We also recognize that there is still much to learn and so much room to do better. That's why we encourage all members of our UIW community to take today, Juneteenth to reflect, listen and learn about how we can all be part of positive change.
"The ultimate measure of a person is not where one stands in moments of comfort and convenience, but where one stands in times of challenge and controversy." – Martin Luther King, Jr.
Click here for a list of recommended texts regarding understanding and combating racism from Sr. Walter Maher, vice president of Mission & Ministry.
Read a recent message from UIW President, Dr. Thomas M. Evans, on UIW's commitment to better serving our diverse student body.
Learn about the history of Juneteenth. 
Cardinals on the Frontlines: Jawun Jiles

Not everyone enters college knowing what they want to do with their lives, but former University of the Incarnate Word football student-athlete Jawun Jiles made that decision in middle school. He wanted to go into the medical field. 
It started as a decision to take care of his family, but it quickly turned into more. 
"I heard about CRNA (Certified Registered Nurse Anesthetists) and was really intrigued with the lifestyle I could give my future family," said Jiles. "It started off as a lifestyle and a consistent job. After my first semester in nursing school, I realized this was my calling and added meaning to my life. I enjoy helping others and it's just a passion I have to help people who can't do things for themselves." 
Another passion in Jiles' life: football. Although going into medicine can provide stability in the future, Jiles knew that the costs of getting there could place a burden on his mother. UIW, however, allowed Jiles to attend school, play the sport he loved, and remain debt free. 
Jiles also fell in love with the family atmosphere on the campus at Broadway and Hildebrand, making his time as a Cardinal more enjoyable. 
"It was one of my options for free school, and I didn't want my mother to pay for school. UIW gave me the opportunity to do this for her; I also liked how small the classrooms were, allowing the teachers to be more personable with each student," said Jiles.  
That close-knit community was especially useful as Jiles juggled school and football. He acknowledged that it wasn't always easy trying to study to be a nurse while devoting hours to his sport. 
"The hardest part had to be time management." 
He learned how to manage his time at UIW and helped guide the football team to a share of the Southland Conference championship during his senior year, but that wasn't his biggest accomplishment. He graduated in May 2019 with a BSN RN and now he works in the emergency room at Willis Knighton Hospital in Shreveport, Louisiana, fulfilling his calling of helping people who can't help themselves. 
While at UIW, Jiles learned how to handle the pressure of being a Division I student-athlete while studying nursing. He used that "cool-under-pressure" attitude as he transitioned from campus to the emergency room.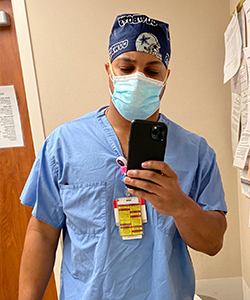 "The most challenging part of working in the medical field was learning how to become an ER nurse and be confident in my practice," said Jiles. "My job entails making quick judgments about a patient's condition and from there assisting the doctor in care of the patients." 
Working in the emergency room can be hectic and stressful, but it has been even more challenging over the past three months with the COVID-19 pandemic. 
"Since COVID-19, I've had to monitor my patients even more closely because of their tendency to decline faster than a typical respiratory patient," said Jiles. "The virus has changed the precautions we have taken for every patient and how I conduct my practice." 
Stressful as it can be, Jiles loves his career and leans on his championship training. He says he wouldn't change his decision to be an emergency room nurse. Just the opposite, in fact.  
"During COVID -19, I have had the opportunity to participate in more intubations and have even worked more in the ICU unit at my hospital," said Jiles. "I wouldn't change my career, but I do think of advancing my knowledge and pursuing a higher education, such as a CRNA." 
Although an ER nurse can experience stress and hard situations on a daily basis, Jiles remains positive and has simple advice in these difficult times. 
"Wash your hands, stay six feet apart, and remember that there is a light at the end of this tunnel."  
Swing-In: Thank You

On behalf of all of us at UIW, we thank our 2020 Swing-In sponsors, donors, and participants for helping make UIW's biggest annual fundraiser, Swing-In, another huge success! You and your generosity create a better tomorrow for UIW students! 
Our 2020 Swing-In raffle winner was our own Sr. Kathleen Coughlin, CCVI! Sr. Coughlin has decided to take the cash gift of $5,000 and donate it back to our Student Emergency Relief Fund. To Sr. Coughlin, this gift reflects the generosity of all who bought a raffle ticket or supported Swing In 2020 through sponsorships and bids. 
Click here for a full list of Swing-In 2020 sponsors. 
Cardinal Corner
UIW Mission & Ministry Recognizes Graduates 
UIW Mission & Ministry is recognizing their recently graduated Cardinals! Take a look at some of the amazing things these outstanding students accomplished.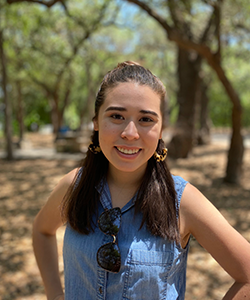 Renee Muñiz 
Graduation Date: December 2019 ~ Summa Cum Laude  
BA in Communication Arts & BA in English 
UIW Organizations:  
Peer Ministry Intern - Media Ministry, Logos, Women's and Gender Studies Book Club 
Honors:  
Kappa Gamma Pi Saint Catherine Medal for Student Achievement; Monahan Media Studies Award for Journalism; three-time scholarship recipient of Society of Professional Journalists - San Antonio Chapter (SPJSA), San Antonio Association of Hispanic Journalists (SAAHJ), and Stars Scholarship Fund; honor society member of Alpha Lambda Delta, Lambda Pi Eta, Golden Key International, National Society of Collegiate Scholars, Sigma Tau Delta, Archdiocese of San Antonio Newmanite Award 
Future Plans:  
Currently working as a marketing coordinator at Catholic Charities, Archdiocese of San Antonio 
"Being in UMM showed me how to relate to others with different stories and honor them as children of God. And, personally, I learned how to offer praise to the Incarnate Word through my work and art." ~Renee Muñiz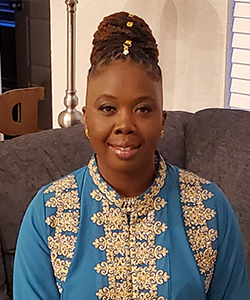 Camille R. W. Piper 
Graduation Date: May 2020 ~ BA in Community Health with Minors in Psychology & Nutrition 
UIW Organizations:  
Peer Ministry Intern - Ecumenical & Interfaith Ministries, Delta Sigma Theta Sorority Inc., Alpha Phi Omega Service Fraternity, Student Veterans Association, Catholic Relief Services 
Honors:  
Dean's List Fall 2019, Peer Ministry Intern of the Year, Archdiocese of San Antonio ~ Corazon á Corazon Award 
Future Plans: Attend graduate school and work in public health 
"UMM gave me an opportunity to engage with students from diverse faith backgrounds. I had the opportunity to grow deeper in my faith while learning about others and learning what we have in common while working towards a more faith-friendly campus, state, county, and world." 
~Camille Piper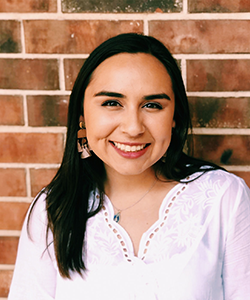 Julia King 
Graduation Date: May 2020 ~ Cum Laude, BA in English & BA in Religious Studies 
UIW Organizations:  
Peer Ministry Intern - Faith Formation - Breathe Young Adult Ministries, Alpha Sigma Tau Sorority 
Honors:
CCVI Student Spirit Award 2019-2020, Sr. Alacoque Power English Award for Outstanding Undergraduate Student of English, Archdiocese of San Antonio Newmanite Award
Future Plans: Pursue a Master of Divinity at the University of Notre Dame 
"Being involved in ministry has meant so many things to me. It has meant that I received the gift of community--people who genuinely loved me for who I am and encouraged me to grow in extraordinary (and sometimes difficult) ways and accompanied me through all of the joys and sorrows that college life entailed. I have also come to know the Lord in extraordinary ways through my experiences within Mission and Ministry, mostly through everyone I have encountered who radiates the love of Christ." ~ Julia King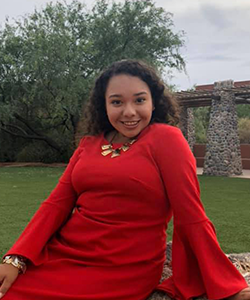 Alexandra Saldivar 
Graduation Date: May 2020 ~ BS in Rehabilitative Sciences 
UIW Organizations:  
Peer Ministry Intern - Ecumenical & Interfaith Ministries, Alpha Sigma Alpha Sorority, Alpha Phi Omega, UIW Lions Club, Society of Therapeutic Rehab Students, National Society of Collegiate Scholars, The Marching Cardinals  
Honors:  
Alpha Phi Omega Brother of the Year 
Alpha Phi Omega Section D2/D4 Co-Sectional Conference Chair 
Future Plans: Attend Physical Therapy School 
"Being involved in UIW's mission and ministry has many meanings for me. First of all, it of course helped me strengthen my relationship with God. Second the people I worked with not only became my friends but more like a second family. They were my family away from home. Third it was a safe space for me. Whenever I had problems going on or just needed someone to vent to, I knew that I could just walk into the office and whoever was there was all ears to help. It has been a pleasure working in the UIW's Ecumenical and Interfaith office and I'm thankful for all the friendships and memories I made while working there." ~Alexandra Saldivar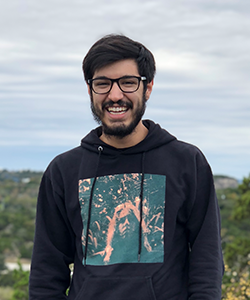 RJ Delgadillo 
Graduation Date: May 2020 ~ BA in Pastoral Ministry with a concentration in Philosophy 
UIW Organizations:  
Peer Ministry Inter ~ Faith Formation ~ Breathe Young Adult Group Ministries, Breathe Men's Group, Cardinals for Life, Young Conservatives of Texas 
Future Plans: Teach Theology at a Catholic High School
"Being involved in University Mission and Ministry has been my absolute favorite part of attending UIW. Through it, I was able to continue my passion for ministering to my fellow peers that I initially discovered in high school. I found some of the best friends I'll ever have through joining UMM. I will always be grateful for all the opportunities and memories that UMM has provided me!" ~RJ Delgadillo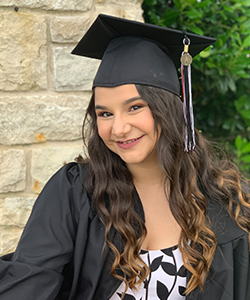 Gabriella Fresquez 
Graduation Date: May 2020 - Bachelor of Music in Music Education with a Minor in All-Level Education 
UIW Organizations:  
UIW Cardinal Chorale & Cardinal Singers, Peer Ministry Intern - Music Ministry -Laudate Choir Co-Director  
Honors:  
Fr. Philip Lamberty Music Minister of the Year and Ingrid Seddon Scholar  
Future Plans: Teaching music in the Dallas-Fort Worth Area 
""Being a part of Music Ministry has truly changed me for the better. When I look back at my inventories for all the years that I have been a part of ministry, it really shows just how much I have changed and gives me a real sense of perspective. It has taught me to be more patient and compassionate towards all I come into contact with. I have learned just what it means to lead a pastoral life outside of church walls. These and so many others are lessons I will take with me when I begin my journey as a teacher." ~Gabriella Fresquez 
Alumni and Parent Relations
Alumni Spotlight: Caroline Ortiz '95

Wanting to make a difference during uncertain times, Caroline Ortiz, BSN '95, took on a project involving the translation of guided imagery meditations and affirmations specifically geared to Spanish-speaking frontline workers and affected communities. 
"There are very few resources for the Spanish-speaking community in complementary and integrative health, and these [meditation] audios help to bridge the barriers of accessibility that keep so many from the potential of holistic approaches to health and healing," said Caroline. 
As the early stages of the pandemic were being identified in the United States, Caroline had just begun discussions with Belleruth Naparstek, a guided imagery expert and founder of Health Journeys, to translate and record some of her vast library of meditations into Spanish.
Feeling the need to fast-track the project because of the extraordinary situations of frontline workers and affected communities, Caroline and Belleruth decided it would be best to start with the Relaxation and Wellbeing audio. However, stay-at-home orders and social isolation guidelines in New York City did not permit Caroline to travel to the recording studios in Cleveland. In the meantime, she found an alternative solution to record the meditations.
"By truly divine intervention, I found out that my upstairs neighbor happened to be an audio engineer and was also socially isolating in place! He agreed to help me record using his equipment and being creative about semi-soundproofing his tiny studio apartment on an island of 1.6 million New Yorkers," she added.
The result of this collaboration between Caroline and Belleruth is the first-ever guided imagery meditation audio in Spanish for Health Journeys, a multimedia publishing company specializing in self-help audio recordings.
Caroline's passion for healing and wellness traces back to her early years at UIW when she was enrolled in a dimensions of wellness course.
"UIW not only offered a strong educational foundation on which to explore and express my nursing vocation, it also introduced me to the concept of human wellness. Not understanding its profound meaning at the time, I have grown to embrace and support the multiple dimensions of wellness that make up wholeness in healing and living," she said.
She advises current nursing students to have personal commitment and to be responsible healthcare providers in the future.
"My hope for every UIW nurse is to expand into being a facilitator of deep healing and live the practice of nursing as an embodied prayer of love," Caroline added.
Click here to find the audio streams. 
UIW Alumni Association Announces New Board Members

The Department of Alumni and Parent Relations is excited to welcome its newest UIW Alumni Association Board Members! Members will begin serving in Fall 2020. New alumni representatives are listed below: 
Dr. Chris Alvarado '10 - President-Elect 
Pharmacist, HEB
Jonathan Chaires '15 - Board Director
Associate Attorney, Lindow Stephens Treat LLC
Michael Gonzalez '10 - Board Director
Attorney, Lewis Brisbois Bisgaard & Smith
Adam Lazaro Martinez '07, '09 - Board Director
Business Development Account Executive, Credit Human
Jeff Neal '16, '17 - Board Director
Allison Ramsey '05 - Board Director
CEO and Founder, Empire Life
Roxanne Ramsey '78 - Board Director
Educator, Alamo Heights ISD
MaryAnne Schweers '91, '93 - Board Director
Managing Partner, PLC Strategies, LLC
Dr. Jonathan Cuevas '11 - Pharmacy School Appointee
Athletics
UIW Names Richard Duran New Athletic Director

University of the Incarnate Word President Dr. Thomas M. Evans, announced today that interim Athletic Director Richard Duran has been elevated to the permanent role of athletic director. In his new role, Duran becomes the youngest sitting Division I athletic director. Duran, who came to UIW as the deputy athletics director responsible for all external functions of the department in October 2017, took over the interim position on Aug. 12, 2019.
"As interim athletic director, Richard demonstrated his willingness to work with all campus partners not only for the benefit of the athletics department but for the University as a whole," said Evans. "He showed us his ability to lead, his dedication to his staff, to our student athletes and to our UIW Mission. In these last 10 months, Richard Duran truly earned the privilege of being named UIW's Athletic Director."  
 
Under Duran's leadership, UIW Athletics had tremendous success in the classroom, in the community, in competition, in revenue generation and in fan engagement. He guided a team of 80 full-time employees, five part-time employees, 35 graduate assistants and 18 work study students in creating a holistic and positive experience for more than 500 student-athletes. 
"I would like to thank Dr. Evans, Michael Larkin, Chief Development Officer and Vice-President for External Affairs, and the University leadership for the incredible opportunity to lead the UIW Athletics Department into the future," said Duran. "Throughout my time at UIW I have come to realize that this University is not only where I want to be, it is where I am supposed to be. It isn't every day that you are able to work at an institution whose values so closely align with your own.
"I am excited to come to work every day and help our student-athletes become champions in the classroom, in the community and in competition. I am humbled for this opportunity and thankful for the commitment of our student-athletes, department, campus community and supporters. We wouldn't be where we are today without them. UIW is an amazing community made up of incredible people, and I look forward to continuing to work as a team to provide the best student-athlete experience possible." 
The UIW Athletics department, in alignment with the University's core values, has placed a heavy emphasis on service and giving back to the community. Over the 2019-20 academic year, the Cardinals completed a department record 6,051.5 hours of community service across 70 organizations in San Antonio. Classes were moved online following spring break, but the Cardinals were still able to complete 347.5 hours of community service in the fourth quarter of the year. 
Academically, in the fall, UIW student-athletes posted a cumulative GPA of 3.24 and a semester GPA of 3.26. In the Spring, despite the sudden transition to online classes following spring break, UIW student-athletes achieved a department cumulative GPA of 3.33 and a department semester GPA of 3.56.  
In November, the department announced that for the 2018-19 academic year, 20 Cardinal sports earned a combined single-year Academic Progress Rate (APR) score of 991, a program-high mark since becoming Division I. Men's basketball's academics improved dramatically from 2017-18 to 2018-19, going from an 839 APR from the 2017-18 academic year to a perfect 1,000 in 2018-19.  Additionally, in May 2020, men's tennis and women's cross country earned the Public Recognition Award for their perfect multiyear APR scores during the 2018-19 academic year. 
Two women's teams enjoyed their best year of Southland Conference competition during the 2019-20 season. Women's soccer notched more wins in Fall 2019 alone than in the past three seasons combined (2016-18). With a 7-4 mark in Southland Conference play, the Cardinals qualified for the Southland Conference Tournament for the first time in program history.
Women's basketball, led by first-year Head Coach Jeff Dow, had nine more wins in 2019-20 than the Cardinals had in 2018-19 and earned the first berth to the Southland Conference Tournament in program history.
The men's basketball team improved from one Southland Conference win in 2018-19 to six in 2019-20 under second-year coach Dr. Carson Cunningham. UIW also had its first Southland Conference Freshman of the Year in Keaston Willis. The men's swimming and diving team won the 2020 Coastal Collegiate Sports Association Conference Championship, marking its third consecutive title.
Under Duran, the Cardinals Club annual fund program saw record numbers in both memberships and revenue. Since 2016-17 (the year prior to Duran's arrival at UIW), Cardinals Club membership is up by 626.1 percent and Cardinals Club revenue is up by 1,033.8 percent. The department also set a record for athletics giving as part of the campus-wide Day of Giving campaign in February 2020.
Likewise, athletic sponsorships reached new heights in 2019-20. UIW Athletics had a record number of athletic sponsors and boasted record revenues. Since 2017-18, the department has increased its number of sponsors by 540 percent, while revenues have risen by 256.7 percent. Athletic department ticketing numbers have also seen a significant rise under Duran. Despite 37 events being canceled due to the COVID-19 pandemic, UIW Athletics set numerous ticketing records in 2019-20, including a new overall ticket revenue mark. Since 2017-18, ticket sale revenue has increased by 61.8 percent. 
In addition, UIW Athletics has placed an emphasis on enhancing the fan experience. The marketing department more than doubled the number of giveaways, in-game contests and on-field recognitions during the 2019-20 season. During the 2018 football season, the department launched the UIW Fan Zone. The 2019 homecoming game saw an all-time high 34 elements in the Fan Zone, a 112.5 percent increase from year one.
The department has also taken strides to increase student attendance at games, releasing the Red's Rewards app in January 2019. The app, which is available to all UIW students and has rewards available for points earned by checking in at athletic events, experienced a 170.1 percent increase in users from the end of year one to the end of year two. 
Since Duran's arrival in 2017-18, UIW Athletics has increased its social media presence, leading to larger numbers of followers on Twitter, Facebook, and Instagram. The main accounts on Twitter (88.9 percent), Facebook (116.4 percent) and Instagram (145.4 percent) have seen major increases. During the 2019-20 season alone, individual sports accounts rose by 41.4 percent on Twitter and by 67.6 percent on Instagram. 
Under Duran's guidance in August 2019, the athletics department collaborated with UTSA to co-host the River Rally Parade, bringing the City of San Antonio together prior to the first football game between the two schools in program history. Athletics also partnered with the University Office of Communications and Brand Marketing and the Division of Development and University Relations to successfully host the Cardinal Takeover Pre-Game Party on Aug. 31 around the game.  
In 2019-20, video production saw a 144.7 percent increase in the number of events streamed since 2016-17. Over the past 10 months, 93 events were streamed. This was one fewer event than in 2018-19, despite 37 events being canceled due to the COVID-19 pandemic. 
Duran arrived at UIW after a year and a half as the Director of Development at California State University, Los Angeles. Prior to working with the Golden Eagles, he spent three years at the University of Louisiana, Monroe (ULM) where he started as the Director of Marketing and Event Management before being promoted to the Assistant Athletics Director of External Relations.
Duran went to ULM after a stint as the Assistant Director of Athletics Development at the University of California, Riverside. He began his career in intercollegiate athletics with the Big West Conference as a Championships/Marketing Assistant.
Duran was a four-year letter winner in football at Whittier College in Whittier, California. He graduated with distinction, earning a Bachelor of Arts in Kinesiology with an emphasis in sport management in 2011. In 2013, Duran received a Master of Arts in sport management from the University of San Francisco. He is currently pursuing his doctorate and working on his dissertation at Louisiana Tech University. 
The Montebello, California native is a 2007 alumnus of Schurr High School.  
Cardinals Announce 2020 Women's Soccer Schedule

University of the Incarnate Word women's soccer Head Coach Emma Wright-Cates announced Thursday the release of the 2020 schedule. 
The Cardinals head into the fall following a historic run during the 2019 season where the team finished with an 8-10-1 overall record and a 7-4 mark in conference play. Those eight wins are more than in the past three seasons combined (2016-18). The 7-4 conference record – the best in conference play since UIW joined the Southland Conference and moved up to Division I – earned the squad a slot in the postseason for the first time since joining the league. 
"We are very excited to get our season kickstarted," said Wright-Cates. "Our non-conference schedule is stacked with some talented teams from the WAC, C-USA and SWAC, all who offer a different look and will challenge us to grow as a team." 
"The Southland Conference is very competitive and is typically a close race all the way through, but it will be extremely tight this year, especially with only four teams making the cut. Our players and staff are very excited at the opportunity to be back together and reunite with all of our Cardinal community. We welcome all the enjoyable and challenging moments competing in the sport we love for the university we are proud to represent."
The season kicks off on home turf at Gayle and Tom Benson Stadium with the Red vs. Black intra-squad game (Aug. 21), followed by the Alumni Weekend game.
UIW's nonconference schedule features two Conference USA teams in Louisiana Tech and UTEP, as well as two opponents from the Western Athletic Conference (WAC) in New Mexico State and UTRGV. The Cardinals also face two Southwestern Athletic Conference (SWAC) opponents in Texas Southern and Prairie View A&M, who made an appearance in the first round of the 2019 NCAA Women's College Cup, before turning their focus to conference play. 
UIW opens SLC play with a three-game homestand, beginning with a matchup against HBU (Sept. 18, 2020). The Cardinals then face McNeese (Sept. 25, 2020) and Lamar (Sept. 27, 2020), the reigning conference champion who made an appearance in the first round of the NCAA Women's College Cup .   
UIW also hosts Southeastern Louisiana and Nicholls. Additionally, the Cardinals travel to Sam Houston, Stephen F. Austin, Texas A&M-Corpus Christi, Central Arkansas, Northwestern State and Abilene Christian in hopes of being in the top four at the end of the regular season. 
With conference adjustments due to the COVID-19 pandemic, the 2020 SLC Tournament will feature four teams instead of the normal eight. The location will be determined by the No. 1 seed at the conclusion of the regular season, as opposed to a predetermined host. The conference tournament is slated to begin Wednesday, Nov. 4, 2020.  
SCHEDULE SUBJECT TO CHANGE 
**The schedule is subject to change. UIW Athletics will continue monitoring the ongoing situation involving the COVID-19 pandemic and will follow the University's Emergency Response Team, Southland Conference, NCAA, and CDC guidelines and recommendations as they develop and change. We will continue to notify our Athletic community as information is updated. 
ADMISSION 
Admission to all UIW women's soccer home matches is free. Home games are held at Gayle and Tom Benson Stadium.