UIW Community Newsletter - May 31, 2019
Spotlight
2019 Commencement Highlights 
Mission
Our Lady's Chapel Services
All are welcome
Noon Mass, Monday – Friday 
Sunday Mass at 10:30 a.m.
Sacrament of Reconciliation, 11:30 a.m. Fridays or by appointment with Fr. Tom Dymowski, O.SS.T. at

 


(210) 829-3131 or  dymowski@uiwtx.edu. 
CCVI Jubilee - Celebrating 150 Years
We invite you to celebrate 150 years of blessings at the following events:
November 1, 2019 

 


8:30 am — Morning Prayer, Chapel of the Incarnate Word, followed by an unveiling of a "150" commemorative plaque in the Incarnate Word Cemetery, honoring our deceased Sisters.

 


6:00 pm — Eucharist in the Chapel of the Incarnate Word honoring our "great cloud of witnesses" (deceased Sisters of Charity of the Incarnate Word).
November 3, 2019 

 


3:00 pm — Concert by "Chanticleer" all-male vocal ensemble — Chapel of the Incarnate Word.
November 23, 2019 

 


3:00 pm — Celebrate the annual "Light the Way" with the University of the Incarnate Word.
December 3, 2019 

 


6:00 pm — Eucharist celebrated with CHRISTUS Santa Rosa, remembering the first Mass celebrated at Santa Rosa Infirmary on this day in 1869 — Chapel of the Incarnate Word.
Celebrate the CCVI Jubilee and support their ministries by purchasing their 2019 medal. Medals may be purchased all year at the CCVI International Support Office (The Generalate - 4503 Broadway) or in Sr. Kathleen Coughlin's (SEC 2053). 

Events 
Corporate Cup
The 2019 Corporate Cup event will be held Saturday, June 1, 2019, on our beautiful UIW campus. Events start at 7:30 a.m. with the 5K run, and end with the awards ceremony at approximately 12:30 p.m.. Breakfast tacos and lunch will be served at the UIW tailgate and all UIW employees and their families are welcome!
For updates, including weather updates, and scoring the day of the event, please visit: corpcup.org 

Park and Ride
Have you had trouble finding a parking place in past years? San Antonio Sports is thrilled to announce a partnership with VIA as their official transportation sponsor and provider. VIA shuttles will run from 6 a.m. - 2 p.m. from Alamo Stadium and drop off at the AT&T parking lot across from campus on Hildebrand Avenue.
Parking Information
There are several options for parking on event day including McCombs Garage, Ancira Garage, Hillside Garage, Agnese/Sosa Garage, the Dubuis Surface Parking Lot, Administration Parking Lot, UIW Feik School of Pharmacy, and Incarnate Word High School. 
San Antonio Sports recommends that all arrive by 7a.m. - parking will be tight with over 4000 visitors on campus.
For the Kids
Don't forget, all kids ages 4-14 are welcome to join the University Health System Kids Fun Zone located on the tennis courts. Mini Corporate Cup games will include soccer kicks, sack races, hula hoops, bean bag toss, and much more! Tents and water will be provided. Staff and volunteers will be onsite to secure signed parental waivers at the entrance and to help with child pick-up.
UIW Tent
The UIW Tent and Tailgating will take place next to the tennis courts across from the Bronze Cardinal Statue. This will be the perfect place to enjoy food and beverages and find some relief from the sun. Our tent traditionally has been a great place to gather throughout the event to relax and spend time with UIW friends and colleagues.
Bud Light Beer Garden
Those of age will enjoy a wide variety of free beer served by TABC trained staff and volunteers. You must have a proper ID to receive a wristband. No exceptions. In addition to beer, San Antonio Sports will also have soda available free of charge for all at the beer garden.
Retirement Celebration for Roslyn Grimes
Please join us in celebrating Roslyn Grimes and thanking her for her many years of service to UIW at a special retirement celebration. The event will be held Friday, June 7 from 2:30 – 4:30 p.m. in the Special Collections Room. Please RSVP to pr@uiwtx.edu .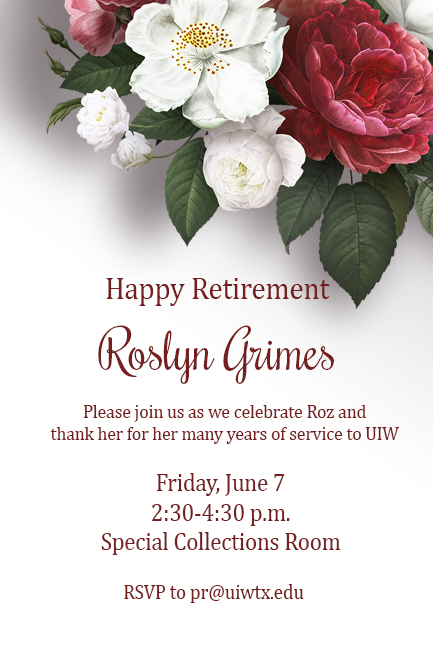 Department News
A Special Message from Dr. David Jurenovich, VP for Campus Life & Facilities Mgmt.
Dear Cardinal Community, 
Please be advised that on Friday, May 31, the University will hold a funeral service for longtime UIW friend, Mark Richter, at 2 p.m., in Our Lady's Chapel. 
To accommodate guests attending the funeral service, parking lots in front of the Administration Building closest to the Music and Fine Arts buildings will be closed.
Mark was born and raised on the Southside of San Antonio and had a love of music at an early age. From playing the Viola as a youth to transitioning to singing and music theater, Mark's love for music was always in the forefront of his life. He was also an active member of the San Antonio Opera Community.
Please keep Mark and his family and friends in your thoughts and prayers during this time. To read his obituary, click: Mark Richter .
Continued Website Progress - A Message from Lallo Vigil, Web Manager
Since the launch of the UIW.edu website in March, the UIW Web Team has been training users and making content updates. Now we are fine-tuning website features to improve user experience while providing additional functionality. You may notice several tweaks in the next few days including the display of the top navigation and the footer. Please let us know if you have additional feature requests, come across any issues or just want to share comments on the new website by emailing us at webteam@uiwtx.edu.
A Special Message: Corporate Cup
Attention Cardinals,
On Saturday, June 1, UIW will proudly host the San Antonio Sports Corporate Cup presented by OrthoNow.
In an effort to monitor traffic and coordinate events, UIWPD began coning off areas on Thursday, May 30. The lots will reopen after the event at approximately 3 p.m., Saturday, June 1. 
Roadway and Parking Lot Closures:
Parking lots around the Natatorium, Convocation Center, Mabry Tennis Center and Benson Stadium will be closed starting Thursday afternoon (today, May 30).
The roadway between the Mabry Tennis Center and Benson Stadium with access to Avoca Apartments will remain open on Friday.  However, that roadway will be closed on Saturday.   Please note that although the tennis court area will be coned off, access to Avoca will be granted until 5 a.m., Saturday morning. Residents of the Avoca Apartments are encouraged to move their vehicles to the Agnese/Sosa parking garage or the Ancira Parking Garage on Thursday evening and/or Friday morning.
On Saturday, no vehicle traffic will be allowed between the bridge and the hill from 7 a.m. – 3 p.m. while the event is taking place.
Parking lots being used on Saturday for event participants include:
All campus parking lots
All campus parking garages
Alamo Stadium parking
AT&T Parking lot (adjacent from campus)
Incarnate Word High School parking lots
McCracken House parking lot
Feik School of Pharmacy parking lots
If you have questions regarding parking or roadway closures, please contact Campus Police at (210) 829-6030.
If you have any questions regarding the Corporate Cup event, please contact San Antonio Sports at 210-820-2100.
Thank you.
Athletic News 



Miscellaneous 
May Campus Dining Hours 
Campus Dining Hours May 13 – May 31, 2019
Campus Dining (SEC) - Lunch Only:

 11 a.m. – 1:15 p.m.

Coffee Shop (SEC) - 

Monday - Thursday, 8 a.m. - 5 p.m.
Friday, 8 a.m. - 1 p.m.

Hortencia's - Will be CLOSED
Finnegan's - Will be CLOSED
Luciano's - Will be CLOSED