The Word: UIW Community Newsletter - September 4, 2020
Spotlight
AVS Laboratory Develops Mask Detection Tool
About a week prior to the start of the Fall 2020 semester, the Autonomous Vehicle Systems (AVS) Lab team had a conversation about repurposing a detection system to identify if someone was wearing a mask. The team wanted a tool that could remind people to mask up on campus. The CIL-Mask Detection System, better known as CMD, was created within only a few hours of the discussion.
Srikanth Vemula, principal researcher for the Computational Intelligence Lab (CIL) of the AVS Laboratory, professor and PhD student, created a trained model that detects if a person is wearing a mask or not and produces a warning sign if a mask is not detected.
The development of the CMD project, which initially started as something fun to explore for the CIL, became an opportunity to help the UIW community. The AVS Laboratory continues in its mission to be an engaged and vested member of the UIW family by helping to tackle the spread of COVID-19.
Academics
UIW to offer Accelerated Bachelor of Science in Nursing Degree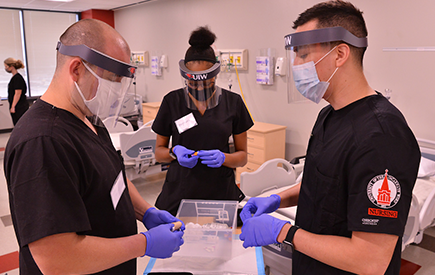 The University of the Incarnate Word (UIW) is proud to welcome its first cohort of Accelerated Bachelor of Science in Nursing (ABSN) degree students in a new, interactive learning environment. The interactive approach is part of a hybrid learning model that combines an e-learning platform and simulations with clinical rotations at top San Antonio hospitals and local clinics.
"Our goal is to train the next generation of nurses in the art and science of administering compassionate, evidenced-based care while helping to fill positions in demand," said Holly Cassells, professor and dean of the UIW Ila Faye Miller School of Nursing and Health Professions.
On Aug. 31, students started their 16-month program at an 18,868-square-foot site on San Antonio's near Northside that includes two state-of-the-art simulation labs, an eight-bed clinical skills lab and two testing rooms. Students will also utilize a room that simulates a home healthcare setting. There is also a student lounge, and administrative and faculty offices. The new space can accommodate up to 200 students.
The National Center for Health Workforce Analysis notes that Texas is second only to California among states hit hardest by the nursing shortage. By 2030, the number of unfilled registered nurse positions will swell to 60,000, based on projections by the Texas Center for Nursing Workforce Studies.
In greater San Antonio, there are approximately 1,300 live postings for open positions for registered nurses.
"The new accelerated BSN program will enable the University to work hand-in-hand with local health providers to plan for their workforce needs and then deliver a pipeline of talented, work-ready nurses," says Cassels.
Although accelerated, the program curriculum, learning objectives and outcomes mirror UIW's traditional BSN program. Prospective students must have a bachelor's degree in a field outside of nursing for the program which has three start dates per year.
GEMS Program Prepares for FIRST® LEGO® League

The Girls of Engineering, Mathematics and Science (GEMS) Program, the outreach arm of the AVS Laboratory, is currently partnering with local schools in multiple school districts to sponsor teams for the 2020-2021 season of FIRST® LEGO® League, a program that aims to introduce STEM to children ages 4-16 through fun, exciting, hands-on learning. According to the program's website, "participants gain real-world problem solving experience through a guided, global robotics program, helping today's students and teachers build a better future together."
While present CDC guidelines of social distancing and remote schooling have presented challenges for the current competition year, GEMS is ready to get its campers up and competing again as they prepare to return to school. GEMS's relationships with local teachers and schools is part of the program's huge success in exposing young females to the STEAM fields. GEMS coordinators Calista Burns (UIW Education student) and Stephanie Weiss-Lopez (AVS coordinator), are eagerly working on funding, new innovative curriculum, and increased expansion within the San Antonio community for both the 2021 spring break and summer GEMS Camps.
AVS Lab Partners with CPS Energy 

The AVS Laboratory continued its partnership with CPS Energy this fall and helped them in the development of their Unmanned Aerial System (UAS) Powerline. As the principal researcher for the Computational Intelligence Lab (CIL) of the AVS Laboratory, professor and PhD student at UIW, Srikanth Vemula focuses his work in Artificial Intelligence and Autonomous decision-making systems. His latest project has been on the development of the autonomous powerline detection system that recognizes various components and elements of a powerline. 
Dreeben Establishes Kappa Delta Pi Chapter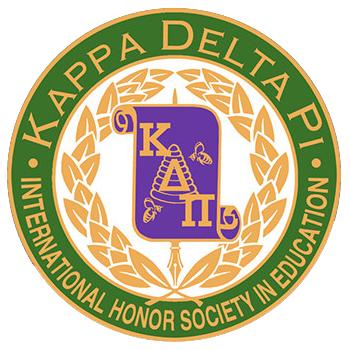 The Dreeben School of Education is proud to establish a chapter of Kappa Delta Pi (KDP), the international education honor society. KDP promotes excellence and leadership in education. It was established in 1911 and has 1.2 million members worldwide. KDP members include undergraduate and graduate students, classroom educators, and university faculty in fields related to education. The chapter counselor will be Dr. Deepti Kharod, assistant professor of Education. 
COVID-19
Get Your Thermometers Ready: Cardinal Daily Health Check is Here!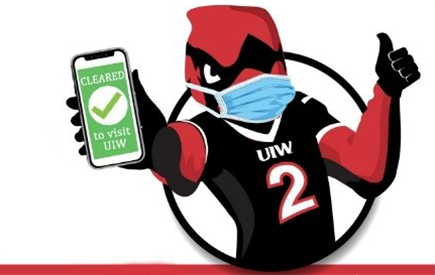 The Cardinal Daily Health Check, a web-based tool, must be completed by all employees, students, and guests before visiting any UIW location. After a successful daily health check, users will be emailed a ticket to be used to verify completion of the screening. Staffed checkpoints, supervisors, faculty members, athletic staff, and others may ask to see this ticket to help our community minimize COVID-19 transmission risks.
Community Updates: UIW Moves to Warning Indicators

At UIW's COVID-19 information site, you'll find the latest updates regarding UIW's response to COVID-19, safety rules, links to helpful forms and more. UIW has moved from its Continuity of Operations Phase Plan to a new warning indicator system. The warning indicators are now listed on the COVID-19 site. As always, any questions about UIW's response to COVID-19 may be submitted here.
New Case Tracking Site Launched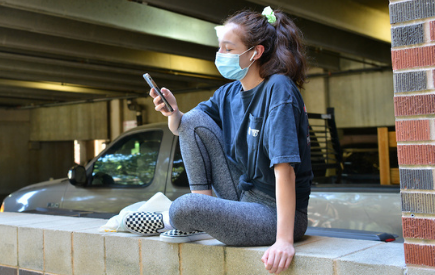 In an effort to keep the University community informed, UIW has launched a new COVID-19 case tracking site. The site currently provides information on positive COVID-19 cases on the Broadway campus, as well as information regarding UIW's new warning indicator system.
Mission & Ministry
A Reflection on Silence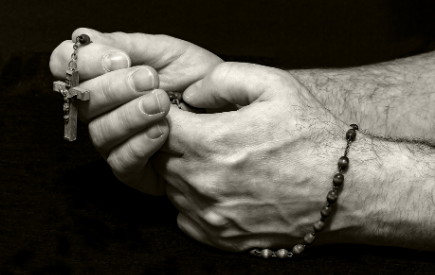 "Silence is the great revelation." – Lao Tzu
There are many types of silence. Perhaps you have encountered some of them in situations or between people – taciturn silence, peaceful silence, ominous silence, waiting silence. The silence or stillness we explore here, however, is a silence of surrender and love, a silence of awe. In some of life's precious moments, there is that kind of silence between people, in their moments of greatest union. And it is that kind of silence we bring to prayer when we surrender ourselves in love to God.
The young French Carmelite, Elisabeth of the Trinity, described her own prayer like this:
I am silent. 
I listen to Him.
It is sometimes only when we become silent that we can actually hear what God is saying to us.
Many people in our society enjoy precious times of silence, perhaps in walking through the bush or watching the sunrise. Many others, however, are afraid of silence, and run from it by filling their lives with lots of noise.
The psalmist has a wonderful word for us. He says, "Be still and know." He could have said, it is only when we are still that we can truly know.
Jesus needed his silent times. We read that he would often go out during the night to pray. We are told that Mary the Mother of Jesus 'pondered these events in her heart.' Those words reveal that she treasured silence. Especially at the time of her pregnancy with Jesus, she needed those long periods of silence to commune with the child she was carrying within her. Silence to hear the still small voice.
Gerard Manly Hopkins, the poet who was a Jesuit priest, wrote of silence as a kind of music.
'Elected Silence, sing to me,
And beat upon my whorled ear
Pipe me to pastures still, and be
The music that I care to hear'.
Remember a time when you 'sat still like a child.'
Are there times in your day when you can enter and stay within the silence of awe?
This resource is taken from www.liturgyritualprayer.com under special license from Emmaus Productions to Catholicireland.net. All rights are reserved.
Sunday Morning Prayer - September 6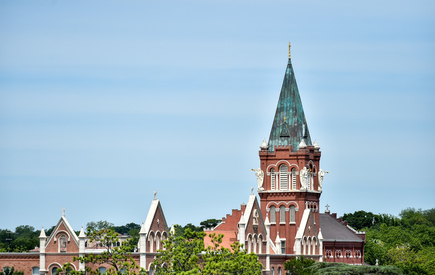 University Mission and Ministry invites you to attend our weekly Sunday Morning Prayer at 11 a.m. on September 6. The platform will open at 10:45 a.m. for an opportunity to greet one another. This week's service is based on the scriptures of the 23rd Sunday of Ordinary Time. While we cannot gather in person to celebrate the Sunday Eucharist in Our Lady's Chapel or the Chapel of the Incarnate Word, we can gather virtually and unite our prayers of petition with our extended Incarnate Word family during this celebration of the Liturgy of the Word. The service will be held on Zoom. We hope you'll be able to join us this Sunday!
RSVP to receive a Zoom link to Sunday Morning Prayer
St. Isidore of Seville Virtual Ministries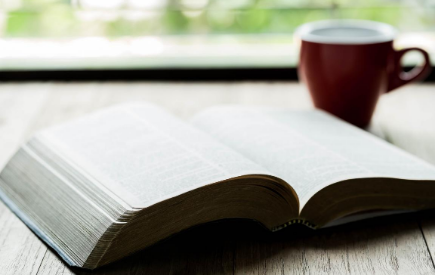 Inspired by the core values of our University – Faith, Innovation, Education, Service and Truth – and the strong desire to be together in some way, the St. Isidore of Seville Virtual Ministries was born. At its heart, the ministry will work to help the Incarnate Word family – students, faculty, staff, administration, Sisters of Charity of the Incarnate Word, alumni and friends of UIW – remain connected to one another and the campus, while building a more prayerfully aware community ready to offer its heart and hands in service to those most in need.
As the patron saint of the internet, St. Isidore will guide our efforts to remain connected in prayer. St. Isidore ministers are on a rotating schedule from week to week –they serve as readers and proclaimers of prayer, musicians, tech angels, greeters, virtual sacristans, virtual environment and art ministers, prayer leaders for devotionals (rosaries, the Chaplet of Divine Mercy, novenas, etc.) through any of the following ways:
Sunday Morning Prayer (11 a.m.): A weekly opportunity to gather virtually as an Incarnate Word family – to reflect on the scriptures of the day and pray for our global family, supported by music and visual art.
Sunday Night Live (8 p.m.): We invite individuals or groups (couples, families, roommates, house communities, etc.) to host a short contemplative prayer time virtually on Facebook Live, Instagram Live, or Zoom in collaboration with University Mission and Ministry. At the heart of this prayer opportunity is extended contemplative silence (20-30 minutes) and prayers of petition from participants.
Ps 98 ("Sing a New Song") Music Ministry: Though physical distancing due to the pandemic has made it difficult to gather together in a traditional way, new and returning members of the UIW family can still "sing a new song" in a virtual space. This music ministry will help facilitate the music of our Sunday Morning Prayer along with other opportunities throughout the semester, including a collaborative venture at the end of the semester with the UIW Music Department. Singers and instrumentalists (keyboard, guitar, percussion, winds and strings) are welcome. 
The plus side of virtual ministry is that one does not have to travel far. Students can receive service hours. Alumni can reconnect. Faculty and staff have some new options on campus to nourish their faith. Sisters of Charity of the Incarnate Word have another avenue to meet students, faculty and staff and vice versa. New friendships can be made!
For more information, please contact Lena Gokelman, director of Music Ministries or Carmen Aguiler, liturgy and music assistant) at uiwmusicministry@uiwtx.edu.
St. Isidore Ministries Registration Form
In the News
KSAT 12: Three sets of twins compete in UIW Athletics
Community News
UIW Welcomes New Dean of Campus Life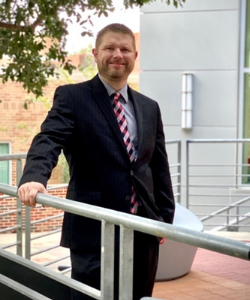 Dr. Chris Summerlin has officially joined the UIW community as the Dean of Campus Life. Coming from Kennesaw State University, where he served as Interim Dean of Students, Dr. Summerlin brings extensive experience in developing and leading innovative student affairs programs. Dr. Summerlin shared with the search committee that he wanted to join UIW, as our Mission aligns with his personal core values. Dr. Summerlin has spent his first week on campus meeting with his staff and learning more about UIW and its students. Welcome to the Nest, Dr. Summerlin!
UIW Launches Official Mobile App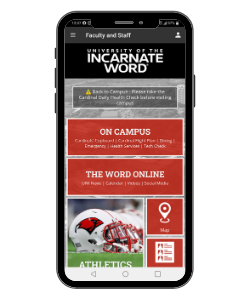 The official UIW app is here, Cardinals! The UIW mobile app is your one-stop shop for information on campus dining, University news, Blackboard and access to the Cardinal Daily Health Check! Download it today in the App Store or Google Play!
Service
San Antonio Virtual Community Engagement Fair

Join us for the San Antonio Virtual Community Engagement Fair, a series of virtual panels highlighting organizations working to support the San Antonio community in key social justice issues. The fair is also an opportunity to learn more about ways students can volunteer their time and talents in service. The virtual fair will be hosted on GivePulse in collaboration with the Service-Learning Intercollegiate Collaborative (SLIC) of San Antonio. SLIC is a consortium of colleges and universities across the San Antonio region that meet to discuss best practices and challenges in community service, civic engagement and service-learning, and to collaborate on various programs. For more information, please contact Mayra Levy at mcarbaja@uiwtx.edu or (210) 829-2764.
Cardinals' Cupboard Donations

The UIW community came together to create the Cardinals' Cupboard Food Pantry in response to issues of food insecurity on campus in the fall of 2018. To continue to provide for our students in need, please consider purchasing items from our Cardinals' Cupboard Amazon Wishlist. Items purchased will go directly to the Ettling Center for Civic Leadership & Sustainability to place in the Cardinals' Cupboard. Thank you for supporting the Cardinals' Cupboard! 
Cardinal Corner
Learning Continues Safely at UIW
As UIW wraps up its second week of the Fall 2020 semester, students are preparing for a well-deserved three-day weekend after working alongside faculty to get creative in continuing to learn safely. With masks and face shields in tow, courses in music, nursing, fashion and more continued in-person instruction over the last two weeks. Where six feet of physical distancing wasn't possible, additional protective gear was worn. Take a look at some of our favorite photos from the first two weeks of the new semester! 






Alumni and Parent Relations
UIW Alumni Mentor Program

We are excited to announce the launch of the new UIW Alumni Mentor Program. 
The UIW Alumni Mentor Program is designed to cultivate meaningful mentorship opportunities for students and alumni who share common professional interests. This program seeks to provide valuable support and guidance to student-mentees as they transition from their academic life to professional careers. 
We are now accepting applications for mentors!
Homecoming 2020: Save the Date!

Attention Cardinals! We're going virtual for Homecoming and Family Weekend, Nov. 4 - 8, 2020!  
After much thought and consideration for the well-being of our alumni and entire UIW community, we have opted to go 100% virtual for this fun and festive weekend. The Department of Alumni & Parent Relations is determined to bring you the best experience possible for networking and celebration.  We will be in touch soon with a lineup of both new and familiar events.  
If you have any questions about Homecoming and Family Weekend, the  50th Year Reunion, or would like to share event ideas, please don't hesitate to contact our Alumni Relations team at (210) 805-5899.  We can't wait to share new memories with our Incarnate Word family near and far!
Athletics
Small-town Bond on a Big Campus
Both from small towns, freshman Drew Hermesmeyer and junior Trevor Bailey started a friendship that will last beyond their time as UIW men's golf teammates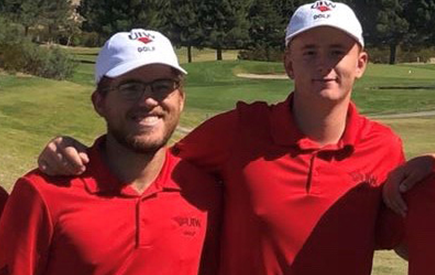 "I didn't grow up surrounded by golfers in general; it was mostly cowboys and ranchers. I knew it was going to be a transition." 
Stepping onto the University of the Incarnate Word campus as a freshman last August, Drew Hermesmeyer was nervous.
Born and raised in Goldwaite, Texas, the incoming men's golf student-athlete knew San Antonio, and even the close-knit community of UIW, would be a different atmosphere than he was used to. His hometown has a population of less than 1,400 compared to San Antonio's nearly 1.5 million. He only had 33 students in his graduating class, while UIW boasts an enrollment of more than 10,000. 
Hermesmeyer was nervous about making friends, connecting with people and seeing how his golf game would compare to his new teammates'. 
"When you grow up in a small town, you've known everyone in your school since elementary, which makes the bond you have with your classmates," said Hermesmeyer. "You never had to just put yourself out there."
Although he was anxious, He was also excited to start a new adventure. Being around his coach and teammates helped Hermesmeyer feel more at home. Like a family, they teased each other but also respected one another. 
"I knew from the first time I met all the guys on the golf team we would all get along," said Hermesmeyer. "It eased my nerves to know that all the golfers on the team grew up in different backgrounds and had different personalities just like myself.
"One of the best things about my teammates is that we love to give each other a hard time. Through all the teasing, though, I know they respect me not only as a golfer, but also as a person."
A few days before the semester started, the men's golf team came together to play a match and get to know each other. Hermesmeyer was paired with junior Trevor Bailey, and the two instantly clicked. 
"The first time I met Trevor, we were paired together in a friendly match against my teammates and, sure enough, we won," remembers Hermesmeyer. "Ever since that day, Trev and I have become close friends, and he has helped take me through the life of a college student-athlete." 
"Drew and I teamed up to play against two other teams," added Bailey. "We started out hot, playing so well that we won the match. In Drew, like many freshmen, I saw a lot of raw talent and potential. I wanted to make sure that we could grow his talent and reach his goals." 
Bailey remembers what it was like entering college as a small fish in a big pond. He fondly talks about his first interaction with former UIW men's golfer John Hill, who was a sophomore when Bailey joined the Cardinals. 
"Coming out of high school, I was shy, timid and not full of confidence. My favorite memory, and what I base my interaction with incoming freshmen on, was my first round with my soon-to-be close friend John Hill, a sophomore at the time. I remember standing on the 18th tee and John saying that he respects my work ethic because he had seen me practicing every day before the semester even started. John became the big brother I never had, and I've tried to base my interactions with incoming teammates as he did." 
Bailey and Hermesmeyer met on the golf course, but their common backgrounds and similar interests formed a tighter bond. 
"He grew up in a small town similar to myself," said Bailey. "I grew up in the small suburb of Cibolo, Texas, and I grew up playing golf on a golf course whose condition was so bad that it eventually closed down. 
"A more fun connection that we have is that we both have a slight Coca-Cola/Dr. Pepper addiction. This is how we formed our friendship's foundation, and it has grown from there." 
Bailey took Hermesmeyer under his wing and helped teach him aspects of the game that were unfamiliar, such as technical terms in a golf swing. He made sure Hermesmeyer learned the ropes of being on a Division I golf team. 
"He would always try and build me up whenever I was frustrated with my game or myself, and he would correct me if I was ever acting out of place," said Hermesmeyer. "In high school, I played football, basketball and golf, and I can say Trevor is one of the best teammates I've ever had." 
But the mentorship went beyond golf. It impacted every area of Hermesmeyer's life. From talks about course management to how to register for classes, the two discussed everything.
"Trevor is a very bright student and knew the struggles a freshman faces when it comes to their classes," said Hermesmeyer. "I can't tell you how many times I called or texted Trevor with questions about my homework. Whether it was late in the evening or early in the morning, I knew I could always count on Trevor to help me out. Socially, Trevor introduced me to many people around campus and helped me get my name out there." 
Their friendship continued to grow throughout the year. They worked out, ate and practiced together. When they weren't on the course competing, they were just friends trying to have fun and accomplish similar goals. 
Through that bond, Hermesmeyer never has to feel alone. Whether he wants to work on a particular area of his golf game or just needs a friend, he always has someone he can turn to.
"I have always let Drew know that he will never bother me," said Bailey. "He can call, text, and ask as many questions as he wants. On the course, I would have him come practice with me to get used to practicing for long periods of time, and to do that multiple days in a row. I let him know that everything in life is difficult the first time, and with more and more repetition, there will be a better comfort level that will follow.
"Off the course, I know that being away from home is difficult and I would try to make sure that he was doing well. If he was feeling home sick, I would let him know that he always has me and his teammates if he ever needs anything." 
Hermesmeyer came to UIW to make a change in his life and to put himself out there. He wanted to see how he would do, both personally and on the golf course, in a bigger setting. His friendship with Bailey is helping him accomplish everything he hoped to, and more.
Hermesmeyer's freshman campaign has ended and Bailey earned his undergraduate degree a year early, crossing the (virtual) graduation stage in May, but that doesn't mean the friendship is over. Bailey has joined the men's golf team as a graduate assistant while he pursues a master's in accounting.
"I think it's a great thing that Trevor plans to go the GA route," said Hermesmeyer. "I feel that it will be a perfect fit for him, and I know that our friendship will only be stronger because of it. I also think it will be beneficial for my own game. Having someone to push me, but also someone I can come to for any help or guidance, will be nice to have." 
"In my opinion, the only aspect that has changed is job title, and that goes for all my teammates," added Bailey. "I am learning all the time, and I love being able to share my knowledge with my younger teammates. I want to be viewed more as a big brother. I believe my friendship with Drew will continue to grow because I feel I am not done teaching him about the trials and tribulations of college and college golf."