Office of the Provost
Welcome to the Office of the Provost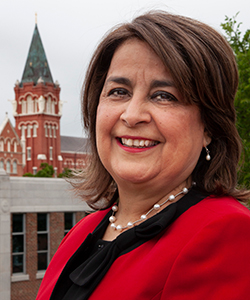 I am proud to serve the University of the Incarnate Word as provost. The Office of the Provost oversees the integrity of all academic programs of the University, representing the academic endeavors of the University to external accrediting agencies and constituencies. As the Chief Academic Officer of the University, I report directly to the president.
UIW is a leading academic institution with a wide range of exceptional, nationally and internationally recognized programs, an outstanding faculty and staff, and growth in its facilities over the past decade in support of our academic mission. UIW is the largest Catholic university in Texas, a Hispanic Serving Institution, and the school of choice by a greater percentage of minority and first-generation college students than any other large private university in the state.
UIW welcomes and supports students from a diverse array of nations and cultures; a quality that is fundamental to our Catholic faith, Mission and international reach. Since 2013, UIW has awarded bachelor's degrees to more Hispanic students – every year – than any other non-profit institution in the country. The UIW system continues to develop locally, nationally and internationally with five satellite locations in San Antonio and Corpus Christi, two campuses in Mexico, a European Study Center in Heidelberg, Germany and another in Strasbourg, France. In addition, UIW has over 146 "sister schools" in 45 countries where students may study abroad. UIW is committed to diversity as it enriches our campus and community and builds global competencies toward understanding the pressing needs of our world.
I am inspired by our deep commitment to excellence, our values embedded in faith by the charism of the Sisters of Charity of the Incarnate Word, our Texas roots, and our dedication to community service. I am deeply motivated by our role in ensuring that our 21st century students can contribute to society in a meaningful way and are prepared to challenge and innovate based on solid values, principles and moral purpose. We will work to instill in them a strong commitment to social justice and human dignity and a dedication to finding solutions for the pressing needs in the world.
My role as provost is to help keep our community focused on academic excellence and to encourage and facilitate a spirit of collaboration among all departments, faculty and staff. This collaboration allows our community to better achieve the teaching, research and service missions of the University and create an environment committed to student success.
We have charted an ambitious course toward strengthening all our academic programs and have already begun to see the fruit of creating an institution to educate our 21st century students. As we enter the new academic year of 2019-2020, I ask you to think about the following:
For our Faculty and Staff: What do I bring to the table? How can I use my individual skills and resources effectively in helping to build tomorrow's innovators, knowledge managers, problem solvers and leaders?
For our Students: How can I use the UIW learning experience to create my path for the future as a world citizen?
For Prospective Students: Can we interest you in becoming part of a transformative educational experience where superb instruction, innovative research and hands-on experiences in local and global community service will enrich your life, deepen your understanding of the world, and create the pathways for your future as an engaged world citizen?
Welcome to the Office of the Provost. I welcome your thoughts and encourage you to contact this office regarding your academic needs.
Sincerely,
Dr. Barbara Aranda-Naranjo, Provost
naranjo@uiwtx.edu
Itza Casanova, Administrative Assistant to the Provost
casanova@uiwtx.edu
(210) 829-3943
4301 Broadway, CPO 301
San Antonio, TX 78209