Office of the Provost
Welcome to the Office of the Provost
Dr. Farrell J. Webb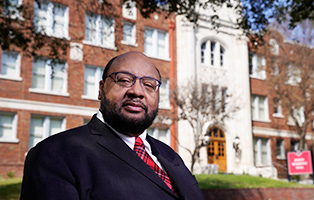 A warm welcome to the University of the Incarnate Word community.
My name is Dr. Farrell J. Webb and I am honored to help lead this vibrant and accomplished community of students, faculty and staff.
As provost, my primary goal is to support and enhance the academic mission of the University. This includes promoting academic excellence, fostering innovation and collaboration, and ensuring that our students receive a world-class education. Together, with our extraordinary faculty, we will accomplish this by adhering to our five core values: Faith, Innovation, Education, Service and Truth. We work to embrace the core of our Vision Statement of "inspiring our students to live life to its fullest sense, with the genuine abundance of God's love and grace." And we continue to solidify our position as a destination institution for first-generation college students, members of our military transitioning to civilian life and everyone who seeks to lift their families and communities through education and service.
I have a deep and abiding respect for the teachings and practices of the Roman Catholic faith and I have an intimate familiarity with the principles and ethics of Jesuit education and Ignatian spirituality. I believe in and have incorporated the concepts of authenticity, excellence, honesty, integrity, courage, love, forgiveness, hope, respect, service and justice, in what I do, have done, and will continue to do as a leader. My devotion to higher education and its potential to provide justice and benefits to all are a hallmark of my incorporation of the Ignatian philosophy into my life.
I am inspired to be a part of the leadership at the University of the Incarnate Word at this point in the University's history. Working with faculty, staff, students and alumni, we set out every day to maximize our geographic distinctiveness, develop our potential for growth, enhance our retention and graduation rates, strengthen our international reach, cultivate our relationships with our numerous community partners and reinforce our commitment to life-long learning. We strive to do all this and more while keeping with the Mission and values set out by our founders, the Sisters of Charity of the Incarnate Word, more than 140 years ago.
I look forward to seeing you around campus and to working together to build a brighter future for the University of the Incarnate Word.