Parking
Parking Rules and Regulations (PDF)
Parking Map (PDF)
Parking Permits
A parking permit is required to park on campus. Any vehicle that is not registered or does not have a permit properly displayed is subject to a parking fine.
2018-2019 Parking Permit Rates
Students

Employees

Undergraduate Commuter Students (Economy)
Resident Students
Pharmacy Students
Graduate Students
Motorcycle

$250/year (free w/ purchase of car permit)

Handicap

Economy

$250/year (full-time employees)
$125/year (part-time employees)

Priority (faculty, pre-approved staff, and age 60+ only)

$380/year (full-time employees)
$190/year (part-time employees)

Pharmacy Faculty/Staff

$250/year (full-time employees)
$125 (part-time employees)

Motorcycle

$250/year (free w/purchase of a car permit

Handicap

$250/year (full-time employees)
$125/year (part-time employees)
All registered students and UIW employees may register their vehicle and order parking permits online through Cardinal Cars (found in your MyWord portal). Once your vehicle is registered, a parking decal will be available for pickup in the Business Office. You may register multiple vehicles under the same account, but only ONE decal is allowed per student/employee. Parking decals are removable, and must be transferred and displayed on the vehicle that is on campus.
Handicap Permits
Students/employees requesting a handicap permit must present valid documentation (i.e. handicap placard, vehicle registration) and driver's license before a permit will be issued.
Disabled/decorated veterans
Disabled/decorated veterans whose vehicle displays the special license plate issued by the Texas Department of Transportation (TXDoT) are eligible to receive a university parking permit (Handicap or Economy) at no cost. This privilege applies to the veteran ONLY (not to others driving the vehicle). Before a permit is issued, the veteran will be required to:
Register their vehicle via Cardinal Cars (located in the MyWord portal)
Select their permit type

H (Handicap)
C (Commuter/Economy)

Present their vehicle registration (TXDoT) with proper identification to the business office
Visitors
Visitors must check in at the Visitor & Information kiosk in front of the Administration Building (located at the Burr Road entrance). If you have a guest coming to campus, please contact the kiosk in advance for a temporary parking pass at 210.283.5066 or tempparking@uiwtx.edu.
How to Request a Parking Permit (Students)
Log in to your MyWord portal
Select the Cardinal Cars icon (under "Launchpad" menu on the left-hand side)
Read the Parking Rules & Regulations and the Vehicle Registration Disclaimer to proceed
Click on Parking Permits, and select a permit type from the dropdown menu
Enter information for your vehicle(s) and click "Add"
Click the select box next to each vehicle to be assigned to the permit
Click "Permit Selection" and click OK after verifying your selection
Print your Temporary Permit to display on vehicle dashboard
Temporary permits must be replaced by an official parking decal prior to the expiration of the temporary permit
How to Request a Parking Permit (Employees)
Follow the steps above
Select Payroll Deductions ( optional; full-time employees only)

The cost of the permit will be equally deducted from each paycheck for the duration of the fiscal year

Print Temporary Permit to display on vehicle dashboard

Temporary permits must be replaced by an official parking decal prior to the expiration of the temporary permit

Part-time employees (and full-time employees who do not select payroll deductions) must pay for permit in full when picking up their decal from the Business Office
Placement of Parking Decal
Parking decals must be affixed on the inside of the windshield on the driver's side, near the vehicle registration sticker. All permit information must be visible from outside the vehicle (barcode unobstructed).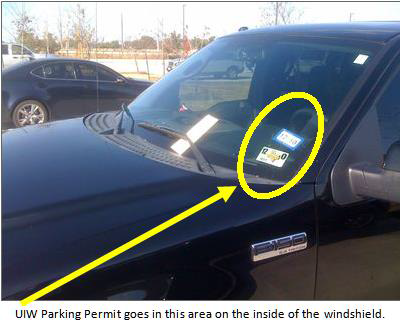 Parking Citations
Students/Employees: Parking fines are charged to your student or employee account. Payments for fines can be made online through the ePayment Center, on in the Business Office with cash, check, or money order
For guests, visitors, or vendors who receive a parking fine, payment can be made online at the Parking Fine Payment page, in person in the Business Office, or by mail.

Please note that the citation number and license plate number are needed for all payments
Citation Appeal Process
All appeals must be submitted within ten (10) days of the issuance of the violation, and must detail the reasons for requesting a reassessment of the fine.
The decision of the Appeals Committee is final. All ticket appeals may be submitted once, and any additional appeal attempts will not be reviewed.
Current students and employees may submit appeals through their Cardinal Cars portal
Former Students or non-UIW affiliates may email appeals@uiwtx.edu and include the following information:

Ticket number (ex. 17H504618)
License plate number and state
Reason for appeal
Contact information
Parking is a university granted privilege extended to those who agree to abide by the University of the Incarnate Word parking and traffic regulations. This privilege may be revoked from individuals who have demonstrated an unwillingness to adhere to the university's policies and regulations.