The Word E-News Archive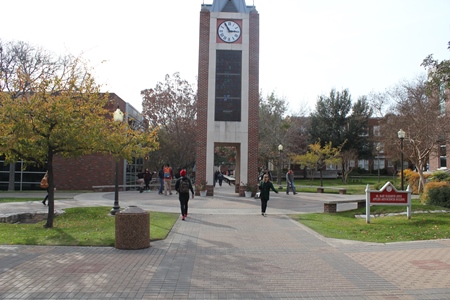 Monday, Jan. 12 was the first day of the Spring semester.  Welcome back Cardinals! 
---
Mission
Our Lady's Chapel Services
All are welcome. 
Noon Mass, Monday – Friday
Sunday Mass at 10:30 a.m.
Liturgy of the Hours evening prayer at 4:30 p.m. every Wednesday
Sacrament of Reconciliation - 11:30 a.m. Fridays or by appointment.
---
Events
The Untold Story of Dr. King
The Office of Ecumenical Initiatives is hosting an MLK Holiday Weekend Event from 7 to 9 p.m. on Friday, Jan. 16 in room 214 of the Nursing Building.  The event is free and open to the community, youth and anyone who simply wants to learn more about Dr. King. For more information contact Rev. Trevor Alexander at (210) 829-3130 or alexande@uiwtx.edu.
Made in SA: Music by SA Composers, Played by SA Pianists
The University of the Incarnate Word will host a concert featuring all world premieres of pieces written specifically for young pianists from 3 – 4:30 p.m., Sunday, Jan. 25 in UIW's Seddon Hall (new music building).  The music will also be performed by young pianists who are currently studying with teachers in the San Antonio area. A book containing select pieces performed on the concert will be available for purchase at the event. The concert and book were conceived and the pieces written by members of the Composers Alliance of San Antonio (CASA). The event is free and open to the public but seating is limited. For more information contact Ken Metz at (210) 829-3855 or metzrken@yahoo.com. 

Alpha: First Generation Student Success/ Financial Literacy Workshop
Dr. Theresa Martines, assistant professor of mathematics and Alpha faculty, will present a workshop for students on how to best manage their money and finances on Monday, Jan. 26 from noon to 1 p.m. in AD 155. Come and join us to learn about great strategies to save money. For details contact Tanja Stampfl at (210) 829-3885 or stampfl@uiwtx.edu.  Persons with disabilities needing special assistance to attend should contact the ADA coordinator at least five university business days prior to the event at www.uiw.edu/ada or 210-829-6035.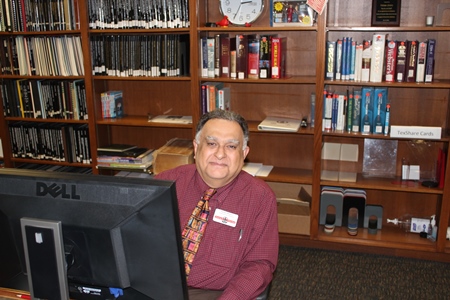 Pictured above UIW Librarian Farhad Moshiri will be presenting a film series for the UIW community this semester. The February event will feature Brand New You: Makeover Television and the American Dream. The film (53 minutes) examines how the interventions featured in makeover shows, from weight loss to cosmetic surgery; reproduce conventional norms of physical attractiveness and success. For more information, please contact Farhad Moshiri at (210) 829-3842 or moshiri@uiwtx.edu.

Expanding Your Horizons
Expanding Your Horizons is a national effort to expose middle school girls to STEM professions. The event is Saturday, February 7 from 8:45am-2:30pm at UIW Marian Ballroom. You can sign up your excited daughter at www.surveymonkey.com/r/EYHSA2015. Or sign up to be a volunteer by contacting Samana Hashim (shashim@student.uiwtx.edu). Or sign up to have a workshop to show off your profession by contacting Kathleen Lusk (lusk@uiwtx.edu) or Rebecca Ohnemus (Ohnemus@uiwtx.edu). Contact Tina Lopez at 210-883-1100 or tmlopez@uiwtx.edu for general information.

Rosenberg Sky Room Open House
The McCombs Center Rosenberg Sky Room will hold an open house on Sunday, Feb. 8, from 1 to 5 p.m. The 2015 theme is "Four Weddings" after the hit TLC show. The Sky Room will be transformed into different four different wedding themes showcasing vendors from across San Antonio. There will be free food and drinks. Admission is free with reservation. To RSVP or for more information contact Stephanie Ponce at skyroom@uiwtx.edu or call (210) 805-5805. 


A Call for Social Justice
The UIW Honors Program presents A Call for Social Justice at 6 p.m., Tuesday, Feb., 10 in Mabee Library Auditorium. Students will report and reflect on the people and organizations they witnessed during their three-day trip to the Rio Grande Valley in October 2014.  The students traveled to the Valley to learn about the economic and social issues affecting this impoverished area. Students will also add their reflections on the legal issues and other constraints affecting the development of this region. Presentation attendees will find out how they can support these local groups and impact legislation to help residents of the border area help themselves. The event is free and open to the public. For details, contact Jean  Loden, director – UIW Honors Program at (210) 832-3211 or jloden@uiwtx.edu.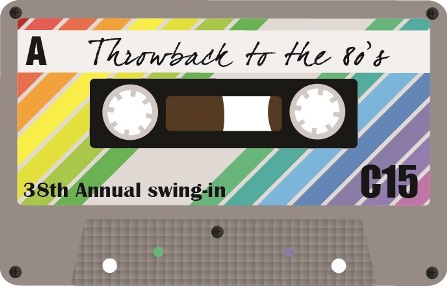 Save the date for the 38th Annual Swing-In Auction Party: "Throwback to the 80s" set for Thursday, April 30 in the McCombs Center Sky Room.  The Golf Tournament will take place on Friday, May 1 at The Republic Golf Course. Proceeds benefit UIW student scholarships. To details and to register visit www.uiw.edu/swingin  or call 210-829-6013.
---
Department News
Information Resources Division - January Maintenance 
Information Resources Division will be conducting the scheduled January monthly maintenance beginning at 10 p.m., Friday, Jan. 16 through 6 a.m., Saturday, Jan. 17. For information contact Joanna Arredondo at (210) 283-6489 or jcarredo@uiwtx.edu
The following production change items will be included in the maintenance window:
• Tax updates for Payroll (Regulatory)
• Financial Aid 8.22 Update (Regulatory)
• Parent Data Project
• Grants Seed Data
• Transcript Request Project
• IR Temporary Table Space Maintenance
• Core Switch IOS Update
• NIC Modification
-Buda-Post Office Mail System
-Kyle-Secure FTP/Network Monitoring
-IR-SQL-DEV
-IR-Tableau-Dev
During the maintenance window the following systems will not be available:
• Banner INB/SSB
• Banner Document Management
• BOSSCars
• myWord (Banner Links within the portal will not be available)
• Intellecheck
• Argos
• FormFusion
• Automic
• Focus
• Recruiter
• Intermittent Network Service Access (During the core switch update, network services across campus will be disrupted causing intermittent access to all services.)  
Graduate Support Center - Academic & Professional Workshop Series
Graduate Support Center will be offering the first Academic and Professional Workshop of the semester on Saturday, Jan. 24, from 9 a.m. to 3:15 p.m. in Nursing Building 214. All graduate students are welcome to attend. Please RSVP by emailing gsc@uiwtx.edu
Center for Veterans Affairs - Spring 2015 Welcome Back our UIW Military Family
The Center for Veterans Affairs welcomes back our UIW Military Family: active duty, veterans, and military family member students. Stop by Tues, Jan 27, in the Special Collections Room (J.E. and L.E. Mabee Library), between 11:30 a.m.-1 p.m. for pizza and sodas. Meet new friends and speak with current students about campus life, majors, how to survive finals, etc. Staff and faculty veterans are welcome, too! For more information, please contact Karen Wyatt at 210-829-2705 or by email veterans@uiwtx.edu 

Alumni Relations - Chicago the Musical at the Majestic
Join UIW Alumni Relations for Chicago: The Musical at the Majestic Theatre, Wed. Jan. 28 at 7 p.m.  Limited tickets in the balcony are available for only $26.50 each. Get your tickets now at www.uiwalumni.org/chicago.  For more information contact Steve Hemphill at (210) 805-3595 or hemphill@uiwtx.edu
Graduate and Doctoral Information Night
The UIW School of Graduate Studies invites prospective students to attend an information night from 6:30 to 8 p.m., Wednesday, Jan. 28 in the ICC Auditorium.  The school will be showcasing UIW's graduate and doctoral degrees in a number of competitive disciplines. For more information visit UIW's Graduate Admissions website at www.uiw.edu/thegradschool or contact Johnny Garcia at (210) 805-3554 or jsgarcia@uiwtx.edu. Please RSVP online at www.uiw.edu/gradstudiesrsvp 
Special Event and Announcement Submissions:
Please remember to submit your events to the Office of Public Relations for inclusion in the Word Today and the Friday e-newsletter.  Per university policy, we can only promote events submitted via the "Request for Event Promotion" form found at: http://www.uiw.edu/pr/preventform.html. The form must be submitted no less than 5 working days prior to the event. If you have any questions, contact PR's new Social Media/Communications Specialist Carl Myers at (210) 829-6001 or crlmyrs@gmail.com.
UIW Style Guide
The UIW Style Guide is available online at www.uiw.edu/styleguideto help answer your questions regarding university style for UIW publications. A downloadable PDF document is available here. 
Find answers to questions such as:
Capitalization rules
Titles
Common spelling errors
University logo usage
Abbreviations
Time and date usage
Punctuation
Web standards
If you have questions or comments about the style guide, contact Brance Arnold, PR publications coordinator, at bdarnold@uiwtx.edu   
---
Extended Academic Programs 
ADCaP and UIW Online Spring Information Session
Join UIW's Extended Academic Programs for an information session on our Adult Degree Completion Program (ADCaP) and UIW Online program on Thursday, February 5 at 6:30 p.m. at the Dr. Burton E. Grossman International Conference Center on the UIW campus. UIW will be highlighting opportunities for adult students to earn a bachelor's or master's degree completely online or at one of our six locations in San Antonio. We will feature the nine concentrations available for our Bachelor of Science of Business Administration including Project Management and Social Marketing. The five concentrations in the Bachelor of Science in Criminal Justice degree will also be detailed.
During the session, you can have your transcripts evaluated, discuss financial aid options, meet with a professor, and receive application assistance from Admission Counselors. To R.S.V.P. call (210) 757-0202 or email eapadmission@uiwtx.edu. Visit adulted.UIW.edu for more details. The Dr. Burton E. Grossman International Conference Center is located at the corner of I-37 and Hildebrand. See www.uiw.edu/map for directions.
---
ATHLETICS NEWS 
Cardinal Spotlight
UIW Athletics Open House
All are invited to the 2015 UIW Athletics Open House at the Drury Inn & Suites Airport (95 NE 410, San Antonio, TX 78216) from 4:30 to 6:30 p.m., Wednesday, Jan 21.  Enjoy complimentary food and drinks while mingling with other UIW employees and UIW Cardinals Club members.  Each attendee will receive a complimentary gift certificate for a one night stay at the hotel. Door prizes will be given away. RSVP to UIWAthletics@uiwtx.edu
UIW Basketball Season
The UIW Athletic Department invites the community to enjoy men's and women's basketball.  Games for January are listed below.
Men's Schedule:
Jan. 17: Men's Basketball vs. Southeastern Louisiana, Alice P. McDermott Convocation Center, 4 p.m.
Jan. 24: Men's Basketball at Abilene Christian, 4 p.m.
Jan. 26: Men's Basketball vs. McNeese State, Alice P. McDermott Convocation Center, 7 p.m.
Jan. 31: Men's Basketball at Nicholls, 3:30 p.m.
Women's Schedule:
Jan. 17: Women's Basketball vs Southeastern Louisiana, 2 p.m.
Jan. 22: Women's Basketball vs McNeese State, 6 p.m.
Jan. 24: Women's Basketball at Abilene Christian, 2 p.m.
Jan. 29: Women's Basketball at Texas A&M - Corpus Christi, 7 p.m.
Jan. 31: Women's Basketball at Nicholls, 1 p.m.
Admission to home games is $10. For more information, please contact Kevin Lepore at (210) 805-3000 or lepore@uiwtx.edu.
---
Community News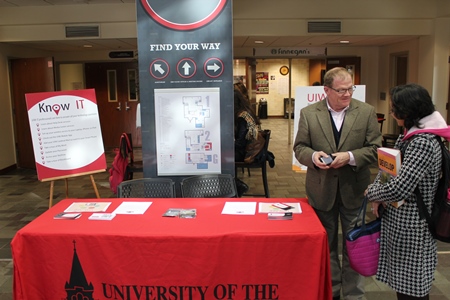 UIW Tech Training Coordinator Terry Peak instructs a student at the annual KnowIT! outreach sessions which informed students about Help Desk services, the UIW App, and answer general technology questions.  The sessions were held in the Mabee Library foyer.


Parking in Marian Circle
Please be advised that effective immediately no parking is allowed in Marian Circle which is located directly in front of the Marian Student Center.  This includes all vehicles of any kind including golf carts.  This is to ensure that VIA Trans can safely drop off individuals with disabilities at the West Gate Arch leading to main campus. The VIA Trans stop was moved from the side of the Wellness Center to the West Gate Arch because of the new gate located at the Hildebrand entrance.  Thank you for your help in ensuring we keep this area clear for VIA Trans and our community members using this service. If you have any questions please contact Campus Police at (210) 829-6030.

Alumni Class Notes-Call for Submissions
The Department of Alumni and Parent Relations is seeking submissions for the class notes section of The Word, UIW's alumni magazine. If you keep in touch with an Incarnate Word alum, let us know what they are up to so we can feature their accomplishments in our upcoming issue. Submissions will be accepted until noon, Thursday, Jan., 22. Contact Steve Hemphill at hemphill@uiwtx.edu or (210)-805-3595 and let us know what your outstanding former students are up to!

Career Services & Professional Development Open House
Stop by the Office of Career Services & Professional Development (AD 112) Thursday, Jan. 22 from 3-5 p.m., to see what we have to offer. Become familiar with our services and location. Light refreshments will be served. For details contact Darlene Moczygemba at (210) 829-3931 or careers@uiwtx.edu.


2015 Quirk – Call for Submissions
The Department of English announces the call for submissions for the 2015 issue of Quirk, UIW's literary arts journal. The journal is produced and published annually by UIW students and the Department of English. We are currently seeking outstanding original creative work from UIW students, faculty, and staff, for our next issue!  Submit your poetry, short stories, creative essays, and visual arts, including paintings, drawings, photographs and more!  For more information and submissions guidelines contact Dr. Joshua Robbins (joshua.robbins@uiwtx.edu) or visit us online: www.uiw.edu/quirk  Submissions will be accepted through January 30.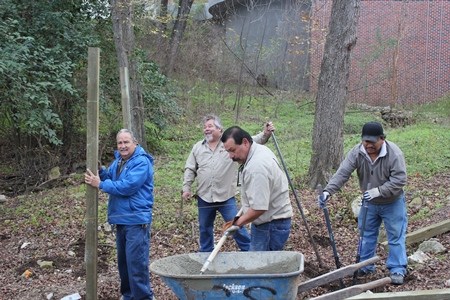 Members of the UIW Carpentry Department Armando Rey, Richard Martin, Albert Martinez and Shorty continue work on the pedestrian footbridge located between Benson Stadium and Joeris residence hall.
---
EMPLOYEE HEALTH & WELLNESS
Protect yourself from the flu
Vaccination is the best way to protect yourself from the flu. There are additional steps you can take to keep yourself and your family healthy this flu season. Visit flu.gov for more information. 

Study Abroad Information Session
The Study Abroad Office will hold a Faculty Information Session on Friday, Jan. 23 from noon to 1 p.m., and on Wednesday, Jan. 28 from 4 to 5 p.m., in AD 155.  The session will provide faculty and administrators an overview of the process and procedures in planning a faculty-led study abroad program. For details, contact Alanna Taylor (210) 805-5709, avtaylor@uiwtx.edu.
What's New in Blackboard?
Join Terry Peak and James Umphres as they unveil the latest upgrade to the Blackboard Learning Management System (LMS). They will preview an all-new option called Student View, a lunar calendar option, and an integrated assignment tool that includes options for both SafeAssign and building rubrics. To register for this course please contact Terry Peak at tpeak@uiwtx.edu, or call 829-3920. Lunch will be served at this session.
---
High Schools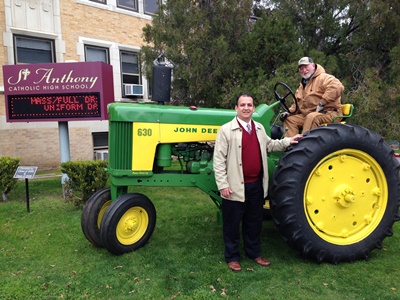 St. Anthony Principal Rene Escobedo poses with SACHS friend Bob Wahne who loaned his tractor as a unique way to draw attention to the upcoming SACHS gala. Buy your tickets now, pre-sale tickets are  $40 once the tractor is gone tickets go up to $50.
St. Anthony presents Denim & Diamonds Scholarship Gala
Enjoy a night of fun with the St. Anthony community! On Saturday, Feb. 21 St. Anthony presents its annual Denim & Diamonds Scholarship Gala.  Proceeds benefit students in need of tuition assistance. The evening promises to be a fun filled night with food, music, and dancing along with auctions and raffles. Prizes for auction include jewelry, sports memorabilia, Spurs tickets and much more. A Grand Prize Raffle is being held during the evening with $5,000 for the winner and other cash prizes for other winners. Event pre-sale tickets are $40 until Friday, Jan. 23, and $50 after this date. For details contact SACHS Director of Development Henry Garcia at hagarcia@uiwtx.edu  or call 210-832-3296. 

St. Anthony Catholic High School - School Choice Rally
St. Anthony will hold a School Choice rally at 4 p.m., Wednesday, Jan. 28 on the SACHS Lang Field.  The rally is to bring the issue of School Choice, which provides parents the option to choose their child's school, to the community and area legislators. For more information contact Alejandro Calderon, (210) 832-5632 or calderon@uiwtx.edu
Visit St. Anthony Catholic High School at www.sachs.org.  
IWHS - High School Placement Test
IWHS is offering the High School Placement Test for those current 8th grade students who are interested in applying to Incarnate Word High School AND have not already taken the test at another high school. The test will be given on Saturday, Jan 17 at 9 a.m., at IWHS. For more information, contact Annette Zahirniak at (210) 829-3123 or IWHSEnroll@uiwtx.edu.
Visit Incarnate Word High School at www.incarnatewordhs.org.
Visit the UIW Prep website at http://prep.uiw.edu.
---
Miscellaneous
Our sympathy and prayers go to:
 Dr. Sushma Ramsinghani (UIW Feik School of Pharmacy Faculty) & family on the recent loss of her mother, Sushila Devi Baderia.
Joseph B. Hornisher & family on the recent loss of his wife, Helene Rae Hornisher (IWHS '54).
Betty Kinard Mosley & family on the recent loss of her aunt, Kate Kinard Jernigan (BSN '46).
Raul Salinas III & family on the recent loss of his wife, Adela Martinez-Salinas (BS '08).
The University of the Incarnate Word provides reasonable accommodation with adequate notice. To request disability accommodation for events listed in this newsletter, visit www.uiw.edu/ada.