The Word E-News Archive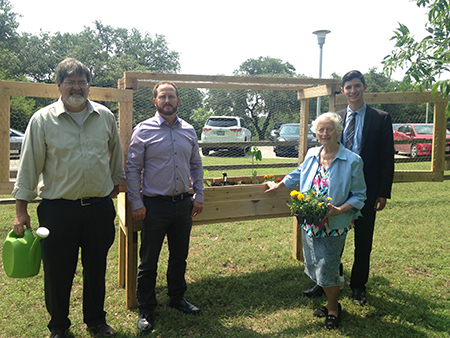 The UIW Sustainability Advisory Board presented Sr. Alice Holden, CCVI, with a table-top garden Wednesday, May 11, at the Denman Estate. Pictured above (left to right) are Dr. Jeff Crane, associate dean of CHASS, Daniel Potter, project manager of Solar House, Sr. Alice Holden, CCVI, and Jacob Bloodworth, 2016-2017 SGA president.


---
Mission
Our Lady's Chapel Services
All are welcome. 
Noon Mass, Monday – Friday
Sunday Mass at 10:30 a.m. & 8:30 p.m.
Liturgy of the Hours evening prayer at 4:30 p.m. every Wednesday
Sacrament of Reconciliation - 11:30 a.m. Fridays or by appointment with Fr. Tom Dymowski, O.SS.T. (210) 829-3131 or dymowski@uiwtx.edu. 
 
---
Events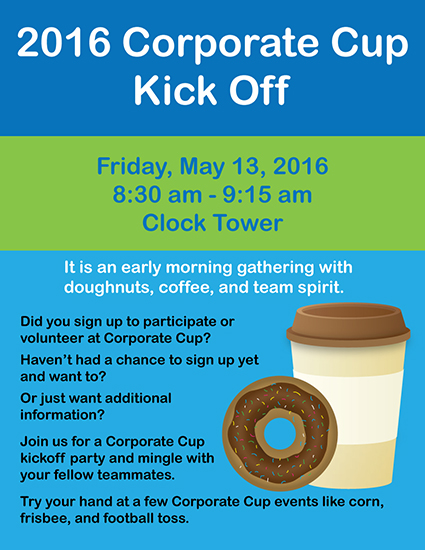 Composer's Alliance of San Antonio Concert
The Composer's Alliance of San Antonio (CASA) Concert of Original Piano Music written for and performed by student pianists is at 4 p.m., Sunday, May 15 in the Concert Hall. For more info, contact Roland Sul at (210) 829-3852 or sul@uiwtx.edu.

2016 UIW Summer Basketball Camp 
UIW Basketball is hosting a co-ed basketball camp this summer for children ages 7-16 years old. The camp will be held in sessions from June 6 – 10 and June 27 – July 1. Sessions are daily from 9 a.m. – 4 p.m. The price for a full day of camp is $185 and the price for a half-day is $155. You can receive a 20% discount with the code: 20UIWBBALL. For more info, follow this link for online registration.  If you have any questions please don't hesitate to contact Brian Curtis at bcurtis@uiwtx.edu or (210) 283-5052. Online registration will allow you to input the 20% discount code.
---
Department News
Family Game Night
The Doctoral Student Association at the Dreeben School of Education is running a service project through Wednesday, May 18 in which they are collecting games and monetary donations to provide snacks and a family games for children in our community. As the school year ends and the children go home for the summer, many, who had relied on activities and food in their Title I schools, do not have sufficient food or options for engagement with their siblings and families. Our goal is to provide a game and snack package for children in need. This project is a collaboration between the UIW Doctoral Student Association and the central office staff of the North East Independent School District. All contributions are welcome and all 100% will go to the children. Suggested games to donate include:
Deck of Cards
Bingo
Uno
Checkers
Password
Connect Four
Shape by Shape
Scattergories
Math Dice
Ka-ching!
Hit or Miss
Small Board Games
Cash donations are also being accepted. Your donation of only $3 serves a family. Campus drop off locations are in the Gorman Building, Rooms 104 and 230. For more info, contact Joan Labay-Marquez at (210) 283-6429 or labaymar@uiwtx.edu.

Blackboard Course Shell Training
UIW has adopted a new shell for the Blackboard course template. This shell will be used campus-wide. But there is no need to fear, the UIW Instructional Technology team is here to demonstrate the shell and show you how it will benefit both you and your students. Come and spend an hour with the IT team in the Administration Building, Room 212, and learn how the shell is designed to enhance student engagement and help faculty manage course content. Below are dates for August and September. To sign up for a time, email Terry Peak at tpeak@uiwtx.edu.
1 at 3 p.m.
5 at 12 p.m.
9 at 3 p.m.
10 at 9 a.m.
12 at 12 p.m.
16 at 9 a.m.
18 at 12 p.m.
19 at 3 p.m.
22 at 3 p.m.
24 at 12 p.m.
26 at 9 a.m.
30 at 12 p.m.
Sept. 1 at 9 a.m.
---
Athletics News
Cardinal Spotlight
Sundae Fun Day at UIW Baseball
Join UIW Baseball Sunday, May 15 at Sullivan Field for "Sundae Fun Day" for free sundaes at baseball Sunday games. Sundaes available while supplies last. For more info, contact Camelia Trahan at (210) 805-3012 or ctrahan@uiwtx.edu.
Baseball for the Month:
May 13: Baseball vs. Abilene Christian University, Sullivan Field, 6:30 p.m.
May 14: Baseball vs. Abilene Christian University, Sullivan Field, 3 p.m.
May 15: Baseball vs. Abilene Christian University, Sullivan Field, 1 p.m.

For info, please contact Athletics at (210) 805-3000.
---
Community News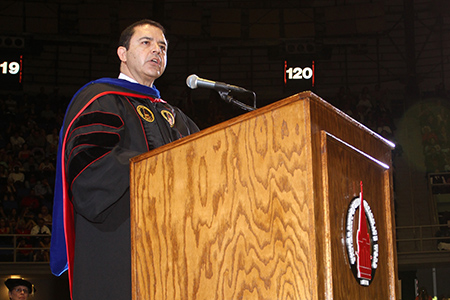 U.S. Congressman Dr. Henry Cuellar was the commencement speaker for the 2016 Undergraduate, Graduate and Doctoral Commencement Sunday, May 8, at the Joe and Harry Freeman Coliseum.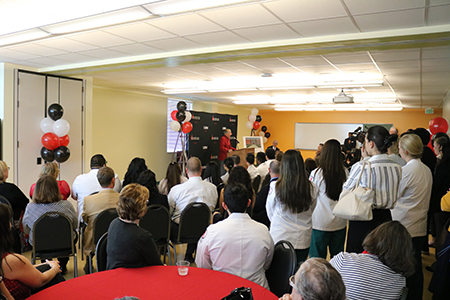 At a press conference on Tuesday, May 10 at the Bowden Eye Care Center, Dr. Lou Agnese announced a new initiative available to high school seniors with strong academic ability seeking advanced degrees in nursing, pharmacy, physical therapy, optometry or medicine. UIW's new Texas Top 5% Program provides provisional admission into one of the university's professional programs for Texas high school seniors ranking in the top five percent of their class after their junior year. The initiative features an added bonus to help students attain their goals - a $2500 scholarship per year for full-time study, renewable for up to eight years. This scholarship is in addition to any UIW academic award for which the student is eligible and continues into the professional program. For more information, visit www.uiw.edu/healthprofessions.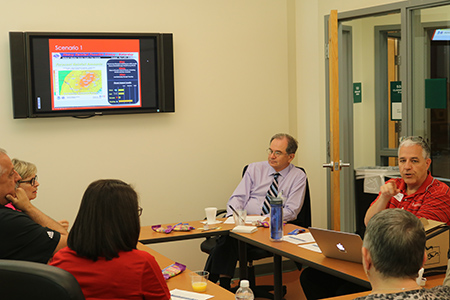 On Wednesday, May 11, UIW administrators participated in a Tabletop Exercise on Response to Campus Emergencies. The workshop, which focused on the Federal Emergency Management Agency (FEMA) model, was designed to discuss the specific roles that campus leaders play in an emergency situation, and how those functions help us integrate outside help most efficiently, from police, fire, FBI, and other participants.

UIW Highlight
Employee Handbook is no longer on Blackboard
The Employee Handbook is no longer on Blackboard. You can now view the latest version of the Employee Handbook on the HR website at http://www.uiw.edu/hr/employeehandbook.pdf. If you have any questions, contact HR at (210) 829-6019.

Bereavement Notice
John Roy Haywood, father of Carl Haywood, director of infrastructure, passed away on Sunday, May 8. A service will be held at Alamo Funeral Chapel (624 N. Alamo Street, 78215) at 9 a.m., Friday, May 13. Interment will follow at Fort Sam Houston National Cemetery (1520 Harry Wurzbach Rd., 78209) at 10:30 a.m. Please keep Carl and his family in your thoughts and prayers.


UIW Dining Hours – Memorial Day Weekend
UIW Dining has published their Memorial Day weekend holiday hours. For more info, contact UIW Dining at (210) 832-2149.
---
Faculty Focus
Faculty Service Engagement Form – Spring 2016
Faculty are invited to document the ways that they have promoted student engagement in service learning and community service on this form because the Ettling Center for Civic Engagement needs this information as UIW seeks the prestigious Carnegie accreditation. To understand this more, please see the ECCL Faculty Resources pages. As you know, faculty are invited to document service learning projects and their own scholarship of engagement on the FSI form at the end of the year. To see more about the resources for assistance and scholarship, click here. For additional info or assistance, please contact Sr. Martha Ann Kirk, faculty liaison in the Ettling Center for Civic Leadership, at (210) 283-6423 or kirk@uiwtx.edu. 

---
Employee Health & Wellness
Employee Wellness Lunch & Learn
The Employee Wellness Committee will host a Lunch & Learn at 12 p.m., Thursday, May 19 in the Mabee Library Special Collections Room. The speaker will present for Mental Health Month. RSVP by email: empwellness@uiwtx.edu.


---
High Schools
IWHS Highlight                                 
SACHS Highlight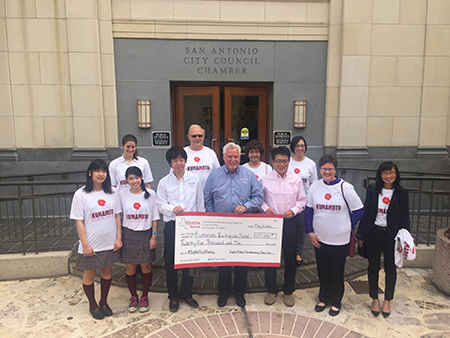 SACHS students (pictured left) accompanied a delegation of the Japan American Society of San Antonio during Thursday's City Council meeting as they kicked off fundraising efforts to help San Antonio's sister city of Kumamoto, Japan that was recently hit by earthquakes.  


Visit St. Anthony Catholic High School at www.sachs.org. 
Visit Incarnate Word High School at www.incarnatewordhs.org.  

Visit the UIW Prep website at www.uiw.edu/prep.
---
Miscellaneous 
2017 Fiesta® Poster Contest is Requesting Entries
San Antonio and area artists are invited to participate in this annual competition to create a poster design that represents the unique style and imagery of San Antonio and reflects the excitement and spirit of our Alamo City. Deadline for submission is 5 p.m. Thursday, June 30. Entries must be submitted before the deadline to the Fiesta® Commission Office (2611 Broadway, 78215). Office hours are Monday – Thursday, 8:30 a.m. to 5 p.m., and Fridays, 8:30 a.m. to 12:30 p.m. Ten semifinalists will be selected before an overall winner is selected. The winning artist will receive $4,000 in two installments of $2,000, be honored at the Fiesta® San Antonio 2017 Poster Unveiling, and be recognized in the Fiesta® 2017 Magazine. The winning artist must be available for certain poster signings, press interviews and public appearances from November 2017 through April 2017. Fiesta® 2017 dates are April 20 – 30. For a detailed list of contest rules and info, visit www.fiesta-sa.org. For more info, call (210) 227-5191, ext. 101, or email fiesta@fiesta-sa.org.
Our thoughts and prayers go to:
Charlene Staha and Chuck Ertel & family on the death of their mother, Edna Bell Ertel (BS '48).
Carl Haywood (UIW Director of Infrastructure Support) & family on the recent loss of his father, John Roy Haywood.
Patricia Heitman, David Slemon and Pam Marks & their families on the recent loss of their mother, Marion Pamela Slemon "Marnie" McDermott on her recent death at the age of 101.   She was the widow of the late BG Robert F. McDermott, former H-E-B School of Business faculty and UIW Hon. Doctor of Humane Letters, '88)
The friends and family of Monsignor Eugene O'Callaghan (MA '85) on his recent death.
Tony, Stephen and Eric Ritter & their families on the recent loss of their mother, Gloria Ann Tomasi Ritter (IWHS '50). 
The University of the Incarnate Word provides reasonable accommodation with adequate notice. To request disability accommodation for events listed in this newsletter, visit www.uiw.edu/ada.