The Word E-News Archive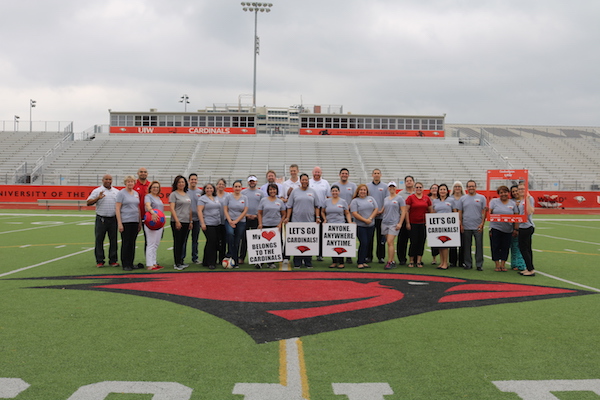 The 2016 UIW Corporate Cup Team met at Benson Stadium Thursday, May 26, for a photo opportunity and to prepare for the Corporate Cup. Corporate Cup 2016 will be at UIW Saturday, June 4.


---
Mission
Our Lady's Chapel Services
All are welcome. 
Noon Mass, Monday – Friday
Sunday Mass at 10:30 a.m. & 8:30 p.m.
Liturgy of the Hours evening prayer at 4:30 p.m. every Wednesday
Sacrament of Reconciliation - 11:30 a.m. Fridays or by appointment with Fr. Tom Dymowski, O.SS.T. (210) 829-3131 or dymowski@uiwtx.edu. 
 
---
Events
2016 UIW Summer Basketball Camp 
UIW Basketball is hosting a co-ed basketball camp this summer for children ages 7-16 years old. The camp will be held in sessions from June 6 – 10 and June 27 – July 1. Sessions are daily from 9 a.m. – 4 p.m. The price for a full day of camp is $185 and the price for a half-day is $155. You can receive a 20% discount with the code: 20UIWBBALL. For more info, follow this link for online registration.  If you have any questions please don't hesitate to contact Brian Curtis at bcurtis@uiwtx.edu or (210) 283-5052. Online registration will allow you to input the 20% discount code.

First-Time Freshman Orientation
Help us welcome new Cardinals to the nest. UIW's one-day orientation program is designed to prepare admitted students to be successful at UIW. Students and families will have the opportunity to participate in sessions which will familiarize them with the UIW campus and prepare them for classes. The program includes a welcome from Dr. Lou Agnese, sessions from academic deans, advising, Cardinal organization fair and other informative events. Orientation is required for first-time freshmen and will take place from approximately 8:00 a.m. - 5 p.m., on the following dates in the Concert Hall:
Wednesday, June 8
Thursday, June 16
Thursday, June 23
Wednesday, June 29
Thursday, July 7
Wednesday, July 13
Wednesday, August 10
Wednesday, August 17
For more info, contact Rochelle Ramirez at (210) 805-3069 or orientation@uiwtx.edu.

Ramadan Dialogue Dinner
You are invited to an Iftar dinner for the UIW community at 7:30 p.m., Monday, June 13, at the Raindrop Turkish House (4337 Vance Jackson Road, 78230) commemorating the Muslim holy month of Ramadan. Make friends, learn of Islamic prayer, charity and the practice of fasting from sun up to sun down during the holiest month. Enjoy the fast-breaking dinner of delicious Turkish foods. The Dialogue Institute welcomes you to this event. For more info, questions and to RSVP, contact Dr. Suleyman Tek at tek@uiwtx.edu.
---
Department News
Blackboard Course Shell Training
UIW has adopted a new shell for the Blackboard course template. This shell will be used campus-wide. But there is no need to fear, the UIW Instructional Technology team is here to demonstrate the shell and show you how it will benefit both you and your students. Come and spend an hour with the IT team in the Administration Building, Room 212, and learn how the shell is designed to enhance student engagement and help faculty manage course content. Below are dates for the first half of August. To sign up for a time, email Terry Peak at tpeak@uiwtx.edu.
1 at 3 p.m.
5 at 12 p.m.
9 at 3 p.m.
10 at 9 a.m.
12 at 12 p.m.
16 at 9 a.m. 
---
Community News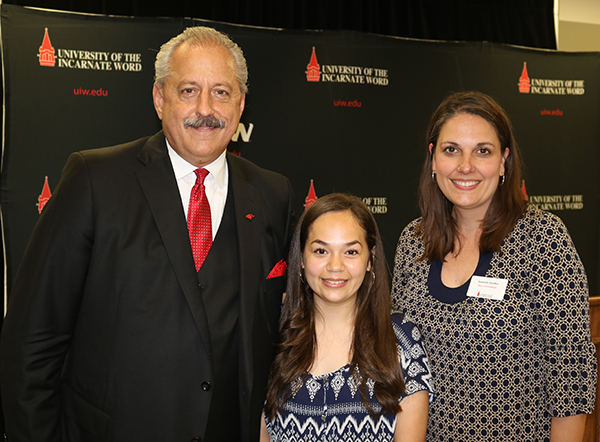 UIW received two gifts this week for the new Texas Top Five Percent Direct Admit Health Professions Program. H-E-B will provide $2,500 to the first 25 public high school students to enroll in the new program renewable up to four years and the Richard Spencer Lewis Memorial Foundation gave 10 scholarships in the amount of $2500 for students of either public or private high schools enrolling in the program. Pictured above (left to right) after the press conference are Dr. David Jurenovich, vice president for enrollment management and student services, Karla DeAnda, graduating senior from Oliver Wendell Holmes High School and the program's first student, and Jennielle Strother, dean of enrollment.
Bee Warning at the Blue Hole
The Headwaters at Incarnate Word has advised that there is a sizable colony of what appear to be African honey bees in an oak tree very close to the Blue Hole, near the old volleyball clubhouse. The Headwaters at Incarnate Word is making arrangements with a service provider to handle the situation. Until that time, they recommend staying clear of the area for a few days, especially if you are with large groups or loud noise-making equipment. If you have any further questions, please contact them at (210) 828-2224, extension 232.

Employee Handbook is no longer on Blackboard
The Employee Handbook is no longer on Blackboard. You can now view the latest version of the Employee Handbook on the HR website at http://www.uiw.edu/hr/employeehandbook.pdf. If you have any questions, contact HR at (210) 829-6019.

Bereavement Notice
Dr. Lydia Andrade, professor of government and international studies, is mourning the loss of her mother-in-law, Patsy Ruth (Landrum) Whipple, who passed away on May 21 in Lubbock, Texas. Memorial services will be held in Lubbock. To view the obituary, please visit this link. Keep Dr. Andrade and her family in your thoughts and prayers during this difficult time.

AVAYA Phone Maintenance
An AVAYA phone engineer will be conducting maintenance on the phone system from 6 – 9 p.m., Friday, May 27.The maintenance window is scheduled to last approximately three hours from the time they begin working on the phone system.  During this period, there will be intermittent outages for all phones on the UIW Main Campus and extended campuses.  
All telephone services will be affected for approximately three hours from 6 – 9 p.m., Friday, May 27.
The following areas will experience a disruption in telephone services:
UIW Main Campus (Broadway/Hildebrand)
Anthony Catholic High School Campus
Incarnate Word High School Campus
UIW Northwest Center (Datapoint)
Rosenberg School of Optometry (Datapoint)
Rosenberg School of Optometry Low-Vision and Vision Rehabilitation Clinic (SA Lighthouse for the Blind/Roosevelt Ave.)
Bowden Eye Care & Health Center (E. Commerce St.)
School of Physical Therapy (Guilbeau Rd.)
Saidoff Center (Guilbeau Rd.)
Brooks City Base Campus
UIW Northeast Center (Rolling Oaks Mall Campus)
Professional Golf Management Facility (SE Military Dr.)
Broadway shipping and receiving site
Please contact the UIW Help desk at (210) 829-2721 or helpdesk@uiwtx.edu with any questions or concerns.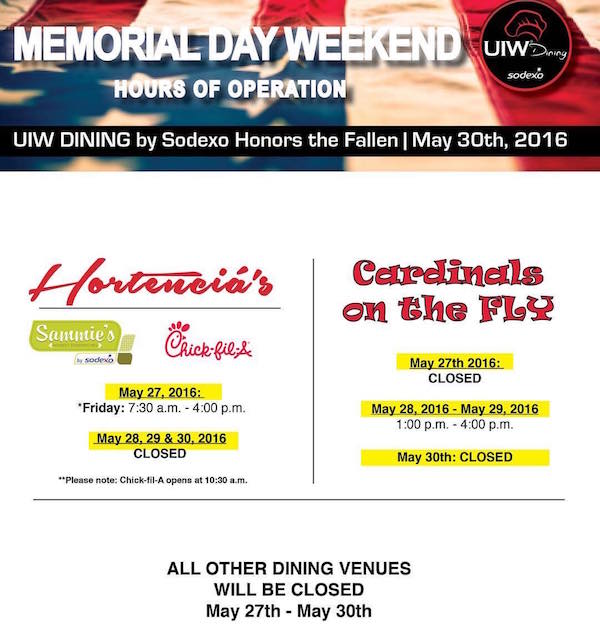 UIW Dining Hours – Memorial Day Weekend
UIW Dining has published their Memorial Day weekend holiday hours. For more info, contact UIW Dining at (210) 832-2149.
---
Faculty Focus
Faculty Service Engagement Form – Spring 2016
Faculty are invited to document the ways that they have promoted student engagement in service learning and community service on this form because the Ettling Center for Civic Engagement needs this information as UIW seeks the prestigious Carnegie accreditation. For more info, visit ECCL Faculty Resources pages. As you know, faculty are invited to document service learning projects and their own scholarship of engagement on the FSI form at the end of the year. To see more about the resources for assistance and scholarship, click here. For additional info or assistance, please contact Sr. Martha Ann Kirk, faculty liaison in the Ettling Center for Civic Leadership, at (210) 283-6423 or kirk@uiwtx.edu. 

---
Employee Health & Wellness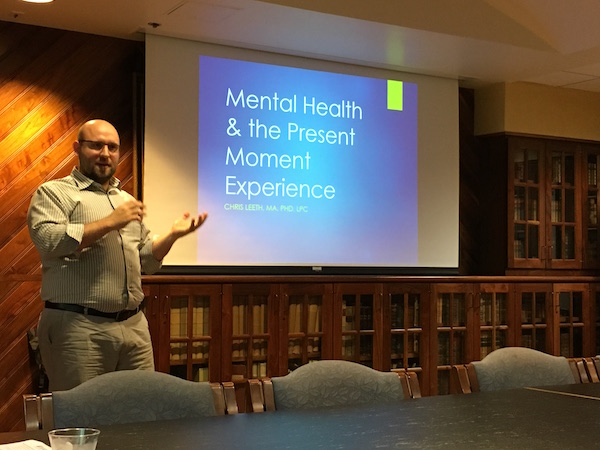 Dr. Chris Leeth, assistant director of counseling, is pictured above at the May 19 Employee Wellness Lunch & Learn. Dr. Leeth spoke on mental health.

Summer Zumba Class for Employees
Join UIW employees for this summer's Zumba party. All are welcome and modifications are available for every level. This is great stress release and lots of fun. Wear comfortable shoes, bring a small towel, water, and your positive vibes. Classes are from 5:15 – 6:15 p.m. every Thursday in the Wellness Center Cardio Room throughout the summer until Aug. 11. For more info, contact Candace Graham at (210) 829-2703 or cmgonza4@uiwtx.edu.

Employee Wellness Lunch & Learn
The Employee Wellness Committee will host a Lunch & Learn at 12 p.m., Wednesday, June 15, in the Mabee Library Special Collections Room. The speaker will present on Trails, Headwaters and Greenways. RSVP by email at empwellness@uiwtx.edu.
---
High Schools
---
Miscellaneous 
2017 Fiesta® Poster Contest is Requesting Entries
San Antonio and area artists are invited to participate in this annual competition to create a poster design that represents the unique style and imagery of San Antonio and reflects the excitement and spirit of our Alamo City. Deadline for submission is 5 p.m. Thursday, June 30. Entries must be submitted before the deadline to the Fiesta® Commission Office (2611 Broadway, 78215). Office hours are Monday – Thursday, 8:30 a.m. to 5 p.m., and Fridays, 8:30 a.m. to 12:30 p.m. Ten semifinalists will be selected before an overall winner is selected. The winning artist will receive $4,000 in two installments of $2,000, be honored at the Fiesta® San Antonio 2017 Poster Unveiling, and be recognized in the Fiesta® 2017 Magazine. The winning artist must be available for certain poster signings, press interviews and public appearances from November 2017 through April 2017. Fiesta® 2017 dates are April 20 – 30.For a detailed list of contest rules and info, visit www.fiesta-sa.org. For more info, call (210) 227-5191, ext. 101, or email fiesta@fiesta-sa.org.
Our thoughts and prayers go to:
Constance (BA '49) and George Casseb & family on the recent loss of their son, George Andrew Casseb.
Lisa Bazley (UIW VP of Information Resources) & family on the recent loss of her mother, Analee Altman Fitzgibbons.
Sr. Bernadette Anderwald, CCVI (BA '42) & family on the recent loss of her sister, Vera Anderwald King.
Mary Ellen Crow and Austin Gibbs on the recent loss of their aunt, Peggy Ann Kowalik (BSN '58).
Enzo (BBA '02, Former Alumni Board President) & Kristy Navaira Pellegrino (BBA '02, former UIW staff) on the recent loss of her cousin, Emilio Navaira.
The family of Amory E. Oliver (ALND '41) on her recent death.
Jeremy and Joel Shellhase & family on the recent loss of their mother, Fern Kleckner Shellhase (BA '66).
The family of, the Sisters of Charity of the Incarnate Word, and the entire UIW community on the recent loss of Sr. Jennie Mae Torregrossa, CCVI (BS '50, Librarian Certification '51, IWC Dean of Students, IWHS Director of Residence Life & Guidance).
The University of the Incarnate Word provides reasonable accommodation with adequate notice. To request disability accommodation for events listed in this newsletter, visit www.uiw.edu/ada.