The Word: UIW Community Newsletter - April 17, 2020
Spotlight
A Special Message from the Registrar: Spring 2020 Commencement Ceremonies

Dear Cardinal Community,
Thank you so much for your patience as we have worked to provide you with the needed information regarding the University of the Incarnate Word's Spring 2020 Virtual Commencement Ceremony. We understand that this is not what you planned for, but rest assured our team is working hard to provide you with a unique and memorable experience.
We are pleased to announce UIW's Virtual Commencement Ceremonies will be held on Saturday, May 30, 2020. On this date, UIW will celebrate commencement for all schools and programs. Please see information below:
4 p.m. - Virtual commencement ceremony for undergraduate and graduate students. The following schools and programs are included in this ceremony:

College of Humanities Arts and Social Sciences

Undergraduate and graduate programs

Dreeben School of Education

Undergraduate, graduate, and doctoral programs

H-E-B School of Business and Administration

Undergraduate and graduate programs

Ila Faye Miller School of Nursing and Health Professions

Undergraduate, graduate, and doctoral programs

Rosenberg School of Optometry
School of Mathematics, Science and Engineering

Undergraduate and graduate programs

School of Media and Design

Undergraduate and graduate programs

School of Osteopathic Medicine
School of Professional Studies

Undergraduate, graduate, and doctoral programs

6 p.m. - Virtual commencement ceremony for the Feik School of Pharmacy, Rosenberg School of Optometry and School of Physical Therapy
The Virtual Ceremonies will include every element possible to embody a traditional commencement event, including a presidential address, conferral of degrees, and other unique aspects, including special slides for each graduate. Graduates will be emailed instructions to upload their name, a personal message and a photo for their individual "slide." The ceremonies will be livestreamed by the University and will remain available for viewing after each premiere. More information, including the site where the ceremony will be viewable, will be forthcoming. Please continue to check your UIW email for updates and announcements, including how you can invite your family and friends to a virtual watch party.
To mark this special occasion, all students participating in the Virtual Ceremony will receive a commemorative box with keepsake items unique to this event. To ensure students receive their gift, they must review and update their information in Banner Web by May 1 to reflect their current mailing address and contact information. For questions regarding the 2020 Virtual Commencement Ceremony, please visit our dedicated page with frequently asked questions about commencement policies and procedures. For any questions and concerns not addressed in the FAQ, please email pr@uiwtx.edu. 
Mission & Ministry
COVID-19 Daily Prayer: Breastplate of St. Patrick
Christ be near at either hand,
Christ behind, before me stand;
Christ with me where'er I go,
Christ around, above, below.
Christ be in my heart and mind,
Christ within my soul enshrined;
Christ control my wayward heart;
Christ abide and ne'er depart.
Christ my life and only way,
Christ my lantern night and day;
Christ be my unchanging friend,
Guide and shepherd to the end.
—Traditional Irish hymn
Preparing for the Long Haul: By Rev. Leo Almazán

'Hear, O Israel! The Lord our God is Lord alone! You shall love the Lord your God with all your heart, with all your soul, with all your mind, and with all your strength.'  The second is this: 'You shall love your neighbor as yourself.' There is no other commandment greater than these." - Mk. 12:29-31
Whether you are a high- or mid-level administrator at a school or business, a parent (guardian), or a sister, brother or priest who is in charge of a parish or a religious community, by now you may be feeling the heavy toll of being always "on." Your role demands that you try to discern between bad and fake news, attempt to assuage your people's fears – of losing health, job and/or financial security – and to make sure that they have everything they need. 
As you continue to do so, please keep in mind that we are not even halfway through this pandemic. According to recent hard data and solid estimates, more loss and grief is coming our way in the days, weeks and months to come. That means that, besides your present leadership burdens and responsibilities, you should expect to be required to deal with more fear and anxiety; that is, with more grief.
How can you do this well? In a phrase, you have to start by taking good care of yourself. I can hear your protestations already, "Taking care of myself? How selfish!"
Let me remind you that, as someone in a position of leadership, you are expected to take care of yourself as a matter of justice. In other words, you owe it to your people, i.e., employees, subordinates, family members (and, of course, to yourself), to remain healthy and strong so that you can continue responding to the demands of the relationship you assumed when you accepted the role of leader. undefined
Let me ask again, How do you take care of yourself so that you can continue helping others while maintaining good mental and spiritual health?
A quick review of current mental health and spiritual literature allowed me to distill the following steps: 
Know thyself ; that is, before taking care of someone else's grief, make sure that you are dealing with your own grief in a healthy and appropriate manner. 
Make sure to put an end to it ; that is, be fully present during the session, but when it is over, download whatever you uploaded during the conversation.
Ritualize the ending ; that is, light a candle, say a prayer, listen to some music... to make sure that you bring closure to that particular interaction.
Remain professional at all times to protect yourself, but do not allow your "professionalism" to lock you in and make you emotionally and spiritually unavailable.
Don't forget to have fun ; that is, after a particularly trying session, make sure to do something fun to reintroduce balance into your life.
Find balance ; that is, ensure that you get healthy doses of sleep, eating, and exercise in your daily routine so that you can keep functioning properly.
Get help if/when necessary; that is, remember that you are as human as everybody else and that, at times, you also need help and since you cannot be your own counselor.
Get the right people to help . Many times it will not be a spouse or best friend who will be able to help you – especially if they do not understand the burdens of your role. 
Find like-minded people to talk, to debrief, to unload so that you can feel heard, understood, and replenished and so that you can go back to your normal relationships without feeling let down or angry with them because they could not help you. 
Surrender to a higher power ; that is, go back to step one and include in knowing yourself the phrase: "I am not God." Repeat. Repeat again... In other words, do your very best and then let go and let God.
Mental health experts and religious leaders all agree on the last piece of advice, which stands on its own, expressly, no one can do it alone . We will be able to survive and overcome this pandemic, if and only if we understand that we are all in this together, that we depend on each other, and that we need the take care of each and every one.
Cardinal Inspirations: A Reflection by Rozlyn Bermeas, UIW Senior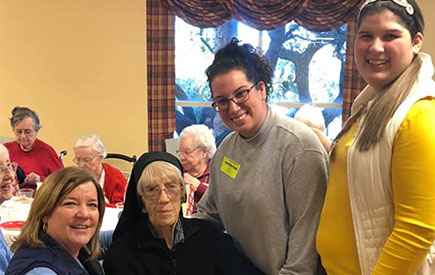 During this pandemic, I have found hope from reflecting on the beginning of the CCVI congregation. In 1869, a cholera epidemic appeared in San Antonio, and Bishop Claude Marie Dubuis asked that three Sisters come to San Antonio to serve the sick. The Sisters arrived from Galveston and established the Sisters of Charity of the Incarnate Word in San Antonio. Looking back at that difficult time, I can't help but notice all the good that resulted from such faith in time of hardship: the CCVI congregation, CHRISTUS Health, the University of the Incarnate Word, and so much more! The Sisters stayed strong in their faith and Mission, and in doing so, they were able to make it through the hardship.
Being someone who admires the Sisters, I not only hope to carry on their legacy – one that follows in the footsteps of Christ – but I recognize I AM their legacy, called to be a light for the world in this time of darkness. 
"For God, who said, "Let light shine out of darkness," made his light shine in our hearts to give us the light of the knowledge of God's glory displayed in the face of Christ." - 2 Corinthians 4:6
Academics
College of Humanities, Arts and Social Sciences Continues to Serve

The confinement from fear of the pandemic could not keep UIW Cardinals from serving on the day they were to be all over the city volunteering with "Cardinals in the Community," March 21, 2020. 
"Cardinals Serving Online" was a virtual gathering that had speakers from India, Peru, San Francisco, CA and St. Louis, MO, informing and inspiring students and professors, answering questions, and teaching skills for advocacy and action in the face of child bondage, exploitation of women, human trafficking, and children in detention. The Sisters of Charity of the Incarnate Word consider the "promotion of human dignity" a central issue and have been emphasizing solidarity with vulnerable populations. 
Business Students Aim to Help Eastside Community

A group of H-E-B School of Business and Administration Capstone II seniors aren't letting social distancing stop them from completing their final project. The team of four has partnered with a local nonprofit to use their business skills to explore ways the Eastside San Antonio community can improve college completion rates.  
The Capstone II team started the project at the beginning of the semester before the social distancing mandate and have had to adjust to complete the project remotely. Nevertheless, they are progressing and working to finish what they started! 
Physical Therapy Professor Published in New England Journal of Medicine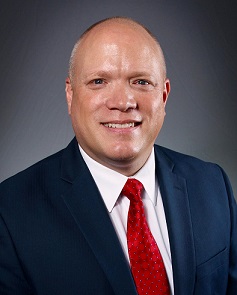 Dr. Evan J Petersen, associate professor in the School of Physical Therapy, and colleagues from the Brooke Army Medical Center, the Special Warfare Training Wing, U.S. Air Force, just published a manuscript in the renowned New England Journal of Medicine demonstrating the benefits of physical therapy over glucocorticoid injection for the management of knee osteoarthritis. The article, entitled "Physical Therapy Versus Glucocorticoid Injection for Osteoarthritis of the Knee," appears in the New England Journal of Medicine, volume 382, pages 1420-1429.
Congratulations, Dr. Petersen!
Physical Therapy Faculty and Students get Creative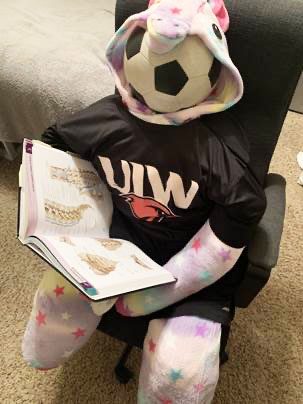 Faculty of the School of Physical Therapy's Patient-Client Management course hosted a virtual-skills round robin for class. Demonstrations were broadcast and students' family members and roommates volunteered to assist in the lesson. Students who live alone got creative with household items to make sure they didn't miss out on the lesson (see photo to the left). We're proud of our Cardinals making the best of every situation and getting creative to continue practicing their skills. 
COVID-19
A Q&A with UIWSOM Professor of Epidemiology, Dr. Gregory Steele
Dr. Steele is a professor of Epidemiology at the UIW School of Osteopathic Medicine. Formerly he was the director of Epidemiology Education at Indiana University Fairbanks School of Public Health, Department of Epidemiology in Indianapolis, IN.
Dr. Steele has also served as the state epidemiologist for Indiana and the senior epidemiologist for the Marion County Public Health Department. Dr. Steele has served as a consultant on a variety of health issues to The Agency for Toxic Substances and Disease Registry (ATSDR), The National Institutes of Occupational Safety and Health (NIOSH), as well as other Divisions at the Centers for Disease Control and Prevention (CDC).
He is a member of the American Public Health Association, The Environmental Health Association, and Delta Omega, the Public Health Honor Society.
We caught up with him for his perspective on COVID-19, where we're headed and what we must do to save lives. 
Q: Given your extensive experience, did you ever think we would see anything like COVID-19?
A: Actually yes. Most viruses have the ability to alter their genetic structure, so we are constantly faced with new variant strains of common viruses. A good example is the flu. It changes every year. The other major factor is the presence of open air markets in China, which present major health risks due to the closeness of ducks, geese, birds, pigs, and other animals living in proximity to or with humans. The health and sanitary conditions of these markets is why most new infectious viruses originate from this part of the world.
Q: How long before things return to normal and what will that look like to start?
A: Well the East Coast of the U.S. has probably already peaked, but remember this is a curve, like a bell shaped curve. So when we talk about peak, we are at the middle, not the end, of the outbreak. So we still have weeks if not months for things to return to normal. Of course, this assumes that we continue social distancing and frequent hand washing. If we don't, then cases will rise dramatically and potentially be worse than they were when we began these mitigation efforts.
Q: Will we be able to gather for big events any time soon?
A: Probably later in the year, most likely if that occurs, will be in the last quarter of 2020. If we don't maintain social distancing and our mitigation efforts, it may not be until 2021. Trust me, I want things to get back to normal too. I want the economy to improve like everyone else, but our current mitigation efforts, hand washing and social distancing have to be maintained until we see dramatic reduction in the numbers of new cases. If we don't then more and more people will die, and we will have to start our mitigation efforts all over again from the very beginning.
Q: How real is the possibility that COVID-19 has a second wave?
A: It is very likely there will be a second wave, and that it will become what we call endemic. A disease that is always present in our environment, community. Think of diseases like flu, chicken pox and mumps, which are endemic diseases.
Q: Is there anything else that people should be doing to protect themselves and their families?
A: No, everybody just needs to stay at home, wash your hands (a lot) and practice social distancing. And please remember, we have been doing these activities for several weeks now. People have been doing a great job. But if we stop these activities too soon, then we will have wasted all of our original efforts, and we will be starting again all over. We need to be patient, continue social distancing and hand washing, see it through to the final stages of the outbreak. This will happen over a period of time since each community is at a different stage in the outbreak/process. But we will get through it, we just have to be patient and dedicated to our efforts.
Community Updates
The dignity, health and wellbeing of every member of the University of the Incarnate Word community remains an institutional priority at the heart of our Mission. In response to this pandemic, UIW has assembled a team that meets daily to ensure that every possible contingency to keep campus life moving forward is considered when making campus-wide decisions. UIW continues to work closely with local and state officials, is taking all precautions as directed by the CDC, and sharing preventative information and resources with the University community via email. As a community, we offer our prayers for all of those affected by COVID-19 and all those who care for them.
In the News
KENS 5: UIW basketball team surprises mother of player as she works frontlines against COVID-19
Community News
UIW Health Professions Schools Make PPE Donation

Assistant dean of Graduate Medical Education, Marsha Sellner and CommuniCare Family Residency Program director, Dr. Michael Mohr along with UIWSOM faculty gathered personal protection equipment (PPE) from the School of Osteopathic Medicine, Ila Faye Miller School of Nursing and Health Professions, Feik School of Pharmacy and the School of Physical Therapy. The supplies were donated to the CommuniCare Family Medicine Residency Program, the Psychiatry Residency Program at Southwest General Hospital and the Family Medicine and Internal Medicine Residency Programs at Laredo Medical Center. Residents expressed their thanks for the donations. Thank you for living the Mission, UIW health professions community!
UIW Receives Frost Donation for Emergency Relief Fund

Longtime friend of UIW, Frost Bank, is helping our Cardinals in a big way. In response to the COVID-19 pandemic, Frost Bank has made the charitable decision to donate $2 million in Frost emergency funding to be distributed to current Frost grantees. Thus, UIW is receiving an extra $20,000 to be used for the new UIW Emergency Impact Fund to help students in this time of crisis. Through the fund, students can apply for grants to assist with the costs of moving, remote learning, food, and other necessities. Next week, UIW's Office of Financial Assistance will share an application and information for our students to apply for funds from the CARES Act government funds and the UIW Emergency Impact Fund. Thank you, Frost Bank for your commitment to serving all! undefined
A Special Thanks to UIWPD!

While campus remains closed to students, most employees and the general public, UIW police patrol officers and dispatchers remain on duty, ready to serve. Thank you, UIWPD for continuing to put the safety of others first! 
Cardinal Corner
Amid Pandemic: UIW Student Overcomes Disability and More to Find His Way Home

When word spread that students at the University of the Incarnate Word were being asked to move home in the wake of the COVID-19 pandemic, for most it was a matter of gathering their belongings and finding their safe place. For Loik Charles, a UIW junior, it was the start of a journey that was riddled with delays, cancellations, and a state-mandated two-week isolation quarantine in his home country of Dominica. But, perhaps no one is better equipped for such a journey as Charles, who has overcome much more most of his life.
"I am completely blind. I was alone on my trip," explains Charles. "I was stuck in Puerto Rico for about 24 hours because my flight kept getting cancelled and rebooked. But I was well taken care of all through my stops. I navigated by just keeping calm and simply remembering that this is a weird and sensitive time for us all. So, I had a lot of patience and prayed when I needed to. I do have light perception in the right eye. So, I don't see total darkness. It was a complication at birth, though I was not born blind."
What he was born with is an appetite for learning and a love of music. Charles may have grown up on the Caribbean island of Dominica, where the entire population is just over 70,000, but he has always dreamed beyond those borders. His only other trip to the United States was to go to Space Camp. Charles started his journey to UIW in the Fall of 2018 on the advice of a friend who just happened to be a UIW alum.
"When I was nearing completion at the Dominica State College, a friend made a recommendation to me since I wanted to further my studies. I did research and saw that UIW was a perfect fit, since the student body is small and they are so dedicated to helping students as best as they can."
And Charles has been giving it his best ever since arriving at UIW where his major is Music Industry Studies. He says music has been a driving force in his life for as long as he can remember and making it a career is his passion. But along the way, it's his compassion that has caught the eye of those who visit with him.
"When UIW said that we would soon be teaching our classes online, I invited all my Social Justice Leadership students to an online chat. Soon Loik was guiding us saying that with the number of lonely and frightened people, each of us should try each day to research out to check on and help someone," says Sr. Martha Ann Kirk, CCVI. "When I called him by zoom to see how he was doing in quarantine, he spoke of the birds singing. Why don't I pay attention to the birds singing? Again, Loik was teaching and reminding me to live in loveliness and not be highjacked by fear."
You might think that fear is something that occupies Charles a lot these days. He has returned to a life unlike anything he has experienced on his small island home before. A place where island time is now on COVID time and no one is sure when that time will end. Add to that the consternation of leaving the United States, where we have the highest number of reported COVID-19 cases in the world, and not knowing, at the time, if he was one of those numbers..
Charles says, "I got tested, and thankfully the results came back negative! Right now, the entire country is under a state of emergency and a weekday curfew is in order from 6 p.m. to 6 a.m., as well as a total lock down on weekends."
But, ever the optimist, Charles seems unfazed. He was finally cleared to leave isolation and return home to his family on April 7. He may be blind, but Charles sees the road ahead very clearly. And while his life might currently be muddled with quarantines and curfews, he says he is guided by faith and the desire to return to UIW.
"My message is stay strong! Don't panic! God is with us always. This too shall pass. Take this time to do something you always wanted to do, be it creatively or otherwise. Tap into your hidden talents!"
A Letter to My Younger Self: Victoria Jackson

Dear Vicky, 
Be patient and follow your dreams. Trust your instincts and know that your life is what you make it. Keep seeking God and keeping Him first in anything you do because He will ultimately get you through everything. Keep dreaming of the wins, enjoy every moment, embrace the people in your life, and be thankful for everything. Take care of yourself mentally, physically, and emotionally. All the work you put in will pay off. What is in store for you, is something worth waiting for. You may think that all your hard work is going unnoticed, but your light will shine and everyone will see. Later in life, you will come into a family you will carry forever. Love them hard, be there for them, and more importantly enjoy every moment you have to see those people who mean the most to you. You don't get those memories back, but you can make those memories last forever. The sisterhood you will gain will be the greatest thing you take from your experiences. Pray for them as much as you pray for yourself, because they will be your family too. Be the light in the darkness and let no one take away that smile. Be great, kid! 
Love,
Your Future Self
A Reflection by Olivia Creager, 4th Year Pharmacy Student
"Joy is that kind of happiness that does not depend on what happens." - David Steindl-Rast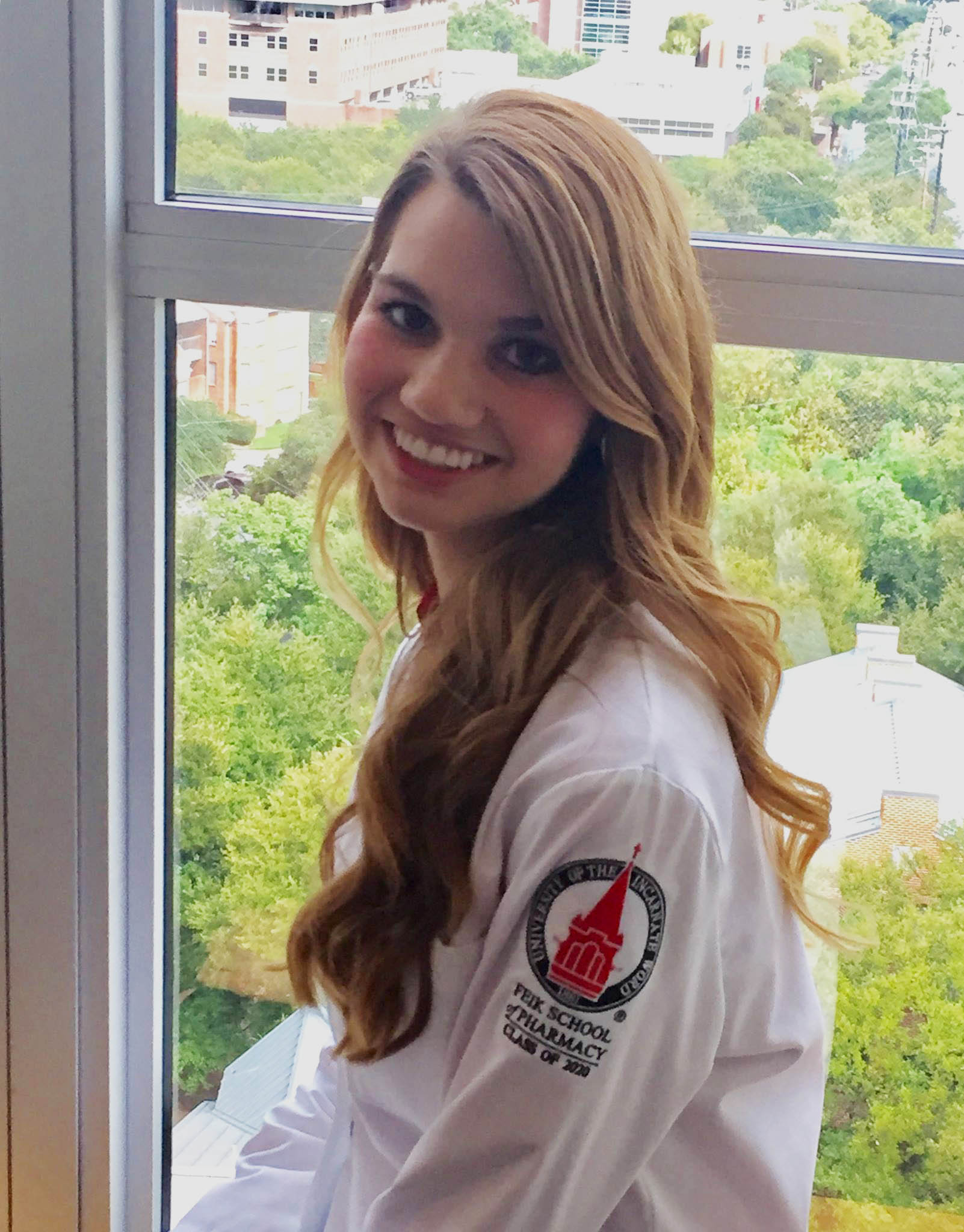 May 2020 was going to be a celebration month with my graduation and wedding. Then COVID-19 happened. Events that I had dreamed about for years…destroyed. But were they truly destroyed?  
In the worst of times, God is still at work teaching our world what is truly important in life. Yes, we may have wanted a huge graduation full of people applauding us for all the hard work we put in for so many years. But is that what matters? We will still graduate. We will still share with the world all the skills we have learned. We will still make a difference. And yes, I may have wanted a beautiful wedding with many family and friends present, but I will still marry my best friend in the Sacrament of Marriage. We will still start a life together.
Even though events we have dreamt of have changed, life still goes on. Stay strong, my friends. It is not about what happens or how it happens, but our attitude towards the situation. Enjoy the moments God is giving you; He is painting a picture better than you ever dreamed of!  
Alumni and Parent Relations
UIW Alumni - Send a Video to the Class of 2020!
Calling all Cardinals! The UIW Alumni Association is asking our alumni to welcome the newest members of our association by submitting a video! Send your well wishes and congratulations to the Class of 2020 to alumni@uiwtx.edu. You will be featured in a video sent to our graduates and be displayed on @UIWAlumni social media!  

#RedPutARingOnIt
Do you know a graduating Cardinal? Help them share their Cardinal pride with a selfie with their just-delivered UIW class ring! Be sure to use #RedPutARingOnIt and tag @UIWAlumni on either Facebook, Twitter or Instagram for a chance to be featured on our page!  

Athletics
A Q&A with Men's Basketball Head Coach, Dr. Carson Cunningham

University of the Incarnate Word Men's Basketball Head Coach, Dr. Carson Cunningham, has been with the Cardinals for two seasons. UIW improved from one Southland Conference win in 2018-19 (Cunningham's first season) to six in 2019-20 (his second season). The Cardinals look to continue that momentum going forward. 
We checked in with Coach Cunningham on his favorite aspect of being a coach, what is keeping him motivated, and more.  
Q: Why did you decide to become a coach? 
A: Working with younger folks on this beautiful game in an educational setting seemed like good, rewarding fun, with great opportunity for growth and fulfillment all around. It is that and more.  
Q: At what age/under what circumstances did you start playing the sport you are now coaching?
A: I started hooping early, pretty much as early I can remember most anything. I have an older brother, so that helped to get me going as a youngin'. Plus, in Indiana it's basically a way of life and I sought it out. 
Q: What is your favorite thing about being a coach? 
A: Well, there are a slew of things. Here are some of them: working on a fun, challenging game with young adults in a Catholic, higher-ed setting, the spirited competitiveness, grappling in the literal and figurative "arena" with your fellow squad members and seeing growth from individuals and the group.
Q: What is something the community doesn't know about you?
A: I've read nearly every Louis L'Amour [book].  
Q: If you weren't coaching your current sport, what sport would you be most interested in coaching and why?
A: Probably baseball. The game is quite strategic; seems like it'd be fun working with guys on it. It's outdoors and it has a kind of nostalgic rhythm.
Q: In the middle of these unique and uncertain times, have you been able to find a routine that works? If so, what is it?
A: I've been getting up early to get a jump on matters. Benjamin Franklin recommends as much, and he got a ton done.
Q: What keeps you motivated right now, and how do you share that motivation with your student-athletes to help encourage them?
A: I think we're all motivated to build on the progress from this past season. We've been Zooming and WhatsApp-ing and the like to stay connected and remind each other of our mission...to joyfully battle on the hardwood and in the lecture hall (be it virtual or not) while representing well our wonderful school, storied University of the Incarnate Word.
UIW Athletics Releases Activity Book undefined

UIW Athletics has released a UIW Activity Book! The book features coloring pages, a maze, two word searches, a word scramble and a counting page.
Share your completed pages with the Cardinals on Twitter @UIWAthletics, Instagram @uiw_athletics and on Facebook at UIW Athletics and with the University on Twitter, Instagram and Facebook at @uiwcardinals.
Click here to view the full activity book.
Use the links below to download individual pages!