The Word: UIW Community Newsletter - April 24, 2020
Spotlight
A Message from UIW President, Thomas M. Evans, PhD
Dear Faculty, Students, Staff and Friends,
As this extraordinary month of April draws to a close and our attention remains focused on the global response to COVID-19, please allow me to provide an overview of UIW's response to the pandemic over the last several weeks, as well as some guidance as we look ahead.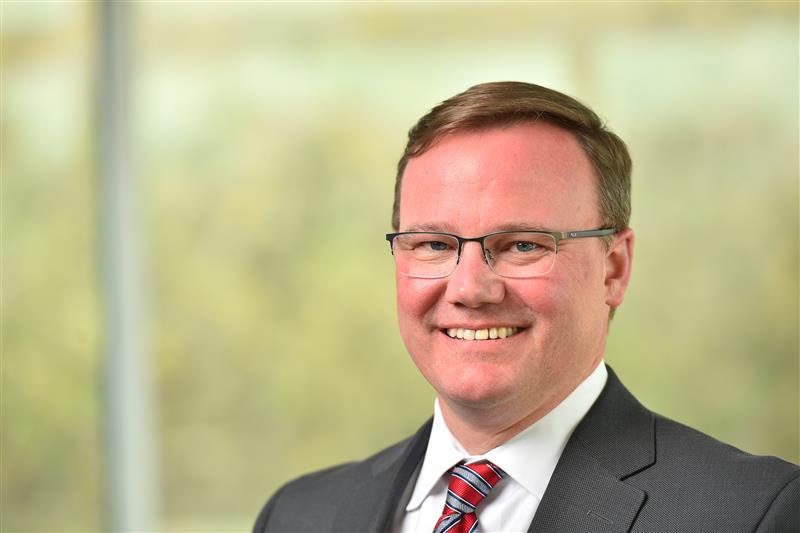 While the pandemic has touched all of our lives and we are disappointed in having to spend the Spring 2020 semester apart, I am extremely proud of how our community responded in the transition to online learning and services for the health and wellbeing of others. Together, we demonstrated the importance of being One Word, a community united in our efforts to be of service to our students and one another. We also responded to the calls for action by city, state, and national leaders to act responsibly for the greater good of our city, state, country and world. When challenges arose, we strove to meet them, and when some demonstrated need, we sought to help.
I feel confident that UIW will emerge from the pandemic stronger than before because of our dedication to our Mission, values and charism given to us by the Sisters of Charity of the Incarnate Word. One hundred and fifty years ago, our founders responded to an epidemic and have modeled purpose and compassion with their motto "a life for God and a heart for others" ever since.
From those early days, the Sisters' calling would grow to heal more, educate more and serve more. Likewise, UIW will move forward more resilient and better able to serve its community. As we continue to work to keep each other safe, healthy and academically on track, we must acknowledge the work and great effort put forth by our incident and emergency response teams, faculty, staff, and administration throughout the pandemic and going forward.
Click here to read the full letter.  
COVID-19 
#TogetherAsOneWord
Community Updates
The dignity, health and wellbeing of every member of the University of the Incarnate Word community remains an institutional priority at the heart of our Mission. In response to this pandemic, UIW has assembled a team that meets daily to ensure that every possible contingency to keep campus life moving forward is considered when making campus-wide decisions. UIW continues to work closely with local and state officials, is taking all precautions as directed by the CDC, and sharing preventative information and resources with the University community via email. As a community, we offer our prayers for all of those affected by COVID-19 and all those who care for them.
Mission & Ministry
#CardinalInspirations - Remember By Sr. Mary Henry, CCVI

Remember...
Jesus appeared to "two disciples" who were on their way to Emmaus from Jerusalem when they encountered the risen Christ. He began to walk with them, but "their eyes were prevented from recognizing him" (Luke 24). After, he interpreted for them all that referred to him "in all the Scriptures." As they approached the village, they asked him to stay with them, and while he was at table with them, he "took bread, said the blessing, broke it, and gave it to them." Later, the two recounted to the other disciples what had taken place, and how "he was made known to them in the breaking of the bread."
The celebrations of the Holy Triduum are still fresh in my mind and heart. Remember that it was at the Last Supper (that we remember on Holy Thursday) that Jesus broke bread with the disciples and said, "do this is memory of me."
Obviously, gathering to break bread to remember was an essential ritual that Jesus left for his disciples, and to us. I recall the times after the Resurrection that Jesus appeared to his disciples and fed them: "Jesus came over and took the bread and gave it to them, and in like manner the fish."
These days of confinement and isolation are for me, opportunities to "remember" at a time when my community is sharing more meals than ever. We seem also to be taking more time with our evening meals and prayers. We've taken to eating on our front porch, and we greet our neighbors who are out for their evening stroll.
When we gather with those we love, and prepare, serve, and consume the "work of human hands" I try to remember in a more intentional way, the sacrifices being made all around us. I try to hold up in prayer the thousands of health care workers, the grocery clerks and the people trying to keep the shelves stocked for us, the sacrifices parents are making for their children, all of those working in "essential services" so the rest of us can live through a daily emergency.
These days immediately after resurrection, we are told  – over and over again  – to remember that the resurrection tells us that in all deaths, we will ultimately experience life. We are a resurrection people. Remember.
Living Easter Joy By Sr. Walter Maher, CCVI, VP Mission & Ministry 

In this bewildering historical time, I believe the Spirit invites us to live Easter Joy. Why? Here are some teasers:
"Joy is the fruit of the Spirit." - Galatians 5:22
"Joy is the echo of God's life in us." - Columba of Iona
"Joy is the most infallible sign of the presence of God." - Pierre Teilhard de Chardin
Joy is a feeling, an emotion that is felt in the whole body, it is a sensation one feels in the gut, not in the mind. Joy flows from the "sense of rightness of the way in which one is living life (Himes)." Joy comes from a deep sense of goodness, righteousness, and fruitfulness.
Here are three ways joy is experienced:
Celebrate the achievement or the accomplishments of others.
Celebrate the achievement or an accomplishment of your own.
Use your gifts and talents to serve others and bring them joy.
Remember: all joy comes from caring, loving and celebrating the wellbeing of others. Ultimately, the source of our joy is our relationship with God and saying "yes" to God's purpose in our lives.
The words of George Bernard Shaw are instructive:
"This is the true joy of life: the being used up for a purpose recognized by yourself as a mighty one being a force of nature instead of a feverish, selfish little clot of ailments and grievances complaining that the world will not devote itself to making you happy."
The Emmaus Journey: A Return to Fraternal Communion By Rev. Thomas Thennadiyil, CMF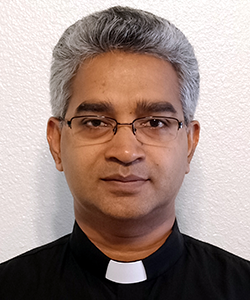 Amid all the depressing news of the rapidly rising deaths, infections, business shutdowns, and layoffs, the recent report of San Antonians donating $1.4 million to the San Antonio Food Bank has been very heartwarming for a change. Even when they are hurting, a lot of people care for the needy in the community. About this overwhelming support, the city manager said, "Everyone is helping. That's just the way the San Antonio community is  – so giving."
The Emmaus gospel episode is about two disciples breaking away from the community of disciples in Jerusalem on the day of the resurrection even after they received the news of the resurrection. They were convinced of no meaning in Jesus' tragedy; dejected, downcast, and defeated, they went. "Leaving Jerusalem," has a spiritual significance. Besides being a real place, "Jerusalem" is the locus of the passion, death, and resurrection of the Lord, the place where the Gospel will reach its climax, a place of dream, hope, and kingdom. Contrast this with the town they are headed to, Emmaus  – a Roman spa! But they never get to Emmaus though, the Lord encounters them, breaks the Word, breaks the Bread, they recognize Him, and the Lord turns them back to the community of disciples in Jerusalem.
When we are hurting, like we do at this time of the pandemic, the best way to overcome the crisis is by sticking together, sharing, caring and supporting one another. The community of disciples in the Gospel had its wounds. The Lord's death crushed their hopes, destroyed their dreams, and left them wounded. However, they remembered one thing the Master taught them and prayed for. "Holy Father, keep them in your Name. . . so that they may be one (John 17:11)." Wounded and hurting, they pulled themselves together enough to come back into a fearful locked-up community, but a community, nevertheless. And it is to that hurting and defeated community that Jesus came with his words of forgiveness and healing: "Shalom," "Peace be with you."
Pope Francis, speaking of the consequences of this pandemic for our future, said that the current crisis will help to remind us "once and for all, that humanity is a single community." It will teach us that "universal kinship" is important and critical. We should think about it like a "post-war" phenomenon, he said. He added, "It will no longer be 'them.' It will be 'us.' Because we can only come out of this situation together."
I believe this pandemic illustrates how globally interconnected we are: that in the face of adversity we are all the same  – the most developed world and the least developed world; that we recognize our own vulnerabilities as humans; that there is no longer such a thing as isolated issues and actions. Perhaps this experience teaches us to reorder our priorities and invest in scientific and medical research for the larger human good than in weapons of war, violence, and destruction. Perhaps it also teaches us not to be selfish and ego-centric and hoard stuff such as paper goods and food. Instead, we should grow into the spirit of the first Christian community  – a spirit of communion, sharing, and being at the disposal of one another. From this experience, we will emerge as better human beings, better people of faith, standing with each other, and taking care of one another. At this time of crisis, may the Risen Lord help us find strength, hope, and meaning through our solidarity.

Academics
Award Winning Pharmacy Professor Adapts to New Teaching Normal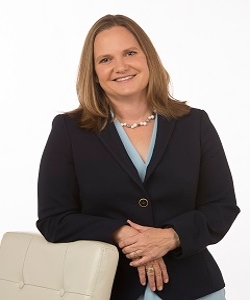 Dr. Lila LaGrange has received several notable teaching awards, including the Provost's Legacy Teaching Award in 2010, and the Feik School of Pharmacy Teacher of the Year Award (chosen by students) in 2007, 2011 and 2017. She has been nominated multiple times for the UIW Presidential Teaching Award.
Teaching is obviously what LaGrange, a professor of Pharmaceutical Sciences, does very well. But teaching during the time of a pandemic has presented a new, and unexpected, challenge for the experienced professor. One she is meeting by, once again, putting students first.
"During this rushed transition to online learning, it has been hard to not feel overwhelmed," says LaGrange.
Her teaching philosophy centers around the belief that her role as a teacher is to create a student-centered environment that actively involves students in the learning process. She believes in engaging students by building a strong teacher-student relationship and creating an environment where students think critically, work in groups and find individual fulfillment in their progress and achievements. That philosophy has not changed during this time of distance learning, but LaGrange has adapted.
"Two challenges of remote learning are keeping students engaged and accountable," says LaGrange. "Given that students were already familiar with the course structure and activities, what was most important during the transition was finding ways to keep teaching and learning from becoming passive and to keep students invested in their learning. What has worked best for me is tracking students' performance and then following up with them individually, as this allows me to offer support almost immediately and to also let them know they are not alone in this process. I have found that students have appreciated these interactions and many have come to expect me to touch base with them, especially if they are falling behind."
LaGrange has become increasingly involved in the area of the Scholarship of Teaching and Learning, specifically focusing on education-type projects that improve the learning environment for students. She also involves students in scholarship by mentoring them through academic writing projects. LaGrange's biomedical research interest is on factors that influence smooth muscle contractility. She serves on numerous FSOP committees, including Assessment, Professional Conduct, Faculty Development, and Accreditation Self-Study, of which she is currently chair. She has served as co-chair of the UIW Employee Campaign since 2013, and recently completed a three-year term as chair of the UIW Graduate Council. And while all that experience pays dividends during this challenging time, LaGrange is already looking forward to the benefits of the lessons learned today.
"Receiving feedback from students on what is and is not working is especially important right now," says LaGrange. "I have asked students to think about what new things we are currently doing that they would like to see become part of our face-to-face classes. Based on their suggestions, two things that l incorporate in my teaching once we return to the classroom are to expand office hours to include virtual options and to open a chat room, such as Class Chat, during class sessions to give students the option to interact with me and each other in real time. I have found that a significant number of students who would not normally ask questions or respond to mine in class have been doing so now using the Zoom chat option, and I can see how this has promoted discussion and interaction during the online class session."
It's that kind of forward-thinking that keeps the accolades coming for LaGrange. She was recently chosen as the UIW nominee for the Piper Professor Award. The Piper Professor Program, begun in 1958, provides 10 awards annually of $5,000 each to professors for superior teaching at the college level. Selection is made from nominations submitted by each public or private college or university in Texas. UIW chooses one faculty member each year as the University's Piper Professor nominee. It is a rare recognition but not the focus of LaGrange's work. For her the true reward remains with the success of her students and she has a message for them.
"So much of our focus is on the here and now, which can easily overshadow our ability to appreciate the great things that have happened this academic year," she says. "Students, take time to reflect on your achievements and resist the temptation to let the current situation minimize your accomplishments."
UIW Director of Bands Invited to Submit Analysis to National Publication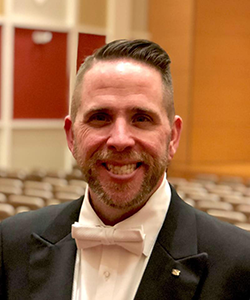 Dr. Brett A. Richardson, director of bands and associate professor of Music, recently submitted a theoretical and formal analysis of Carol Brittin Chambers' Sunchaser for Band to be included as a chapter in Volume 12 of GIA Publications' Teaching Music Through Performance in Band.
Teaching Music Through Performance in Band is a collection of texts used by conductors throughout the U.S. to discover important information about and assist in the instruction of seminal works for band. This is Dr. Richardson's first invitation to submit. Congratulations, Dr. Richardson!
Honors Programs Go Virtual!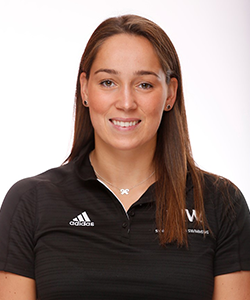 Student presentations ordinarily given at the annual Honors Symposium are being presented in various ways during Spring 2020. Those of graduating seniors have been organized into two virtual installments this month. The remainder will be presented in the fall. The first such session occurred Friday, April 17, with Honors Council members and Honors students in attendance. Camille Guerre ('20 BS, Mathematics, BBA Accounting) described her independent study, "Application of Data Mining and Regression Analysis Techniques to the San Antonio Real Estate Market," and Marina Vargas ('20 BS, Biology) presented the results of her year-long research on "Negative Phototactic Behaviors in Lumbriculus variegatus."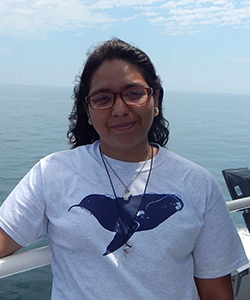 The Honors Program is also continuing its co-curricular programming online this spring. After the completion of the two research talks, Honors alumna Nyssa Saenz ('17 BS, Biology) provided advice to undergraduates on how to prepare for medical school and what to expect when there. Nyssa is a second-year student at the UIW School of Osteopathic Medicine.
Pictured to the left are UIW students, Camille Guerre (top) and Marina Vargas (bottom).
Tracey Mendoza, dean of Libraries, to Lead State-Wide Session for Librarians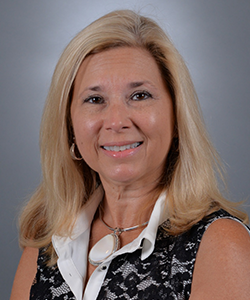 Tracey Mendoza, dean of Libraries, will be moderating a Texas-wide discussion for academic library leaders through the Texas Council of Academic Libraries on Monday, April 27. The discussion entitled,  This Will End: Planning for the Come Back Brainstorming Session, will focus on building plans for scenario-based, phased re-openings of academic libraries, programs and services.
School of Professional Studies Academic Advisors Extend a (Virtual) Helping Hand
Academic advisors from UIW's School of Professional Studies are used to being in tune with Cardinals' academic needs. The COVID-19 pandemic may mean that office visits are temporarily unavailable, but that's not stopping them from reaching out to help students. Each academic advisor recorded and sent a video to their students, letting them know that despite the physical distance, they're all still working hard to help where needed. 
Students wasted no time in expressing their appreciation. 
"Thank you," wrote one student in response. "I appreciate that video. You taking the time, energy and effort to make the video and post it for us to view underscores the reason why I attend this University." 
Another added, "The air is strange throughout the globe. However, it is refreshing to see and hear people reaching out to other in times of distress." 
Thank you for being a light to our students, UIW academic advisors. 
In the News
KENS 5: UIW football's new go-to destination for keeping in shape? Twitter.   
Community News
A Q&A with New UIW CFO, Dr. Darrell Haydon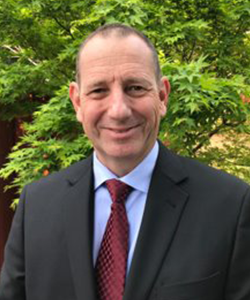 Dr. Darrell Haydon has been selected to become the new Chief Financial Officer & Vice President for Administrative Services. Haydon will replace long-time CFO Doug Endsley who is set to retire in May 2020.
Haydon comes to UIW after serving as the Vice President/Chief Financial Officer of Business and Finance at California State University – Stanislaus. In this post, he was chief financial and senior management officer and advisor to the President on the administrative support operations. He previously was the Associate Vice President of Financial Services at California State University – East Bay.
We caught up with Haydon for his take on his new position, the University's financial response to COVID-19 and why he already knows UIW is the place for him. 
Q: You have spent much of your professional life on the West coast. What attracted you to UIW?
A: UIW's Mission and values align closely with my personal values. I attended a Catholic university for graduate school and found that it was a wonderful place to learn, grow, and serve others. I view my role at UIW as one of service to support students, faculty, staff, and the greater campus community. I also get great satisfaction from serving a diverse student population made up of mostly first-generation students. In addition, I was attracted by the professional challenge of supporting the financial and operational services of a complex and growing university with a rich variety of schools, programs, and locations. Finally, my wife was born in Texas so this is a bit of a homecoming for her. 
Q: Have you ever worked through the kind of financial crisis the nation is now facing?
A: I served as the university controller at a public university in California in 2008 during the global financial crisis.  Devastating budget cuts reduced public funding by 25% over a two-year period. Tuition costs increased dramatically while enrollment dropped. It was an extremely challenging time for higher education, particularly at publicly funded state universities. I was directly responsible for managing the accounting operations of the university and helped the campus leadership team work through countless scenarios and implemented the budget changes necessary to navigate through the crisis. I expect that public universities will face severe budget challenges during the next few years.  As a private university, UIW has a far stronger financial model to weather the financial disruption caused by COVID-19.
Q: How is UIW navigating the current financial conditions?
A: UIW entered the pandemic in a strong financial position. The operating budget was balanced, and reserves were strong. UIW leadership reacted swiftly to protect students, faculty and staff by transitioning to an online academic program and by having employees continue to support the operational needs of the campus while working from home. In addition, UIW moved quickly to reduce or eliminate unnecessary expenditures while preserving jobs. Currently, the campus leadership is carefully planning for a variety of enrollment scenarios while also looking for opportunities to grow and expand programs to position the University for continuing success in the future.
Q: You came to UIW just as the pandemic was spreading. What has this transition been like for you personally?
A: I am very excited to join the UIW family. April was truly an extraordinary month. It is somewhat surreal starting a new job when the campus is so empty, everyone is working from home, and business meetings are conducted via Zoom or phone calls. It makes it tough to meet people. I also miss the students and the energy they bring to campus. I have found the campus community to be warm and welcoming, and I am looking forward to eventually being able to meet everyone in person. I know that I am fortunate to have the opportunity to work with a great group of people in service to our outstanding students, community and region. I am also really looking forward to my family joining me here in San Antonio as soon as it is safe to travel.
Thank You, Volunteers!

From all of us at the University of the Incarnate Word, thank you to every single member of the UIW community who has answered the call to serve. Whether you are donating PPE, sewing masks, delivering meals to the home-bound, making monetary donations or otherwise contributing to the betterment of our brothers and sisters in need and the planet, we see your work, and we thank you. You make the world better. 
UIW Students Sharing Joy, One Postcard at a Time

For most, it is the kind of communication that is almost an afterthought. It's a small message to family and friends during a scenic vacation or a quick save-the-date reminder for an important occasion. But, at a time when human interaction seems so hard to come by, something as simple as sending a small postcard is taking on a much bigger meaning. At least according to some UIW students who have taken on the role of what you might call Postcard Ambassadors.
"I heard about the postcard project from the Ettling Center for Civic Leadership & Sustainability website," says Belen Cabrera-Sanchez, a UIW senior. "I chose to participate in the postcard project because I'm all about expressing my gratitude to anyone who is out there trying to help the world and make it a better place and I'm all about sharing some encouraging, supporting words to those in need and I saw this as a great opportunity to do just that."
The postcard project is one of many service initiatives being offered by the UIW Ettling Center for Civic Leadership & Sustainability as a way to help students be of service in a time when doing so in person is not only limited, but, for many students, almost impossible. The Ettling Center made the process simple. The cards are readily available electronically, the students fill them out with personal thoughts, and staff members at the Center print them out and send them.
"In our first week we received over 175 postcards from our students," says Dr. Ricardo Gonzalez, Ettling Center director. "We even received interest from California State University Maritime Academy regarding this effort, of which they are now replicating. In short, it's great to see that our students and the community are sharing how much they appreciate our local heroes from grocery store workers, to veterans, to senior citizens, to first responders."
"I had previously signed up to volunteer for two days at Habitat for Humanity, but that didn't pan out due to COVID-19," says Julie Doddato, a UIW senior. "So I asked them if there were any other opportunities they knew of since a lot of volunteer opportunities were being taken away, and they let me know about the postcard campaign. I read what the ask was and fell in love.
While it is certainly not answering the call in the same way the founding Sisters of Charity of the Incarnate Word did, it is still answering the need for people to feel noticed, to feel appreciated, to feel like they are a part of something bigger than themselves – all in the form of a 4X6 card.
"I'll thank the first responders for their passion and commitment," says Doddato. "For the kiddos, I'll let them know that we're rooting for them and wishing them a speedy recovery. For the senior citizens, I'll let them know that we're thinking of them and to stay positive in all that's going on around them - they are definitely not forgotten!"
"I realize they are small gestures," says Tyler Acosta, a UIW senior. "But I enjoy writing these postcards to the intended audience because, with everything going on in the world right now, it is important to spread some happiness to them. I am thanking the local heroes, first responders, and veterans who have served or are serving our community keeping us safe and comfortable in our everyday lives. And for the children in the hospitals, I try to express how strong and brave they are, and to never stop smiling and to know that they are surrounded by constant love and support as well."
And that love and support goes well beyond the intended audiences of these mini-messages. It's a feeling these ambassadors have for their fellow students as well.
"My message to students is to hold on to your faith," says Jesse Oliver, a UIW senior. "And if your faith is beginning to wane ask our Lord Jesus Christ to strengthen you, for He is a very present help in trouble."
Cardinal Corner
Cardinal Chronicles: Nicholas LeBlanc, Class of 2020 
The arrival of COVID-19 derailed college students' plans and expectations around the world, and UIW Cardinals were, unfortunately, no exception. Still, members of the UIW Spring Class of 2020 have made a lasting impact on our community – an impact that could never be forgotten, despite missed end-of-year celebrations and ceremonies.
We reached out to UIW faculty and staff to ask them to nominate graduating Cardinals who have exemplified the Mission of the University throughout their collegiate careers. Their nominees will make up this new, limited-time series – Cardinal Chronicles: Class of 2020. Our first nominee was recommended not once, not twice, but three times by three different UIW employees, for his "giant heart" and "compassion, camaraderie and kindness." Without further ado, meet Nicholas LeBlanc.
When you ask Nicholas to describe himself in three sentences or less (and we did), his answer is truly indicative of just the kind of person he is – one who always thinks of others first. It wasn't in the content of the answer itself, but in the subtle fact that his answer didn't' say so much about him as much as it did those he holds near and dear to his heart. After brief mention of his major (rehabilitative sciences), minor (psychology) and love of running and video games, Nicholas went on to say, "I hold friendships and family dearly…I still spend time with the same friends I've had since kindergarten, and I'm constantly making new friends to add to the list!"

In fact, all of his answers involved others. His answer to the question of what advice he would offer his freshmen self or another incoming UIW student, didn't focus on tips for personal growth or getting ahead. Instead, he advised that young students engage in group study.
"I have some of my favorite memories group studying with friends on late nights. While an A is rewarding, having a friend be able to explain something you don't understand, put little jokes into studying or ease your mind about the future is incomprehensibly valuable – I wouldn't trade those memories for the world," he explained.
Of course, there was one thing Nicholas couldn't help but be proud of – his acceptance into the UIW School of Physical Therapy on his first attempt. After witnessing others be denied admittance until their second or third tries, Nicholas made a plan that involved attending campus tours and information seminars, and communicating with individuals who could help him. All this led to what he calls "the right resume for [his] dream school." After graduating in the spring, Nicholas will continue his "UIW legacy professionally at the University of the Incarnate Word School of Physical Therapy" this fall.
That's not to say that his path getting here was easy. After struggling with Attention Deficit Disorder (ADD), Nicholas says he is grateful most of all for the accommodating class sizes offered at UIW and the care taken by faculty and staff to help him along the way.
"As someone with [ADD]," he explained, "being at ease about asking a professor to repeat something or being able to ask a question was monumental in being able to graduate and pursue my dream. The faculty and staff at UIW – rehabilitative science professors especially – have always been willing to present the material in different learning styles for students, make assignments fun and interactive and make checkpoints to assure nobody is left behind. Students worked to build and push each other rather than compete."  
It turns out that Nicholas is actually grateful for many lessons learned at UIW, none more important to him than learning the power of a "thank you." 
"Taking the time to thank someone for extending a helping hand seems obvious, but not enough people do it," he said. "Thanking someone for an interview, thanking a professor after office hours and thanking your custodial staff is important. You never know where a 'thank you' might take you."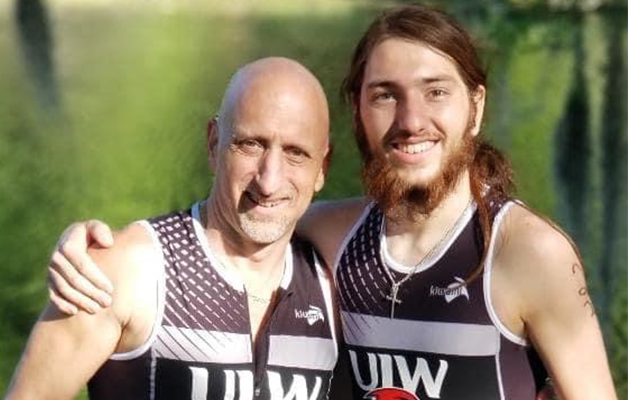 While Nicholas feels he owes sincere thanks to many people who helped him throughout his journey, there is perhaps none more deserving than his father, Scott LeBlanc, director of UIW Sports and Wellness.
"From the day I was born, [my dad] inspired me to not only run competitively, but also to run after my dreams. He has been with me every step of the way – from being able to stop by his office to talk about life, to opening my physical therapy school acceptance letter with tears in both our eyes, my dad being at UIW has been a unique memory I will always cherish."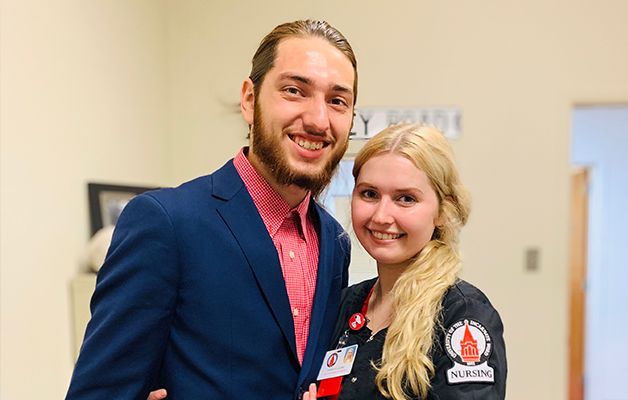 Looking ahead, Nicholas is excited to continue his education, but he's also looking forward to one day marrying his high school sweetheart, a current student of the Ila Faye Miller School of Nursing and the daughter of another UIW employee.
Despite the upheaval of Nicholas' senior year, one thing remains certain – no matter where life should take him, UIW is part of him and he will always remain part of UIW.
Congratulations, Nicholas!
Kendall Owens: In the face of hardship 

"We knew the storm was coming, but it wasn't supposed to be bad. All of a sudden, it became very real." 
As the world has come to find out, life can change in the blink of an eye. But years before the COVID-19 pandemic stormed across the world, it was the eye of a hurricane that created chaos in the Texas town Kendall Owens and her family call home. The University of the Incarnate Word softball freshman had her life turned upside down, for the first time, when the category four hurricane, Harvey, hit Port Aransas in 2017. 
"I just remember that after the hurricane hit, for the next month, we were out here at sunrise to about 10 at night every single day," said Owens. "This was the town I grew up in my whole life, and to see people's homes gone, businesses gone and trash everywhere...It was heartbreaking to see all of that." 
Heartbreaking, but not completely broken, thanks to quick action. Unlike in a pandemic, the marching orders from authorities during the hurricane were not to shelter in place, but to get out.  And Owens says the family only had about 12 hours to get that done. This wasn't an easy feat for anyone, but the Owens had even more at stake in the tourist-driven town. 
"We have multiple restaurants and a fishing marina, so we're all busy boarding up the businesses, and then we go to my grandma's house to board her house," Owens said. "Finally, after we get everyone's houses boarded up, it's 10 p.m. and we're finally at our house. We had two hours to board up and pack up everything to be ready to leave. We were on one of the last boats out."  
It took the family months before they were finally able to completely return to their beloved hometown. Their community had seen the worst of the hurricane. Owens described it as looking like the aftermath of a "warzone." The first order of business was making sure that their family and businesses were up and running.  
"We took care of my family's houses first," Owens remembers. "My aunt had just given birth a couple weeks prior to the hurricane hitting. Her home was destroyed, so we worked on her house and my grandma's house first. In their neighborhood, there was about three feet of sewer water that filled all of the homes." 
With everything that happened, Owens, then a junior in high school, had to transfer to another school. Although she was sad she wasn't at Port Aransas High School anymore, she was able to find things to be positive about during the transition. 
Hardships often create opportunities in life, and that's exactly how Owens viewed it as she made the most of the difficult time. She often overcame moments of doubt and fear with thankfulness and understanding that everything would be okay. 
"As awful as the hurricane was, the hard time it created for my family and the community, there was a silver lining," said Owens. "Being able to go to this new school brought so many opportunities. It brought so many good people into my life at a time when I definitely needed that." 
Still, the changes were difficult for the young Owens. 
"I had to move schools, my home was destroyed, my families' homes were destroyed," Owens remembers. "I was thinking how it couldn't get any worse." 
Now, three years later, Owens is dealing with adversity again after having her freshman season at UIW cut short due to the COVID-19 pandemic. Her hometown of Port Aransas lives on tourism, and it can be frustrating and discouraging to deal with another crisis so soon after recovering from Hurricane Harvey. 
"Both of these disasters will break some, but it will also build many up and make them better people by persevering through this tragedy. I truly believe that God will never put you through anything that you cannot handle." 
And so for now, at least for Owens, there is solace that hardship now has a familiar face and an all too familiar lesson.
"What I came to find is that in adversity, we find our greatest strengths," said Owens. "Having faith that everything WILL be okay and that we WILL get through it is a mindset we all need to try to have during times of hardship. As awful as Harvey was and all the pain that came with it, there was good that also came out of it. I grew so much as a person going through the adversity that came with the hurricane, that I truly believe it made me a better person."  
It's that belief that she holds firmly to during these uncertain times.
"I know this pandemic is hard on our whole world, but no matter how hard and tough times may get, it will get better and it will make you stronger." 
Alumni and Parent Relations
UIW Alumni Small Business Directory

The Department of Alumni & Parent Relations wants to support UIW Alumni-owned small businesses! In response to the COVID-19 pandemic, we will create an online directory showcasing your business to all UIW alumni.
Please submit this form no later than Friday, May 1, 2020. If you have any questions, please contact us at alumni@uiwtx.edu. #SupportLocal #SupportUIWAlumni 
Dr. Evans' Class Ring Surprise
After months of planning this surprise, the Department of Alumni & Parent Relations was able to deliver a special gift to Dr. Evans. Watch below! #RedPutARingOnIt
Red's Family Fun Pack

In the spirit of our togetherness, your Department of Alumni & Parent Relations has created a Red's Family Fun Pack for you to enjoy with your family. It is filled with coloring pages, trivia and some fun games.
Download Red's Family Fun Pack here. 
We hope you enjoy it, Cardinals!
Athletics
A Q&A with Women's Golf Head Coach, Allison Howarth 

University of the Incarnate Word Women's Golf Head Coach Allison Howarth has been at the helm of the program for two years. During that time, the team has jumped 61 spots in the Golfstat rankings, including a 40-spot increase over the 2019-20 season.
We caught up with Howarth to talk about what is keeping her motivated, why she decided to become a coach, and more.
Q: Why did you decide to become a coach? 
A: I love being able to help my student-athletes grow. Coaches are given an incredible opportunity to help their student-athletes explore their passions. We have the privilege to walk through life with our student-athletes and help them reach their best selves in sport and life.
Q: At what age/under what circumstances did you start playing golf? 
A: From an early age, my parents threw us into sports. Soccer, basketball, volleyball, cross country, pole vaulting, and eventually golf. I loved competing and it didn't matter what sport I was playing – I was addicted. It wasn't until I was about 11 or 12 when my dad bought me my first set of clubs. It was the last sport to check off the list, and the one that eventually stuck.  
Q: What is your favorite thing about being a coach? 
A: The small moments – the inside jokes, banter, listening to their music through their air pods on a long drive home, the sighs after missing a 6-footer in around the world, and the silent excitement at practice the day before we leave for a tournament.  
Q: What is something the community doesn't know about you? 
A: I have a twin sister, Kelsey, and you would never know it. Complete opposites. She's laid back and easy going and I'm high strung and extremely competitive. At an early age, Kelsey read Nancy Drew books and the closest I got to reading was the latest edition of SLAM. We played on different sports teams growing up and went to different high schools. Kelsey, if you're reading this, love ya! 
Q: If you weren't coaching golf, what sport would you be most interested in coaching and why? 
A: Basketball. I can remember people asking me what I wanted to be when I grow up and saying "a professional basketball player." From an early age, I was obsessed with the Detroit Pistons. The wild '04 NBA Champions – Richard Hamilton, Ben Wallace, Rasheed Wallace, Chauncey Billups, and Tayshaun Prince – showed a young 10-year-old what toughness, grit, and competitive fire looked like.
Q: Over the past two seasons since you took the helm, UIW women's golf has jumped more than 60 spots in the rankings (with a 40-spot increase this year alone). What has contributed to this success? 
A: Our group of girls this year really trusted us. We expected a lot of out them in everything they did, and they exceeded our expectations. The team took on every challenge we threw their way and rose to the occasion. Their best golf is yet to come. 
Q: The season didn't end the way anyone would have wanted, but what has the past six weeks taught you about yourself? 
A: Control the controllables. We can't control what the NCAA, institution or government says. We must focus our energy on the present. We have the ability to control our attitude, commitment, focus, fitness, rest, nutrition, body language and communication. Let's crush what we can control, every day.   
Q: What are you doing to keep yourself motivated through this period of quarantine? 
A: Reminding myself that there will be another golf tournament. We will compete again. As a team, I try to focus on what we are doing to get physically and mentally prepared for August. 
Aday named to 2019-2020 Southland Conference Women's Golf All-Academic Team 

University of the Incarnate Word women's golf student-athlete Gracie Aday was selected for the 2019-20 Southland Conference Women's Golf All-Academic second team, announced the league office Wednesday. 
"To be recognized for your dedication to sport and studies is an honor," said UIW Women's Golf Head Coach, Allison Howarth. "We are very proud of Gracie's hard work in the classroom, and we look forward to what she does post collegiate golf."  
Aday, a senior Communication Arts major with a 3.685 GPA, has completed 71.5 hours of community service throughout her time as a Cardinal, showing that she truly cares about her community. She is a six-time Dean's List and three-time Southland Conference Commissioner's Honor Roll honoree, as well as a member of Lambda Pi Eta (communications honor society). 
A native of The Woodlands, Texas, Aday competed in eight tournaments for UIW this year. Her best finish was 11th at the UTRGV Invitational from March 2-3, where she had a score of 223 and helped guide UIW to its best team finish of the season (second place). Aday had a low round of 69 (-3) in round three at the USA Intercollegiate on Sept. 14-16; she finished with a score of 219 (tied for 13). Additionally, she helped guide UIW to five top-10 finishes, four of which were in the top five. 
After graduation, Aday plans to pursue a master's degree in Communication Arts. 
To earn all-academic, student-athletes must maintain a minimum 3.00 cumulative grade point average (on a 4.0 scale) through the semester prior to the sports' championship and have completed at least one full academic year at the nominating institution prior to the season in which the nomination occurs (true freshmen and ineligible athletic transfers are not eligible). Traditionally, student-athletes must have participated in at least 50 percent of the team's contests during the most recently completed season. However, with the shortened season due to the COVID-19 pandemic, the participation requirement was waved for this season.