UIW Community Newsletter - April 5, 2019
Spotlight
UIW Leadership Dinner

On Wednesday, April 3, UIW hosted the inaugural Leadership Dinner and Student Showcase (formerly the Associates' Dinner).  Associate and Leadership level donors were invited to a sampling of the extraordinary work of the colleges and programs throughout the UIW system with the intent of creating an opportunity for dialogue between the university and our donor community. This event will be held yearly with the opportunity for participation from various university programs.

Mission
Our Lady's Chapel Services
All are welcome
Noon Mass, Monday – Friday 
Sunday Mass at 10:30 a.m. and 8 p.m.
Sacrament of Reconciliation, 11:30 a.m. Fridays or by appointment with Fr. Tom Dymowski, O.SS.T. at
(210) 829-3131 or  dymowski@uiwtx.edu.
Lenten Daily Reflection
We must seek what really matters:  "Whoever loves his life, loses it"  Jn 12: 25
Lenten Meditation for Next Sunday – Jesus unbinds, frees, gives life
Listen to a podcast by Sr. Martha Ann Kirk here.  
Holy Week
While Palm Sunday marks the beginning of Holy Week with the commemoration of Christ's triumphant arrival in Jerusalem, Lent officially comes to an end on Holy Thursday as the beginning of the Mass of the Lord's Supper signifies our entry into the Sacred Paschal Triduum. The Triduum is celebrated as one continuous liturgy over three consecutive days beginning the evening of Holy Thursday and ending with vespers on Easter Sunday evening. We invite our university community to join together with our Sisters of Charity and retired citizens at the Village at Incarnate Word in these sacred days of prayer.
Palm Sunday: April 14
10:30 a.m. (Chapel of the Incarnate Word)
8:00 p.m. (Our Lady's Chapel)
Holy Thursday: Mass of the Lord's Supper - April 18 at 6 p.m. (Chapel of the Incarnate Word)
The transfer of the Blessed Sacrament will follow after communion with a procession to the Lourdes Grotto (next to the SEC building) and a period of adoration until 9 p.m.
Good Friday: Friday of the Passion of the Lord - April 19 at 6 p.m. (Chapel of the Incarnate Word). The liturgy is not a Mass, but includes scripture (notably, the proclamation of the Passion), Adoration of the Cross, and Holy Communion.
Easter Vigil: The Easter Vigil in the Holy Night - April 20 at 8 p.m. (Chapel of the Incarnate Word). The Easter Vigil is considered to be the pinnacle of the liturgical year and our spiritual lives.
Easter Sunday: April 21. Easter Sunday marks the end of the Sacred Triduum and is the first day of the Easter Octave. The fifty days of the Easter season will conclude with the Solemnity of Pentecost.
10:30 AM – Chapel of the Incarnate Word only.
8:00 PM – No Masses in either chapel. Mass resumes in Our Lady's Chapel on April 28.
Bereavement 
We are saddened to hear of the passing of longtime UIW friend and community member, Dr. Roberto San Martin, who entered into eternal rest on Sunday, March 31. Visitation will begin at 5 p.m. on Sunday, April 7 at Angelus Funeral Home (1119 N. St. Mary's) followed by a Rosary at 6 p.m. On Monday, April 8, visitation will begin at 9 a.m., followed by a Funeral Mass at St. Matthew's Catholic Church (10703 Wurzbach Rd) at 10 a.m. Our thoughts and prayers are with his son, Bobby San Martin, Ettling Center for Civic Leadership and Sustainability Center Coordinator, and his family and friends.
CCVI Jubilee - Celebrating 150 Years

We invite you to celebrate 150 years of blessings at the following events:
May 21, 2019 
7:00 pm — Eucharist at San Fernando Cathedral, San Antonio, celebrating our founders, Bishop Claude Marie Dubuis, and Sisters Madeleine Chollet and Pierre Cinquin.
November 1, 2019 
8:30 am — Morning Prayer, Chapel of the Incarnate Word, followed by an unveiling of a "150" commemorative plaque in the Incarnate Word Cemetery, honoring our deceased Sisters.
6:00 pm — Eucharist in the Chapel of the Incarnate Word honoring our "great cloud of witnesses" (deceased Sisters of Charity of the Incarnate Word).
November 3, 2019 
3:00 pm — Concert by "Chanticleer" all-male vocal ensemble — Chapel of the Incarnate Word.
November 23, 2019 
3:00 pm — Celebrate the annual "Light the Way" with the University of the Incarnate Word.
December 3, 2019 
6:00 pm — Eucharist celebrated with CHRISTUS Santa Rosa, remembering the first Mass celebrated at Santa Rosa Infirmary on this day in 1869 — Chapel of the Incarnate Word.
Highlights
Events
Sacred Music Through Interfaith



Visitation House Garage Sale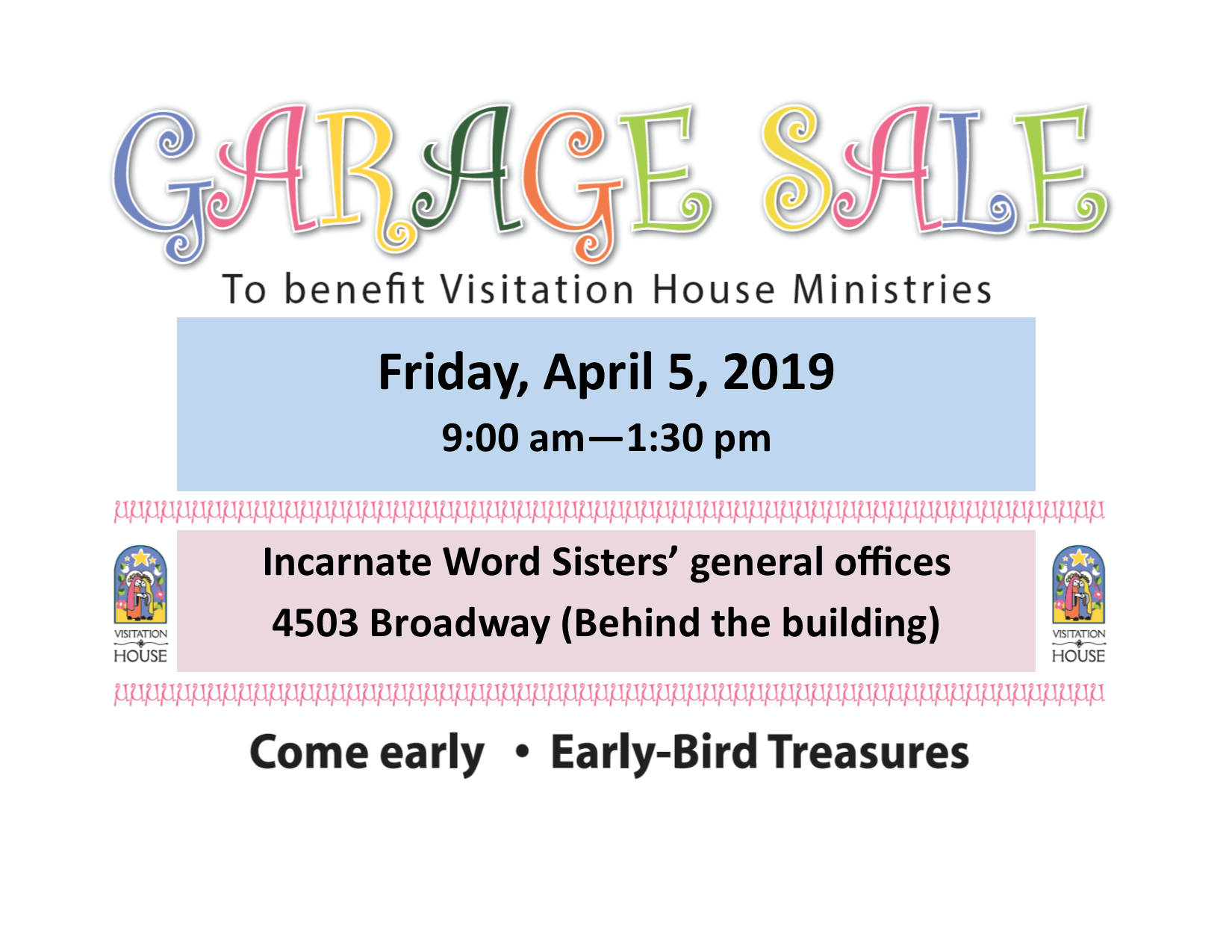 The Cutting Edge Fiesta Fashion Show

Join the University of the Incarnate Word for the 2019 Cutting Edge Fiesta Fashion Show, a San Antonio tradition since 1980, on Monday, April 29 at the McNay Art Museum! UIW student designers will present collections they have worked on in a year-long process.
Proceeds benefit Fashion Management scholarships for current UIW students.
This year's event will kick off with a VIP cocktail reception at 5:45 p.m. (for VIP ticket holders). Doors will open for general admission ticket holders at 6:15 p.m. The show will officially begin at 7:15 p.m.
Community News
UIW Fiesta Medal - Now Available!


The 2019 UIW Fiesta medal is now available! Purchase yours today at the Campus Life Office in the Student Engagement Center. Medals are $10. 
National Academies of Practice - Dr. William L. Miller

Dr. William L. Miller, professor and associate dean of academic affairs for the Rosenberg School of Optometry, was recently inducted into the National Academies of Practice as a Distinguished Fellow during their recent meeting in Washington, D.C.  The National Academies of Practice recognizes and honors the contributions of the nation's leading health care practitioners through its constituent academies; supports its distinguished members in developing and disseminating practices, models, curricula, and policies that enhance interprofessional collaboration in practice settings; and informs policy makers at the national and state levels regarding public policies that will enhance access to health care and advance excellence in the promotion of health, and prevention and treatment of disease, injury, disability, and poor health.
Dr. Miller is a diplomate in the American Board of Optometry. He is a fellow of the American Academy of Optometry, a member of the American Optometric Association and International Contact Lens Educators. He is on the editorial board of the Eye and Contact Lenses Journal and served as a contributing column editor for Contact Lens Spectrum journal for 16 years. He is also a board member for the Ocular Surface Society of Optometry.
His area of teaching includes contact lenses, anterior segment pathology, lasers and refractive surgery. Dr. Miller has also received the J Davis Armistead Teaching Award and Teaching Excellence Award both from the University of Houston. He was also named the Texas Optometry Association's Educator of the Year in 2017.
Dr. Miller's service has included serving in his church as well as participating as a trustee committee member at NorthRock Church. He recently joined UIWRSO students on a mission trip to the Rio Grande Valley.
Cardinals in the Community 
Since 1881, the University of the Incarnate Word has been committed to serving the needs of others. Thus, in continuing this tradition of commitment and service to the community, the Ettling Center for Civic Leadership & Sustainability coordinated the 2nd Annual UIW Cardinals in the Community: A Global Day of Service on Saturday, March 30, 2019. The event began with a prayer, breakfast and opening ceremony in the UIW Student Engagement Center Ballroom. Students, faculty and staff spent the morning giving back to UIW and the greater San Antonio community. 


2019 Global Girls Summit
The 2019 Women's Global Connection Girls Global Summit was held on Saturday, March 30. All ages were welcome at this intergenerational event exploring what it means to be a global citizen. Teams of school-age girls led this fun, half-day summit exploring that question. Community members and girls from over 20 area middle, high and college-level schools attended. This annual summit expands horizons and encourages empathy and entrepreneurship by focusing on issues facing girls and women around the globe. 


Dr. Bill Carleton Retirement Reception
The School of Nursing and Health Professions hosted a retirement reception honoring Dr. Bill Carleton, Professor, Human Performance/Kinesiology, on Monday, April 1. Dr. Carleton has been with UIW since 1980. Thank you for your many years of service to UIW, Dr. Carleton!



UIW Students Visit State Capitol
On Thursday, March 28, five UIW undergrads and three staff members spent the day meeting with legislators and staff at the Texas Capitol in Austin to advocate for state funds for the Tuition Equalization Grant (TEG) Program. This program, which is a line item in the State of Texas budget, provides financial aid funding to talented, low income students who attend a private, non-profit university in Texas. UIW is the second-highest recipient of TEG funds in Texas, so the students' stories about the impact of TEG funds on them and their political advocacy are vitally important for continued legislative appropriations to the TEG program.
Staff members in attendance included Paul Ayala, associate dean of Campus Engagement; Armando Saliba, associate director of Foundation, Corporate & Government Relations; and Brad Howell, financial aid coordinator. 
Student representatives included Edward Clark (Government), Gianna Velasquez (Government), Isela Guerrero (Nursing), Ana Szinnyey (Nursing), and Alanis San Miguel (Sociology).

UIW School of Professional Studies Students Visit State Capitol
Last week, students from the School of Professional Studies (SPS) went to the State Capitol and spent the day shadowing Texas State Representative and SPS faculty member, Dr. Philip Cortez. They also participated in interviewing various key personnel in the legislative/public policy process. This was a part of their end of semester group project.

Welcome, New Cardinals!
The Office of Human Resources welcomes these new Cardinals to our nest!
From left to right (back): Rachel Ramirez, Data Processor- Office of Admissions; Jeffrey Dow, Head Women's Basketball Coach
From left to right (front): Roxanne Vedia, Manager of Professional and Continuing Education- SPS; Sarah Zigrang, Clinical Teaching Assistant

Department News
A Special Message from Dr. David Jurenovich, Vice President for Campus Life & Facilities regarding Alamo Heights Night 2019
On Friday, April 12, 2019, from 5:30 p.m. to 11:30 p.m., UIW will once again host Alamo Heights Night! 
The event will take place on the parking lots surrounding the Natatorium and Convocation Center. The event will offer food & beverage booths, games and entertainment for all ages and a fireworks display. Live entertainment from Hotcakes, Skyrocket, Finding Friday, and Michael Brandon. Please join the Alamo Heights Rotary and the UIW community for this fun filled family event! 
ADMISSION INFORMATION:
Admission is FREE for all UIW/SACHS/IWHS employees and students with a valid ID Card.
Children 11 and under, active duty, and reserve component military - Free
Children 12-17 and students with school ID - $5
Adults - $15
ADA Accommodations to attend Alamo Heights Night
If you, or someone you know, plan on attending Alamo Heights Night (public event starting at 5:30 p.m.) and will need ADA accommodations please call the Alamo Heights Rotary Club/Alamo Heights Night LLC at (210) 824-2462.
IMPORTANT INFORMATION REGARDING: Parking & Event Set-Up
WEDNESDAY, APRIL 10
The lots on and around the Alamo Heights Night site (Natatorium and Convocation Center lots) will be coned off starting the evening of Wednesday, April 10.
On Campus Shuttle Service from the parking garage at McCombs Parking Garage, Ancira Tower Parking Garage and ICC parking lot will run as scheduled.
THURSDAY, APRIL 11
There will be restricted parking in certain areas on the morning of Thursday, April 11 for set-up and preparation of Alamo Heights Night. Set-up is scheduled to begin at 8 a.m. and will continue through Friday, April 12. All commuters, especially those normally parking around the lots near the tennis courts, the Convocation Center and the Natatorium, must find an alternate location to park.
Parking will be available in the Ancira Parking Garage, McCombs Parking Garage, and the lots around the ICC.  NOTE: If you park in a restricted lot/area your vehicle is subject to towing at the owner's expense.  
On Campus Shuttle Service from the parking garage at McCombs Parking Garage, Ancira Tower Parking Garage and the ICC parking lot will run as scheduled.
FRIDAY, APRIL 12
As of 12 p.m., (noon) there will be no traffic allowed from Ancira Tower and the bridge.
Beginning at 3 p.m. only vehicles with UIW parking permits will be allowed entrance at Mission Plaza. All others will be directed to the ICC Ancira Tower parking areas or to one of the Alamo Heights Night parking locations.
On Campus Shuttle Service from McCombs Parking Garage, Ancira Tower Parking Garage and ICC parking lot will run until 12 p.m., noon. Anyone needing to return to their vehicle any time after 12 p.m., noon, has the option of walking back or using the cliff side elevator thru the back of Avoca. Shuttles will stop running at 12 p.m., noon on Friday. 
Important to Note:
On Friday, April 12, the UIW parking lot at Allensworth and Broadway (A-Lot) will be available for parking for all valid UIW permits. Please DO NOT use the Witte's section of the lot. 
If you are expecting any visitors to your office or deliveries from vendors on Friday, please let them know in advance that due to preparation for Alamo Heights Night they will not be able to drive from the east side of campus to the west side of campus after 12:00 p.m., noon on Friday.
A Special Message from Sr. Walter Maher, CCVI, Vice President of University Mission & Ministry
When a stranger sojourns with you in your land, you shall not do him wrong.  You shall treat the stranger who sojourns with you as the native among you, and you shall love him as yourself, for were strangers in the land of Egypt:  I am the Lord your God" (Leviticus 19:33-34). 
"For I was hungry and you gave me food, I was thirsty and you gave me to drink, I was a stranger and you welcomed me" (Matthew 25:35).
Last Tuesday, Bishop Mario Alberto Aviles, Brownsville Diocese, visited the University of the Incarnate Word.  He shared with us the desperate situation of migrants in McAllen, Texas.  He stated, that each day over 800 migrant women and children are being released and Catholic Charities was stretched to the breaking point as they could only respond appropriately to 300 people.   He said, "many were released without clothing, shoes, or necessities for life."
Today, Catholic Charities of San Antonio is appealing to us to "respond to our Lord Jesus Christ suffering the multitude of the sick and infirm" are seeking relief from our hands.  Will we the University of the Incarnate Word find it in our hearts to respond to the cry of the poor, the most vulnerable in our country today.
I invite you as a member of the University community to consider donating to these SPECIFIC, URGENT NEEDS.  These are the recommended items from Catholic Charities:
Underwear.  All sizes. All new.
Blankets.  New.  Twin size.  No comforters, please.
Shoelaces. New and in adult lengths
Shoes for children ages 6-17 in ALL sizes.   All shoes must be in good condition and clearly marked by each size and gender
Financial support to temporarily house families I hotels.   Donations can be made directly online at ccaosa.org
Donations by gift cards.  Also accepted at Catholic Charities, 202 W. French Place, SAT78212
Small toys for children (examples:  plush animals, small toys, cars
The Office of Mission and Ministry and Ettling Center for Civil Engagement will be delighted to receive donations and see that they are delivered to Catholic Charities.
I pray that we, who have been so blessed by God, will hear the cry of the poor and respond with generosity and compassion.
If you have any questions, please contact University Mission & Ministry at (210) 832-5316.
Year End Memo
Please view the document to see the year end memo regarding procedures for closing out FY 18-19.
The New UIW.edu is Live
We are pleased to announce that the new UIW.edu is now live. The new website features an updated look and feel and was rolled out over the week of Spring Break. The first phase of the roll out included the Health Professions schools sites followed by the main UIW.edu site. Over the course of the rest of the year, the remainder of the academic schools will be refreshed. Thanks to our partners at Elliance for their branding vision and to our internal team, who have worked to implement the vision of One Word on our websites.
If you have questions about where to find essential information, please read through the FAQs here.
In addition, a video tutorial offers tips and information about navigating the new site and where to find important links.
Our internal group will be working diligently to make sure that all pages are accurate, presentable and functioning with the new look and feel. Please feel free to email  pr@uiwtx.edu with your feedback.
New Phone System Transition Reminder
We are officially transitioning to a new telephone system on April 10. We are replacing our aging telecommunications equipment with a new provider called RingCentral. For information on the new features, details on phone handsets, schedule of training events, initial steps you can take, and more visit the migration webpage here.    
UIW Friday Community Newsletter
As we continue the transition to the new UIW.edu, please note that all submissions for consideration in the Friday newsletter must be submitted no later than Thursday at noon. Please contact vireyna1@uiwtx.edu with any questions. 
Athletic News 



Miscellaneous 
CCVI Fiesta Medal
Celebrate the CCVI Jubilee and support their ministries by purchasing the 2019 celebratory Fiesta medal. Find the medal at the CCVI International Support Office (The Generalate - 4503 Broadway). Medals are $10.