The Word: UIW Community Newsletter - May 29, 2020
Spotlight
 Spring 2020 Commencement 

The UIW Spring Class of 2020 will be honored in a virtual commencement ceremony on Saturday, May 30. Tune in and invite friends and family to watch along with you from wherever they are! The first ceremony honoring undergraduate and graduate candidates will be held at 4 p.m. The second ceremony, honoring graduates from the Feik School of Pharmacy, School of Physical Therapy and Rosenberg School of Optometry will premiere at 6 p.m.
The ceremonies will be streamed at UIW Virtual Commencement site.
Students are invited to submit videos of their at-home celebrations for possible inclusion in a special commencement video for the Class of 2020. Those recording videos for submission should:
Make sure the camera is horizontal (landscape)
Make sure the lens is clean
Make sure there is good front lighting 
Make sure camera settings are on standard video mode and not slow motion
Upload video to this Dropbox link . 
A Special Message from UIW President, Thomas M. Evans, PhD Thanking Doug Endsley
Dear Students, Faculty and Staff,
Our community is blessed to count among its many employees those who have devoted decades to our institution and to the people who form it. For more than 26 years, the University of the Incarnate Word has been guided by the steady hand and profound financial leadership of our Vice President of Business and Finance Doug Endsley.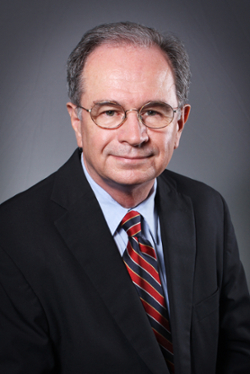 During his long tenure, Doug saw UIW grow, change and weather some of its toughest storms. Through each, he guided UIW leadership to make the difficult, but necessary, decisions that have helped UIW become what it is today. I have yet to hear anyone say an unkind word about Doug – not quite typical of someone who manages the purse strings at a large organization – and that is because it is well known that he has always had the University's best interest at heart.
It is with great appreciation that we congratulate Doug on his retirement from UIW. It is with the greatest respect and admiration that the Board of Trustees unanimously approved a resolution at their March meeting honoring Doug with the new title Vice President of Business and Finance Emeritus.
With his departure on June 1, he leaves his position and all of his many responsibilities in the capable hands of Dr. Darrell Haydon, Chief Financial Officer and vice president for Administrative Services.
Please join me in thanking Doug for his extraordinary work, stalwart leadership and dedication to our Mission. In his retirement, he is looking forward to travelling when he can and spending time playing the piano. We will greatly miss his daily presence on campus, but he will always have a home at UIW.
Praised be the Incarnate Word!
Sincerely,
Thomas M. Evans, PhD
President
Mission & Ministry
Baccalaureate Blessing

Join us in celebrating the UIW Class of 2020 with a special, virtual Baccalaureate Blessing. All graduates, students, employees, family and friends are invited to watch and join in prayer for our graduating class! The blessing will be available for streaming at 6 p.m., Friday, May 29, 2020 at the UIW Virtual Commencement site.
Cardinal Inspirations: Dr. Thomas M. Evans, UIW President, and Mrs. Lisa Evans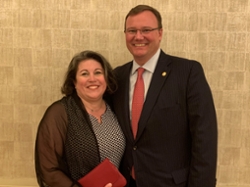 "But the Lord answered and said to her, "Martha, Martha, you are worried and bothered about so many things; but only one thing is necessary, for Mary has chosen the good part, which shall not be taken away from her." (Luke 10:40-42)
These many weeks have presented so many reasons to worry, so many sources of anxiety. Somehow, though many of us are staying home and our calendars have cleared, there seems to be more to do than ever. As we reflect on the nature of stress and busy-ness, we are reminded of Luke 10:40-42. In it, Martha is upset with Mary for sitting and listening at the feet of Jesus instead of helping her with chores. Jesus tells Martha that Mary is rightly focused on listening to him instead of busying herself with the chores. This passage reminds us not to overlook what matters most as we hurry through the day's tasks. While we all must work hard to achieve our dreams, we must also take time to sit, listen and reflect on what is important in life – following the words of Jesus, the Incarnate Word of God. Life will always be busy, and it is not always easy to see through the bustle, but as you move forward in your journeys, take inspiration from Mary and choose the good part.
Student CCVI Spirit Award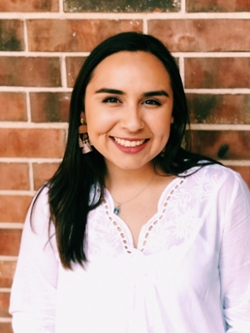 Congratulations to Miss Julia King, recipient of the 2019-2020 Student CCVI Spirit Award. Each year, the University awards an undergraduate student who is recognized by peers, faculty and staff as living the mission of the Sisters of Charity of the Incarnate Word in her/his service to the University and the broader civic community.
Miss King was selected for her commitment to "educational excellence in a context of faith in Jesus Christ, the Incarnate Word of God...thoughtful innovation that serves the spiritual and material needs of people...an emphasis on social justice and community service...support [for others] in search for the communication of truth, and [becoming a] concerned and enlightened citizen."
Academics
Faculty Research Awards from the College of Humanities, Arts and Social Sciences 
Dr. Kevin Vichcales, associate provost for undergraduate and graduate education and dean of the College of Humanities, Arts, and Social Sciences has announced the following faculty research awards: 
1881 Commemorative Award for Faculty Development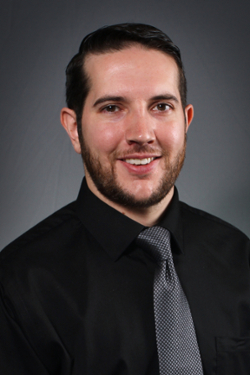 The 1881 Commemorative Award for Faculty Development Fund was established with the generous support of Lt. Col. Philip J. Piccione and Col. Jean M. Migliorino Piccione to celebrate the 1881 founding year of the University and to encourage faculty development. The goal is to foster faculty professional development and to recognize the leadership of an individual faculty member in relation to the University's Mission. This year's recipient is Bejamin C. Miele, PhD, assistant professor of English, for his project, "Towards a Zero-Waste University: Expanding UIW's Compost Initiative." The Compost Initiative is a student-centered enterprise, steeped in the UIW Mission values of communicating truth to students and the broader community, of using innovation to solve current climate-related problems, and using education to instill the value of faith and service in responding to global warming. Miele is also awarded the Faculty Workload Reassignment Award for his work, "Research and Consultations for a Translation and Digital Critical Edition of Pareus, In Guil. Parry Proditorem odae & epigrammata, and In Catilinarias Proditiones ac Proditores Domesticos."
Faculty Workload Reassignment Award (FWRA) 
The Faculty Workload Reassignment Award was established to provide full-time faculty the opportunity to seek reassignment of workload responsibilities (25% time) in support of individual research and scholarship objectives relevant to their personal growth or to pursue special projects relevant to their departments or college/schools. This year's recipients are: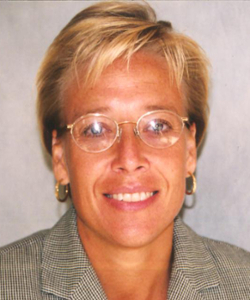 Lydia Andrade, PhD, professor of Political Science, for her work on the examination of a new form of presidential communication: tweets.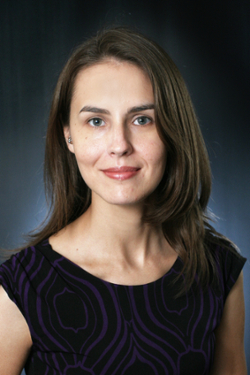 Stefanie Boswell, PhD, professor Psychology, for her research, "Effects of Ratemyprofessors.com Evaluations, Gender, and Policy Leniency on Academic Entitlement Attitudes."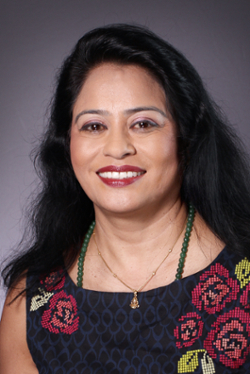 Dr. Lopita Nath, PhD, professor of History, for her work, "Where is My Shangri-La? Challenges and Successes of Bhutanese Refugee Resettlement in The United States."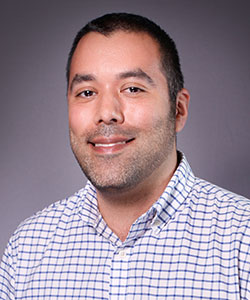 Dr. Horacio Vela, PhD, assistant professor of Religious Studies for his research project, "St. Paul in America."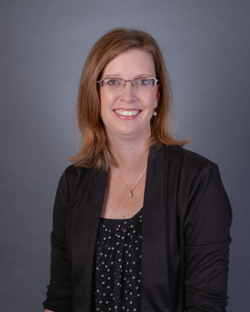 Dr. Rachel Walker, PhD, professor of Psychology, for her project, "Examination of the development and differences of object play behaviors in dolphins that are under professional care and in their natural environment."
Faculty Graduate Research Assistant (FGRA) Award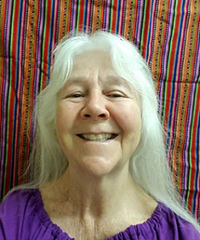 The Faculty Graduate Research Assistant Award was established to provide faculty with research assistance for their scholarly endeavors leading to publication and to provide institutional financial support to graduate students within the context of a mentored research experience. This year's recipient is Sr. Martha Ann Kirk, ThD, professor emeritus of Religious Studies for her project, "Identifying Needs, Developing, Assessing Service-Learning Support, Pilot of Four-Year Longitudinal Study on Social Justice Transformation." This project seeks to give to future generations our legacy of justice-seeking compassion, which began 150 years ago. 
Student Awards and Recognitions from the School of Media and Design
Diana Allison, assistant professor of Interior Design, announces the recognition of recent graduates and current students for their winning entries in the American Society of Interior Designers, San Antonio, annual competition. Recognitions go to current students Ariana Gomez and Jennifer Salyer for their San Antonio Pinnacle of Design award-winning projects. Gomez won in the Student Commercial category and Salyer won in the Student Residential category. Cyndi Rodriguez and Lexi Banda, both recent graduates, won numerous awards in the San Antonio Pinnacle of Design event. Corey Conradt, also a graduate of the interior design program, won first place in the Commercial Hospitality division. 

Michael Mercer, senior instructor in Communication Arts, announced that three UIW students—Antonio Bocanegra II, Gabrielle Yanez, and Briana Caballero, were awarded scholarships from the San Antonio Association of Hispanic Journalists (SAAHJ). Scholars were chosen by a committee consisting of journalism and communications professionals led by SAAHJ board members and committee co-chairs Tony Quesada, editor-in-chief of the San Antonio Business Journal, and Mary Melton, executive news producer and assignments editor at Univision San Antonio. The scholarship, which awards $5,000 to a student each year for the next four years, is funded by Shea Serrano, a multiple New York Times best-selling author and San Antonio native, and his wife Larami Serrano.
Research Week 2020

The Office of Research and Graduate Studies will be hosting Research Week 2020 poster and podium presentations virtually this summer. Faculty and students who submitted abstracts during the spring semester and were accepted to present at Research Week 2020 are invited to submit their presentations online for public viewing during the week of June 8 - June 12.
From June 8 - June 12, please visit our virtual forum hosted by Symposium and select "University of the Incarnate Word" from the dropdown menu. Presentations will be viewable all week, and presenters will regularly monitor the Virtual Research Week site to respond to questions and comments. Viewing of the Virtual Research Week presentations will be open to the public, but commenting will require visitors to sign in using an institutional email.
COVID-19
Community Updates
The dignity, health and wellbeing of every member of the University of the Incarnate Word community remains an institutional priority at the heart of our Mission. In response to this pandemic, UIW has assembled a team that meets daily to ensure that every possible contingency to keep campus life moving forward is considered when making campus-wide decisions. UIW continues to work closely with local and state officials, is taking all precautions as directed by the CDC, and sharing preventative information and resources with the University community via email. As a community, we offer our prayers for all of those affected by COVID-19 and all those who care for them.
In the News
KENS 5: This whole online-learning thing? These collegiate sibling athletes have been doing it for years
Community News
UIW Fashion and Theatre Students Sew Masks to Donate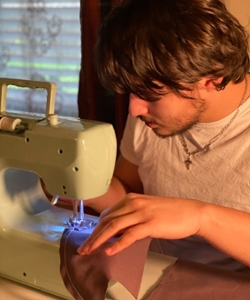 Teri Lopez, senior instructor in Fashion Management, reports that students, faculty and alumni from the Theater Arts Department and the Fashion Management Department rose to the occasion to assist the Global Response Management organization and the CCVI Sisters to provide masks for 2,000 asylum seekers living in Matamoros, Mexico. The mask project began with fabric and material donations from the Fashion and Theater Departments to create kits with 20 sets of masks, which included materials and supplies with instructions and a how-to video. From mid-March to April 17 students studied online and, in their spare time, constructed approximately 1,040 masks for families in Mexico. With the help of alumni, faculty, and friends of UIW, they delivered masks to the CCVI Sisters who manage clinics and facilities for the families. This mask project continues as the departments work with the Ettling Center for Civic Leadership and Sustainability to distribute another 1,000+ masks of all sizes to the Children's Rehab Institute Telethon Center (CRIT) and Centro Med Clinics in San Antonio. If you are interested in working on this project, please contact the Ettling Center at ccl@uiwtx.edu for more information. Thanks to the following students who worked on this project: Joseph Aguilar, Cory Clavo, Kaitlyn Clayton, Sharlee Krkosa, Victoria Trevino, Rebecca Morton, Emily O'Brien, Britany Duke, Miguel Palma, Danielle Fernandez, and Erica DeLuna.
Swing-In: A 43-Year UIW Tradition

The 2020 Swing-In Auction Party, originally scheduled for Thursday, April 30 at the McCombs Center Rosenberg Sky Room, has been rescheduled!  The auction will be an online-only event, kicking off on Monday, June 1 and concluding on Monday, June 15.  The Swing-In raffle winner will be announced on June 15 once the auction closes. 
In addition, the Swing-In 2020 committee is partnering with Visitation House to provide support to their fundraising efforts. The online auction will feature some packages that will directly fund the Visitation House Transitional Housing and Education Programs, which provide the resources and support services to help homeless single mothers achieve self-sufficiency through education and employment that pays a living wage. All packages that will directly benefit the Visitation House will be marked with the organization's logo.
We are grateful to the businesses and individuals who have donated auction items and continued their support through sponsorships. During the online auction you will have the opportunity to bid on unique experiences, gift cards, jewelry, vacations and more with all the proceeds benefiting the UIW Emergency Impact Fund, assisting our students in this time of great need. 
The auction will be live on Monday, June 1. Click here to find the virtual auction party . If you have any questions, please contact Ana Bribiesca Hoff at (210) 829-6075 or via email at  bribiesc@uiwtx.edu
Swing-In Raffle
Swing-In raffle tickets are still available! Only 325 tickets will be sold! Buy your Swing-In raffle ticket for $100 and support UIW students' education through the purchase of your ticket(s).
All proceeds will directly benefit the Scholarship Fund and provide UIW students with the opportunity to further their education at a faith-based institution. Winner will choose one of the following prizes:
$5,000 Credit balance on credit card 
Banff, Calgary and Lake Louise Trip
Tuscany Culinary Escape
Scotland Championship Golf Experience
Purchase your raffle tickets here.
Cardinal Corner
Graduating Cardinals Celebrated with Porch Graduation Portraits

We recently asked our Class of 2020 graduates to enter for the chance to win professional, free porch graduation photos! This week, three photographers and videographers hit the streets of San Antonio to visit our winning students and provide them with mini portrait sessions. All graduating students are invited to post their commencement portraits on Twitter and Instagram with #UIWGrad for a chance to be featured on a congratulatory billboard! 
Dear Synchro ... Thank You, from Alex McGee

Dear Synchro, 
When I started this sport in second grade, I never could have dreamed of all the opportunities it would give me. As a kid, it was purely for fun. I only started because my sister did it and I wanted to be just like her, but as time went by, I really fell in love. You taught me healthy competition, dedication, teamwork, responsibility, respect, and to be humble. You gave lifelong teammates, my best friends, and a variety of coaches I was able to look up to. You taught me to be fearless, to try new challenges without question. You gave me my passion for travel, and because of you, I was able to travel all over the country with my best friends. Above all, you gave me a second home all the way in San Antonio where I was able to achieve two bachelor's degrees. You provided me with professors, advisors, and other faculty who wholeheartedly cared about me and my success. My time at UIW has been the greatest four years of my life. While this has all come to an abrupt end, you prepared me for the next step in my life, whatever it may be. I have had you in my life for as long as I can remember. Without you, I truly do not know the person I would have become. I am forever grateful to you, synchro, for everything you've given me.
Thank you.
Sincerely,
Alex McGee
Alumni and Parent Relations
Office of Financial Assistance Available for UIW Alumni

The Coronavirus Aid, Relief, and Economic Security (CARES Act) included language to automatically pause payments and interest charges through Sept. 30, 2020 for most student loan borrowers repaying their loans.
The CARES Act also stops collection efforts for those who have defaulted. These protections will help borrowers and loan servicers—the companies hired by the U.S. Department of Education to collect loan payments and help borrowers select appropriate repayment plans—manage the COVID-19 pandemic and associated economic downturn.
Please know that all UIW alumni can access continued support from the Office of Financial Assistance and ECMC solutions. We are here to help our alumni navigate their student loan repayment! For more information or questions you may have, please contact finaid@uiwtx.edu or (210) 829-6008. 
Athletics
Rogers, Taggart named to 2020 Southland Conference Baseball All-Academic Team 
University of the Incarnate Word baseball student-athletes Ridge Rogers (junior) and Luke Taggart (senior) were selected for the 2020 Southland Conference Baseball All-Academic First Team , announced the league office Thursday . 
" Great job by both Luke and Ridge in the classroom ," said UIW Head Coach Ryan Shotzberger. " These two are great examples of student-athletes because they hold themselves to a high standard on and off the field. Our program is proud of their accomplishments. "
Ridge Rogers | First Team

Rogers was also named to the Academic All-District® Baseball First Team, selected by CoSIDA, on May 14. The Flower Mound, Texas, native is a Rehabilitative Sciences major with a 3.88 GPA and aspirations of entering the medical field after graduation. He is a five-time Dean's List honoree (Fall 2017-Fall 2019; Spring 2020 has not been announced), a two-time Southland Conference Commissioner's Honor Roll recipient (Spring 2018 and Spring 2019), and he earned the 2020 Rehabilitative Science Honors Academic Award.
Rogers, who is a baseball Student-Athlete Advisory Committee (SAAC) representative, has completed 45 hours of community service.
On the diamond, the outfielder had a perfect fielding percentage and ranked third on the team with a .304 batting average during the 2020 season that was cut short due to the COVID-19 pandemic. He scored 13 runs on 17 hits and accumulated seven RBI. Through 16 games of action, he contributed a .411 slugging percentage and a .409 on-base percentage.
Following his freshman season, Rogers was named the 2018 Southland Conference Freshman of the Year and was selected to the 2018 Collegiate Baseball Freshmen All-America team. He was the first Cardinal to earn All-American honors since the program joined the Division I ranks in 2014.
Luke Taggart | First Team

Taggart is graduating on Saturday with a Bachelor of Science in Finance. He maintained a 3.44 cumulative GPA through the fall semester and was UIW's Friday night starter in the spring, showing he can balance academics and athletics. The Portland, Texas, native is a three-time Dean's List honoree (Spring 2017, 2018 and 2019; Spring 2020 has not been announced) and a two-time Southland Conference Commissioner's Honor Roll recipient (Spring 2017 and 2019).
Taggart works hard in the community as well, completing 60 hours of community service, including a mission trip to Guatemala.
On the field, Taggart held a 3.08 ERA through four starts in the shortened 2020 season. He threw a UIW-best 28 strikeouts and held opponents to a .220 batting average. Taggart allowed 22 hits and nine earned runs over his team-high 26.1 innings pitched.
To earn all-academic, student-athletes must maintain a minimum 3.00 cumulative grade point average (on a 4.0 scale) through the semester prior to the sports' championship and have completed at least ONE full academic year at the nominating institution prior to the season in which the nomination occurs (true freshmen and ineligible athletic transfers are not eligible). Traditionally, student-athletes must have participated in at least 50 percent of the team's contests during the most recently completed season. However, with the shortened season due to the COVID-19 pandemic, the participation requirement was waved for this season.
Hoffman selected to 2020 Southland Conference Softball All-Academic Team

University of the Incarnate Word softball student-athlete Renee Hoffman was selected for the 2020 Southland Conference Softball All-Academic Second Team, announced the league Wednesday.
"Renee is a very driven student-athlete who works very hard at her academics," said UIW Head Coach Joe DiPietro. "Renee is a Biochemistry major, which is very demanding, and she excels in it. I am extremely proud of her for this accomplishment."
Hoffman is a top Biochemistry major in her program who has maintained a 3.83 GPA while competing for the Cardinals. The sophomore has been on the Dean's List for three consecutive semesters (Spring 2020 Dean's List has not been announced) and was on the Spring 2019 Southland Conference Commissioner's Honor Roll. 
A vital member of UIW softball, Hoffman is one of the Cardinals' top pitchers and a solid hitter. She played in 23 games and had 10 appearances in the circle. The Clinton, Michigan, native recorded 17 hits with five doubles and five runs scored. She chipped in 11 RBI and a .746 OPS to go along with a .373 on-base and slugging percentage.
To earn all-academic, student-athletes must maintain a minimum 3.00 cumulative grade point average (on a 4.0 scale) through the semester prior to the sports' championship and have completed at least ONE full academic year at the nominating institution prior to the season in which the nomination occurs (true freshmen and ineligible athletic transfers are not eligible). Traditionally, student-athletes must have participated in at least 50 percent of the team's contests during the most recently completed season. However, with the shortened season due to the COVID-19 pandemic, the participation requirement was waved for this season.