The Word: UIW Community Newsletter - May 1, 2020
Spotlight
Cardinal Chronicles: Lauren Rein, UIW Class of 2020  
What do the UIW synchronized swimming team captain, a student double majoring in Mathematics and Mechatronics Engineering, the president of the UIW Society of Women Engineers, a student athlete advisory committee representative, a San Antonio Math Scholar and the vice president of the Engineering Club have in common? Well – they're all the same person. Meet Lauren Rein, everyone.
According to Synchronized Swimming Head Coach Elizabeth Gerdin, Lauren is just as impressive in person as her resume would lead you to believe.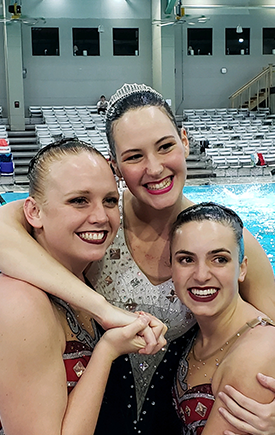 "Lauren has been a true leader for our team and in the classroom," said Gerdin. "She was our senior team captain this year and [was] voted on by the team to be awarded the prestigious Cardinal Spirit Award. She has been accepted to the master's program for Structural Engineering at the University of Manchester, ranked one of the top universities in the world."
She's right. Come fall, and after completing her internship at Arizona-based engineering consulting firm, Western Technologies Inc., Lauren plans to head overseas to study at the 64th "Best Global University" according to U.S. News and World Report . But before she goes, she's reminiscing on her time at UIW and the people who mean the most to her.
"I have crossed paths with so many amazing people during my time at UIW, it's hard to list them all," she explained. Still, she tried. "First would be my coaches, Elizabeth Gerdin and Emily Tucker who gave me so many opportunities to grow as a person and athlete. I also have to thank Mandy Pulido, our amazing life skills coordinator, Dr. Theresa Martines, my former advisor and the most incredible and involved professor, and finally, Dr. Santiago, synchro's sport psychologist who takes such good care of us."
While Lauren emphasizes that she could go on and on about the people at UIW who have impacted her journey, there's one thing she knows for sure – their greatest gift to her was helping her find herself.
"During my time at UIW, I have found and strengthened my voice as a leader," she explained. "I have learned to stand up for myself and what I believe in, and how to stay true to myself."
If you follow Lauren's UIW journey, you can see this process of self-discovery happen year after year. Not a native Texan, Lauren made the move to San Antonio as a freshman from Phoenix, Arizona. What could have been an isolating and nerve-wracking experience, Lauren made the best of, not only by joining existing organizations, but by starting one of her own as well. Lauren co-founded UIW's Society of Women Engineers and later became the group's president.
"This is one of my most gratifying accomplishments," she said of her involvement in the Society of Women Engineers. "I feel I have helped start an organization that will continue to empower women in STEM." 
That wasn't all she accomplished in her four years at UIW. In fact, Lauren climbed the ladder in every student organization and team she was part of, eventually earning positions of leadership with the full support of her teammates and mentors. Her favorite position, though, was serving as synchronized swimming's representative on the Student Athlete Advisory Committee, because it allowed her the opportunity to advocate for causes she was most passionate about. This balance of athletic and academic success as well as community involvement is a difficult chord to strike, but Lauren struck it beautifully, and it is what she is most proud of looking back on her time as a Cardinal.
Despite her many contributions to the UIW community and the great success she has had as a Cardinal, Lauren admits a bit sheepishly that what she'll miss the most is "ending every day at the 'Caf' [dining hall] for dinner with friends and teammates, talking about everything and laughing together."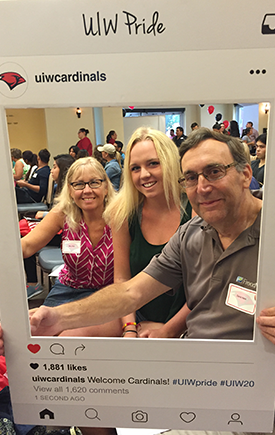 As she prepares to spread her wings and soar on to her next grand adventure, Lauren knows she has a support system cheering her on.
"[My parents] are my biggest fans and have supported me in so many ways," she said. "In addition, my [synchro] team has become my second family. It's become even more clear to me now that we are all at home that I will always have them in my life as a support system, no matter the distance or circumstance."
When asked what her advice is for any incoming freshmen, Lauren let her most recent experiences – experiences that have helped her realize what and who she values most – do the talking.
"Enjoy every single moment," she said. "It really will go faster than you think…it may even end a few months too soon."
Sad to be leaving her Cardinal family, but armed with an abundance of memories and forever-friendships, Lauren is ready for her next chapter. No matter where that takes her, her UIW family will be watching with pride and cheering her on.
In the News
KSAT 12: UIW Students Volunteer to Help Care for the Homeless
COVID-19
Community Updates
The dignity, health and wellbeing of every member of the University of the Incarnate Word community remains an institutional priority at the heart of our Mission. In response to this pandemic, UIW has assembled a team that meets daily to ensure that every possible contingency to keep campus life moving forward is considered when making campus-wide decisions. UIW continues to work closely with local and state officials, is taking all precautions as directed by the CDC, and sharing preventative information and resources with the University community via email. As a community, we offer our prayers for all of those affected by COVID-19 and all those who care for them.
Mission & Ministry
Hail Mary! Mother of God and Mother of the Church By Rev. Leo Almazan  

May is the month dedicated to Mary. Throughout this month, Catholics all over the world pray the Rosary and create special altars to the Mother of God, in which they place a statue of Mary that is crowned with beautiful flowers to represent Mary's beauty and virtues. During this pandemic time when we still must stay at home, it would be a good idea to create a small altar at home to continue participating in the life of the Church while remaining safe and healthy and to honor Mary in a special way.
Coincidentally, May is the month in which Mother's Day is also celebrated all throughout Latin America. For example, in Chile, Guatemala, Mexico and El Salvador it is celebrated on the 10 th; in Colombia, Peru, Uruguay and Venezuela on the 12 th; 15 th in Paraguay; in Argentina on the 19 th; in Bolivia on the 27 th; and in the United States, the place where this celebration was invented, on the second Sunday of May.
What a wonderful coincidence to celebrate Mother's Day during the month of Mary! We send cordial greetings to our mothers and grandmothers and we entrust them to the special protection of Mary, Mother of God and Mother of the Church.
In the Gospels, Mary offers us an example of how to follow Jesus, especially during trying times, such as when her Son suffered and died for us. Throughout history, Mary continues to gift us with her maternal care and love, as when, in her advocation of Our Lady of Guadalupe, she appeared in Tepeyac to the indigenous people who had been decimated by the conquistadors. And now, she comes once again, to comfort us during this terrible pandemic. Let us see what Mary teaches us about following Jesus.
First, Mary teaches us that, although God's will surpasses our understanding, it is our obedience to God's will that will always lead us to salvation. Take for example the Annunciation (Luke 1:26-38) in which Mary asks the angel, "How can this be…?" (v. 34) and even though the angel's response surpasses Mary's understanding, she still assents in faith because she knows God will walk with her ("The Holy Spirit will come upon you" - v. 35), God always keeps his promises (as in her cousin's pregnancy - v. 36) and God can ultimately do anything ("for nothing is impossible for God" - v. 37).
During this time of great difficulty, let us ask Mary to teach us how to fulfill God's will, even when we cannot understand what is going on or why it is happening.
Secondly, Mary teaches us how to fulfill God's will. After giving her 'yes' ("Behold the handmaid of the Lord; be it done unto me according to your word" - v. 38), Mary rushes to her cousin Elizabeth's house (Luke 1:39-45). Arriving at Elizabeth's home - and after hearing her greeting - Mary bursts out singing with joy (Luke 1:46-56). The Magnificat contains a description of what will be Mary's maternal stance towards Jesus and his Church. It begins with a joyful declaration of God's goodness to Mary (vv. 46-49) and immediately moves to proclaim the greatness of the Lord who is merciful (v. 50), almighty - especially when dealing with the arrogant, the powerful, and the rich who forget the humble, the poor, and the hungry (vv. 51-53), and faithful to the covenant he established with Abraham and his offspring (vv. 54-56).
During this special month, let us keep imitating Mary, Mother of Jesus and Mother of the Church, through our joyful, generous and faithful service to the poorest and neediest in our midst. 
In summary, Mary teaches us to trust in God's will, to accept His mercy, and to work in favor of the humble, the poor, and the hungry of the world. Mary did so during her Son's life and ministry and in a very special way during Jesus' Passion, Death and Resurrection. She has also continued doing so over the centuries, always caring and interceding on behalf of the Body of Christ, the Church.
During this time of great affliction, let us ask Mary, Mother of God and Mother of the Church, to intercede once again on our behalf:
Virgin Mary, Mother of God and Mother of the Church, pray for us.
May our world, our nation, our families, and our loved ones
get the protection of God and of your Son
so that all of us may be freed from this terrible disease.
We ask this through Our Lord, Jesus Christ, your Son,
who lives and reigns with the Father, in the unity of the Holy Spirit,
One God, for ever and ever. Amen.
Pray for us, Oh, Holy Mother of God,
that we may be made worthy of the promises of Christ. Amen.
Hearing the Good Shepherd's Voice By Dr. Luella D'Amico

"The gatekeeper opens the gate for him, and the sheep listen to his voice. He calls his own sheep by name and leads them out." (John 10:3) 
"I am the gate; whoever enters through me will saved." (John 10:9)  
Whether speaking with fellow faculty, students, and staff—or even more intimately with my own family friends—a prevailing mantra persists in our conversations that speaks in some way to all of our lives in the current moment: "I don't know." I don't know when this will be over. I don't know when, or how, life will be 'normal' again. I don't know when I'll get to congratulate and hug my graduating seniors this semester. I don't know how my classes will look next semester. I don't know when I'll be able to attend mass and take the Eucharist again. I don't know when my children will get to see their grandparents. I don't know when the kids will go back to school. I don't know when we'll be able to celebrate birthdays and anniversaries together. I don't know when we'll be able to mourn together. I don't know how this pandemic will change me and everyone around me. I don't know how to react, or, perhaps more importantly, even how I ought to react.  
Though our life situations may be different, the "I don't know" mantra is a connective tissue that binds us all together right now, and I suspect you can rifle through many similar conversations and concerns you've had recently. Perhaps, as you were reading, the anxiety that this moment and its attendant not knowing can evoke began to overwhelm you, as it too often does me. While this Gospel passage doesn't provide clear-cut answers to every single "I don't know," it does offer a clear path forward and a clear solution to the fear that not knowing can elicit.  
This Gospel reading occurs on what is called "Good Shepherd" Sunday. In this passage, Jesus provides the well-known metaphor of himself as a shepherd, telling the Pharisees that "anyone who does not enter the sheep pen by the gate, but climbs in by some other way, is a thief and a robber." This pandemic has snuck in, "climbed" in our lives and altered them all irrevocably. It has likewise "robbed" us of certainty, of togetherness, perhaps even of joy.  
The Christian promise, however, reminds us that that these parts of our lives can never be stolen from us. The certainty of Jesus's sacrifice for us, the togetherness that comes from communion with him and each other as believers, and the joy that comes from his constant love have always remained invariable. Nothing has been stolen. We simply need to remember that Jesus is the one in control and "listen to his voice." Scripture states, "The gatekeeper opens the gate . . . and the sheep listen to his voice. He calls his own sheep by name and leads them out."    
That seems simple enough, but what about those other, overwhelming voices—the chorus of "I don't knows" that can make us feel as if we are without anyone to guide us, that we are alone?  Quite simply, Jesus tells us to ignore them. His sheep "will never follow a stranger; in fact, they will run away from him because they do not recognize a stranger's voice." In my daily life, I admit that I am often distracted by "strangers." I am distracted by the media, which is conflicted and fearful. I am distracted by my own thoughts, which can be the same. I am distracted by Satan, "that thief [who] comes only to steal and destroy." I am distracted by the "I don't know" of this pandemic because I sometimes I forget that I do. 
There's a song by contemporary Christian singer and songwriter Natalie Grant that I've listened to often recently in which the singer asks Jesus, "When did I forget that you were King of the world?" While the pandemic may sometimes cause us as humans to forget the shepherding that Jesus can give us through any trial, his strength and power doesn't alter. As members of his flock, it is up to us to reflect and recognize when we are being led astray. The pandemic may have us all social distancing from each other, but it should not, and does not, have the power to distance us from God. It is our roles as sheep to listen to the only voice that matters. It is our role to listen, especially when it is most difficult, to His voice.  
At the end of this passage, Jesus states "I have come that they may have life, and have it to the full." Jesus assures us that life with him as our shepherd is never half-lived. If we trust in his ability to guide us, then we will always remember that it is not up to us know the logistics of anything. Rather, it is up to us to "live" through it, knowing that he took care of our futures long before the current crisis. After all, while the "Pharisees did not understand what Jesus was telling him," we as his sheep do. Our charge is simply to hear him and remember that he will "lead" us "out of" this pasture and into another one resplendent with all the hope, joy, and love that the Easter season promises.  
Cardinal Inspirations: The Rock By William Gokelman, UIW Music Dept. Chair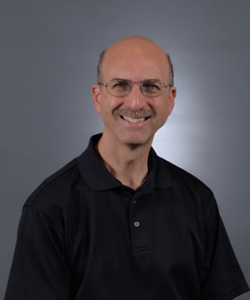 This morning someone put a painted rock in our yard. It read "Be happy." Sounds so easy. Almost too easy. It got me thinking how hard it can be to find true happiness, especially in a time of uncertainty and stress, like now. As I thought about it, these beliefs came to mind: 
Look beyond fears and limitations;
Keep rooted, in faith and in purpose;
Find peace in every breath, every moment;
Embrace every sadness and joy, every brokenness and every mending;
Realize that failures won't necessarily defeat me, but can instead provide another step to climb on;
And most importantly, know that all my ups and downs are held in God's love, which doesn't always reveal itself in comprehensible ways, or on my timeline, but instead unfolds throughout my entire lifetime, through all things, in ways and times that most often surprise me.
So in times of struggle, I pray to broaden my vision beyond pettiness, reach beyond my self-centeredness, and keep moving forward. In the toughest times I resolve to follow my rock – to love God, love one another, and be happy. 
Academics
UIW Receives Major Health Grant

The University of the Incarnate Word (UIW) is proud to announce it has received a major grant from the Robert Wood Johnson Foundation. The $229,000 grant will go to support the Community Participation for Health and Wellbeing Project, a pilot project at UIW to support design, testing and evaluation of action research approaches that increase participation and strengthen existing community health and wellbeing efforts with target groups. The project is led by Dr. Alfredo Ortiz Aragón and Dr. Arthur Hernandez in the UIW Dreeben School of Education.
"The grant will offer community health workers an opportunity to become more reflective practitioners and add research to their existing innovative community engagement work," says Ortiz Aragón. "Professors and doctoral students at UIW will have unique opportunities to get the community into the classroom and the classroom into the community – ideally resulting in more relevant educational and research processes."
The grant will be implemented in partnership with the City of San Antonio's Metro Health, Healthy Neighborhoods Program, with whom the faculty have been actively developing relationships over the last four years. In addition to working with the Healthy Neighborhoods Program, the grant will allow work with a group of parents and caretakers of children on the autism spectrum.
"We will explore opportunities for knowledge generation from under-accessed actors as well as interaction between those actors to learn about the dynamics of and social mechanisms for community-led and driven health and wellbeing," says Hernandez. "This 'community-based' learning is different from usual researcher-based learning. We are examining the difference and seeking to learn how to capitalize on that difference to improve impact and sustainability of existing health and wellbeing programming, and to develop frameworks for the future inquiry and development of programs."
The New Jersey-based Robert Wood Johnson Foundation is the nation's largest philanthropy dedicated solely to health. Since 1972, the Foundation has supported research and programs targeting some of America's most pressing health issues in an effort to work alongside others and build a national Culture of Health.
UIW Rosenberg School of Optometry Faculty Continue to Reach Out to Students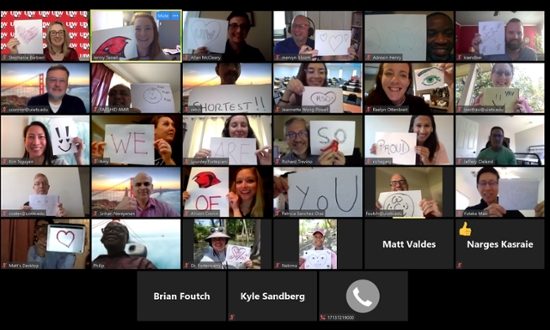 Faculty and students of the UIW Rosenberg School of Optometry are used to serving the community through mission trips, vision screenings, education at health fairs and more. Of course, with many such events cancelled, and with the safety of the UIW community in mind, UIWRSO faculty set their sights on serving their very own students. 
"We all know that many students struggle with anxiety and stress even in the best of times," explained Dr. Timothy Wingert, academic dean of the Rosenberg School of Optometry. "We shifted our focus and attention to our very own RSO students...the intention was to create some structure and continual contact from as many different faculty as possible with our students to send the message that we truly care about them." 
UIWRSO created a shared calendar for faculty to sign up to reach out to encourage and support students during this difficult time. An emphasis was placed on making sure the students did not feel isolated in a time of isolation. Administration made various efforts to meet more frequently with student government leaders and the faculty became intentional in reaching out to the individual classes. Faculty members held virtual trivia nights, virtual review sessions, virtual coffee breaks, shared recipes, shared videos and music all the while continuing to let their students know they were here for them. On a daily basis, RSO faculty continue to reach out via email to all the classes and even offer words of encouragement during finals. During a recent faculty meeting, the faculty organized a visual greeting to students to show their support for them during this difficult time.
"It served as a reminder that even while we are apart, we are all in this together," said Wingert. 
National Hispanic Medical Association College Health Scholars Program Conference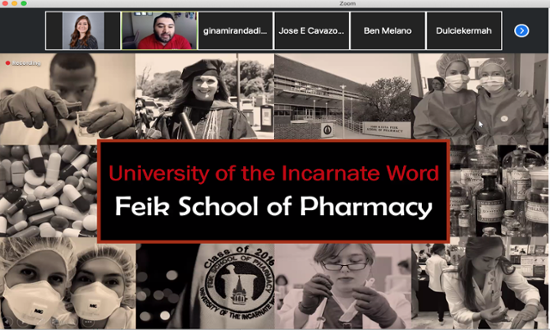 The National Hispanic Medical Association (NHMA) College Health Scholars Program hosted a virtual pre-health conference focusing on medical, dental, nursing, public health, and graduate science programs with professionals, graduate students, and financial aid experts. The conference - originally scheduled to be hosted on the UIW campus - was adapted for an online setting and allowed attendees to learn more about preparing for next steps in applying to health professional schools. Through this conference, the College Health Scholars Program worked to increase the number of students matriculating to health professional schools and graduate programs like those that UIW offers.  
Approximately 100 students participated in the conference. UIW guest speakers included Armando Prado Jr., pharmacy recruiter and alumni relations coordinator for the Feik School of Pharmacy, Cristen Alicea, assistant director for the Office of Financial Assistance, Nikki Mangan-Reta, MS, OMS-III, DO Candidate, from the UIW School of Osteopathic Medicine and Claudia Zamarripa, Feik School of Pharmacy student. 
Community News
A Q&A with Interim Chief Information Officer, Neil Schroeder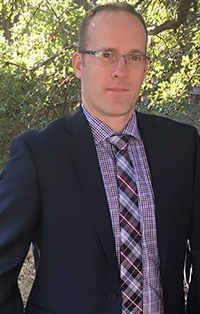 Zoom meetings, new apps, virtual assignments...it can all become overwhelming. At UIW, we're grateful to have a solid team of IT professionals who have made the transition to online learning easier and even fun. We caught up with Neil Schroeder, interim chief information officer, for his take on UIW's progress switching to online learning and how our community can continue to stay safe online. 
Q: From an IT perspective, what has been the biggest obstacle to overcome in the transition to online learning and how is it being addressed?
A: I think one of the biggest challenges in this move was simply the timeframe.  The community didn't have a year or months to plan and prepare for a massive shift that happened almost overnight. Moving to online learning takes deliberate planning and lots of effort to get done right and is often a longer term strategic shift. We worked with the Provost's office, Center for Teaching and Learning, and some of our blackboard gurus to host some training sessions, boot-camp style to get us launched after spring break. In subsequent weeks, we have had many follow-ups with our faculty to assist in refining their online courses. Additionally, part of overcoming this challenge was the sheer will and fortitude of our faculty. When faced with this near-impossible task I have been impressed with all the ingenuity and get it done spirit we have encountered. 
Q: What has been the biggest change you have seen in the way the UIW community uses technology like zoom and other platforms?
A: We have seen the community fully embrace online tools at levels that would have been hard to imagine before. A jump from 1,600 Zoom Meetings in the month of February to well over 20,000 in the month of April shows that our university community has fully embraced this tool and others. It really changed instruction over night. Before, these technology tools were often just "nice to have" while now they have quickly transitioned to "must-have" and mission-critical components of instruction. 
Q: Has UIW encountered any security issues like "zoom bombing"?
A: In the first few days of our new fully online environment, there were a couple of instances of zoom bombing at UIW. Some of Zoom's default settings and features made it a prime target for bad actors. We quickly addressed these issues and provided the community guidance to help each user ensure they protect their meetings. Simple techniques like not publicly sharing meeting links, auto disabling sound on joining, and setting up meeting passwords can all but eliminate this threat. I am happy to share that in the last several weeks we have not had any more reports of zoom bombing.
Q: What is the best way for people to keep their information safe as we continue distance learning?
A: Staying safe in a remote working and learning environment demands all the standard information security practices we have grown familiar with. Additionally, since users may not have all the protections that being on campus offers, they should be extra vigilant on opening emails or files from unknown sources as well as visiting unfamiliar websites. While many of us may work at home, if you are in an unfamiliar environment be mindful of your surroundings and who can see and hear your work communications. If connecting through an unknown Wi-Fi network use the UIW Virtual Private Network or VPN, especially when dealing with sensitive university information. Finally, if working from home computers, everyone should always make sure they have the latest Windows or Mac software updates and are running an anti-virus package.
Community Eye Clinic Receives PPE Donation

A local church in Richmond Hills has an initiative to gather and donate PPE to clinics, hospitals and first responders in the Dallas Fort Worth area. Recently, they donated isolation gowns, face shields, and N95 masks to the Community Eye Clinic in Fort Worth, which is a joint operation of the UIW Rosenberg School of Optometry and the University of Houston College of Optometry. This equipment will be used when the clinic resumes patient care to keep staff and patients safe.  In describing the "PPE4DFW" effort by the church, one of the people spearheading the project said 'the whole idea is to spread love during this difficult time.'  
The patient population of the clinic is primarily the underserved in the Tarrant County community, including those affected by homelessness, persons recently re-entering society following incarceration, and the uninsured. With the current shortages in supply of these critical items, this kind donation will allow the staff of Community Eye Clinic to safely provide eye care to their patients.
Student Veterans Continue Volunteer Work

UIW student veterans are living proof that the call to serve never goes away. The Student Veterans of America-UIW partnered with VFW Post 8541 to generously give out more than 300 snack packs to the students of Krueger Middle School during their packet pick up, sponsored by SA Healthy Vending. We thank these student veterans for their continued commitment to others.
Cardinal Corner 
First Year Engagement Student of the Month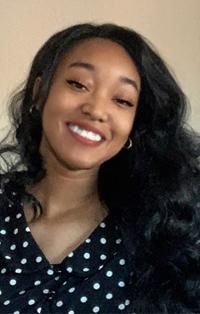 The First Year Engagement (FYE) Office continues to highlight a first-year student each month of the Spring semester as the First Year Engagement Student of the Month! First year students may qualify by submitting a short essay describing how they have overcome challenges during their first year at UIW. This month's FYE Student of the Month is Justice Williams. Justice is a Nursing major from San Antonio, TX. Below, is an excerpt from her submission:
"This first year so far has been exciting and full of blessings. At times when I felt like giving up or I felt as if I was at a standstill, the support of others here and my family kept me going. I know that I am in good hands while I am here. The obstacles that I've faced or setbacks even leading up to the first day of the semester will be the inspiration I need to never stop working. UIW has had a significant impact on the person I am in the classroom and when I step foot off school grounds. That makes me proud to call myself a Cardinal."
Want to learn about how the First Year Engagement Office can help your first-year students? Contact Dr. Raúl Zendejas at rzendeja@uiwtx.edu or (210) 805-3006.
A Reflection by RJ Delgadillo, UIW Spring Class of 2020, Pastoral Ministry

"…And they went forth and preached everywhere, while the Lord worked with them and confirmed the message by the signs that attended it. Amen." (Mark 16:20) 
This passage comes from the Gospel reading this past Saturday and refers to the apostles and their work of evangelization after Christ's ascension into Heaven. However, I think it is very applicable to these strange times we are experiencing.  
I don't know about you, but I have certainly had some trouble remembering that the Lord is working with us. Multiple reasons, such as the suspension of public worship and a lack of interaction with our loved ones, make it is easy to feel like God is not with us because so much has changed. 
But this is a lie. 
God is with us. He always has been, is now, and always will be. All these things listed above cannot stop God from being with us. He is with us now in our sufferings, and in our desire for a return to peace and normalcy. 
Take into account the blessings that each day has to offer, no matter how small. The Lord is always present to us; but sometimes, circumstances change, and we just have to listen and look more attentively.
"Seek, and you shall find." (Matthew 7:7) 
A Letter to Golf from Ellen Nicholas

To the Sport of Golf,
I consider myself lucky to have had the opportunity to take up golf. I have grown up with the sport and started swinging clubs from a young age due to my Dad being involved in the golf industry. However, it wasn't until I was 13 that I started to play competitive golf. I have now completed my freshman year at UIW, and I'm proud of what the women's golf team has accomplished this year. I am grateful I have teammates that support each other on an off the golf course and coaches that push us to become better players and people.
I am thankful for what the sport has taught me and for what it continues to teach me. This game has taught me things such as respect, communication and patience. I am always learning new things about my game. The more things I learn, the better I will get at problem solving. Having this skill is not only important in the game of golf, but it is helpful in any aspect of life.
I like to think of myself as a patient person, but I know that I am not. This is something the game is still teaching me, and I'm trying my best to get it right. Playing golf demands high levels of patience and I admire those players that can show it. In golf, a great score comes from being able to play the course shot by shot, not by planning every shot and getting ahead of yourself.
The sport also teaches us how to interact with others. Learning how to be better at communicating with others has been a benefit for me off the golf course as well as on. Finding it easier to be more open with people has helped me through the struggles I have experienced. In addition, in the tournaments that I have been involved in, it is very rare to be put in a group with the same three people every time; therefore, learning to communicate well with playing partners can often make our rounds more enjoyable.
Having respect for other players on the golf course shows great sportsmanship, but one thing I have struggled with is to respect myself as a player. Looking at ways to improve our game, no matter what kind of day we have on the course, is important. However, for a while, I was so focused on ways that I needed to improve, I wouldn't set aside time to look at the things I did well. For me now, celebrating the good shots/days increases the belief I have of my own ability, therefore increasing confidence when standing over a shot. The confidence I have gained from this has helped me both on and off the golf course.
Golf, thank you for all you have taught me.
Keep teaching us great things.
Ellen Nicholas
Alumni and Parent Relations 
Virtual Thirsty Thursday 

Join us for our first Virtual Thirsty Thursday!  
The Dept. of Alumni & Parent Relations has partnered with High Street Wine Co. for a virtual wine tasting class specifically hosted for UIW Alumni.  
Register for one of the packages below and receive a PayPal payment solicitation from High Street Wine Co. 
Available Packages: 

$10 - Join the class with your own wine from home 
$45- Enjoy two full bottles of wine from High Street Wine Co. (pick-up) and class admission  
$50 - Two full wine bottles from High Street Wine Co. (w/delivery) and class admission   
**All registrants must be 21+ 
If you have any questions regarding this virtual event, please contact us at alumni@uiwtx.edu. 
UIW Alumni Small Business Directory 

The Dept. of Alumni & Parent Relations wants to support UIW Alumni-owned small business! In response, we will be creating an online directory showcasing small businesses submitted to this form by May 1st. 
If you have any questions, please contact us at alumni@uiwtx.edu
Video Submissions for the Class of 2020

Calling all Cardinals! The UIW Alumni Association is asking our alumni to welcome the newest members of our association by submitting a video! Send your well wishes and congratulations to the Class of 2020 to alumni@uiwtx.edu. You will be featured in a video sent to our graduates and be displayed on @UIWAlumni social media!  
Red Talks 

Red Talks are exclusive opportunities for UIW Alumni to share experiences, ideas and career development tools with current UIW students and fellow Cardinals. We're seeking alumni presenters to discuss topics like virtual networking, interviewing, work conflict resolution, leadership methods and more!
Each presentation will be published on our @ UIWAlumni social media platforms. Presentations should be no longer than 30 minutes performed live or pre-recorded. Sessions may be presented as a lecture, interactive, persuasive or freeform style.
Would you like to help the next generation of UIW alumni with your knowledge and expertise? If you're interested in being a presenter, please fill out the form here.The UIW Alumni Association will be in contact within 5 to 7 business days upon submission. Should you have any questions, please don't hesitate to contact us at  alumni@uiwtx.edu.
Athletics
A Q&A with Head Volleyball Coach Samantha Dabbs Thomas

University of the Incarnate Word Head Volleyball Coach Samantha Dabbs Thomas has been with the Cardinals for two seasons. A San Antonio native, coach Dabbs Thomas chats about her journey to UIW, her love for TexMex and how she is staying motivated during this time. 
Q: Why did you decide to become a coach?  
A: I didn't realize I wanted to be a college coach until my senior year of college. While at LSU, my playing career had ended and I was just planning on going to Nice, France to play professionally, but I ended up needing another shoulder surgery. Since I lost my contract to play, I decided to network and see if I could get a job in college coaching after I graduated that spring. I ended up networking and receiving a job offer from Appalachian State University before I graduated from LSU. The rest is history! 
Q: At what age/under what circumstances did you start playing the sport you are now coaching?  
A: I started playing volleyball at 9 years old. I was really into sports because of my two older siblings who played sports as well.  I was always in a gym or at a field watching them while growing up and playing sports. Volleyball just ended up being my passion and what I was good at. 
Q: What is your favorite thing about being a coach? 
A: Getting to know my athletes. I really enjoy getting to know people and learning what their goals and dreams are and helping them achieve some part of that.   
Q: What is something the community doesn't know about you? 
A: I could eat TexMex for all three meals every day! And my husband is a police officer.  
Q: If you weren't coaching your current sport, what sport would you be most interested in coaching and why? 
A: Softball! I was a pitcher and I loved it. My grandpa taught me how to pitch at a very young age and we were very close. I wanted to play softball too, but volleyball took up a lot of my time. Plus, Joe DiPietro is my favorite softball coach!
Q: In the middle of these unique and uncertain times, have you been able to find a routine that works? If so, what is it? 
A: Yes, I have realized that a routine is everything! Waking up an hour earlier than I have to helps me have alone time to get organized and gather all my thoughts. Then I can dive into my emails and other work-related items. After that, I walk the dog, workout, cook, clean, basically whatever I can control I do it! I drink a lot of water throughout the day, journal, podcast and read. I try to keep the Netflix and chill to a minimum! I tell myself every day that you can control two things: Your ATTITUDE & Your EFFORT! 
Q: What keeps you motivated right now, and how do you share that motivation with your student-athletes to help encourage them? 
A: I love to learn and hear from others who are "smarter" than me in different areas. I listen to a lot of podcasts and live coaching events. I take a lot of notes and see how I can implement that into my daily routine, and I also share my notes with my athletes. I also let them know that is ok to not be ok. They need to give themselves grace, because no one knows how this is all supposed to go. I teach them that if they are in a bad head space to change their environment, call someone and keep putting one foot in front of the other! 
Hill named 2019-20 SLC Men's Golf Student-Athlete of the Year, Bailey earns first team academic all-conference
University of the Incarnate Word men's golf senior John Hill made history once again when he was named the 2019-20 Southland Conference Men's Golf Student-Athlete of the Year, becoming the first Cardinal to earn the honor since UIW joined the league. The SLC also announced that Hill and junior teammate Trevor Bailey were named to the 2019-20 Southland Men's Golf All-Academic first team. 
"John has learned how to balance his constant drive on the course and where he wants to create dynamic strategies for his game with his classroom work," said UIW head coach Remy Huston. "His leadership in the classroom is evidence of this. He and Trevor and have both been honored the past two years with this award, and it is great to see them represent UIW this way." 
JOHN HILL | STUDENT-ATHLETE OF THE YEAR/FIRST TEAM 

Hill proved that he is one of the best, if not the best, men's golfers to ever don the UIW uniform. Off the course, Hill has shown he truly cares about the San Antonio community, completing 67.5 hours of community service through his time at UIW. The McQueeny, Texas, native holds a 3.66 cumulative GPA as a management major and has been on the Dean's List each semester between fall 2016-fall 2019 (the spring 2020 Dean's List has not been announced). He has also earned Southland Conference Commissioner's Honor Roll each year (spring 2017, 2018 and 2019) and was a member of the 2018-19 academic all-conference team. Hill earned first team All-Southland honors after a solid junior year that included three tournament wins.  
"John receiving the student-athlete of the year award is so exciting for him," said Huston. "He continues to be recognized for the things he does when nobody is watching, and he has been so diligent and focused on those processes. Over the past to two years, he has solidified himself in Cardinal golf history and he has helped put us in a direction that the team is getting behind." 
During the 2019-20 season, Hill competed in six tournaments for the Cardinals and held a below-par average of 71.33 through 18 rounds of action. He had four top-10 finishes, and all six finishes were top 25. His best finish was tied for third at the Colin Montgomery Invitational (March 9-10) where he shot par or better in each round (71-71-72).  
Hill's best round of the season (and tied for his collegiate career best), was a 65 (-7) in the final round of the Mark Simpson Colorado Invite on Oct. 7-8. Following that performance, Hill was named the Southland Conference Men's Golfer of the Month for October. In February, Hill earned a conditional Mackenzie Tour membership (PGA Tour Canada).  
To earn Student-Athlete of the Year, a student-athlete must have earned at least a 3.2 cumulative grade point average on a 4.0 scale and have demonstrated athletics achievement for at least two (2) years of athletics competition, including the current season. 
TREVOR BAILEY | FIRST TEAM 

Bailey works hard in all he does, maintaining a perfect 4.0 GPA in accounting, completing 49 hours of community service through three years, and competing in all seven tournaments for UIW during the 2019-20 season. He is graduating in three years and plans to attend graduate school at UIW in the fall.   
"I have seen Trevor always put in work on and off the course," said Huston. "He is an incredibly bright kid. To see him compete well, spend time in the community, and hold a perfect GPA while graduating in three years is a testament to his dedication and desire to be his best every day. It's great to see him honored for his efforts again this year."   
After graduate school, Bailey plans to work in civil service in the Air Force, following his mother's footsteps. A native of Cibolo, Texas, Bailey has earned Dean's List accolades each semester at UIW (fall 2017-fall 2019; spring 2020 has not been released yet). He has been named to the Southland Conference Commissioner's Honor Roll twice, is a member of the Pi Theta Kappa Honor Society, and is a men's golf Student-Athlete Advisory Committee (SAAC) representative.  
To earn all-academic, student-athletes must maintain a minimum 3.00 cumulative grade point average (on a 4.0 scale) through the semester prior to the sports' championship and have completed at least ONE full academic year at the nominating institution prior to the season in which the nomination occurs (true freshmen and ineligible athletic transfers are not eligible). Traditionally, student-athletes must have participated in at least 50 percent of the team's contests during the most recently completed season. However, with the shortened season due to the COVID-19 pandemic, the participation requirement was waved for this season.