The Word: UIW Community Newsletter - May 8, 2020
Spotlight
Teacher Appreciation Week - Dreeben School of Education Celebrates Teaching 
Dr. Denise Staudt, dean of the Dreeben School of Education, reports that the school is participating in a statewide #TeachersCan movement to celebrate the profession of teaching. The school joins more than 100 universities, businesses and organizations across Texas, led by Raise Your Hand Texas. The goal is to spread the message that "those who can, teach." UIW President Dr. Thomas M. Evans shared a message of thanks to all teachers across our local and greater communities for Teacher Appreciation Week (May 4-8). 
"The UIW Teacher Education Program is committed to preparing and supporting teachers dedicated to their students and to their learning communities. We are proud of our graduates and join in recognizing the impact they make through their work each day as they extend our UIW Mission into their professional practice," said Dr. Elda Martinez, director of Teacher Education. 
Stories of UIW teachers, alumni from the Teacher Education Program, have been shared on social media in support of the movement. 
"I'm a teacher because I want to make a difference in all of my students' lives," said Kayla Kilz, an alumna and Northside ISD teacher.  
"It is not an exaggeration to say that teachers change students' lives. They are educators, role models, care givers and motivators. Teachers are amazing and appreciated," said Staudt.
In the News
UIW Recognizes Class of 2020 in San Antonio Express-News
Extra! Extra! Read all about it! Be sure to pick up a copy of the San Antonio Express-News on Saturday, May 9 for a special message to the UIW Class of 2020!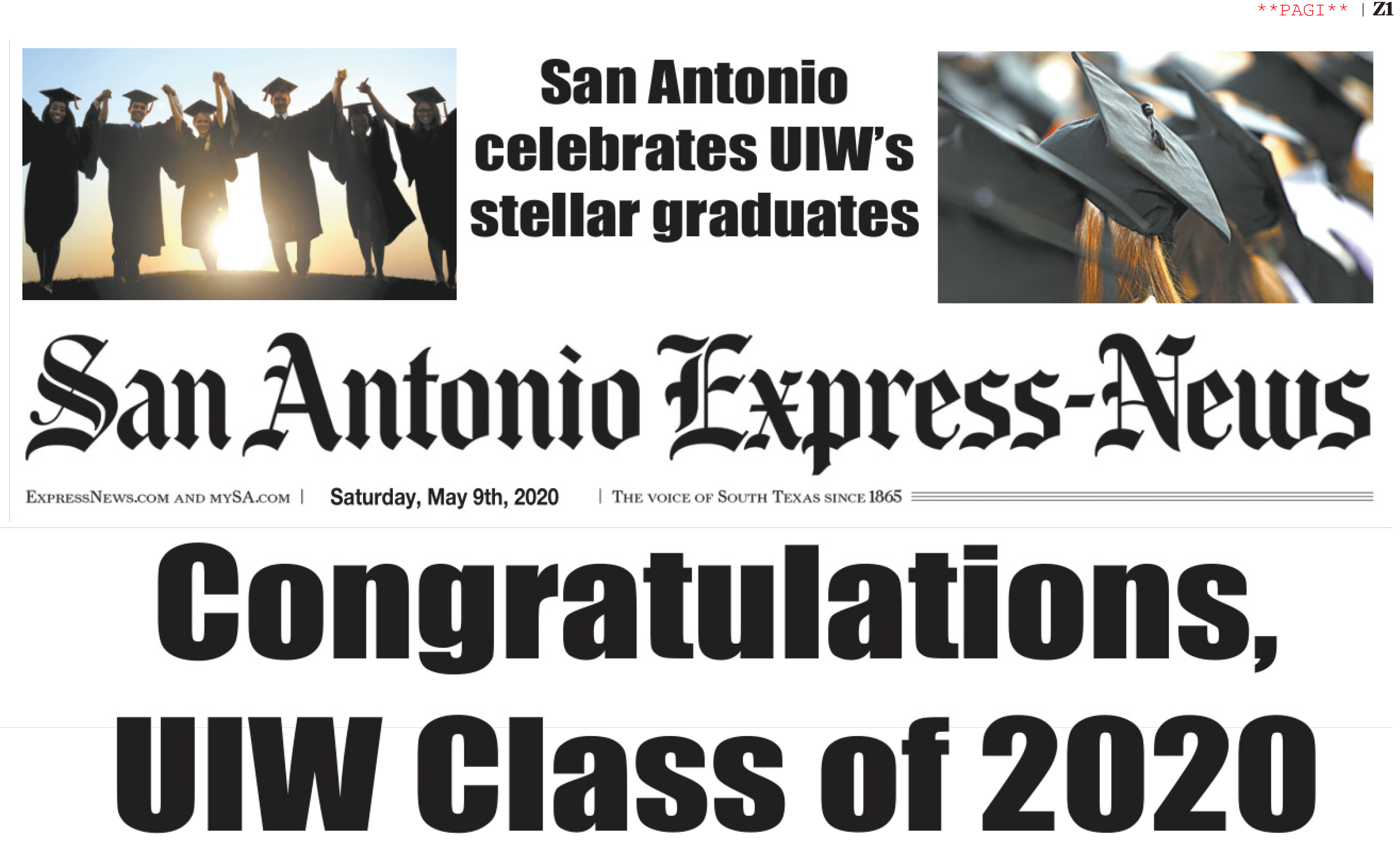 Mission & Ministry
Easter Reflection: Jesus - Way to the Father By Michael Mercer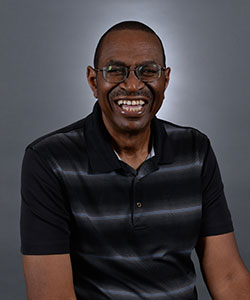 Thomas, that doubting disciple, asked Jesus once, "How can we know the way?"  
"I am the way, the truth, and the life," Jesus replied. "No man cometh unto the Father, but by me." 
Jesus not only answered how to approach His Father. He is the Answer. Want to see God? See me first! 
Easter reminds us what we must do to see God. We must see His Son as He is if we want to see His Father. That's how we get back to that original fellowship of God and man. The holy hookup severed when man fell in the Garden of Eden. But it's one we'll see again in Heaven. 
God Himself made it possible for His fearfully and wonderfully made creation – born in sin and shaped in iniquity – to know the way back to Him. One has to believe first that Jesus is the Son of God, the Anointed One, the Messiah revealed in Scripture who would reconcile the sinner to God through the death, burial and resurrection of His only begotten son, Jesus, the Christ. 
Jesus is our Royal Priest who sacrificed Himself as a ransom for our sins. He substituted himself, a sinless Savior taking on the sins of the world because He loved us so much. He did not want us to justly be paid the wages of sin, which is eternal death. He took our place on that old rugged cross on a hill far away. 
Jesus is indeed the Waymaker. He came that we might have life and have it more abundantly. He gave us a second chance at not only life, but eternal life. He came to seek and save those who were lost – and that was everybody. He not only showed us the Way. He is the Way. 
That is the Easter Story. Not to just be celebrated seasonally but every day of a Christian believer's life. 
A Priest's Experiences of Being a "Cardinal" By Father Tom Thennadiyil, CMF  

I am a Catholic religious priest, and I belong to the Claretian Missionaries, Bangalore, India. I joined UIW in Spring 2016 for Ph.D. in Organizational Leadership. While pursuing doctoral studies, I stayed at my religious community in downtown San Antonio, and served in a parish as associate pastor. Before coming here, while in India, my ministry was in Catholic higher education, first as faculty and then in administration, leading an undergraduate school that belonged to my religious order. Now that I am ready to graduate and return to India to continue my ministry in higher education, let me share my experiences of being a "Cardinal" for over four years. 
It has been four wonderful years of exploration, learning, enlightenment and transformation. Being part of a global community at UIW afforded me some of my memorable life moments. However, that was not without my share of initial discomforts, cultural shocks, and social and academic acculturation challenges. The University's robust student support system helped me ride out the storm. Providence was tangibly present through advisors, faculty, friends, and classmates who were a strong source of support. It did not take me much time to ease into the fun of learning. 
I appreciate the spirit of inclusion and the sense of community I experienced at UIW. Every class I walked into was startlingly diverse in composition. It had adult learners from diverse backgrounds, experiences, nationalities, ethnicities, generations, and cultures facing different challenges. Not two of us had the same answer to a question; however, there was appreciation for an answer different from ours, and many of us made it a point to explore more on that different answer. I learned from the wide range of experiences that my classmates brought to our discussions. The small class size made it easy to bond well with each other. I felt accepted, welcomed, and appreciated in my classes. Coming from a different culture and educational experience, UIW opened my mind to diversities of perspectives and helped me recognize and investigate my assumptions and biases. From the time I got to talk to Sr. Walter, she made sure I was included in the sacramental ministry of the University. It has been a joy to support the Mission and ministry. I felt like part of the family.
My UIW experience also gifted me with some positively influential friendships, which I think, are going to stay with me for the rest of my life. With some, I have been able to take our friendships to a higher level of mutual support in knowledge and research. With some others, there was sharing of more profound personal stories. I am deeply moved by some heart-warming and inspiring stories of these friends. There were stories of deep faith in Providence, personal struggles, search for purpose and meaning, love for selfless service, and community engagement. Many of them came to classes after their full-time jobs; they sacrificed time with their families; some were single mothers, and some, young mothers. There was a friend who drives eight hours (four each, either side) to attend classes. They had far more challenges than I ever had in this Ph.D. program. Their drive and passion for education inspired me beyond measure. They were indeed my inspiration. 
About my learning experience, I liked the reflective emphasis in my classes. Almost every course I attended had many reflection papers integrated into it. As adult learners, the reflective component was an intervening element between theory and praxis. In our classes, we learned theories, reflected on their applicability within the context of our experiences and went back more enlightened for further action in our professional areas. To me, this educational experience has been personally transformative. Critical reflection brought about increased awareness of myself, the other, and the deeper purpose and meaning of my life. I have been able to relate my learning to my calling, mission, and meaningfulness in life. This approach has transformed the way I learn, the way I teach, and my leadership philosophy. This journey gives me greater clarity on my vision, mission, and values of life. 
I will go back to India, renewed, enlightened, and transformed. I want to be a lifelong learner and explore how my life can be more meaningful and how I can make a difference in the lives of others. I hope these experiences will serve my ministry of leadership in higher education when I go back to India.
Cardinal Inspirations: Sr. Brigid Marie Clarke, CCVI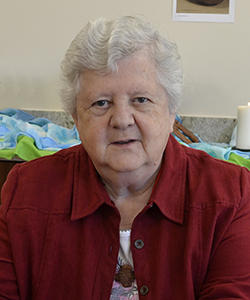 Incarnation = making God's love visible. 
For those of us affiliated with anything that has the words "Incarnate Word" as part of its "branding," striving to make God's love real and visible, as Jesus did when He lived as one of us among us, is part of living authentically! We are called to continue making His great love visible today, in His name.
But we are not alone in this. If that was ever not clear, it is clear now. For there is a kind of miracle happening in our world today – side by side with this virus that has and is threatening the lives and livelihoods of so many all over our world. That miracle is that we are able to see clearly God's love being lived out by "ordinary" people, people just like us. It is visible, real. We can also see that it is sometimes even unto death, just as it was for the One who modeled it best for us.
Let us feel that Goodness and Love surrounding us, for it is of God. Let us be strengthened by it and motivated to be a more vibrant part of it today, tomorrow and forever!
COVID-19
Community Updates
The dignity, health and wellbeing of every member of the University of the Incarnate Word community remains an institutional priority at the heart of our Mission. In response to this pandemic, UIW has assembled a team that meets daily to ensure that every possible contingency to keep campus life moving forward is considered when making campus-wide decisions. UIW continues to work closely with local and state officials, is taking all precautions as directed by the CDC, and sharing preventative information and resources with the University community via email. As a community, we offer our prayers for all of those affected by COVID-19 and all those who care for them.
Academics 
Faculty Senate Announces Moody and Piper Professors 
Each year, the Faculty Senate recognizes outstanding faculty members who exemplify the Mission. See below for this year's recipients. 
UIW Moody Professor (2020-2021)
The Moody Professorship was established in 1971 at the University of the Incarnate Word and Our Lady of the Lake University (OLLU) through a grant made to the two institutions by the Moody Foundation. A faculty member from each institution is named Moody Professor and in turn delivers two public lectures. The awarding of the Moody Professorship reflects the level of scholarship attained by the recipient. 
The UIW Moody Professor is traditionally a senior faculty member who is recognized for teaching excellence, scholarship, and community service. The Moody Professor delivers two public lectures, one at UIW, and one at OLLU. The Moody Professor also serves as the December commencement speaker and carries the University mace at all official functions.
The 2020-2021 Moody Professor is Dr. Tanja Stampfl (College of Humanities, Arts, & Social Sciences).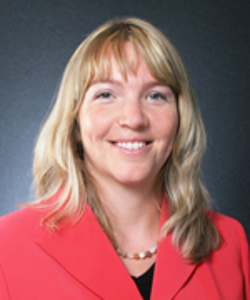 Dr. Tanja Stampfl has been teaching courses in English, Women's and Gender Studies, Cultural Studies, and Student Success since 2009. These subjects reflect her extensive scholarship and service. Her monograph A Century of Encounters: Writing the Other in Arab North Africa (Routledge 2019) examines cross-cultural encounters in Arab North Africa. She has published articles on national belonging in Khaled Hosseini's The Kite Runner (2010), Ahlam Mosteghanemi's Memory in the Flesh (2011), and Edward Said's memoir Out of Place (2016). Her articles on Bapsi Sidhwa's Cracking India (2011) and her co-authored piece on Johanna Spyri's Heidi (2020) focus on constructions of gender. In addition to her literary scholarship, Stampfl's co-authored article "Transforming Thinking: The Power of Conversations about Writing" (2016) won the Randall Popken Award for Rhetoric, and she co-authored two textbooks with Dr. Ensar Agirman at Ataturk University (Ulke Egitim 2017 and 2019) that fill a gap in teaching English for Specific Purposes. Stampfl and Agirman also initiated the sister school agreement between UIW and Ataturk University.
In addition to having served on Faculty Senate, the University Retention Committee, First Faculty, the Women's and Gender Studies Advisory Board, the CHASS Nominations Committee and the Governance Committee, Stampfl has assumed leadership positions in Alpha: First Generation Student Success, as Director of the Writing Academy, chairing the subcommittee on mentoring in the Retention Committee, and as the co-author of several federal grant proposals about mentoring. Additionally, Stampfl was one of eight fellows in the NEH Trauma Cohort for the last three years.
UIW Piper Professor
The Piper Professor Awards program was established in 1958 with eight awards, and the roster of Piper Professors includes outstanding professors from two- and four-year colleges and universities, public and private. The program was created to bring recognition to outstanding achievement in the teaching profession. Piper Professors are selected based on nominations submitted by each college or university in the state. The UIW Piper Professor submits a package to the Minnie Stevens Piper Foundation for consideration as a finalist in the Texas competition.
The 2021 UIW Piper Professor is Dr. Lopita Nath (College of Humanities, Arts, & Social Sciences).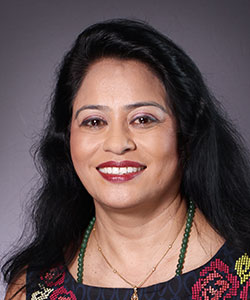 Dr. Lopita Nath is the chair of the History Department and the coordinator of the Asian Studies Program at the University of the Incarnate Word. She has taught for over 31 years in the fields of Asian and World History, Migration Studies, Refugee Issues and Human Rights. Nath is a Fulbright Scholar and the recipient of the Social Science Research Council Award. At UIW she was awarded the Presidential Teaching Award (2019) and the Moody Professor Award (2015). Her research expertise is on Migration in Asia, human displacement, refugees, citizenship, and human rights. Her current research focuses on the Bhutanese Refugee Resettlement in the USA. Since 2010, she visited the Bhutanese Refugee Camps in Nepal three times to understand the Bhutanese refugee crisis, and worked with resettled refugees in Columbus, Ohio, Dallas, Houston and San Antonio, Texas. Currently, she is working on her book on the Bhutanese Refugee Resettlement in the United States. She has authored several articles in reputed journals on her research on the Bhutanese refugees, including "The Nepalis in Assam: Cross Border Movements and Ethnicity" (2003) and co-authored "Course Based Study Abroad: How to Create a Truly Transformative Experience" (Routledge, 2019). She is the past president of the Southwest Conference on Asian Studies, Coordinator of the European, Middle-Eastern and Asian Studies at the Southwest Historical Association and serves on the Catholic Charities Refugee Advisory Board and the Faculty Advisory Board of Institute of Texan Cultures and is the vice chair of the Advisory Board of the Ettling Center for Civic Leadership and Sustainability.
School of Mathematics, Science and Engineering 2020 Honors Convocation Awards

The UIW School of Mathematics, Science and Engineering (MSE) has announced the recipients of its annual prestigious awards. The following students received awards for outstanding performance, service and more. 
MSE Amy Freeman Lee Award – Abbozar Ali
MSE Kappa Gamma Pi Award – Camille Guerre
Atmospherics and Environmental Science
Dr. Gerald Mulvey, department chair 

Excellence in Broadcast Meteorology – Bryce Kuchan

Biology 
Dr. Ana Vallor, department chair

Sr. Joseph Marie Armer, CCVI Award for Outstanding Biology Student in Research – Han Dang
Sr. Dorothy Ettling, CCVI Award for Outstanding Biology Student in Service – Daniel Tinsley 
Sr. Mary Lucy Corcoran, CCVI Award for Outstanding Academic Performance in Biology 

Chemistry
Dr. Robert Garner, department chair

Academic and Research Achievement – Jose Javier Duarte
Achievement in Research – Justin Parkill 
Service to the Department – Kaitlyn Cherry 
Academic Achievement by an Underclassman – Shivani Akula 

Engineering
Dr. Alison Whittemore, department chair

Excellence in Engineering Scholarship and Research – Ray Long
Achievement in Engineering 

Samuel J. Handowski
Aaron Roque  

Mathematics
Dr. Suleyman Tek, department chair 

Outstanding Senior

Camille Guerre
Alexander F. Garriga

Outstanding Junior

Lauren Gray
Cassie Phillips 

Nutrition
Dr. Neeta Singh, department chair

Graduate Program

Excellence in Nutrition in Mission Truth – Paola F. Sabella
Excellence in Nutrition in Missin Service – Muhammed Al Taai

Undergraduate Program

Academic Excellence in Nutrition – Diana S. Mireles 
Community News
Amid Pandemic, UIW Nursing Teams Step Up to Treat City's Homeless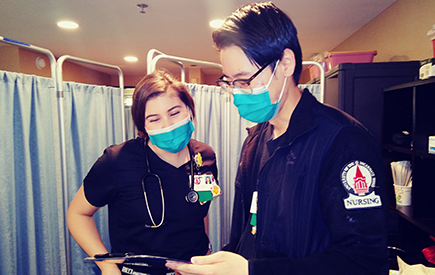 It's a familiar role being played out in an unfamiliar place: medical care being provided in a makeshift clinic that - during pre-COVID-19 times - was actually the workout room of a downtown San Antonio hotel. But this is where the call has come from and, just as they have for generations, University of the Incarnate Word nurses are there to answer that call.
It was a call from Haven for Hope, San Antonio's major homeless shelter provider, that brought out a team of UIW nursing students, graduates and instructors. Seeking to shelter our city's homeless from the dangers of COVID-19, Haven for Hope has set up overflow accommodations away from its main campus where clinic visits are more readily available.
"It hurts to see people suffering," says Jay Yun, a UIW senior nursing student. "I want to help people who need help. I've had the privilege of volunteering at Haven for Hope before through the nursing program and having the chance to touch some people's lives in a positive way allowed me to feel more connected to them."
Due to citywide closures and reduced operations in response to COVID-19, this displaced and already underserved population could be left with even fewer services.
"I remember thinking how important it is for the San Antonio community to maintain a health care safety net for populations in transition," says Dr. Lorena Paul, UIW associate professor. "I recall two persons who were experiencing serious medical problems. We were able to quickly and safely coordinate their access to higher levels of care."
"I am struck by the unmet physical and mental health needs of our homeless population," says Associate Professor of Nursing Dr. Christina Hernandez. "While we as a community do our best to provide for these needs, because so many of the guests migrate from city to city, there are tremendous gaps in the care that persons receive."
Right now, the UIW team and others are there to try and fill those gaps. Treating everything from sore throats to chest pains. And while they are not being charged with directly treating COVID-19 patients, it is their care for others that allows emergency responders to tend to those with more specific needs.
"Nearing towards the end of nursing school, I feel more prepared than ever to help my community and those in need, and especially during this unique time," says Isela Guerrero, a UIW senior nursing student. "It feels good to be of assistance in this pandemic, rather than not being able to contribute."
Dr. Paul says, "It is very fulfilling to observe our baccalaureate nursing students' growth and abilities to apply all that they have learned during their many years of nursing school, humbly serving our community's needs, and exemplifying what it means to be concerned and enlightened citizens."
While this setting may not be the surroundings in which these nurses will eventually spend most of their time treating patients, there are lessons to be learned – even in a converted workout room.
"As a working nurse you are usually used to having supplies readily available anytime you need them. In this type of care, you do not," says Brandi Hrasdzira, a Doctor of Nursing Practice student. "This experience taught me many things regarding community outreach work, and I enjoyed every minute of it."
"It is invaluable for nurses to see clients outside of the hospital walls – to see people in their environment, whether it be in the context of homelessness or in their home," says Hernandez. "To witness the many social determinants of health such as unemployment, homelessness, lack of education, poverty, and how these issues impact a person's needs – it helps the students see that many times what the nurse might identify as the priority health need may be much different than what a person without a place to live struggles with."
But what is not different is the care every person needs, regardless of where it is delivered, and the appreciation they show when they receive it.
"This population was very thankful for our help," says Guerrero. "Not only did they thank me several times for helping to treat them, but they also were happy to just talk to someone. It can be difficult to find something to smile about during this pandemic and these hard times, so it was great to share a smile and a conversation with them, all the while getting to give them the care they need."
"Even when using limited supplies while providing care, they showed great appreciation," says Jun. "Several times some people would say how thankful they were that people still care. Those things motivated me a lot."
Swing-In Auction and Raffle

The 2020 Swing-In Auction Party, originally scheduled for Thursday, April 30 at the McCombs Center Rosenberg Sky Room, has been rescheduled!  The auction will be an online-only event, kicking off on Monday, June 1 and concluding on Monday, June 15.  The Swing-In raffle winner will be announced on June 15 once the auction closes. The Swing-In Golf Tournament, originally scheduled for Friday, May 1, at the Republic Golf Course is unfortunately cancelled.
We are grateful to the businesses and individuals who have donated auction items and continued their support through sponsorships. During the online auction you will have the opportunity to bid on unique experiences, gift cards, jewelry, vacations and more with all the proceeds benefiting the UIW Emergency Impact Fund, assisting our students in this time of great need. If you have any questions, please contact Ana Bribiesca Hoff at (210) 829-6075 or via email at bribiesc@uiwtx.edu  
Swing-In Raffle
Swing-In raffle tickets are still available! Only 325 tickets will be sold! Buy your Swing-In raffle ticket for $100 and support UIW students' education through the purchase of your ticket(s).
All proceeds will directly benefit the Scholarship Fund and provide UIW students with the opportunity to further their education at a faith-based institution. Winner will choose one of the following prizes: 
$5,000 Credit balance on credit card 
Banff, Calgary and Lake Louise Trip
Tuscany Culinary Escape
Scotland Championship Golf Experience
Purchase your raffle tickets here.
Cardinal Corner 
UIW Rosenberg School of Optometry Student Wins National Award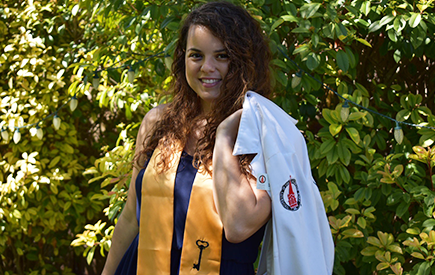 Dr. Timothy Wingert, dean, Rosenberg School of Optometry (RSO) announces the recognition of one of their students for the Alcon 2020 Case Report Award National Competition. Chantelle Roman, University of the Incarnate Word RSO Class of 2020 student, has been awarded the Alcon 2020 Case Report Award from her 4th Year class. In addition, Roman is the recipient of the Alcon 2020 Case Report Award National Winner.   
Roman's case report, "Treating Presbyopia and Cataract – Using Trifocal IOLs to Conquer the Vision Lifecycle" was selected by the RSO award committee as the winner from her class. Roman's case report was submitted into the national contest. She was recognized as the national winner from the submissions of 24 optometry schools in North America.   
The Alcon Case Report format includes patient case history, pertinent findings, differential diagnosis, diagnosis and discussion, treatment and management, conclusion and references. The goal of the case report is to encourage research, critical thinking and to promote clinical writing and publication. 
Alcon is a $7.5-billion medical device company based in Ft. Worth, Texas with a 73-year history of leadership in the ophthalmic industry. Alcon supports the optometry schools through the Partner in Education sponsorship program and is intended for faculty, resident and student development. 
Roman's achievement in 2020 marks the second time in three years that a Rosenberg School of Optometry student has won the National Award.  Dr. Lavang Lee was recognized nationally in 2018. 
Congratulations to Chantelle Roman on her dedication to patient care that has resulted in this local and national recognition. 
Service in Uncertain Times: UIW Student-Athletes Come Together to Help the Community

Service. It is one of the core values at the University of the Incarnate Word. The act of putting someone, or something, ahead of yourself is central to the legacy of UIW founders, the Sisters of Charity of the Incarnate Word. And while service plays a big role in the lives of every student attending UIW, you might say it is innate in the student-athletes who live out the idea of putting others before self in every workout, in every practice and in every game. 
"Student-athletes in general are leaders, but what we try to do here at UIW is to help them become servant leaders, so leading through service," says UIW Life Skills Coordinator Mandy Pulido. "UIW seeks to expand student-athletes' views of themselves and the world, while building empathy, independence, resilience, humility, and understanding, through unique and impactful service opportunities." 
Throughout the year, the 500-plus student-athletes that make up the 23 teams at UIW participate in service projects all around San Antonio and in the surrounding community. Many of those projects are coordinated through the Student-Athlete Advisory Committee (SAAC), the Life Skills Department, along with the Ettling Center for Civic Leadership and Sustainability on campus.   
The committee primarily focuses its efforts in civic and community engagement, as well as children in youth services. This is evident in the more than 4,000 hours served over the past academic year in those two categories alone. Serving is not only good for the community; it is also a way to teach student-athletes how to become the right kind of leaders.  
"I always believe that whenever you receive a good blessing, you should pass that on and not to keep it to yourself," says SAAC Community Service Chair Ese Akpoyoware, a member of the track & field team. 
"When you're a student-athlete, you're part of a team, you are part of something bigger than yourself," says Akpoyoware. "When you apply that to the community and to the environment around you, you are able to realize that we can't be selfish. That we have an obligation as a decent human being to spread whatever knowledge or whatever we have to offer to the community and people around us."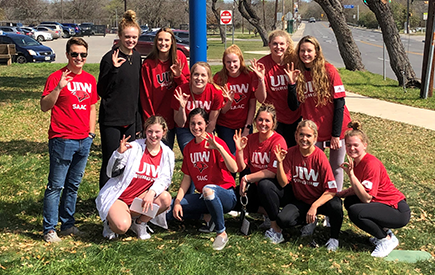 This year alone, UIW student-athletes collectively had already completed 5,365 hours of community service leading up to spring break. An accomplishment that was on pace to break the program record for service hours in an academic year. That all changed in mid-March due to COVID-19. All the isolation and social distancing measures that followed, made service to others difficult, but not impossible. SAAC is now working with the Ettling Center to come up with new ways for student-athletes to continue serving the community. 
"In the fall, SAAC voted to adopt classrooms at a local Title I elementary school, Martin Luther King Jr. Academy," says Pulido. "They coordinated days in February, March and April. The first visit was in February. Now that we are under quarantine, UIW is finding other ways to help MLK Academy, and the teachers and school are excited to receive the online learning materials being created by our student-athletes." 
SAAC and the Ettling Center came up with an initiative to continue helping the school through the form of videos of the student-athletes: "Storytime with Red" and "Workout with Red." Student-athletes film themselves in their homes either reading a children's book or doing an instructional workout video to be sent to the school.  
"[Pulido] sent us all an instruction email with different exercise blocks, which included stretching, legs and abs among other things," says junior Madi Henry who is a member of the cross country and track and field teams. "I did the stretching one and the leg one, but I also added a few track exercises with strides so they could get outside and be active."   
Marissa Watters, the SAAC president and a sophomore on the swimming and diving team, also submitted a video. Hers included a full body workout as well as some pool exercises.  
"Even though not everybody has a pool, they can still practice on how to become a great swimmer," says Watters. "Really, the videos are to get the elementary school students active and engaged and knowing that they're still able to do things even though life seems very limited right now."    
Still, the students decided that they want to do more for the community. One additional initiative involves raising money for the Thrive Youth Center, an LGBTQ homeless shelter, as well as the San Antonio Food Bank.  
Both organizations have been helping people in need during these rough times. The shelter has been providing a safe place for people and creating a space of inclusion, while the food bank has been supplying food for those in need, a critically important service as many have lost jobs and are struggling during the pandemic.  
"I didn't do a lot of community service in high school," says Henry. "I really started doing it once I came to UIW. I didn't realize how much I liked it, especially working with the kids. 
"[Service] puts into perspective that helping other people, rather than just focusing on yourself, is important. Sometimes we get caught up in ourselves, in our sport and school, so it helps us do something for the community to help other people." 
As SAAC heads into the summer and the uncertainty that still lies ahead, there are projects that are on hold, like the organization's annual Habitat for Humanity event. But UIW and its student-athletes stand firm that they will figure out how to be of service to the San Antonio community in today's unprecedented times.  
"The times have made me realize the different opportunities I had never considered," says Watters. "In the past, I'd considered volunteering as the stuff that you did in person; I never considered that we can still make a difference online. There are still different things we can do that I haven't yet considered, but this is opening my mind to new horizons that we can implement. Despite where life is, you can still make a difference, no matter where you are." 
MSE Student Accepted to NIH Postbaccalaureate Intramural Training Award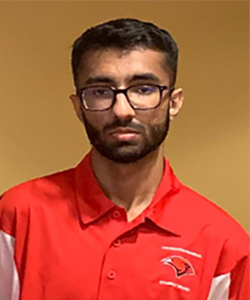 UIW School of Mathematics, Science, and Engineering student, Aboozar Ali, was accepted to the National Institute of Health's (NIH) Postbaccalaureate Intramural Training Award. The program provides recent college graduates full-time biomedical research opportunities while working with NIH researchers in the NIH labs. According to his notification from the NIH, only the "crème del al crème" are selected for this program. This unique and exciting opportunity is an honor for Ali, his advisor, Dr. Ana Vallor, associate professor of Biology, and for the MSE faculty. Ali was also recognized by the MSE faculty as one of the Biology Department's honorees for the Excellence in Scholarship in Biology this year. However, this exciting research opportunity with the NIH does present a dilemma for Ali as he is also a pre-admission student for the Fall 2020 class to the UIW School of Osteopathic Medicine! Congratulations, Aboozar!
Alumni and Parent Relations 
Red Talk - Jessica Davila-Burnett and Deleon Hines

The Department of Alumni & Parent Relations is proud to welcome Jessica Davila-Burnett '05 BA, '06 MAA and Deleon Hines '11 BS, '18 MAA for a webinar on establishing, nurturing, and maintaining professional relationships. The webinar will be held on Wednesday, May 13 at 5:30 p.m.
Jessica currently serves as the principal communications strategist and certified executive coach at JDB PR while Deleon serves as the basketball operations assistant, Fort Wayne Mad Ants (affiliate of the Indiana Pacers).   
This is a free webinar available to everyone in the UIW community. Register for the free webinar today.
Video Submissions for 2020 Graduates

Parents and family members are encouraged to submit a congratulatory video for their 2020 graduates. Submissions should include parents and family members speaking on camera with their message. Please see the graphic above for guidelines and send your videos to pr@uiwtx.edu on or before May 15, 2020. 
Athletics
A Q&A with Head Baseball Coach Ryan Shotzberger 

University of the Incarnate Word Head Baseball Coach Ryan Shotzberger has been with the Cardinals for nearly a year. Although his first season at UIW was cut short, he had some big wins and learned a lot.  
We caught up with Shotzberger to ask what his takeaways were, what is keeping him motivated right now, and more. 
Q: Why did you decide to become a baseball coach? 
A: I grew up around sports and have always had great coaches. My dad coached football (among other sports) at the high school level when I was growing up, so I was always at practices. Watching him and Mr. Lacsny go through the practices, putting kids through the drills, watching the old film on the projectors, I knew it was something I liked being around. I had a lot of people impact the decision to get into coaching - George Lacsny, Bob Gildea, John Huxtable, Danny Trivetts, Gary Camp, Doug Newell, Mark Schmittle, and Bob Tattersall, among others. I've always been fascinated with how different teams practiced and how to get the most out of each player. Baseball just turned into my sport of choice, but lessons learned playing other sports and being on teams with great leaders definitely structured what we try and do every day.  
Q: At what age/under what circumstances did you start playing baseball? 
A: I always grew up playing sports in my neighborhood. We'd play football, basketball, soccer, hockey, etc. If there could be a winner and a loser (in a sport), me and my friends played it. When I was 12, my friends' (Kevin and BJ McKeown) mom signed me up for Little League with them without my parents' permission. I guess that was the first time I played "organized" baseball. We had been playing for years in the streets and parks around the neighborhood; some streets you'd hit right-handed, others left-handed. We didn't know the finer points of the game, but we all knew how to play catch, compete and win. Really, I think our parents got tired of helping us fix broken windows, gutters and busted screen porches. 
Q: What is your favorite thing about being a coach? 
A: Game days are always the most fun part of the job, but in the big picture, it's watching players come in and develop and graduate. It's the daily growth for each player (on and off the field) and seeing them come back years down the road with their families. The best stories are the guys having success off the field using the skills and tools they learned through playing baseball.  
Q: What is something the community doesn't know about you? 
A: I'm a big English Premier League and La Liga soccer fan. I enjoy watching players at the top of their professions compete.  
Q: If you weren't coaching baseball, what sport would you be most interested in coaching and why? 
A: I'd love to be a golf coach. I've seen some golf schedules – they have it figured out - (Hawaii, Bahamas, California, Carolinas, Florida) resorts, great golf courses, no night games and you get to be on a golf course every day. I've been fortunate to become good friends with the golf coaches at each school I've worked at, and I enjoy talking about the similarities between our sports and how to better our athletes.   
Q: Although your first season at UIW didn't end the way you expected, what are some of the positive takeaways you have from the season? 
A: Our guys never stopped playing hard. The group did a great job of adjusting the style of play and continuing to play our brand of baseball. We had a variety of players stand out throughout the shortened season, no matter position, class or experience. We had a really good group of leaders on this team who worked hard and raised the standard of the program. UIW is special to this group of seniors, and they did a great job of passing that on to the younger guys during the fall and throughout the spring. We were crushed to have the season end like it did, but we are excited about the future.  
Q: What are you doing to stay motivated during this season of working from home? 
A: My staff and I are always trying to come up with new ways to motivate, refine, and clearly deliver messages to our team. One thing I'm working on is a mental game focus/course for our guys to do in the fall. When your season gets cut so short, if you aren't motivated to get back on campus with the team, you are in the wrong profession. We talk all the time about controlling the controllable and having a #GOOD mentality. In these trying times, it's a reminder to continue to believe in those things. 
Every day I'm trying to come up with little things to make us better; it could be in the recruiting process – for example how we recruit, who we recruit, when we recruit them, the graphics we use on social media – or what events we need to attend or host, future schedules, etc. I've been going over all of the plans for the fall with scheduling practices, lifts, off days, competitions, etc. I'm working on trying to come up with some fall events for alumni and how we can get better at keeping them involved in the program.  
As unfortunate as the short season was, it has allowed me to reevaluate everything we did and make some adjustments going forward to make the program more efficient and ultimately better. We are excited about the group returning and look forward to getting the incoming class here.  
Q: Who is the coach you most look up to, and why? 
A: I grew up a huge fan of Bobby Bowden and the Florida State football program. I loved the sustained greatness they showed and his demeanor whenever I saw him interviewed. His "go for broke" aggressive approach to playing the game was always enjoyable, and he had really good players.  
UIW Football Announces 2020 Schedule, Season Tickets

The University of the Incarnate Word football team has set its 2020 schedule and season tickets are on sale now, announced UIW Head Coach Eric Morris on Friday. The schedule features five home games at Benson Stadium and six games on the road.  
UIW Athletics will continue monitoring the ongoing situation involving the COVID-19 pandemic and will follow the University's Emergency Response Team, Southland Conference, NCAA, and CDC guidelines and recommendations as they develop and change. We will continue to notify our Athletic community as information is updated. 
NOTABLES
Four of UIW's home games are SLC matchups: Sam Houston State on Sept. 26, Southeastern Louisiana on Oct. 17, Houston Baptist on Nov. 7 (homecoming) and Stephen F. Austin on Nov. 14. 
The fifth game is against non-conference opponent Presbyterian on Oct. 10.
All home games are set for 2 p.m. (CT), with the exception of homecoming. The game time for homecoming (Nov. 7 against HBU) is TBD.
UIW opens the season with a Southland Conference matchup at Northwestern State, marking the first time the Cardinals have opened the season with a league game since joining the SLC.
The Cardinals are on the road for the first three weeks of the season, traveling to Northwestern State (Sept. 3), Lamar (Sept. 12) and Baylor (Sept. 19). This is the first time since 2017 that UIW has started the season with three away contests.
UIW's two non-conference games (at Baylor and against Presbyterian) are against first-time opponents.
Four UIW opponents played in the postseason in 2019: 
Baylor used an 11-3 season to earn a trip to the 2020 Allstate Sugar Bowl.
Southeastern Louisiana, Nicholls and Central Arkansas all played in the FCS Playoffs, each winning their first game but falling in the second round. 
View the full 2020 football schedule.
SEASON TICKETS
Contact UIW Director of Ticketing, Alma Lara, at (210) 805-3012 or at aylara@uiwtx.edu for more information.
See below for season ticket FAQs:
2020 UIW football season ticket pricing 

Reserved Seats - $225 (discount available for faculty/staff)

Seating along the 50-yard line 
Chairback seat 
Complimentary parking in our designated season ticket reserved parking section 

General Admission Seats - $115 (discount available for faculty/staff) 

Discounted price 
No chairback 
No complimentary parking  

When is the deadline to renew my seats from the 2019 season? 
What are my payment options for renewals and new tickets?

Pay in full
Payment plans available May 1 - Nov. 13, 2020. 

What happens to my payment or deposit should the 2020 football season be cancelled?

Season ticket members will have the following options if the 2020 season is cancelled: 

Transfer of payments for season tickets to the 2021 season
Change the allocation of payments to a tax-deductible athletic donation through the Cardinals Club
Receive a full refund

How will UIW Athletics protect my health and safety should I attend a home game? 

The health and safety of every fan attending a UIW event is always a top priority for the University. COVID-19 is a fluid situation and UIW Athletics will continue to monitor all changes. UIW Athletics will follow the University's Emergency Response Team, Southland Conference, NCAA and CDC guidelines and recommendations as they develop. We will continue to notify our Athletic community as information is updated.